April is a season of rebirth for many. The sun is finally beginning to peak its head from the clouds after a long and dreary winter, and the temperatures have started thawing.
Businesses pay attention to the start of the month as the beginning of the second quarter. They'll fervently review their quarterly progress to this point and begin revising marketing and advertising plans for a more profitable second quarter.
Stay tuned if you've read our blog posts on January and February marketing ideas and wish to make April just as fruitful. We've compiled the top April marketing occasions to add to your marketing calendar.
In this little compilation of April marketing ideas, we will help you find new and engaging ways to reach your audience all month 🙂
15 April Marketing Ideas to Start the Second Quarter Right
1. Tell a Joke on April Fool's Day
On April 1st, everyone clambers to pull the wool over each other's eyes and see who can fool the other with their most convincing joke or tall tale. Brands sometimes get in on the fun. If you're interested in partaking in the festivities, here are some April Fool's Day marketing ideas.
Introduce a fake product: Really ham it up here so audiences know the product is fake. Your marketing plan could backfire if your faux product seems too convincing.
Add seasonal hashtags: Remind your readers that your post is all in good fun by using April Fool's hashtags.
Tell a not-so-true fact: This variation of 'two truths and a lie' gets your audience involved, as they can guess what's true and what isn't.
Have a sale: People are dubious about what they see on April 1st, so a real sale from your company will be a refreshing change of pace.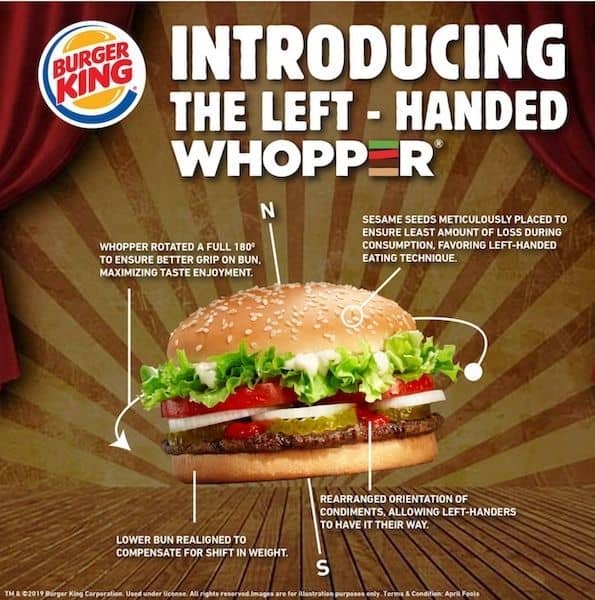 2. Spread Awareness All Month
April has many opportunities to spread awareness, with causes such as stress awareness, sexual assault, financial literacy, distracted driving, child abuse, and autism receiving their share of the spotlight.
Let your company be one more voice that introduces these important causes to the masses. Don't choose every cause under the sun, but the ones that resonate the most strongly with your company brand and values.
Your passionate words will be more impactful to your audience, who might feel moved enough to learn more or give their time or money.
3. Acknowledge the Power of Family on National Siblings Day
They say you can't choose your family, but many of us wouldn't want to! National Siblings Day on April 10th celebrates that lifelong bond between blood.
Maybe it doesn't get the same level of acclaim as Mother's Day or Father's Day, but your business can use that to your advantage.
You might offer a two-for-one sale to celebrate the occasion. This sale will pop up under the radar and act as a pleasant surprise for your customers.
You might also ask your employees to bring their siblings into the office for the day and pose together. Alternatively, they can do it at home. Then you can post the photos on social media to showcase your favorite siblings.
Read also: Sunny Strategies: July Marketing Ideas For Bright Results
4. Hop to It for Easter Sunday
Easter is often an April holiday, although it can sometimes occur in late March. Many holidays throughout April have religious connotations, Easter among them. Businesses often don't want to get involved in religious content due to its divisiveness, which is a wise choice.
Focus instead on Easter's fun-filled reputation for colored eggs, candy, and fuzzy creatures. Here are some ways to incorporate the spirit of the holiday into your monthly marketing:
Send a holiday greeting: Your emails and social media posts don't always have to promote the latest product or service. Popping up into your audience's inboxes with a greeting will keep your brand top-of-mind, which can pay off later.
Launch a virtual egg hunt: Most adults haven't hunted for eggs in decades, so why not give them something fun to do? Create a virtual egg hunt on your website or in the metaverse full of prizes.
Host a photo contest: Who has the cutest Easter pet? Who can come up with the best caption for a photo? Simple but fun contests like these will encourage engagement.
Make your ultimate Easter basket: Fill a holiday basket with your best products and launch a raffle or giveaway to see who wins the prize.
Have a sale: Easter is a celebration, after all, so give everyone something to smile about with a limited-time sale over the holiday weekend. Bonus points for using egg puns in your email.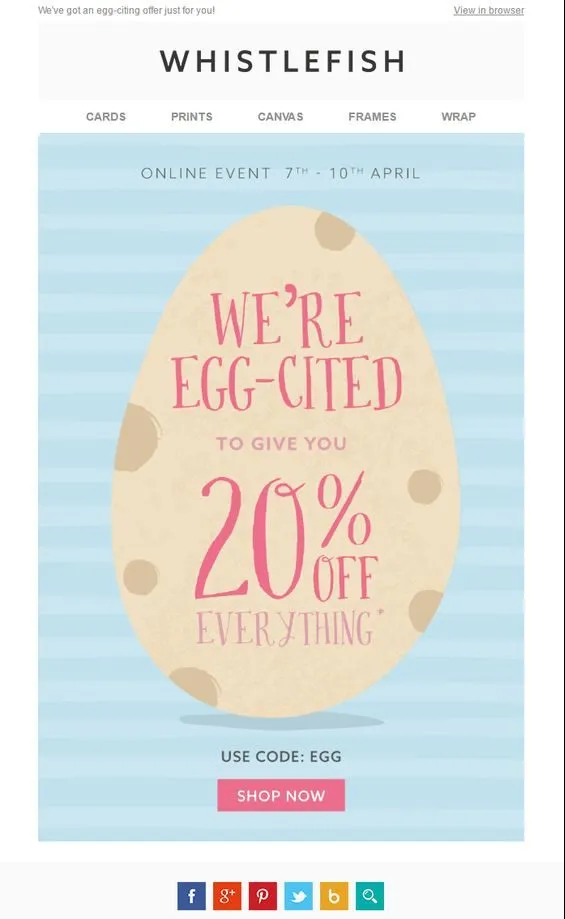 5. Go Green on Earth Day
We only have one planet Earth, and Earth Day on April 22nd is one occasion of many to remember to treat her well. This day is all about protecting our environment from deforestation, pollution, and other threats.
This occasion is a shoo-in for any industry involved in environmental preservation. Showcase your expertise by producing tips lists, checklists, webinars, or masterclasses on what we can do to make our planet shine.
What if your company is outside of that sphere? Consumers will value knowing you're doing your part to keep our earth around for future generations. You might write a telling email sharing the initiatives your business has taken to shrink your carbon footprint.
You can also post a video or an image slideshow on social media to cover all your bases.
Read also: Stepping Into Summer: A Handy June Marketing Ideas Guide
6. Get Outside for April's Walking Days
April has a lot of occasions for walking, from Walk Around Things Day on the 4th to National Walk to Work Day and National Walking Day (the first Wednesday of the month).
If ever there's a month to encourage outdoor activity, April is the perfect pick. Getting outside, breathing in the fresh air, and feeling the sunlight can do wonders for one's mood, as can the endorphin rush from exercising.
You can also tie in these walking holidays to your broader Earth Day campaign for the month. After all, walking instead of driving limits the emissions that enter our environment, making our air more breathable and our planet a better place.
Read also: Stepping Into Summer: A Handy June Marketing Ideas Guide
7. Present Spending Incentives for Tax Day
Tax Day arrives every April 15th (or thereabouts). It's one of the best days of the year for some, as they'll soon receive that sweet tax refund they can use to stimulate the economy. Others dread tax day, knowing they must pay Uncle Sam a lot of money.
Either way, a special sale on Tax Day is warranted. You'll either give your audience something to spend their money on or a way to ease the sting of that big tax payment.
Take a look at the verbiage Birchbox used for its Tax Day Facebook post. It touched on both audiences beautifully.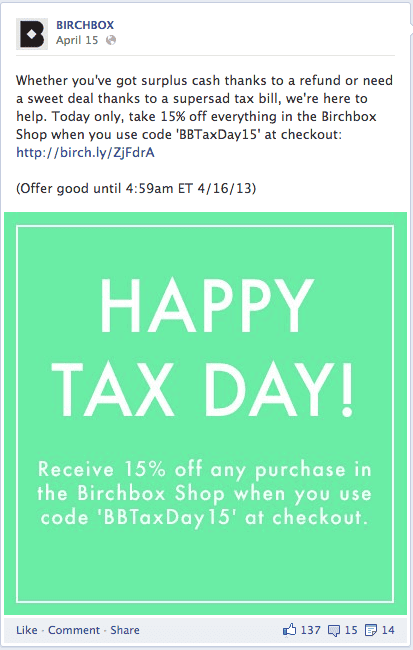 8. Link Up with Your Audience on Get to Know Your Customers Day
If you read our article on January marketing ideas, you'll recall us mentioning Get to Know Your Customers Day. It's a recurring holiday in January, April, July, and October that takes place on the third Thursday of the month.
Salespeople and marketers will recognize those months as when the new quarter of each year begins, and that's no accident. Get to Know Your Customers Day is a self-explanatory occasion where companies should check in with their audiences to see what's changed (if anything).
You don't have to celebrate all four instances of Get to Know Your Customers Day: maybe one or two. If you didn't acknowledge the occasion in January, don't miss it in April.
How do you make the most of this day? Here are some pointers:
Ask your customers for feedback, incentivizing them by offering a reward like an exclusive discount.
Launch a referral or loyalty program.
Host an exclusive contest or giveaway.
Offer a limited-time sale.
Revise your customer personas.
Read also: The Most Exciting October Marketing Ideas for Your Business
9. Whet Some Appetites on National Grilled Cheese Sandwich Day
Here's a fun holiday to add to your marketing calendar: National Grilled Cheese Day on April 12th. This day is an ode to everything greasy, carb-heavy, and cheesy.
Hospitality and food service businesses shouldn't miss this opportunity to motivate customers to come out and grab a bite to eat. Maybe you offer a free cheesy appetizer or entrée or a discounted menu to commemorate the big day.
By the way, April is full of food-centric holidays, including:
National Peanut Butter and Jelly Day on the 2nd
Deep Dish Pizza Day on the 5th
New Beer's Eve on the 6th
Caramel Popcorn Day on the 7th
National Beer Day on the 7th
National Licorice Day on the 12th
National Peach Cobbler Day on the 13th
National Pecan Day on the 14th
Mushroom Day on the 16th
National Bean Counter Day on the 16th
National Eggs Benedict Day on the 16th
National Garlic Day on the 19th
National English Muffin Day on the 23rd
National Zucchini Bread Day on the 23rd
Pig in a Blanket Day on the 24th
National Pretzel Day on the 26th
National Prime Rib Day on the 27th
National Shrimp Scampi Day on the 29th
We told you there are a lot!
Read also: Captivate Your Audience with These Fresh February Marketing Ideas
10. Reach Out on Email Debt Forgiveness Day
Email anxiety is real and can cause people to sit on messages they've always wanted to send. It's time to unburden that inbox on April 30th, Email Debt Forgiveness Day.
Perhaps your company wanted to respond to some customer queries or complaints but was too busy or had other priorities. This day presents an opportunity for an honest, upfront message and a commitment to clearer communication moving forward.
You can also use your email or post to encourage your audience to go forth and boldly send that message they've always wanted to, whether it's a professional or personal email.
Read also: The Most Exciting October Marketing Ideas
11. Share Ideas for Take Your Child to Work Day
The fourth Thursday of April is one of the most exciting days for kids all year (well, depending on what their parents do for a living): Take Your Child to Work Day.
Segment your audience ahead of this occasion and target your leads and customers with children old enough to partake. Families that just had a baby six months ago won't actively participate in Take Your Child to Work Day for a few years yet.
Post on social media in the leadup to the big day and send an email reminding your audience it's coming. You can also produce a tips list advising how the kids can have a smooth, educational, and enjoyable experience.
Your company can also show how it participates in Take Your Child to Work Day. Invite your employees with kids to come to work as a family. Plan some activities for the kiddos, snap some photos, take some videos, and post on social media.
Read also: Spring To Success With These Vibrant May Marketing Ideas
12. Be Appreciative on Administrative Professionals' Day
Administrative Professionals' Day is around the same time in April, as it falls on the last Wednesday of the last full week. This day might not be a national holiday, but it's still a chance to appreciate our administrative support professionals, including receptionists, administrative assistants, and secretaries.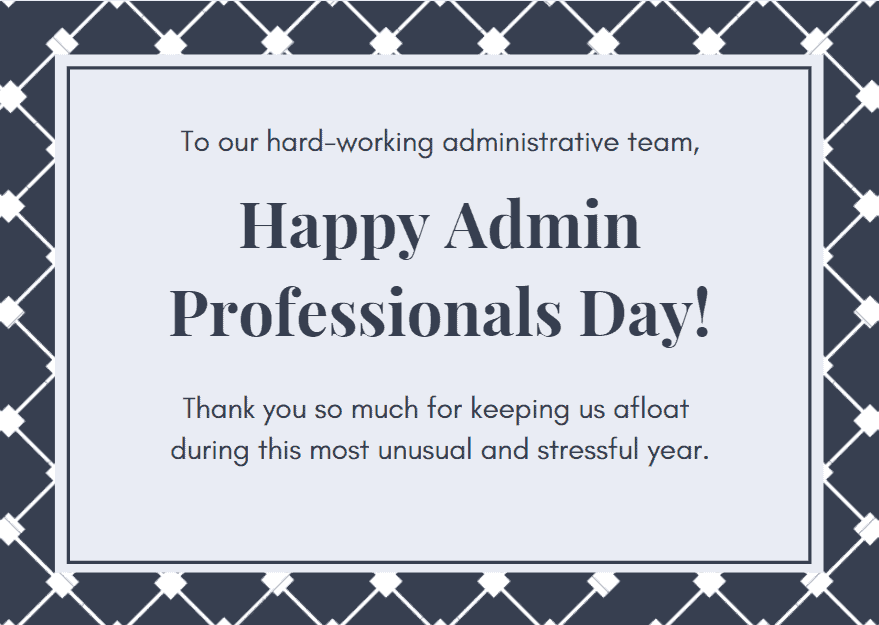 You might write a heartfelt thanks to your administrative staff in your April email newsletter. You can also post appreciatively on social media on the day and remind your followers to thank the admin assistants who make their offices go 'round.
Read also: September Marketing Ideas to Boost Your Bottom Line
13. Spread Good Vibes on National High Five Day
The high five is a cool sign of approval, but did you know it has its own day? It's the third Thursday of the month.
Send your customers a virtual high-five with an email or social media post. If you want your audience to really have something to give five about, why not have a five percent off sale that day?
Read also: January Marketing Ideas – 17 Ways to Connect with Your Audience
14. Foster Imagination on World Creativity and Innovation Day
World Creativity and Innovation Day is a worldwide celebration on April 21st. The goal of the day is to help the United Nations foster innovative and creative problem-solving, but that doesn't mean the day has to go ignored on your marketing calendar.
How can you tap into the creativity of your audience? Perhaps you host a contest asking them to come up with a creative idea or make something, whether they draw, build something from scratch, or cook.
You can award the most creative concoction with free products or services or a small cash prize.
Celebrating innovation is likewise simple. You can look internally at your team's amazing accomplishments this year or last and spotlight these feats on social media.
You can also get your audience talking by asking them to leave a comment about their greatest innovation to date.
Make sure you launch these contests and initiatives well before April 21st. That would be a great day to announce the prize winner.
Read also: August Marketing Ideas That Can Boost Your Brand Image
15. Get Festive on World Party Day
April is all about enjoying oneself. There's Don't Go to Work Unless It's Fun Day, Find a Rainbow Day, and our personal favorite, World Party Day on April 3rd.
World Party Day is about ushering in the finest things life has to offer and appreciating the bountiful gifts that surround us, like good friends, music, drinks, and food. You don't have to throw a party to immerse yourself in the good vibes of this special day.
How can you connect with your audience on World Party Day? Send a checklist of what to bring to a party or share some tips on how to plate and serve party food.
You can also give them a reason to shout yippee by sending an exclusive discount code good for the day.
Read also: November Marketing Ideas: Ignite Your Business Growth This Fall
Conclusion
April is jam-packed with fun, festive occasions to acknowledge and celebrate. There are somber moments mixed in, but even those serve as an opportunity to connect with your audience.
Use these holidays and occasions as springboards to reach out to your customers via email or social media. Give them reasons to continue engaging with your company, whether because of your upbeat and motivational content, helpful posts, or exclusive discounts.
We hope that these April marketing ideas help your marketing campaigns strike a chord with your audience. If you liked these ideas, share this article and tag EngageBay 🙂