Once, a customer called Spothero's customer support because he had reserved a parking spot but found someone else parked there. Megan took the call. "I am sorry, we're a young company. We have some glitches, but I'm here to help," she said.
"That was not the right answer," Megan says. "I don't know the right answer, but it was not that."
The customer was angry. He screamed and called her inappropriate names. She immediately went into shock and put the phone down. She then ran 13 blocks to Lake Michigan to let it all out. All of this was too much for her—the angry customers and the demands of her job.
But that's just the tip of the iceberg of what call center agents and customer service reps go through.
So when I asked Craig Anderson, founder of Express Dentist, what he valued the most in a call center software, I was not surprised. Ease of use was the first thing he mentioned.
"The software needs to be easy to use and navigate so our agents can find what they need quickly and efficiently," he said.
Figuring out how to use software should be the least of your agents' worries. So, I signed up for each tool to test their features and give you all the critical details you need to know before investing in a call center CRM software.
In this blog post, you will learn:
Which CRM software are the best for call center users
Which type of business do they serve best
What features you should look for in a call center CRM
What Is Call Center CRM?
A call center CRM is a specialized software tool designed for call centers. Its primary function is to store and manage customer information, including their contact details and interaction history. With this data at their fingertips, call center agents can quickly access relevant customer details during interactions.
This immediate access to information helps offer customers timely and personalized support.
Features To Look For in a Call Center CRM Software
Call center CRM solutions are feature-rich. They pack common CRM features with call center features, like advanced call routing, ticketing systems, virtual dialers, and IVR integrations.
However, choosing the ideal call center CRM software depends on your needs. The features an inbound call center requires differ slightly from those of an outbound call center.
So, I spoke to Craig and Edith, who highlighted key features based on their experience that you can start looking out for in any software. Craig Anderson is the founder of Express Dentist while Edith Matos is the Hotline Director for Drug Helpline.
Call Routing
Call routing is a feature that connects customers to the right agent who is available, capable, and better skilled to assist them. This feature helps reduce caller wait time and prevents customers from being transferred to multiple agents before talking to one who's capable of helping.
For Craig, here's how important call routing is for Express Dentist:
"Call routing allows us to handle customer calls in a much more efficient manner. When customer response times improve significantly, this translates to happier customers and a boost in sales."
Many call center software provide call routing functionality. But it all boils down to how flexible they are to meet your specific needs.
You might need skill-based routing where the next call is routed to agents with the specific skill set needed, but the software only allows direct call routing. So be sure to test the solution before fully integrating it into your workflow.
CRM Integration
Call center software integrations with CRM (customer relationship management) helps your reps quickly access customer data and history in real-time. Potential customers wouldn't have to wait to be served while your reps or agents retrieve the relevant customer information. For Craig, call processing is even quicker.
He said:
"With CRM integration, our call processing became quicker since we no longer duplicate information between systems. Since there's less opportunity for error, our agents are more confident in the accuracy of the information they deliver. This results in fewer callbacks, greatly reducing handle times."
A call center CRM comes with inbuilt CRM features. But for general contact center solutions, you'd have to integrate them with a third-party CRM.
Call Scripting
Call scripting is a way to provide agents and reps with the appropriate words to use during calls without them having to remember them all. The call scripts can act as outlines reps can use in any circumstance, and are one of the most important features in a telemarketing CRM software.
And when everyone has the same script, customers get a consistent experience no matter which agent they talk to.
According to Craig Anderson:
"Call scripting allows us to create a more consistent customer experience. By providing agents with a script to follow, we can be sure they are conveying the same key information to every caller and that they meet compliance objectives. As such, human errors are reduced, call quality is improved, and customers are given a more satisfying experience."
Call Recording
This feature captures a recording of a call with a customer. These recordings can then be reviewed to determine if agents are providing the right information or following workflows. The recordings can also be used to train agents and reps during coaching sessions.
"It's a valuable quality control tool, allowing us to listen to calls and identify areas where agents could improve their performance. It also helps in training new staff." ~ Edith Matos, Hotline Director for Drug Helpline says.
Reporting and Analytics
Reporting and analytics help you make informed decisions based on the data collected. You can identify whether you have a seamless workflow, training opportunities, or just check the overall sales team performance.
"Built-in reporting tools help us track KPIs, such as average call length and abandoned calls. This helps us identify trends and areas for improvement." ~ Edith Matos
Read also: 7 Simple CRM Tools for Every Business Reviewed
13 Best Call Center CRM Software
To determine the best call center CRM software, I looked into several telemarketing CRM platforms to find those that have call center features. I reviewed their websites and identified five solutions that have a use case for call centers.
I also identified one customer service software and another business phone system that integrates well with popular CRMs, and both can function as call center CRMs.
I then signed up for the free trials for each platform and spent a few hours on each one, trying the features, getting a feel for their UI, and experiencing their functionality from a user's perspective.
I tried their call flows, routing strategies, etc., and also noted their distinct capabilities.
| | | | | |
| --- | --- | --- | --- | --- |
| Call center CRM software | Starting price (Monthly) | Free version | Free trial | Best for |
| EngageBay | $10.39 | Yes | Free forever plan for 15 users | Best Affordable All-in-One Call Center CRM for Small Businesses |
| Freshdesk | $15 | Yes | Free plan for up to 10 users | Best Call Center CRM With Powerful Call Workflow Automation |
| HubSpot | $50 | No | Demo available | Best for Small Businesses Looking For Basic Call Center Capabilities |
| Pipedrive | $11 | No | Yes | Best for Inbound Call Centers |
| LiveAgent | $9/agent/month | Yes | 7 or 30 days | Best for eCommerce and Insurance companies |
| Agile CRM | $8.99 | Yes | Yes | Best for Outbound Call Centers |
| Zoho CRM | $12 | Yes, up to 3 users | Yes | Best Customizable Call Center CRM system |
| CloudTalk | $25 | No | 14 days | Best for Sales and Support Teams |
| Genesys Cloud CX | $75 | No | No | Best Dedicated Call Center CRM for Businesses |
| RingCentral | Varies | No | Yes | Comprehensive cloud-based contact center solution |
| Bitrix24 | Free | Yes | – | Unified communication and task management |
| JustCall | $25/user/month | No | 7 days | Cloud telephony for businesses |
| Nextiva | Varies | No | – | Unified customer communication platform |
#1

.

EngageBay
Best Affordable All-in-One Call Center CRM for Small Businesses
EngageBay is an all-in-one CRM software that includes call center features small businesses and startups can use.
Its intuitive UI is designed to make it easy for you to access everything much faster. And if you need support to set things up, you can get a free onboarding. The menu items such as your contacts and call automation are arranged at the top of the screen for easier access. Key features of EngageBay also include a power dialer, contact management, agent productivity tracking, and more.
And since it has its own native inbuilt CRM, customer support reps would have more context when they make outbound calls or when a customer calls.
While on a call, your reps can find all the details about a customer such as the pages they visited on your website, the tickets they've opened, past phone calls, the forms they've submitted, the products they've bought, etc.
Sales reps can also make direct calls through EngageBay. If you have a Twilio subscription or any other third-party app within their list, you can integrate it with EngageBay and call your customers directly through the platform.
You can also use their advanced workflow automation builder to assign outbound calls to your best-performing rep to solve critical issues your top customers face. Their workflow builder is flexible so you can assign calls depending on your goals and circumstances.
EngageBay also has an automated dialing system. Your reps wouldn't have to manually dial a customer's number every time they need to call them. The calls would be recorded so you can use the recording during coaching sessions and also fine-tune your call center processes.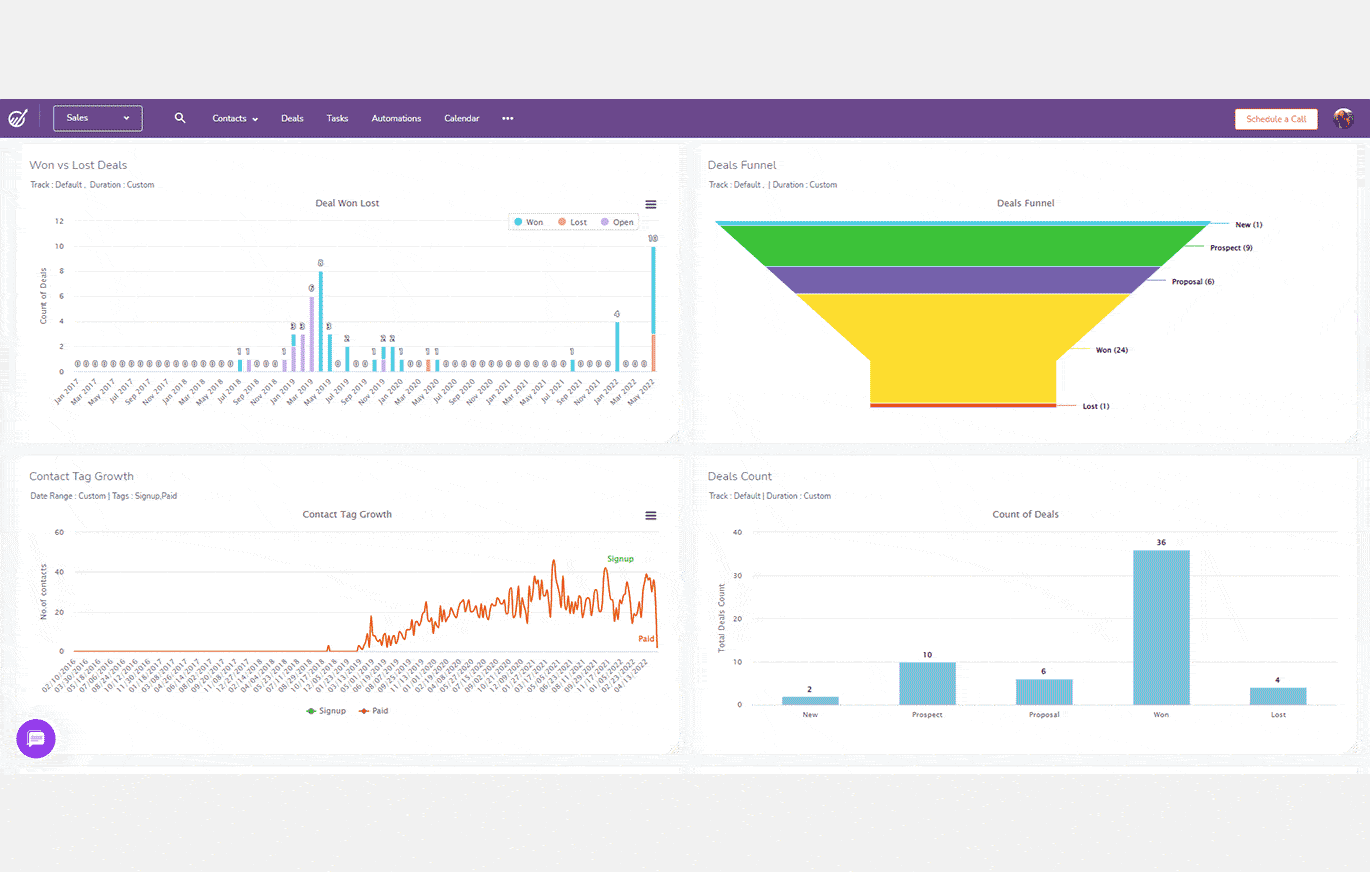 Pros
Automated call dialing

Workflow automation

Free forever plan for 15 users

Free helpdesk and live chat
Cons
Call recording is not in the free plan
Pricing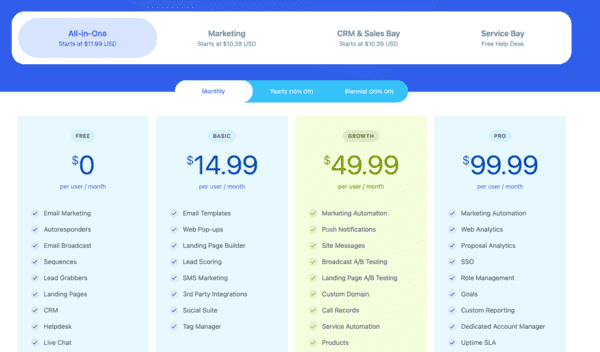 Go to EngageBay Call Center CRM website
User Reviews of EngageBay
If you'd like to know what other users are saying about EngageBay, here are some honest reviews: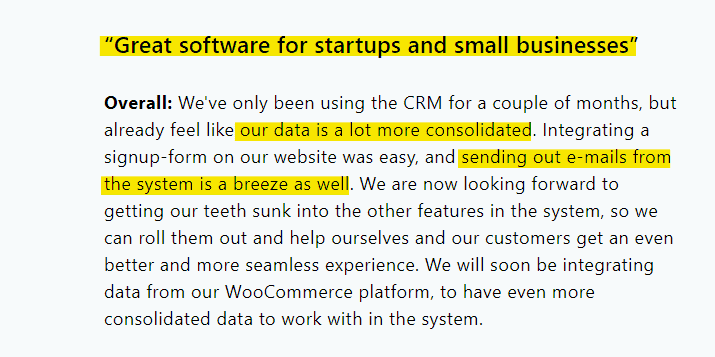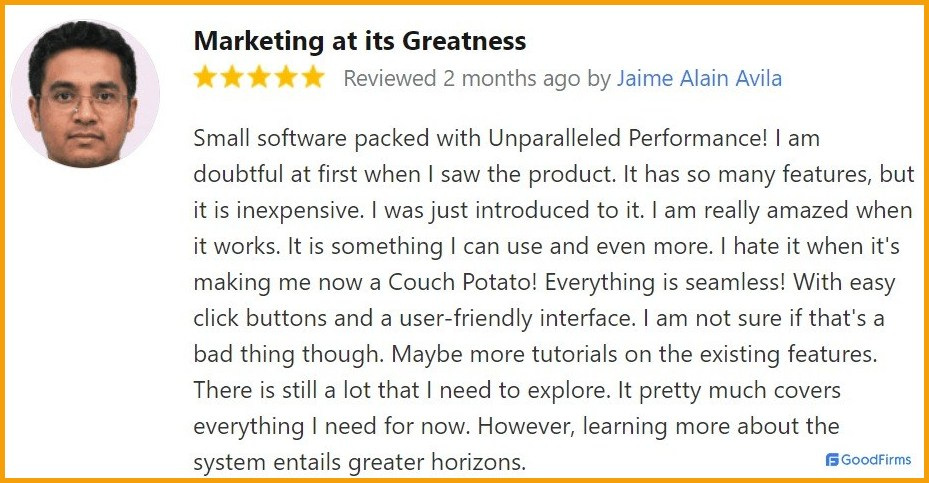 #2. Freshdesk
Best Call Center CRM With Powerful Call Workflow Automation
Freshdesk is a contact center software by Freshworks. Based on its capabilities and features, it is best suited for an inbound call center.
It has a distinct UI that makes it less intimidating to use. The first thing you'd find when signing up is their onboarding flow. They have an onboarding video paired with an in-app onboarding checklist, which gives you a bit of a leg up when starting out.
But since it's a contact center CRM for cold calling, it doesn't have an inbuilt CRM system. You can integrate it with your own CRM or use their standalone Freshsales CRM (paid separately) — making Freshdesk contact center one of the best CRM for telemarketing.
Here is a list of the CRMs they integrate with: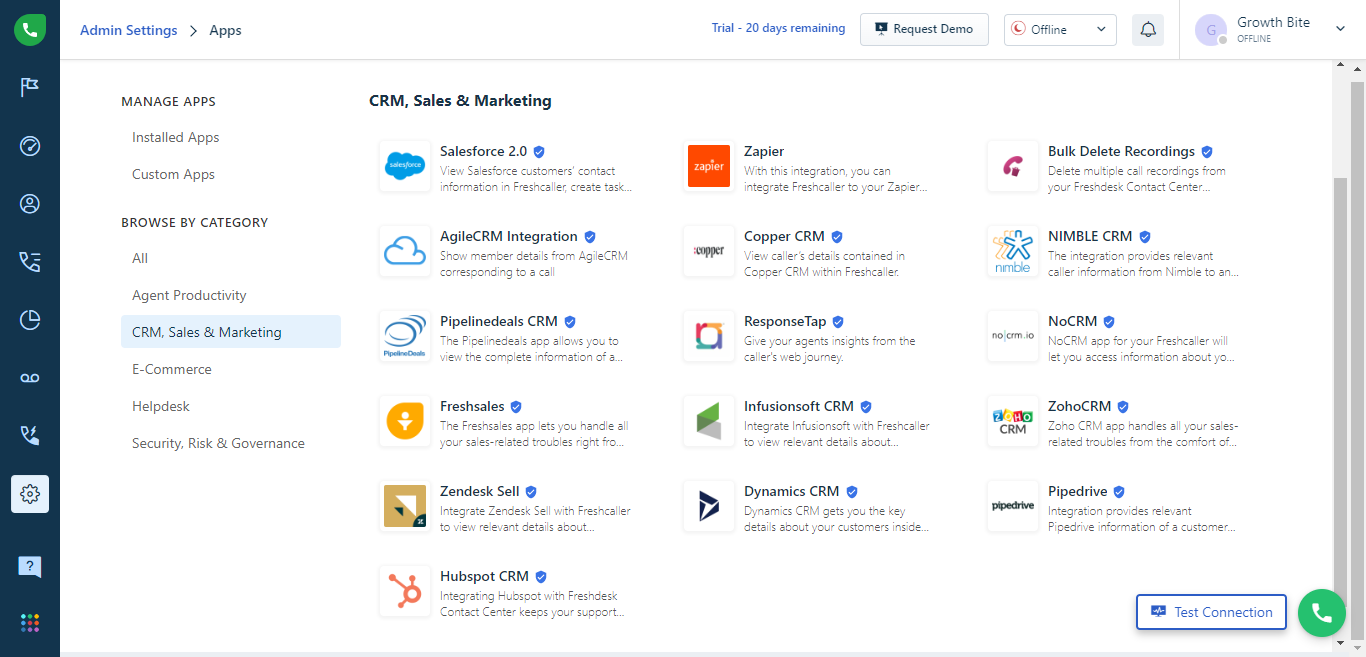 It has a powerful call workflow system where you can set up basic IVR to route calls to agents based on the digits customers press, configure call queues, and set up advanced routing automation based on your needs.
And the most impressive thing is all this is found in one dashboard. So, every workflow automation you need to set up is a click away.
You can also buy phone numbers from 90+ countries. But you'd also have to buy call credits, which range from $5 to $25. Once everything is up and running, you can access call recordings from the call metrics tab.
Pros
Advanced call workflow automation

Fast and easy setup

Access to its mobile app where you can access your dashboard
Cons
Expensive per agent when upgrading

Lacks in-built CRM system

Based on customer reviews, their customer service response time is long and requires constant follow-up
Pricing

User Review of Freshworks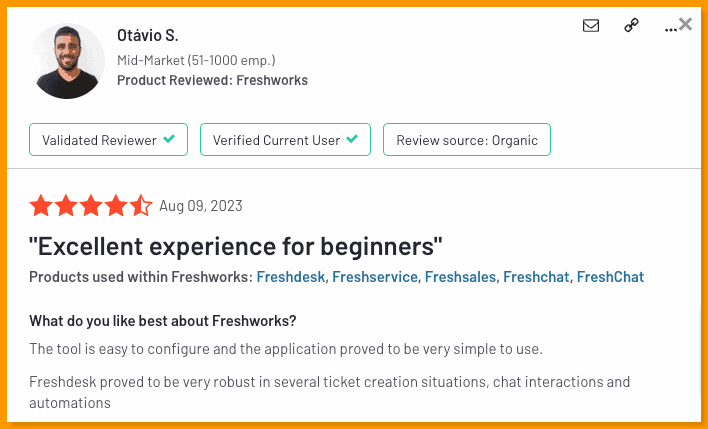 Read also: Finding the Perfect Fit: A Guide to Freshdesk Alternatives for Your Support Needs
#3. HubSpot
Best for Small Businesses Looking For Basic Call Center Capabilities
HubSpot is an all-in-one CRM platform whose service hub can serve as a call center solution. Its inbound calling capabilities are still in development, but you can still carry out outbound calls.
Agents can call customers directly from the platform using its VoIP software. Its service hub is integrated with its free contact center CRM, so when an agent talks to a customer, they would have all the details about a customer on one dashboard. Having all this information in one place makes it faster and easier to resolve issues.
But it lacks a call workflow system. Its main selling point is its ticketing system, which when paired with its CRM, agents can resolve issues and call customers faster, making it a good CRM software for call center.
Pros
Cons
It lacks call workflow automation

Basic call routing functionality
Pricing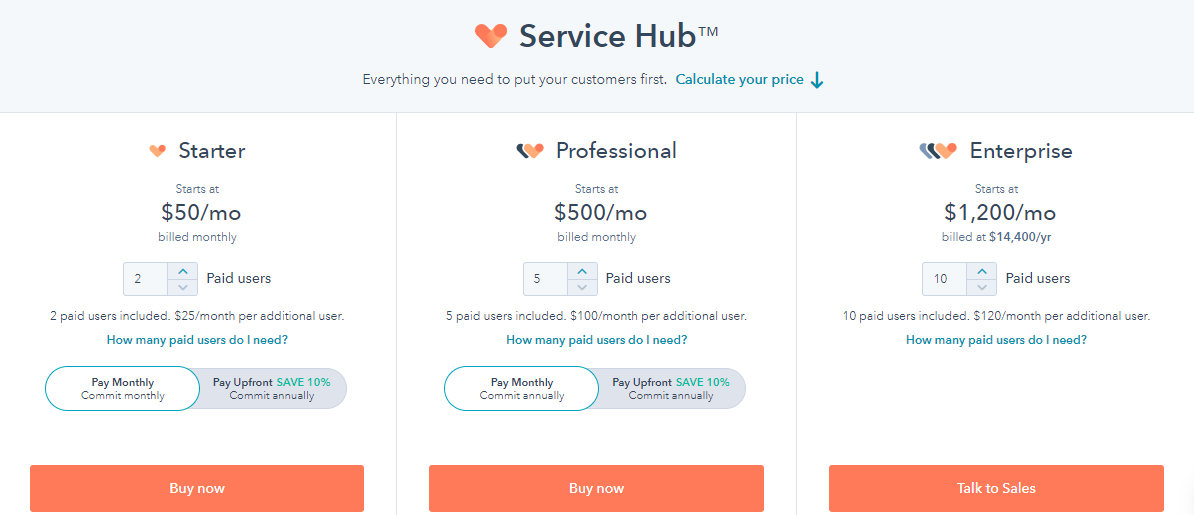 User Review of HubSpot CRM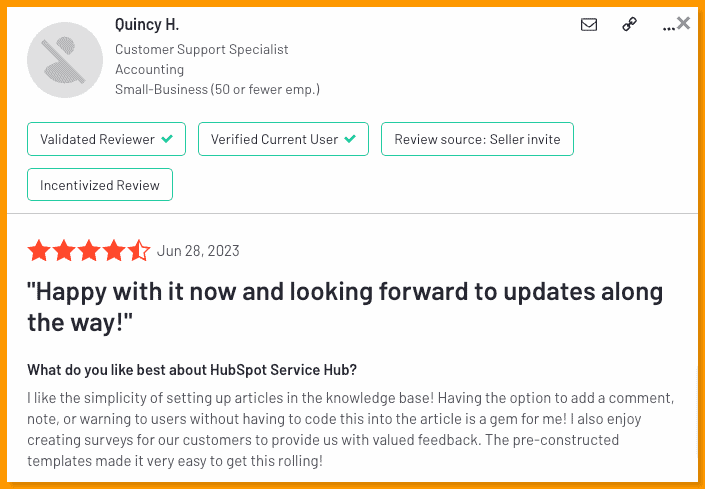 #4. Pipedrive
Best for Inbound Call Centers
Pipedrive is a sales-focused CRM, but it's also positioned as a call center CRM software.
It has its own contact center CRM software, so you can import your contacts much faster. Agents will also have all the customer details in one single pane of glass so customer issues will be resolved faster. But I found it to be a bit cluttered with details about the customer all over the place compared to others.
You can automate your call management workflows on one dashboard. Its call routing requires a bit of customization because its workflows are sales-oriented. You can also call customers directly from Pipedrive through their in-built dial pad or integrate a third-party phone system like Aircall or Justcall depending on your subscriptions.
It also allows call recordings and a place to store your call scripts so agents can confidently resolve issues and you can use the recordings for coaching and training sessions.
Pros
Free trial

Easy to set up

Access to its mobile app
Cons
Bugs on some features, I had to click a few times or reload the tab for a feature to load or work

Calling feature only available in their Professional plan ($39.90 per user/month billed annually)

No free plan
Pricing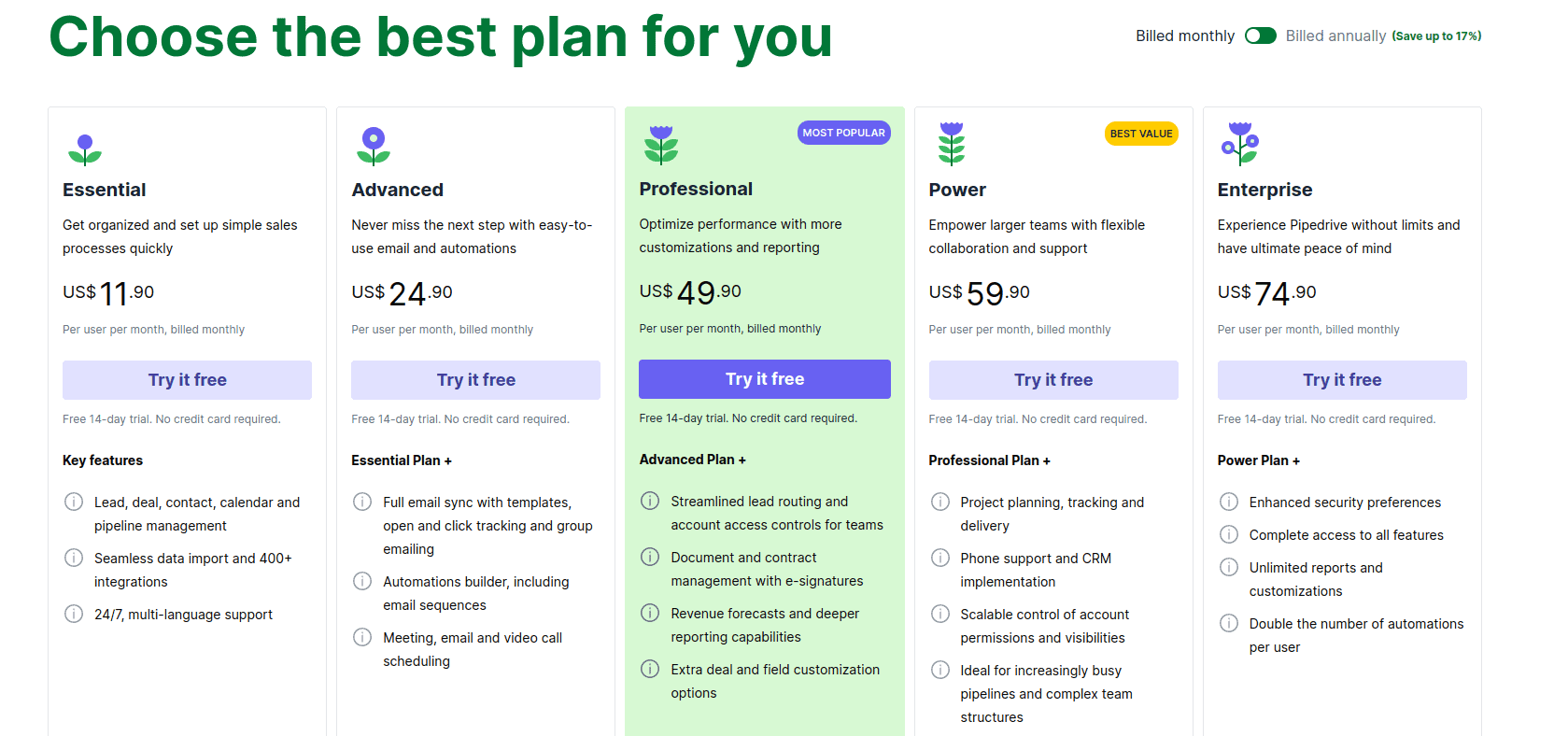 User Review of Pipedrive

Affordable All-in-One Pipedrive Alternatives
#5. LiveAgent
Best for eCommerce and Insurance companies
Best call center software for businesses in the eCommerce, Insurance, SaaS, and other industries with a forward-looking vision toward future expansion.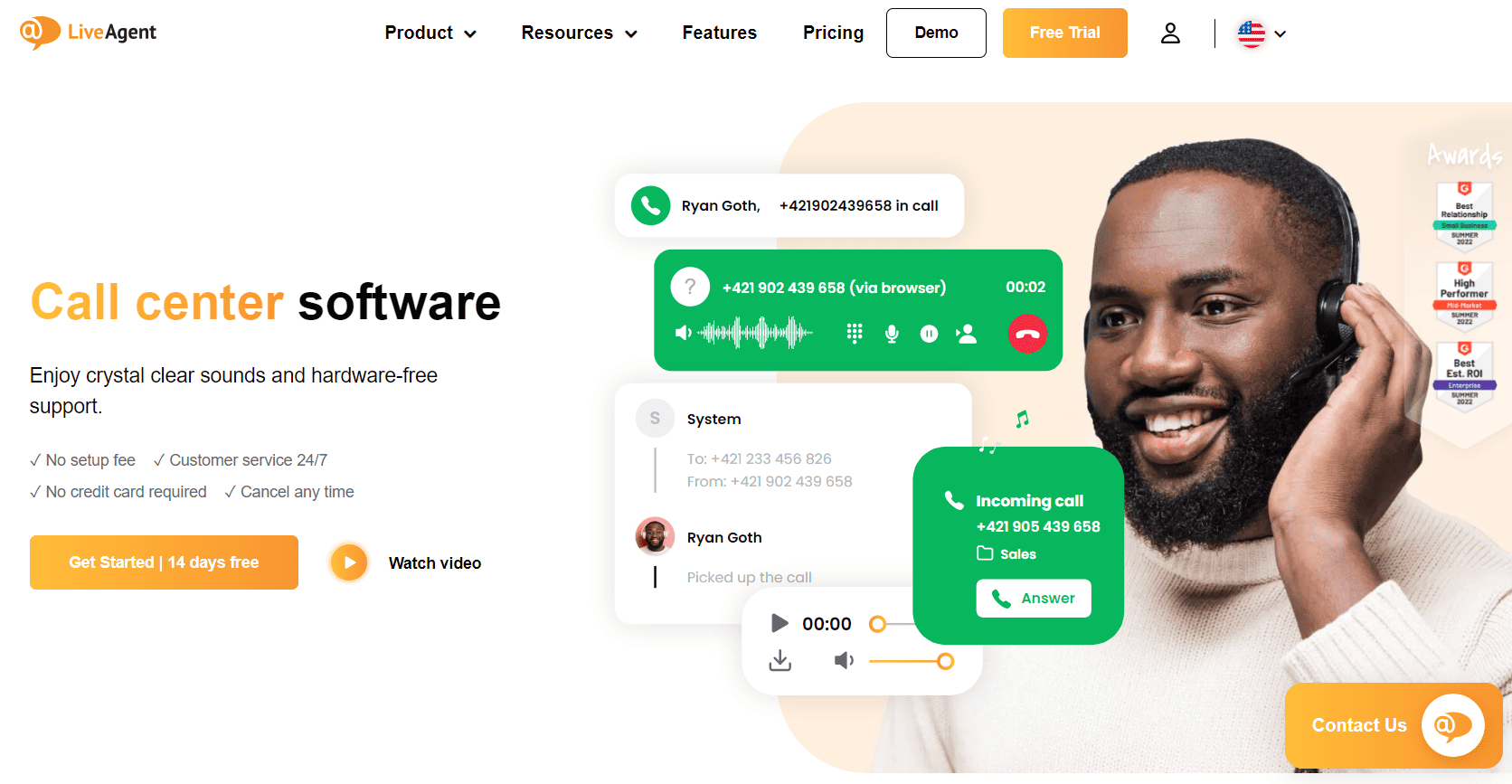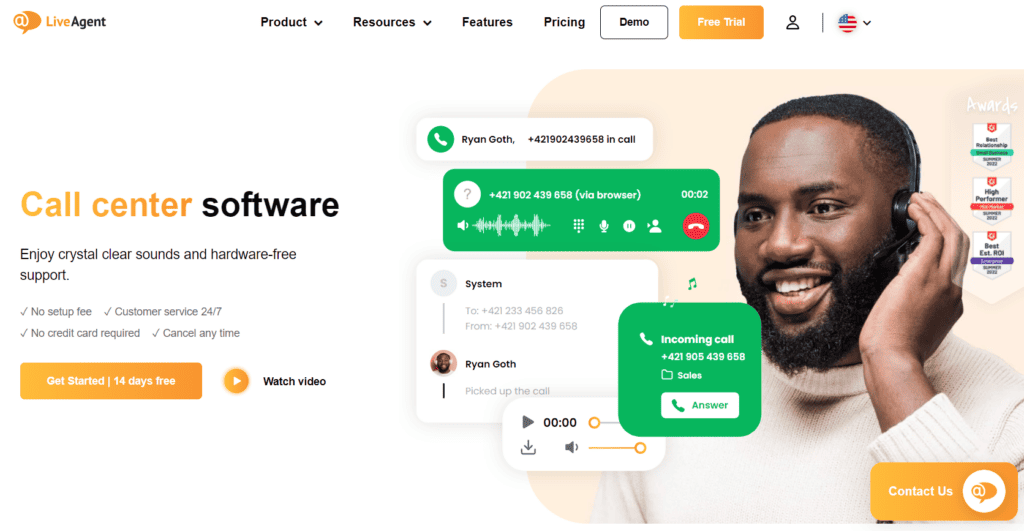 LiveAgent is a popular helpdesk solution used by over 40,000 customers worldwide. It offers dependable call center software and various advanced features.
LiveAgent offers top-notch call center capabilities at a budget-friendly price point. You can effortlessly deliver excellent customer service and keep your customer happy with multiple automation options and many integrations available.
Key features of the service include inbound and outbound call center capabilities, IVR, auto attendant, ACD, ticketing, unlimited call recording, call center management, CRM integration, a self-service portal, a knowledge base, and analytics and reporting.
Prominent companies such as Forbes, Huawei, Nascar, BMW, and Yamaha are among the notable users of this software.
Pros
Omnichannel experience
Easy-to-use setup
Integration with over 60 VoIP providers
Cons
Technical support is available 24/7, but based in the EU
Absence of real-time call monitoring feature
You can't use one account to log into two browsers simultaneously
Pricing
LiveAgent has a completely free version available. However, if you desire to utilize its additional features, there are three pricing options to choose from $9, $29, and $49 a month. The last option comes with excellent call center capabilities.
Before selecting one of the paid plans, you can sign up for a 7 or 30 days free trial. This will allow you to explore what you can expect to receive.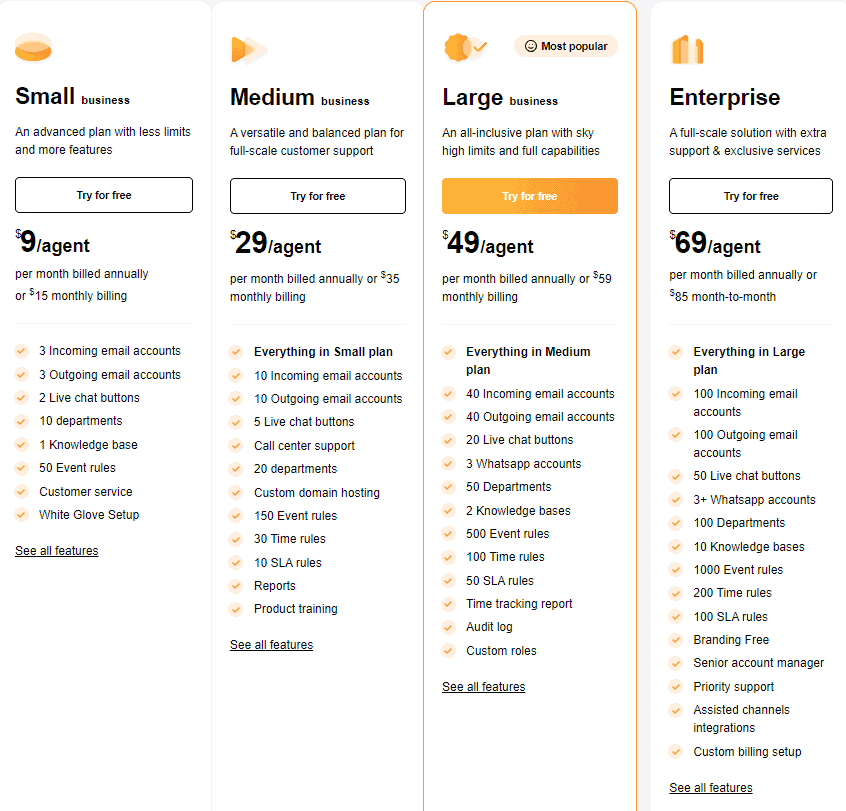 User Review of LiveAgent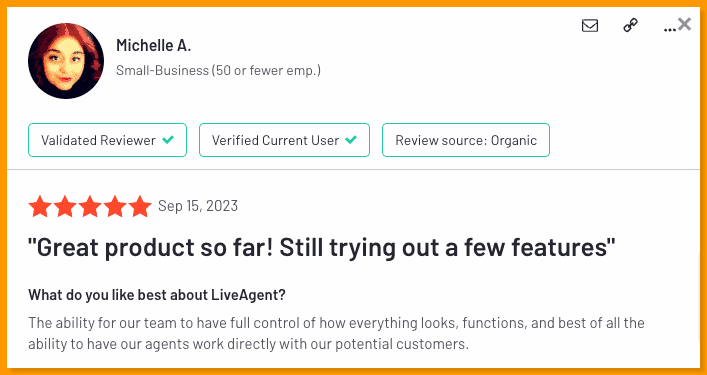 Read also: 50+ Call Center Software Explained (All Use Cases)
#6. Agile CRM
Best for Outbound Call Centers
Agile CRM is a CRM platform designed for small to medium businesses. It's also positioned as a call center solution.
Although it has a '90s vibe to it, its automation feature is quite impressive compared to other products we've looked at. While its call routing is not as straightforward as it is in Freshdesk, you can get around that by using its tag-based calling.
For example, when a customer with a top customer tag opens a ticket with a high-priority status, you can route the ticket to your most skilled agent to either call or resolve the issue via email.
You also have access to call reports where you see the total time spent on calls by each agent, the general timeline of calls by your agents, and generate bar graphs based on time called.
Agile CRM also allows you to integrate with third-party telephony apps, such as Twilio and RingCentral. You can also add context-based call scripts depending on the rules you set.
For example, when a customer with a certain tag calls, a specific call script will be attached to the contact.
Pros
Call scripting in their free plan

Free forever plan

Easy to set up and use
Cons
Call recordings are only available at the Enterprise plan
Pricing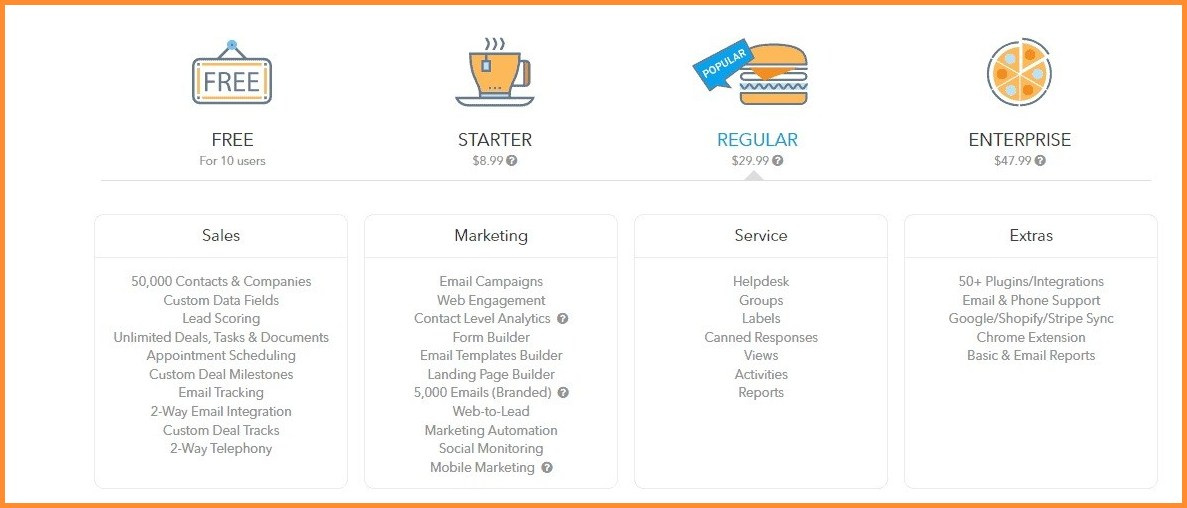 User Review of Agile CRM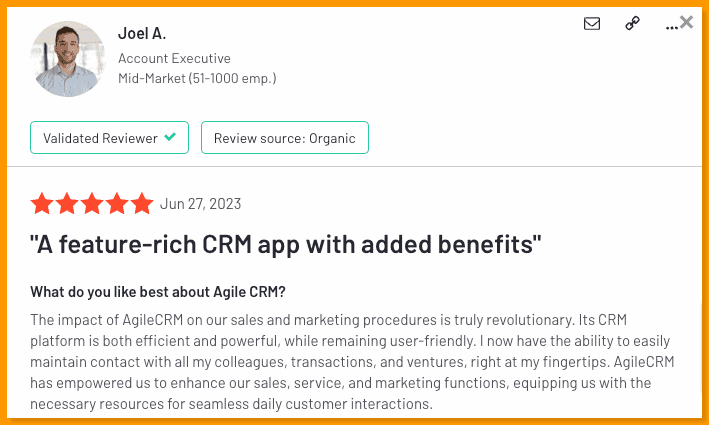 Agile CRM Alternatives for Exceptional Customer Support
#7. Zoho CRM
Best Customizable Call Center CRM system
Zoho CRM is an all-around CRM platform that manages your sales, marketing, and support functions.
It has a built-in telephony function that lets you make instant calls either through your phone or a third-party app. But it can only carry out basic functions like click-to-call, call pop-ups, and call notes. To access advanced call center CRM features, you'd have to integrate a third-party app like Justcall, Ring.io, Aircall, and many others, making it the best CRM with a predictive dialer option.
You can also integrate it with their standalone app, Zoho Voice, to access the full functionality a call center needs. This integration helps you manage calls directly from Zoho Desk CRM, sync contacts from the CRM, and set up advanced call workflows.
Pros
Call reporting analytics

Easy integration with other Zoho products

Free trial
Cons
The free tier supports only three users

Call routing available through third-party call center CRM integrations
Pricing

User Review of Zoho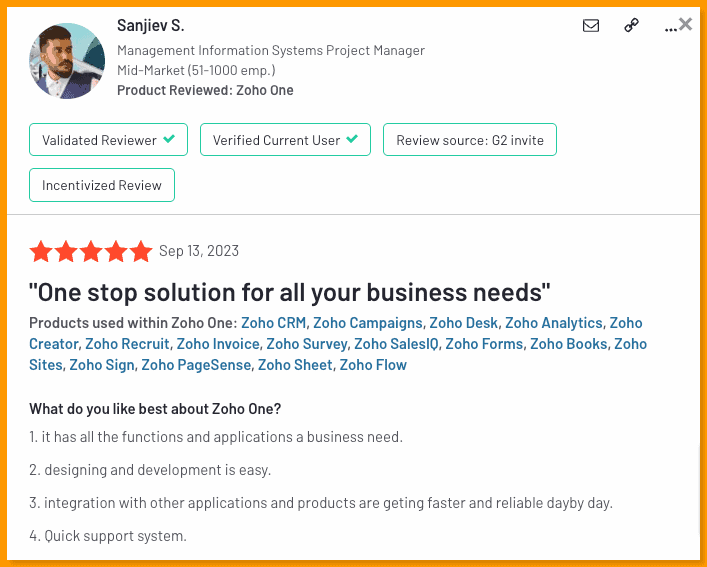 #8. CloudTalk
Best for Sales and Support Teams
CloudTalk is a cloud-based call center software for sales and support teams.
It is a standalone call center software, so it lacks an inbuilt CRM system. But you can integrate your CRM of choice. It integrates with popular CRMs such as HubSpot, Pipedrive, Salesforce, Zoho CRM, Microsoft Dynamics 365, Copper, and Freshsales. With these integrations, your agents will have the full customer context when talking to a customer.
Its IVR system guides callers through different dial-in options and routes them to the right agent or department that can offer them specialized assistance. You can also set up different routing criteria depending on your needs.
Your agents can see all customer history in one dashboard, and after a call, CloudTalk automatically shows a recording of that call. You can also route calls depending on the skills of your agents. Once you assign skills on the settings panel, outgoing and incoming calls will be routed depending on the skill level a customer requires.
Pros
Easy integrations with popular CRMs make it one of the best CRM for call centers

Easy to set up

14-day free trial
Cons
Based on several reviews, you have to wait for the caller to answer to know the call went through

Lacks free plan

A number of their call-routing feature is not available in the starter plan
Pricing

User Review of CloudTalk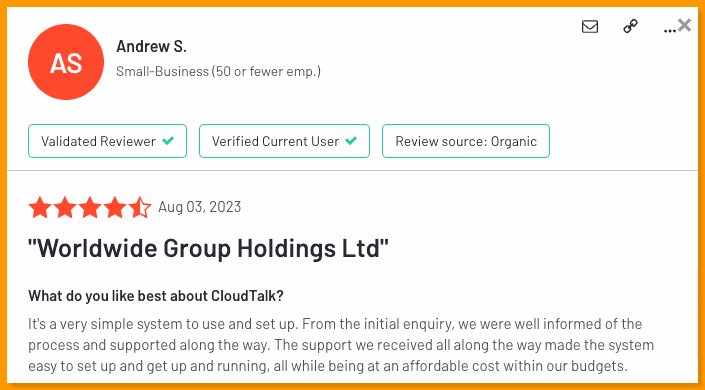 #9. Genesys Cloud CX
Best Dedicated Call Center CRM for Businesses
Genesys Cloud CX, formerly called Genesys Cloud, is a dedicated call center CRM application with a powerful call center CRM feature set.
With Genesys, you get inbound call center tools, outbound call center features, cloud telephony, unified communications, automatic call distribution (ACD), and workforce engagement management (WEM).
With Genesys, you can gather customer data across all the touchpoints and then analyze them to build customer journeys.
Pros
Good user experience
Omnichannel customer support
Powerful routing solutions
Cons
API integrations with 3rd party apps may be lacking
No free trial or free version
Pricing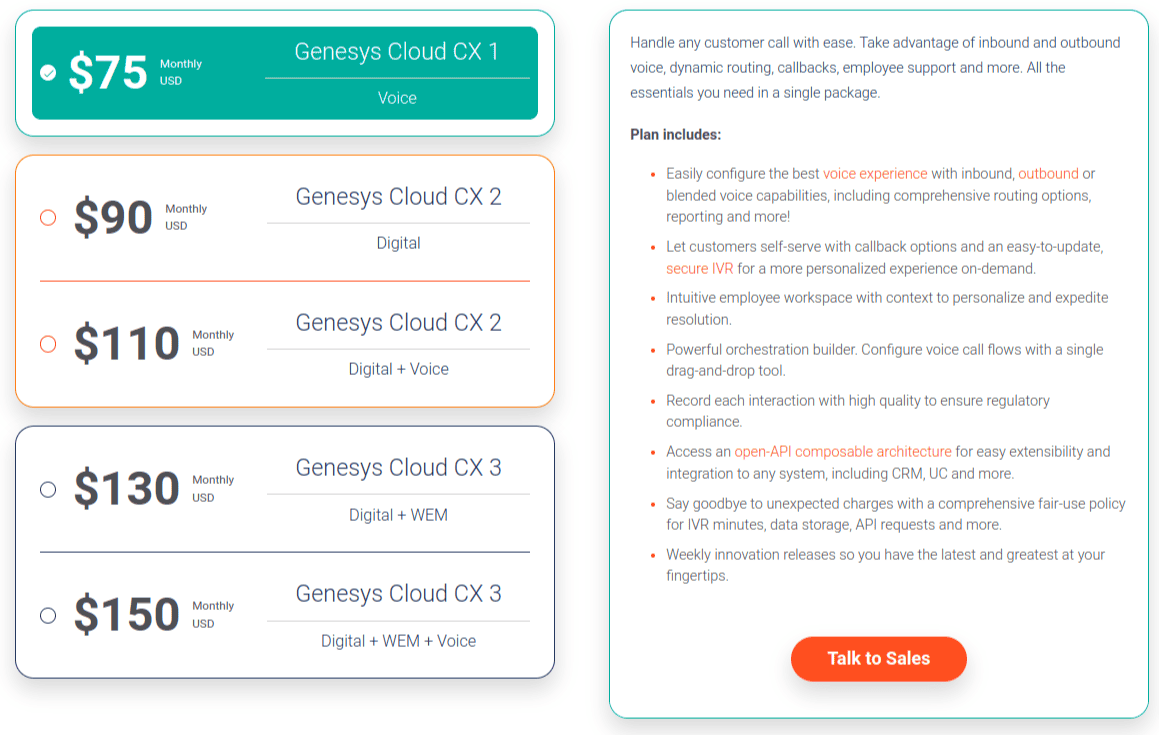 User Review of Genesys Cloud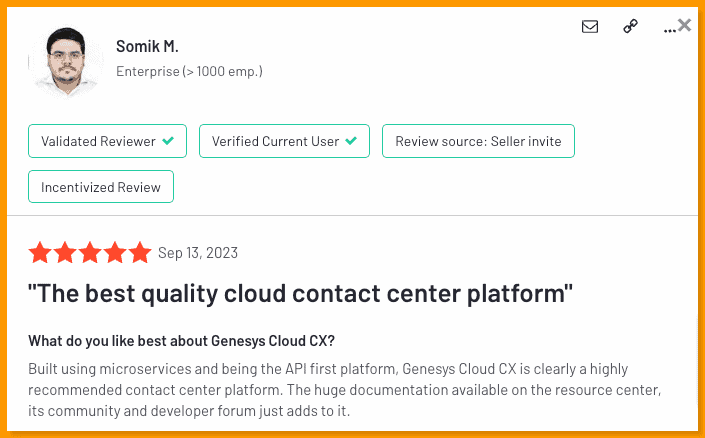 #10. RingCentral
Best for optimizing cloud-based customer interactions
RingCentral offers a robust cloud-based contact center solution tailored for businesses of all sizes. Designed to foster a unified customer experience, it seamlessly integrates omnichannel routing, CRM systems, and insightful analytics.
The platform's primary strength lies in its ability to optimize every customer interaction, ensuring agents have the necessary tools at their fingertips. With a user-friendly interface and a suite of features, RingCentral stands out as a comprehensive tool that not only connects but also deeply understands the nuances of the customer's journey.
Pros
Optimized for cloud-based interactions

Seamless omnichannel routing integration

In-depth customer interaction analytics
Cons
Might be complex for beginners

Requires stable internet connectivity

Integration learning curve for some users
Pricing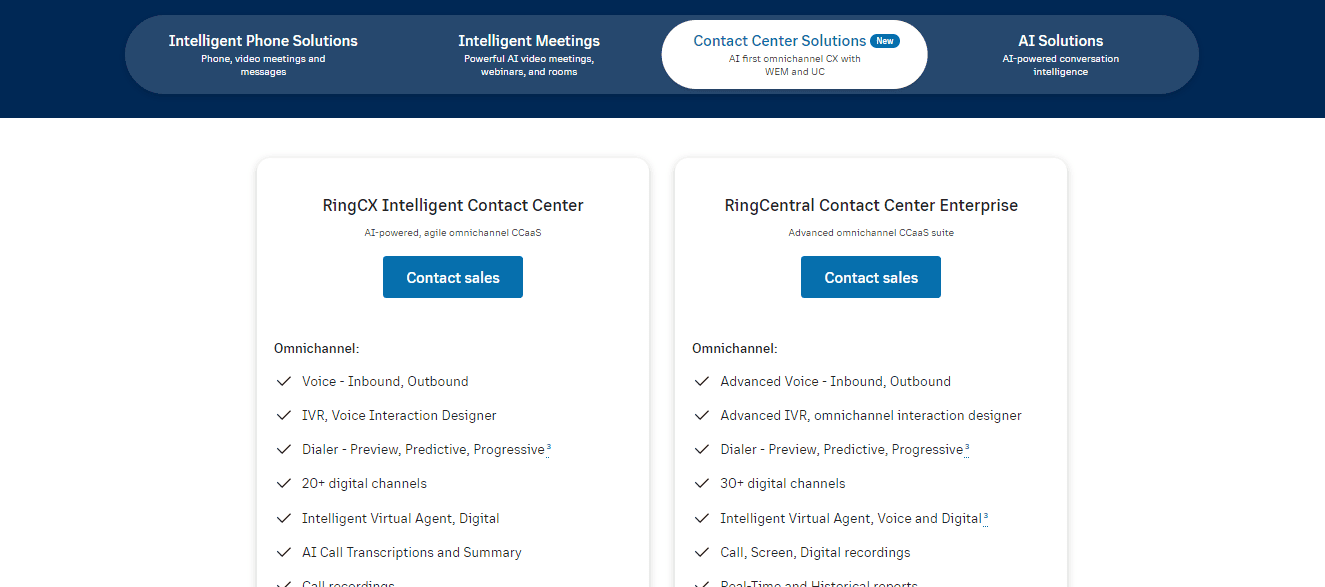 User Review of RingCentral
#11. Bitrix24
Best for optimizing cloud-based customer interactions
Bitrix24, a unique CRM solution, is crafted specifically for call centers. Prioritizing effective client communication, Bitrix24 encompasses telephony, email marketing, and messenger integration. The platform allows businesses to manage customer interactions with ease, ensuring a detailed and organized communication history.
Its versatility and comprehensive features make Bitrix24 a preferred choice for businesses aiming for detailed customer engagement.
Pros
Comprehensive CRM communication tools

Effective client history organization

Versatile telephony and email marketing
Cons
Free version has limited features

Can be overwhelming for small teams

Customization might require tech expertise
Pricing

User Review of Bitrix24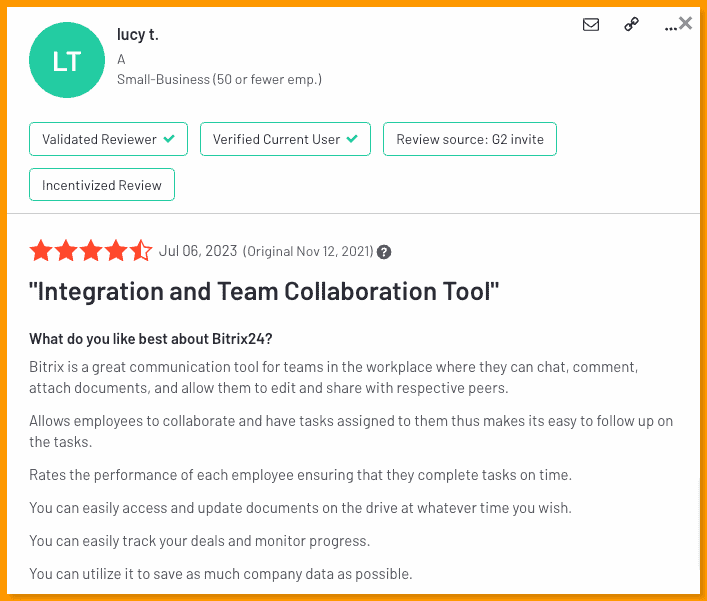 #12. JustCall
Best for optimizing cloud-based customer interactions
Positioning itself as a premier cloud contact center solution, JustCall emphasizes superior inbound call management. The platform boasts features like smart call routing, IVR, and appointment scheduling, ensuring every call is handled efficiently.
Its ability to integrate with over 100 business tools sets it apart, offering businesses a centralized hub for all support operations. JustCall's commitment to streamlining communication makes it an indispensable tool for modern businesses.
Pros
Expertise in integrated call management

Smart routing for efficient call handling

Broad integration with over 100 business tools
Cons
Might be overkill for very small businesses

Requires training for full feature utilization

Dependent on third-party tool compatibility
Pricing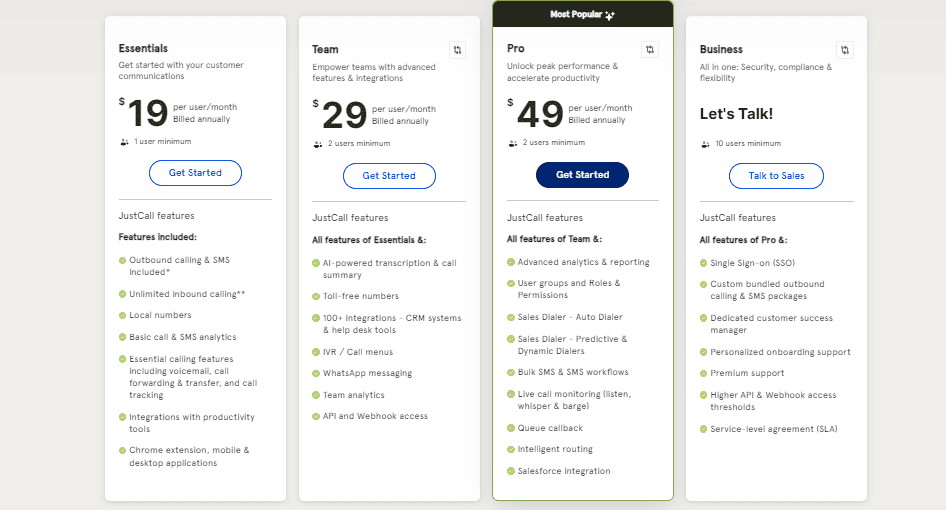 User Review of JustCall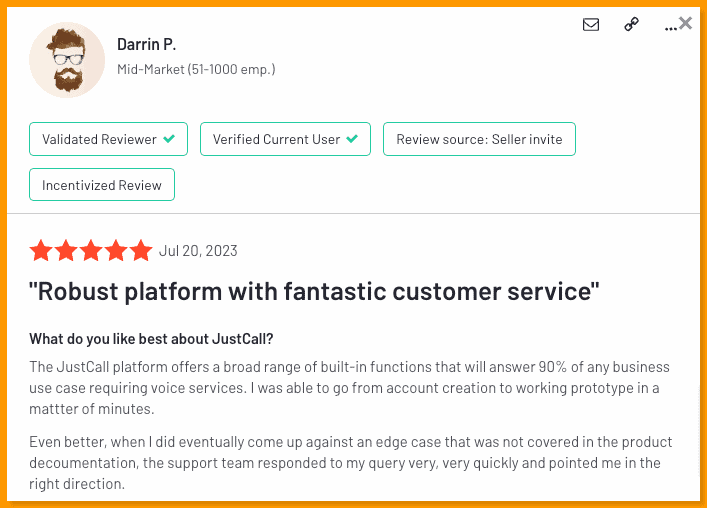 #13. Nextiva
Best for optimizing cloud-based customer interactions
Nextiva's Contact Center emerges as a holistic cloud solution, promising unparalleled connectivity. Championing continuity across channels, it offers a harmonious blend of skills-based routing, unified reporting, and advanced features like speech-enabled IVR.
Its standout feature is the equilibrium it maintains between inbound and outbound calls. With a focus on enhancing customer service and streamlining operations, Nextiva positions itself as a top-tier choice for businesses seeking efficiency and innovation.
Pros
Seamless multi-channel communication

Advanced features like speech-enabled IVR

Balanced inbound and outbound call handling
Cons
Pricing can be steep for startups

Might require dedicated IT support for setup

Integration with non-standard tools can be tricky
Pricing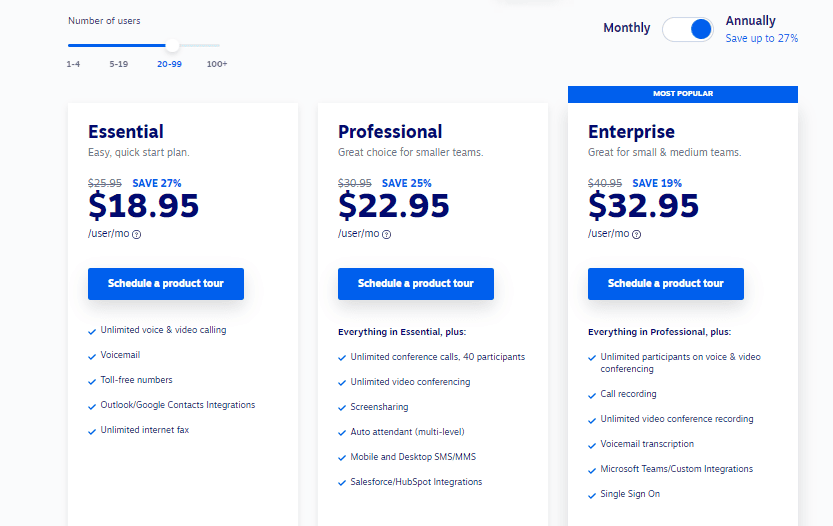 User Review of Nextiva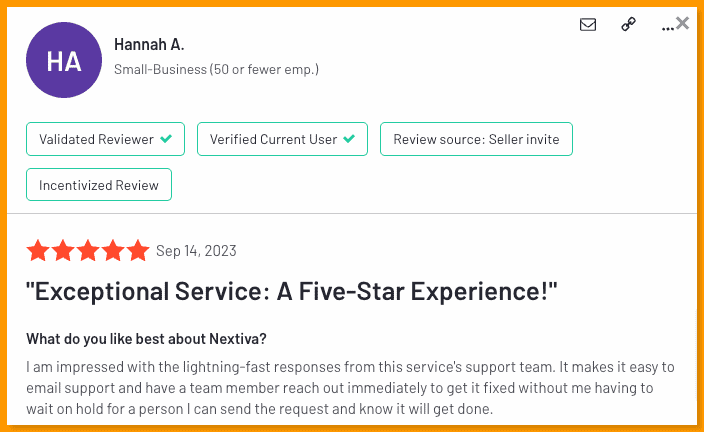 Wrap-Up: Get Started With a Free Call Center CRM Software
Cloud-based call center CRM solutions help you run a call center efficiently without the burden of IT infrastructure that's on-premises and may even be unsafe.
EngageBay, for example, offers powerful features, such as calling customers in one click, recording conversations, developing call routing plans, and even conducting broadcast calls on contacts with certain tags.
You can sign up for EngageBay and try out these features and many more for free.
Empower your travel agency with the best CRM software – learn more in our expert guide!