Freshdesk is an award-winning customer service solution used by more than 60,000 businesses. Small businesses may have Freshdesk on their software shortlists since the solution is designed for companies of all sizes.
However, Freshdesk has received complaints for slow loading speeds and bugginess. You want a solution that optimizes your workflow instead of reducing efficiency.
This guide will introduce 11 Freshdesk alternatives that offer excellent customer support tools like live chat, shared inbox, knowledge base, AI integration, and more.
Here's a good list of Freshdesk alternatives:
Zendesk
Zoho Desk
EngageBay
Help Scout
LiveAgent
Front
Intercom
HubSpot Service Hub
TeamSupport
Kustomer
Gorgias
Let's start with an overview of Freshdesk.
What Is Freshdesk?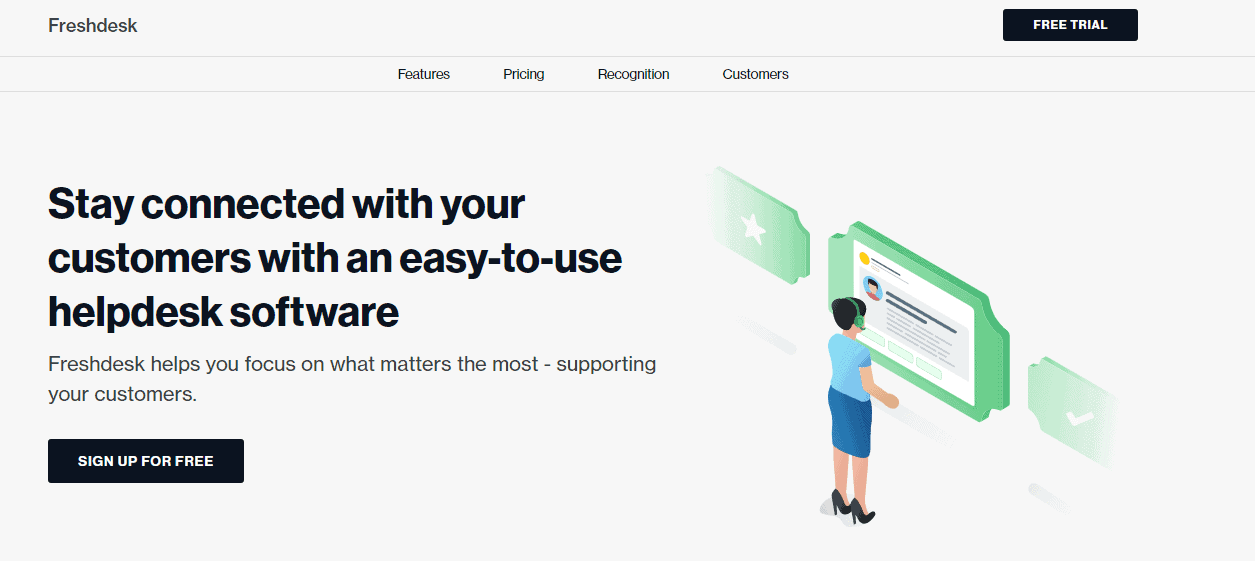 Freshdesk is Freshworks' cloud-based customer service platform. It's built to scale as your small business does, offering support with every step. The tools within can bolster the work of your support teams, expediting processes.
Companies such as Pearson, Bridgestone, Orderin, Decathlon, and Sonata use Freshdesk.
Read also: 50+ Call Center Software Explained (All Use Cases)
Freshdesk Features and Pricing
Freshdesk is a features-rich service solution that can contextualize your support processes. This section will explore the features therein and the pricing of this service software.
Features
Support desk: With collaborative tools, automation workflows, and simpler processes to uncomplicate ticketing, the support desk is the starring feature of Helpdesk. You can also use it for team collaboration and unifying customer profiles.
Customer insights: Freshdesk wants to spare businesses from losing customers. It will notify those at risk of dropping off the funnel and provide trends and insights that may form the backbone of stronger service.
Contact center: The cloud-based contact center uses voice AI to answer customer questions at lightning-fast speed without sacrificing accuracy. The contact center is also built to scale.
Omnichannel support: Reach your audience on the channels they use, including email, messaging, chat, telephony, or social media.
Integrations: Freshdesk is ready to use with the top tools, including Jira, Zoho, Nimble, QuickBooks, Xero, and Infusionsoft.
Pricing
Freshdesk is available at four price points with annual billing.
The Free plan is $0 per user per month, and includes:
10 users
Team collaborations
Ticket dispatching
Extended email support
Integrated ticketing
Growth is the first paid plan for $15 per user per month. You can use the above features, and:
Collision detection
Automation
Detailed helpdesk reports
The most popular Freshdesk plan is the Pro plan for $49 per user per month. It has more of what Freshdesk offers, such as:
Community forums
Customer journeys
Personalized customer segments
5,000 collaborators
Custom dashboards and reports
Enterprise is the most encompassing plan Freshdesk offers. It's $79 per user per month and includes everything above, plus:
Audit logging with Freddy AI
Sandbox
Email bot
AI social signals
Canned response suggestions
IP range limitations
Freshdesk Pros and Cons
Let's wrap up our Freshdesk review by highlighting its benefits and downsides.
Pros
Multi-language support
Free pricing plan available
Inclusive software for companies of all sizes
Lauded for its reliability
Cons
Users have called it glitchy, complex, and buggy
It's slow to load, according to users
Read also: 9 Best Call Center CRM Software Tested and Reviewed
The Top 11 Freshdesk Alternatives For Customer Support Features
If Freshdesk has given you pause, plenty of competitors offer similar services but in a more attractive package that can be easier to use and faster to load.
Let's take a look.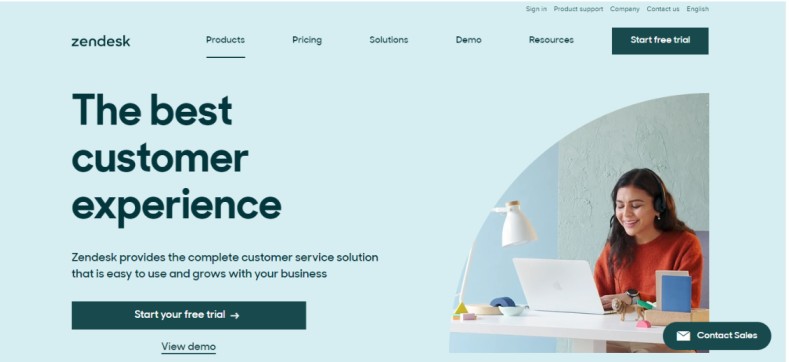 Getting our list underway is Zendesk, a service and sales software for more efficient and united teams. It uses AI as Freshdesk does and has separate solutions for enterprises versus small and medium-sized businesses.
Features
Included in a Zendesk subscription are these features:
Zendesk AI: The AI tool within Zendesk has routing, workflows, and support without a complex setup.
Automation: Service teams need all the time they can get to route customers. Automation workflows bolstered by the power of AI eliminate extraneous tasks.
Messaging: Create personalized messages that reach customers across various stages of the sales funnel using a channel of their choosing.
Help center: Build a knowledgebase your audience can dig deep into, which will keep your service team's phone lines less busy.
Ticketing: Track ongoing tickets, organize them by order of priority or other criteria, and close solved tickets within Zendesk.
Integrations: Zendesk integrates with apps like Slack, Salesforce, Tables, Exporter, PagerDuty, and Mailchimp Campaign.
Pricing
Zendesk Suite promises basic service starting at $19 a month, but its four pricing plans are costlier than that. The pricing is for annual billing.
Suite Team is $49 per agent per month. The plan includes the following:
Five agents
Ticketing system
Standard bots
Help Center
Messaging
Digital onboarding
Zendesk support
Suite Growth costs $79 per agent per month and offers more features, such as:
Live agents
Customer satisfaction ratings
Self-service customer portal
Zendesk says the Suite Professional plan for $99 a month is its most popular. It builds on the features above, adding:
Side conversations
Data location options
Community forums
Live analytics
The Suite Enterprise plan has custom pricing based on your needs. You can use every service above and:
Advanced AI add-ons
AI Content Cues
Custom agent roles
Sandbox
Contextual workspaces
Pros and Cons
Zendesk is a solid software across the board but has common complaints. Here are the pros:
Time-saving tools
Strong integration selection
Easy-to-use chat
The downsides are as follows:
Expensive plans for small businesses
Poor customer support, according to users
Read also: Zendesk Alternatives – 14 Great CRM Software for SMBs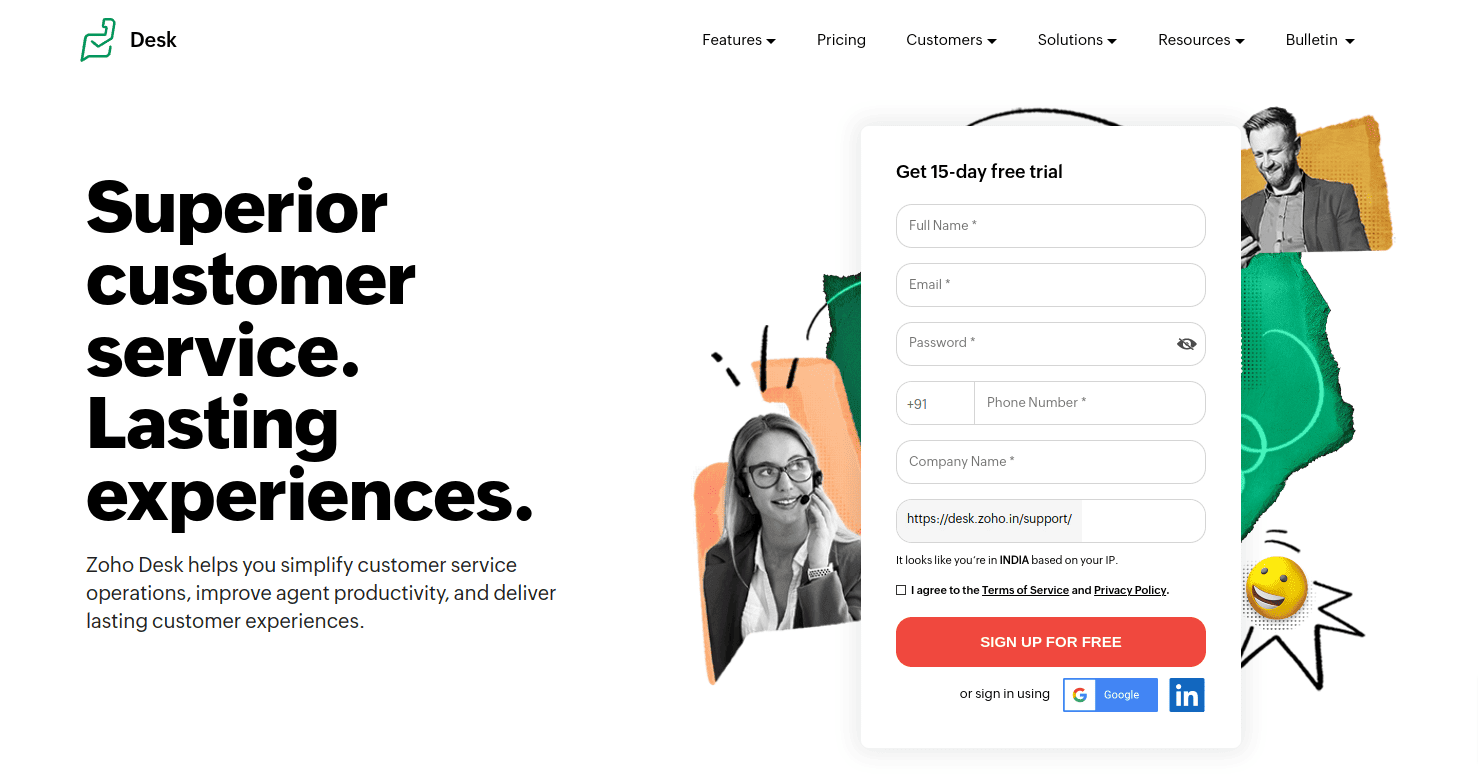 Zoho Desk is an award-winning Freshdesk alternative for startups, SMBs, and enterprises. Its solutions are tailored toward customer happiness, and the service utilizes an extensive library of integrations.
Features
Here's an overview of Zoho Desk's features.
Self-service: Zoho Desk supports more reliable customer bases. You can embed self-service tools and plug-ins, develop self-service portals for various audience segments, and build a knowledge base within the software.
Zia: The AI assistant Zia will send real-time notifications, offer reply suggestions, study sentiment analysis, and tag tickets, freeing up a serviceperson's schedule.
Ticketing: Zoho Desk is an omnichannel platform that can gather tickets across channels and unify them.
Customization: Tailor Zoho Desk to your business needs, creating unique templates, layouts, and more.
Integrations: This desk software integrates with Amazon Connect, Jive, Twilio, Slack, Exotel, RingCentral, JustCall, and Knowlarity, among others.
Pricing
Zoho Desk offers users three plans to select from. The following costs are for annual billing.
Standard is $14 per user per month. You can start a free trial to use features like:
Five automation workflow rules
Five email support channels
20 tags per ticket
50 custom modules per field
The Professional plan has more features, explaining why it's the most popular choice. You can now use the following:
15 automation workflow rules per module
10 email support channels
30 tags per ticket
150 custom modules per field
For $40 per user per month, the Enterprise plan offers more advanced, custom features like:
30 automation workflow rules per module or department with custom functions
100 email support channels
50 tags per ticket
230 modules per field
Pros and Cons
Zoho Desk offers these advantages:
Designed for small businesses
Affordable pricing
Geared toward self-service
However, users should beware issues like:
Not easy to use without customization
Poor customer service
Read also: Zoho Alternatives: 15 CRM Solutions For Smart Sales Teams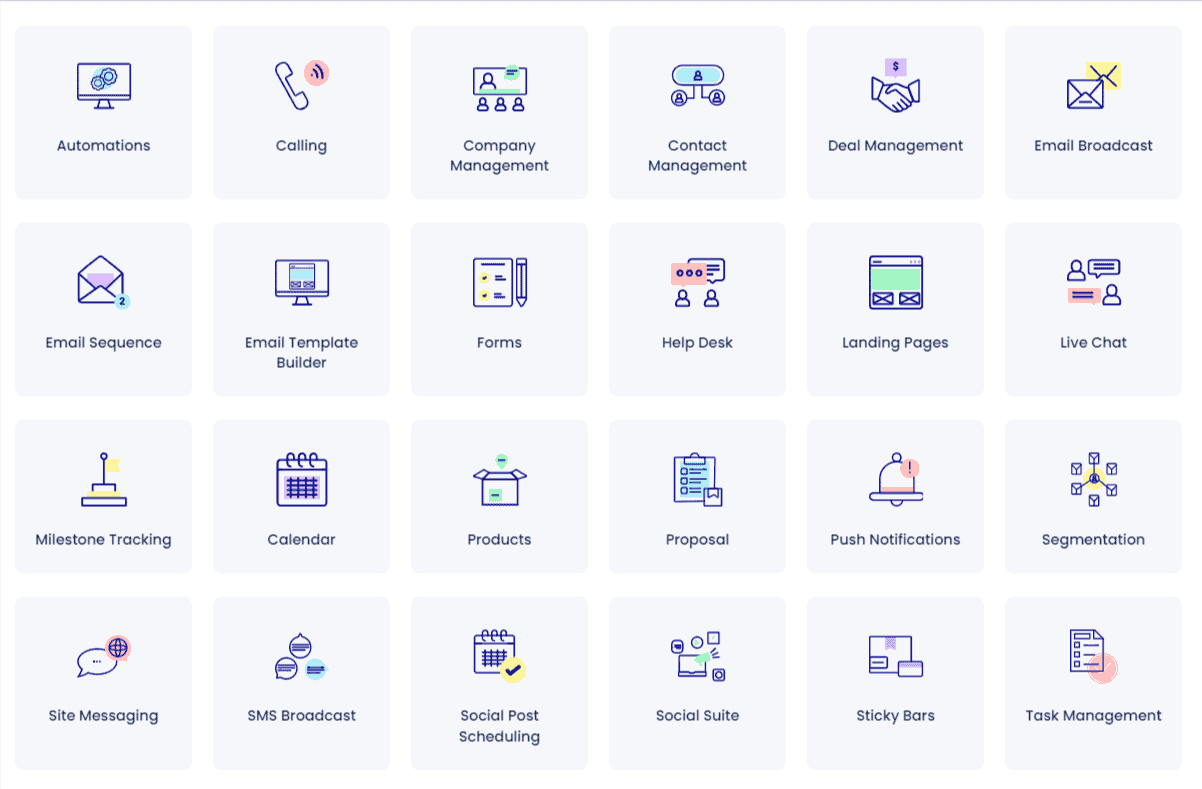 Among the top alternatives to Freshdesk is EngageBay, the all-in-one CRM software with solutions for salespeople, marketers, and customer support teams. EngageBay is designed for startups looking to grow without spending a fortune on their business growth software.
Features
EngageBay's Service Bay has features designed to simplify the service rep's day. Let's review those features.
Automation: Time is always of the essence in a service role. EngageBay's seamless automation workflows will simplify the tasks that take up the most time, allowing service teams to redirect their attention to bigger concerns.
CRM: EngageBay's built-in CRM harnesses customer data and generates rich insights servicepeople can use to identify a customer's pain points and serve them more efficiently.
Live Chat: EngageBay's instant support, notifications, shortcuts, and customization make it easy for startups to launch a live chat service.
Helpdesk: Review tickets within EngageBay and automate ticket management to prevent being overwhelmed with too many open tickets.
Integrations: Include SendGrid, Mandrill, Shopify, Mailgun, Zapier, Xero, QuickBooks, Amazon SES, Stripe, RingCentral, Twilio, Plivo, DocuSign, and more.
Pricing
You can get started using EngageBay today, as the Service Bay is available for free. Continue scaling up with EngageBay with the All-in-One package. The costs are for annual billing as follows.
The Free plan is free forever for up to 250 contacts. The following features are standard:
Helpdesk
CRM
Chat
Autoresponders
For $12.74 per user per month, the Basic plan with 500 contacts includes more exceptional EngageBay features, such as:
The Growth plan for $42.49 per user per month with 5,000 contacts adds more must-use features, including:
Call records
Products
Custom domain
Site messages
Push notifications
The Pro plan costs $84.99 per user per month and doesn't limit contacts. You can also use features like:
Phone support
Custom reports
Role management
Web analytics
Pros and Cons
EngageBay could be just the Freshdesk alternative your small business seeks, with advantages like:
Free migration, including from Freshdesk
Hassle-free onboarding
Free-forever plan
Low-cost services catered toward startups


On the other hand, if you're looking for an enterprise-grade alternative to Freshdesk, with advanced features, this may not be your best bet.
Read also: ActiveCampaign vs. HubSpot vs. EngageBay – Which CRM Is Best?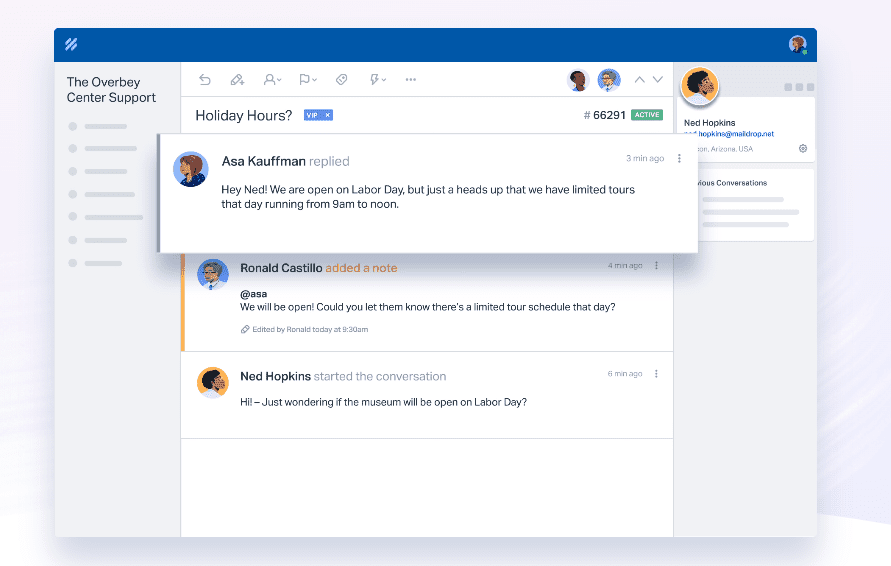 Service management through Help Scout provides a collaborative, organized, customer-first approach. The solutions are designed for businesses in the SaaS sphere to manufacturing.
Features
Here is more information on Help Scout's features.
Live chat: Allow customers to help themselves with instant answers, article recommendations, and chat escalation so customer service reps can handle the matter.
Messages: The Messages platform within Help Scout engages customers and informs leads to guide them toward a purchasing decision.
Automation: A growing company has more customer demands. Using Help Scout can reduce repetitive tasks so service teams can tackle customer concerns and questions.
Integrations: Help Scout is integration-friendly, with options such as Jira, Salesforce, HubSpot, Mailchimp, Slack, Docs, Olark, FreshBooks, Webhooks, and more.
Pricing
Help Scout has three pricing plans available. Here is more information on each, including pricing when you choose annual billing.
The Standard plan for $20 per user per month includes what companies need to get started, such as:
More than 50 integrations
Automation workflows
Chat and email
25 users
Two mailboxes
The Plus plan costs $40 per user per month and offers advanced collaborations and features like:
HubSpot, Jira, and Salesforce apps
Teams
25 free light users
Five mailboxes
For $65 per user per month, the Pro plan includes the following:
50 free light users to start, plus more light users
Account optimization reviews
Enterprise security
25 mailboxes
Pros and Cons
Here are the pros and cons of Help Scout, beginning with the advantages:
Easy-to-use interface
Inexpensive pricing
Handy email management
Users have also reported these problems with the software:
Glitchy and buggy
Low-quality customer support
Read also: 25+ Brilliant Small Business Tools for the Internet Champion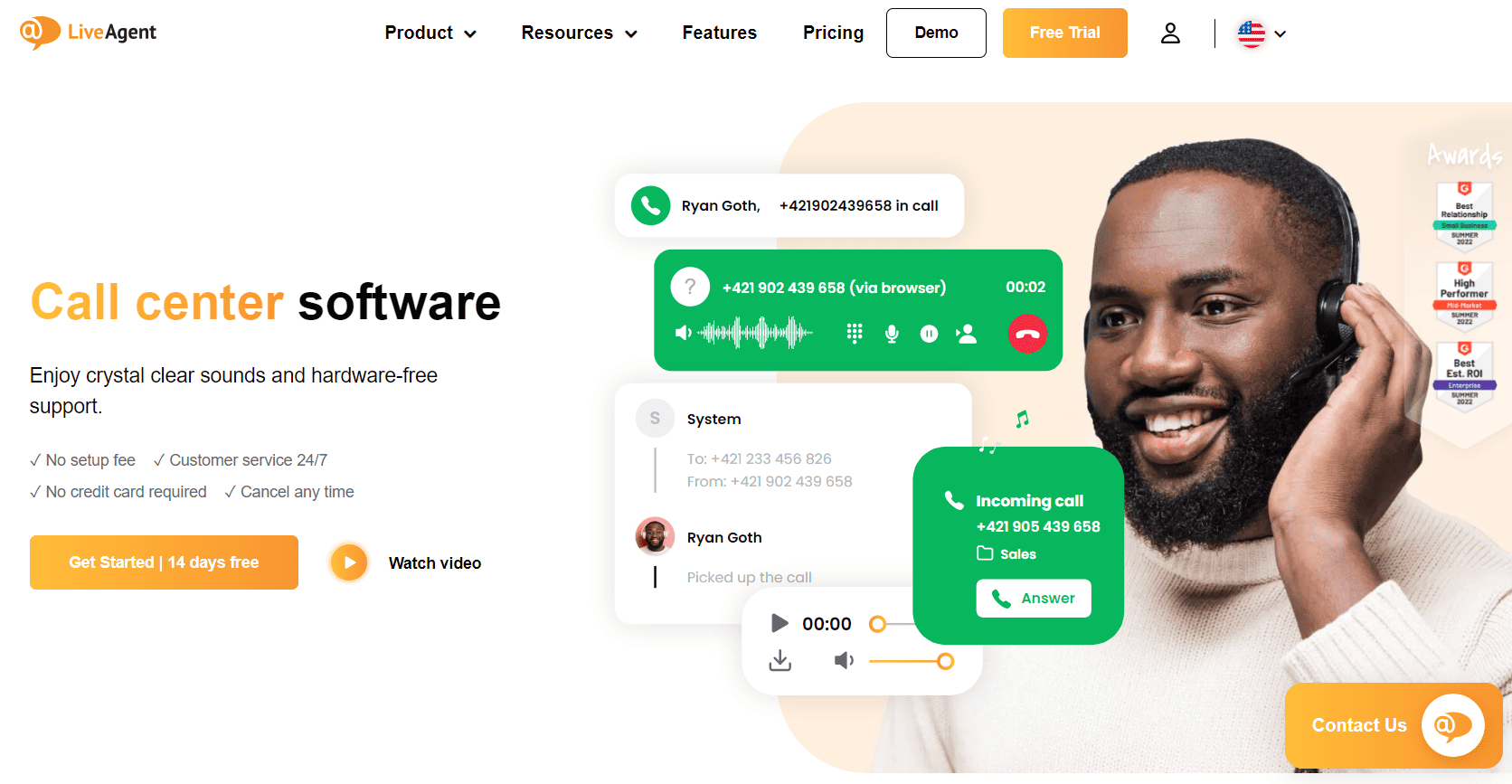 Promising 97 percent customer satisfaction, 30 percent more revenue, and 16x customer value, LiveAgent talks the talk, but does it walk the walk? It is a trusted choice of NASCAR, Airbus, and Forbes.
Features
Let's take a quick look at LiveAgent's features.
Helpdesk: The assistance tools within LiveAgent's software are designed to improve customer service rep efficiency and streamline communications.
Ticketing: Manage tickets across departments, assign ticketing responsibilities, and automate ticket duties within the software.
Live chat: LiveAgent created its chat software with customization options to increase customer engagement and retention.
Call center: Use LiveAgent when calls come in. The software doesn't require hardware and claims high-quality sound.
Knowledge Base: Generate how-to guides, FAQs, and articles to help customers find what they need easier without the need to contact customer support.
Integrations: What tools do you already use? LiveAgent likely integrates with them, such as Voxtelesys, PortalPBX, Redvoiss, Monema, Adiptel, Linphone, and Sangoma.
Pricing
The Business pricing from LiveAgent is designed for startups like yours. You can choose from four pricing plans. Here's more information with costs if you select annual billing.
Small Business costs $9 per agent per month and introduces these features:
Two chat buttons
Customer service
50 event rules
One knowledge Base
Three outgoing email accounts
Three incoming email accounts
10 departments
The Medium Business plan costs $29 per agent per month and expands on the features in the Small Business plan, with:
30 time rules
150 event rules
20 departments
Call center support
Five chat buttons
10 outgoing email accounts
10 incoming email accounts
As your startup grows, try the Large Business plan for $49 per agent per month, which includes the following features:
Custom roles
50 SLA rules
100 time rules
500 event rules
Two knowledgebases
50 departments
Three WhatsApp accounts
20 chat buttons
40 outgoing email accounts
40 incoming email accounts
The Enterprise plan is $69 per agent per month and comes packed with the following:
Priority support
Custom billing
100 SLA rules
200 time rules
1,000 event rules
10 knowledgebases
100 departments
More than three WhatsApp accounts
50 chat buttons
100 outgoing email accounts
100 incoming email accounts
Free trials are available for any plan.
Pros and Cons
Here are the pros and cons of using LiveAgent, beginning with the advantages:
Small business pricing available
Inexpensive, scalable plans
Has a smart ticketing system
These are some issues with the software, though:
Buggy, according to users
Lacks sufficient customer support
Read also: 6 Ways AI is Changing Self Customer Service For Good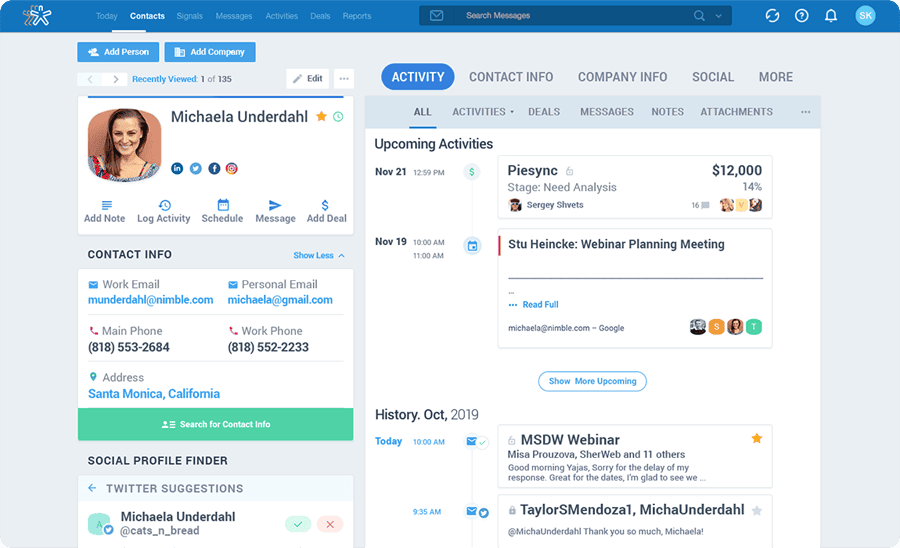 The customer operations platform Front combines email and helpdesk services with features like automation, personalization, and performance tracking to simultaneously improve team morale and customer retention.
Features
Let's take a closer look at what Front has to offer.
Shared inbox: Unifying an inbox among your sales and marketing teams makes tracking who's managing which tasks and when easier. Leads can get the attention they need.
Omnichannel communications: Interacting with leads and customers on the channels they most prefer is easy with Front, as it even has a chat function.
Ticketing: Unsolved tickets make a customer agent's job harder. Front uses one dashboard for customer concerns to reduce the instances of unaddressed tickets.
Automation: Front also offers users the option to automate everyday workflows to reduce instances of extraneous tasks.
Integrations: Use Front with customer service apps and software like ClickUp, Cordless, Asana, Aircall, Google Business Messages, Drift, Chatra, Bugpilot, and more.
Pricing
Front has separate pricing for small businesses versus other teams. The Starter plan for small businesses costs $19 per user per month with annual billing and limits you to 10 seats.
The plan includes these features:
More integrations (although not all)
One-click meetings
Team collaborations
Omnichannel messaging
Should you outgrow the Starter plan, you have more options. The Growth plan for $59 per user per month for at least five users adds more integrations and analytics.
Front's most popular plan is the Scale plan for $99 per user per month for at least 20 users. This plan beefs up security, team management functions, and rule flexibility. The Premier plan costs $229 per user per month for at least 50 users and increases usage caps across the board.
You can also pay for add-ons, such as Dialpad SMS for $100 a month, Telegram for $100 a month, or Google Business Messages for $100 a month.
Pros and Cons
How does Front rank as a Freshdesk alternative? Here are some pros of the software:
Small business-specific pricing
A unified inbox for streamlined communications
Has email marketing tools
But Front has its downsides too:
Pricing gets expensive beyond the small business plan
The add-ons, although optional, make Front even costlier
Read also: 24 Customer Service Tools for Great Retention Rates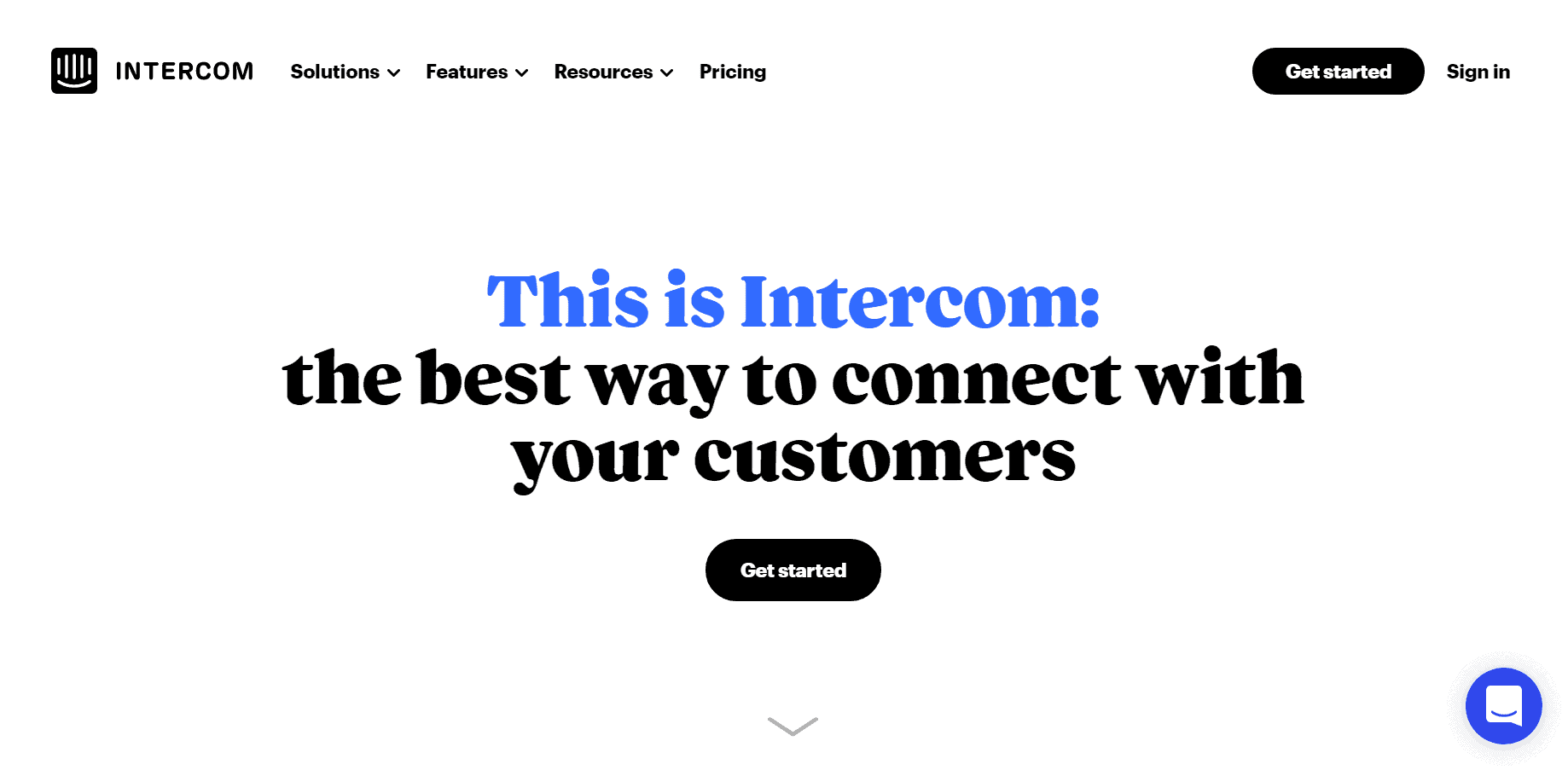 Why do businesses like H&R Block, Contentful, New Relic, Xero, Notion, and Microsoft use Intercom? Because this is among the Freshdesk alternatives that are AI-driven and offer advanced automation to simplify everyday customer service processes.
Features
Here is an overview of the features Intercom offers.
AI: Fin is Intercom's esteemed AI bot. The bot promises to resolve at least half of your ongoing support questions, freeing up customer bottlenecks and improving satisfaction.
Automation: Intercom's Workflows feature allows you to customize automation, setting rules, conditions, and triggers for when a workflow activates. You can even use Fin to help.
Shared inbox: Intercom calls its inbox feature "next generation," as it's designed to scale as your business does and unify your teams. You can even take inbox data and incorporate it into reports.
Business Messenger: Customize the omnichannel Messenger to suit your business needs and brand, changing it on a dime.
Integrations: You can integrate Intercom with many software solutions, including Google Analytics, Instagram, Stripe, WhatsApp, Delighted Inc., Google Calendar, and Jira.
Pricing
Using Fin and other Intercom features begins with selecting from one of three plans.
Starter costs $74 per user per month and offers these features:
Saved replies
Basic help center
Email and chat channels
Fin AI bot
Behavioral and companywide data
Titles and ticket IDs
Shared inbox
The Pro plan is one of two Intercom plans with custom pricing, but it's the service's most recommended plan. Scale up business operations with features like:
More integrations
Messenger phone deflection
Assignment rules
Team inboxes
Fin AI bot
Automation and chatbot Workflows
Ticketing
The Premium plan also has custom pricing and more encompassing features, such as:
Private help center
Real-time, custom reporting
Workload management
Fin AI bot
Two-factor authentication
SLA rules
Google SSO
Pros and Cons
Let's break down the pros and cons of using Intercom, beginning with the service's advantages:
Simple user interface
The Fin AI bot simplifies service tasks
Offers customization to put your unique stamp on your Messenger
The cons of the service are:
The plans are expensive
Users have complained about the customer support
Read also: 13 Robust Intercom Alternatives To Transform Your Customer Experience
The B2B customer service software TeamSupport is an award-winning solution designed to help businesses scale. This alternative to Freshdesk can help lower your churn rates, boost customer satisfaction, and enhance revenue.
Features
What's included in TeamSupport's suite of customer service features? Here's what you need to know.
Ticket management system: The B2B-centric ticket management system offered with a subscription to TeamSupport provides customer sentiment analyses, data on customer/rep interactions, and collaboration across teams.
Messaging: Reaching customers at a time most conducive to them works effectively with chat and messaging tools in TeamSupport. The service also offers AI chatbots to save customer service reps more time.
Customer data: The custom reporting dashboard is rife with insights for improving team performance and serving customers.
Integrations: TeamSupport integrates with Zapier, Microsoft Dynamics 365, HubSpot, RingCentral, Mailchimp, Salesforce, Jira, Basecamp, and more chat, messaging, and customer service apps.
Pricing
You can pick TeamSupport features like chat or messaging and pay for just those. The service also has three complete support packages.
Essential Support for $49 is designed for companies aiming to scale and offers:
Integrations
Ticket collision
Event calendar
Basic reporting
Prebuilt dashboards
Customer Satisfaction Ratings
Knowledgebase
Ticket deflection
Customer self-service
Advanced ticket management
For $69 per user per month, the Enterprise Support plan is TeamSupport's most popular. It increases features for more customer service, such as:
Ticket collision
Event calendar
Federated search
Workflow management
The Complete Customer Support Suite, for $119 per user per month, has analytics, customer success solutions, live chat, and ticketing. You can also use features like:
20,000 API calls
Unlimited integrations
Multiple product lines or brands
Five customer service hubs
Three sandboxes
Unlimited SLA management
Asset management
Pros and Cons
Before we introduce the next Freshdesk alternative, let's review the pros and cons of TeamSupport.
Focused on B2B businesses
Manages ticketing efficiently to save time
Unifies customer information across teams
However, TeamSupport has received some negative comments too:
The mobile app could be better
It doesn't have many integrations
Read also: Perks & Examples of Customer Oriented Companies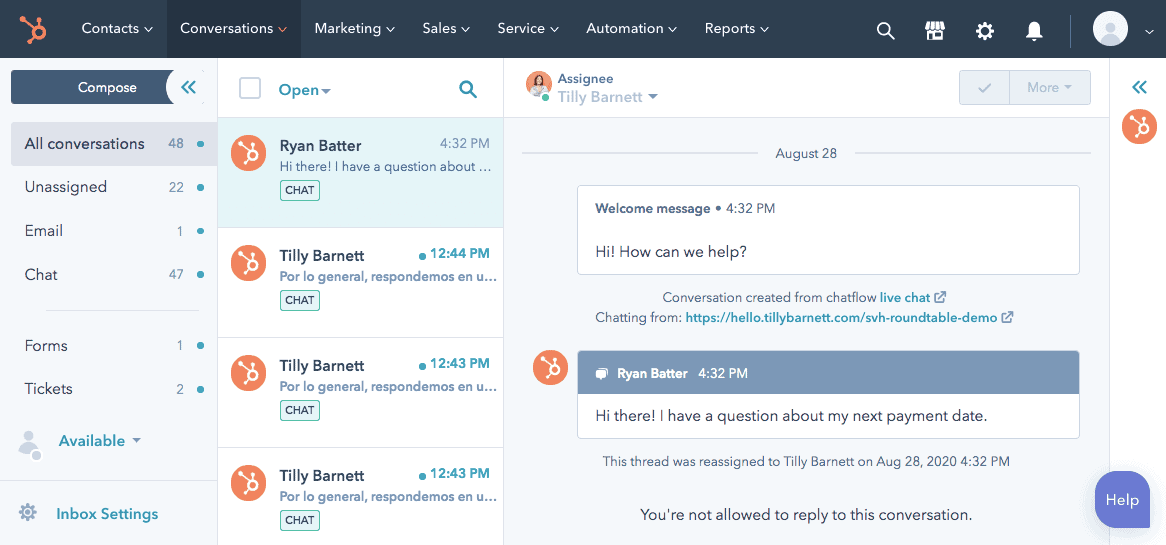 One of the better-known names in customer service, the HubSpot Service Hub works with its CRM to unify customer data and provide insights into consumer decisions and motivations. HubSpot says its software will also boost team productivity and build better customer relationships.
Features
Let's go through the HubSpot Service Hub features.
Customer portal: HubSpot's customer portal tracks ongoing tickets and conversations, so support agents can see which customers need attention.
Knowledge Base: Create a library of FAQs and articles to help your audience when they have questions. The knowledge base should reduce their reliance on your customer service reps.
Calling: The HubSpot Service Hub includes VoIP and inbound calling to resolve matters quickly with high-quality audio.
Live chat: Customer service reps will see chat requests as they come in and can answer questions to mitigate concerns and make customers happier.
Pricing
The HubSpot Service Hub is available at one of four pricing levels.
Free is an entirely free plan that doesn't require a credit card. It offers basic customer service management features such as:
Reporting dashboard
Team email
Ticketing
Shared inbox
Tickets closed reports
Live chat
Contact management
For $45 per month, the Starter plan includes all the Free features and:
Multiple currency support
Simple ticket automation
Calling SDK
Multiple ticket pipelines
Conversation routing
The Professional plan for $450 a month tacks on more features still, such as everything above, plus:
SLAs
Logged-in visitor identification
Knowledge base
Customer portal
Helpdesk automation
Companies on the verge of massive growth might consider the Enterprise plan for $1,200 a month. That's the only way to use features like:
Team management
Single sign-on
Goals
Conversation intelligence
User roles
Playbooks
Pros and Cons
The HubSpot Service Hub is beneficial in these ways:
Offers a free plan
Has a wide range of features
The service is also known for the following problems:
Expensive pricing for advanced features
Annual lock-in for all subscriptions
Expensive migration and onboarding
Read also: Is HubSpot Worth It? In-depth Review for Small Businesses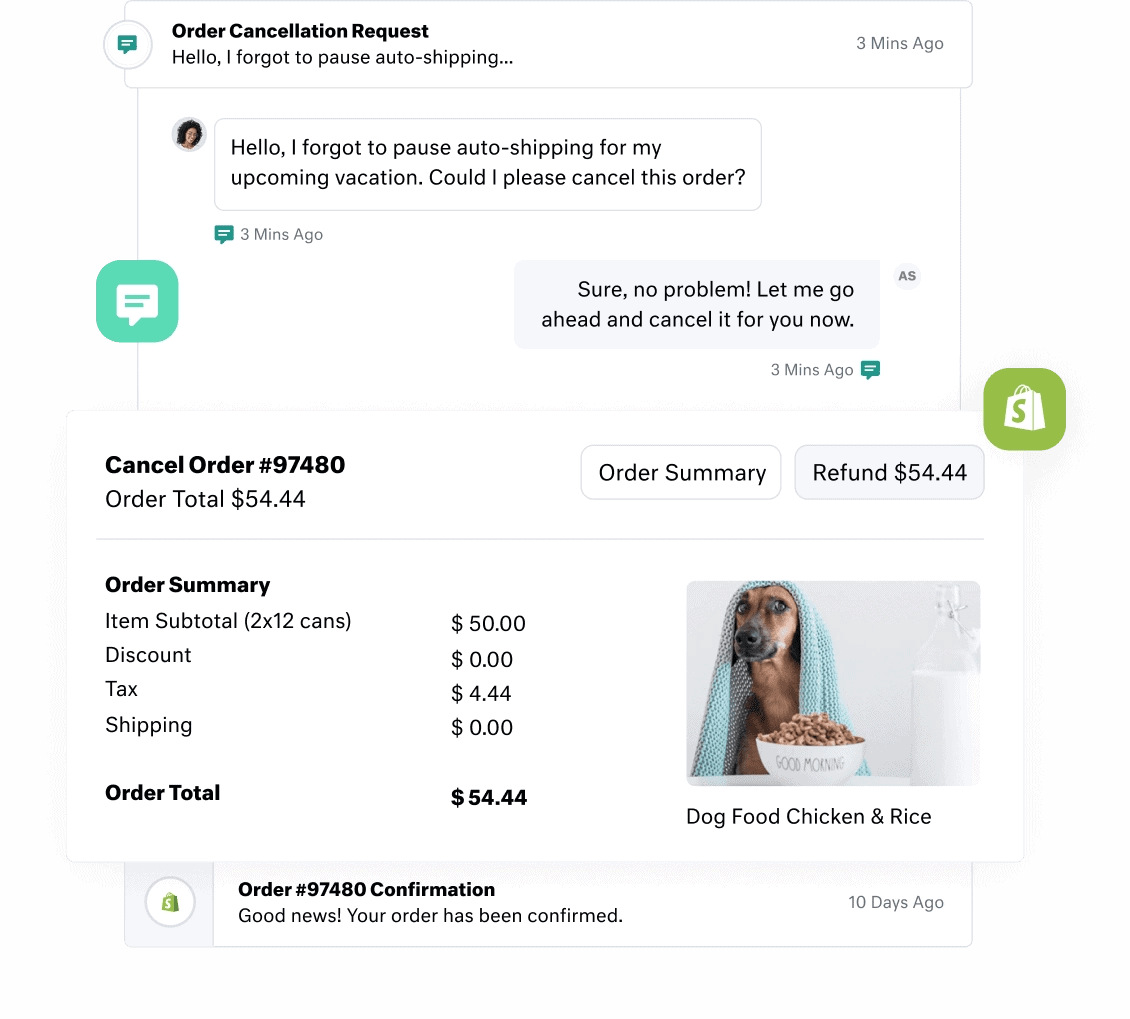 A customer service solution with a built-in CRM suite, Kustomer is the preferred choice of brands like Hopper, Ring, Skims, Glossier, and Sweetgreen. Kustomer promises to make customer service more effortless and personalized.
Features
Here are Kustomer's biggest features.
Customer service CRM: Kustomer's flexible CRM links with over 60 apps. It features permission and business process automation to drive tasks forward and win back time.
Omnichannel communications: Interact more efficiently with customers using features such as chat, SMS messaging, voice messaging, email, forms, or social messaging.
Self-service: Let your customers become more independent with a code-free knowledge base that uses CRM data to personalize the customer experience.
AI: Kustomer's AI tool can detect intent, create workflows without code, and work within the CRM.
Integrations: Link Kustomer to tools and software like Magento, BigCommerce, 8×8, Amazon Connect, Twitter, Gmail, Facebook, and more.
Pricing
Kustomer offers two pricing levels: Enterprise and Ultimate.
Enterprise is for advanced features and SLAs. It costs $89 per user per month with annual billing and provides these services:
Conditional fields
Multiple business hours
Custom permission sets
Knowledgebase customer portal
Proactive chat
Service-level agreements
Custom skill routing
Ultimate for $139 per user per month is the ultimate Kustomer package, with every feature above and:
Sandbox
Allowable IP ranges
Live agent auditing
Enhanced routing
Unlimited collaboration users
You can also pay for add-ons, with the available options being an API limit increase for $25 per user per month, SAML single sign-ons for $10 per user per month, seat licenses, and more.
Pros and Cons
What do users like about Kustomer? Here are some advantages of the software:
It has a CRM suite built in
Enables self-service and simplifies customer service tasks
Has an appealing interface
Downsides of Kustomer:
Expensive pricing
Some features are difficult to use
Read also: Types of Customer Services & What Suits Your Small Business Best
Last on our list of Freshdesk alternatives is Gorgias, a tool for automating and centralizing customer support and providing faster service. The software also comes with some social media and email features.
Features
Let's go over the customer service features within Gorgias.
Automation rules: Gorgias's automation add-on works according to the rules that you establish, so you can slot it easily into an existing or new workflow.
Omnichannel communications: You can communicate with leads and customers on their preferred platforms, from WhatsApp to SMS, voice, live chat, social media, or email.
Order management: Stay on top of Shopify orders within Gorgias, adding new orders, closing delivered ones, and canceling and refunding if necessary.
Data and statistics: Learn more about your customers and the heartbeat of your business with satisfaction surveys, live statistics, revenue stats, and performance metrics.
Integrations: You can integrate Gorgias with your phone, marketing, eCommerce, chat, and quality assurance tools, from Shopify to Attentive, Recharge, Hark, Sigma AI, Aircall, Instagram, and Facebook.
Pricing
Gorgias offers pricing on a sliding scale based on the number of tickets you send per month. Some plans are only available on a monthly subscription, so here's an overview of the prices.
Starter for $10 per month limits you to three user seats, 50 tickets a month, 94 integrations, and unlimited social media channels.
Basic for $60 a month ads 500 user seats, 300 tickets, and 150 integrations. The Pro plan for $360 a month has 50 user seats and 2,000 tickets, with the option to add 100 additional tickets for $36.
For $900 a month, the Advanced plan offers 500 user seats and 5,000 billable tickets. You can add 100 more for $36.
The Enterprise plan has custom pricing.
Pros and Cons
Here are the pros and cons of Gorgias.
Has many touchpoints for omnichannel communication
Provides detailed, actionable insights
Lets you manage multiple stores
What about the downsides? Let's take a look.
Sliding scale pricing can get expensive fast
Doesn't have many integrations
Read also: 6 Ways AI is Changing Self Customer Service For Good
Wrap Up
That brings us to the end.
The 11 Freshdesk alternatives we looked at make fantastic solutions, but EngageBay has some unique advantages over the rest. You don't have to stress about hidden fees, expensive pricing, and paying for solutions that a small business doesn't need.
EngageBay scales with your business, so it's easier to grow. Try it free today and see for yourself if this is what you were looking for 🙂