Email, the most flexible and universal messaging medium, continues to adapt to an evolving marketplace. Consider the stats:
Among US adults, 72% prefer to communicate with companies via email.
Radicati estimates that the global email user base is 2.6 billion, of which Facebook has about two-thirds. Adobe found that we're spending 17% more time with our inboxes this year than we did last year.
When it comes to ensuring that the right people see the right content at the right moment, email wins hands down. According to VentureBeat, conversions have a 77% chance of rising for companies that adopt email automation.
For these reasons, email marketing automation deserves a key role in your marketing automation workflow strategy. When your business nurtures leads with triggered messaging, you will likely see an increase in average order value and a decrease in customer drop-offs.
What Is a Workflow?
A workflow is a series or sequence of tasks that need to be completed in order to achieve a certain goal. The tasks can vary in size and complexity and can span various channels and departments.
Some workflows are very structured, whereas some aren't. However, a workflow is created every time data is moved from one task to another. Workflow happens throughout the workplace. A workflow also automates repetitive tasks and improves marketing efforts.
With the advancement of technology, companies are now incorporating email marketing automation tools into their workflows to increase efficiency.
Let me explain.
Marketing Automation Workflows Explained
Marketing automation is the process of using software to automate various marketing activities, including audience segmentation, developing and managing email campaigns, and tracking and analyzing results.
In the context of marketing automation, workflow is used to describe the framework of a customer journey and the touchpoints where the automated interactions come in.
Let's say, someone visits your website and signs up for the opt-in forms. It could be for downloading a free ebook or signing up for a free demo. Whatever the case, they want more information about your product or service.
You get their email address and using the marketing automation workflow, you can set up an email sequence. When they first download it, you can automatically send a welcome email sequence followed by other emails to further nurture your leads.
A marketing automation workflow helps advance leads down your sales funnel by nurturing and engaging with all your leads. You can create a marketing workflow automation in a very systematic way.
Here's a basic marketing automation example explained in a few steps.
#1. Getting Started With Marketing Automation
When you send a welcome automation email sequence, you get the chance to introduce your business. You get to explain to them a little more about your product and service.
With email marketing automation software, you don't have to send the hit button manually. When someone signs up for the form, the welcome email is triggered automatically.
#2. Create a Contact Database in Your CRM
For your marketing strategy to be effective, it's crucial to segment your audiences on various factors. These factors include location, age, gender, buying interest, past records, and much more.
Depending on the action your prospects take, they are sent down to a different marketing workflow.
For instance, a prospect who downloaded the ebook is still trying to learn more about your product. Whereas, a person who requests a free demo might be in the decision stage of buying.
These are different ways to segment your email list to make your automation work.
Read also: Marketing Automation For Manufacturing: Beginner's Guide
#3. Nurture Leads on Autopilot
Once you have collected their email address and segmented your audiences, it's time to create an automated workflow for lead nurturing.
Lead nurturing is the process of educating and keeping your leads engaged to build strong relationships with your potential customers. You can share case studies, resource materials, and other relevant information that will help them further push down the sales funnel through sales automation.
Read also: Data-Driven Marketing Automation For Maximum Impact
#4. Re-Engaging Your Email Lists
If someone hasn't done anything with you, say hasn't opened an email or visited your website, you should automatically send them something. Generally, companies set a 60-day time frame for triggering automatic emails in case your prospects or leads take no action.
You will find emails with catchy subject lines like:
We Miss You, Here's Your 25% Discount Coupon
Hey, Hope You Are Doing Fine!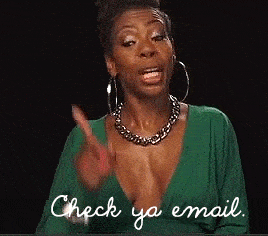 If they still don't take any action, it shows that they have moved on and don't want to be bothered anytime soon.
#5. Marketing Automation for New Customers
You can set up an automated email workflow for your new customers.
When they purchase your products, the first thing you need to do is confirm their order and thank them.
Depending on your product or service, you might need to schedule a call or send demo videos. Whatever is the next requirement, you can easily incorporate steps into your workflow.
Now you must have a basic understanding of how workflow automation works.
Let's look at 20 automated email marketing workflows that every business, including e-commerce stores, should set up and optimize to keep qualified leads engaged.
Read also: Workflow Automation Explained (with stats + examples + best tools)
1. Welcome email workflow
When your audience or customers sign up for emails, they will likely read them. So, it makes sense that a welcome email sent immediately after signup will receive high customer engagement rates.
One study shows that welcome emails received almost four times as many opens and five times as many clicks as regular promotional emails. Welcome emails generate, on average, 320% more revenue per email than regular promotional emails.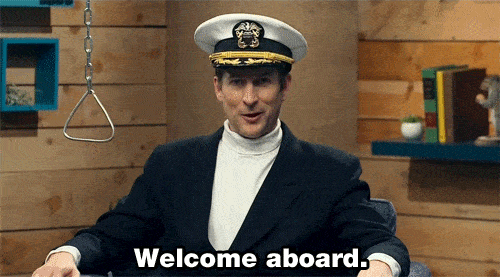 Trigger: Subscribe to or purchase a product/service
How to use it:
Tell the reader what they can expect;
Show them how to learn about what they are interested in;
Direct them to further info about your business;
Provide them with social media channels for further engagement;
Show them your personality to humanize your business and earn their trust;
Ask a question or direct them to a survey to learn more about them.
Here's a sample welcome email sequence: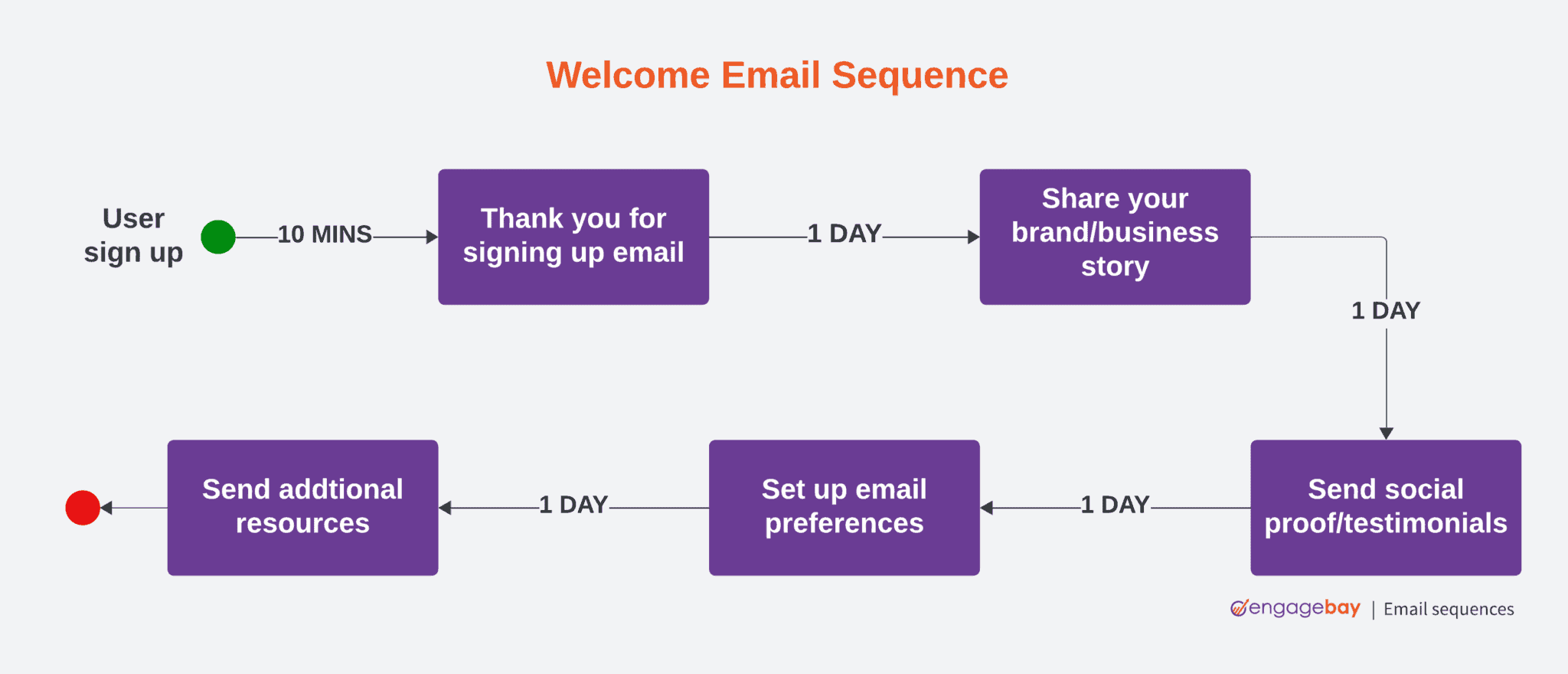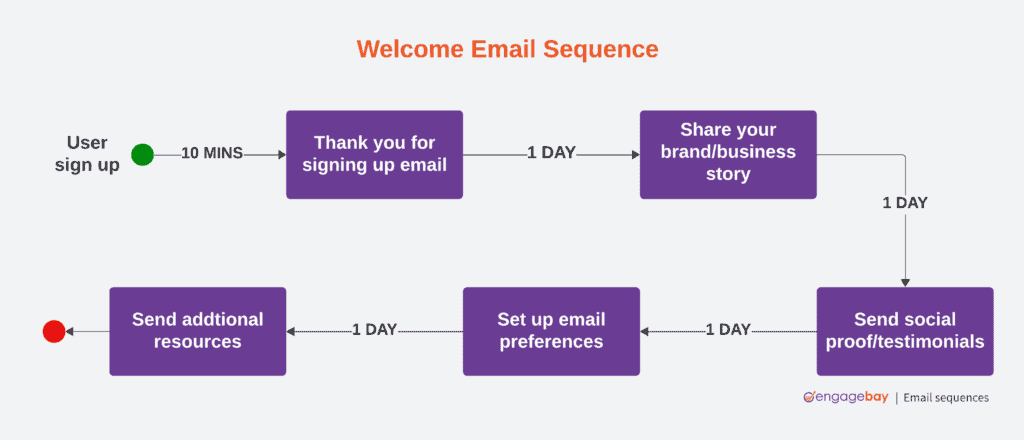 Welcome emails have numerous uses. To help you decide on your welcome email's content, simply think about what you want to accomplish next in the context of your overall business objectives.
So, for example, if you have a long sales cycle, you could direct recipients to product info, relevant content, or an FAQ—anything that will increase their confidence in making a purchase. If your sales cycle is short, show the readers new products, promotions, or exciting content, quickly turning them into paying customers.
This colorful welcome email from Topshop welcomes users by offering them a discount on their first order, along with a CTA.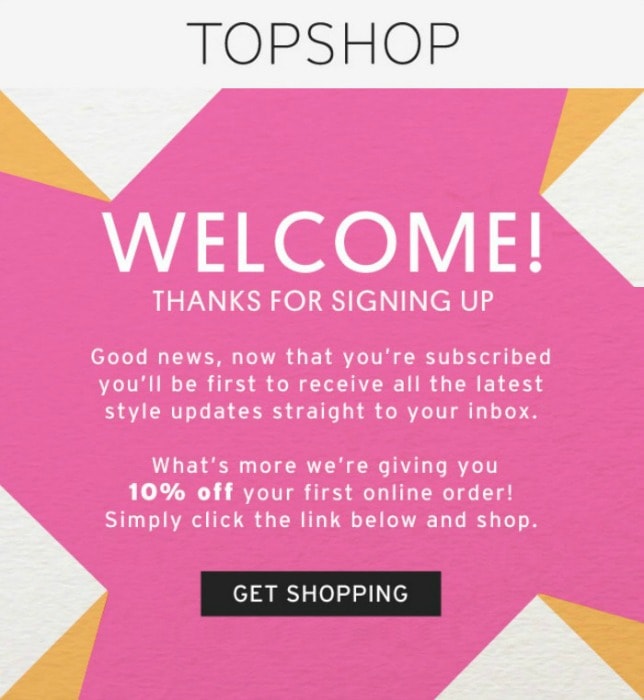 2. Lead magnet email workflow
Trigger: Download your offer
How to use it:
This type of email works well when the recipient has opted in for a valuable resource or lead magnet that you offer aligning perfectly with your content marketing workflows. This type of content marketing is also known as gated content.
Based on the topic, you can tag the reader by interest and then send a series of emails to demonstrate your appreciation and enhance the customer experience—both essential for your success.
This email marketing automation workflow should include:
A thank you and confirmation immediately after the opt-in for the download.
You could also send selected tips, tactics, and related resources a few days later.
A request for feedback several days after that so that your customer service team can get valuable information.
Check out this sample lead magnet email workflow: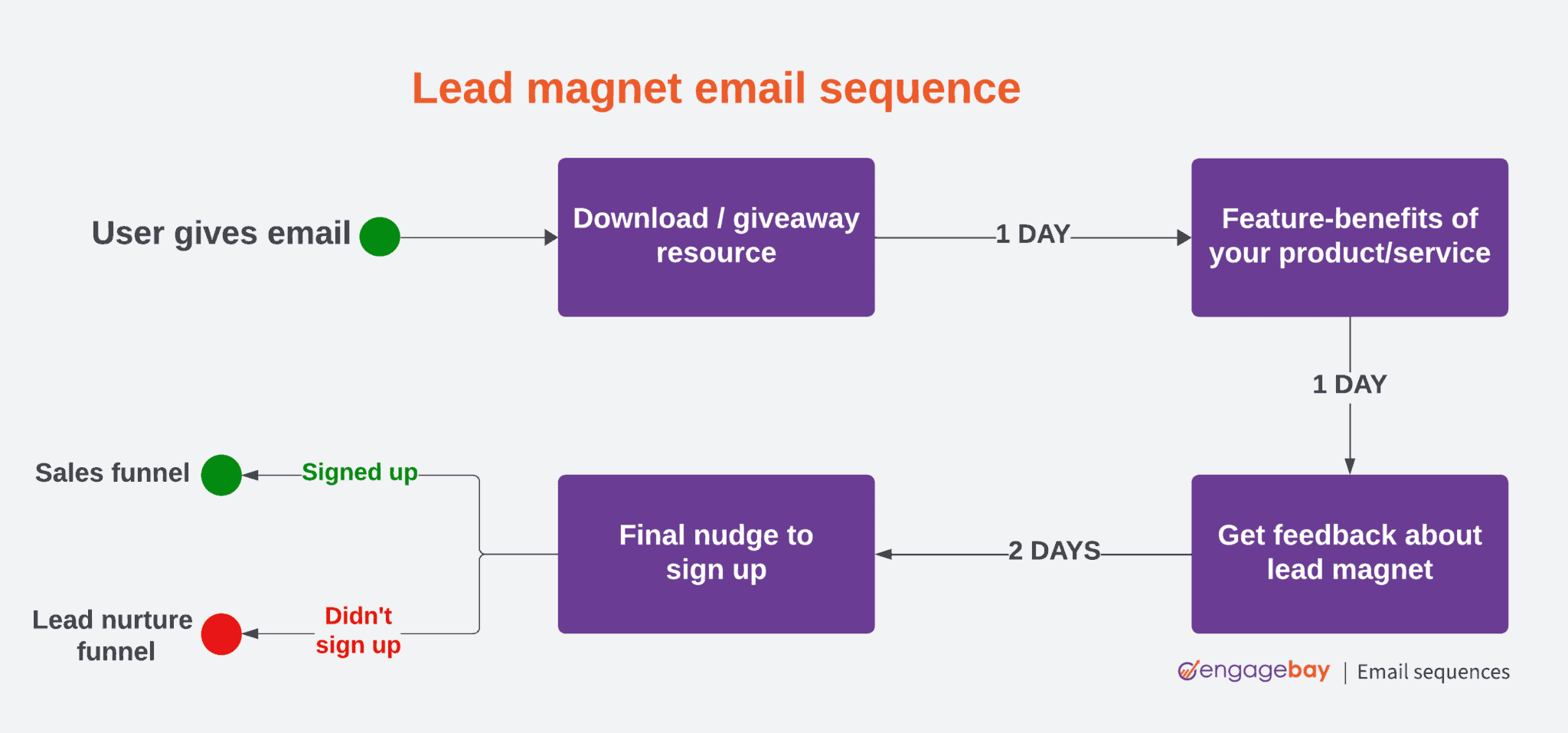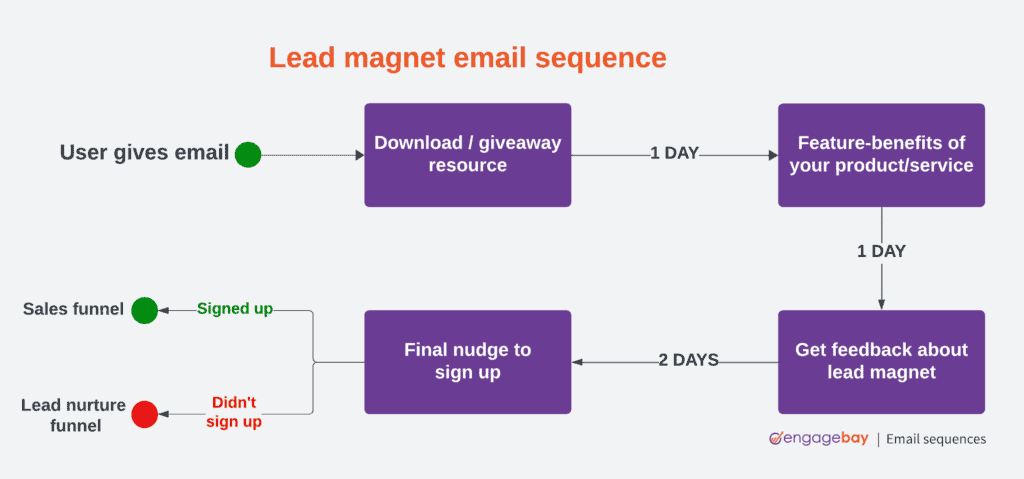 This will provide you with data to better prepare resources of value for your target audience. It also shows readers that you value their opinions as well as their business.
Check out this simple and minimal 'Thank you for downloading email':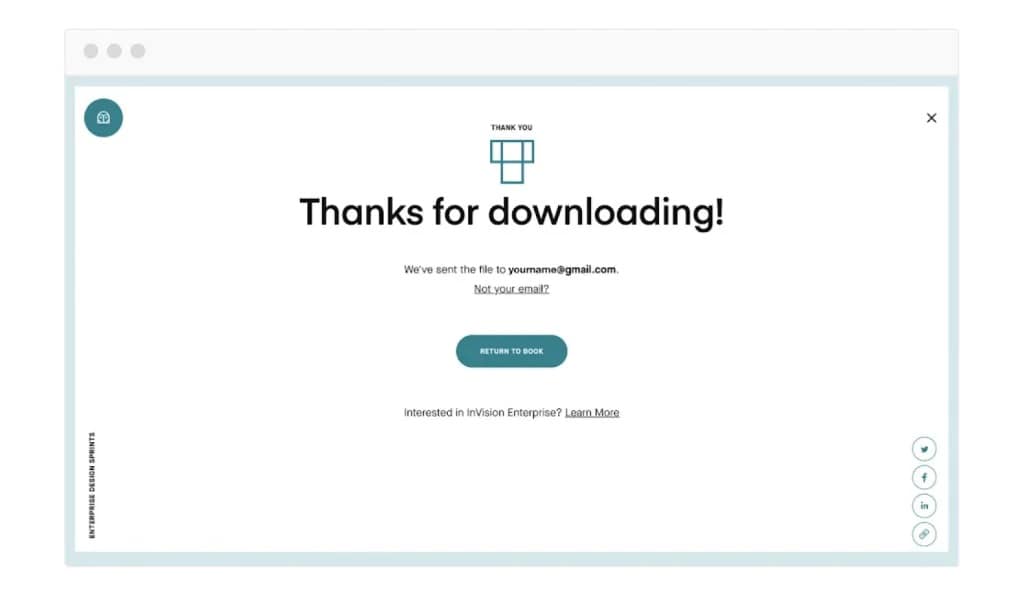 3. Free trial sign-up emails
Trigger: Sign up for a free trial
If you are running a SaaS company, you know this is an important touch point with your potential customers. Those who sign up for a free trial of your product are good leads. After all, they have decided to give your product a go over your competitors. So, if you are not converting them, you have a problem.
When users sign up, an automated email is sent to them.
In most instances, the problem is that onboarding a user is overlooked or poorly done. So, users don't find success with the product and fail to progress to be customers.
On signing up for a free trial, most customers expect to receive an email and assistance with the product. So, your welcome email is likely to be well received even if you have in-app assistance as well.
What makes for a good free trial email?
Get users excited about the step they've already taken;
Emphasize the importance of taking the next step;
Show them how to use your product effectively via videos, guides, images, etc;
Identify and address possible objections at this stage of the free trial journey;
Segment users based on actions already taken;
Include your call-to-action to take the next step.
If users haven't taken certain critical steps to get started, then you can:
Remind the recipient that they forgot to get started;
Simplify the getting-started process with a few bullet points;
Address the problem that made them sign up in the first place;
Tell them how long it takes to get started (and the level of ease);
Include a call to action.
For example, Harvest sends out the following email when a recipient signs up.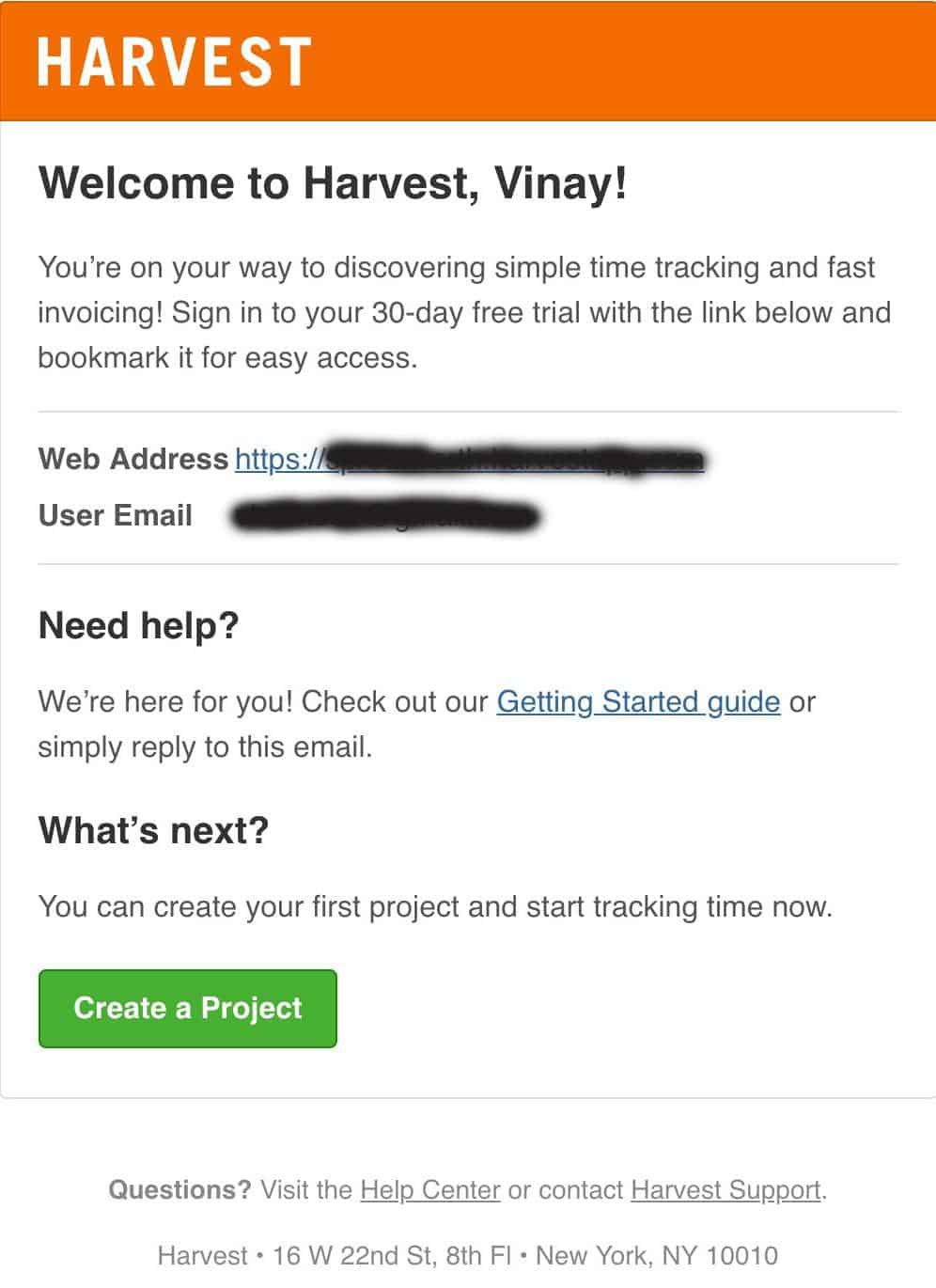 4. Re-engagement emails
Most businesses will have a list of email addresses of those who have become disengaged because they haven't used their product, made a purchase in a while, or left emails unopened.
Trigger: Users stop engaging with emails without unsubscribing
These are people who are familiar with your brand and so warmer than complete strangers. You can re-engage with prompts to return them to your site. According to Salesforce, 63% of marketers say that re-engagement campaigns are "very effective."
Re-engagement emails work best when they do two things:
Remind subscribers why they signed up for the email in the first place;
Offer subscribers a tangible incentive to engage more actively with your brand.
An automated re-engagement email can be sent to customers who:
Have created an account or registered their email with your website;
Have made purchases but haven't returned in a while;
Have signed up for a free trial of your software but haven't been back to explore the program.
Here's a sample re-engagement workflow:


Social Animal, for example, sent me this email after my free trial had expired and I hadn't selected one of their plans.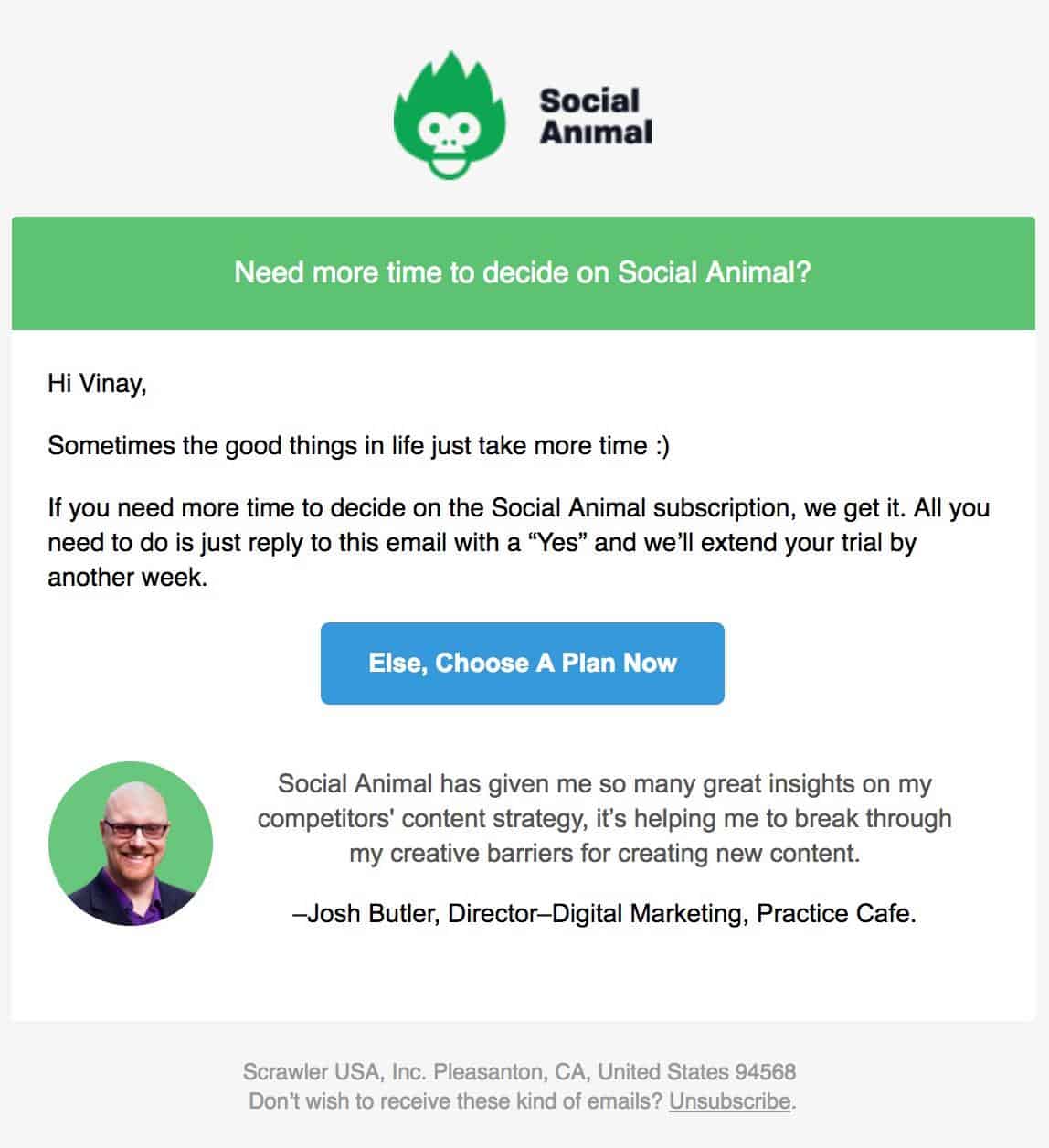 5. Abandoned cart emails
Ever click away from a site's shopping cart only to get an email reminding you to complete your purchase?
These emails are money makers simply because they reach the right person at the right time with the right message. However, the strategy doesn't apply exclusively to e-commerce stores. The same happens to SaaS companies as well. A percentage of people will abandon their purchase, which is why it makes sense to have a system in place to follow up with lost leads.
One of the best ways for any marketing team to recover lost leads is to get the user's email address when they sign up for a free trial or when they add items to their cart. Most marketing automation platforms, customer data platforms, and workflow management tools offer pre-build cart abandonment workflows.
To maximize conversions with your abandoned-cart email reminders, you can:
Offer discounts for the product in the reminder message;
Use a curiosity-piquing subject line like "Did you forget something?"
Let users know that supply is low or that an additional helpful offer is available for a limited time;
Add an authentic, positive user review.
An abandoned cart email workflow may look something like this: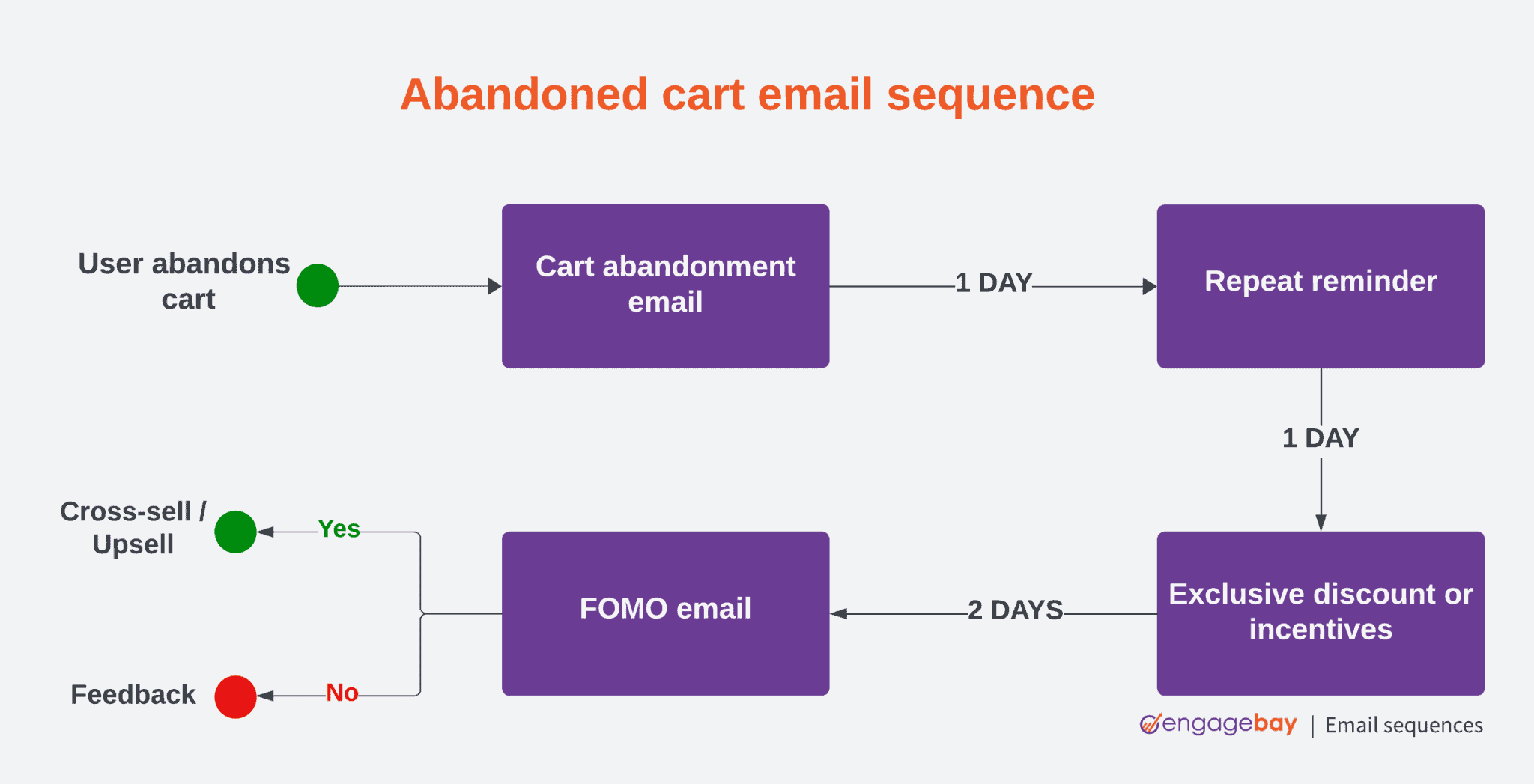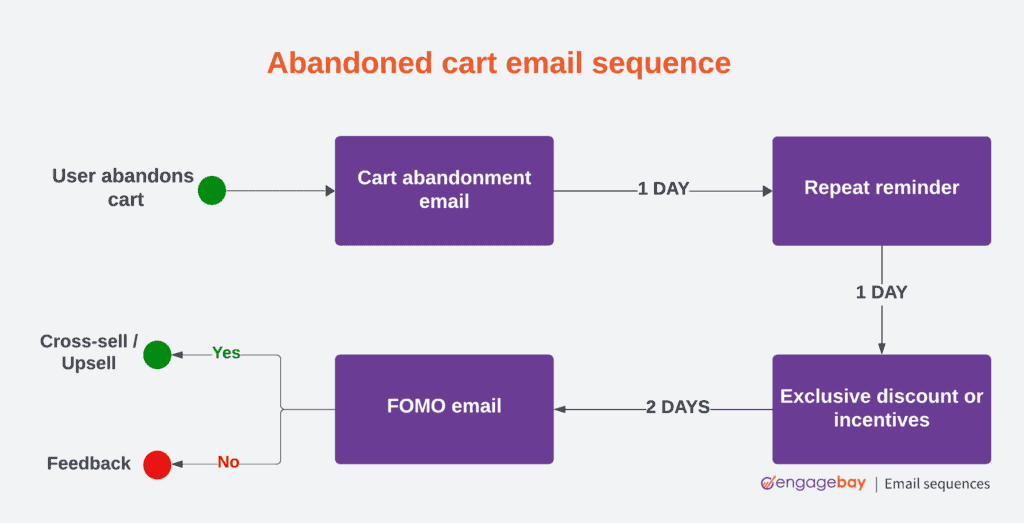 For example, Away offers this personalized email reminder email after the user abandons their cart: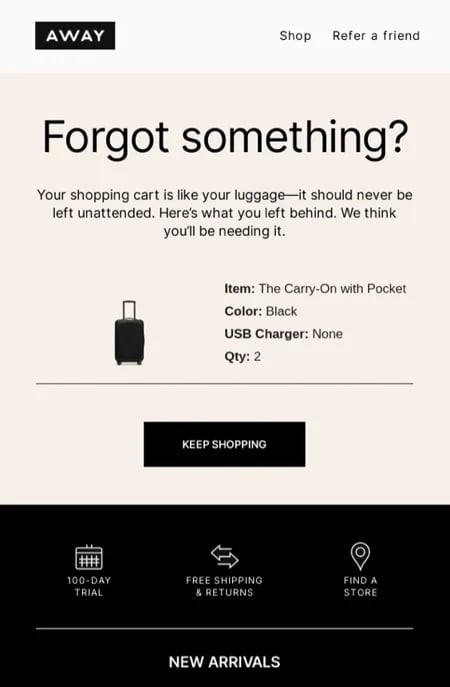 👉🏽Unleash the power of automation for your eCommerce store! Discover 7 proven strategies and email automation tools right here.
Read also: 7 Marketing Automation Flowchart Examples [Workflow Guide]
6. Replenishment emails
Replenishment emails work well if you sell products with a limited lifecycle or that require regular services, such as filing tax returns or dental appointments. These are opportunities to connect with customers and give them a friendly reminder.
Trigger: end of the product lifecycle
Once the lifecycle of your product is complete, an automated email can remind customers to restock their product or, in the case of a service, to sign up for another appointment.
They can be useful in situations like:
An annual subscription for a sports team or a magazine;
For regular services like dental appointments or car servicing;
Reordering consumable products like laundry detergent.
Check out this replenishment email from The WOD Life. They offer replenishment emails based on the user's purchase history.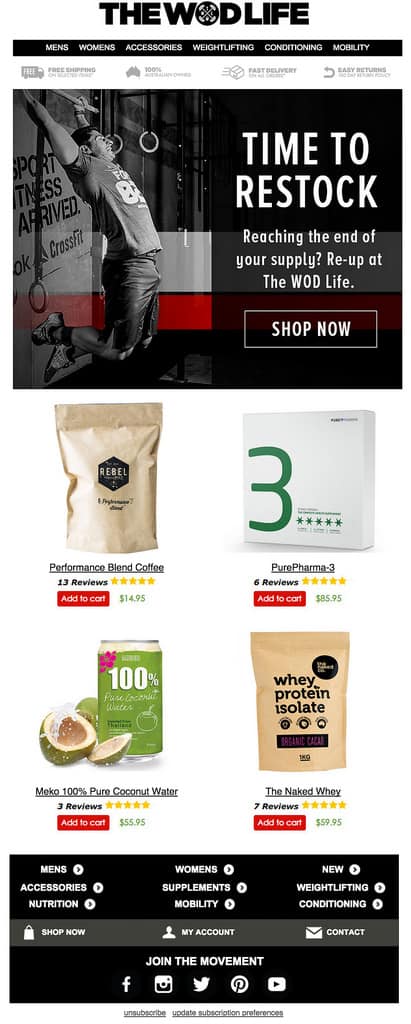 7. Lead nurturing / Behavioral triggered outreach
Lead nurturing is a key part of email marketing automation workflows. It saves time and helps grow your customer base. Automation based on user actions or behaviors can make your messaging relevant and engaging. This marketing process can also be done through an email automation software.
Trigger: Top-of-funnel events conversions
Here's how it helps:
Keep customers engaged throughout their research and shopping process
Provides prospects with all relevant information to make a purchase
Automatically qualifies leads and moves them toward the bottom of the funnel
Depending on the action your customer takes on your site, you can send relevant automated emails at the right time. For example, say you run a sportswear e-commerce store, and a customer looked at content around the time of a marathon. You can trigger an email based on their visits to specific URLs on your site.
Knowing that they want to learn more about preparing for a marathon, you can send an automated email with related content and products. As the relationship grows, your brand will be foremost in their minds when they are ready to buy.
LinkedIn, for example, sent me this lead nurturing workflow email noting that I haven't signed up for their learning services.

8. Onboarding
Trigger: Sign up for product/app use
When a user creates a website account/free trial account, there are usually several steps to complete their profile and get to the point where they see value in using the product.
Although it seems to be a logical series of steps, it is often quite complex given the numerous demands on a user's attention.
This is where onboarding emails can help with creating a better onboarding experience. It allows you to:
Increase user engagement and retention by highlighting the best features of your product/app, as well as how users can get the most out of their account;
Identify low-engagement users and those who have not properly set up their accounts for further outreach campaigns.
For example, Square, a financial payments company, offers a streamlined and customized onboarding process. Check out this email: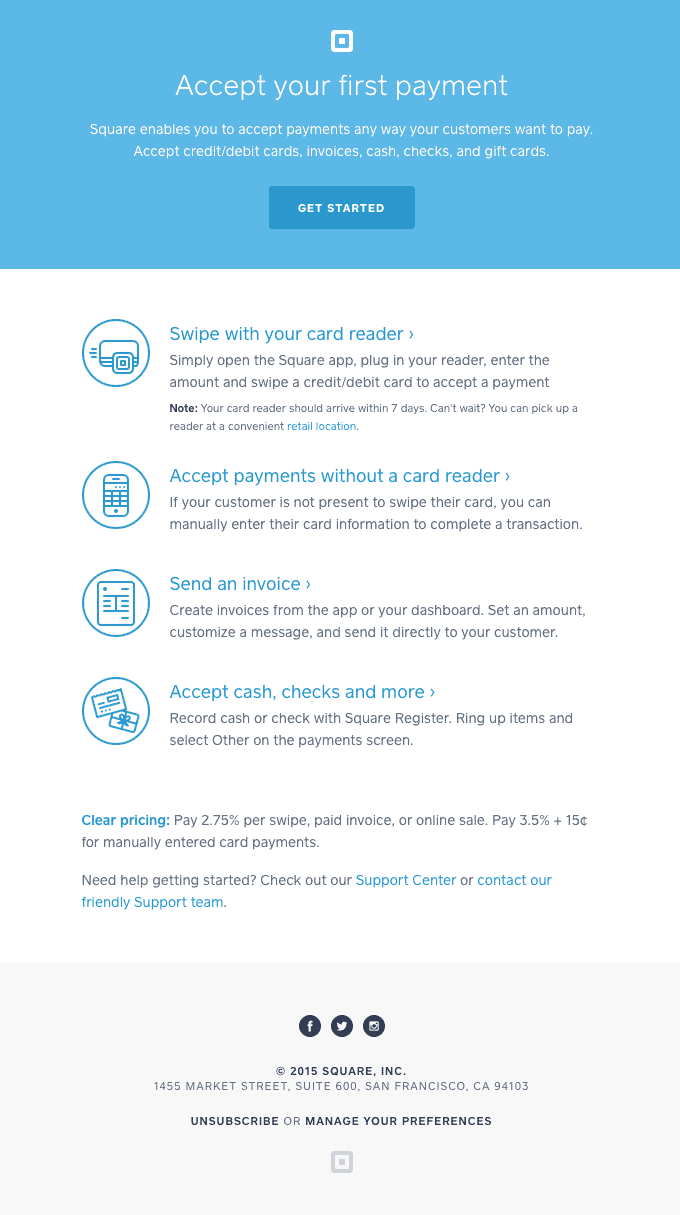 9. Lead scoring
Lead scoring can be time-consuming because it requires ensuring that your customers are the right fit and are interested in what you have to offer.
Trigger: Action taken by a lead
It can be one the most effective ways to track leads and conversions because it allows for:
Better targeting of your marketing to the leads who are most likely to convert;
Can be added to many of the marketing automation workflow examples mentioned here;
Lead scoring can be used to segment lists for email marketing campaigns.
This sample lead scoring workflow shows the different actions and the corresponding scores: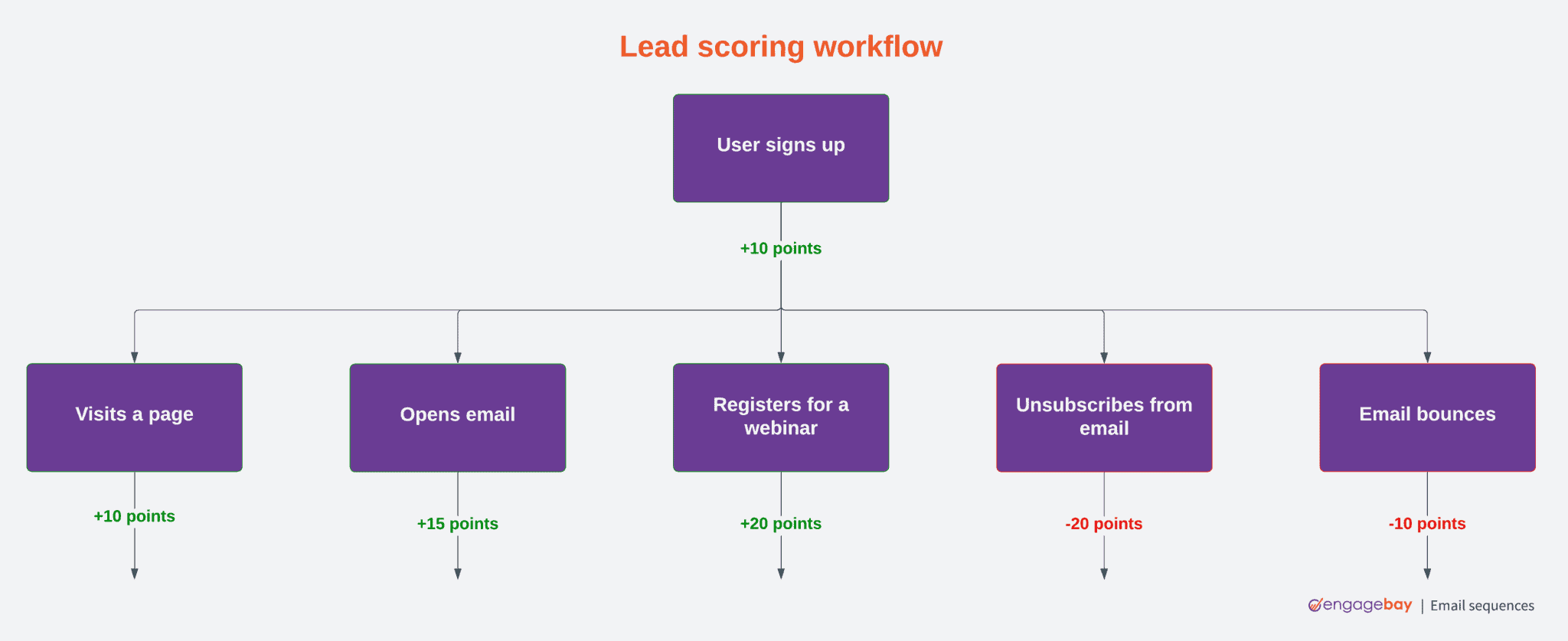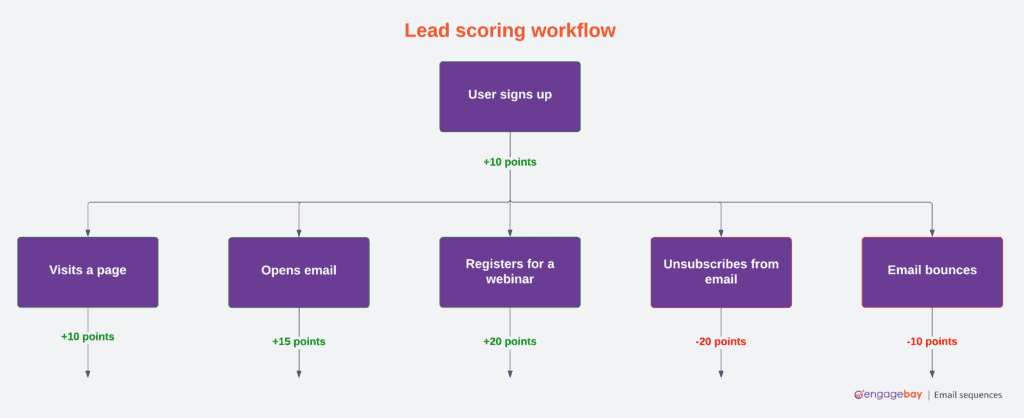 10. Upsell workflow
Trigger: Past purchases
It is much easier to persuade past customers to buy again than it is to find new customers. Based on past purchases, marketing automation workflows for messages containing related products can be sent to your customers. They often contain something along the following lines:
I see you liked [insert amazing product]. What about [insert related product or what other people who bought an amazing product also bought]?
This strategy works well for Amazon and helps to continue their relationship with their customers. It is also a profitable way to leverage data from your customers and tailor their purchasing experience.
Check out this multi-branch sample upsell workflow:


eBay uses a similar strategy. Noting that I looked at a couple of products, eBay sent me this email.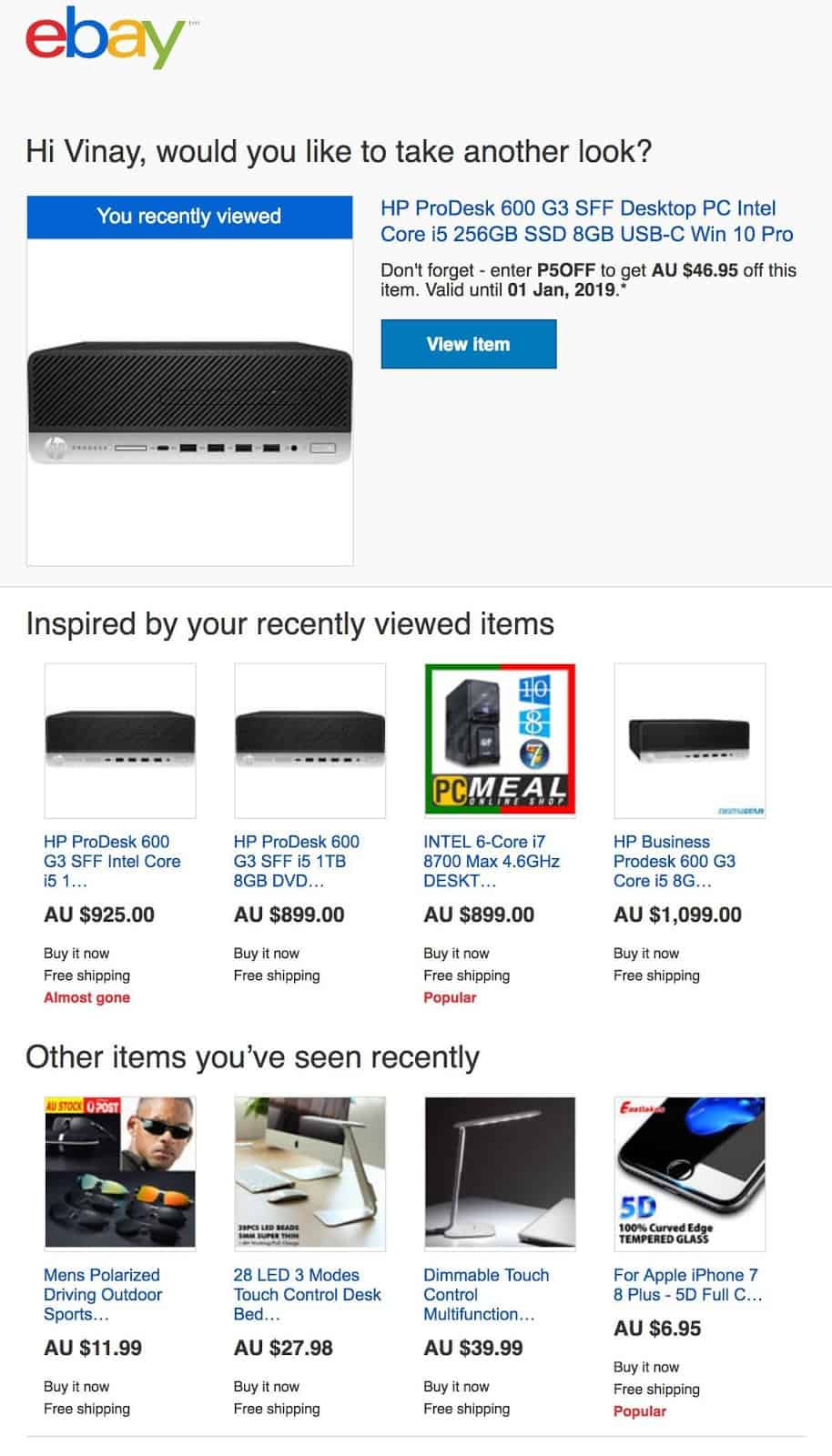 11. Post-purchase follow up
Following up after a sale lets the customer know that you appreciate having their business and care about their satisfaction.
Trigger: After the purchase of an item or items or after performing certain actions in an app
For online purchases, following up is a great way to reach out with relevance and to increase your customer reviews.
Great post-purchase follow-up emails may include these elements:
Ask for a review outright and make it easy to leave one. A UGC marketing tool can be a major help with this;
At the bottom of the email, display a few similar products to those purchased or go well with them;
Thank your customer again for their purchase;
Include information like product care, product-use cases, or a product FAQ.
This beautiful post-purchase follow-up email from HomesAlivePets offers a thank you note along with the summary of the purchase: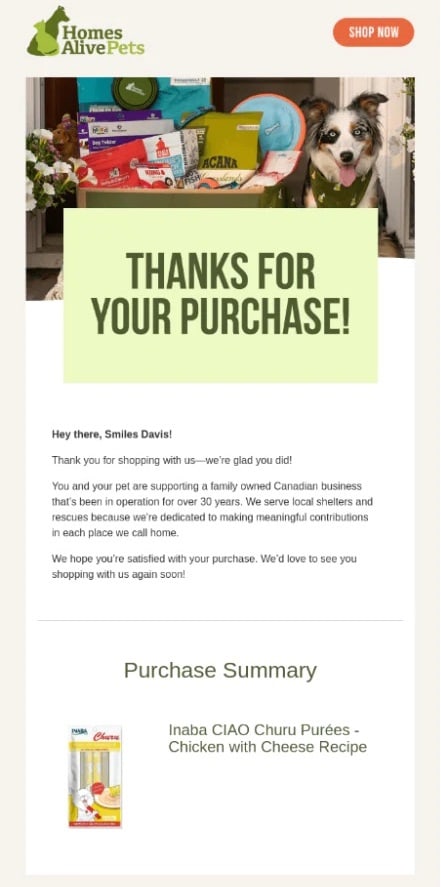 12. Educational content
Marketing automation workflows aren't solely about making sales. Engagement and education are also key for nurturing and building trust with your audience. When you educate your audience, you help them understand the benefits of a solution. Chances are that your audience can find the information they need elsewhere, but when it comes from you, you help make them more knowledgeable and develop brand loyalty.
Trigger: Capturing data to allow for personalized experiences
Email marketing automation workflows can help create personalized experiences for each customer, making their overall buying journey relevant and engaging.
Framebridge, a company that sells art frames and accessories, crafts some of the best educational emails. It's simple, engaging, and above all, a visual treat.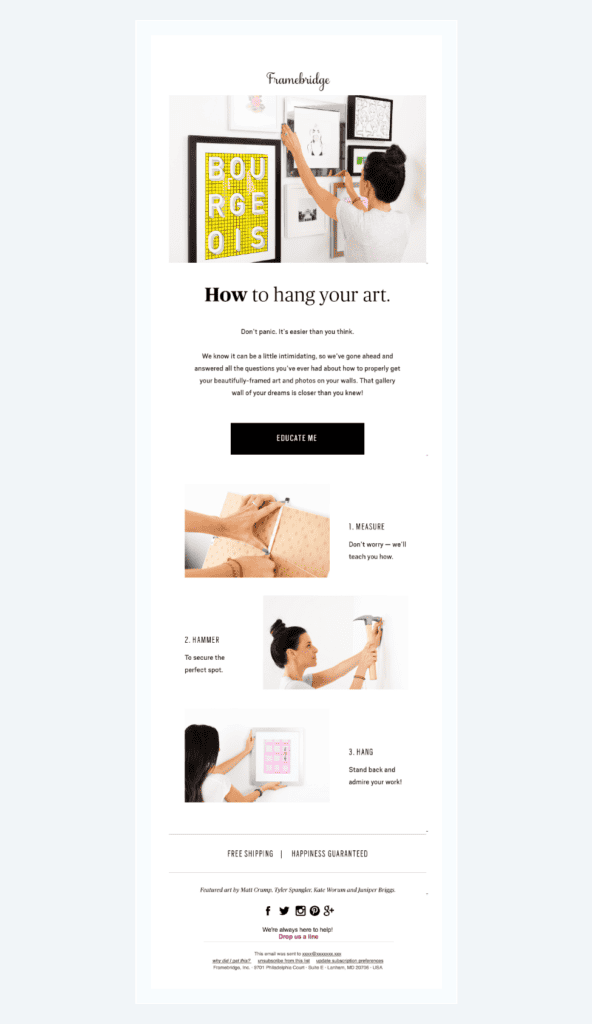 13. Churn reduction
A major issue for SaaS companies is churn. Consider these stats:
The very best SAAS companies keep monthly revenue churn at around 0.58%. That's about 7% revenue churn a year.
According to Totango, more than two-thirds of SAAS companies experience annual churn rates of 5% or higher.
David Skok, a serial entrepreneur turned venture capitalist, says that if your Net Revenue Churn is high (above 2% per month), this indicates that something is wrong with your business and will become a major drag on growth.
Trigger: User behavior that indicates a high potential for churn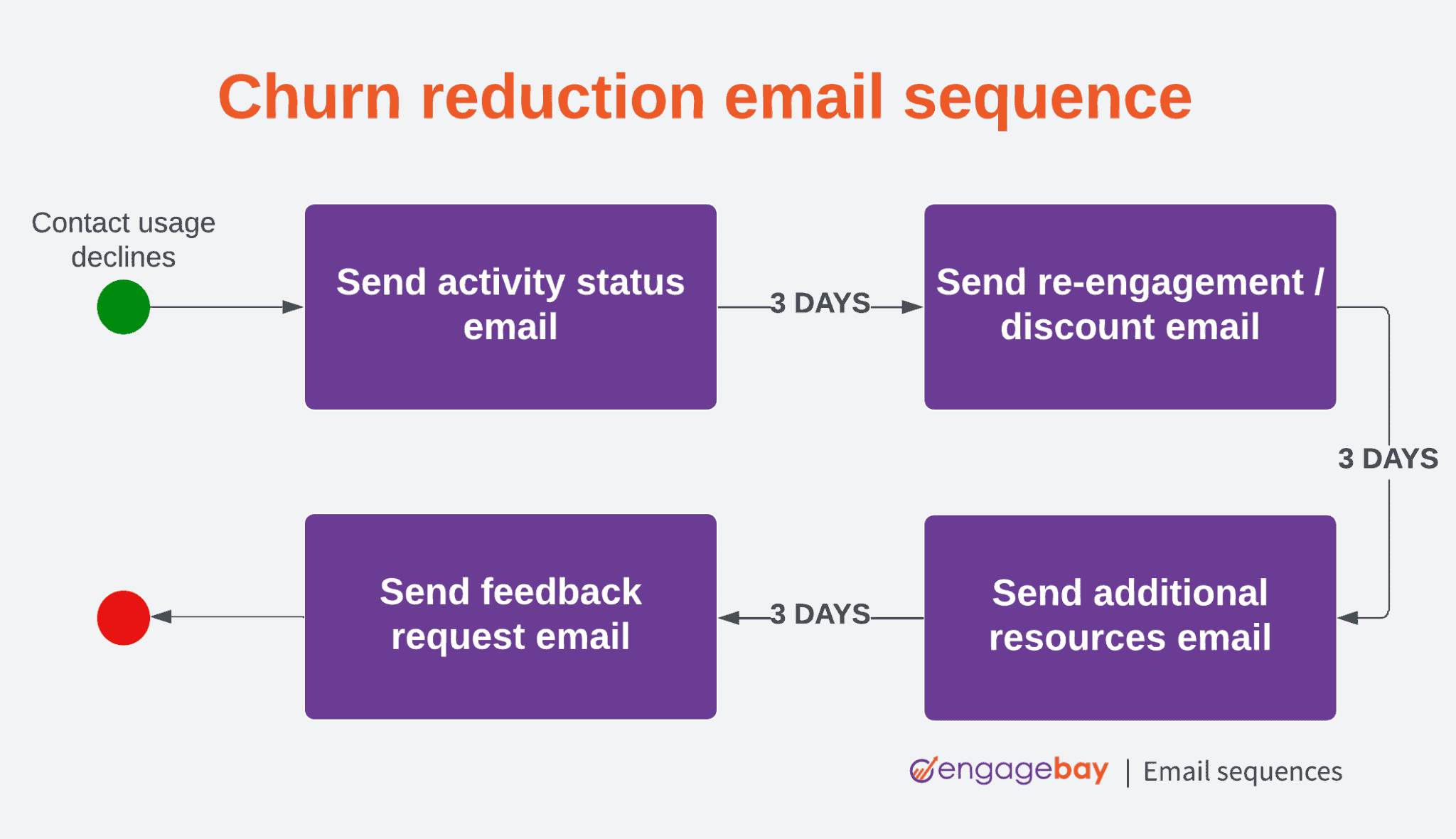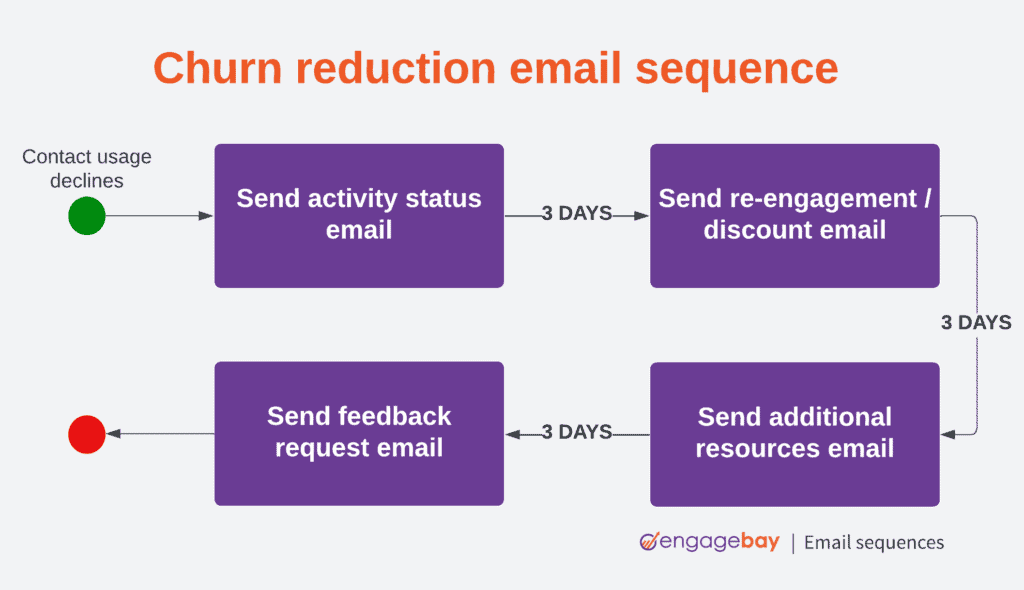 There are two ways in which marketing automation workflows can be used to reduce churn.
1. Urge users to come back
This can be done by using promotional emails offering special discounts or by an add-value offer. It can also be done by educating a segment based on indicated interests or with feedback.
The key to making this effective is to segment your list based on user responses or actions.
2. To show how they can get more value from service or product
Products often have multiple features, making it difficult for users to find those that provide the best value for them.
One way to overcome this is to provide emails that introduce features based on user actions. For example, we know that adding a pop-up to a landing page can help reduce the number of visitors from bouncing with no engagement. So, when someone publishes their landing page, we can send an email with a CTA (call to action) to add an exit pop to the page.
Grammarly takes advantage of the second method, showing users what they are missing out on. Here's an example: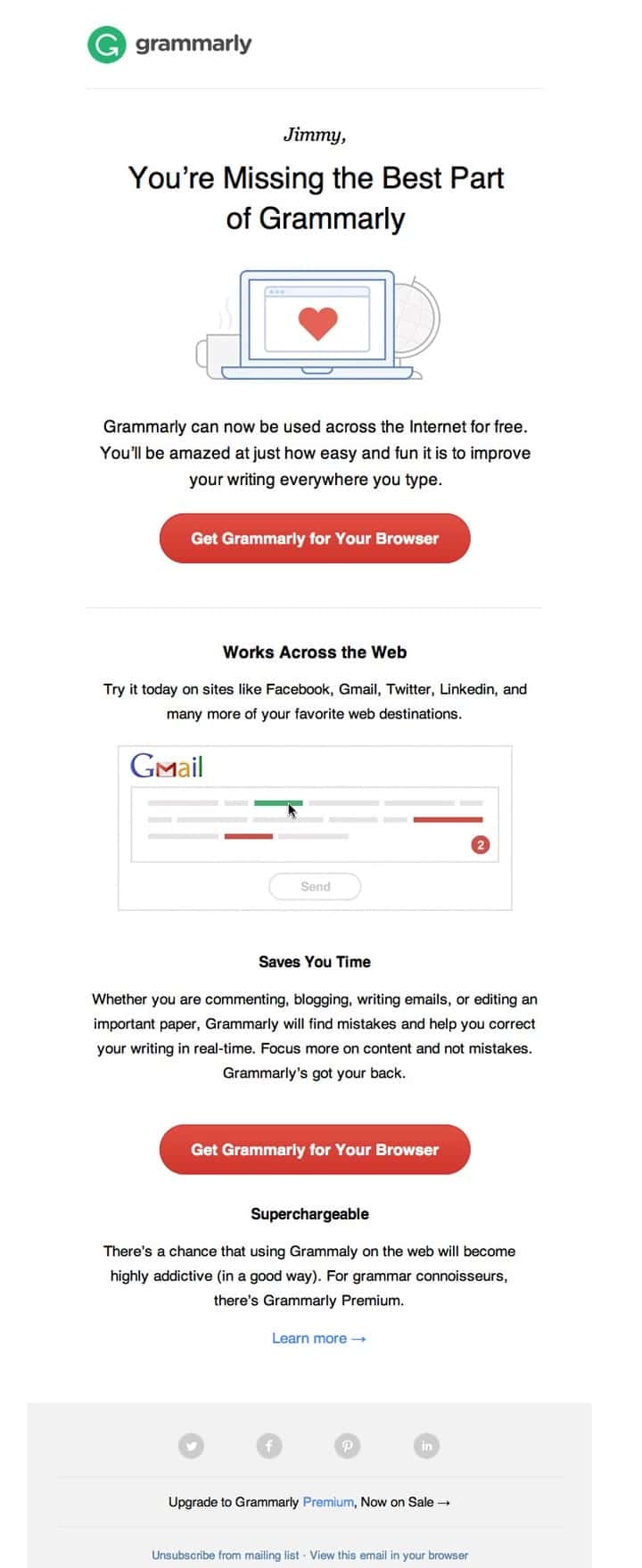 14. Sales notification
The best time to get in touch with a lead is when your marketing qualifies them. If they are not contacted while interested, they may lose interest or find another provider.
Trigger: Qualifying a lead
Email automation workflow can be harnessed to alert a sales rep/sales team that a lead has been qualified. Some email marketing systems will allow you to tag leads based on behaviors such as downloads, content consumed, or visited web pages. This way the rep has sufficient context to begin a conversation with the lead.
For example, in Drip you can create relevant notification emails like the one below.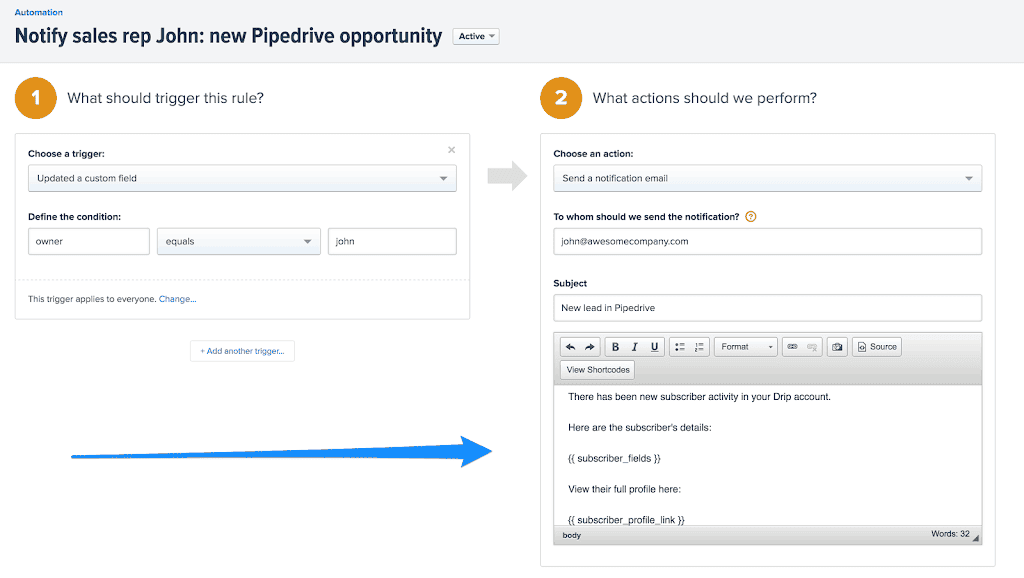 15. Customer success workflow
Once you have onboarded a customer, your strategy needs to focus on keeping them engaged.
According to Gallup, engaged customers bring a 23% increase in profitability, wallet share, revenue, and relationship growth compared to their disengaged peers.
Keeping track of key customer success metrics provides you with a prime workflow opportunity.
So, how do you engage your leads/customers? Here are a few ideas for when you can reach out:
They achieve their first success
A customer support ticket is closed—ask about their experience
They request pricing or look at changing plans—ask a question(s) to help them
They request a kick-off/strategy call or product demo
On completing a survey
After a webinar/workshop
Cancel their account – ask about their experience with the product
Visit the cancel page
Statistics show that, as you keep your customers engaged by delivering positive and profitable experiences that are complemented by relevant email marketing, many of your customers over time will become advocates for your company. Consider the following:
92% of customers trust recommendations for products and services that came from people they know;
Customer advocates are twice as likely to tell their networks about their purchases;
Customers referred by existing customers are 37% more likely to continue supporting your company;
Customer advocates spend 5x more than other customers.
For these reasons, it is no surprise that customer advocacy is considered a key differentiator among B2B companies.
To implement this level of email marketing automation, you will need fairly advanced email marketing service providers that allow you to segment your subscriber lists and engage your customers at every stage of their buying journey. By using the right email campaigns, your customers will move through the funnel, settle in as brand advocates, and contribute to customer success on a wider scale.
Read also: Work Smart, Not Hard: Top Marketing Automation Ideas
16. Event workflow
Trigger: Sign up for an event
Are you hosting an in-person or online event? You can use email marketing workflows to automate communication with your event registrants before, during, and even after the event.
The Work by Design Summit is a virtual summit that sent out an email, similar to the one below, to those who signed up.

Elements to include in an email marketing automation sequence include:
Being deliberate about the event and informing potential attendees of the dates and theme;
Including video to set the right expectations and create anticipation;
Share testimonials;
Showcase speakers;
Provide attendees with an opportunity to be involved (perhaps in sessions);
Offer early bird discounts;
Promote registrations at other associated events;
Give them a taste of what they can expect;
Send a message from the hosts.
In other instances, such as before events, you may want to deliver important information to those attending a live in-person event, such as hotel accommodation, agendas, etc. You may also need to send housekeeping reminders, session options, and details of networking opportunities during the event.
After the event, you can set up a workflow that gives access to session slides and continues to nurture attendees via content and promotion for future events.
Read also: Marketing Automation for Startups, The Simple Way
17. Product launch
A product launch email is sent to announce the launch of a new product, feature, release, or upcoming event.
Trigger: New product, feature, release, or upcoming event
Generally, product launch emails help create some hype and anticipation. Timing is a crucial part of a product launch and well-timed emails can play an influential part in this.
These emails should include:
Launch date
Images of product
Description of product
More importantly, the product launch email should raise questions in your subscriber's mind, such as:
What is the product?
How can it help me?
How is it different from other products?
How do I get it?
It should provide answers, too. Apple, for example, sent this email about the new iPad Pro.

In some cases, a series of emails can help create the level of anticipation that you want. The series can include a combination of the following types of emails based on what you know works for your audience:
Survey email
Give email
Interest email
Anticipation email
Offer email
Common questions email
Closing email
18. Birthday greeting email
A birthday greeting email is an automated email sent on a customer's birthday. It offers a lighter and uplifting message, while also acting as a vessel for customer retention and brand awareness.
A birthday email may also offer a personalized birthday discount or some other incentive to improve click rates. It's important to make your birthday greeting and incentive stand out as the customer may receive a lot of emails from your competitors.
How birthday greeting emails help:
According to

Experian

, birthday emails have a whopping 342% more revenue per email than a standard promotional email.

Birthdays also have a 481% higher transaction rate compared to other promotional emails.

They allow you to add a human touch to your brand, nourishing and strengthening your relationship with your customers.
Check out this fabulous example from Loomi: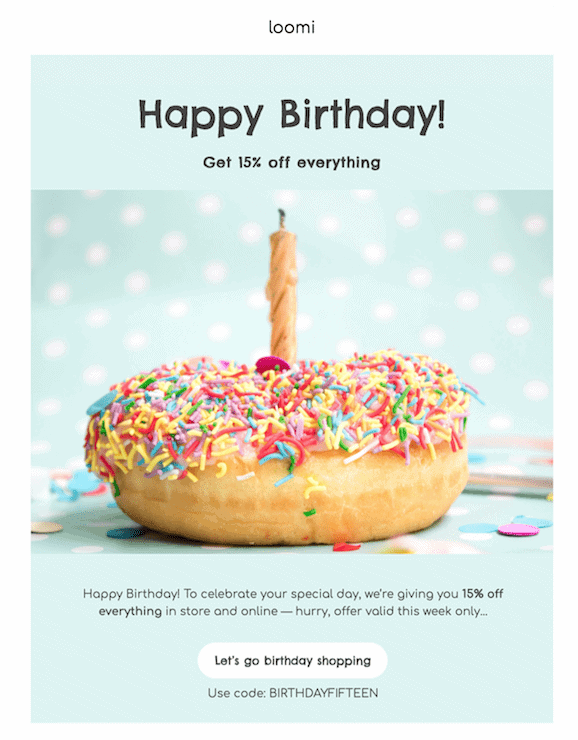 19. Product update emails
It's important to let your customers know about new updates. Most companies and businesses do this by sending an email.
You can use a marketing automation workflow to send emails that get your customers excited. Here's how product update emails help:
They inform your customers about a new version of an existing product, or about new features.

These emails build anticipation, improve brand awareness, and drive sales.

It shows that you care about your customers and that you are actively improving your products and services.
Here's an example from Asana. The moving visuals offer a glimpse of the new feature without even going to the application.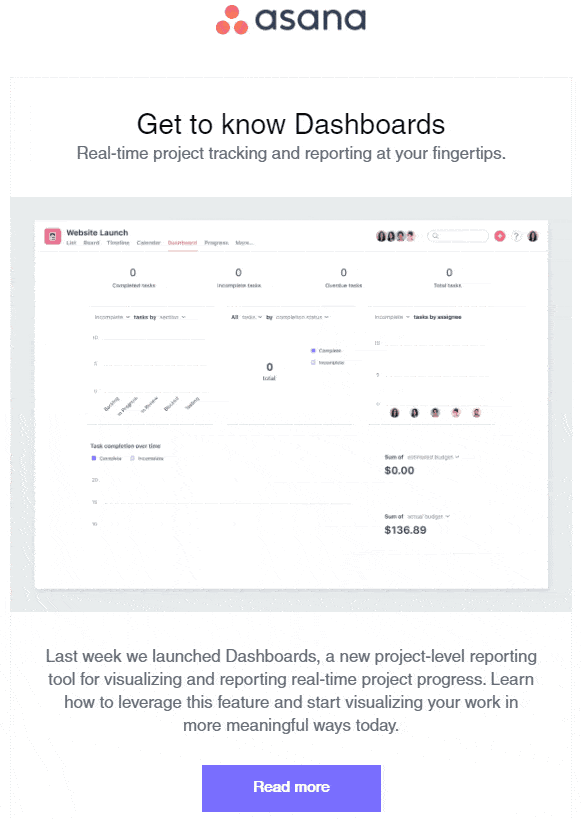 20. Transactional emails



Transactional emails are automated emails, information, and updates sent to customers regarding various scenarios, and are one of the most extensively automated areas of email marketing.
Transactional emails are usually triggered when customers sign up, make a purchase, register, and more. Some topics require a series of transactional emails, such as shipment tracking, order progress, payment progress, password resets, and more – and these emails keep your customers in the know.
Gone are the days of simple transactional emails, as customers now expect hyper-personalization even for emails containing updates.
How transactional emails help:
Transactional emails offer information uniquely relevant to the intended customer.

Boosts customer trust and loyalty, and improves brand recognition.

Creates an opportunity for cross-selling and upselling.
Check out this transactional email example from Spotify: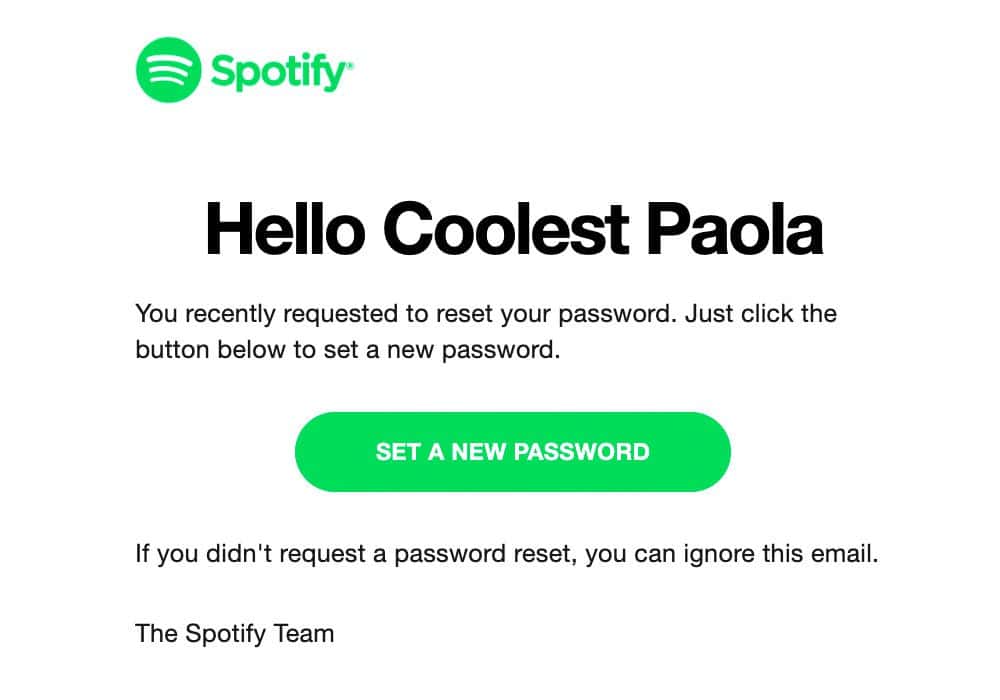 Read also: How To Use Workflow Automation To Grow Your Business
Conclusion
The above email automation examples are a few ways in which this technology can grow your business.
These marketing automation workflows, however, do need to be part of a wider marketing strategy and shouldn't operate in isolation.
As your marketing automation strategy evolves, you will need to interconnect your workflows and ensure that they support the same overall goals, enabling a seamless transfer of data and automation to be targeted and effective.
The EngageBay Resources Center is chock-full of helpful guides, like this one all about email marketing automation guide.