According to career resource Zippia, manufacturing contributes to 12 percent of the United States GDP. It's a rapidly advancing field. As your manufacturing company grows, you might find the required responsibilities outnumber the manpower.
Marketing automation can take some work off your plate when managing your advertising and marketing campaigns. Automating your marketing strategy and execution will simplify your workload and help you usher into a digital transformation.
This guide will explain how manufacturing companies use marketing automation, what you can automate, why you should do it, how, and which tools to select.
What Is Marketing Automation in Manufacturing? How Does It Work?
Marketing automation is a basic concept to most marketing firms, but it's different for manufacturing companies. This may be their first foray into any other form of automation except that which benefits their assembly line.
Let's explain it. In manufacturing, automation tools can take over menial, repetitive, and time-consuming tasks in a marketer's daily schedule.
You can automate marketing tasks using software or a tool. Create workflows that operate according to if-then rules.
For example, if a lead opens your welcome email, then you would send them a follow-up email. If they don't open that email, then you'll follow up again.
The workflow will operate exactly as you command it to according to the parameters you set in the prescribed scenarios. You can rely on automation no matter how often these scenarios arise in your sales funnel.
The software will respond the same each time.
What Manufacturing Tasks Can You Use Marketing Automation For?
Marketing is a viable way to educate new audiences about your manufacturing business, connect with long-term customers, deepen their loyalty, and convert leads. Many everyday marketing tasks that take up substantial time are candidates for automation.
Here's a rundown of which to add to your automated workflow.
Welcome emails
The welcome email goes out to new subscribers when they join your list. New contacts must receive that email immediately so you can engage with them while they're still interested and eager to learn more.
Automation workflows will send this crucial email to meet a lead's expectations, whether they subscribe on a Saturday afternoon or in the middle of a Tuesday night.
Social media posts
Many manufacturing companies use social media to generate new leads and build professional relationships with their audience. Keeping up with social media can be taxing and time-consuming, especially if you maintain a presence across many platforms.
Creating an automation workflow to schedule your social media posts will make you look active around the clock without manual effort.
Read also: How To Build The Perfect B2B Marketing Automation Strategy
Drip email campaigns
Automation software can execute entire email marketing drip campaigns, using if-then rules to dictate which email goes out to which audience segment and when according to their behavior (or inactivity).
Email scheduling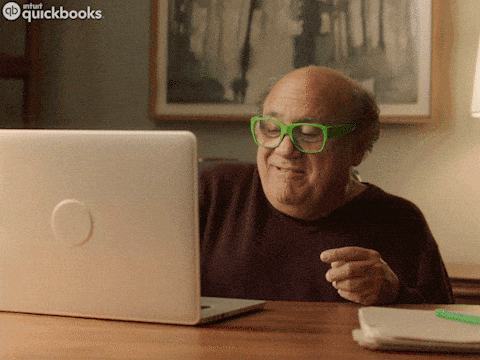 Timeliness is key when reaching your audience through emails. Leads and customers expect instant welcome emails, confirmation emails, and other interval-driven messages. Scheduling your emails through automation software keeps your audience moving through the sales funnel without your intervention.
Email subject line writing
It's tough to craft the perfect subject line to engage your audience and encourage them to open your email. Many marketers struggle with this task. As a non-marketer in manufacturing, you can easily waste hours writing and rewriting your subject lines.
The intersection of automation and AI allows automation software to write subject lines for you. You can ask for subject line after subject line from the AI, sending them as they are, or modifying them first.
Social media post writing
Is your social media engagement under the industry average? It could be that your content fails to grab your audience and hold their attention. If you need help writing compelling social media posts, it's automation to the rescue.
These days, thanks to generative AI, it's quite easy to find automation tools that have the capacity to write social media posts for you.
Email newsletter sending
You might send monthly or weekly email newsletters. Regardless of your frequency, your audience has grown accustomed to receiving your emails at certain periods.
Automation tools help you stay on top of your newsletter schedule even if it's an otherwise busy time.
Abandoned cart emails
Users can abandon their carts for any reason, from not having the funds to requiring more research before making a purchasing decision. Sometimes, they simply change their minds.
Whatever the motivation, abandoned cart emails are your opportunity to reach out again and reengage. Automation makes it easy to send abandoned cart emails before the lead loses interest entirely.
Personalization
Marketing campaigns require personalization to connect with audience segments more efficiently.
You can personalize your campaigns with automation, triggering emails based on a lead or customer's behavior, incorporating their name into the email copy, using dynamic content, and remembering important milestones like birthdays and anniversaries.
Audience segmentation
As your manufacturing audience grows, so does the need to split them into specific groups based on their psychographics, geographics, and demographics. Automation will routinely perform this task on your behalf.
Your manufacturing business will have specific niches available to target.
Lead scoring
Which leads are the warmest? It's no longer a guessing game when you use marketing automation. You can create a workflow that scores your leads according to the criteria your manufacturing business prioritizes most.
The resultant qualified leads will move through the sales funnel faster and convert more readily.
Read also: Marketing Automation For Financial Advisors: Beyond the Basics
The Benefits of Marketing Automation for Manufacturing
Marketing automation is an advantageous solution for manufacturing companies experiencing rapid growth but feeling overwhelmed with the increased audience load that comes with it.
Here are some benefits you can expect once you initialize automated workflows.
Win-back time
How much time do you spend on extraneous tasks each week? It may be more than you realize. That time could be better spent working on your supply chain, innovating new products and solutions, training your staff, planning future marketing campaigns, and maintaining your record of customer service.
Automation will reduce your employees' workload. They will have the space in their schedule to commit to the above tasks and give them the dedication and time they deserve.
Efficiency
Efficiency is another area where your manufacturing company can shine when you begin using automation software. Your staff will have more time, as established, enhancing productivity as they get more tasks done.
You might not need to retain as much staff now that you've reduced extraneous tasks. This will increase your business cash flow.
Less human error
Have you ever made a typo in an email or screwed up the content of a social media post? Of course, you have. We all have because we're human, and that means being imperfect.
Automation is as perfect as you make it. You choose the workflow rules and functions and how they perform. They will always execute flawlessly with no risk of human error.
Sales and marketing alignment
Automation doesn't only save your marketing teams time and improve their efficiency. It also benefits your salespeople. They'll have more qualified leads to work with who are well-informed and more ready to buy.
Boost conversions and sales
Personalizing your campaigns, sending well-timed marketing messages, and segmenting your audience results in leads who are likelier to convert and make the purchase.
Read also: Why Companies Need B2B Marketing Automation Today
How To Incorporate Marketing Automation Into Your Manufacturing Processes
Have you decided that marketing automation is a viable solution for your manufacturing business and are eager to begin? The following steps will help you create a game plan for success.
Step 1 – Determine your goals
What tasks do you want to use marketing automation for? Can automation simplify your email campaigns, stretch your social media content schedule further, or help in areas like crafting email subject lines, scoring leads, or researching keywords?
You will likely incorporate automation into several marketing processes, so determine which.
Step 2 – Develop a budget
Next, you must create a budget. This budget should incorporate the cost of the marketing campaign itself and the automation tool. Research prices for marketing automation software to create a pricing baseline.
Step 3 – Select an automation software or tool
Which marketing automation tool is the right one for the job? We'll recommend our favorites later, but you can expand your research beyond our list. Choosing the right software is about more than price. The software should have the features you need to automate your marketing processes.
Read reviews and use free trials or demos if available.
Ease of use is an important consideration when selecting the right automation tool. You should also have access to helpful customer service that doesn't leave you hanging when you need assistance.
Read also: The Future Of Marketing Automation: 12 Trends For 2024
Step 4 – Create an automated workflow
You've selected a marketing automation tool. Now, it's time to use it!
Start with one task you wish to automate, then build a workflow. Many automation tools use drag-and-drop builders, so even creating complex workflows isn't difficult for beginners.
Check the if-then rules of your workflow, and when you're happy with it, run it.
Step 5 – Monitor the results
Allow at least several days for the workflow to play out, then begin monitoring. Did the workflow perform as it should or hit any snags? Did using automation drive the results you sought?
Step 6 – Adjust the workflow and continue monitoring
As you begin tracking results, expect to change the workflow, finetuning it until it serves your manufacturing business best.
After some adjustments, resume monitoring the automation workflow to determine its efficiency, and continue tweaking it from there.
Read also: The Beginner's Marketing Automation Checklist [101]
The 5 Best Marketing Automation Software Options for Manufacturers
Which marketing automation software solutions stand head and shoulders above the competition? Here are five for manufacturing businesses to explore.
1. EngageBay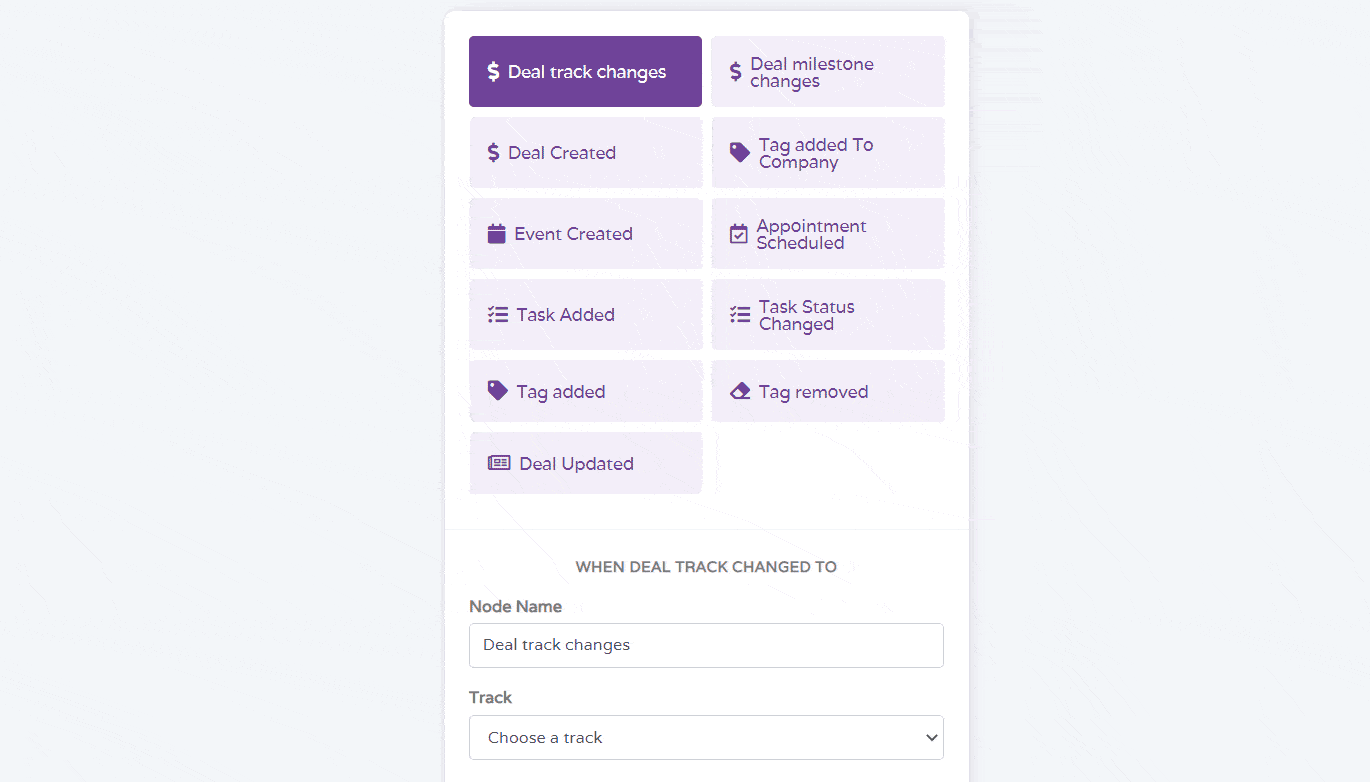 The all-in-one marketing, sales, and service solution EngageBay is a winning choice for manufacturing businesses on a tight budget. This startup-minded software offers free automation tools.
A simple-to-use, beginner-friendly drag-and-drop builder makes creating complex workflows look and feel effortless. You can sign up for a free demo to sample EngageBay's automation suite before committing.
EngageBay has fairly priced plans for all business levels. Its Marketing Hub pricing is $0 per month for the Free plan, $11.95 per user per month for the Basic plan, $45.99 per user per month for the Growth plan, and $73.59 per user per month for the Pro plan if you select annual billing.
The Free plan includes all you need to get started without paying a cent, such as custom fields, autoresponders, email templates, landing pages, lead grabbers, sequences, and email broadcasting.
The Growth plan has more automation features, plus a custom domain, landing page A/B testing, email A/B testing, landing page coding, and site messages.
Read also: EngageBay vs HubSpot: Market Leader or Emerging Powerhouse?
2. ActiveCampaign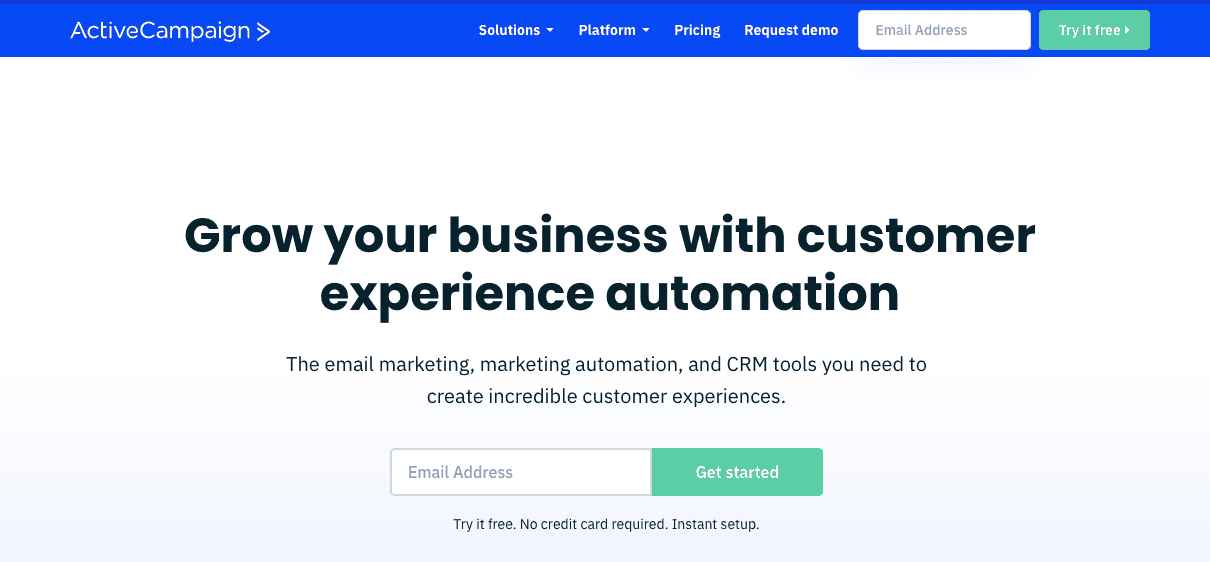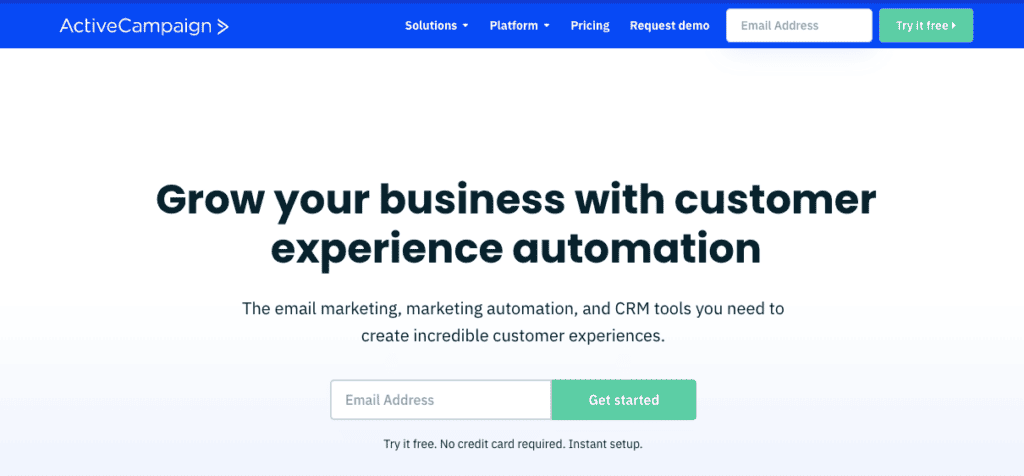 Your manufacturing business might explore ActiveCampaign, a marketing, sales, and eCommerce solution.
Its automation tools for marketers include event tracking, dynamic content, and drag-and-drop workflows. Email marketing, personalization, forms, landing pages, and site tracking are other available marketing services within the software.
You can try ActiveCampaign for a free trial. Its marketing plans include the Plus plan for $49 a month, the Professional plan for $149 per month, and the Enterprise plan with custom pricing.
The Plus plan offers marketing and email automation, landing pages, event and site tracking, and AI-generated email content generation. The Professional plan adds site messages and split automations.
Read also: 11 of the Best ActiveCampaign Alternatives
3. HubSpot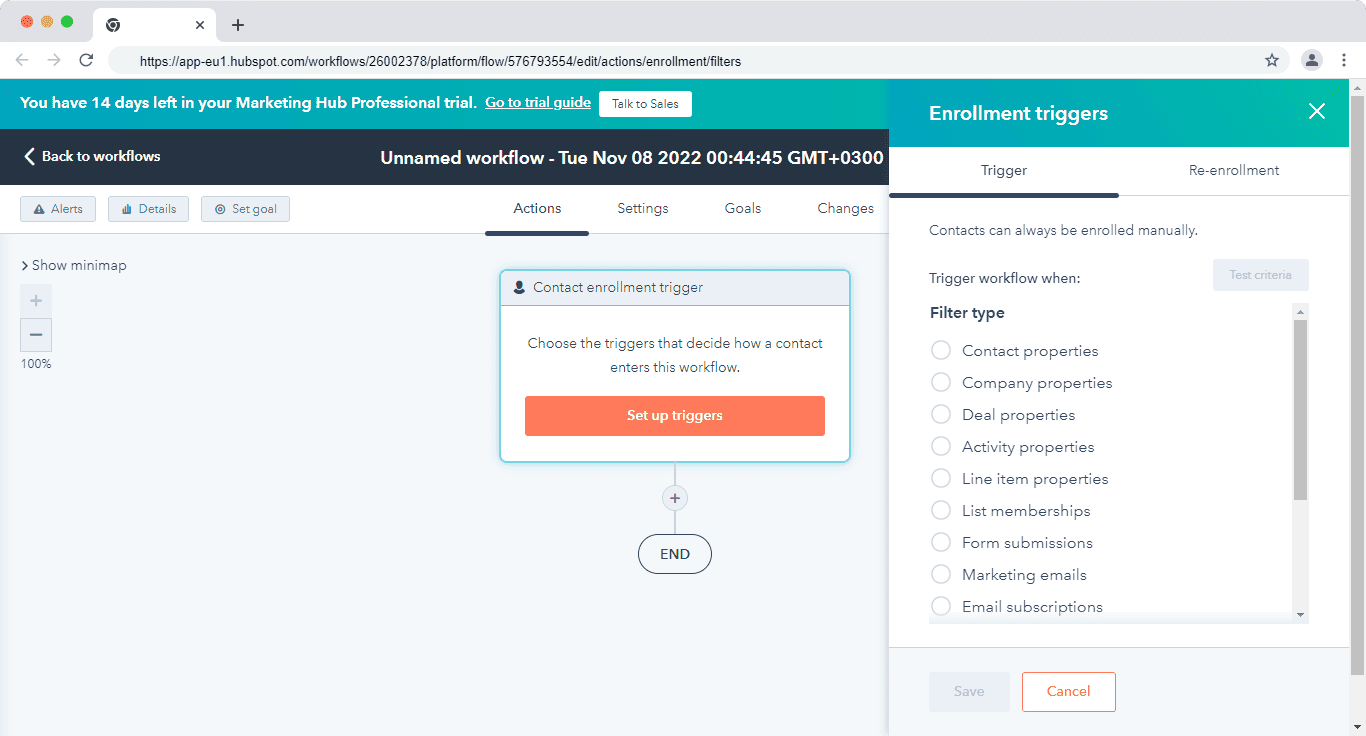 Link your marketing data and tools within HubSpot and simplify your workflow. HubSpot is designed to help your manufacturing business save resources and time and increase revenue.
Its marketing automation software can tackle drip email campaigns, lead nurturing, follow-up emails, lead scoring, and other tasks. The visual workflow builder is designed to streamline your campaigns.
HubSpot offers a Free plan, a Starter plan at $45 a month, a Professional plan at $800 a month, and an Enterprise plan at $3,600 a month.
Read also: HubSpot Pros And Cons: A Candid Assessment
4. Drip


Begin automating more marketing jobs to be done with Drip, from audience segmentation to email drip campaigns. Drip also uses a visual workflow builder for clarity and simplicity.
Drip charges by the number of contacts your manufacturing business has. You'll pay $39 a month for 2,500 contacts, $89 a month for 5,000 contacts, $154 a month for 10,000 contacts, and $289 a month for 20,000 contacts.
Read also: 11 of the Best Drip Alternatives (Features, Pricing, Pros & Cons)
5. Mailchimp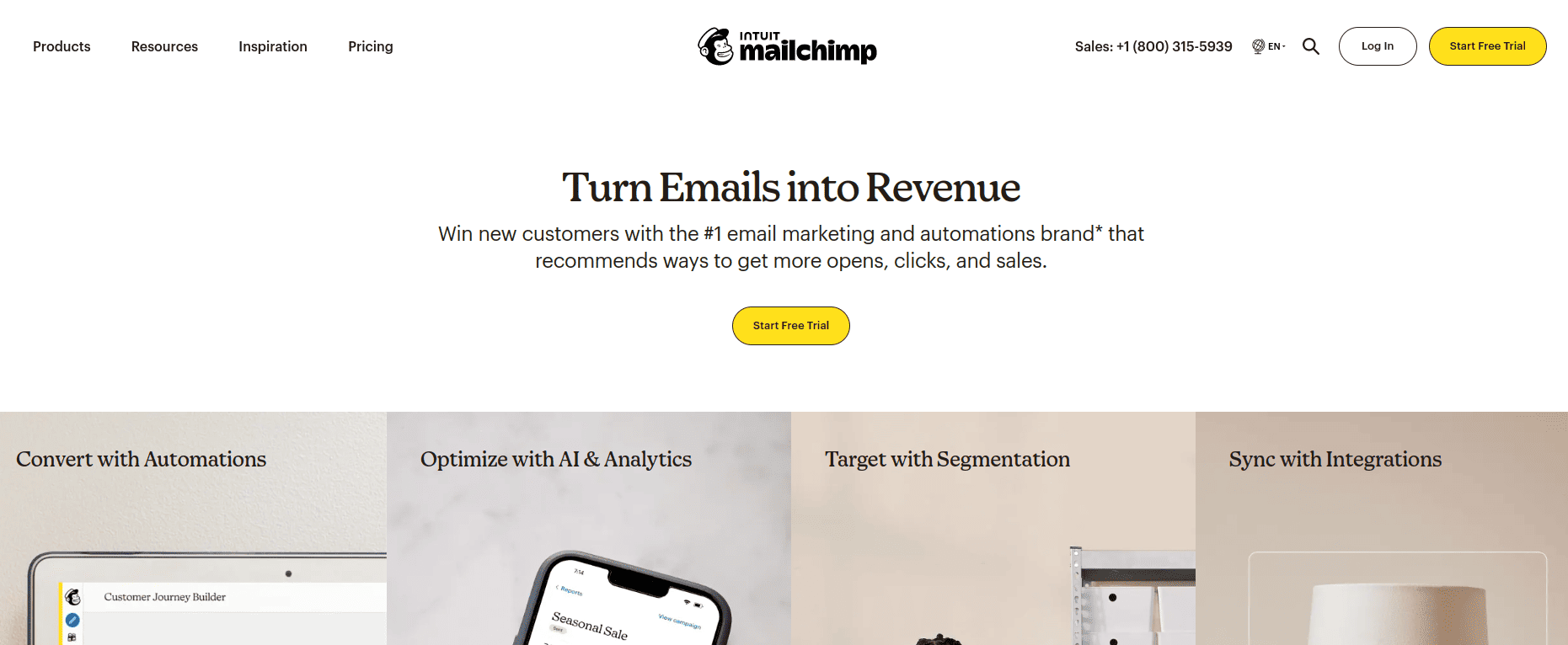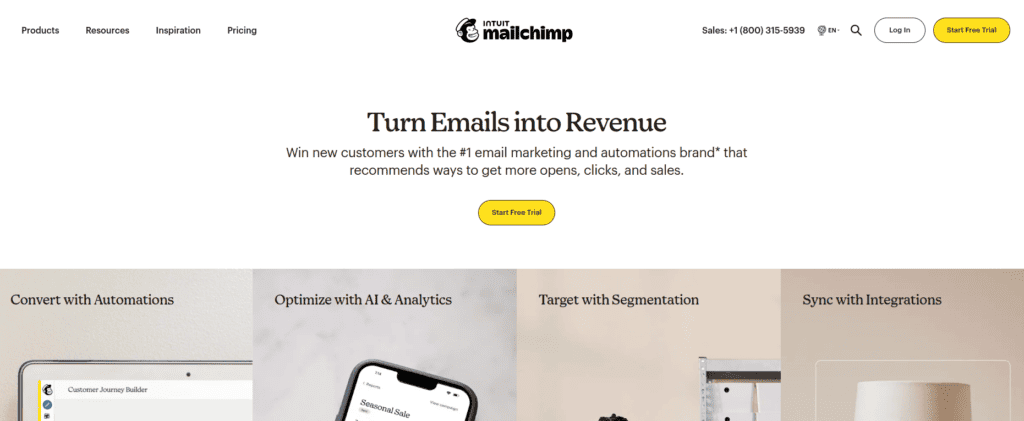 Mailchimp has become known for its email marketing solutions, but it can also automate your marketing campaigns. It integrates with over 300 other software solutions and apps and has a comprehensive list of automation functionalities, from email reminders to lead scoring, segmentation, and abandoned cart emails.
The Free plan costs $0, the Essentials plan is $13 per month, the Standard plan costs $20 a month, and the Premium plan is $350 per month. You can try the Essentials and Standard plans free for a month before committing.
You must choose a paid plan to use Mailchimp's automation features.
Read also: 17 Mailchimp Alternatives With Pricing, Comparison Tables
Mistakes to Avoid in Marketing Automation for Manufacturing
We've made the advantages of marketing automation for manufacturers clear, but that doesn't mean automation is always smooth sailing from the onset. The following mistakes can mar your campaigns and need careful consideration to avoid.
Going completely hands-off
Automation software reduces your need to do extraneous tasks manually, but you can't take a set-it-and-forget-it mentality. You must review the workflow commands of the software, checking at least monthly that those tasks are still conducive to your marketing goals. Modify as necessary.
Not having an automation goal
Automation can do so much that you can face a situation of analysis paralysis where you don't know where to begin. You must establish at least one goal for the automation software per campaign. You can add to your goals as your campaign progresses.
Not testing your emails
Automation can take care of many tasks related to email marketing, but that doesn't negate split testing before sending. You must still determine whether your emails are optimized to reach your intended audience.
Lack of integrations
It doesn't matter how great an automation tool or software is. If it doesn't integrate with the marketing tools you already use, it's not a solution, it's a hindrance.
Not planning for scale
Another issue related to selecting automation software is painting yourself into a corner. Your manufacturing business will grow, and you need a solution that grows with you as readily. If the automation tool has little to no scalability, it's not the right choice for you.
No training
Automating marketing tasks through a drag-and-drop workflow builder might be easy, but still requires training. If this is the first you're automating marketing tasks, take an afternoon to train your team on how the new software works and what it's capable of.
Read also: How To Build a Killer Marketing Automation Strategy
Bottom Line
Growing manufacturing businesses should strongly consider using marketing automation to simplify processes, save time, and enhance productivity. With so many excellent automation solutions on the market, you can bolster your social media and email campaigns.
EngageBay's free solutions, low-cost pricing, drag-and-drop workflow builders, and extensive marketing services make this software a top-notch choice for your manufacturing marketing.
For some more guidance on marketing automation, you might like this article:
Marketing Automation Best Practices for the Non-Technical Marketer