There are hundreds of project management tools on the market — ranging from basic project trackers to complex tools. The best project management software enables users to manage every aspect of a project, and with real-time updates.
A lot of projects fail and suffer from scope creep. The main reason usually is a lack of proper communication.
That's where project management software comes in.
But with dozens of project management software and a handful of project management models, it can be hard to choose one that fits the best for your business. That's why we've explained all of the following in this blog post:
What project management software is
The top project management terms
The importance of project management tools
Tips to choose the right project management software for your business
The 10 best project management tools
By the time you reach the conclusion, you'll find all the right project management tools for your business.
Let's get started!
What Is a Project Management Software?
A project management system is a set of applications designed to help companies keep track of their projects — from conception to completion and launch.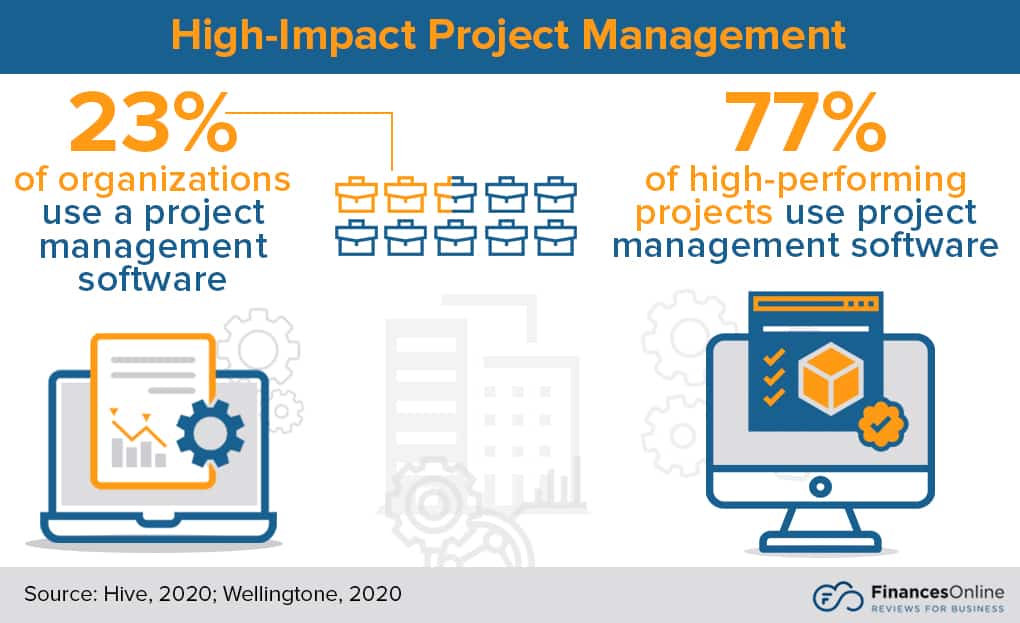 It acts as a collaboration platform whereby all team members can report their progress and monitor the progress of colleagues.
The main goal of using project management tools is to enhance work efficiency, as the software offers a holistic view of the entire project lifecycle to all team members and stakeholders involved.
But before we proceed any further, let's take a look at some commonly used terms that can help you understand project management better.
Read also: 5 Free Project Management Tools For Creative Agencies
Top Project Management Terms Explained
Project Lifecycle: A project lifecycle captures the details of what needs to be done over the course to complete the project.
Agile Project Management: It is an incremental approach to delivering projects, where the project is broken down into small cycles known as 'iterations.' Based on importance, these iterations are prioritized.
Waterfall Model: Waterfall model is a traditional approach whereby the project development occurs systematically — from one phase to another in a downward manner. You have to complete one phase to move to another one.
Milestone: Under Gantt project management, a milestone is used to measure the progress of a project. It represents a major event in a project timeline.
Sprint: Under Kanban project management, a sprint is a period of time during which specific tasks need to be completed.
If you are looking to give a boost to your vocabulary, this interesting infographic by TechInAsia is a cheat sheet of 50 project management terms.

Source: Techinasia
Why Are Project Management Tools Important?
Did you know that The culprit of failed projects? It's bad project performance — and that's why you need powerful project management tools.
The best solution to this problem is to use cloud based project management software.
Here's a great video from Tutorials Point that highlights the need for a project management software:
Now, let's take a look at what all a powerful project management tool can do for your business.
Give you better visibility
Project management tools give you a 360-degree-view of your project. As a project manager, you can keep track of all your project team members' progress, prioritize tasks, and avoid delays.
The system sends out alerts if a task is reaching its due date.
Streamline your processes
A project management software makes it easy for companies to manage and work on similar projects or multiple projects for the same client.
It standardizes the processes — for instance, you can create and save a template for a contract that can be reused again. It saves a lot of time and effort.
Automate your workflows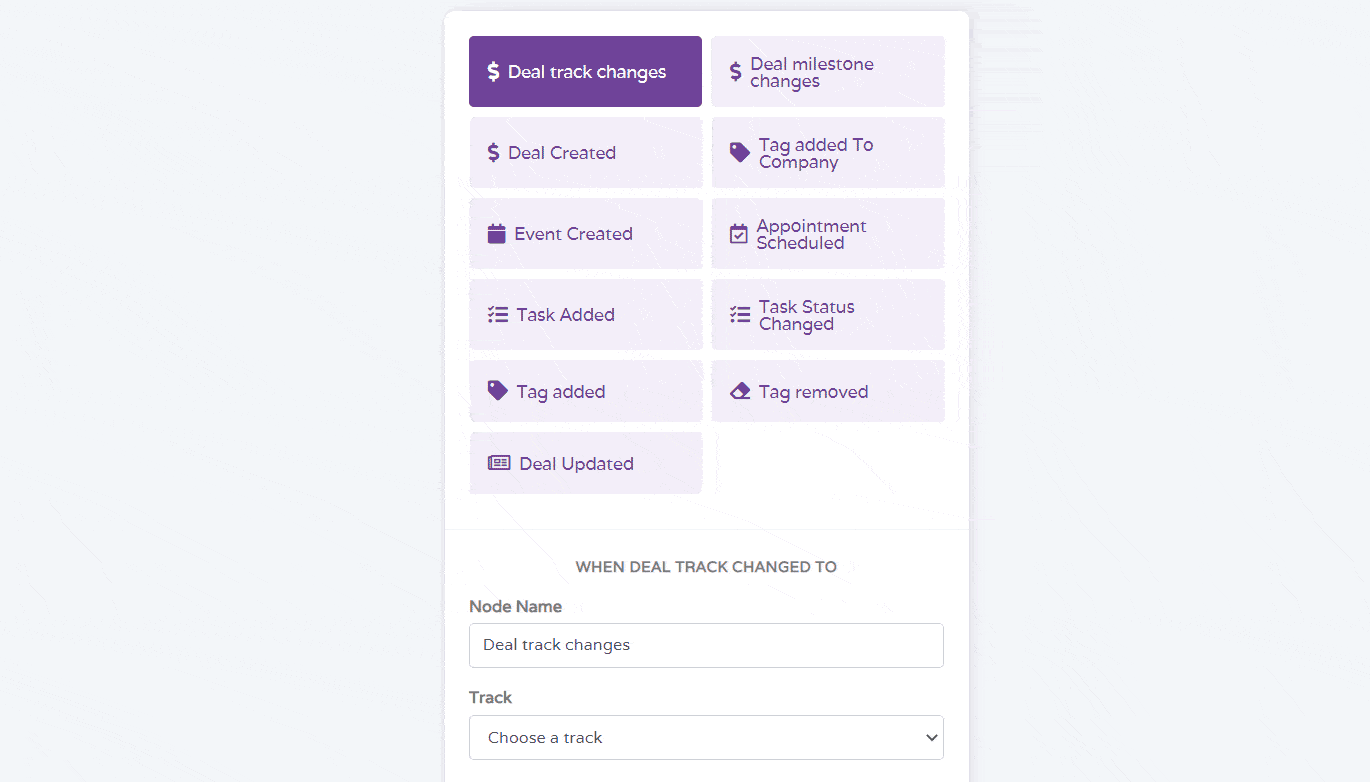 A project management solution can automate an entire workflow. It helps with task management, task reminders, schedule management, and much more.
Read also: Marketing Workflow Guide for Business Growth (& 5 Great Tools)
Boost your software functionalities
The best project tracking software can easily integrate with other third-party applications to expand its functionalities. Thus, it makes it easy to solve any management problem that might arise.
How to Choose the Right Project Management Software
Project management tools can be an efficient way of promoting team collaboration and tracking progress. Thus, it's crucial to choose the right tool that fits your business requirements.
Here are a few factors that you should consider before making your final purchase.
Your Requirements
A project management software has a lot of functionalities to offer. Some of these include:
Team collaboration: Collaborating on tasks and sharing documents all from one dashboard.
Task management: The ability to assign, track, and manage tasks across the project's lifecycle.
Risk management: Identify potential risks associated with projects and raise flags to alert the manager.
While choosing the best project tracking software, determine all the features you need for your business.
Don't try to overload your system with unnecessary modules; that will only slow down your system.
Friendly User Interface
The interface of an application plays a big role in defining the whole user experience. Choose a solution that offers a clean and user-friendly interface so that your team members need not worry about the learning curve.
Cost
You get both free and paid tools in the market. Lately, there's been a growing trend of the SaaS (software as a service) model — where you pay a certain subscription fee on a monthly or annual basis.
Basically, this means you'll have an online project management tool, and have access to it from anywhere around the world as long as you have internet connectivity.
Make sure that you find a project management software that justifies the cost, and charges you for features you need instead of offering a plethora of useless tools.
Read also: Customer Lifecycle Management (How to) Guide for Business Owners
11 Best Project Management Tools in 2023
Now that your requirements are defined, let's see what options you have. We've selected the eleven best project management tools for small businesses, and detailed their features and pricing for you:
EngageBay
ProofHub
nTask Manager
Asana
Monday.com
Jira
Teamwork
Podio
ClickUp
Smarttask
Indy
Let's dive right in!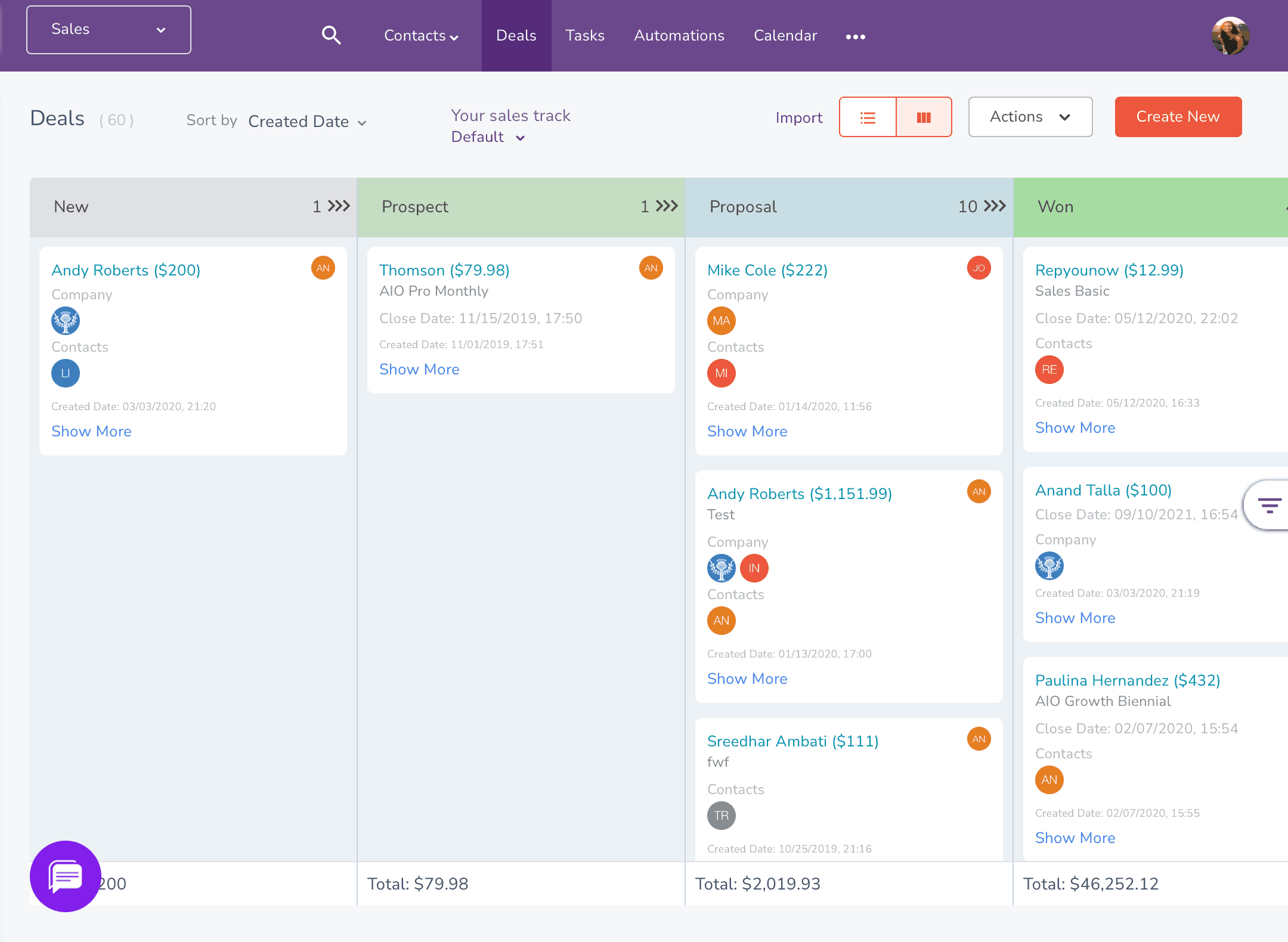 EngageBay offers a free project management software that primarily caters to small businesses.
Based on your projects, EngageBay automatically creates tasks and makes it easy for project managers to keep track of every team member's progress. The system ensures that all your team members are aligned towards a common goal of project completion, growth, and revenue.
And, it enables effective communication by keeping every team member on the same page. EngageBay lets you add notes to the tasks and keep your employees up-to-date. It's a great feature to share ideas and comments on business tasks.
EngageBay reduces data inconsistency, keeps teams aligned, and enhances productivity — making it one of the best project management tools.
Pricing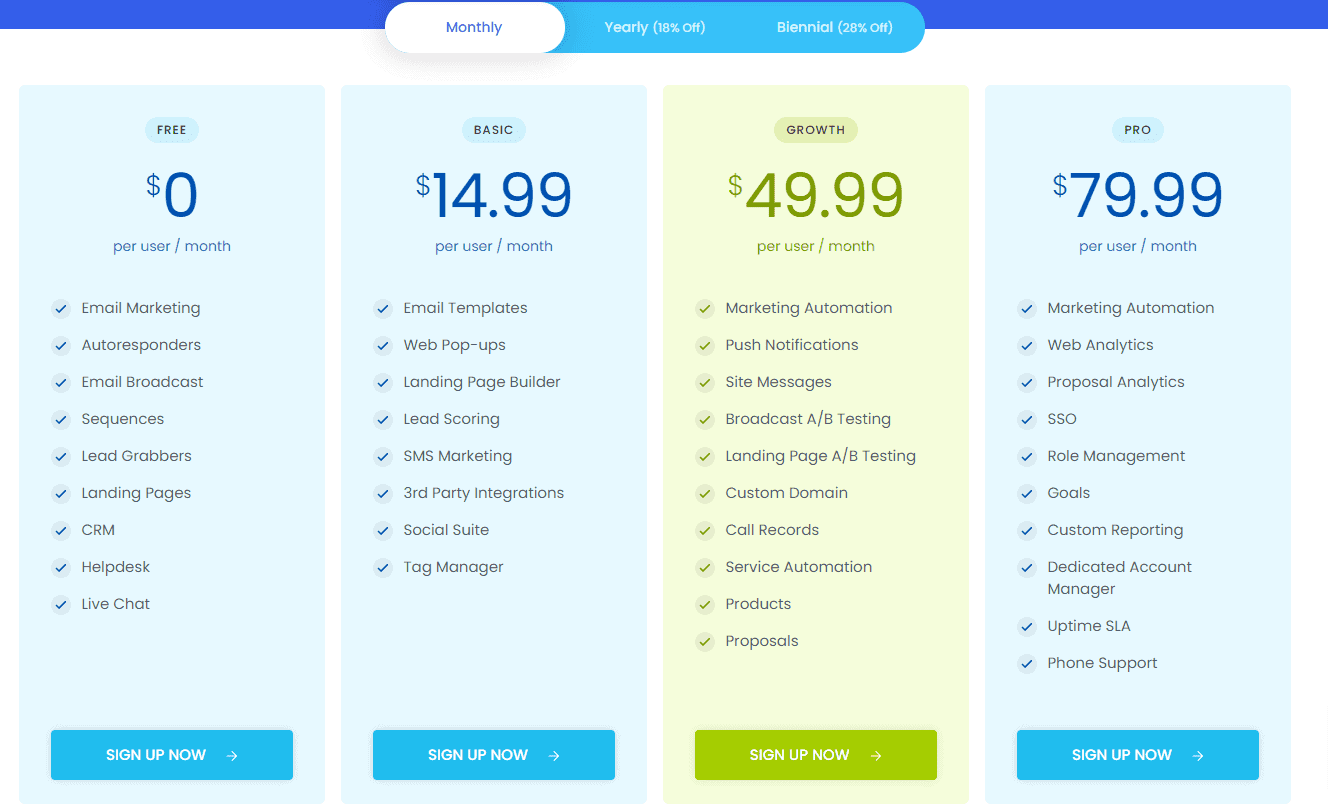 EngageBay is one of the most affordable software on this list.
EngageBay's pricing is four-tiered:
Free: This plan is free forever for up to 15 users, offering contact management, CRM automation features, and calendar integrations.
Basic: This plan costs $7.79 per month and includes multiple deal tracks, calling, 3rd party integrations, tag manager, and much more.
Growth: This plan is priced at $14.99 a month and allows 50,000 contacts in its database. It includes features like multi-currency support, sales automation, proposals, leaderboard, and more.
Pro: This suite costs $29.99 a month and offers advanced features like dedicated account manager, proposal analytics, role management, goal management, custom reporting, and much more.
EngageBay also offers a 20% discount on annual plans and a 40% discount on biennial plans — making it the best project management tool in terms of affordability.
Read also: Insightly vs Hubspot vs EngageBay — Find Out Which CRM Is Best For You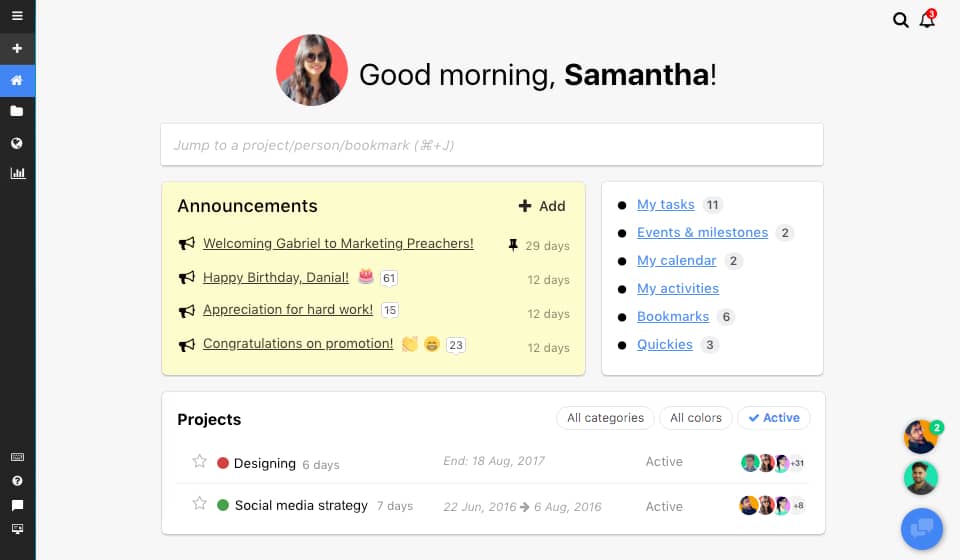 ProofHub is one of the most popular project management tools that offer complete control over your projects and the tasks your team members are performing.
It offers a platform that supports the Kanban board whereby members can self-manage their tasks and move from one stage to another. It also allows you to view your projects in a timeline view.
The project manager can restrict access based on the responsibilities of your members, thus protecting confidential information about your project.
The best part is that it easily integrates with third-party applications like FreshBooks Classic, FreshBooks, QuickBooks, Google Calendar, Google Drive, Dropbox, iCal, Box, OneDrive, and Outlook.
Large companies like Nasa, Google, and TripAdvisor use Proofhub to manage projects efficiently.
Pricing
ProofHub charges a flat fee instead of charging based on the number of users. It offers two pricing plans:
Essential: Available at $50 per month that allows you to manage up to 40 projects with unlimited users and 150 GB storage. Some of the core functionalities that it offers include time tracking, Gantt charts, group chat, file sharing, and more.
Ultimate Control: This plan costs $99 per month with unlimited projects and users. It comes with 100 GB of storage. Its advanced features include custom workflow, API access for data transport, project and resource reports, advanced activity logs, and more.
Read also: Business Management Software And Why You Need Them (Types, Features)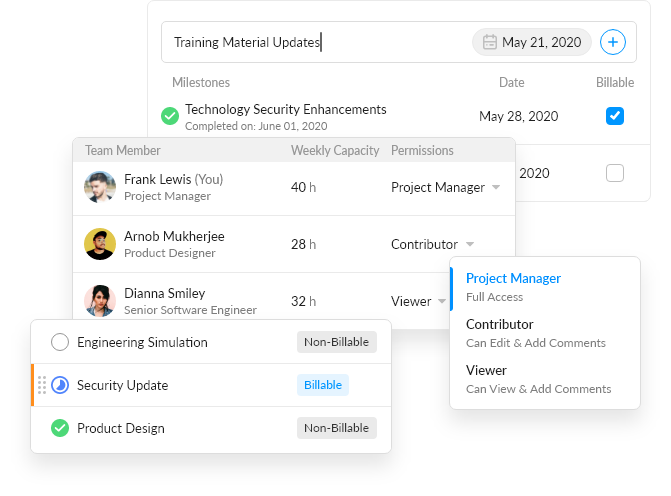 nTask project management software streamlines various aspects of your project management, including project planning, task dependencies, resource management, financial management, and others.
It promotes collaboration amongst team members while allowing them to plan and analyze everyday tasks.
No wonder over 250,000 companies are using nTask Manager in 155+ countries, including Google, Sony, Harvard, and more.
Pricing
nTask Manager has four plans for its users:
Basic: This plan is free for freelancers and individuals. It allows you to onboard five members per team with unlimited workspaces, timesheets, issues tracking, and much more.
Premium: This plan costs $2.99 per month per user. Here, you get access to the Kanban board and Gantt chart along with 5GB of storage.
Business: This plan starts at $7.99 per user per month. It gives you a 10GB storage area with advanced features like custom filters, risk management, custom roles & permissions, kanban board templates, and advanced reporting & integration.
Enterprise: The price is quoted on request. It offers custom onboarding, dedicated account manager, and dedicated cloud — best for large enterprises.
Read also: 9 Business Management Software Hacks for Crazy Productivity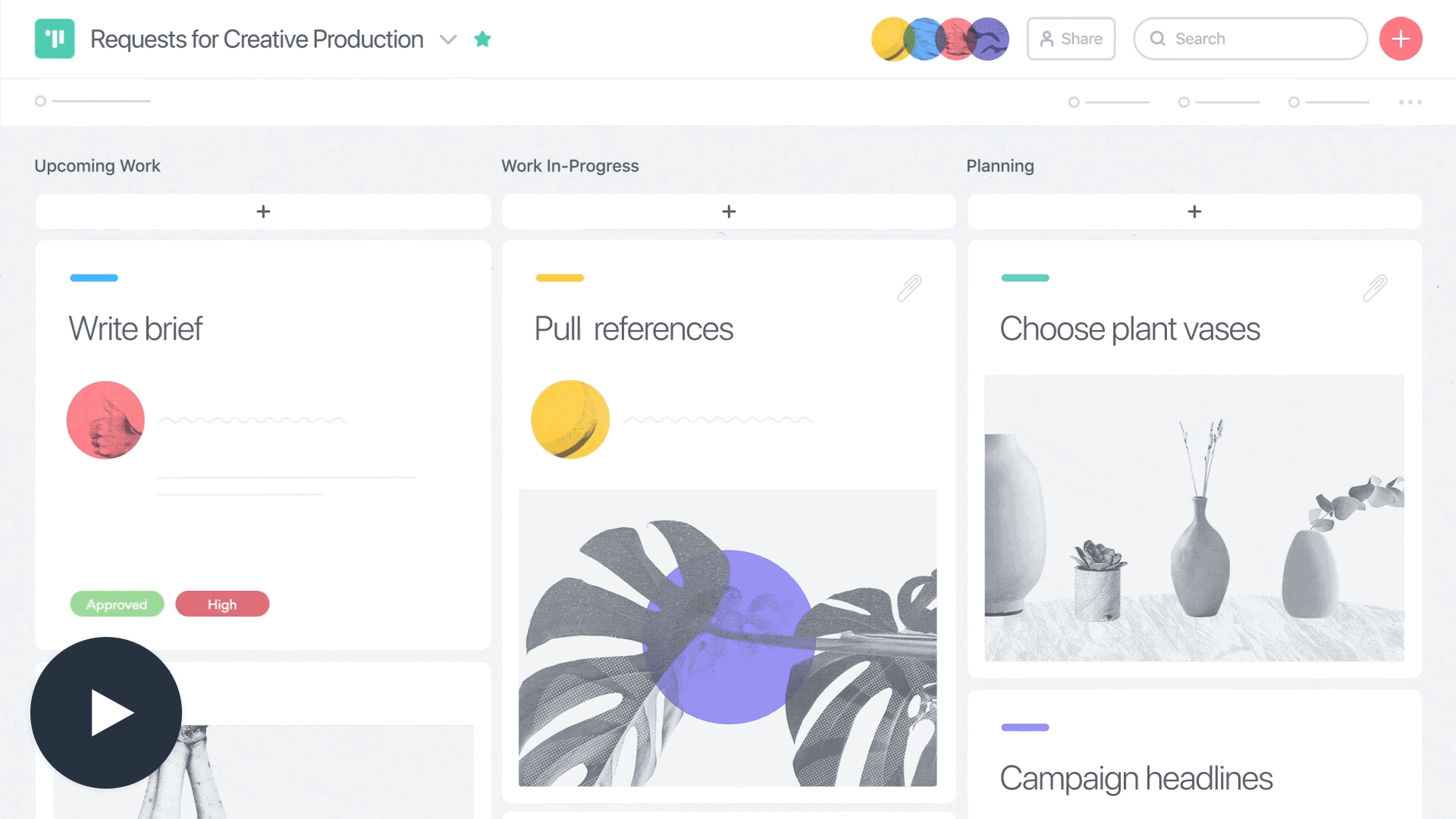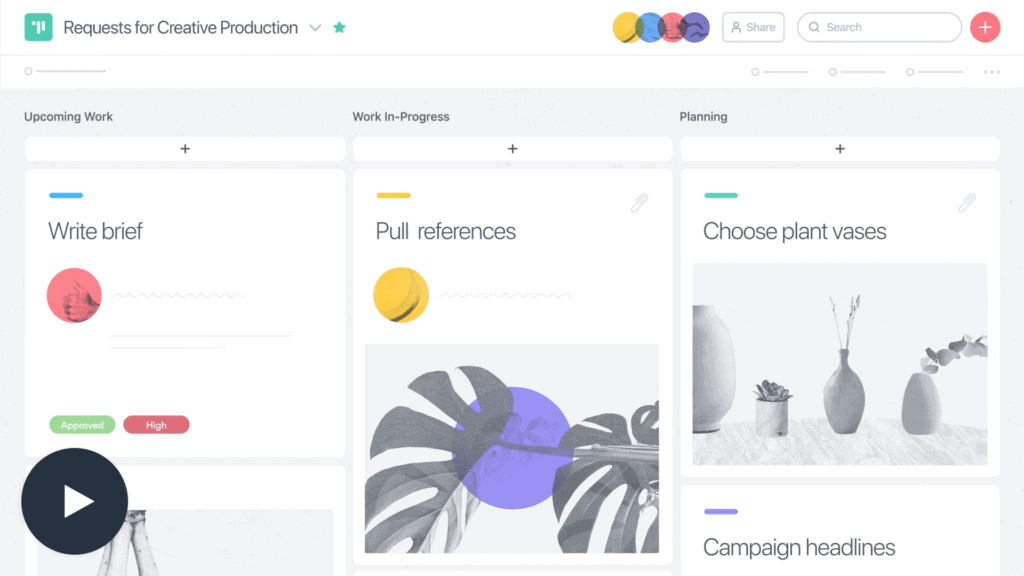 Asana is one of the best project management tools that keep you and your whole team organized by prioritizing your tasks. Project managers can easily add and assign tasks and track progress reports of each member individually.
Besides, its 50+ templates help you create a standardized workflow that keeps everyone aligned in the same direction.
The real-time status update ensures that your project is running on time and helps identify actions that might result in delays.
It offers 100+ integrations to promote collaboration and coordination within the organization.
Pricing
Asana has four pricing plans:
Basic: It is free, useful for individuals or teams just starting out. It allows you to collaborate with up to 15 teammates and offers list view, 100+ free integrations, etc.
Premium: The price starts at $10.99 per user per month for unlimited dashboards. It includes an admin console, milestones, unlimited guests, private teams and projects, and much more.
Business: This plan costs $24.99 per user per month. Its advanced features include portfolios, goals, workload, custom rules builder, forms branching & customization, approvals, proofing, and much more.
Enterprise: The price is available at request.
Read also: 5 Sales Planning Tools For Small Businesses to Grow Revenue Fast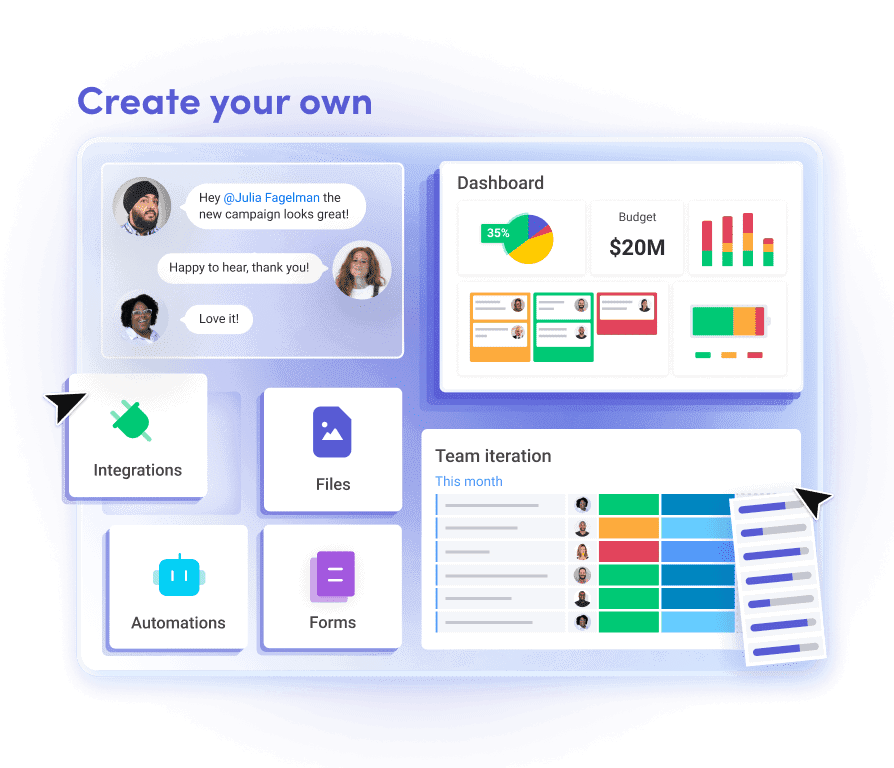 Monday.com acts as a centralized platform where you can easily plan, track, and analyze your project's progress. It offers hundreds of visuals and customizable templates to get you started. If you want, you can even create your own.
Most importantly, you can view your data in whatever way you like — kanban boards, list view, calendar, etc.
It 0ffers personalized customer service along with a resourceful knowledge base.
With Monday.com, you can integrate with your existing tools and streamline your entire operational activity.
Pricing
Monday.com has four pricing plans in total with an extra free version for individuals. Its price varies based on the number of users.
Basic: The price starts at $8 per seat per month with unlimited boards and unlimited free views. It offers 5 GB of file storage and prioritized customer support.
Standard: The plan starts at $10 per seat per month, and includes timelines and Gantt views. It also offers automation, guest access, integrations, and much more.
Pro: The price starts at $16 per seat per month. Its advanced features include private boards, time tracking, formula columns, and much more. It enables you to create a dashboard that can combine up to 10 boards.
Enterprise: The price is available at request.
Read also: 12 Tools to Boost Small Business Owners' Productivity!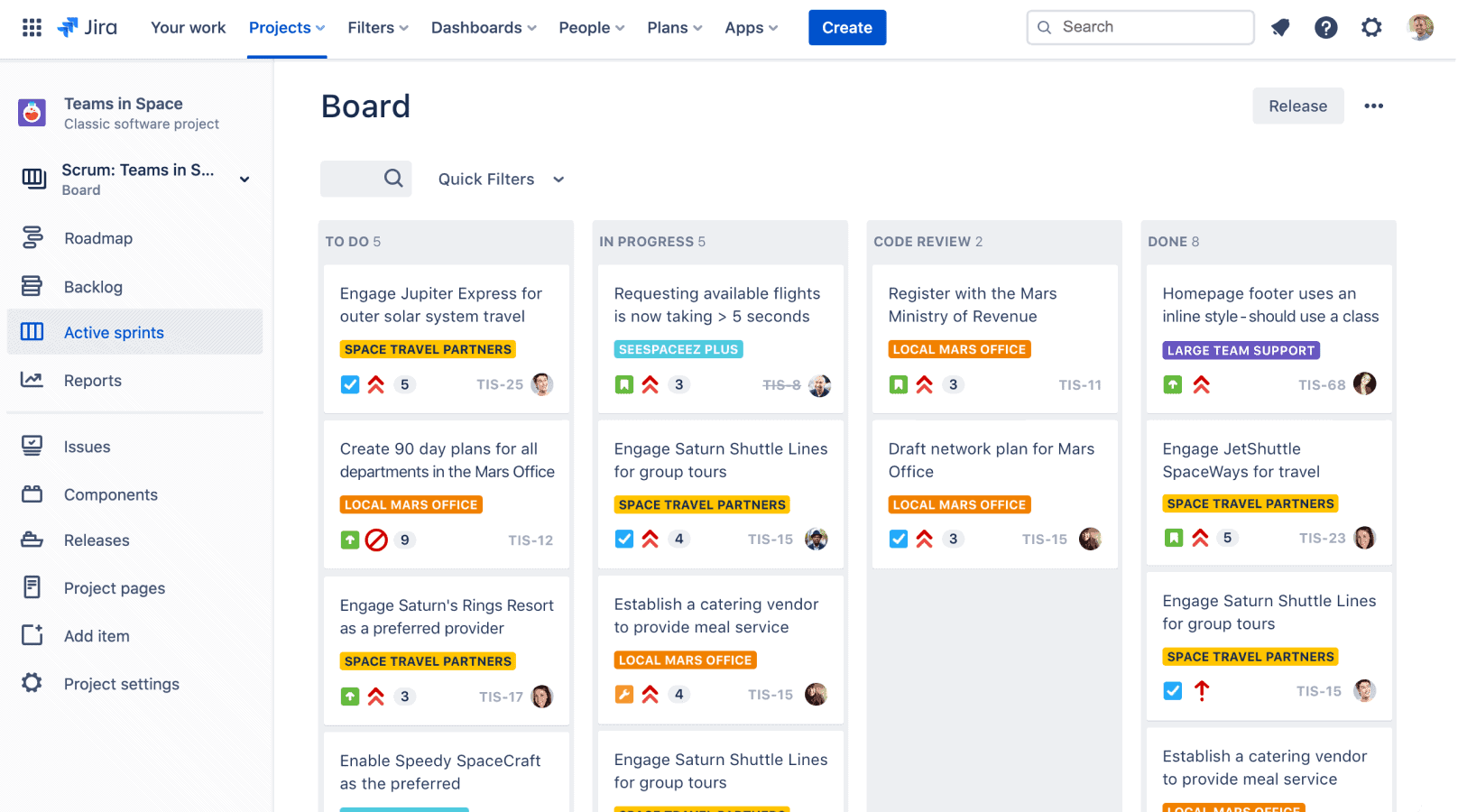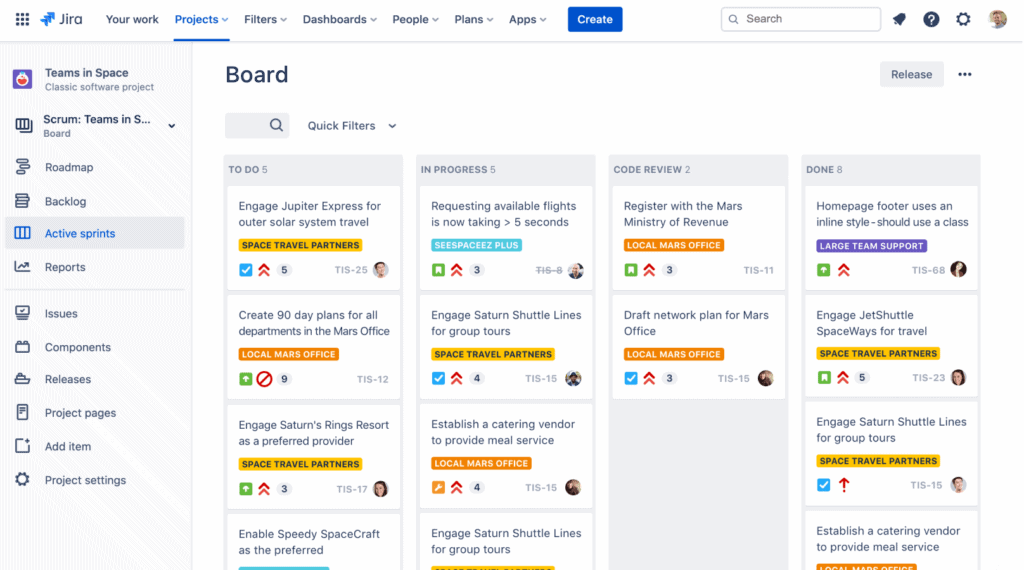 Jira is a project tracking software that is most popular amongst agile teams. It covers various aspects of project management — from planning sprints to distributing tasks and offering complete visibility into the progress.
Furthermore, it helps improve team performance by offering real-time, visual data that your team can use.
Jira can integrate with various third-party applications to expand its functionalities.
Pricing
Jira pricing is based on the number of users. It has four plans:
Free: Best for small teams with up to 10 users. It includes scrum, kanban boards, automation, roadmaps, dependency management, and much more.
Standard: The price starts at $7 per user per month for up to 10,000 users. Along with the basic functions, it enables project roles and advanced permissions.
Premium: The price starts at $14 per user per month for up to 10,000 users. Some of its popular modules include IP allow listing, admin insights, and capacity management.
Enterprise: The price is available at request with some of the advanced features that will benefit large organizations.
Teamwork is an easy-to-use project management software that scales into a full platform. Trusted by over 6,000 agencies, companies like Spotify, Disney, and PayPal use Teamwork to manage their complex projects.
You can easily upload files, add comments, and customize your workflow — all in a single platform.
It gives you a board view and project health status updates on your project's timeline. Besides, its deep insights ensure that your resources are being utilized optimally.
Pricing
Just like others, Teamwork offers four plans, including a free version.
Free Forever: Created for small businesses or individuals offering task management tools, milestone, and messages.
Deliver: It costs $10 per user per month with a free trial period of 30 days. You get 20 project templates, time tracking & invoicing, agile view with workflows, and much more.
Grow: The price starts at $18 per user per month with 50 project templates, custom fields, project portfolio workflows, workload resource management, resource scheduling, etc.
Enterprise: The price is available on request — offering advanced security and extra speed.
Read also: 6 Free Marketing Software Marketers Must Try Today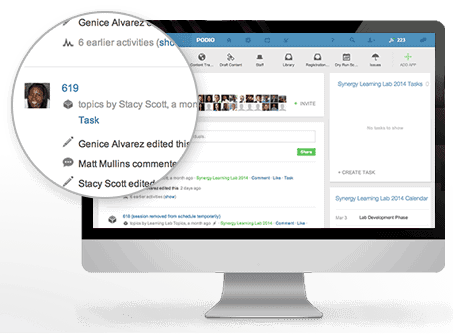 Podio is a social collaboration tool that enables you to customize your dashboard and run your projects efficiently. It offers a holistic view of your project's progress — keeping it transparent and organized.
Furthermore, it streamlines the entire communication between your team members by putting all your conversations in one place.
It offers enough flexibility to enable you and your team members to define the structure of your content, reports, and overviews.
Podio also integrates with a wide range of third-party applications like Podio time tracking integration from TimeCamp, Dropbox, Zapier, and many more.
Pricing
Podio offers plans that might fit into everyone's requirements. Its four pricing plans include:
Free: It can be used for up to five users. It offers basic functions like task management and apps and workspaces.
Basic: The plan is priced at $7.20 with a wide range of features, including unlimited items, user management, task management, and more.
Plus: The plan costs $11.20 with advanced features like light user role, read-only access, and automated workflow.
Premium: Its most popular plan is priced at $19.20 with a full suite of capabilities like contact sync, interactive sales dashboards, and advanced workflow automation.
Read also: 10 Reasons Why SaaS Companies Invest in CRM Software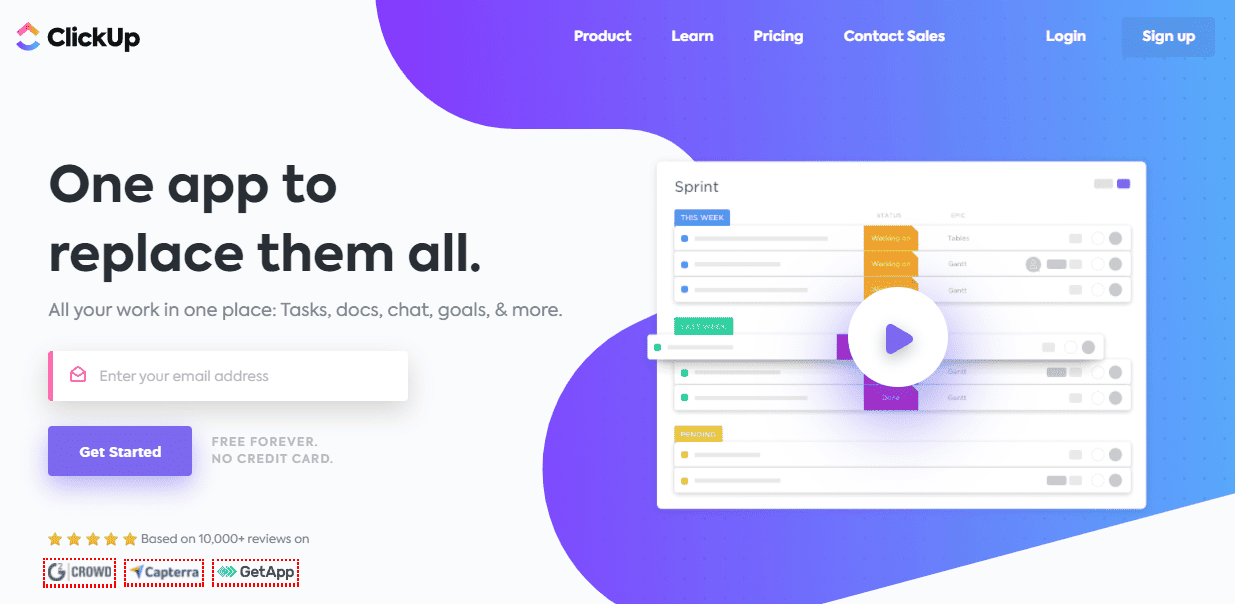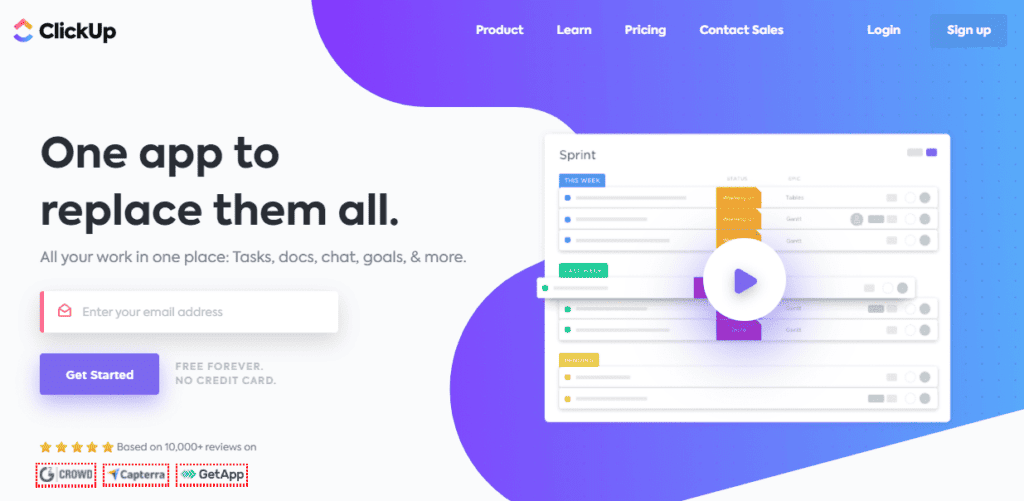 ClickUp offers a suite of products for project management that include to-do list management, time tracking, goal tracking, resource management, Gantt charts, and Kanban boards to mention a few.
With ClickUp, you can create and automate tasks directly from email, view all daily events in one place, create knowledge bases anywhere in ClickUp, capture videos and screenshots right from your desktop, and many more.
ClickUp is meant to offer one app to replace a suite of different project management tools like Trello, Jira, Loom, and Slack.
The application also seamlessly integrates with other third-party tools like DropBox, Figma, YouTube, Outlook, and Google Drive for efficient collaboration.
ClickUp is used by enterprise teams at popular companies like Google, Webflow, Booking.com, and IBM.
Pricing
ClickUp has a 'Free-Forever' plan that lets you create unlimited tasks and work with unlimited members, but with a limited 100 MB storage.
They have 4 pricing plans.
Unlimited: This plan gives you everything in the free plan, plus unlimited storage. Billed annually at $5/user/month.
Business: This plan comes with advanced automation, work management, and dashboard functions that are not available with lower-priced plans. Billed annually at $9/user/month.
Business Plus: This plan offers everything in Business with custom permission settings, role creation, sub-tasks management, and priority support. Billed annually at $19/user/month.
Enterprise: Enterprise customers can white label their product, and have access to enterprise API functions. Pricing is based on your specific requirements.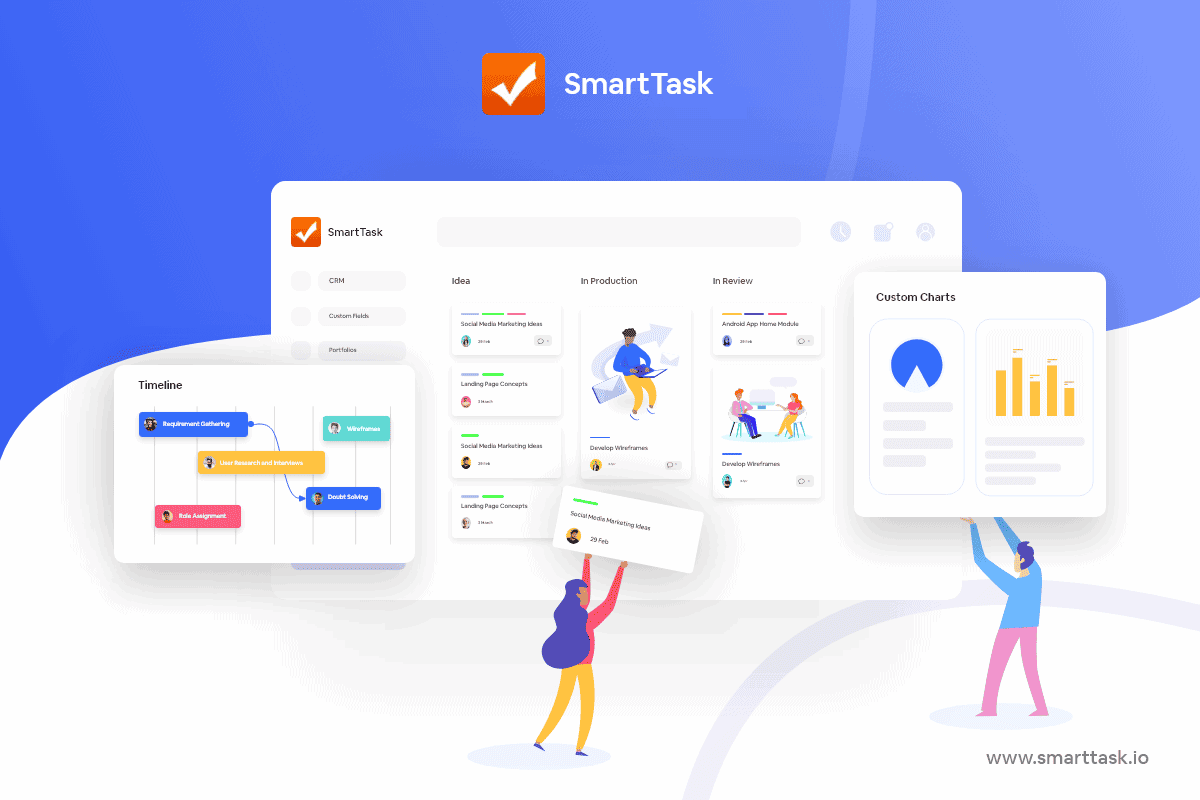 SmartTask is an all-encompassing cloud-based project management software that helps you manage workflows, projects, tasks, and sales processes with the simplest ever user experience.
It offers project management, task management, time tracking, team collaboration, CRM, sales pipeline tracking, customized analytics, and reporting features.
SmartTask also integrates with Zapier, Integromat, Slack, Jotform, and other 1000+ applications to automate your workflows.
Pricing
SmartTask can be used free forever with unlimited tasks, users, projects, contacts, and access to all features. It also has paid plans which are as follows:
Premium: The premium plan starts at $5 per user, per month when billed yearly. It unlocks milestones, custom fields, portfolios, time tracking, advanced permissions, and unlimited file storage.
Business: The business plan starts at $8 per user, per month when billed yearly. It unlocks everything in premium, timeline view, workload view, budgeting, advanced analytics, and managed technical services.
Read also: 6 Steps to Create Your CRM Strategy (+How to Track It)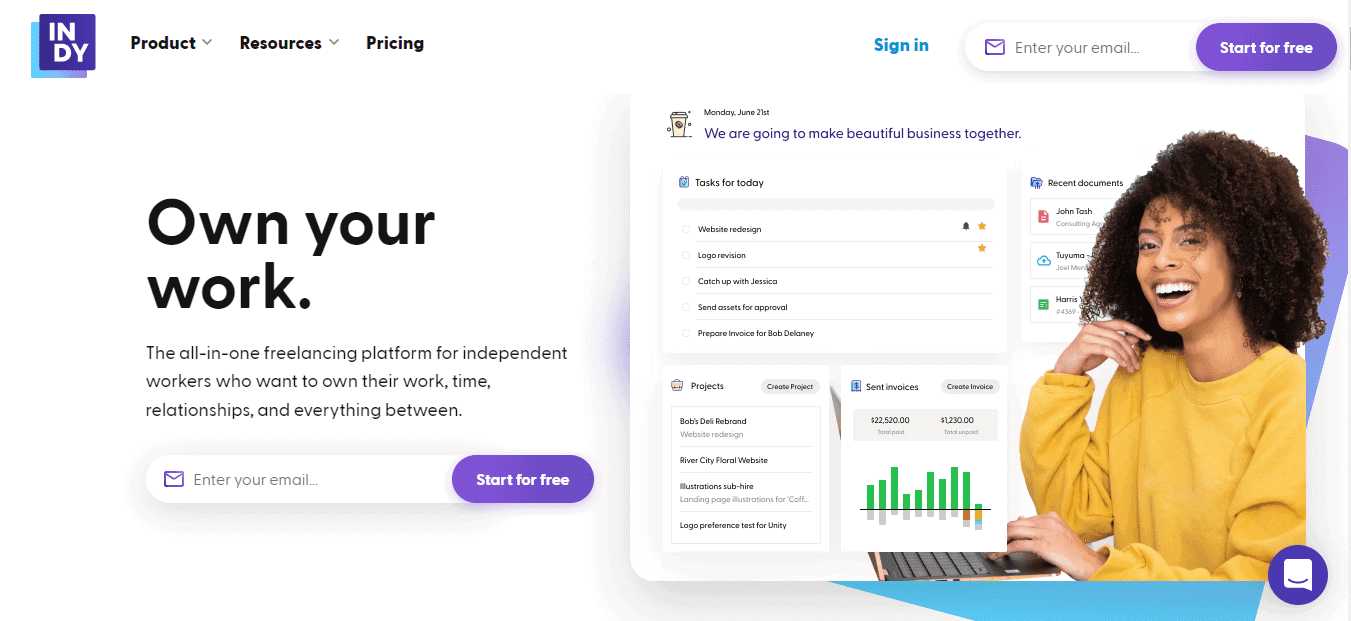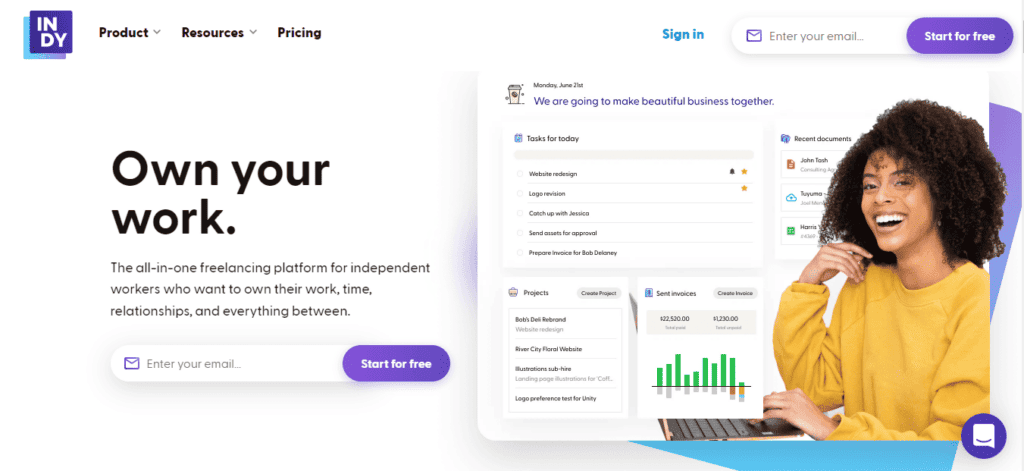 Indy is a complete project management and administration platform for freelancers to build their businesses through efficient work and streamlined processes.
Indy's all-in-one digital toolkit includes a project management dashboard. From this single viewpoint, independent contractors can keep track of their tasks, time management, files, and calendar.
With everything in one place, freelancers can also use Indy to land new projects with the Proposals tool, create contracts to protect their work, and bill clients with the Invoices tool. Keeping everything in one place makes freelancing simple.
Pricing
Indy offers a free trial with limited uses. However, the full package is $5.99/month, which is well within the reach of almost every freelancer.
Conclusion
With the world going digital, every business must adapt or lose out to the competition. A powerful project management platform can give your company a solid productivity boost, better employee satisfaction, and increased revenues.
There are different project management models, and choosing the right one is crucial for the successful completion of the project.
We've made a list of the 11 best project management tools for your business. All of these can really work wonders for your business.
Find project management tools that you think offer good value for the features they come with, and begin with a free trial.
For small businesses, EngageBay is an excellent project management software as it was built from the inception phase with affordability at the forefront. Even the Pro plan costs under $80 a month — and you get unlimited contacts!
Unlock the full potential of your marketing strategy with our guide on the most effective free marketing tools!