When it comes to restaurants, growing your customer base is as important as turning new customers into repeat buyers. 
Any customer that buys from your restaurant has a 60% chance of becoming a repeat customer. 
However, developing such relationships requires restaurant owners to focus on customer experience even after the dining is over. 
For that, you need tools like a restaurant CRM system to develop an effective customer retention strategy. 
In a survey, 95% of restaurateurs agree that technology improves their business' efficiency. 
You can personalize the customer experience and roll out a customer loyalty program to establish your trust. 
Let's learn more about restaurant CRM software and the top five choices that you can consider using for your restaurant business. 
What Is CRM for Restaurants?
A restaurant CRM, or customer relationship management, helps restaurant owners connect with customers and create a superior experience. 
It helps you maintain a centralized database of information on all your customers who have visited your restaurant or ordered online. 
Using those data, you can provide a personalized experience and build long-term rapport with your customers — the most essential asset for any restaurant!
Whether you are a quick-service restaurant (QSR) or offer fine dining, the best restaurant CRM can change how you engage with your customers. 
EngageBay's free CRM gives you complete visibility into every detail of a customer in a single location.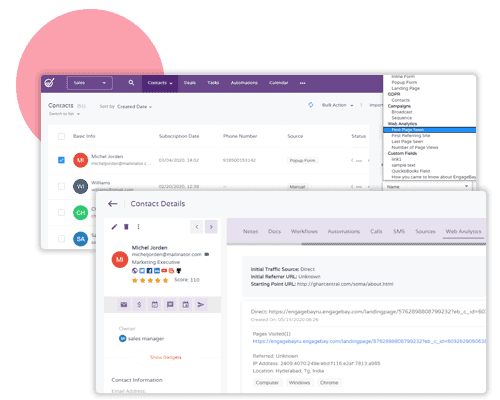 Why Restaurant Needs CRM?
Restaurateurs need to build a base of engaged and loyal customers who can't wait to return.
In other words, managing your growing business goes above the capabilities of Excel spreadsheets. 
When it comes to gaining customer loyalty, the restaurant customer experience doesn't end at the dining table. 
The use of the restaurant CRM system makes it easy to run a restaurant efficiently. 
It manages all the records of customer data and further segments them based on different factors to help run targeted, personalized marketing campaigns. 
 It's safe to say that marketing automation tools can make the job of restaurant owners or managers a lot easier. 
What Are the Benefits of Using Restaurant CRM Software?
Information is a powerful tool, and solutions like CRM can be easily plugged into your point-of-sale (POS) system. 
You are just a click away in your restaurant CRM system to access your customer's information, allowing you to deliver a personalized and intuitive customer experience. 
Let's look at some of the benefits of using restaurant CRM software in detail. 
Provide Customer Behaviour Analysis
An integrated restaurant CRM provides you a massive amount of customer data that can be accessed at any time. 
It captures information on customer behavior, such as previous visits, most preferred dishes, etc., that can be analyzed to uncover hidden patterns, trends, and customer preferences. 
Knowing customer preferences enables you to run targeted campaigns with personalized offers based on their buying behavior. 
These data analyses can be available at your fingertips with a CRM integrated into your POS system. 
Boost Customer Retention 
Good and bad restaurant experiences help make up your customers' minds where they are going to come back. 
A CRM for restaurants stores all the important information necessary to provide end-to-end offerings to your customer. 
With customer behavior analysis, you can find out your existing customer's preferences, including their favorite dish, likes and dislikes, number of visit days, and more. 
As a restaurant owner, you can use this information to show some love in their inbox or in-dine experience, keeping them engaged. 
Besides, retaining your existing customer is five times less expensive than acquiring a new one.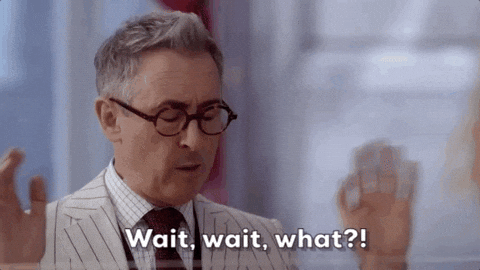 Get Real-Time Customer Feedback Management
The competition in the restaurant business is extremely high. Thus retaining customers becomes extremely important. 
Customer engagement is an essential aspect of creating a superior customer experience. 
The best way to know what's working for your customer — if they liked the dishes and the service is by taking their feedback.
Asking your restaurant customer feedback makes the customer feel valued and gives first-hand insights into your strengths and weaknesses. 
You can analyze customer feedback to identify your shortcomings. 
If you use a 360-degree restaurant CRM, it comes equipped with a customer feedback management tool.
It enables you to collect feedback through a feedback form online. 
Run a Loyalty Program
Loyalty programs are a great way to give your customers a reason to keep coming back.
An advanced restaurant CRM comes equipped with features that enable you to run tailored loyalty programs.
Even the basic CRM for restaurants can provide the information needed to reward the most frequent and loyal visitors. 
Using the tool, restaurants can easily craft their own birthday discounts, signup bonuses, and establish points redeem policy that entices them to come back time and time again. 
Send Emails to New Customers and Old Regulars
Traditional marketing may still be one of the effective ways to engage potential visitors of your restaurant. But the power of email marketing campaigns can't be ignored. 
Email campaigns allow you to engage with your regulars and potential newbies alike. 
You can easily run an email campaign integrated with your CRM, where you can build customer lists and email templates.
CRM for restaurants also enable you to keep track of all your result — open rate, click-through rate, and others that help you gauge the effectiveness of your campaign.
You can improvise your strategy based on those insights and earn more revenue. 
You would see how restaurants use 'Miss You' emails to re-engage their old visitors and bring them back to dine. 
EngageBay's email marketing tool can be integrated with CRM to run targeted, personalized campaigns. You can choose from several pre-designed email templates or create your own.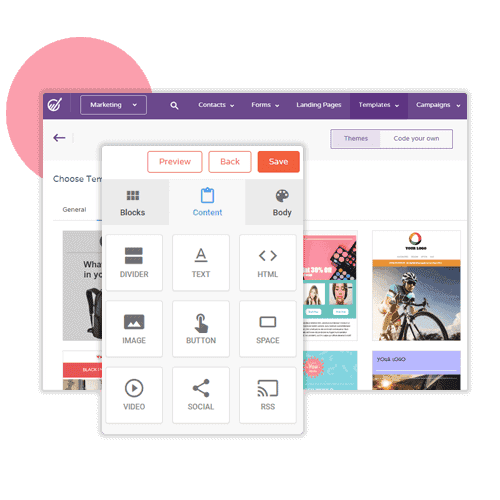 5 Top CRM Software for Restaurant in 2021
It's clear by now that restaurant CRM software help increase efficiency in your day-to-day operations by monitoring your customer interaction and making all data easily accessible. 
With hundreds of options available in the market, it can be challenging to pick the right one. 
That's why we have picked up the list of five top CRM software for restaurants. But before that, let's understand what type of buyer you are. 
There are different types of restaurants. Based on your requirements, not all restaurant CRM might be right for you. 
Here are the three types: 
Food Truck or Independent Restaurant
If you are running a single outlet looking to gain a competitive edge with customer retention, you might benefit from a centralized customer information database. 
Choose a CRM that has a well-organized contact database and enables you to run localized targeted marketing campaigns.
Maintaining constant communication with your customer will increase brand awareness. 
Multi-branch Restaurant
Instead of having a separate CRM for every branch, an integrated system with a centralized platform can work well for multi-branch restaurants. 
You can then run integrated marketing campaigns and attract more footfalls into your restaurant. 
Franchised Chain
Franchised restaurants try to create a global or national level presence by marketing online and establishing an excellent social media presence.
It allows them to interact with their customers directly and gain their trust. 
Restaurant CRM software's social media and online marketing feature can be beneficial to expand their online presence.
List of Restaurant CRM
EngageBay offers a free CRM for restaurants that aim to help businesses grow meaningful relationships with their customers. 
Trusted by over 28,000 customers worldwide, EngageBay integrates with many third-party applications. 
What Does EngageBay's CRM Include?
EngageBay free CRM offers a comprehensive suite of functionalities that allow you to run targeted, personalized campaigns for your customers. 
From collecting data about your users to segmenting them based on various factors and providing complete visibility into your sales pipeline, it is your go-to marketing tool. 
The system aims to streamline and automate mundane tasks so that you and your employees can focus more on strategizing for boosting customer retention.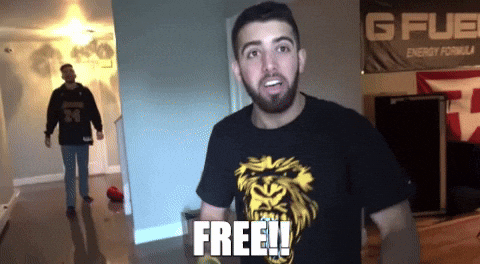 Some of the key advantages of using EngageBay CRM: 
Offers a rich set of templates for emails, lead capture forms, and landing page

Comes integrated with EngageBay marketing tool for a holistic experience

Powerful reporting module to gauge the effectiveness of your campaigns
While it offers integration with a vast number of third-party applications, it doesn't hurt to add more to the lists.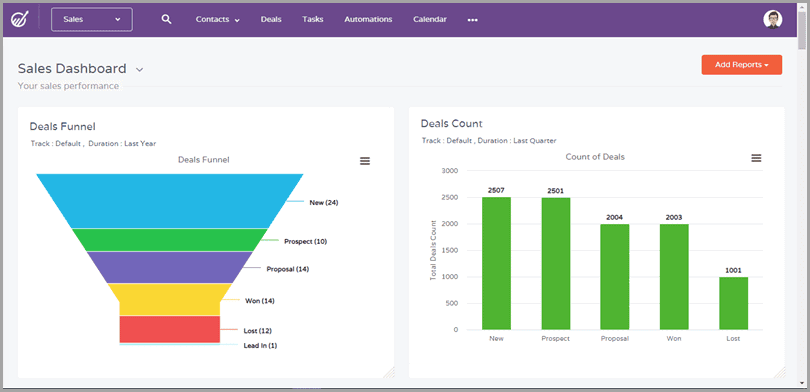 Summary
EngageBay free CRM is a good option for running your restaurants. It can easily integrate with your POS system and offers reliable customer support. 
It also has in-depth resource material uploaded on its website to help its user learn how to use the product. 
ActiveCampaign is one of the top restaurant CRM that offers dedicated solutions for different industries — ecommerce, B2B companies, and digital businesses. 
It offers a combination of three automation tools — email marketing, marketing automation, and CRM. 
What Does ActiveCampaign's CRM Include?
ActiveCampaign enables its users to add sales and marketing automation to its CRM software. 
The primary goal is to help its users focus on selling while it takes care of the lead generation, scheduling calls, and other mundane tasks. 
It helps with lead scoring to help prioritize your leads so that you can nurture the most engaged ones. 
Its most popular plan is Professional Plan that starts at $129 per month for up to 500 contacts. 
From offering predictive content to split automation and attribution reporting, ActiveCampaign has created a niche for itself. 
At $129, you get one-on-one onboarding support along with CXA strategy consultation. 
What sets it apart is that you can connect ActiveCampaign to your Gmail account and manage all your sales communications directly from there.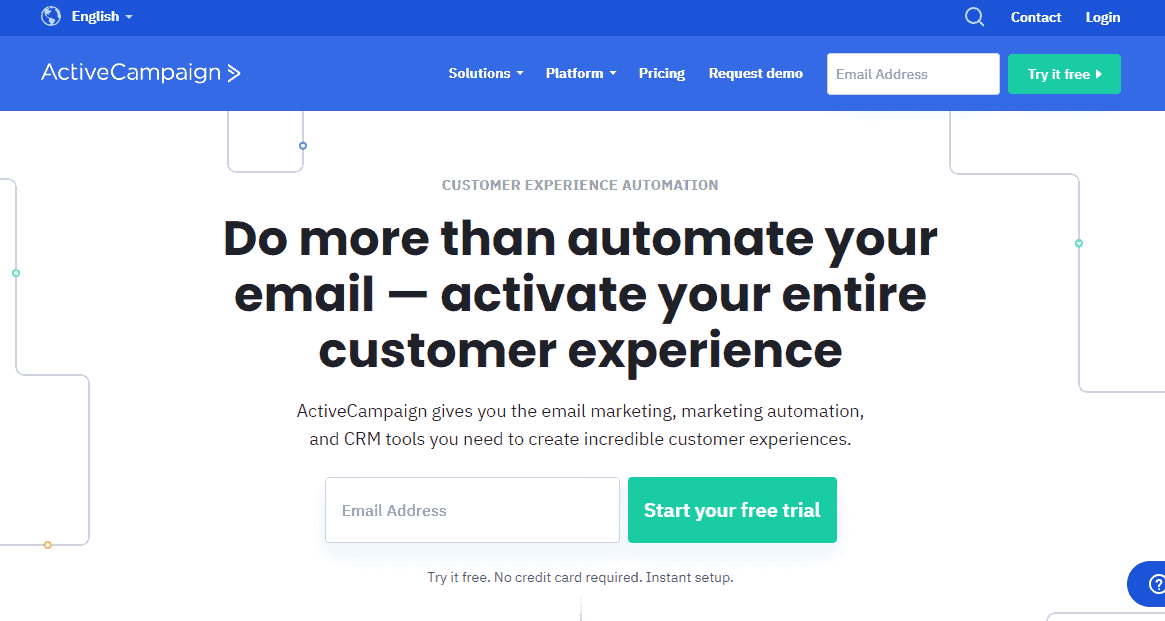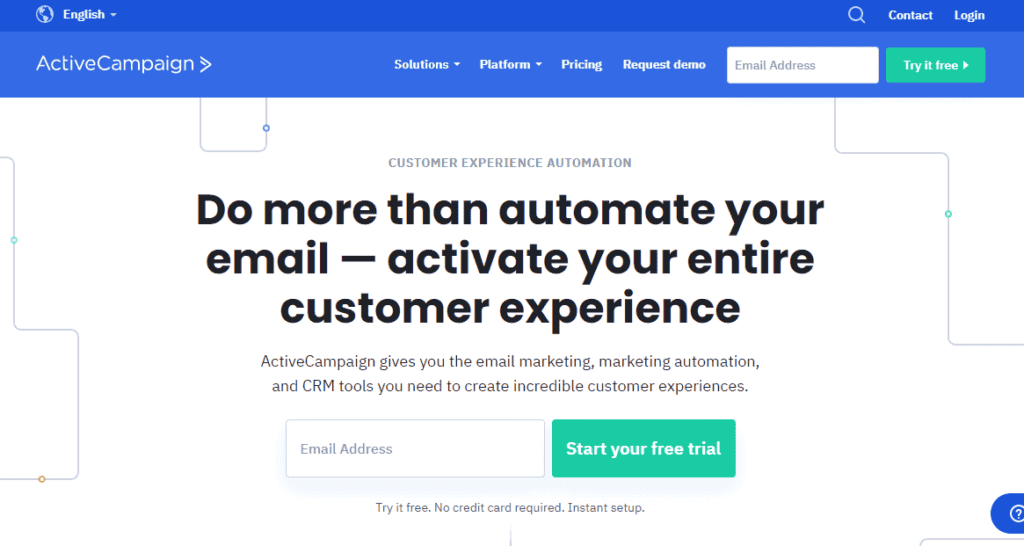 Summary
With more than 850+ integrations, it surely can be a great choice for your restaurant CRM. 
But unlike EngageBay, it can be on the pricey side if you have a small restaurant to run with budget constraints. 
Pipedrive is a robust sales management tool that has been reported as the 'easiest-to-use CRM. 
It has also gained popularity for the easy migration of business data between your favorite apps and Pipedrive. 
It is used by over 95,000 companies in 179 countries, with 1M tasks automated each week.  
What Does Pipedrive's CRM Include?
When you sign up for Pipedrive's CRM, its basic plan is for the US $12.50 that offers customizable pipelines along with contact management. 
Pipedrive claims to offer 24*7 customer support via email and chat. 
It assures its users that the system is GDPR-compliant to protect the privacy of your customers' information. 
When you upgrade to its higher-paid plans, you get extra features like group emailing, eSignatures, and others. 
The only drawback is that it doesn't allow Google Drive and OneDrive integration for its basic Essential plan. 
You can add the LeadBooster add-on to your existing plan for US $32.50 per company per month.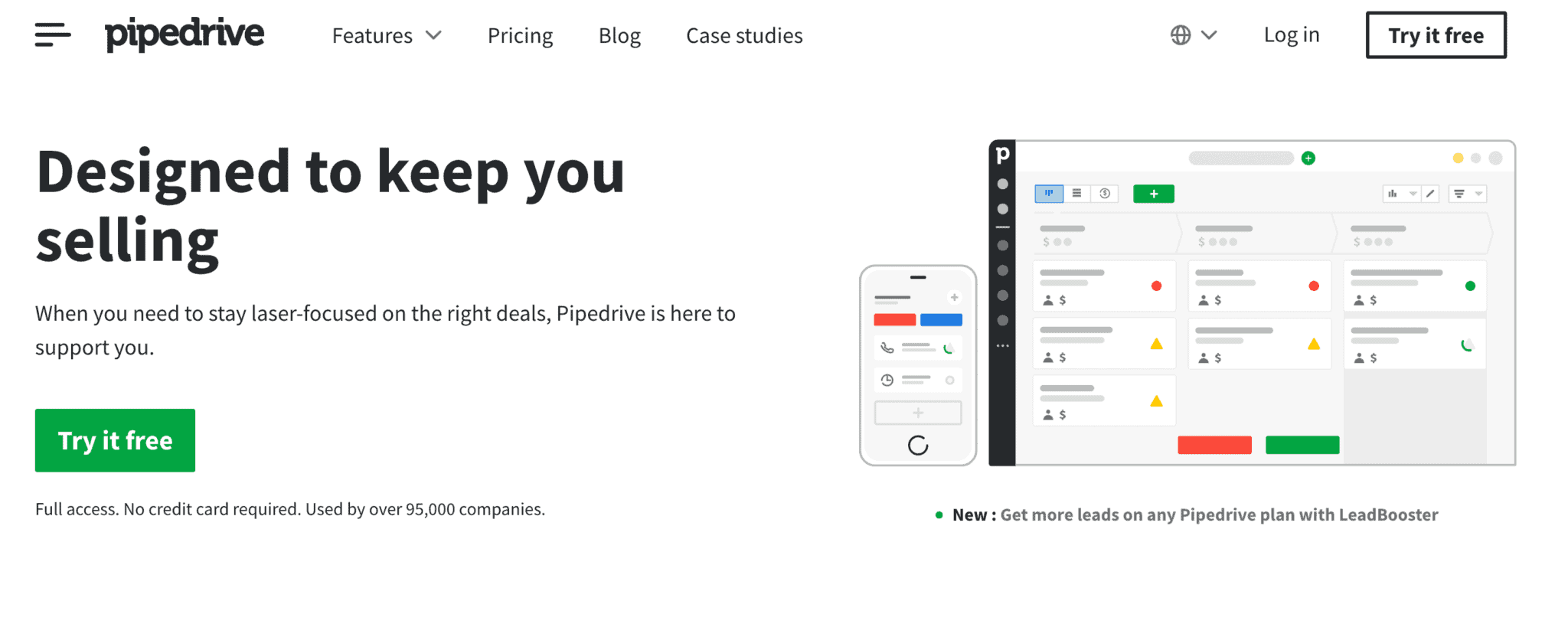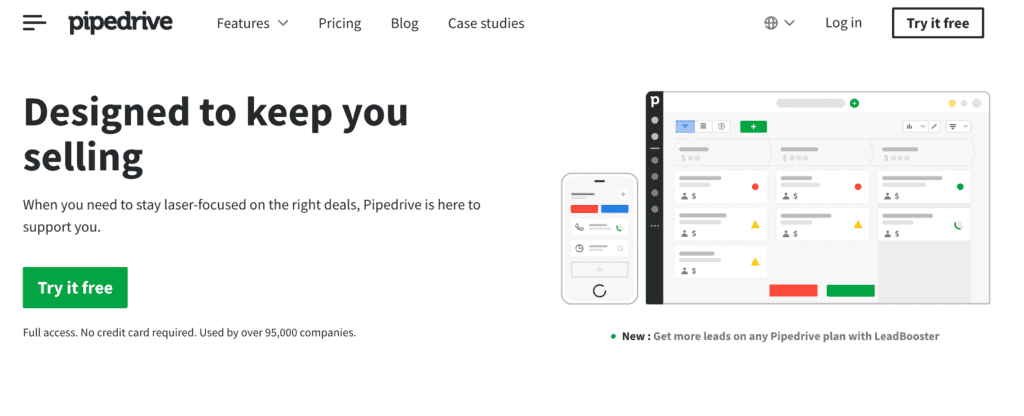 Summary
As a sales management tool, Pipeline is reasonably priced. However, it doesn't offer telephone support even for its most expensive paid plans. 
Keap, formerly known as Infusionsoft, houses all your client activity and communication in a single platform. 
Been around for 20 years now, it has helped millions of entrepreneurs manage their businesses efficiently. 
It claims to be best suited for the small- to- medium-sized restaurant business. 
What Does Keap's CRM Include?
Being one of the top CRM for restaurants, Keap is particularly famous for its customer support. 
Aside from chat support, it also offers call support and has well-organized guides on its platform for easy training. 
Keap's plan starts at $56 per month that is specifically designed for solopreneurs and new businesses. 
Keap understands the importance of email marketing for restaurants, and thus, it offers email tools to automate follow-up and close more deals.  
Furthermore, Keap offers a wide range of integration with third-party applications to help expand its functionalities.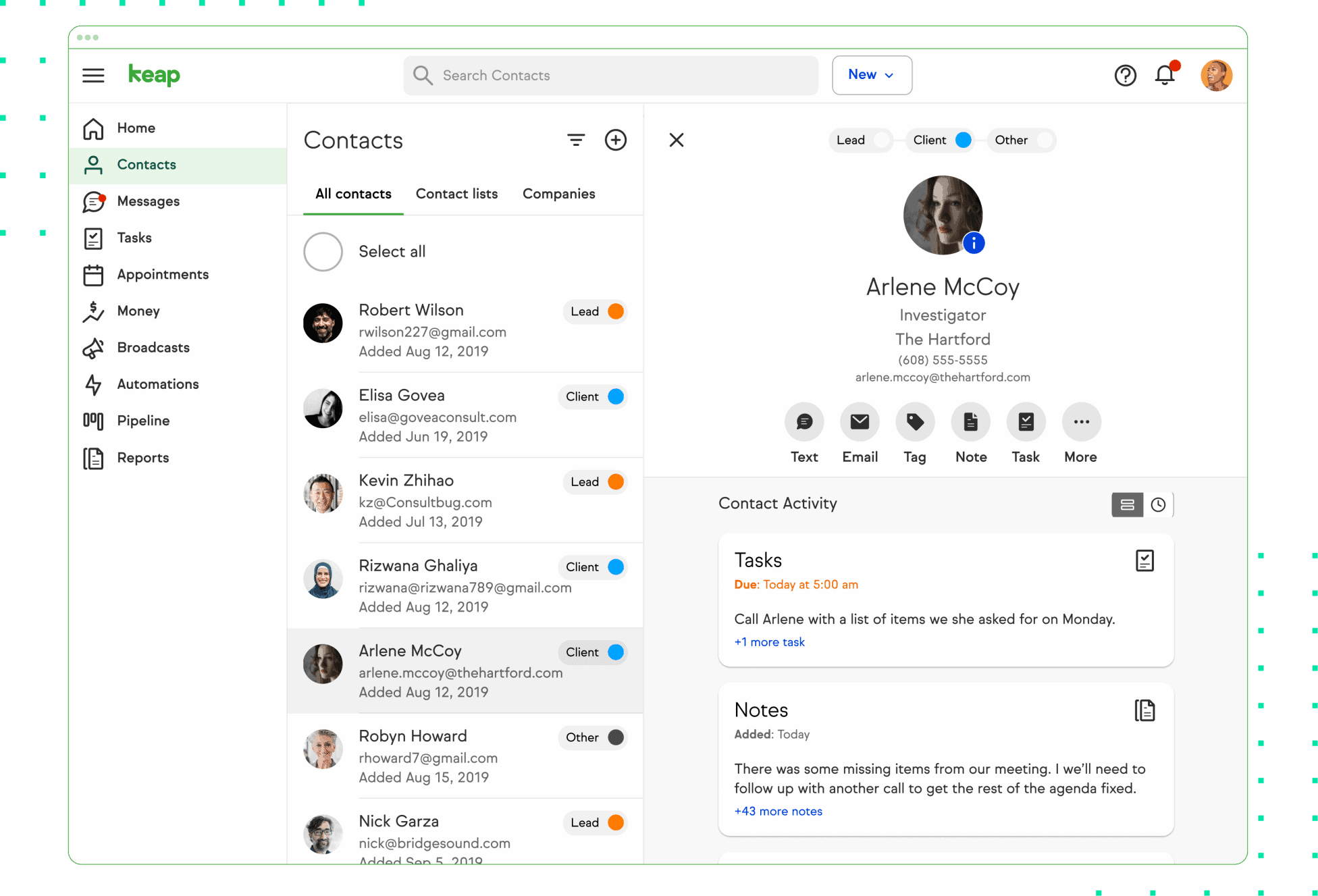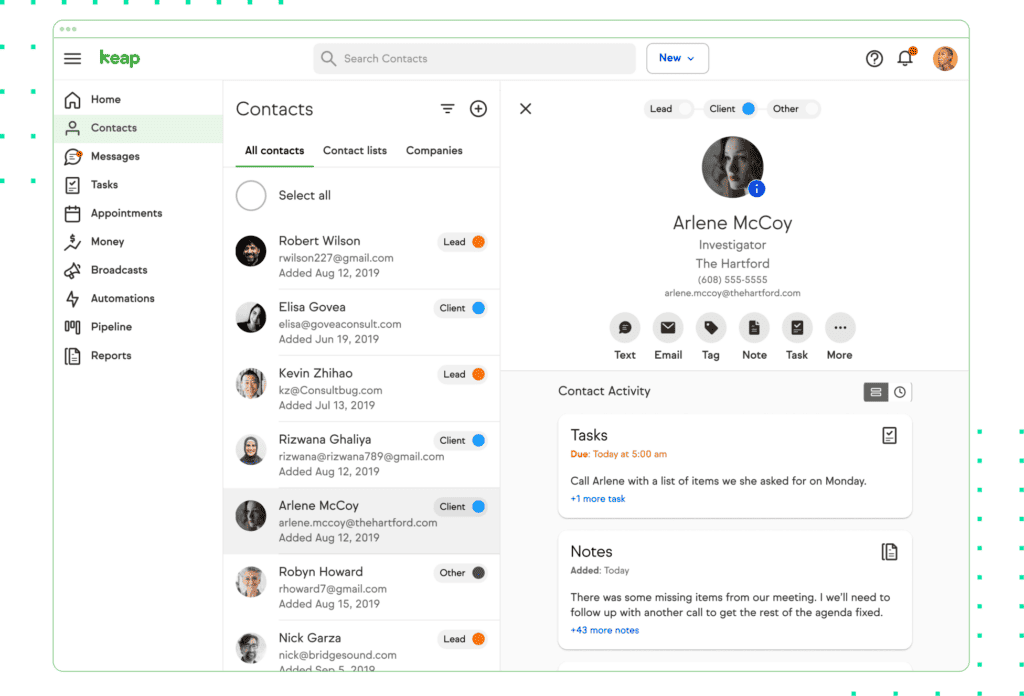 Summary
While the Keap CRM Lite plan has all the basic tools needed to manage your restaurants, you need to switch to its Max plan to access tools like lead scoring and A/B email testing. 
It can be a drawback for small restaurants. 
Freshworks is one of the top CRM for restaurants that align your marketing and sales effort. 
Its smart, comprehensive solution aims to help restaurants discover the best leads and boost customer engagement. 
What Does Freshworks' CRM Include?
Powered by AI, Freshworks CRM is an intelligent marketing tool that analyzes every deal and helps you with the next best actions. 
It helps create an accurate forecast useful in strategizing your campaigns. 
However, its forecast insights are only available with its Enterprise plan that starts at ₹9,199 per user per month, if paid annually. 
Otherwise, Freshworks charges ₹2,099 per user per month for its starter package — Growth for up to 1,000 marketing contacts.
It divides its CRM into two categories: Customer-for-Life Cloud & an individual CRM cloud for teams who need just sales or marketing.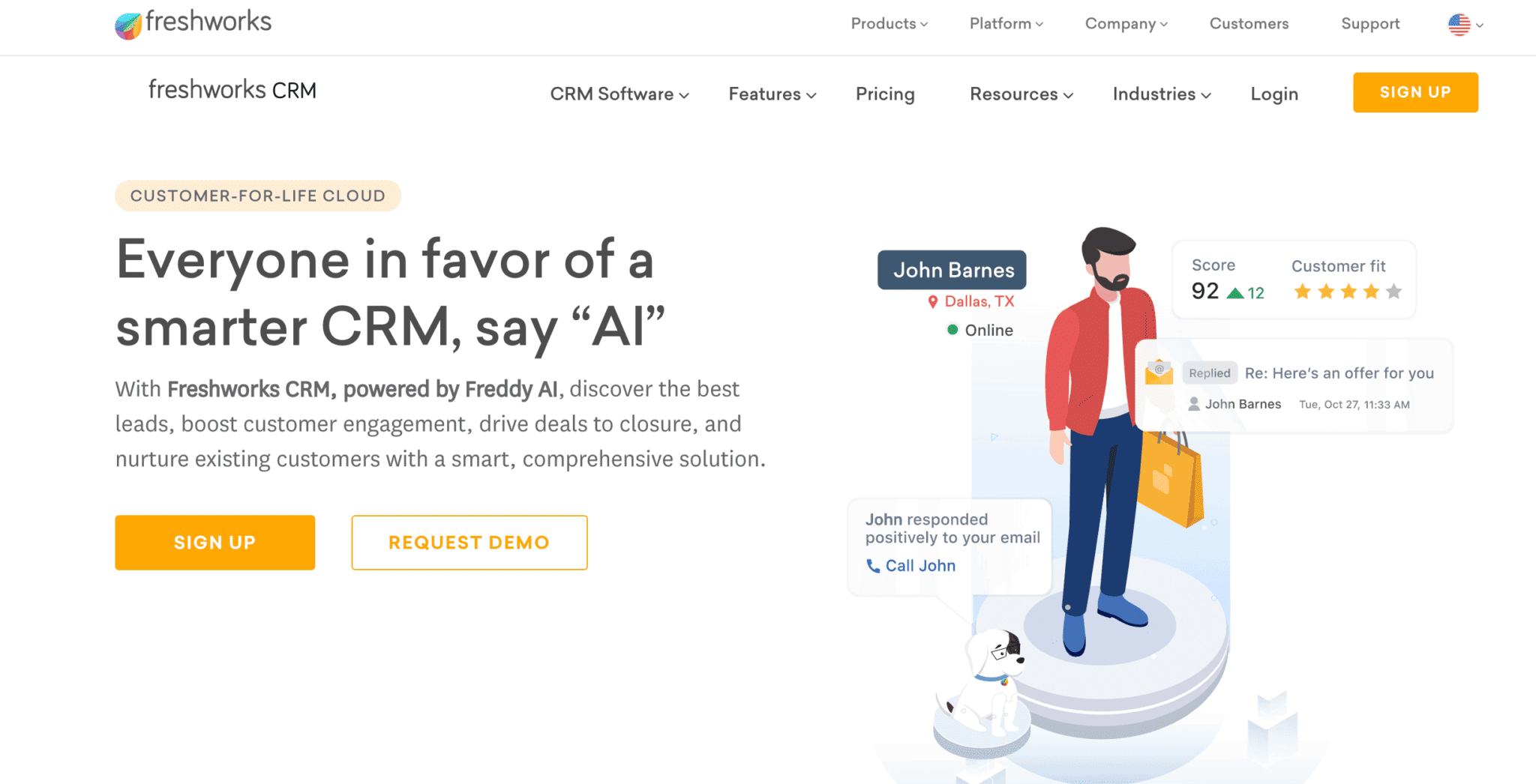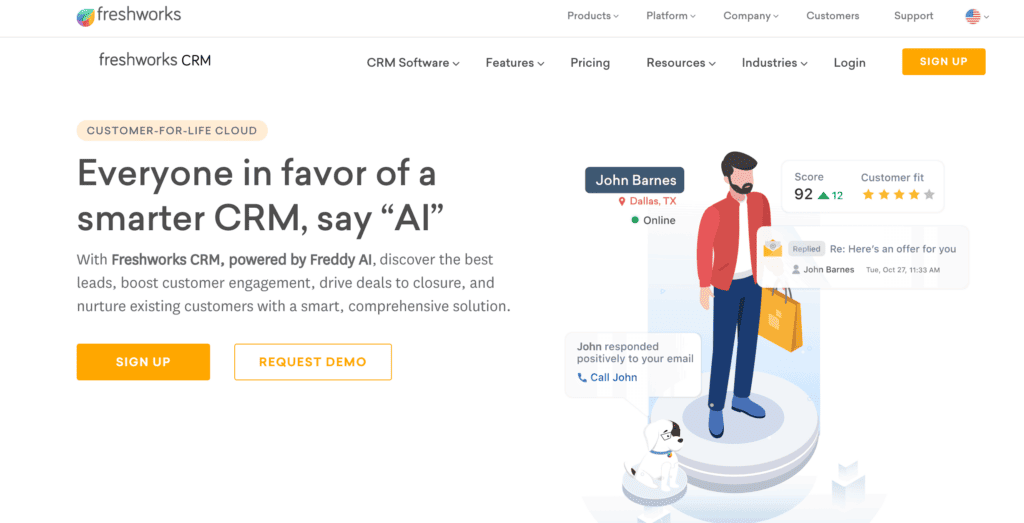 Summary
Freshworks can be a great option for startups just starting out as it offers a free plan with 24*5 customer support available via phone & chat. 
But then, it might not offer what it does best i.e., its AI-based insights. 
Wrap Up 
All the . has something unique to bring to the table. 
The main goal is to help you drive your business growth. 
Get a free trial for the shortlisted CRM and see what works best for you. 
>Try EngageBay's Free Trial Pack for up to 15 users pack here.