Effective lead generation ensures that not only do you lead a horse to the water, you also persuade the horse to drink it.
Unfortunately, lead generation still remains tricky for most businesses, which is why so many of them rely on technology — namely, sales tools.
Sales tools are part of every team's sales stack; these are tools that help sales teams collect and store data, track lead activity, and close deals.
If you are building a sales stack for your team, you definitely need tools that will help with lead generation.
In today's blog post, we'll take a look at the top 11 sales tools for lead generation, and how they can help improve your sales process.
Top 11 Sales Tools For Effective Lead Generation
Our list of the sales tools for lead generation has no order or ranking, and is based on our own research and experience.
Here's the list:
1. EngageBay

2. HubSpot

3. Popupsmart

4. Marketo

5. Intercom

6. Mailchimp

7. Keap 

8. Pipedrive

9. LinkedIn Sales 

10. Overloop

11. Picreel
If you like some other tools or if you haven't had a great experience using any of the tools listed here, feel free to comment and let us know.
If you'd like some quick lead gen tips first, check out this video by Neil Patel: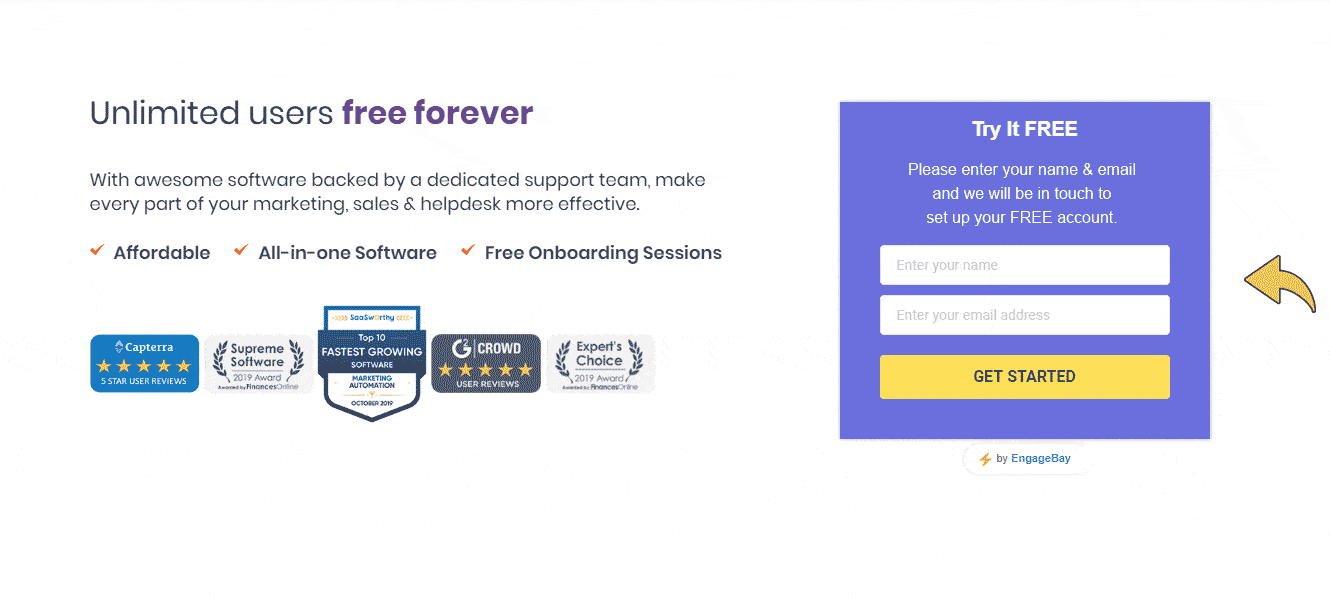 EngageBay is a comprehensive sales, marketing, and customer service solution. With this software, businesses can streamline their sales processes, automate recurring tasks, and close more deals.
The reason why EngageBay works as an effective lead generation tool is due to the sheer number of features offered:
Contact and lead management

Pipeline management

Proposal management

Customer journey mapping

Sales automation

Personalized outreach
With EngageBay's sales CRM software, you can:
Acquire leads more easily with their effective lead magnet options

Optimize the lead nurturing process

Get real-time actionable insights in your sales pipeline
EngageBay Pricing
EngageBay offers a free-forever plan that gives you features such as lead grabbers, sequences, automations, email marketing, and CRM functionality.
Among the paid plans, the Basic plan starts at $12.99 per month, Growth plan at $24.99, and Pro plan at $49.99.
Read also: Top 10 Sales Tools You Need To Empower Your Sales Team in 2021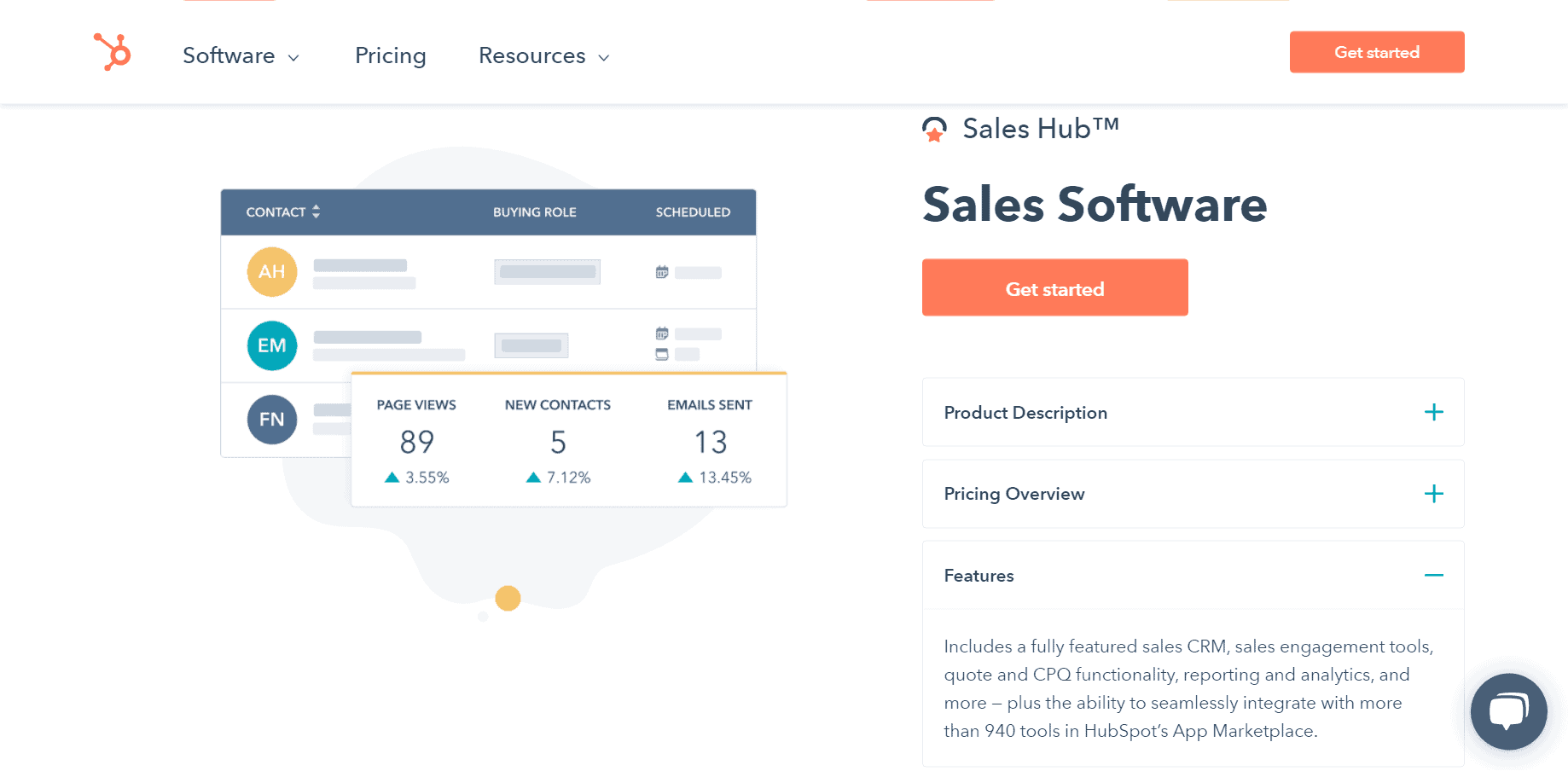 HubSpot is one of the most popular sales enablement and lead generation tools in the market. The HubSpot Sales CRM software offers features such as customer engagement, reporting and analytics, sales automation functionality, and so much more.
You get access to all sorts of information that can help you improve your marketing, like competitor research data that will tell you who the best people to reach out to are and how best to present your product or service.
Hubspot also has an email finder that'll show you the emails of people who would be interested in what you're selling and save you hours of time surfing the web for who your target customer should be.
With HubSpot, you can:
Engage with your leads better

Schedule appointments and follow-up calls

Streamline the sales process by automating tasks

Finetune your sales strategy
As a free sales tool, it also offers email scheduling, live chat, and contact management features.
HubSpot Pricing
There are a few sales tools that you can use for free. However, if you're looking for a more in-depth solution for lead generation, there are three pricing plans to choose from:
Starter plan at $45 per month for minimum 2 users

Professional plan at $450 per month for minimum 5 users

Enterprise plan at $1,200 per month for minimum 10 users
Read also: HubSpot Pricing and Comparison with Other Alternatives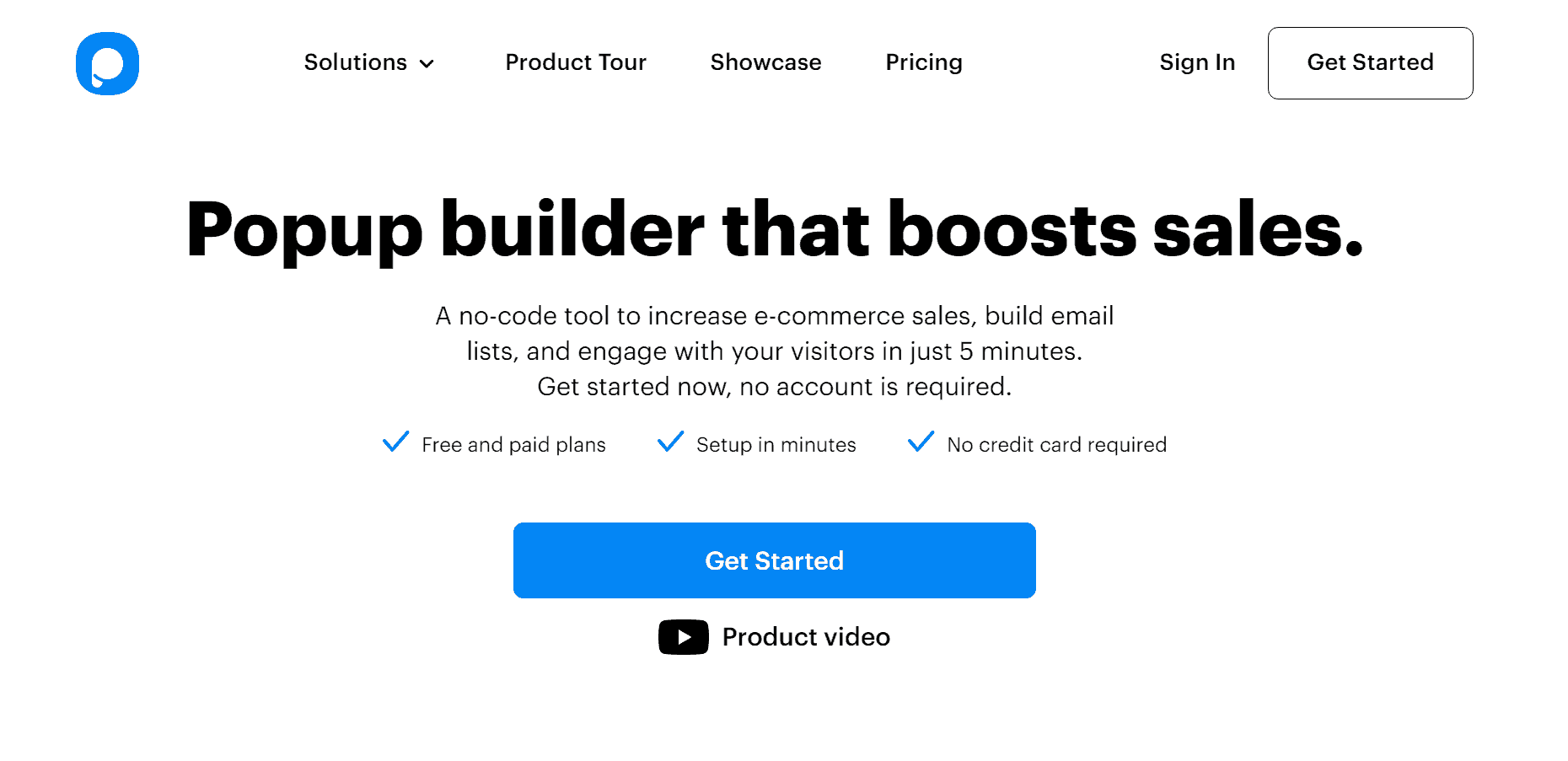 The last sales tool we recommend is Popupsmart. It's a lead generation tool that helps users build embeddable pop-up and lead capture forms for websites.
It's simple and easy to use and does not require any coding skills.
With Popupsmart, you can customize your lead capture forms with a simple editor — just add the content, and select the colors.
The tool also offers advanced targeting features; the pop-up form changes based on predefined parameters.
For example, Popupsmart allows you to track visitor behavior through geolocation, on-page activity, traffic source, and URL linking.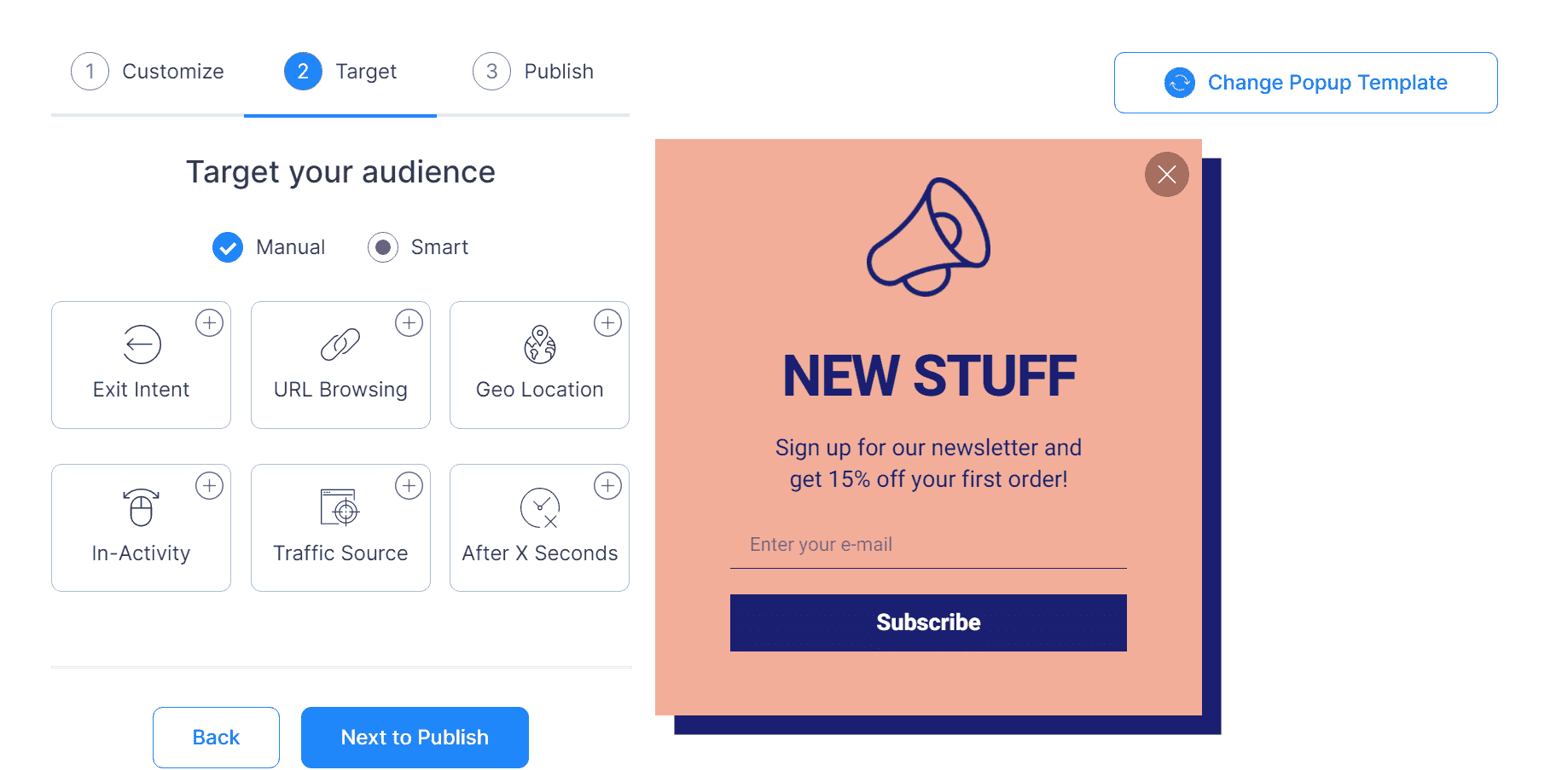 The best part about this software is that you can select from pre-designed templates depending on your goal.
You can build forms that announce a new sale, inform your visitors about changes, promote your products, or work as lead magnets. All designs are lead optimized and mobile-friendly.
Popupsmart Pricing
Popupsmart has a free plan that comes with 5,000 page views per month, 1 website, and 1 pop-up. There are three paid plans:
Basic plan: $32.5 per month

Pro plan: $82.5 per month

Expert plan: $132.5 per month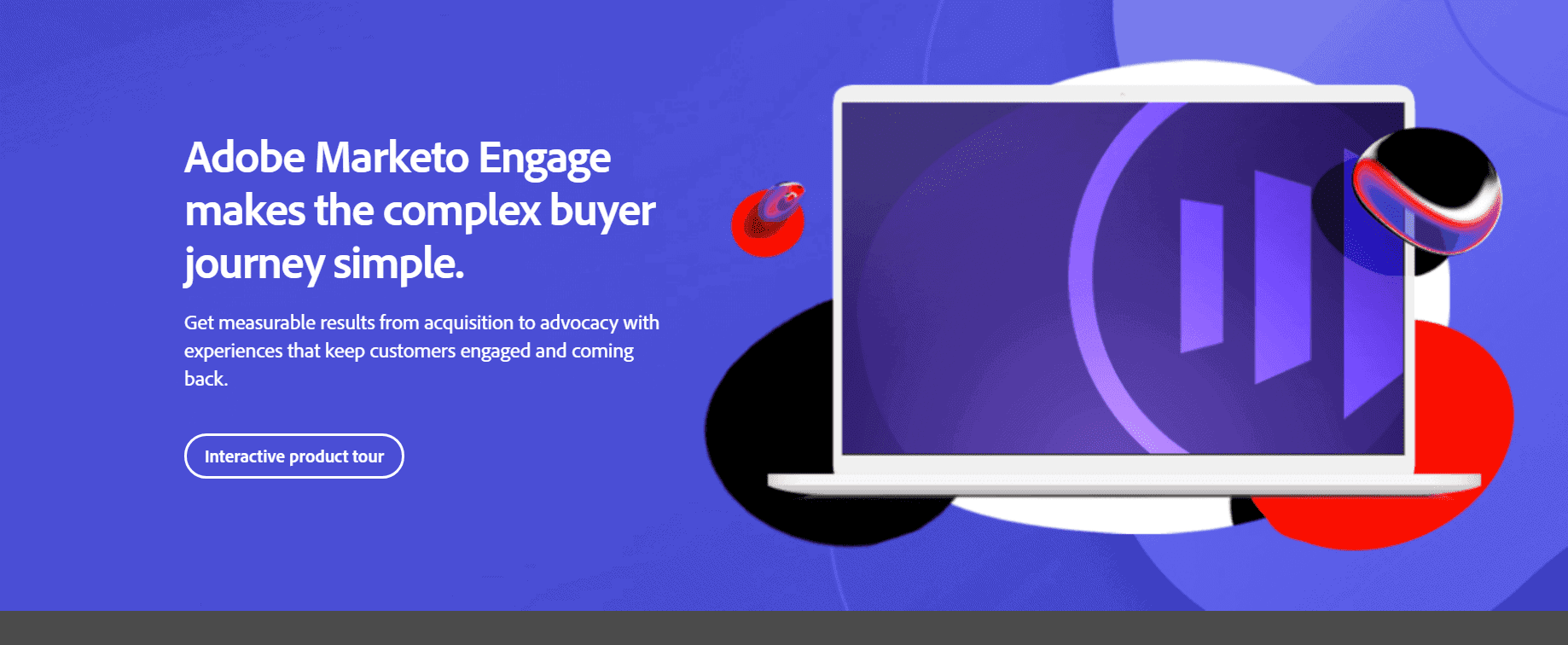 Marketo by Adobe is a sales and marketing tool that focuses on simplifying the customer journey.
Marketo's lead generation capabilities help users acquire and nurture leads through email marketing, sales lead management, and personalized outreach campaigns.
This tool helps businesses gain insights into the customer journey across various touchpoints. You can use behavioral data and analytics to better predict which leads are likely to convert.
Users can also engage with their customers across various platforms.
Marketo also offers AI functionality — you can use AI to craft dynamic and personalized content that appeals to every prospective customer.
Other features of the platform include website personalization, account profiling, and predictive content.
Marketo Pricing
Marketo has 4 plans to choose from, depending on your sales needs.
Select

Prime

Ultimate

Enterprise
However, you have to contact their sales team to get a custom quote.
Read also: 8 Best Sales CRM Tools for Tracking Lots of Leads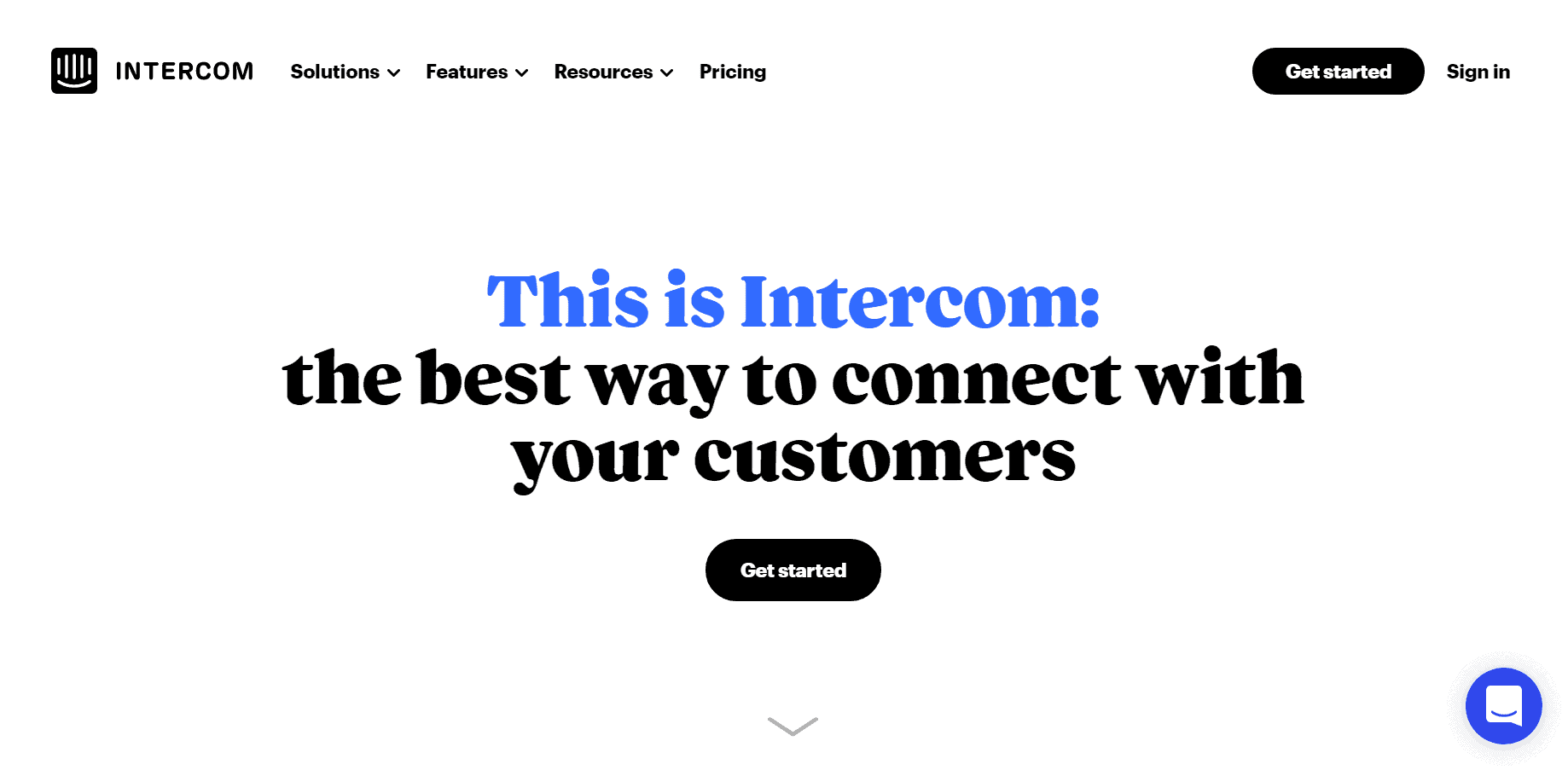 Intercom is a business-to-consumer communication tool that is widely used to build customer relationships. While it mainly works as a messenger tool to help you connect with prospects, the reason we recommend it as a sales tool is because of its various communication products.
The Intercom sales platform offers solutions for conversational marketing, customer engagement, and nurturing. Users can use this sales tool on their landing pages — as a chat bot, product tour, or a pop-up — to acquire more leads.
Their conversational marketing feature also ensures that your sales team has all the information they need to close more deals. It automatically scores leads based on visitor data, and segments messages so you can target the right customer.
Intercom Pricing
Intercom offers individual pricing plans for each solution. However, you can build a custom plan for more advanced functionality.
For small businesses, they offer a Starter plan at $79 per month. They have a 14-day free trial period so you can try the platform with all its features.
You can also customize your final plan by buying product add-ons like Product Tours for $199 per month and WhatsApp for $9 per month.
Read also: 13 Robust Intercom Alternatives To Transform Your Customer Experience
Mailchimp is one of the most widely used and popular email marketing platforms. It works as a complete marketing solution, as well.
You can use this sales tool to broadcast email campaigns, manage contacts, segment audiences, build online marketplaces, and acquire more customers.
As a sales tool, you can use Mailchimp to create content to reach your customers, manage new leads, and get actionable insights into your sales strategy.
Mailchimp offers extensive email marketing options, and also lets users build landing pages and pop-up forms to acquire new leads.
You can also manage your social media accounts, create paid ad campaigns, and market your business.
Mailchimp Pricing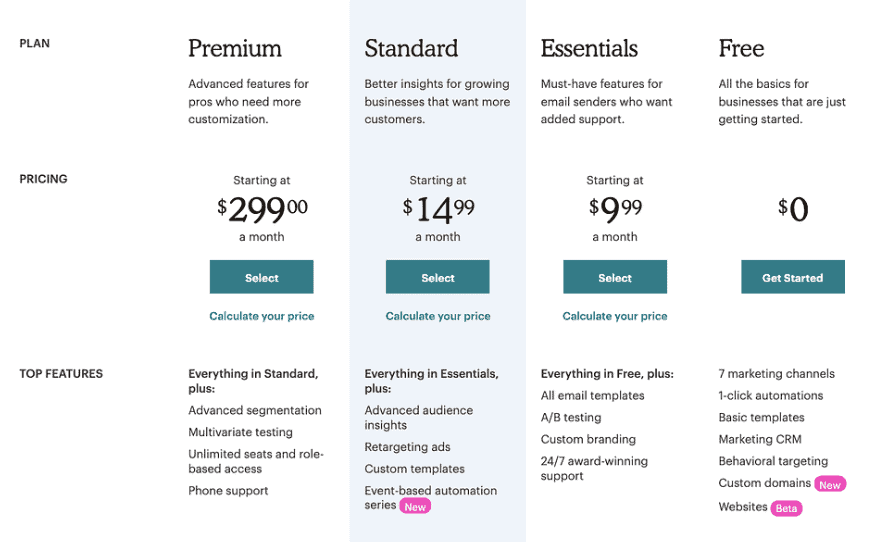 Mailchimp offers a free plan that includes up to 2,000 contacts and features such as marketing CRM, creative assistant, and a website builder.
You can choose from three paid plans:
Essentials starting at $9.99 per month

Standard starting at $14.99 per month

Premium starting at $299 per month
Also read: How To Move From Mailchimp to EngageBay — An Exhaustive Guide

Keap is an all-in-one sales and marketing automation platform. With Keap, you can acquire more leads, convert customers effectively, and increase your sales revenue.
It also helps you streamline your customer communications and builds better relationships.
What makes Keap a viable lead generation tool is its sales pipeline feature. With this, you can manage your entire pipeline on a common dashboard that is customizable and intuitive.

Keep track of closed leads, customers, and communications — all in one place. Users can also automate the sales process; by assigning triggers and defining parameters, it's possible to build an automated lead nurturing campaign.
Keap Pricing
Keap offers a free 14-day trial period. After that, there are three pricing plans available. The cost of each plan is determined by the number of contacts you have, i.e., Keap has a sliding scale for pricing.

For 500 contacts, you would pay:
$56 per month for the Lite plan

$119 per month for the Pro plan

$140 per month for the Max plan
For more information on Keap's pricing, check out the blog below.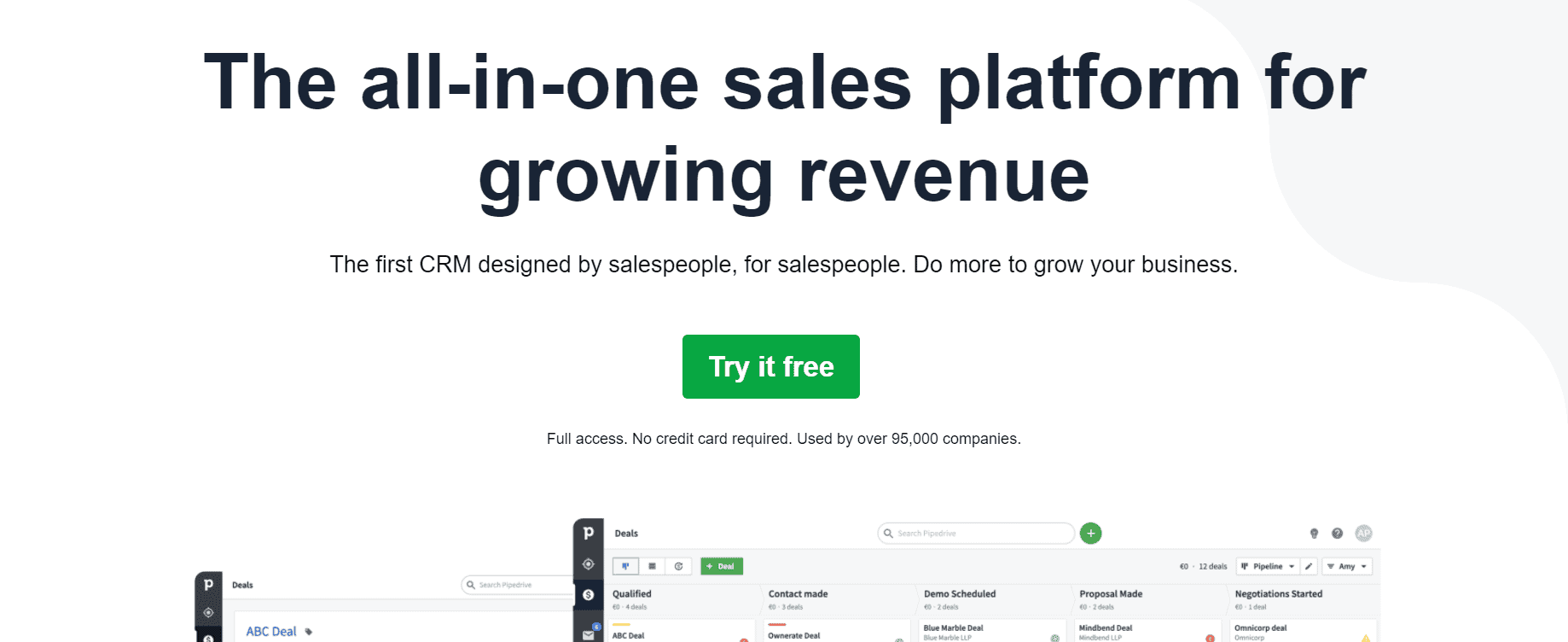 Pipedrive is a sales-centric CRM solution. The tool is specifically designed for sales teams — to help them improve their productivity, reduce administrative workload, and close more deals.
It's completely free to sign up, so if you're looking for an easy way to organize your leads, pitches, and deals then you should definitely give Pipedrive a try.
Pipedrive focuses on the customer relationship management aspect of sales. You can easily connect with your existing customers as well as manage all your leads on one platform.
This sales tool also includes features like email tracking which tells you when someone opens or clicks on one of your emails.
With Pipedrive, you can:
Create custom workflows to manage leads and contacts

Manage newly acquired leads through an easy scoring system

Track new and old communications — to ensure messaging is relevant and timely

Build custom sales pipelines

Create customizable web forms
Pipedrive Pricing
Pipedrive offers four pricing plans:
Essential starting at $15 per month

Advanced starting at $29 per month

Professional starting at $59 per month

Enterprise starting at $119 per month
All plans offer a free 14-day trial. You can also opt for add-ons to increase the functionality of your pricing plan, like the LeadBooster, starting from $32.50 per company, per month, and Web Visitors, starting from $41 per company, per month.
Read more: Pipedrive Alternatives — 5 CRM Tools To Supercharge Your Sales Teams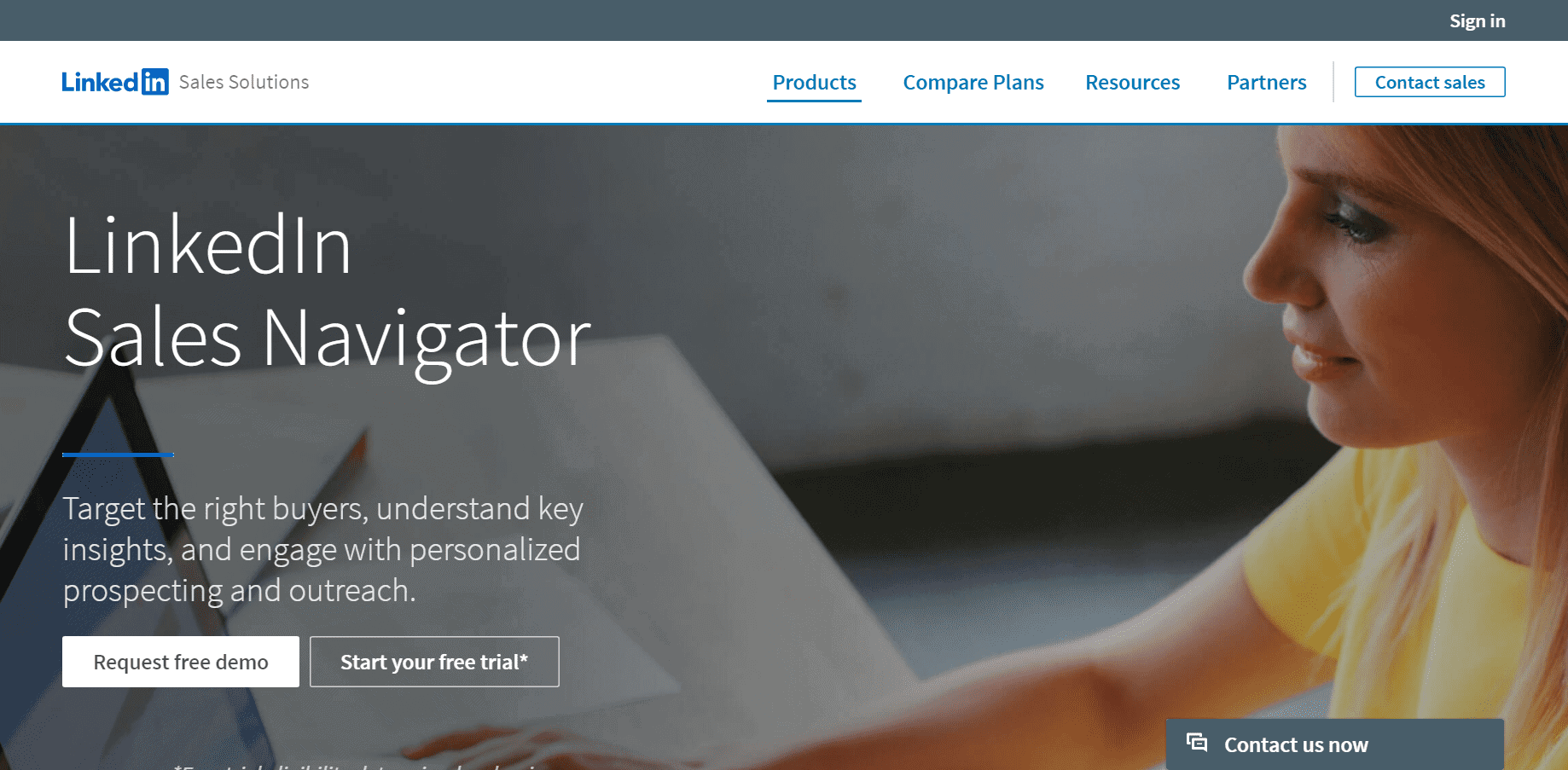 LinkedIn might not be one of the conventional sales tools but it is the social platform for company executives and businesses. Since the target demographic is made up of business executives and entrepreneurs, it's the perfect platform to build connections with other businesses.
The LinkedIn Sales platform helps users navigate other entrepreneurs and companies, and get key insights into market changes and behaviors. Depending on the filters used, the platform also offers lead recommendations — you can use this as a means of connecting with prospective customers.
As a sales tool, you can also use this solution to keep track of your leads, reach more people, and grow brand awareness. Even if you don't use the platform to sell, you can still use it to build an identity and inspire trust.
LinkedIn Sales Navigator Pricing
The cheapest plan — Premium Business — starts at $59.99 per month. There are also other LinkedIn membership levels available: Sales Navigator Core, Advanced, and the Advanced Plus option.
As you can tell, this is probably the most expensive option of all the sales tools we have listed here. But if you're looking to build a contact list that is legitimate and generates long-term results, you should give this one a try.
Read also: 6 LinkedIn Headline Tips You Can Use In Minutes [+ Examples]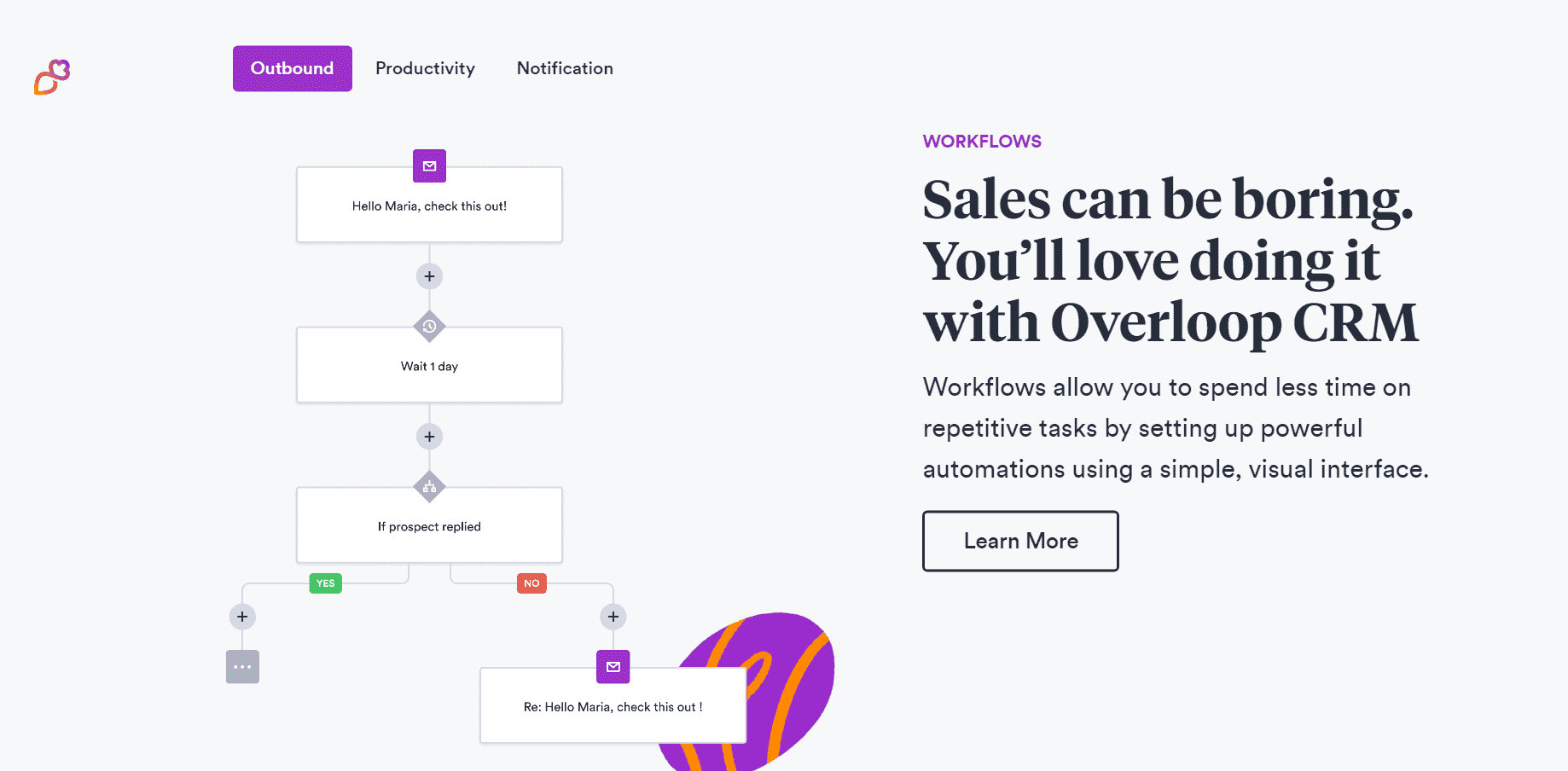 Overloop is a free CRM software that works as an effective sales and lead generation tool. It's best suited for small businesses, much like EngageBay, and offers features such as email marketing, automated workflows, and integrations.
What makes Overloop CRM an effective lead generation tool is the email finder feature. Using this feature, you can find and verify a contact's email address, add it to your database and workflow, and create outreach campaigns.
You can use this tool to find email addresses on any webpage or website. Not only is it effective in building your sales pipeline, it will also create a new audience segment based on certain criteria.
The sales pipeline is completely customizable — you can visualize the specific touchpoints by using a drag and drop builder. You can also integrate this CRM with sales tools you already own to scale your business.
Overloop CRM Pricing
Similar to EngageBay, Overloop CRM has a free forever plan that offers unlimited contacts, workflows, and users. However, you can only build one sales pipeline.

If you want more advanced features for your team, pricing starts at $79 per month, with access to more email finder credits, custom reporting and insights, and email automation & tracking.
Read also: What is a Lead? Overcoming Obstacles in Sales and Marketing Alignment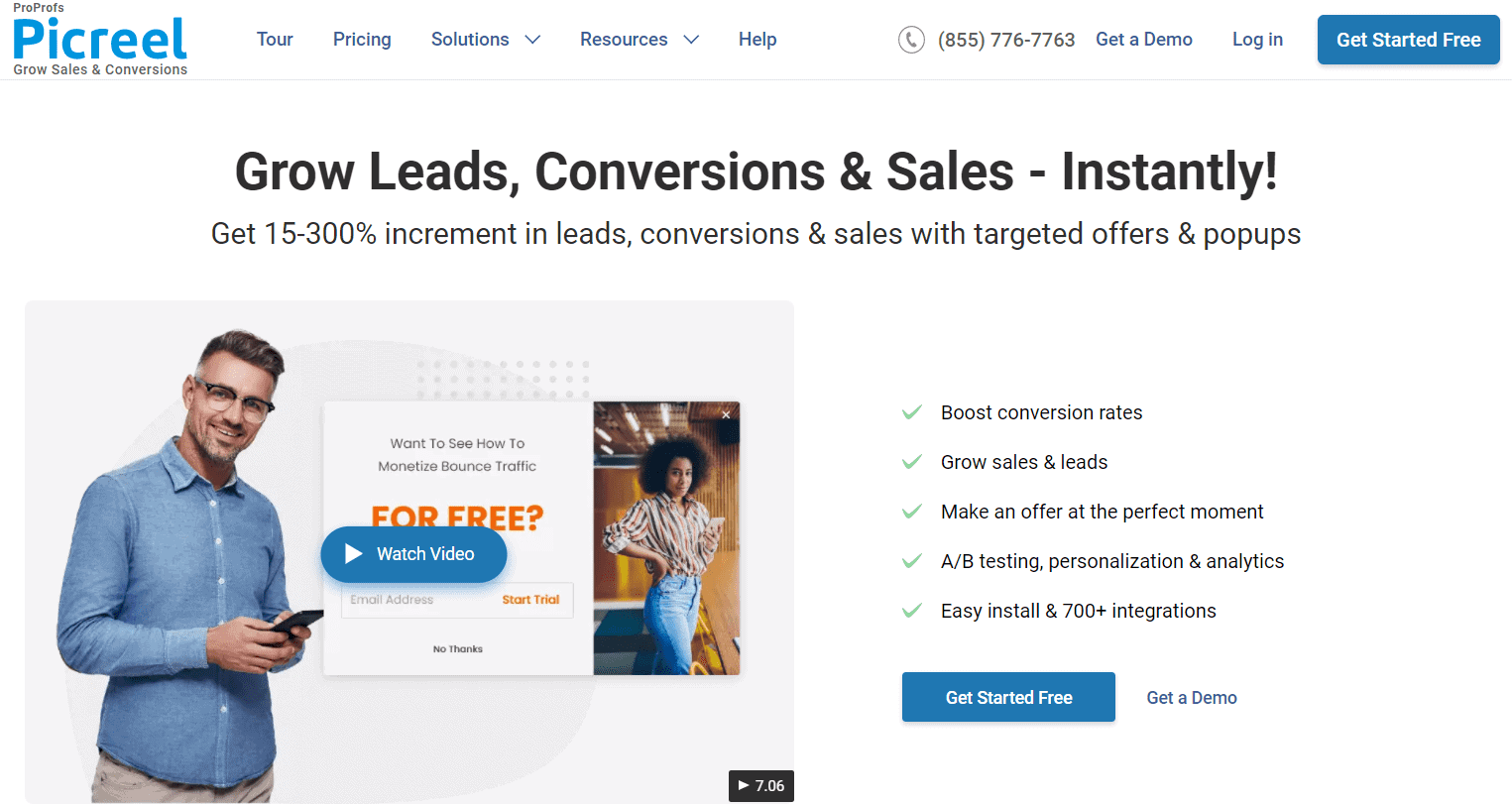 Picreel is a lead generation tool that helps you maximize conversions by targeting the right website visitors at the right time with exit-intent popups.
With its smart exit-intent technology, the tool taps visitors when they are highly engaged in your website or when they show signs of leaving. It displays lucrative offers, recommends products, and even helps you capture visitors' information through beautifully designed popups.
This easy-to-use tool offers 100+ expertly-designed templates that you can customize with your favorite colors and relevant text. You can also test popup performance before finally launching it. With A/B testing, you can compare popups on the basis of text and design and find out what works best for your business.
What more? Picreel is equipped with bespoke features like advanced targeting, in-depth reports and analytics, and smart personalization.
Another interesting aspect of Picreel is that it integrates with over 700 CRM and marketing tools. With such integrations, the visitors' data can be automatically pushed to CRM, where your sales team can nurture and convert the leads.
Picreel Pricing
Picreel offers a free 30-day free trial period in which you can explore all its premium features. Its paid plans include:
Starter – $14/month

Basic – $52/month

Plus – $112/month

Pro – $299/month
It also offers an Enterprise plan that can be customized to your specific needs.
Wrap Up
Well, there you have it. We have listed some of the top sales tools that will help you in your lead generation process.
As you can see, the tools we recommend focus on simplifying different aspects of a sales strategy. You can opt for CRM tools, pop-up builders, landing page creators — there's no end to what you can invest in.
Sales tools can help your business for years, which is why we recommend an all-in-one solution, like EngageBay, because it can keep up with changing sales requirements as your business continues to grow.
Try testing these sales tools before you make a decision since many of them offer a free trial.
If you're interested in how EngageBay can work as an effective lead generation engine, just fill in the sign-up form and we'll reach out to you today!
👉Enhance your sales performance with the best features of these 12 must-try sales database tools!