The wrong choice of CRM could lead to rock bottom as you overspend on expensive software.
You need a CRM solution that fits your small business or startup budget yet includes a full roster of features designed to scale and improve your company.
Does Zoho fulfill these criteria?
It could be, but it very likely is not.
Zoho — though an excellent CRM software — has quite a few drawbacks.
Actually, that's not fair.
It would be a fairer thing to say every CRM software out there has quite a few cons. What do you do, then?
Well, in this blog post, we'll discuss in detail 15 of the best alternatives to Zoho.
But more importantly, we'll show you which Zoho alternative could be the best fit for your business and why.
Read on.
What is Zoho CRM?
Before we dive into our list of Zoho CRM competitors, let's get on the same page about Zoho, including its features and pricing structure.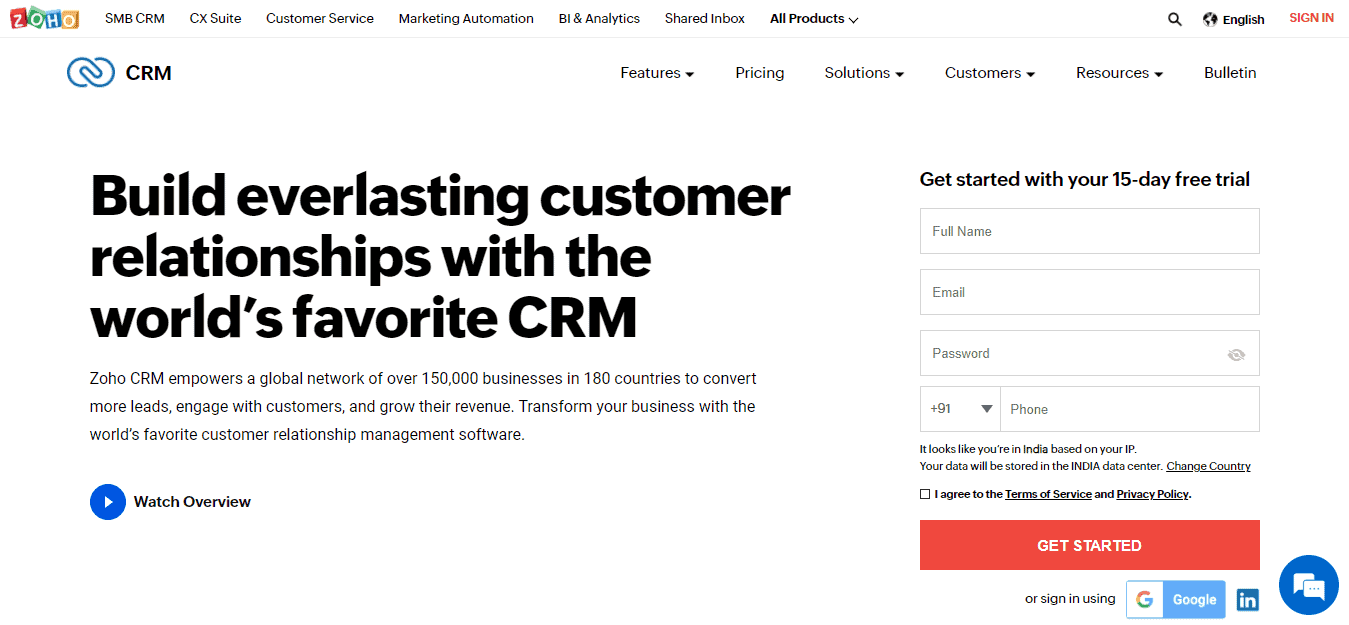 Background
Zoho is a CRM software for sales experts.
Their CRM software is part of the Zoho Office Suite, which includes solutions such as invoicing, project management, web conferencing, databases, presentations, spreadsheets, and word processing.
One great feature of Zoho is that it integrates well with other in-house products. For example, you can integrate Zoho CRM with Zoho Mail, Zoho Projects, Zoho Invoice, and more.
According to Zoho's website, their CRM is a favorite among business owners in more than 180 countries.
Features
Here is an overview of the features available throughout Zoho's various plans.
Mobile and Remote
Now your sales team can do more work on the go with Zoho's mobile app for both Android and iOS devices.
Use the app to scan business cards, open and close deals, track deals in progress, and review analytics.
Zoho's CRM is also adept for remote work as it features cloud collaboration capabilities.
From telephony to presentations, meetings, and analytics, your company can keep going even if everyone works remotely.
Marketing Automation
Here's what Zoho offers in its marketing automation toolkit:
Lead and customer segmenting
Card scanning
Lead nurturing
Survey and email campaigns
Event management
Google Ad campaigns
Marketing attribution
Webform creation
Sub-campaigns
Campaign analysis
Predictive Sales
Zoho's CRM offers Zia, their predictive sales "conversational assistant" that lets you issue voice or text commands with instant responses.
You can call or chat with Zia to use the following predictive sales features:
Best time to contact suggestions
Workflow recommendations
Assignment suggestions
Data enrichment advice
Sales predictions
Sales Automation
You can automate all parts of your small business sales through Zoho, using features such as:
Assignment rules
Macros
Workflow rules
Contact management
Deal management
Lead management
Forecasting
Sales analytics
Pricing
Before you make up your mind on Zoho, you definitely want to check out the CRM's pricing plans.
You can select from four plans: Standard for $20 per month, Professional for $35 per month, Enterprise for $50 per month, and Ultimate for $65 per month.
You might also wish to try a free trial before committing.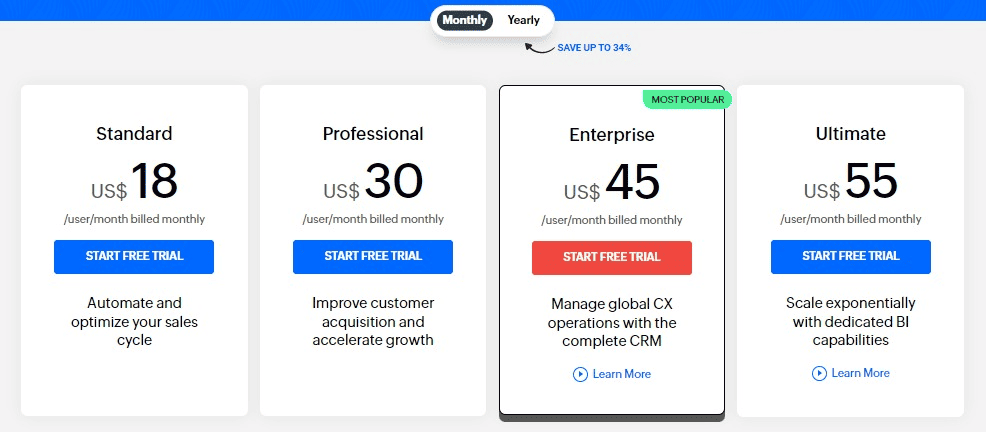 The Standard plan includes the following features:
Basic support
Google Contact and Google Calendar syncing
One web form module for Google sites
CRM contextual gadget for Gmail
Website visitor tracking
Marketing campaigns, email authentication, and 100 email templates
10 custom analytics dashboards
100 custom reports
Automation workflow rules
Sales forecasting
Sales deals
10 lead scoring fields per module
In the Professional plan, you have everything above as well as:
10 webform modules for Google sites
Zoho CRM for Google Ads
Unlimited email templates
Unlimited custom dashboards
Unlimited custom reports
20 lead scoring fields per module
The costly Enterprise plan adds these features:
Paid premium or enterprise support
20 modules for Google sites
Autoresponders
Marketing attribution
Workflow reports
Two prediction models per company
30 lead scoring fields per module
If you can afford $65 per month, here's what the Ultimate plan at $65 gets you:
100 webform modules for Google sites
20 prediction models per company
50 lead scoring rules per module
Disadvantages of Zoho
Undoubtedly, Zoho is one of the best CRM software in the market today. It offers an integrated suite of tools with thousands of features — workflow automation, tracking, lead management, invoicing, sales management, customer support…
That said, the sheer number of tools may be the exact reason the software is not the best choice for small businesses.
For example, Zoho requires a lot of customization and dedicated representatives to get started. In addition, you need to pay for each tool, and the final bill may run into hundreds of dollars a month.
But wait, there's more!
User Reviews of Zoho
Here's what real users had to say about Zoho: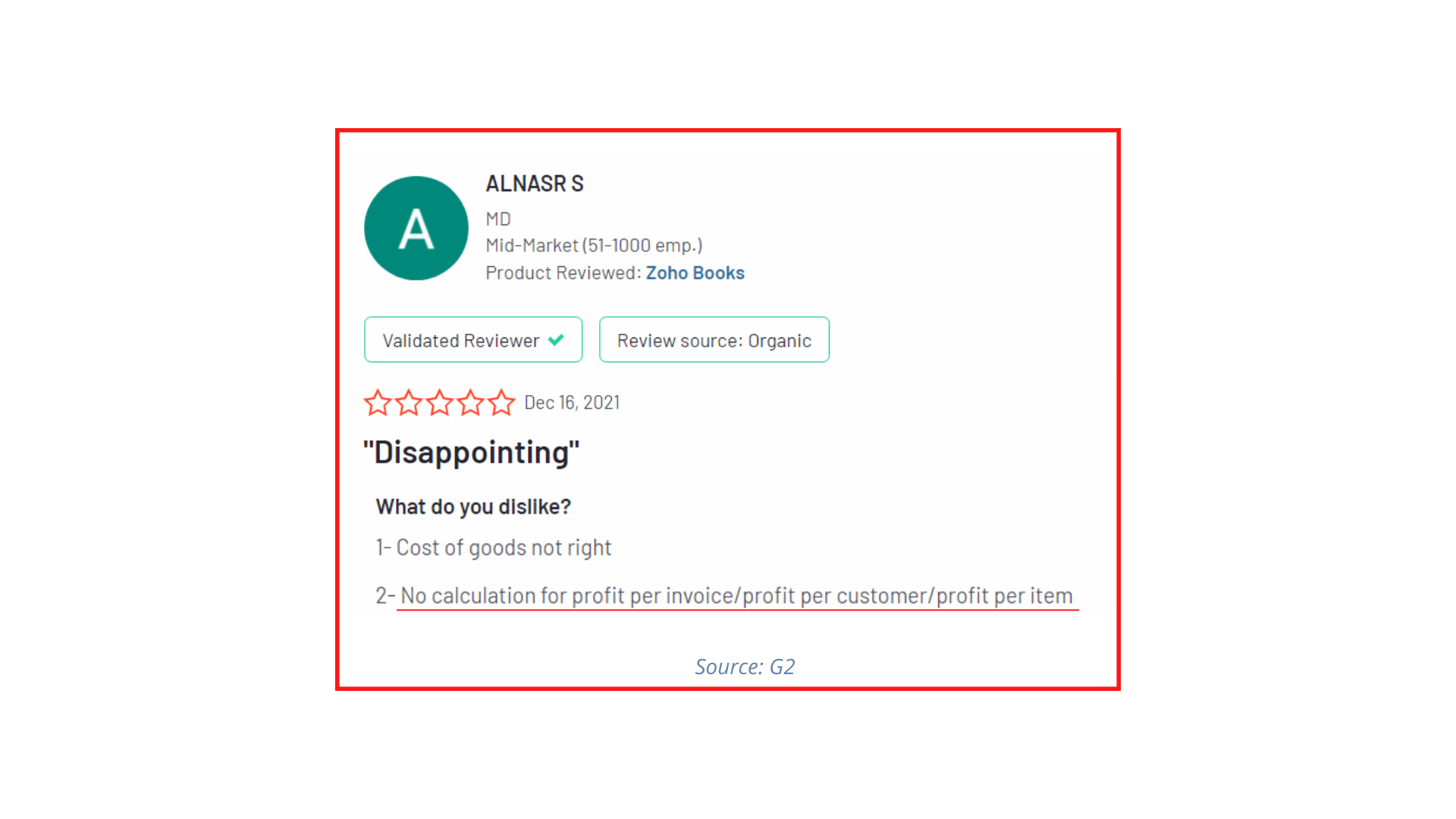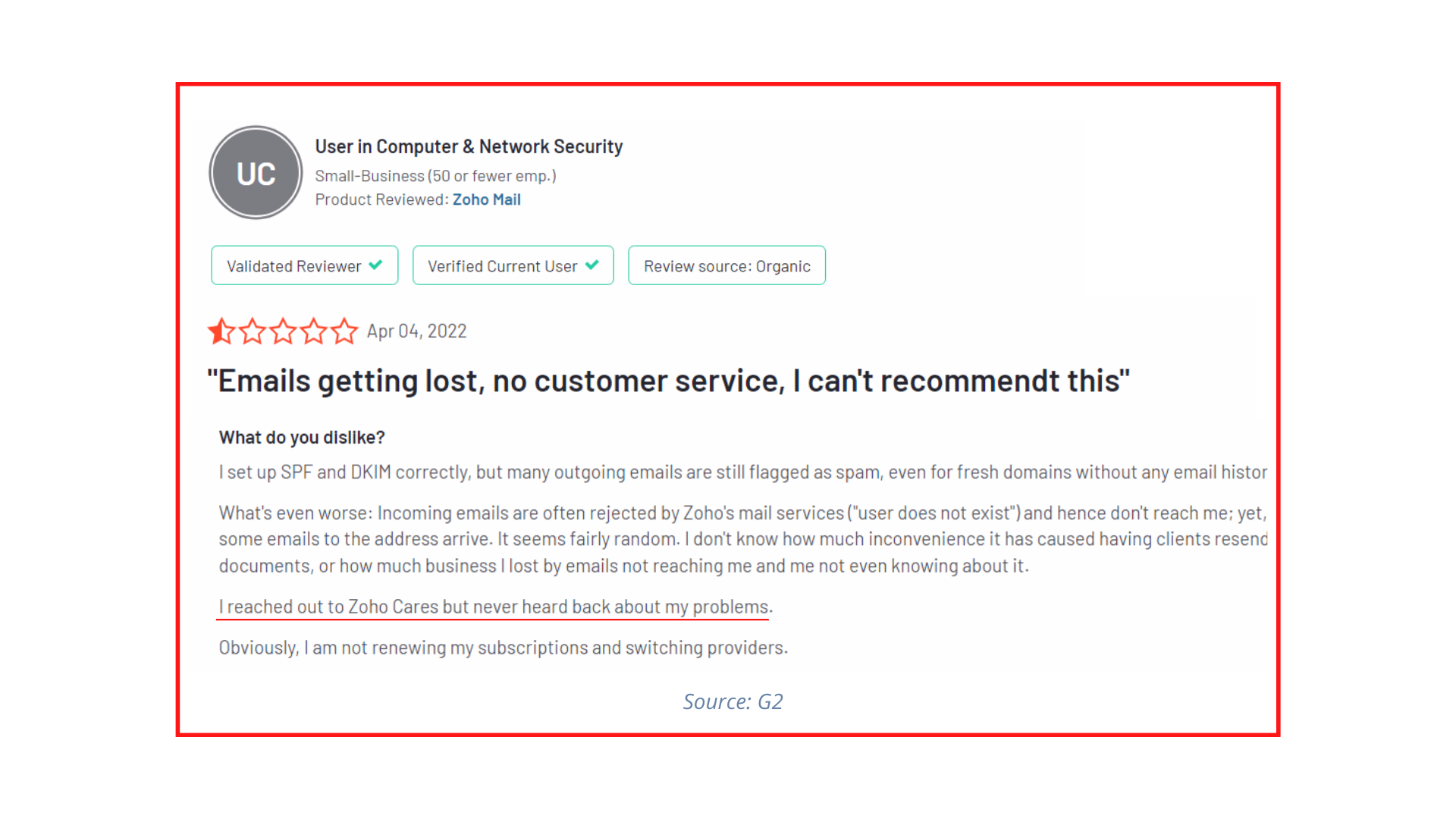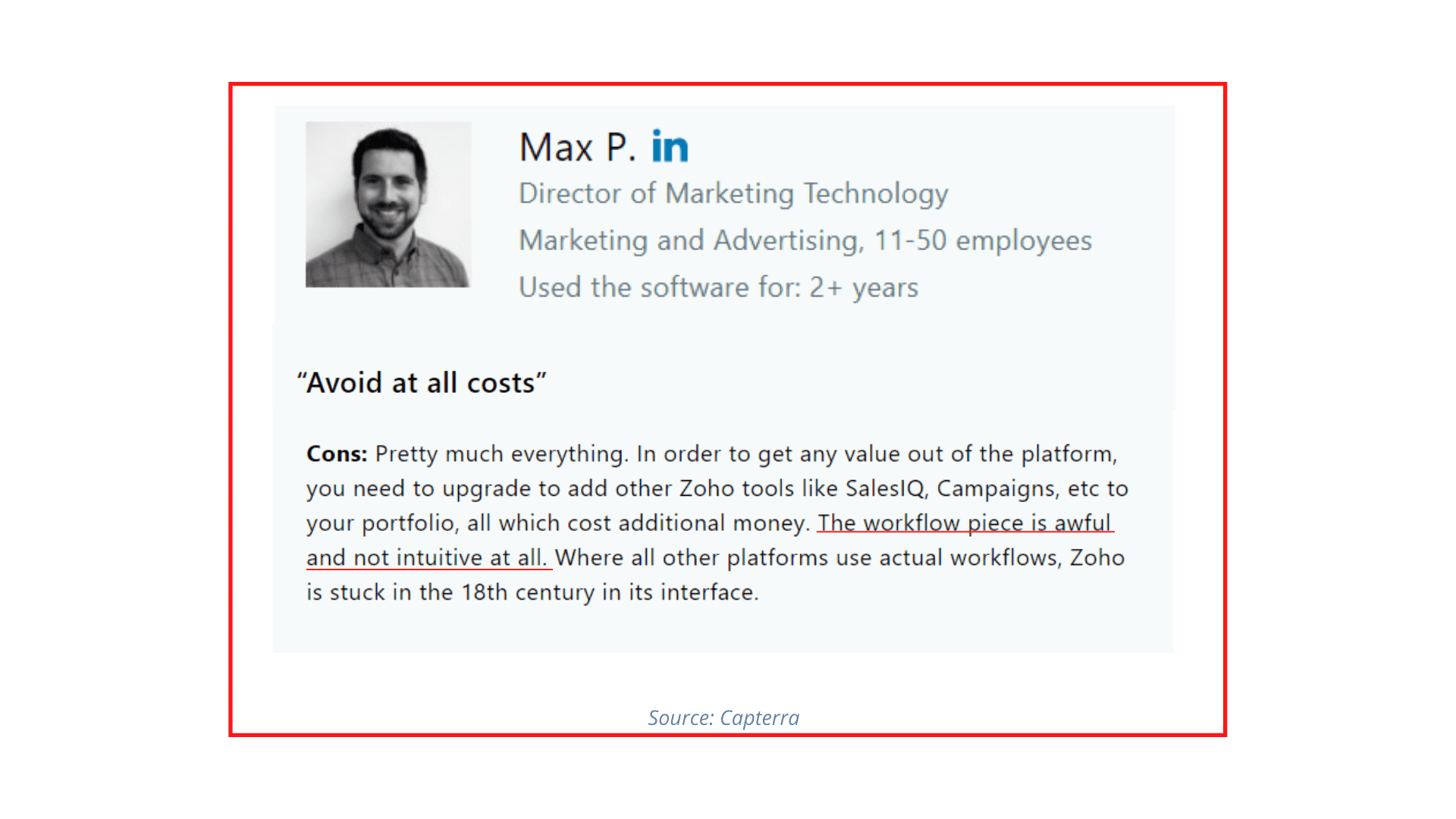 If you want to add or replace this CRM solution in your shopping cart, it makes sense to consider some smart alternatives to Zoho.
Read also: 10 Competitors That Give Zendesk A Run For Its Money
The Top 15 Zoho Alternatives
Let's get into our list of the top alternatives to Zoho alternatives.
1. EngageBay
At the top of our list is EngageBay, an all-in-one marketing, sales, and CRM solution.
Here's why we think EngageBay could be the perfect alternative to Zoho: it's tailor-made for small businesses and startups like yours.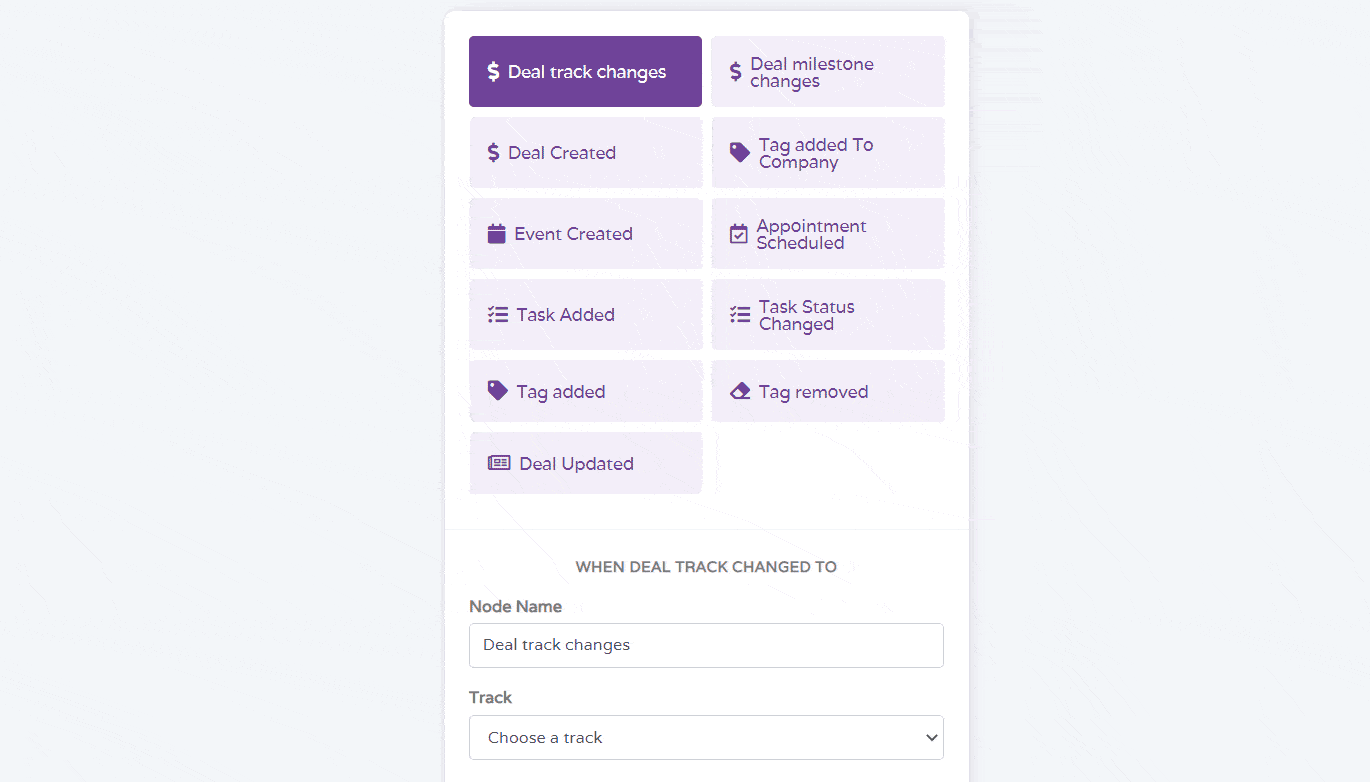 EngageBay offers a wealth of CRM features made to take your small business further.
Founded in 2017, EngageBay has 40,000 trusted customers and counting!
Features
Let's take a closer look at EngageBay's features:
CRM Telephony: EngageBay's CRM Telephony lets you call leads and customers without leaving the software. A pop-up window allows you to take notes, and EngageBay even offers call analytics to help you understand how your team is performing. Calls also get automatically recorded and stored in the CRM.
Lead scoring: Find more MQLs and SQLs with EngageBay's lead scoring system. You choose the parameters for scoring leads and EngageBay will do the rest, curating a targeted list for your small business to pursue.
CRM email integration: This EngageBay CRM feature syncs your email inbox to unlock more context-rich data about your email campaigns. You can also use EngageBay's CRM email integration to track all your outgoing emails.
Gamification and leaderboards: Inspire every member of your sales team to work their best with leaderboards that show your superstar sellers. Gamification makes sales fun, improving productivity and revenue.
Contact management: EngageBay's CRM offers an awesome 360-degree view of your contacts, including social media analysis. Engaging with your leads and customers becomes easier once you have a deeper, more holistic understanding of them.
Automation: Earn more small business hours back with EngageBay's CRM automation. You get a host of features including call and email reminders, call logging, assignment scheduling, meeting scheduling, and more.
Analytics: EngageBay's sales reporting tools offer new insights into your small business operations. You can automate report delivery and even customize them as per your needs.
Pricing
EngageBay offers four plans:
The Free plan is free forever and provides features like a 360-degree contact view, appointment scheduling, tasks, deals, and more.
The Basic plan starts at $14.99 a month per user. You get 1,000 contacts and features such as predictive lead scoring, calling, and advanced deal tracking.
The Growth plan for $24.99 a month per user adds 10,000 contacts, leaderboards, email scheduling, proposals, and sales automation.
The most encompassing plan is the Pro plan for $49.99 a month per user. With this plan, you get unlimited contacts, custom reporting, goals, call scripts and records, an auto-dialer, and proposal analytics.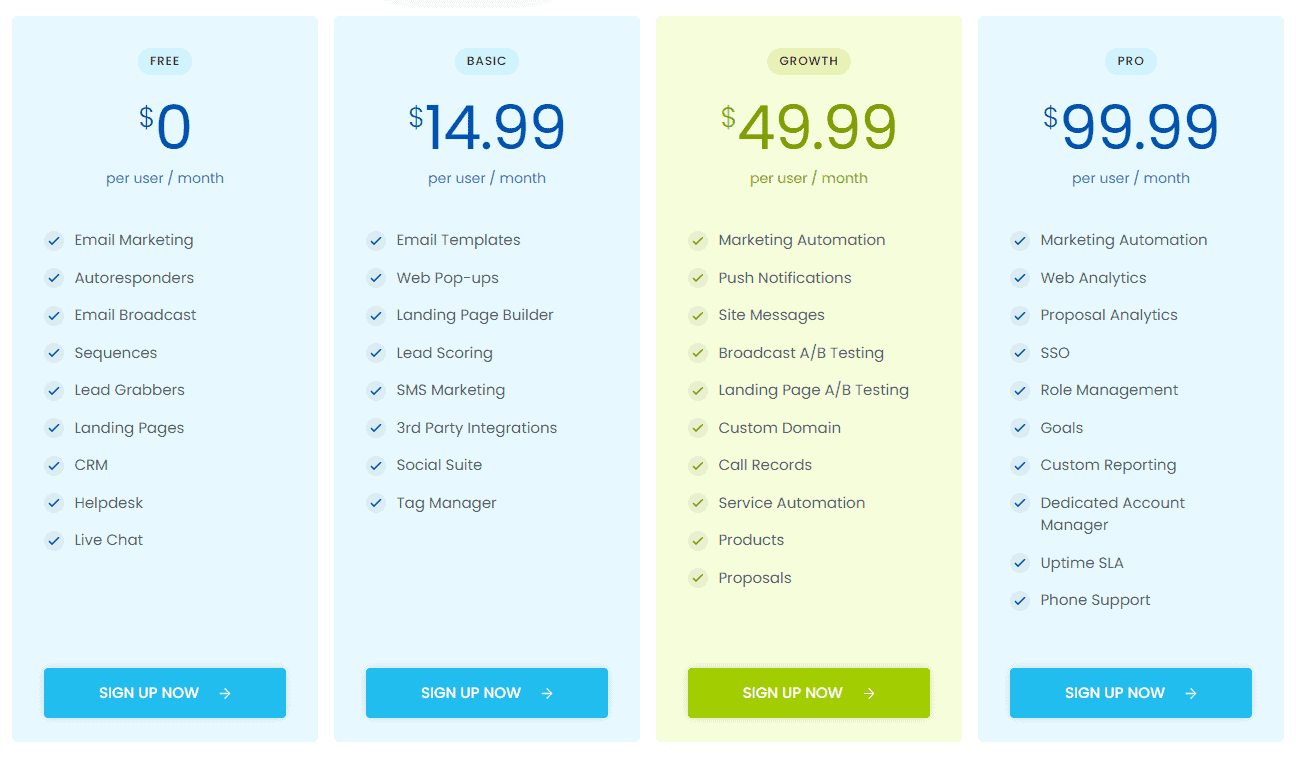 You also get a 10% discount on annual plans and a 40% on biennial plans.
Read also: How Much Does CRM Cost? Pricing for 18 Best CRM Software
2. HubSpot
HubSpot is one of the go-to CRM software for many businesses — they are often called market disrupters (and for a good reason).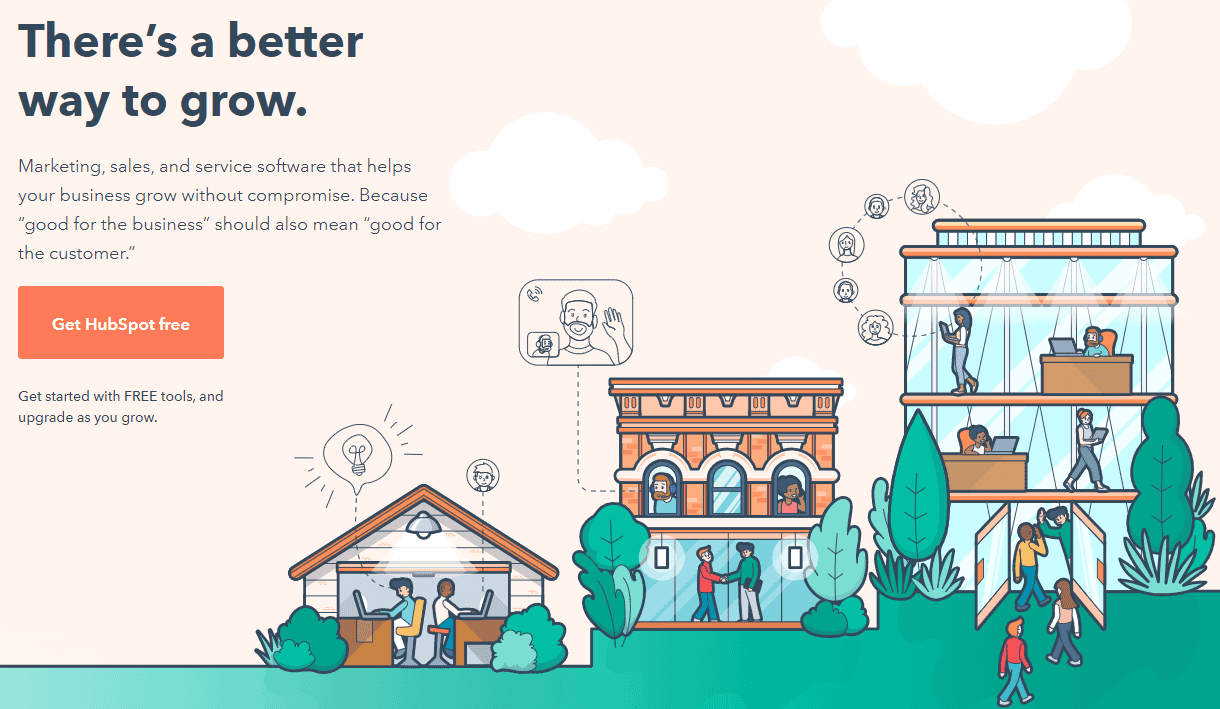 Many business owners at different levels have trusted HubSpot for their sales and marketing needs since HubSpot's founding in 2006.
Features
Here is an overview of the features HubSpot's CRM offers:
Deals: Which deals are open and in progress versus those on the verge of closing? What about the deals your sales team has recently closed? With HubSpot CRM, tracking deals has never been easier.
Email marketing: Send free bulk emails, create custom email templates, add personalization, and track the success of your email campaigns with HubSpot's email marketing CRM features.
Contact management: HubSpot offers excellent contact management tools, including lead scoring, advanced filters, segmentation, and integrated CRM.
Pipeline management: You need to know when and where your leads enter the sales pipeline so your sales team can respond promptly.
Meeting scheduler: Keep up with your meetings like a pro using HubSpot's meeting scheduler. Even if you have a full schedule, tracking which meetings are on the horizon will be easier with this feature.
Reporting dashboard: HubSpot's reporting dashboard reveals the insights that matter to your small business. You'll glean lots of useful information about your company, including what you're doing right and what you can improve.
Interested in HubSpot competitors? Our blog post offers a deep dive into nine of the best alternatives.
Pricing
Like EngageBay, HubSpot's CRM is free.
That's a good thing too, as you'll quickly find that their prices are outside of the budget of most startups.

The Starter plan begins at $50 a month and includes meeting scheduling, calling, basic automation, quotes, and a deal pipeline.
The Professional plan starts at $1,780/month for features such as calculated properties, forecasting, custom reporting, sales analytics, and lead rotation automation.
HubSpot's costliest plan is the Enterprise plan at $5,000 per month.
This plan boasts features like call transcripts, sales analytics, playbooks, advanced permissions, and hierarchal teams.
Comparison Table: HubSpot vs EngageBay
3. Pipedrive
Declaring itself "the original pipeline CRM," Pipedrive is next on our list of Zoho alternatives.
In the sales and marketing game for more than a decade, Pipedrive has focused on pipeline management and sales CRM.

Pipedrive says its software is favored in nearly 180 countries by more than 95,000 companies.
Features
Let's delve into Pipedrive's features.
Deal probability: Don't waste your time on what will be fruitless deals when you can use deal probability in Pipedrive — which predicts where the money is.
Leads inbox: A dedicated leads inbox with filters and labels keeps your lead information separate from your sales dealings. You can import other lead lists and even use chat integration in this inbox.
Visual sales pipelines: Pipedrive, considering its name, specializes in sales pipelines. A visual representation of your timeline with custom fields helps your sales team close more deals.
Contact management: Import your contacts list and manage them with Pipedrive's contact management feature. The contact timeline lets you glimpse all communications with each contact, including activities, emails, and calls.
Email inbox: Use your email inbox for mass emails or tailored content using one of Pipedrive's email templates. You can even track email open rates and click-through rates here.
Automation: Pipedrive's automation features are led by their sales mentor with AI capabilities. You'll get performance tips, report graphs, and automation suggestions.
Reporting and insights: Pipedrive's reports are customizable with CRM fields to help you guide your small business decision-making. Combined with Pipedrive's interactive dashboards, you can get a good internal view of your company.
Pricing
Choose from four plans as a Pipedrive user: Essential, Advanced, Professional, or Enterprise.
The Essential plan for $11.90 a month per user includes activities management, organization and contact management, and deal management, among other features.
For $24.90 a month per user, the Advanced plan has workflow automation and email syncing.
The Professional plan costs $49.90 a month per user for features such as custom fields, insights, and team goals.
Get it all with the Enterprise plan for $74.90 a month per user.
Comparison Table: Pipedrive vs EngageBay
4. Insightly
The fifth Zoho alternative we want to explore is Insightly, a CRM with marketing automation capabilities.
Insightly is also intended for project teams and salespeople.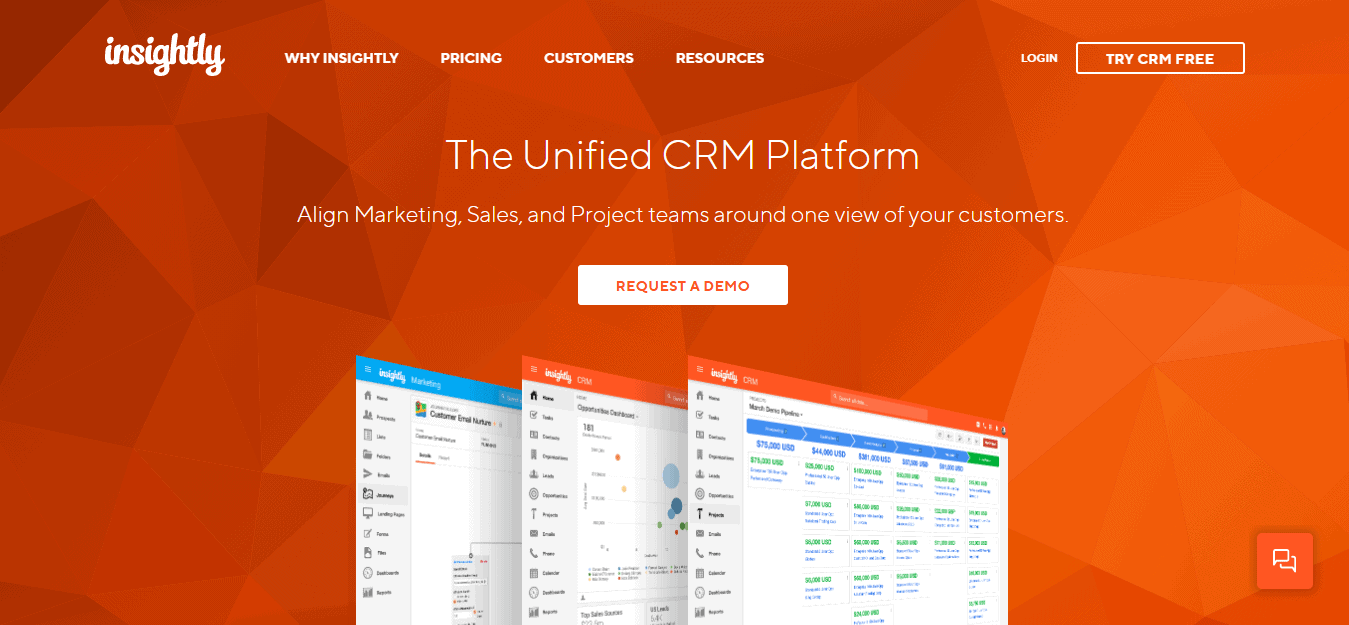 Features
Let's take a closer look at Insightly's features:
Custom forms: Make forms that work for your small business and further your company's objectives through Insightly.
Marketing campaigns: Improve brand awareness with marketing campaigns that are both customized and personalized using Insightly's CRM. The journey builder lets you preview how your campaign will run before it goes live.
Lead routing: Insightly informs you of your most viable leads with an activity timeline that reviews all lead-related tasks, meetings, calls, emails, and even sources.
Workflow automation: Insightly lets you save time with multistep automation. Tasks you can automate include updating records, sending emails, and scheduling meetings.
Email marketing: Browse through Insightly's email templates, mail out bulk messages or to tailored audience segments, and review email success stats within Insightly's CRM.
Audience segmentation: Manage your customers from the beginning of their journey and beyond with audience segmentation.
Advanced reporting: Delve deeper into your company's stats and metrics using advanced automated reporting features in Insightly.
Pricing
Insightly has three pricing plans:
The Plus plan for $29 a month per user has features like integrated project management and calendar synchronization.
The Professional plan for $49 a month per user adds features such as customized reports, business intelligence dashboards, and 25 mobile business card scans.
For $99 a month per user, the Enterprise plan is loaded with features, including lead management, integrated project management, standard support, and more.
Comparison Table: Insightly vs EngageBay
5. Freshworks
The next CRM software on our list of Zoho alternatives is Freshworks, an AI-powered software solution for sales teams.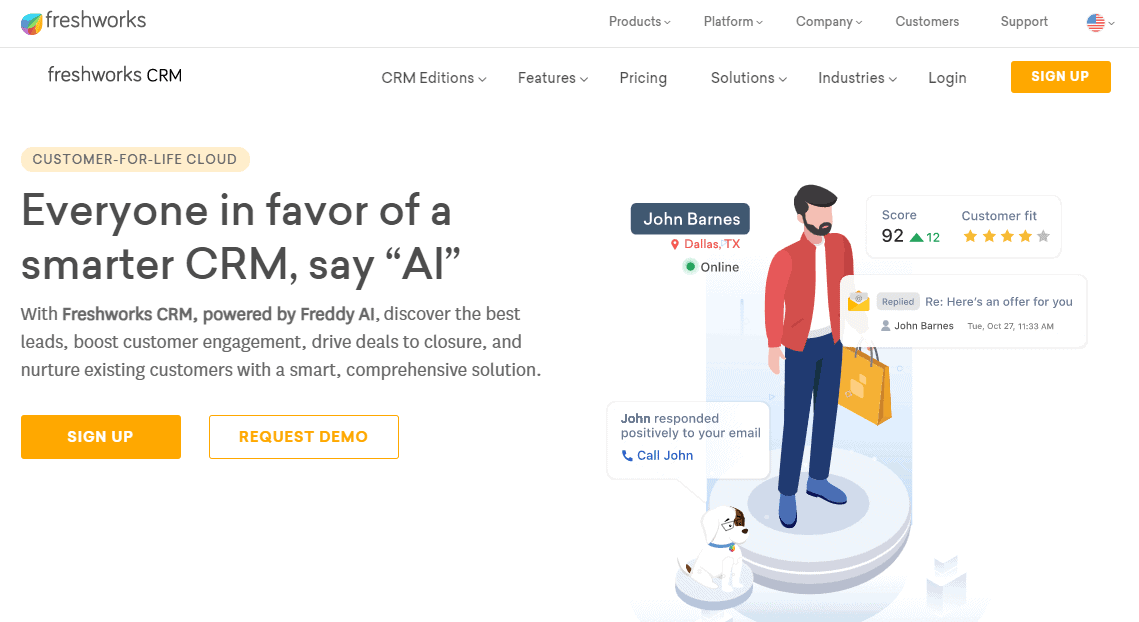 Since 2010, Freshworks has been the primary CRM choice for 40,000+ companies.
Features
If you're thinking of switching from Zoho to Freshworks, here are the CRM features you can use:
Custom fields and modules: From formula fields to checklists, date pickers, and text, customize all aspects of your fields so your forms reflect your small business needs.
Task management: In Freshworks, you can set up tasks and appointments as well as remind your sales team what's due and when. Staying on top of work is easy now!
Automation workflows: Use Freshworks' automation workflows when sending personal holiday or birthday wishes to your audience, renewal or appointment reminders, following up, invoicing, and sending welcome emails.
CRM calling: Use Freshworks' CRM to make calls, track call logs, and add contextual information to your contacts' records.
Predictive contact scoring: Freddy AI, Freshworks' AI assistant, can take care of lead scoring for you. The AI uses your company's past data to determine which new leads might be most likely to become customers.
Deal insights: Freddy AI can also present useful deal insights that can help your sales team close more deals — making Freshworks another excellent Zoho alternative.
Pricing
Freshworks gives you the option of selecting from four pricing plans: Free, Growth, Pro, or Enterprise.
The Free plan is free-forever and offers contact management, contact lifecycle stages, built-in chat, and mobile applications.
The Growth plan starts at $15 a month per user with five sales sequences, 20 workflows, and five active marketing journeys.
The Pro plan starts at $39 a month per user with 50 custom roles, 10 sales sequences, and 50 workflows.
For $69 a month per user, the Enterprise plan offers 100 custom roles, 25 sales sequences, and 100 active marketing journeys.
Want to find a Freshworks alternative that's better suited to your needs? Check out our article on the top Freshworks alternatives.
Read also: 6 Best Free CRM For Coaching Businesses [+Features]
6. TeamWave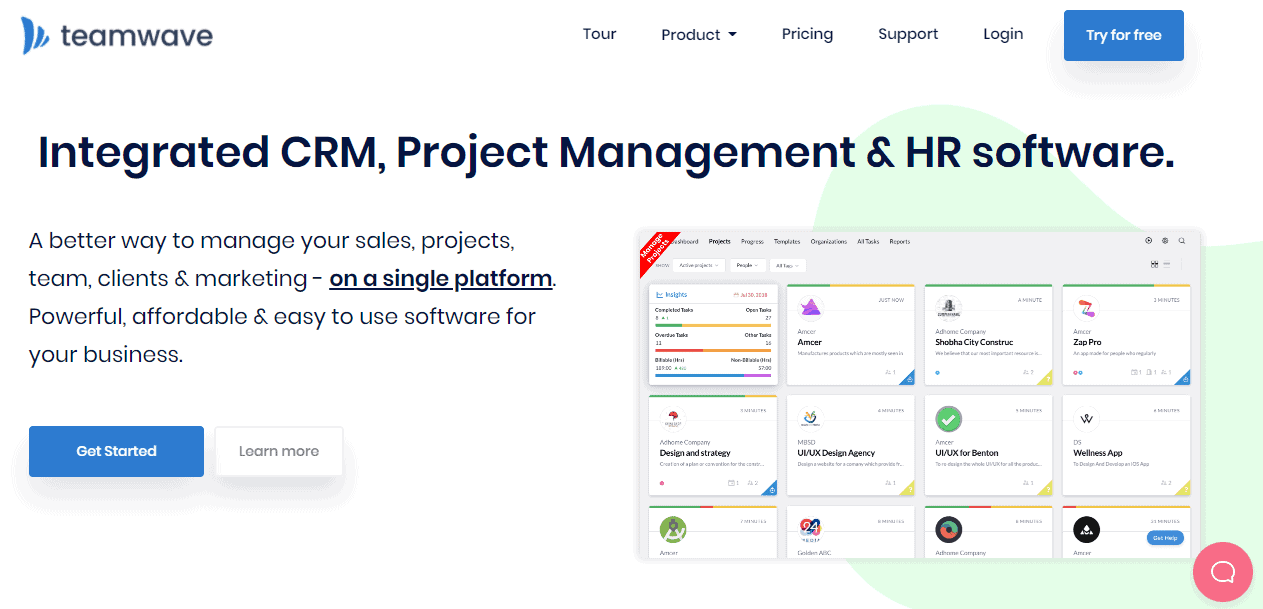 TeamWave is an all-in-one, small business productivity platform. It allows businesses to manage sales, projects, teams, clients, and marketing – on a single platform.
The highlights of TeamWave are its easy-to-use interface and powerful features available at affordable pricing, making it one of the best choices for small businesses.
Also, integrations with platforms like Mailchimp, Quickbooks, and Google Workspace help increase team efficiency and productivity.
Features
This is how your business can work smarter with TeamWave:
Visual Sales Pipeline:

This gives you complete visibility of your deals across different stages. Quickly see how many deals are in each stage, sort and filter by their expected close date, make smart decisions, and stay in control of a complex sales process.

Customize your CRM:

Customize your sales pipeline, filters, contacts, and deals with ease.

Time Tracking:

Keep track of hours worked, improve your team's productivity, and maximize revenue.

Work Anywhere, Anytime:

Mobile apps let you access deals, tasks, projects, and contacts even when you're on the road.

Team Calendar:

Schedule and track meetings, tasks, milestones, and events for you or other team members.

Collaborate:

Work with clients, partners, and your team. With the option to keep things private, you control what the client (and team members) can see.

Contact Management:

Manage all contacts from one place, get a clear overview, and build better relationships.

Reports and Dashboards:

Gain instant visibility and insights you need to make informed decisions in real-time. Spot issues before things go off-track.
Pricing
The reason we call TeamWave one of the most affordable work management software is because their plans start at just $39 per month.
These plans offer integrations with 1,000+ apps, visual sales pipelines, sales forecasting, email integration, automatic check-ins, and much more.
The Starter plan offers 15,000 contacts, 25 GB storage, and 1 company domain.
The Pro plan offers 30,000 contacts, 100 GB storage, and 2 company domains.
The Business plan offers 150,000 contacts, 500 GB storage, and 4 company domains.
The best part about Teamweave? It doesn't matter whether your company has one, ten, or even a hundred users — you only pay a flat rate (for example, $39/month for the Starter plan).
Read also: The Most Surprisingly Awesome HubSpot Alternatives
7. Salesforce
Salesforce is a sales, marketing, and service solution with a better name recognition and a much larger market share than Zoho.
It serves an extensive list of industries, such as technology, retail, public sectors, nonprofits, media, manufacturing, life sciences and healthcare, financial services, energy and utilities, education, consumer goods, communication, and automotive.
Features
Let's review the features within Salesforce's software that are comparable to (or even better than) Zoho.
Customer 360: The primary feature we'll focus on from Salesforce, Customer 360 links your IT, service, commerce, sales, and marketing teams. They can see curated customer data in the dashboard. The Data Cloud automates real-time data for valuable insights.
Personalization: Salesforce's personalization features drive engagement, increase conversions, and lower marketing costs for more memorable campaigns.
Loyalty management: Start a loyalty program to make your customers staunch supporters. Salesforce enables you to build better customer experiences.
Sales engagement: Salesforce's sales engagement tool features work queues, sales cadences, conversion insights, and a sales dialer for reducing your tech stack.
Pricing
Salesforce's services are available in four pricing plans: Essentials, Professional, Enterprise, and Unlimited.
The Essentials plan costs $25 per user per month. You can use the following features:
Salesforce mobile app
Outlook and Gmail email integration
Opportunity, lead, contact, and account management
If you want more, try the Professional plan for $75 per user per month. You can use all the features in the Essentials plan, plus:
Collaborative forecasting
Rules-based lead scoring
Lead registration
The Enterprise plan is $150 per user per month. You can add even more features, including workflow and approval automation.
Use every feature Salesforce has to offer with the Unlimited plan for $300 a month.
Read also: Top 9 Salesforce Competitors And Alternatives [Tables]
8. Agile CRM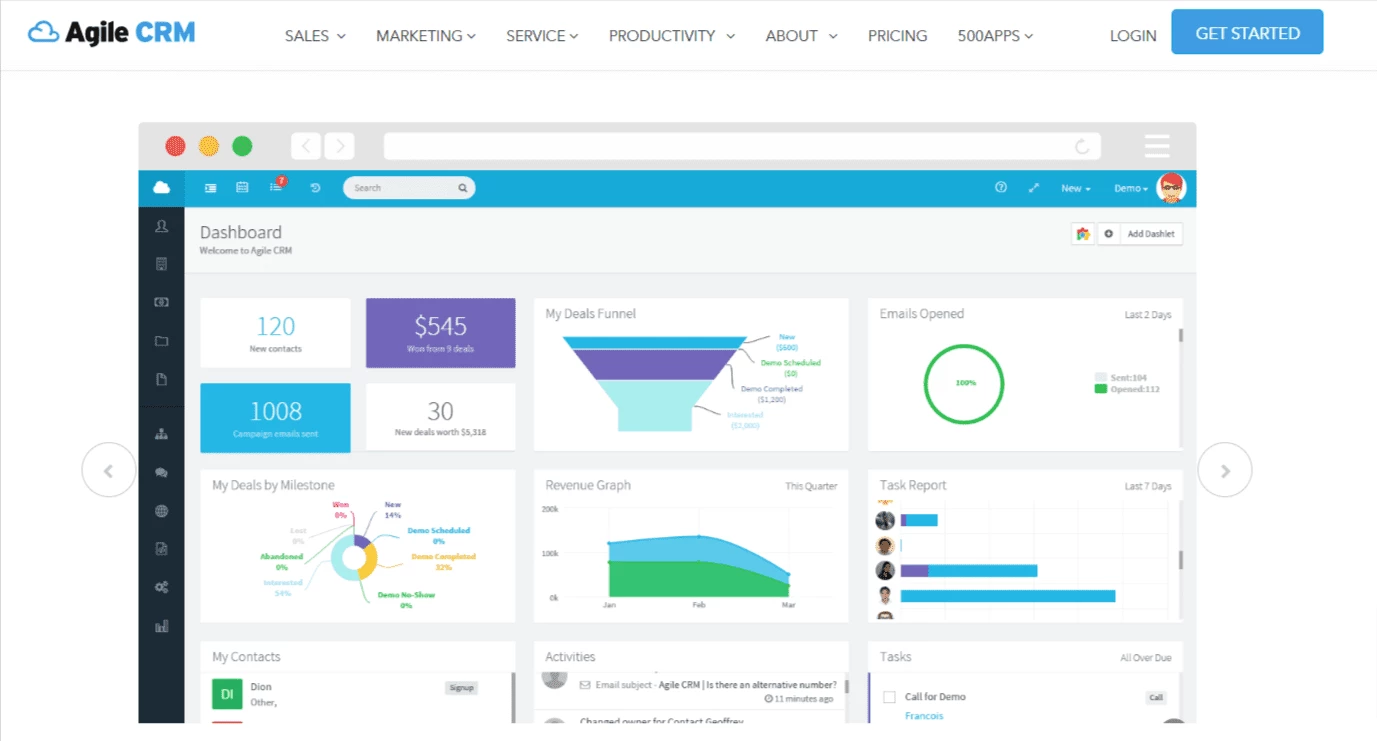 Another Zoho alternative worth considering is Agile CRM, an all-in-one, next-generation, cloud-based SaaS service ready to deploy today. Agile CRM is also mobile-ready, so you can appeal to your mobile users.
Its solutions include productivity, service, marketing, and sales products.
Features
Here is more information about Agile CRM's starring features.
360-degree contact view: Get to know your contacts on a whole new level with Agile CRM's 360-degree contact view. Within this tool, you can create contact profiles, send pertinent info to your teams, increase efficiency and productivity, and enhance data integrity.
Email marketing: Agile CRM's email marketing feature in conjunction with 500apps utilizes personalization and customization to build newsletters and emails that reflect your brand. The email marketing feature also includes analytics.
Customer support analytics: How well does your company serve your customers? You won't have to guess when you have access to customer support analytics within Agile CRM. You can review your performances, track insights, and develop an actionable strategy.
CRM analytics: Expand your knowledge with rich CRM analytics within Agile CRM. You can review contact-level analytics like pages visited and for how long and referring URL reports.
Pricing
If you're thinking of getting started with Agile CRM, you have your pick of four pricing plans.
The first is the Free plan, which is for 10 users. The Starter plan costs $8.99 a month when you subscribe to a two-year plan.
The Regular plan costs $29.99 a month when you subscribe for two years. Then there's the Enterprise plan for $47.99 a month on a two-year subscription.
The sales features include:
Two-way telephony
Custom deal tracks
Two-way email integration
Email tracking
Custom deal milestones
Appointment scheduling
Unlimited documents, tasks, and deals
Lead scoring
Custom data fields
50,000 companies and contacts
You can use all sorts of fantastic marketing features, such as:
Social monitoring
Marketing automation
Web-to-lead
5,000 branded emails
Landing page builder
Email templates builder
Form builder
Contact level analytics
Web engagement
Email campaigns
The service features include:
Reports
Activities
Views
Canned responses
Labels
Groups
Help desk
You also get these extras:
Email reports
Advanced reports
Chrome extensions
Syncing with Stripe, Shopify, and Google
Email and phone support
Three plug-ins
Read also: Say Goodbye to Agile CRM: 11 Alternatives to Consider
9. Bitrix24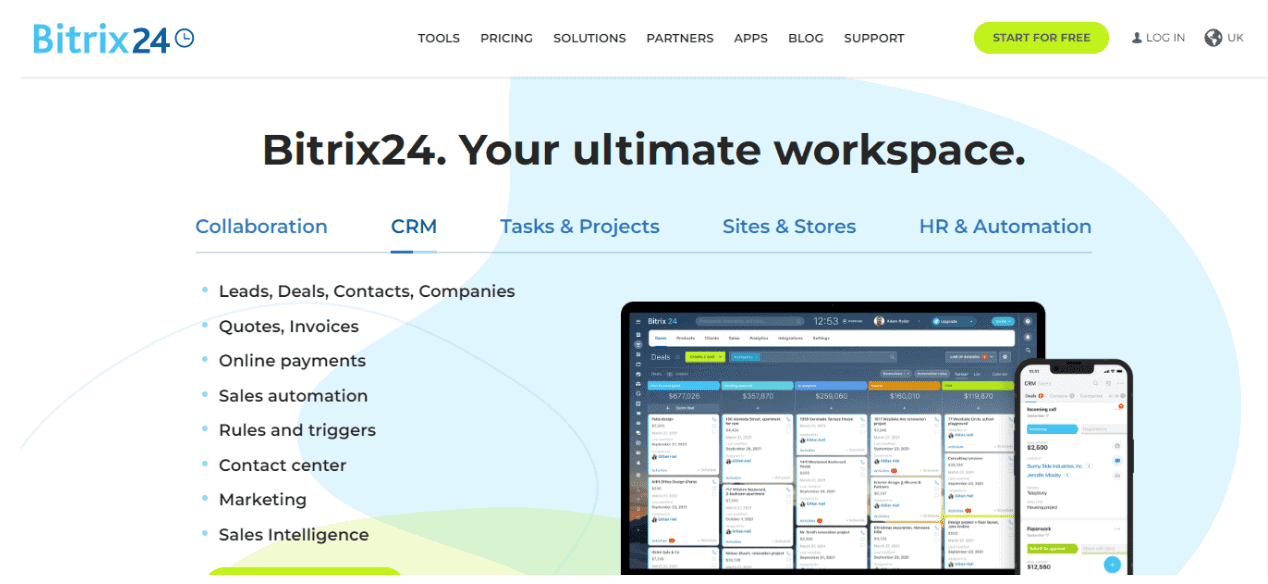 Calling itself "your ultimate workspace," Bitrix24 features automation, HR, tasks and projects, sites and stores, collaborative tools, and CRM, so there's certainly something here for most types of businesses. Anybody looking for Zoho alternatives is likely to come across Bitrix24.
Features
Let's spotlight some great Bitrix24 features.
CRM: Bitrix24's free CRM has assisted more than 12 million businesses. It features mobile functionality, sales management, client management, and team management.
Lead generation: As you acquire more leads in your sales funnel, you can immediately integrate them within the Bitrix24 CRM system.
Business automation: Win back more of your precious time with business automation tools within Bitrix24's software. You can make your processes more efficient and identify bottlenecks in your sales funnel. You can also create automation rules and workflows.
Website forms: Create responsive, appealing forms within Bitrix24, making an unlimited number for whatever your latest project is.
Collaboration: Unify the team with collaborative tools like videoconferencing, chat, employee polling, and a newsfeed.
Pricing
While Bitrix24 promotes its CRM as free, and it does have a free plan, you can also pick from three additional paid plans.
Let's begin by talking about the Free plan, which lets you add unlimited users. You can use these features only:
5 gigabytes of storage
Knowledge base
Collaborative feed
Company workspace
Calendaring
HD video calls
Chat
Tasks and projects
Basic CRM
Contact center
Basic website builder
The Basic plan for five users costs $49 a month when you pay for a year of Bitrix24. This plan includes the following:
24 gigabytes of storage
More advanced CRM
More advanced website builder
Online store
The Standard plan for 50 users is priced at $99 a month on an annual plan. Besides every feature above, you can also use:
100 gigabytes of storage
Online documents
Marketing features
The Professional plan is the best that Bitrix24 has to offer. The plan includes 100 users for $199 a month on the annual plan. You get every feature listed so far and:
1,024 gigabytes of storage
XS CRM
Sales intelligence
Advanced automation
HR
Administration
High-level customer support
Read also: Bitrix24 Alternatives: Transform Your Customer Engagement and Drive Sales
10. Copper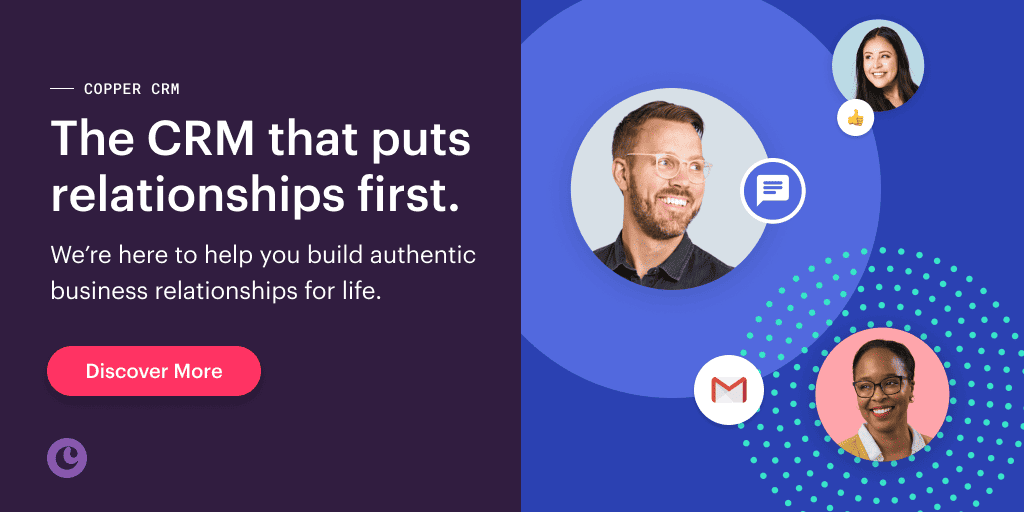 The next CRM alternative to Zoho is Copper, which serves industries like technology, corporate development, real estate, consulting, and media and advertising agencies.
Features
Let's dig a bit deeper into what Copper has to offer.
Automation: You put together the workflow, and Copper will take care of the rest. You can automate email follow-ups, nurture sequences, and more. Copper offers merge fields and email templates to save you even more time.
Marketing and email tools: The exhaustive list of marketing and email tools Copper provides will help you take your marketing further. The tools at your disposal are:

Lead scoring
Merge fields
Marketing automation
Email templates
Web tracking
Web forms
Email sequences
Bulk emails

Google Workspace CRM: Copper's CRM seamlessly integrates with Google Workspace for better calendaring, meeting scheduling, contact management, customer relationship information, file management, and priorities tracking.
Deal tracking: When your sales team has a deal, don't let it slip through the cracks. Create an efficient sales pipeline with Copper. You can sort deals according to value, predict the win probability of any ongoing deal, and review dying deals with the inactivity monitor.
Integrations: Copper integrates with all the top sales, marketing, and service tools, including Gmail, Google Drive, LinkedIn, Mailchimp, Google Sheets, Dropbox, Zapier, QuickBooks, and Square.
Pricing
Copper has no free plans, only three paid options: Basic, Professional, and Business.
The Basic plan costs $23 a month on an annual plan. You gain access to these features:
Team collaboration
Contact enrichment
Pipelines
Google Workspace integration
2,500 contacts
The next step up is the Professional plan for $49 a month on the annual plan. You get all the features offered in the Basic plan, plus:
Integrations
Reporting
Bulk templates and emails
Workflow automation
15,000 contacts
The most expansive plan Copper has is the Business plan for $99 a month on an annual plan. You can use every feature in this software, including everything above and:
LinkedIn integration
Lead scoring
Website tracking
Drip campaigns and email sequences
Unlimited contacts
Read also: Copper CRM Pricing & Comparison With Top Small Business Software
11. Microsoft Dynamics 365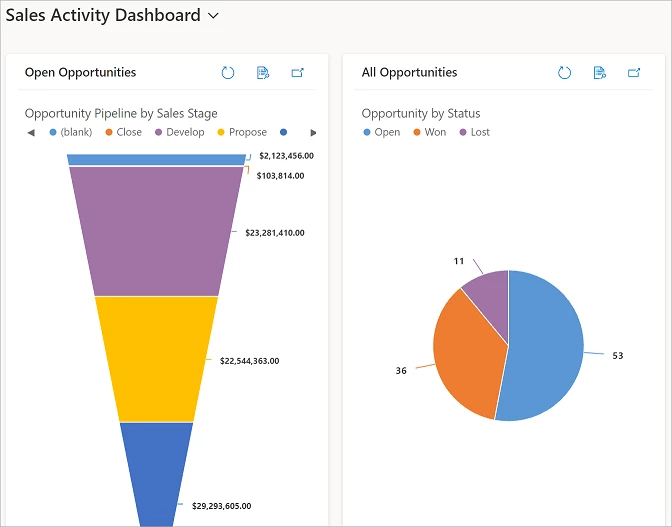 You already trust and use Microsoft products like Microsoft Word and Excel for so many day-to-day work tasks. Why not add one more to the mix in the form of Microsoft Dynamics 365? This business applications software offers solutions for the supply chain, finance, service, marketing, and sales.
Features
Let's take a peek at the features included with a Dynamics 365 subscription.
End-to-end customer view: Better understand your customers with Dynamics 365's CRM. You can use AI and coaching tools to improve team efficiency, track customer behavior, rely on AI insights for decision-making, personalize content, and push your audience through the sales funnel faster.
Service products: Microsoft Dynamic Solutions 365 has a bevy of service products designed to resolve ongoing customer issues, provide omnichannel service, and elevate your case management.
Pricing
Microsoft has a unique pricing model for Dynamics 365. You can pay the SMB price or purchase the services individually.
Let's start with the SMB pricing. The Business Central Essentials starts at $70 per user per month, the Business Central Platform $100 per user per month, the Customer Service Professional between $20 and $50 per user per month, and the Sales Professional between $20 and $65 per user per month.
If you just want the Sales solution, the costs of the tools are as follows:
Microsoft Viva Sales: $40 per user per month
Microsoft Relationship Sales: $162 per user per month
Sales Premium: $135 per user per month
Sales Enterprise: $20 to $95 per user per month
Sales Professional: $20 to $65 per user per month
The finance solution costs $30 to $180 per user per month. The marketing solution is priced at $750 to $1,500 per tenant per month.
Here is the pricing for the supply chain services:
Intelligent Order Management: $300 for every 1,000 orders or per month
Guides: $65 per user per month
Supply Chain Management: $30 to $180 per user per month
The cost of Dynamics 365's service pricing is as follows:
Remote Assist: $20 to $65 per user per month
Field Service: $20 to $95 per user per month
Customer Service Enterprise: $20 to $95 per user per month
Customer Service Professional: $20 to $50 per user per month
Read also: 10 Easy To Use CRM Tools (Features, User Reviews, Pricing)
12. SugarCRM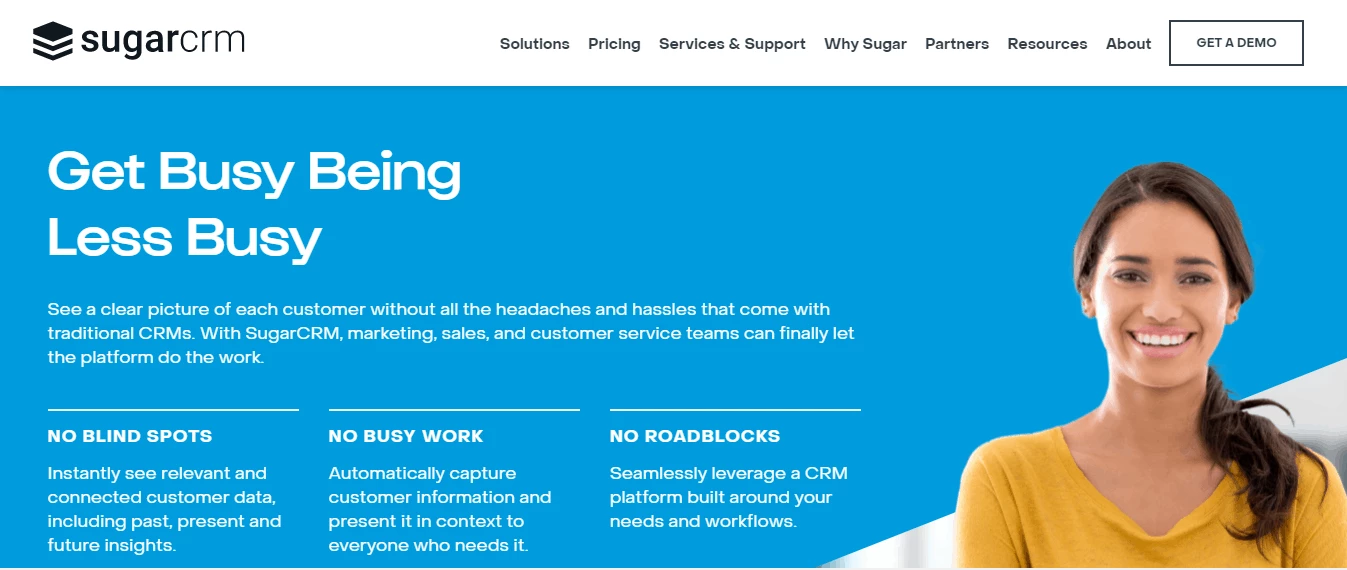 You can also try SugarCRM instead of Zoho. Promising that you'll "click less, sell more," SugarCRM has robust support and service features, including automation and predictive analytics.
This software is designed to bolster your company's productivity and take it to new heights.
Features
Let's review SugarCRM's features to see what edge the company has over Zoho.
Automation: Save more time by automating both marketing and sales tasks. Your pipeline will be airtight, and your campaigns will run as smoothly as butter.
Sugar Enterprise: The SugarCRM CRM solution Sugar Enterprise is ultra-customizable, granting you access to APIs, offering drag-and-drop UI with SugarBPM, and working on mobile thanks to the Sugar Mobile app.
Support Services: Sugar Support is always available to help with your CRM requests, including questions about mobile usage.
Pricing
SugarCRM has four pricing plans to select from. Here's an overview of each one and what's included.
The lowest-cost plan is the Sell plan for $49 per user per month with annual billing. You must have at least three users. This plan focuses heavily on sales automation and increasing your company's sales win rate.
Next is the Serve plan for $80 per user per month on the annual plan. You again must have three or more users for the plan. This customer service-centric plan has features that craft memorable customer experiences.
The Enterprise plan for $85 per user per month on the annual plan is the on-premises CRM. You must have at least three users.
The Market plan is the costliest at $1,000 per user per month on the annual plan. This plan includes marketing automation and limits you at 10,000 contacts per month. If you need additional contacts, you must pay $150 a month per contact.
Read also: SugarCRM Pricing & Comparison with 20 Better Alternatives [Features & Pricing]
13. Capsule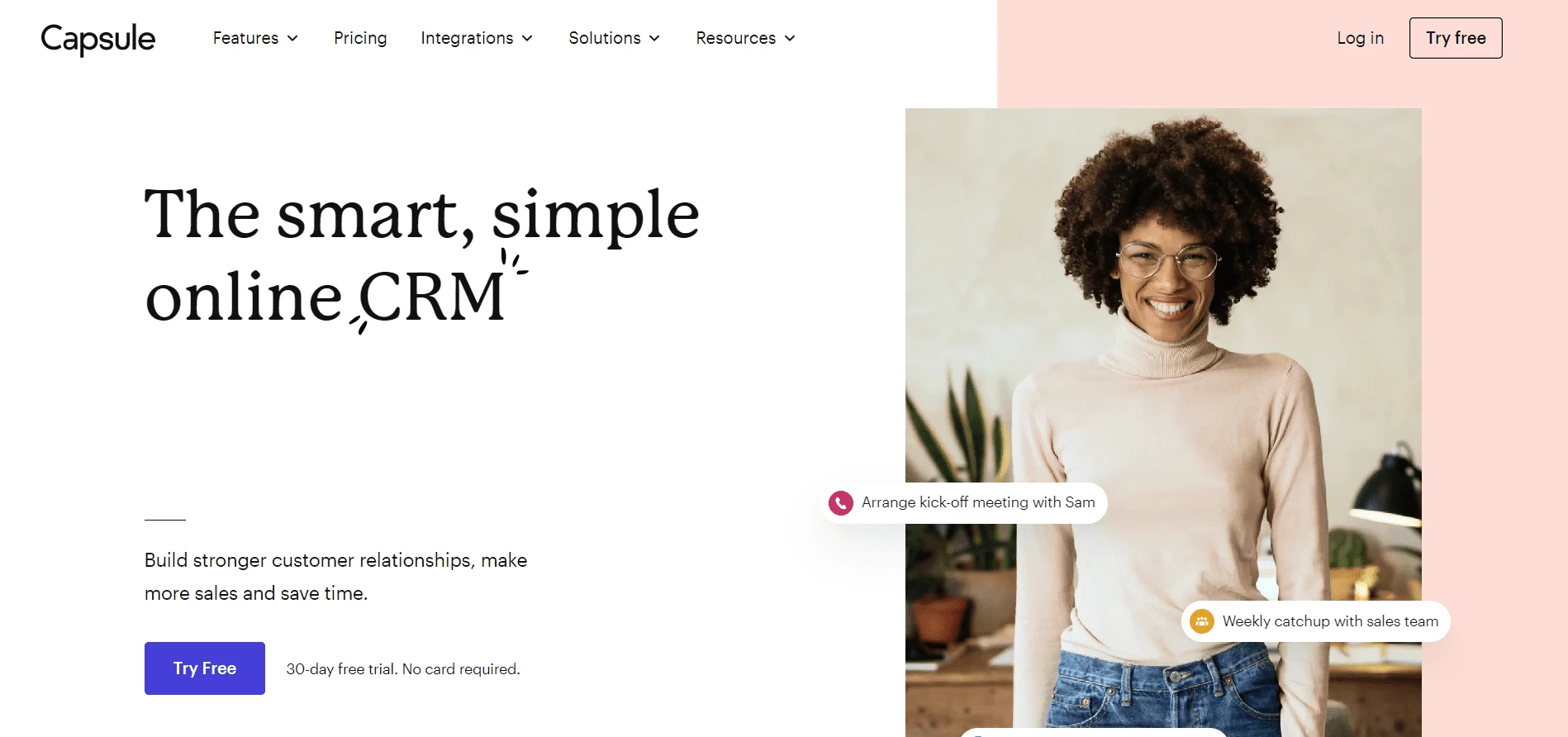 Simplify your CRM processes with Capsule, an online-based CRM designed to be smarter and easier to use than its competitors. You can use Capsule to automate tasks, review sales analytics, better understand your sales pipeline, and build and manage your contacts.
Features
Here are the standout features that Capsule offers.
Contact management: Integration syncing reduces data entry as you import your contacts into Capsule. Once they're loaded in, you can review pertinent details and log ongoing interactions. Social search integration can add auto-enrichment info to contacts. It's easy to organize your contacts your way and review pertinent contact details.
Email marketing tools: The AI Content Assistant takes the guesswork and struggle out of writing email content. You can also rely on Capsule for building email templates and campaigns, creating email automation workflows, and reviewing email analytics.
Sales pipeline: Reduce lost sales with Capsule's sales pipeline tools. You can manage ongoing sales opportunities through a visual sales pipeline, customize sales methods, and track conversion performance.
Workflow automation: Automate more of your day-to-day tasks with Capsule. The service even allows you to combine automation workflows.
Integrations: Capsule integrates with tools marketers and salespeople always use, like Sage, Mailchimp, FreshBooks, Zapier, Xero, Outlook, Transpond, Gmail, and QuickBooks.
Pricing
Capsule has three pricing plans, and you can try any free for two weeks.
The Professional plan for $13 per user per month includes these features:
Integrations
Activity reporting
10 AI Content Assists
Five email templates
Email sending
Project management
Sales pipeline
10 gigabytes of storage for each user
50,000 contacts
The Teams plan costs $26 per user per month. You can use all the features in the Professional plan and:
Important fields
Custom activity types
Individual or team record assignments
User restrictions and roles
Advanced sales reporting
1,000 AI Content Assists
50 email templates
Multiple project boards
Workflow automation
Multiple sales pipelines
20 gigabytes of storage for each user
100,000 contacts
Finally, there's the Enterprise plan for $40 per user per month. This is the plan to choose if you want everything Capsule has to offer, including all the above, and:
Ongoing priority support
Dedicated customer success manager
Custom training
Import assistance
Implementation support
500 email templates
40 gigabytes of storage for each user
200,000 contacts
Read also: 11 Fantastic Capsule CRM Alternatives To Try Today [Features, Pricing]
14. Apptivo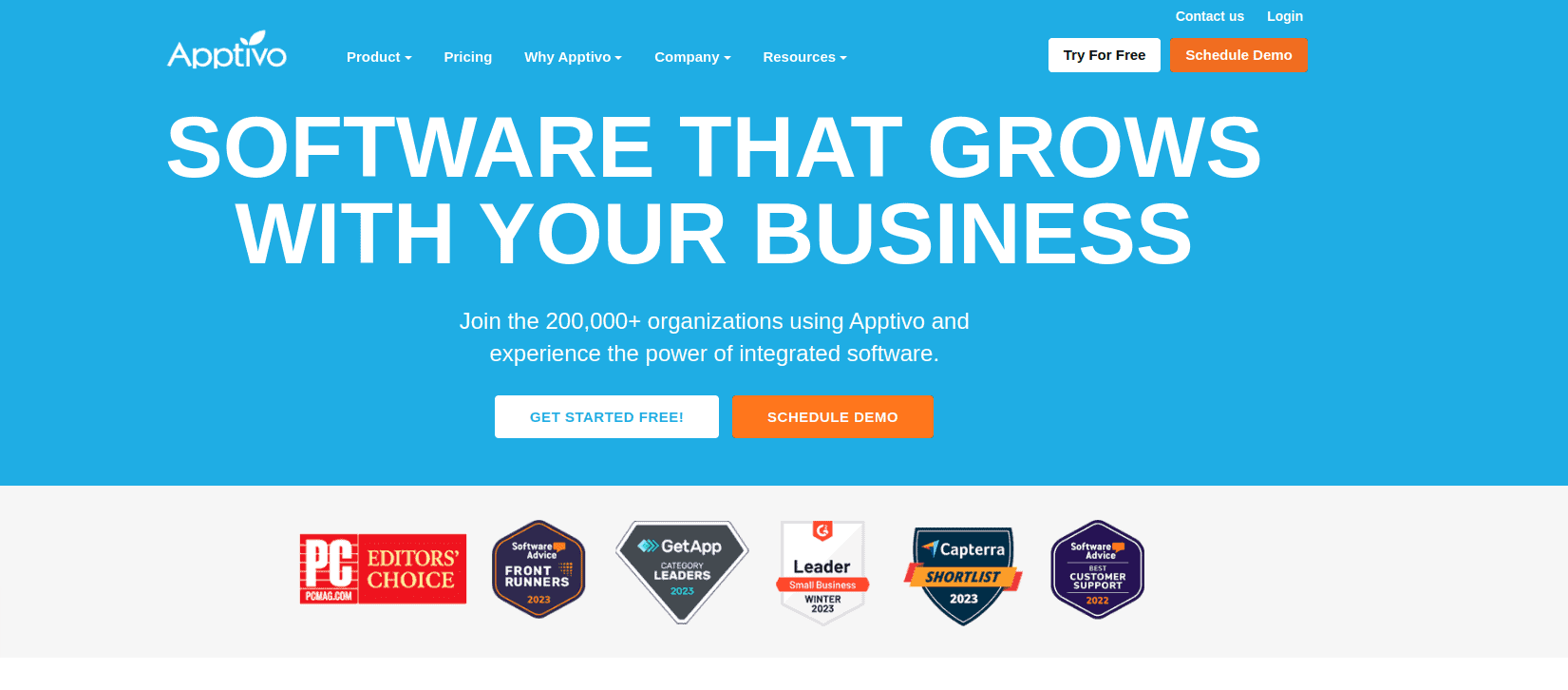 If you want to ditch Zoho and sell smarter, try Apptivo. This scalable software has received awards from Capterra, GetApp, Software Advice, and PC Mag, so it's a reputable solution for expanding your CRM operations.
Features
The following features of Apptivo make it a great alternative to Zoho.
Custom CRM: Apptivo's CRM will make day-to-day business operations much more efficient. You can use the CRM to track leads, elevate conversions, manage contacts, identify opportunities, plan sales, and manage your territories.
Email marketing: Your email marketing campaigns with flourish with Apptivo. Manage ongoing campaigns, create engaging email templates, re-launch campaigns for a second chance at success, manage contacts and campaigns, and review reports.
Project management: Keeping your projects on-task is easier with Apptivo. You can use features like task dependencies, a table view of ongoing and completed tasks, and an interactive Gantt chart to visualize your workflow.
Integrations: Apptivo integrates with great tools and services, such as QuickBooks, Xero, Authorize.Net, PayPal, Office 365, Google Drive, Dropbox, OneDrive, Google Forms, Stripe, and more.
Pricing
Apptivo has four pricing plans to select from: Lite, Premium, Ultimate, and Enterprise. You can try any for free before subscribing.
Beginning with the Lite plan, this costs $10 per user per month on the monthly billing plan. This plan includes features like:
24/7 support
Third-party service integrations
Eight custom dashboards
25 workflows
100 custom fields per app
18 apps
The Premium plan helps growing companies expand through Apptivo's services. It costs $15 per user per month on a monthly billing plan. Besides the above features, you can also use the following:
25 custom dashboards
75 workflows
250 custom app fields per app
46 apps
Expand further on what Apptivo has to offer with the Ultimate plan for bigger teams. You'll pay $25 per user per month on the monthly billing plan. Here are some awesome features you can use under this plan:
50 custom dashboards
150 workflows
350 custom fields per app
57 apps
The Enterprise plan offers all the best features of Apptivo for custom pricing. Those features include:
Account manager
24/7 support and SLA
Custom integration
100 custom dashboards
300 workflows
500 custom fields per app
65 apps
Read also: What are CRM Systems? (Benefits and Challenges)
15. Nutshell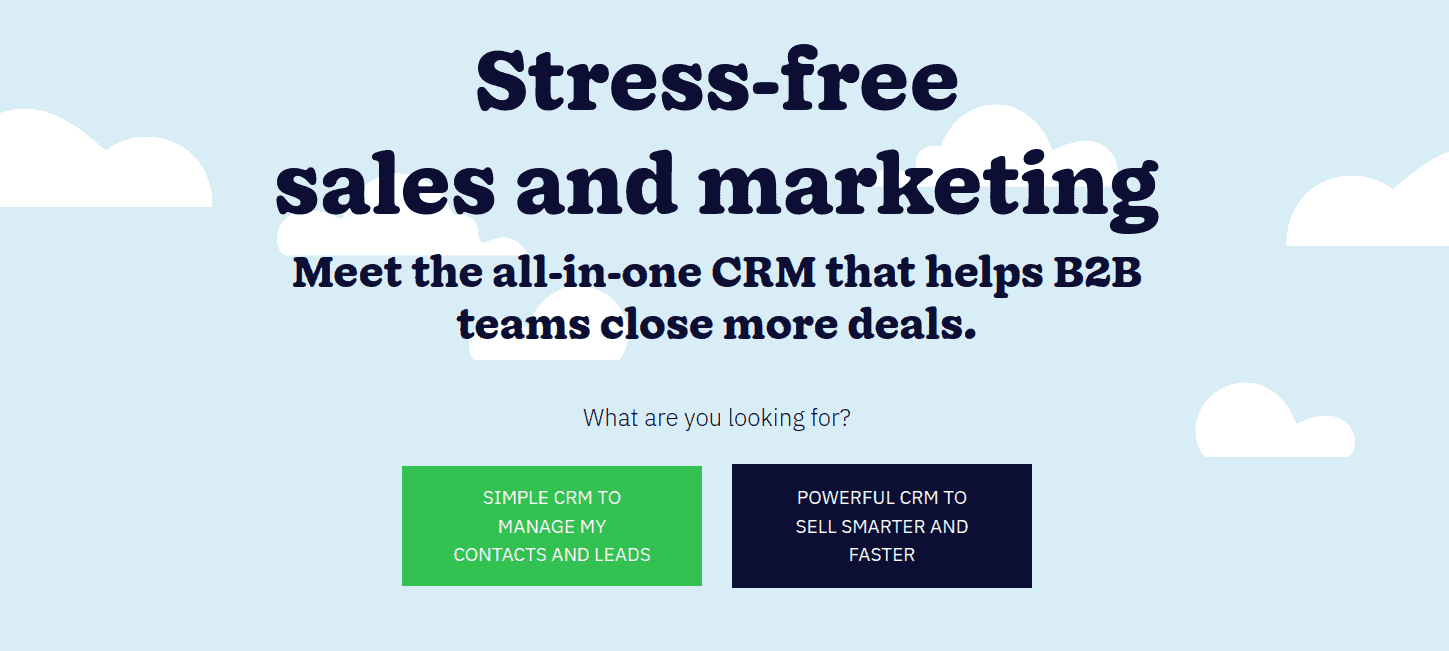 Are you a B2B team that doesn't close enough deals? Nutshell's marketing, sales, and CRM solutions can change that. You can build more forms, use automation, and streamline your sales and marketing processes.
Nutshell is an award-winning CRM with accolades from GetApp, Capterra, and Software Advice.
Features
Here are the features that got Nutshell a spot on this list of the best Zoho alternatives.
Sales automation: Automating your sales pipeline is easy with automated drip sequences, one-click integrations, and automatic pipeline advancements.
Email marketing: Deploy effortless email marketing campaigns with automation within Nutshell. The software includes a personal email sequence tool for writing and scheduling sales drips without a second thought.
Contact management: No matter where your contacts come from, you can import them into Nutshell, even if your contacts are scattered across emails, your calendar software, and your contacts list.
Analytics and reporting: Better understand what you're doing right and wrong in your campaigns with Nutshell analytics and reporting. You can also manage sales performance in the dashboard, reviewing KPIs including performance, closed deals, quotas, and more.
Pricing
Nutshell only has two pricing plans, the Foundation plan and the Pro plan.
The Foundation plan for $16 per user per month when billed annually includes features like:
Activity reminders
Embeddable web forms
Interactive lead map and drag-and-drop pipeline board
Lead and sales reporting
Custom single sales pipeline
Email and calendar syncing
Communication timelines
Contact management
To expand upon Nutshell's services, try the Pro plan for $42 per user per month when billed annually. You get all the above great features and:
Unlimited in-app phone recording and dialing
The full recording suite with Forecast, Funnel, and Activity reports
Activity and sales quotas
Personal email sequences
Unlimited pipelines
Sales automation
Read also: The 7 Best CRM for Startups in 2023 (Pricing, Features)
Conclusion
Zoho is not the friendliest solution for small businesses. There are plenty of alternatives to Zoho, and some of them are really just great!
Among all Zoho alternatives, EngageBay offers all-in-one marketing, sales, and customer support software in the most affordable package. This is because EngageBay was built as a one-stop solution for small business owners to grow their revenue.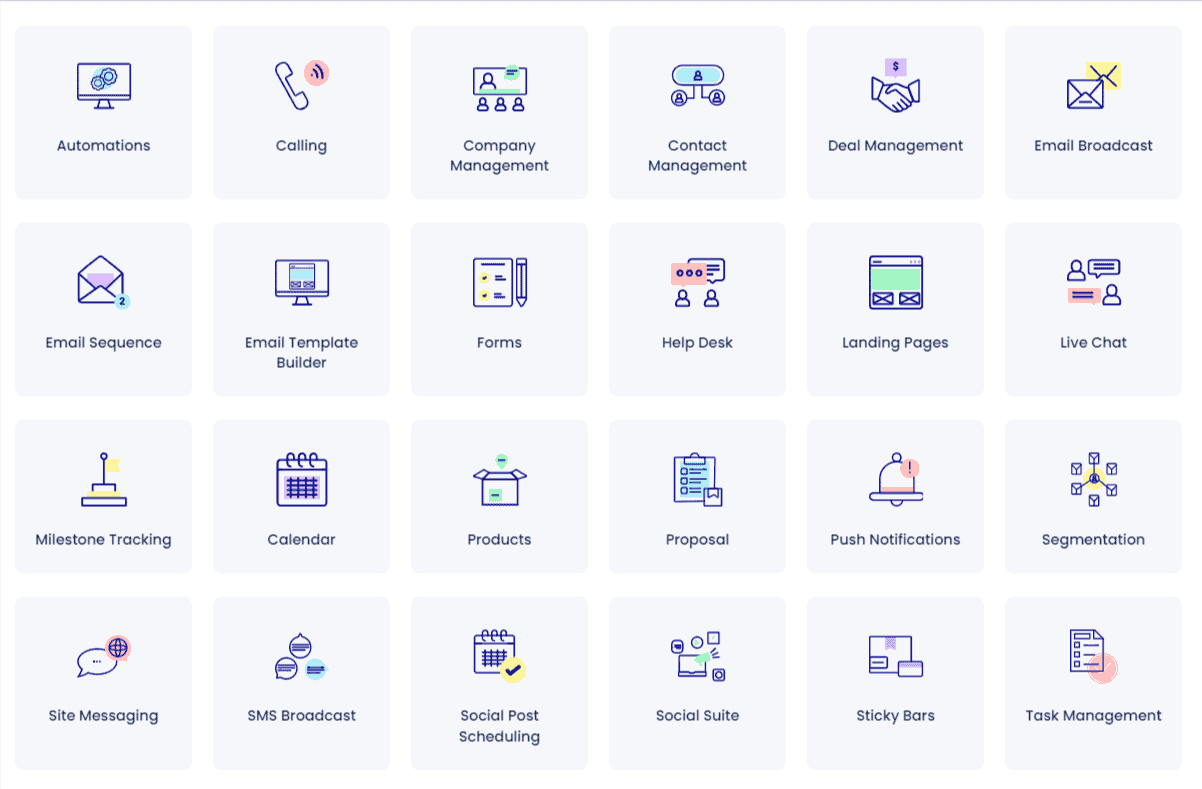 EngageBay comes packed with features your small business needs to grow, such as lead scoring, contact management, marketing automation, sales pipelines, and in-depth analytics. Try it today.