Did you know that in 2020, roughly 29 percent of companies and brands didn't bother with lead nurturing once the lead made their initial purchase? It's true!
Those are really disappointing numbers. To build a lead into a long-term customer, you have to be dedicated to nurturing that professional relationship once you establish it.
This is ideally something you should commit to over the lifetime of your relationship with the customer.
If you too are guilty of not doing the most to nurture your leads, that's okay. There's always time to build a rock-solid lead nurturing strategy, beginning with this post.
In this post, we'll discuss the importance of lead nurturing, the types of leads, as well as tips and best practices for formulating your lead strategy.
What is Lead Nurturing?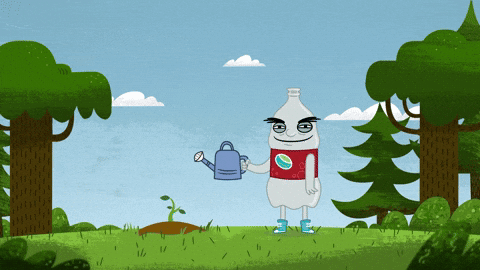 Let's start this article with the definition of lead nurturing.
Lead nurturing is the process of engaging and building relationships with potential customers by providing relevant information even if they are not currently looking to buy your product or service.
In other words, lead nurturing is the act of building relationships with a specific demographic of people in the hope they'll eventually buy the products and/or services your company sells.
Lead nurturing is most often accomplished through the strategic use of email marketing, social media, and paid advertising campaigns.
When a user enquires about your product, he or she is not going to commit based on just the first interaction.
With a number of alternatives in the market for them, you need to be more convincing while working to make a lead into a prospect.
Why You Should Nurture Leads
Why should your company invest time and resources into developing an effective lead nurturing strategy? Well, because lead nurturing has many benefits. Here are three of the most important ones:
1. Lead Nurturing Produces More Sales
According to Marketo, 50% of the leads in any system are not yet ready to buy. This means that without lead nurturing, half of the prospects your company engages with on a daily basis will be lost, never to be heard from again.
Think about all the effort that goes into making a sale. Lead nurturing will help to ensure your hard work bears fruit by allowing your company to build relationships with its target market and produce more sales at a consistent clip.
2. Lead Nurturing Generates Great Brand Authority
Lead nurturing will also help your organization generate greater brand authority. By sending your leads relevant content on a consistent basis, they'll learn to trust your company.
This trust often translates into stronger customer loyalty.
Studies prove that it costs five times as much to acquire new customers as it does to keep existing ones.
The brand authority you generate via your lead nurturing efforts will allow your company to increase repeat buyers and boost profitability.
3. Lead Nurturing is Cost-Effective
Lastly, lead nurturing is a cost-effective way to increase sales — both now and in the future, as we've just seen. How cost-effective? Referring back to Marketo, organizations that excel at lead nurturing generate 50% more sales-ready leads at a 33% lower cost.
Every company wants to boost sales. Lead nurturing will give you the opportunity to do so without forcing you to raise your marketing budget. Win!
Here's is an animated video which explains five important steps to ensure success in lead nurturing.
What Are the Types of Leads?
You're well aware that a lead is someone who is familiar with your company and even your products and services but has yet to progress past that point.
They could even be interested in what your company sells, but until they buy, they remain in the lead category.
Not all types of leads your company encounters will be the same. Here are the various types of leads.
Cold, Hot, or Warm Leads
Marketers generally classify leads based on their interest in a product or a service. Hot leads are the ones who have not only shown interest in a product but have also decided on a time frame for its purchase.
Leads that have shown an active interest in a product but have not decided when to make the purchase can be classified as warm leads.
Leads whose contact information is within the company but in which you have not interacted are called cold leads.
The goal is always to turn cold leads hot or at least warm.
Suspects
Suspects can be any individual that can potentially be in need of your product or service. You can't even tell if a suspect is actually interested in your product without more vetting.
Information-Qualified Leads
Any lead which provides their contact information in exchange for some resource such as an eBook, brochure, or any other top-of-the sales funnel offer is known as an Information-Qualified Lead (IQL).
They usually do not know anything about the company, but you can change that.
Marketing-Qualified Leads
When marketing efforts trigger any user to take action, these leads are called Marketing-Qualified Leads (MQL).
They could have attended a webinar, responded to an online advertisement, or contacted your company to know more about you after seeing a flyer.
Sales-Qualified Leads
Typically, a Sales-Qualified Lead (SQL) in one who has been contacted by a sales representative, and the conversation triggered an actual opportunity.
You should constantly follow up with SQLs as they have the highest potential of converting.
What Is a Lead Nurturing Campaign? Our 8 Best Strategies
The main aim of a lead nurturing campaign is to keep the lead engaged with your company.
You can use email drip campaigns to automatically send lead nurturing emails at regular intervals. Generally, over a span of 60 days, three to five emails are sent.
However, you can alter the frequency of emailing based on your needs. Remember that if audiences find your emails too salesy, they will simply prefer not to open the email and may even redirect them to spam.
To improve the success rate of your lead nurturing campaigns, you can:
Give offers and discounts
Share a personal story that people can relate to
Redirect users to content on your website that people might be interested in
Send emails about things that are relevant to subscribers
Here is a guide we have prepared on how to write awesome promotional emails. Do check it out if you have yet to read it!
Now that you are clear with all the basics and important terms related to lead nurturing, here are our 8 best lead nurturing strategies that will help you succeed into 2021 and beyond.
1. Lead Scoring
When scoring a lead, you give points to each lead in your database based on certain parameters that will decide his or her potential value to the business.
With this mechanism, you can determine whether a lead should be passed over to the sales team.
To score a lead, you can take various factors into consideration such as:
The demographic information, including age, occupation, and lifestyle
The number of times a lead visited your website and which pages they visited the most
Their areas of interest
The opening rate of nurturing emails
Time spent on emails and your website
Opt-in forms filled out
Registration for events such as webinars
Social media activity with reference to your brand
Identify your most potential leads with EngageBay's powerful Lead Scoring feature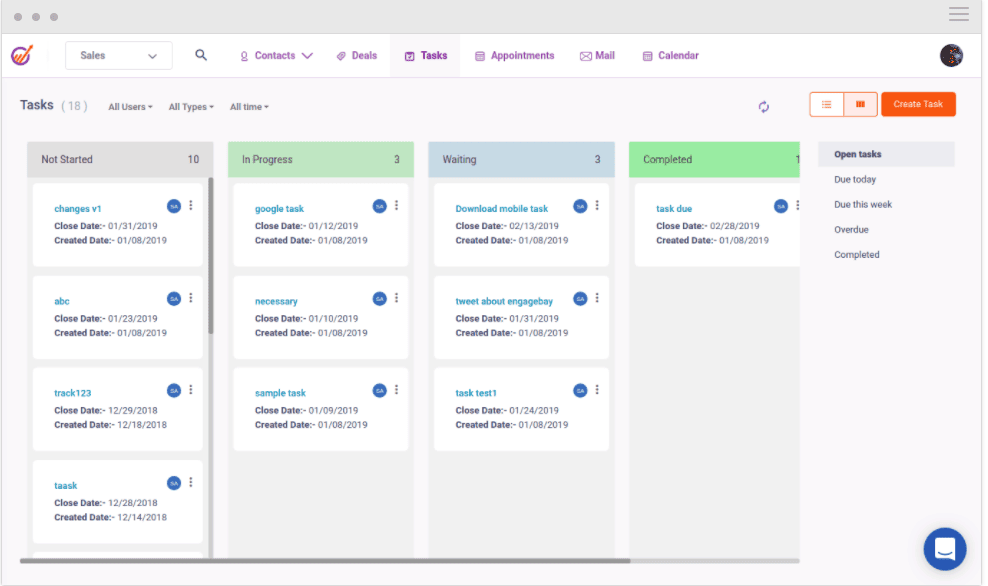 Lead scoring helps companies understand which leads have a higher potential for converting and ensures that time is not wasted trying to close a deal that has no significant value.
To communicate effectively with leads, you must know about their areas of interest and their relationship with the company.
2. Personalization
In the case of lead nurturing, personalization refers to the use of lead-specific data to customize the content sent to them.
Any data such as their name, location, or purchase history that you have in your database can be utilized for these purposes.
Personalization has become the heart of email marketing strategies. A study by MarketingLand suggests that personalized email campaigns perform around six times better than non-personalized ones.
Personalization is an extremely powerful weapon in your lead-nurturing arsenal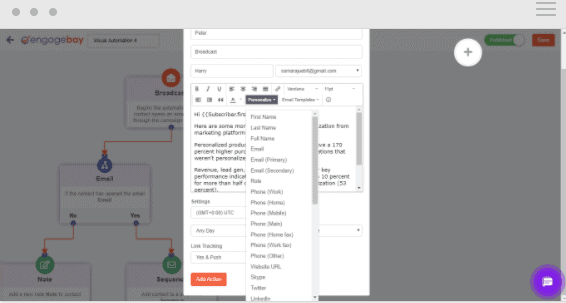 You can incorporate personalization into your lead nurturing campaign in a number of ways.
You might address your leads by name in the promotional emails you send. If you start an email by saying 'Dear John' instead of 'Dear Customer', it would make a greater impact.
The email would feel more like it is sent by a relative or a friend than a company.
You can even include details about the lead's location in your email. You might suggest products that are particularly relevant to where the lead resides.
3. Targeted Marketing
Apart from personalization, it is essential to segment your list so that lead nurturing content reaches only a specific group of users. After all, there isn't a single strategy that can fit all types of leads.
Most CRM systems have valuable information about a lead that you can use when creating a targeted approach.
The more information different sources give you about leads, the more accurate your tailoring can be. If your leads can closely relate to the content you're sending them, the chances are converting into a sale are high.
You can gain valuable insights into your audiences by reviewing their social media activity, using keyword research to identify topics of interest, filtering databases to find what customers like the best, interviewing them, or asking them to fill surveys.
4. Start Lead Nurturing as Soon as Possible
Timing is one of the most important factors to be considered while developing an effective lead nurturing campaign.
Consumers generally want brands to contact them quickly and expect speedy responses to their queries. For example, if a lead subscribes to your list, you can immediately send them a welcome email and thank them for signing up. This will vastly improve your relationship with that lead.
To gauge the time taken by the companies to respond to a web-generated lead, Harvard Business Review conducted a survey in which they audited 2,241 U.S companies and found that only 37 percent responded to their lead within an hour. Another 16 percent responded within a day and 24 percent took more than a day to respond.
Astonishingly, 23 percent of the companies never responded at all.
Within the companies that took more than 24 hours to respond, the average response time was 42 hours. The data even discovered that contacting a lead with the first hour can be seven times more effective than contacting them an hour later.
As compared to companies that waited 24 hours or longer, responding within one hour gave results that were 60 times better.
5. Use Interesting Images and Clear CTAs
As users move through the sales funnel, images can be used to grab their attention and build trust. People tend to remember things better when they are delivered along with graphics.
Rather than relying on generic stock photos, use your own graphics and ensure that they are in close association with the purpose of your lead nurturing marketing campaign. Moreover, leverage AI image generators and other image editing tools to craft unique and engaging visuals tailored to your brand's identity and messaging.
Adding CTAs is the differentiating factor between losing a lead and converting one. Even if your entire message is compelling and encourages your leads to take action, if they don't understand what step to take next, the entire lead nurturing process will fail.
Your CTA should be clearly visible in the design of the email. Typically, it is preferable to have just one CTA, however, if you want to want to include more than one, ensure they all serve distinct purposes.
6. Engage in Multi-Channel Lead Nurturing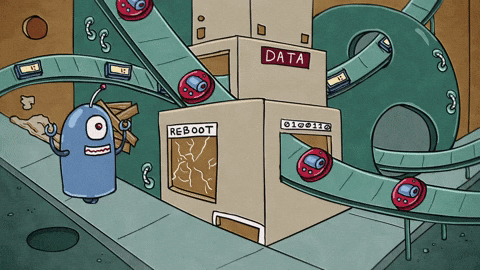 Emails are a great way of nurturing leads. You get to directly communicate with your leads and answer their questions.
However, The State of B2B Lead Nurturing Survey by Oracle suggested that four out of five marketers say their email open rates are lesser than 20 percent.
Thus, we can see a clear necessity to move beyond the inbox and be present on other online platforms.
As a result, you need to develop a lead nurturing strategy that sends messages to your leads not just using one channel but all the channels that are relevant to your leads.
Multi-channel lead nurturing is the act of using various devices, touchpoints, and platforms to communicate with your leads. Some of the ways you can interact with leads are:
Social media
Blog posts
Retargeting ads
YouTube videos
Webinars
Podcasts
Each channel mentioned above has a different user base. This way, a person who doesn't like to read blog posts could be interested in watching videos or listening to podcasts.
All in all, the main aim of multi-channel lead nurturing is to connect with leads via as many streams as possible.
7.  Marshal Your Sales and Marketing Efforts
According to research by the Sales Performance Optimization Study of 2014, 89 percent of companies who aligned their sales and marketing efforts saw a notable improvement in the number of leads that actually converted into opportunities as a result of continuous lead nurturing efforts.
It is highly important for the sales team to take action while the lead is still interested in the product.
However, since the marketing and sales teams have different goals and roles, aligning them to work seamlessly is quite a task.
To prevent any misunderstanding between the two teams, the expectations and responsibilities in the SLA should be clearly outlined.
Lead scoring can help a lot in strengthening the revenue cycle. However, it can only be effective when both teams come together to design the scorecard.
We have already discussed the different types of leads. Traditionally, the marketing team defines the characteristics of an MQL and the sales team comes up with the parameters of an SQL.
However, sometimes this makes the sales team think that the marketing team is passing over unqualified leads to them. To prevent such misunderstandings, both teams should come together to outline the policies for leads.
8. Monitor the Interest of Leads in Your Product
If your leads are gradually losing interest in your product, there is no point in nurturing them. You have to convince them that your product or service is better than your competitors.
While you are trying to interact with them, identify and understand their behavior, and then judge how much they are interested in your product or company in general.
To estimate the interest of leads in your product, you can:
Check the open and click-through rates on your nurturing emails
Examine what they are saying about your brand on social media
Check the insights of your website, and most importantly, the product landing page
How to Develop an Effective Lead Nurturing Strategy in 5 Steps
We've covered what lead nurturing is and why it's important. Now it's time to discuss how to develop a lead nurturing strategy for your company.
Follow the 5 steps below and you'll be able to effectively nurture your leads, from new prospects to paying customers.
1. Understand Your Ideal Customer The first step toward developing an effective lead nurturing strategy is to acquire a deep understanding of the unique customers your company serves.
Who is your ideal buyer? The answer to this question will help you identify the most high-value leads, pinpoint the specific needs they have, and engage them with relevant content.
You can't nurture your leads if you don't understand who they are.
If you haven't already, take the time to develop in-depth buyer personas that include both demographic and psychographic information.
But don't stop there!
To properly nurture your leads, you also need to map their path from initial contact to paying customers. This is a process known as customer journey mapping.
Ask yourself what your prospects are thinking at each stage of your sales funnel. When you know your lead's thought processes, you can create relevant content for them to consume at the right times. 
2. Invest in Lead Nurturing Tools
Your lead nurturing efforts will be much more effective if you use technology to assist you. Here are a few must-have tools to help you build relationships with your target audience:
CRM Software
Customer Relationship Management (CRM) software is designed to help companies collect and organize important prospect details.
Use intelligent reporting to break down key metrics with EngageBay's free CRM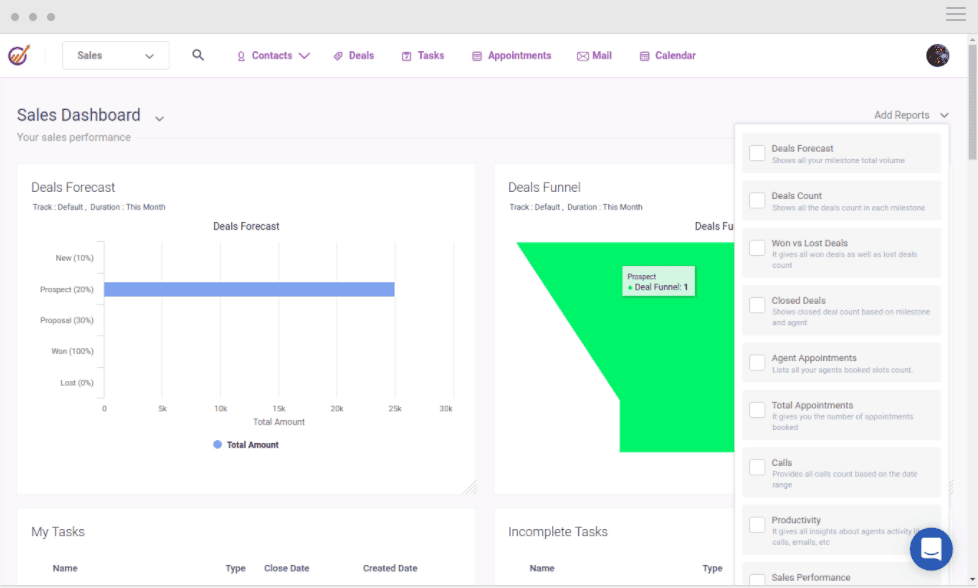 While this may seem like a simple task, CRM software has been proven to increase sales by 29%, boost sales team productivity by 34%, and shorten sales cycles by as much as 14%. In fact, an investment in CRM has an average ROI of 871%.
Most tools in this category will allow you to easily store lead contact information, track their place in your sales funnel, and streamline communication.
Advanced tools like EngageBay will also give you access to additional marketing options like marketing automation, landing page builder, and appointment scheduling capabilities.
CRM software is crucial to lead nurturing. Without it, you won't be able to create a detailed prospect database, accurately track and score leads, and segment potential buyers into like-minded groups for your company.
Email Marketing Software
Email marketing is usually the best (and easiest!) way to nurture your leads. This is true for a variety of reasons, including prospect preference and return on investment (ROI).
Studies show that 86% of business professionals and 73% of millennials prefer to use email for business purposes. This is especially pertinent information if you operate in the B2B niche.
Furthermore, the ROI of email is an astounding 4,200%.
With this in mind, it's important for your company to invest in a quality email marketing platform to nurture leads. 
We should mention that some CRM platform like EngageBay have built-in email capability as well. Should you invest in a CRM app that does, you won't need to pay for a separate email marketing tool.
This will streamline the lead nurturing process for your company and save you money.
Social Media Management Software
Social media is a great way to connect with and engage your company's leads.
By sharing compelling content on Facebook, Instagram, and other popular social platforms, you'll be able to nurture your leads even if you don't have their contact information.
Create a Stream and keep up to date with content across your social networks with EngageBay's Social CRM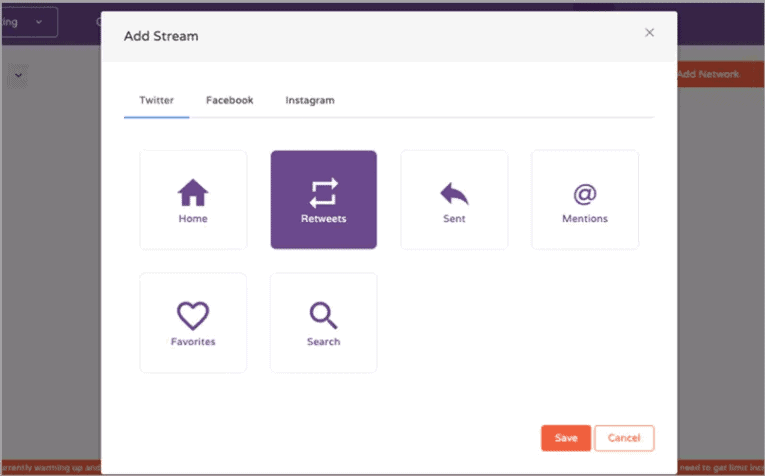 However, posting regularly to social media can become tiresome. A social media management tool will allow you to quickly schedule posts for the future.
Word-of-mouth accounts for 20 percent to 50 percent of all purchasing decisions. Since most people spend their time talking on social media these days, a viable social media strategy that effectively nurtures leads can have major sales implications.
3. Create Relevant Content
At this point, you should have a deep understanding of your ideal prospects and a few lead nurturing tools to help you stay in contact with them. Now you need to create content to send to your leads on a regular basis.
Content options could include email sequences, blog posts, downloadable resources like eBooks and infographics, video tutorials, or anything else that will bring value to your audience.
Make sure to create content for each stage of the buyer's journey that you outlined earlier. This will allow you to seamlessly nurture leads from one stage to the next, allowing them to further engage with your brand at each step.
Here are some content examples for a few general buyer's journey phases:
Top of the funnel: At this stage of the funnel, new prospects are beginning to engage with your brand. Support this process by creating educational content like blog articles, videos, and social posts that will boost your SEO efforts.
Middle of the funnel: When prospects hit the middle of the funnel, they'll be evaluating your company's offerings to see if they're worth purchasing. Support this process by creating product-oriented content like case studies, eBooks, and webinars.
Bottom of the funnel: The bottom of the funnel is your best chance to turn qualified prospects into paying customers. Support this process by creating product demonstration videos, sales pages, and discount offer campaigns.
As you can see, understanding your customers and the needs they have at each stage of the buyer's journey is essential. Without this knowledge, you won't know what kind of content to create or when to distribute it.
4. Automate Your Process
Once you've created content for each stage of the buyer's journey, you can distribute it to your leads. But what if you have hundreds of prospects in your database? Nurturing each of them on an individual basis isn't realistic.
The next step in the lead nurturing process is to automate your communications. That way every prospect gets the exact content they need when they need it.
For example, if you're using an advanced CRM software like EngageBay, you can automate the tool to send emails and SMS messages based on a prospect's individual behaviors and actions.
You can even put specific rules and regulations in place to ensure your automated messages are always sent at the right time and to the right leads.
Automation is incredibly important to the lead nurturing process. For one thing, it will help your sales and marketing teams become more productive.
It's also been proven to boost lead management and nurturing efforts by 86 percent.
No matter which tools you use, make sure to spend time perfecting your automated sequences.
That way, you can ensure that emails, texts, and social messages always reach your audience when they should.
5. Analyze, Optimize, Repeat
Finally, you need to analyze your lead nurturing efforts and search for ways to improve them.
Are your email drip campaigns getting opened and read? Is your content resonating with your leads in powerful ways? How many prospects have you been able to successfully nurture with your current tactics?
Take a close look at every aspect of your lead nurturing program to ensure each is operating correctly. If you find problem areas, address them as quickly as possible.
Lead Nurturing Best Practices
If you followed the steps above, you'll be able to effectively nurture your leads. But if you really want to kick the lead nurturing process into high gear, keep these lead nurturing best practices in mind:
1. Seek Additional Input
Seek out customer details from marketing, sales, and customer support departments. They're bound to have valuable information that you don't. Then take the knowledge you glean and use it to improve your lead nurturing efforts.
2. Personalize Your Communications
Automation will allow you to nurture leads at scale. Imagine typing out hundreds of emails by hand every day. It's unsustainable and definitely not a good use of your time.
But automated messaging can feel robotic and impersonal if you're not careful. Personalize your communications by segmenting your audience in your lead nurturing tools of choice. Then only send them messages and content that's relevant to their interests.
3. Don't Overwhelm Your Leads
The amount of lead nurturing you do is very important. The trick is to find an outreach cadence that keeps your company top of mind without becoming intrusive.
The optimal amount of communication between you and your leads will vary depending on your industry and unique audience.
Experiment with different outreach cadences to find the perfect communication frequency for your organization.
Avoid overwhelming your leads

Nurture Leads Into Customers
An effective lead nurturing strategy will help your company produce more sales and generate greater brand authority without having to dramatically increase its marketing budget.
Conclusion
Lead nurturing is a time-consuming process. You cannot expect great results overnight, or even in a week or a month. It requires a lot of dedication, hard work, and an understanding of how business processes work.
Now that you're more familiar with everything you need to do to create a lead nurturing strategy, you're ready to make 2021 your most productive year yet!