Choosing the right marketing platform can be quite daunting, with all the different competitors, pricing plans, and features out there.
While Wishpond is a great platform, it has considerable downsides — especially for smaller businesses and startups.
This begs the question: what other platforms can replace Wishpond and offer better value for money?
Here, we'll show you why you might be better off considering an alternative to Wishpond – without burning a hole in your wallet:
EngageBay
HubSpot
ActiveCampaign
Sendinblue
AWeber
An Overview of Wishpond
Wishpond is an all-in-one CRM suite to help businesses thrive in a competitive environment.
With millions of leads generated by its customers, Wishpond's features include marketing automation, call tracking, lead management, advertisements, and a landing page builder.

Wishpond Pricing
Wishpond offers a three-tiered pricing plan, named rather funkily:
Starting Out
Everything You Need
Rapid Growth

The 'Starting Out' plan is priced at $49/month and includes email drip campaigns, marketing automation, landing pages, social contests, and so on.
The intermediate 'Everything You Need' plan is the most popular one, with features such as A/B testing, APIs, and 2,500 leads in addition to the beginner plan features.
This plan starts at $99/month.
The advanced 'Rapid Growth' plan starts at $199/month for 100,000 leads and goes up to $2,989 for 1 million leads.
Features include customer support and coaching, and all the features from the lower-end plans.
The Cons of Wishpond
Wishpond's biggest drawback is its pricing.
As your business grows and you bring in more leads, you will need a bigger plan. Once you get past 2,500 leads on Wishpond, it gets costly.
For example, you only pay $49/month for 1,000 leads. However, you need to pay $603 if you need to store more than 100,000 leads.
Small businesses and startups may find this price tag quite hefty.
But there's a bigger drawback: Since Wishpond does not offer sales and customer support tools, you cannot get a 360-degree view of your customers.
That's why we've compared the best Wishpond alternatives to help you find the one that fits your needs perfectly.
User Reviews of Wishpond
Have a look at some of the experiences users had with the platform:



Read also: Sales Analysis — Definition, Types and Why It's Important for Business
The Top 5 Worthy Wishpond Alternatives
To put your mind and wallet at ease, we have compiled a list of the five best alternatives to Wishpond.
Let's compare their features, pricing, pros, and cons to help you arrive at an informed decision.
Here are five Wishpond competitors:
EngageBay
HubSpot
ActiveCampaign
Sendinblue
Aweber
Let's start, shall we?
The first Wishpond alternative on our list is EngageBay.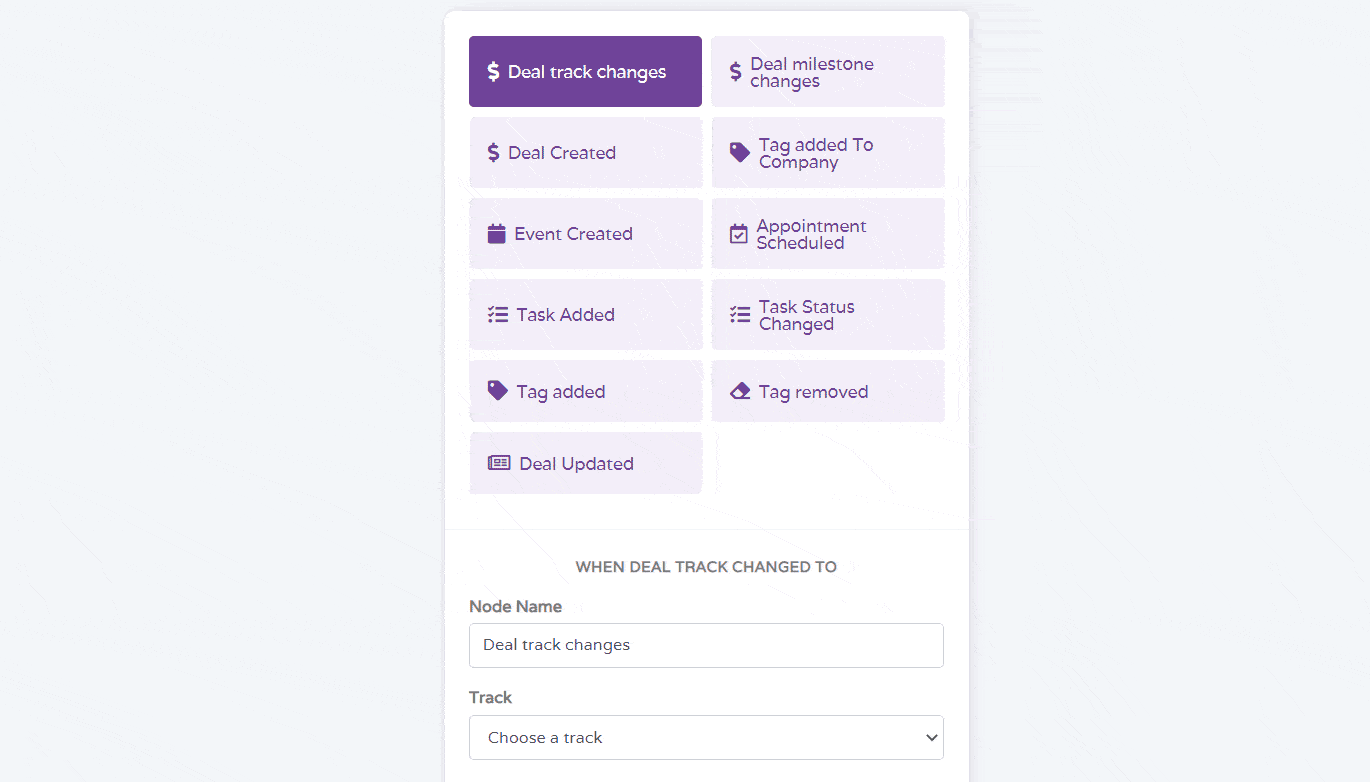 Designed as an affordable alternative to expensive platforms like Wishpond and HubSpot, EngageBay is an all-in-one marketing, sales, and customer support software with free unified CRM.
Features
EngageBay is neatly categorized into three sections, called 'Bays.'
Marketing Bay
This bay has everything you need to make your marketing campaigns a success.
With EngageBay's automation tools, you can use triggers to automate tedious and repetitive tasks – thus offering a significant boost in productivity and efficiency.

You can also build landing pages and forms from scratch using EngageBay design tools or choose from templates.
With a plethora of metrics, reports, and data, you can stay ahead of your competition by creating compelling and crisp marketing content.
Sales Bay
Building deep and meaningful relationships with your customers should be your foremost goal if you want to grow your brand.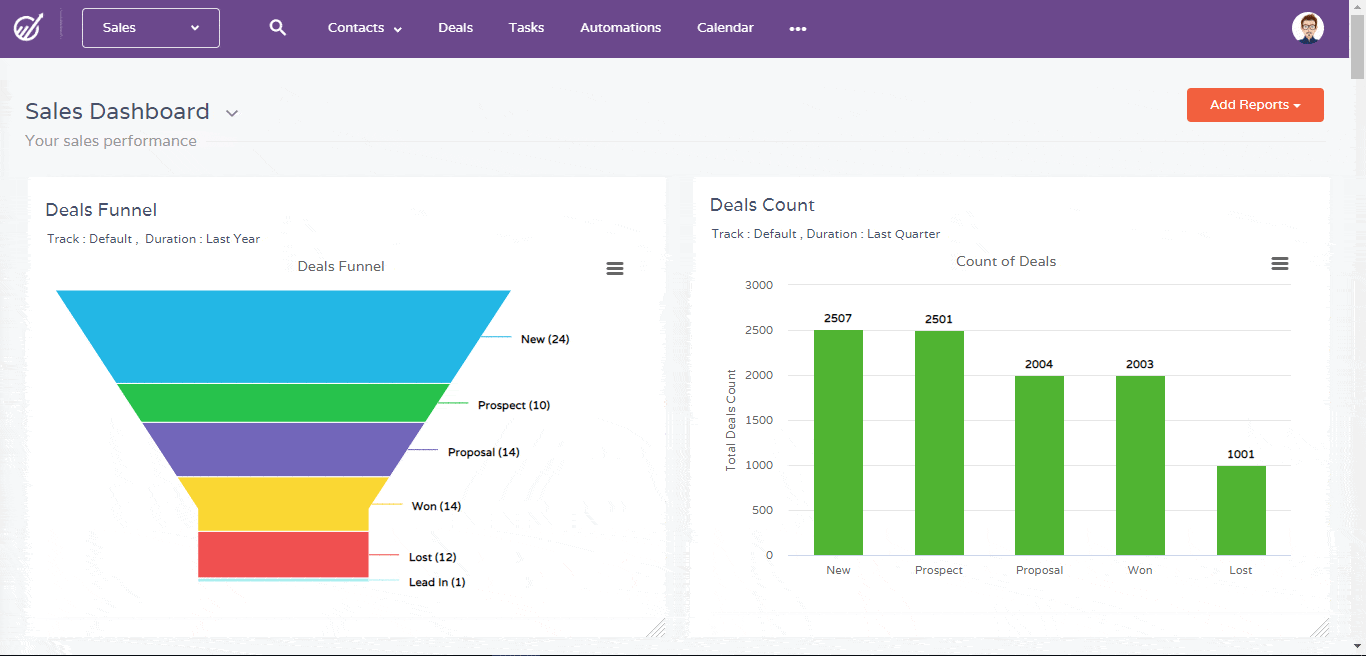 With EngageBay's cutting-edge sales tools and free CRM, you can do just that.
Features like deal pipeline, appointment scheduling, and task management streamline your sales processes.
Service Bay
Track and solve problems, issue tickets, and get insightful reports through EngageBay's service bay.
Access a comprehensive list of tools like automation, macros, canned responses, and support groups from the Service bay dashboard.

You can interact in real-time with your customers through Live Chat.
Since it saves and logs all your current and past conversations, you can easily classify them using different lists.
Additionally, canned responses let you set up pre-fabricated answers to live queries — this produces a smoother customer service experience.
You can check out EngageBay's official demo in the video below:
Pros and Cons
Let's check out EngageBay's pros and cons:
Pros
The best value for money platform
Free CRM
Free-forever plan with a host of useful features
Free migration and onboarding session
Easy to use interface because of neatly categorized bays

Cons
EngageBay has limited third-party integrations. However, this is set to change as EngageBay is adding new ones all the time
Pricing
Now, the pricing.
As mentioned above, EngageBay is one of the most affordable all-in-one platforms.
With a four-tiered pricing plan, fledgling and established businesses can find the right fit.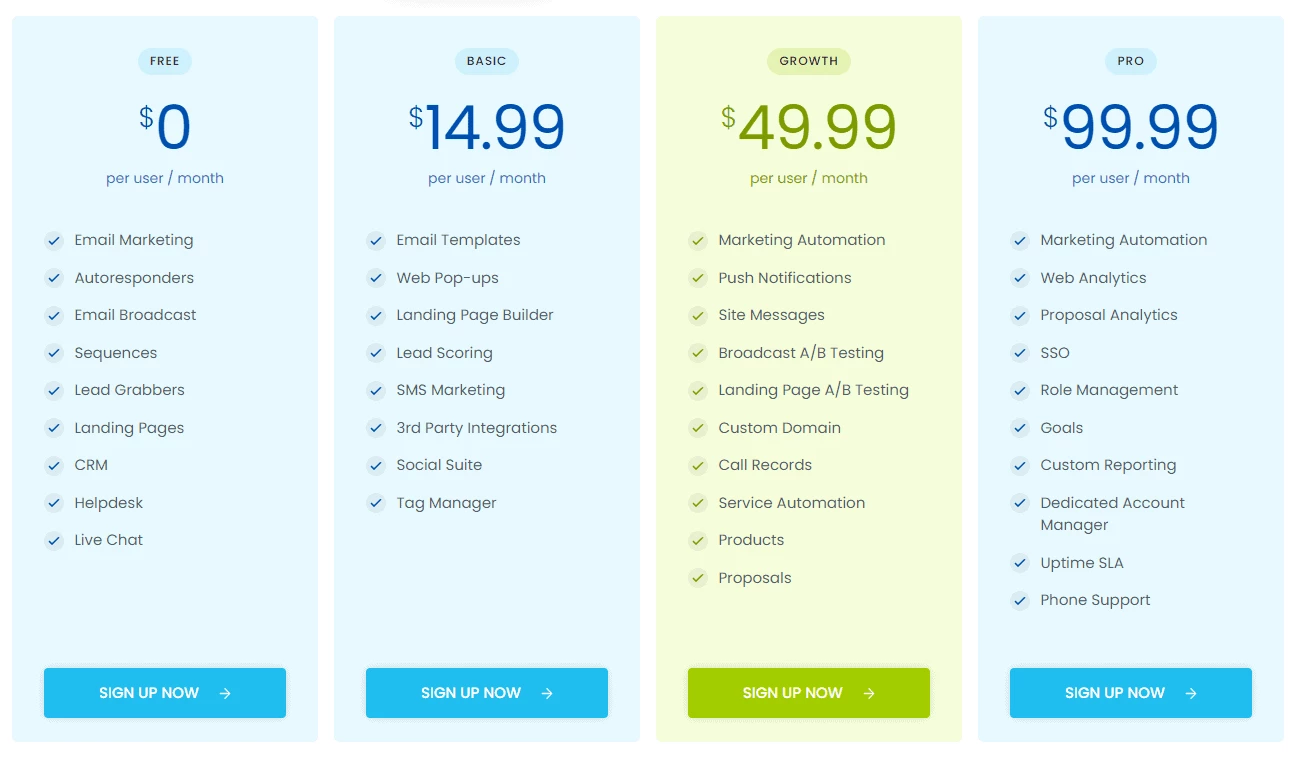 Free All-in-One Suite
Unlike other platforms with hidden caveats, EngageBay's free plan is truly free.
You get access to these features for $0:
Tag management
Tasks and deals
Email tracking
Outlook and Gmail integration
Predictive lead scoring.
1,000 contacts
1,000 branded emails
All-in-One Basic Suite
Starting at $14.99 per month, the Basic plan entails the following features:
1GB cloud storage
Canned responses
Social suite
Lead scoring
Conversational inbox
3,000 branded emails
1,000 contacts
All-in-One Growth Suite
Starting at $49.99 per month, the Growth plan features these incredible tools:
A/B testing
Triggers, automation, workflows, and nodes
Custom domains for landing pages
Custom deal tracks
Proposals
Leaderboards
25,000 branded emails
10,000 contacts
All-in-One Pro Suite
This is the most advanced and expensive plan offered by EngageBay – while still being more affordable than Wishpond and other alternatives.
The plan costs $99.99 per month and offers:
Goals
Call scripts
Custom reporting and role management
Web analytics
50,000 branded emails
Unlimited contacts
Read also: 11 Tested Tips to Improve Open Rates Through Email A/B Testing
Founded in 2006, the company quickly rose through the ranks as the go-to marketing and email automation tool for larger enterprises.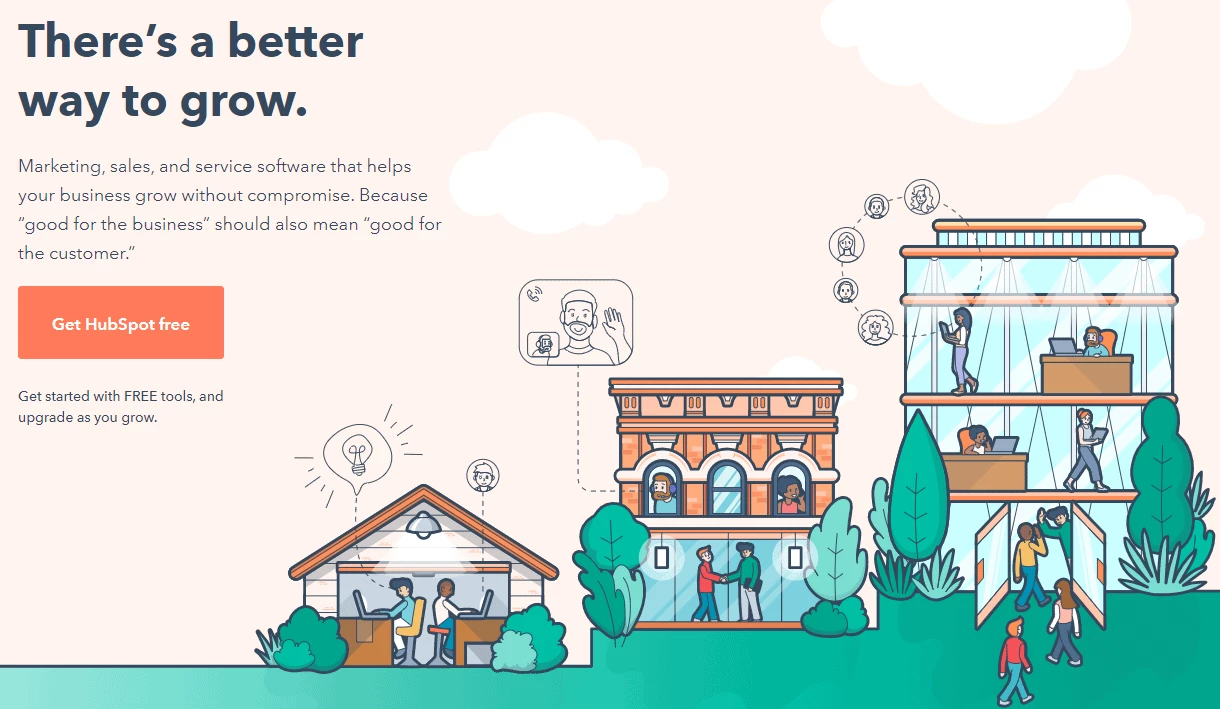 The company offers free CRM and a host of other ideal features for businesses – making HubSpot a great Wishpond alternative.
Features
HubSpot offers both standalone and bundled plans. Here are the key features of the bundled CRM plans.
All-in-One Suite
HubSpot's tools include marketing automation to tailor content, multi-channel marketing campaigns, and tailored recommendations based on customer behavior.
From lead management, analytics, SEO, and partitioning, HubSpot offers it all.
You can quickly monitor and track conversations, engagements, and brand mentions.
Additionally, HubSpot offers on-the-go optimization tips and advice when creating content – thus increasing search engine ranks.
Workflows
Advanced segmentation and targeted workflows can help create personalized campaigns.
You can also create visual and intuitive workflows for campaigns. Nurture leads by automating workflows that use available customer data to produce relevant marketing material.
Templates
You can save time and increase productivity using HubSpot's email templates. Email customizations based on customer preferences can also add a personal touch.
Pros and Cons
Since HubSpot is a two-edged sword, let's look at its pros and cons.
Pros
Feature-rich and useful dashboard
Plethora of functionalities
All-in-one platform with marketing, sales, and customer support tools.

Cons
Get very expensive quickly
Lower-end plans have limited features
The standalone setup might not be practical

Pricing
Hands down, HubSpot is one of the most expensive email automation platforms out there.
They offer both bundled and standalone plans.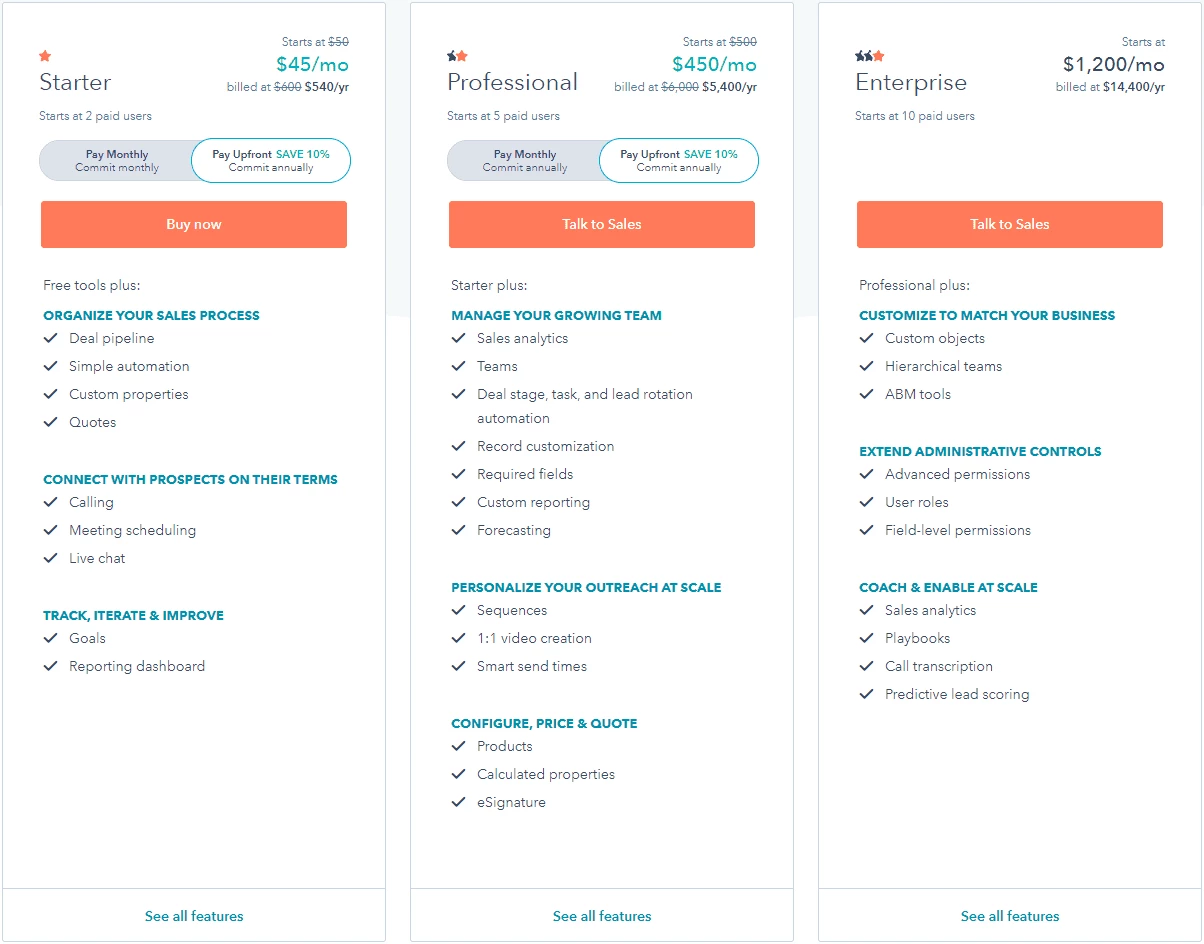 Bundled plan pricing is as follows:
Starter Suite
This plan starts at $50 per month and offers these features:
Email marketing
List segmentation
Conversational bots
Mobile forms
Calling features
Meeting scheduling
Deal pipelines
Conversation routing
Canned snippets
Simple automation
Professional Suite
Pricing starts at $1,600 per month and offers the following:
A/B testing
Video management and hosting
Custom reporting
Website traffic analytics
Single Sign-On (SSO)
Recurring revenue tracking
Enterprise Suite
This is the top-end plan with a starting price of $5,000 a month.
Features include:
Events API
Webhooks
Salesforce integration
Multi-touch revenue attribution
Call transcription
1:1 video creation
Conversational routing
HubSpot also has a free plan with limited features, including email marketing, ad management, a dashboard, forms, and live chat.
Read also: 8 Fantastic HubSpot Alternatives for Small Businesses
Let's check out the third Wishpond alternative on our list – ActiveCampaign.

This marketing automation platform offers its users tools like CRM, email marketing, and machine learning.
Features
With a robust collection of features, ActiveCampaign is a fantastic alternative to Wishpond — especially considering the massive third-party integration library ActiveCampaign offers.
Marketing Tools
With ActiveCampaign, you get access to powerful tools for your marketing needs, like goal tracking, automating forms, email follow-ups, and so much more.
ActiveCampaign also has email marketing tools like automated funneling, broadcasts, and autoresponders. Making automated workflows is relatively easy with ActiveCampaign.
Sales
You can schedule events and appointments using integrated Google and Outlook calendars.
With ActiveCampaign's advanced CRM features, you can segment your audience based on customer attribution and other factors – thus implementing personalized campaigns.
Machine Learning
This unique feature allows you to set up predictive sending, split automation, and advanced conditional content.
With ML, you predict customers' preferences and send the right email at the right time – making for exceptional campaigns.
Messaging
With website messaging, you have the tools to put your business out to your audience and connect with them on a deeper level.
With features including a feedback system, engagement tracking, and product recommendations, you can increase revenue and brand perception.
Additionally, you can create Facebook audiences to create customized and targeted ads.
Pros and Cons
Now let's talk about the advantages and drawbacks of using ActiveCampagin for your business.
Pros
An affordable lite plan tailored for many small businesses and startups
800+ powerful third-party integrations
Cons
Does not have a free plan – making it hard to play with ActiveCampaign's features. The 14-day trial period is not enough for many businesses to make an informed decision about the platform
Though the lite plan is affordable, others get quite pricey.
Pricing
ActiveCampaign has four plans: Lite, Plus, Professional, and Enterprise.

With the Lite plan, you get access to the following and more:
Marketing automation
Site tracking
Automation
Social media tools
Newsletter
Data migration
Autoresponders
Contact importing
The Lite plan pricing starts at $9 per month for 500 contacts and goes up to $549 per month for 100,000 contacts.
The Plus plan starts at $49/month for 500 contacts and offers:
Database syncing
Custom email designs
Conditional content
Sales automation and CRM
Advanced subscription forms
Advanced onboarding sessions
The Professional plan starts at $149/month for 500 contacts and offers:
Split automation
One-on-one training for three months
Predictive sending
Customer attribution
Up to 50 users
The Enterprise Plan is custom-priced and offers premium features, including:
Uptime SLA
Custom CSS and HTML
Custom URL
Unlimited email testing and users
Dedicated account representative
Customized marketing strategy with quarterly updates
Premium phone support
Read also: ActiveCampaign vs HubSpot vs EngageBay – Which CRM is Best?
The fourth Wishpond alternative on our list is Sendinblue.
With an incredible array of features like Facebook chat, email and SMS marketing, and a seamless user interface, this is one viable alternative to Wishpond.

This platform has helped more than 100,000 companies, making it ideal for small and medium businesses.
Features
Let's take a look at the key Sendinblue features.
Landing Pages
With Sendinblue, you can create incredible landing pages using their drag-and-drop feature.
Templates are available if you want to jump-start your design process. Sendinblue also offers the option to create beautiful signup forms without the need for coding.
Marketing Automation
With Sendinblue's SMS marketing, your customers can receive timely promotional content about events, products, and services directly.
Also, transactional email tools can help you boost your revenue figures. You can set up transactional emails using tools like APIs, e-commerce plugins, and SMTP relays.
Additionally, you can use their built-in dashboard with metrics like engagement rates, clickthrough, open figures, and deliverability value.
CRM and Inbox
At the heart of every email marketing platform is CRM.
With Sendinblue's built-in CRM, you can organize your clientele and contacts into lists and tag them. Powerful segmentation features can help you create campaigns that resonate deeply with your audience.
Also, Sendinblue's inbox tool can help you keep track of open and pending queries so that your team can act accordingly.
Pros and Cons
Now let's check out both sides of the coin with a comprehensive list of pros and cons.
Pros
Affordable pricing plans compared to other competitors. EngageBay, though, has the most affordable and value-for-money plans
Personalized email correspondence and marketing to achieve superior results
A/B testing to obtain valuable metrics on emails and pages
Includes free plan
Cons
Lower end plans have basic support and minimized features
Though most plans are affordable, the higher-end plans are quite pricey and may not be budget-friendly for smaller businesses
Beginners may find the setup hard to navigate
Not mobile-friendly
Pricing
Let's talk pricing. Sendinblue has four pricing plans: Free, Lite, Premium, and Enterprise.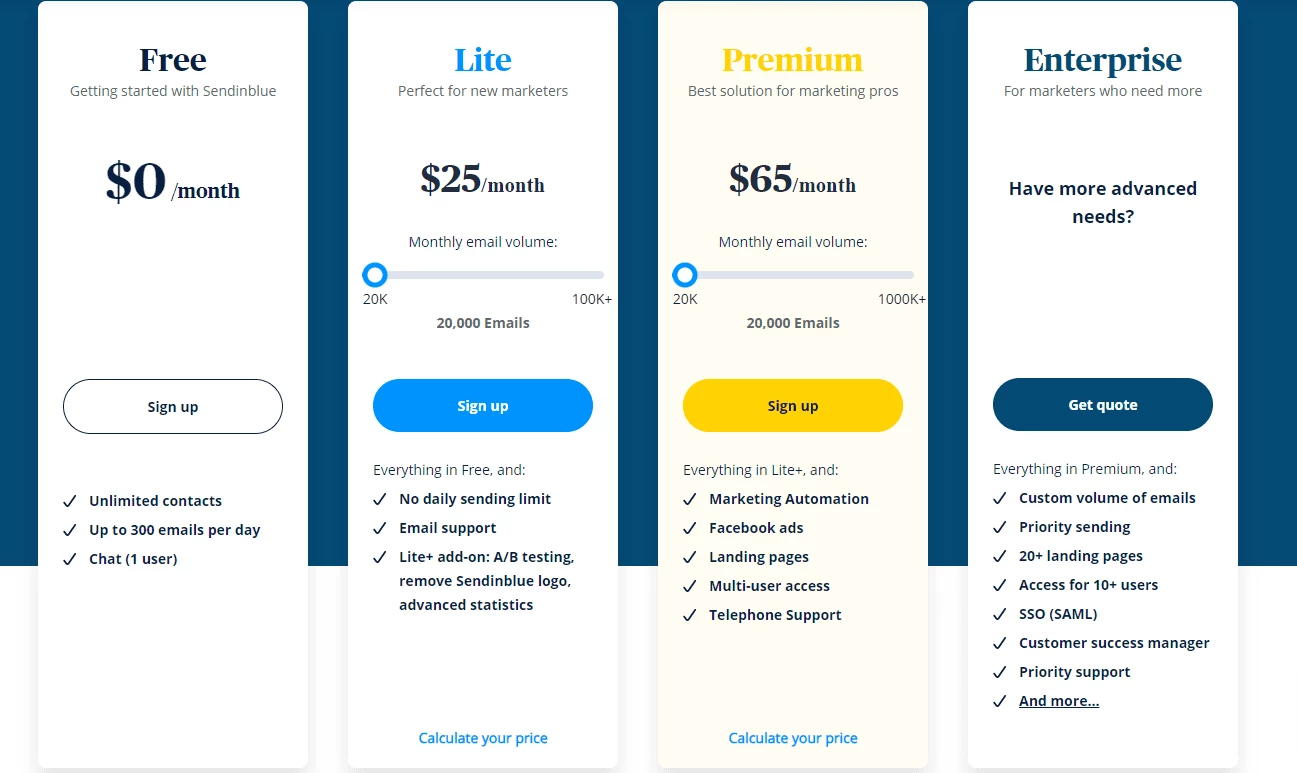 With the Free plan, you get these:
Shared inbox
Segmentation
Transactional email tools
CRM
Customized landing pages and sign up forms
Workflow editor tool
Up to 300 emails per day
The Lite plan starts at $25/month for 20,000 emails and offers these features:
No daily limit
Option to remove the logo
A/B testing
Advanced statistics
The Premium plan starts at $65/month for 20,000 emails and gives you:
Facebook ads
Multi-user access
Heat map reports
Workflows for marketing automation
Live reports
Up to three shared inboxes
Integrations and plugins like RSS and Google Contacts
The top-end Enterprise plan is custom-priced and offers:
Single Sign-On (SSO)
Advanced heat maps and analytics
Customized number of email
Dedicated IP
Unlimited landing pages and shared inboxes
Read also: 7 Awesome Sales Automation Tools to Supercharge Your Revenue
The final Wishpond alternative on our list is AWeber – marketed as a powerfully-simple email marketing tool for startups and small businesses.

Founded in 1998, the platform hosts a vast list of automation tools, including list-creation, landing pages, and reporting.
Features
Let's look at the key features that make it a worthy Sendinblue alternative.
Integrations
AWeber has a comprehensive suite of third-party integrations, from video insertions and social media to e-commerce.
With 500+ integrations at your disposal, you can connect with your favorite applications, and improve upon the platform's capabilities.
Integrations include BigContacts, ContactUs, and Salesforce.
A/B Testing
Split testing uses variations to test your campaigns, generate insightful reports, and helps you choose the best version to maximize reach and efficiency.
Mobile Usage
You can use AWeber Atom for creating and generating lists on the go. AWeber Curate lets you design and launch newsletters; AWeber Stats offers metrics and useful reports.
These apps make AWeber portable.
Triggers
With automation, you can choose from various triggers to automate workflows – saving time and improving productivity.
Landing Page Builder
Using templates and stock photos, you can design beautiful landing pages to convert viewers to customers. AWeber also has a responsive signup form builder.
Personalization
You can personalize your campaigns, create tailored promotions, offers, and content with segmented lists.
Pros and Cons
Let's surf through AWeber's pros and cons.
Pros
Increased portability through mobile applications: AWeber Stats, AWeber Curate, and AWeber Atom
A vast number of integrations, including Salesforce and LiveAgent
An impressive list of landing page and email templates
Cons
Lacking advanced sales features
The free version is minimal
Pricing for businesses above 10,000 contacts gets expensive quickly
AWeber has only two plans, forcing businesses to either pay for features they don't require or pay less and sacrifice features
Pricing
Aweber offers a two-tiered plan: Free and Pro.

With the Free plan, you get access to these features:
3,000 emails/per month
500 subscribers
Single list
Subscriber tagging
Integrated Google Analytics
Email, signup form, and landing page templates
Email automation
WP plugins
Integrations
Free migration
With the Pro plan, you get access to the following features, in addition to the Free plan features:
Web push notifications
Sales, webpage, and purchase tracking
A/B testing
Email and behavioral automation
Unlimited lists and subscribers
Pricing depends on the number of contacts. The Pro plan starts at $19.99/month for 500 contacts and goes up as contacts increase.
Read also: 13 Best Email Marketing Software to Grow Your Business
Summing it Up
We hope this in-depth comparison helps you make the right choice.
Since Wishpond's pricing can shoot up real quick, it makes sense to go for a Wishpond alternative.
Any of the five marketing automation software we detailed in this blog post can make for an excellent alternative to Wishpond. It all depends on your business needs and budget.
ActiveCampaign might be the way to go if you need advanced machine learning to do the work for you. HubSpot is great for established businesses with deep pockets.
For small businesses and startups, EngageBay is the best Wishpond alternative.
Why?
Let's compare the pricing with Wishpond for a second: EngageBay's most advanced plan — the Pro plan — costs just $99 a month, and you get unlimited contacts.
On the other hand, Wishpond charges you a whopping $600 a month for 100,000 contacts!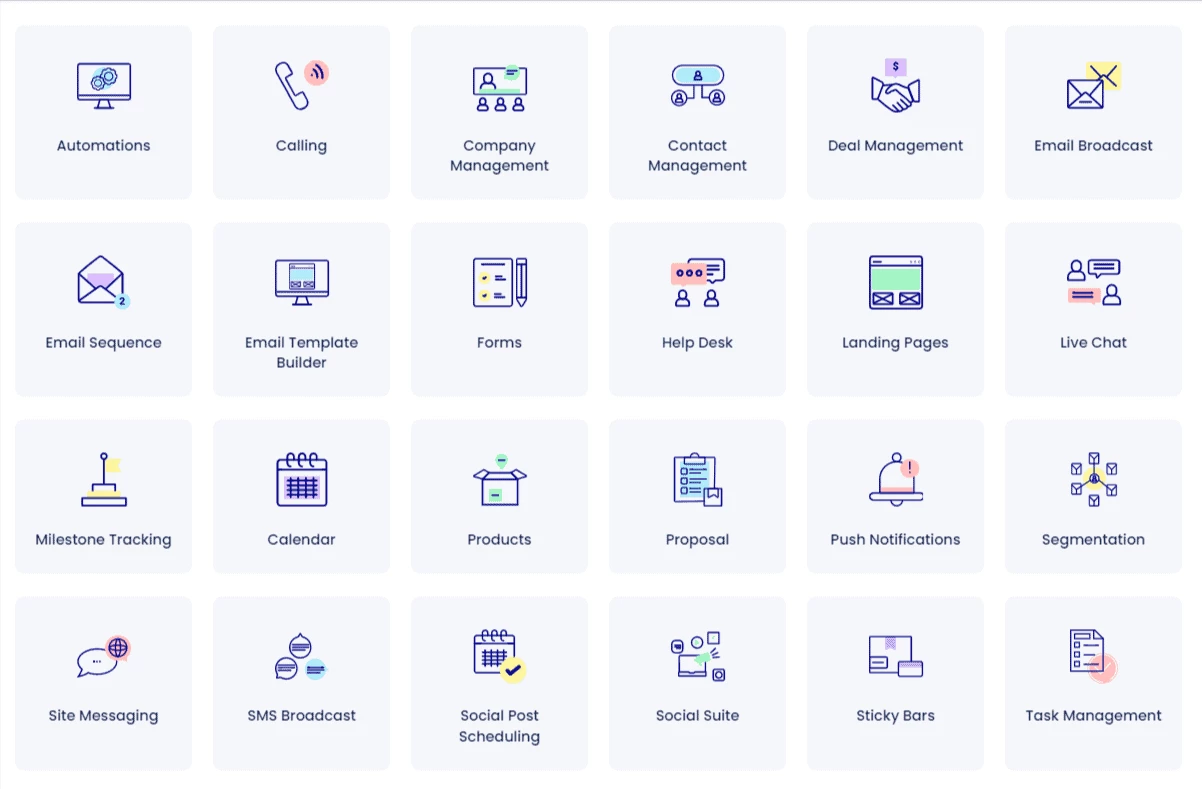 If you'd like to try out EngageBay features for free, sign up for the free plan, or book a 30-minute demo with one of our experts.
Adios amigos!