If you are a sales rep, how do you go about achieving your targets?
In sales, planning is everything. Be it creating a sales strategy or drafting a sales proposal, everything requires a plan.
Unfortunately, many sales teams do not have any follow-up plans, also known as sales cadence.
Sales cadence is defined as a collection of touchpoints that helps establish a connection for sales engagement. It creates a schedule for sales teams to follow up with new prospects till they are converted into sales opportunities.
Sales cadence tools enable you to diversify your sales outreach by communicating with potential leads through multiple channels. This helps eliminate guesswork and creates a standardized framework for communicating with clients.
If you still aren't using a sales cadence tool, you're probably losing out on potential customers.
In this blog post, we have a list of the 11 best sales cadence tools that will help you keep track of all your sales activities.
11 Sales Cadence Tools That are Great for Your Business
There's no ranking to our list of sales tools here, but we do think that EngageBay deserves the first mention.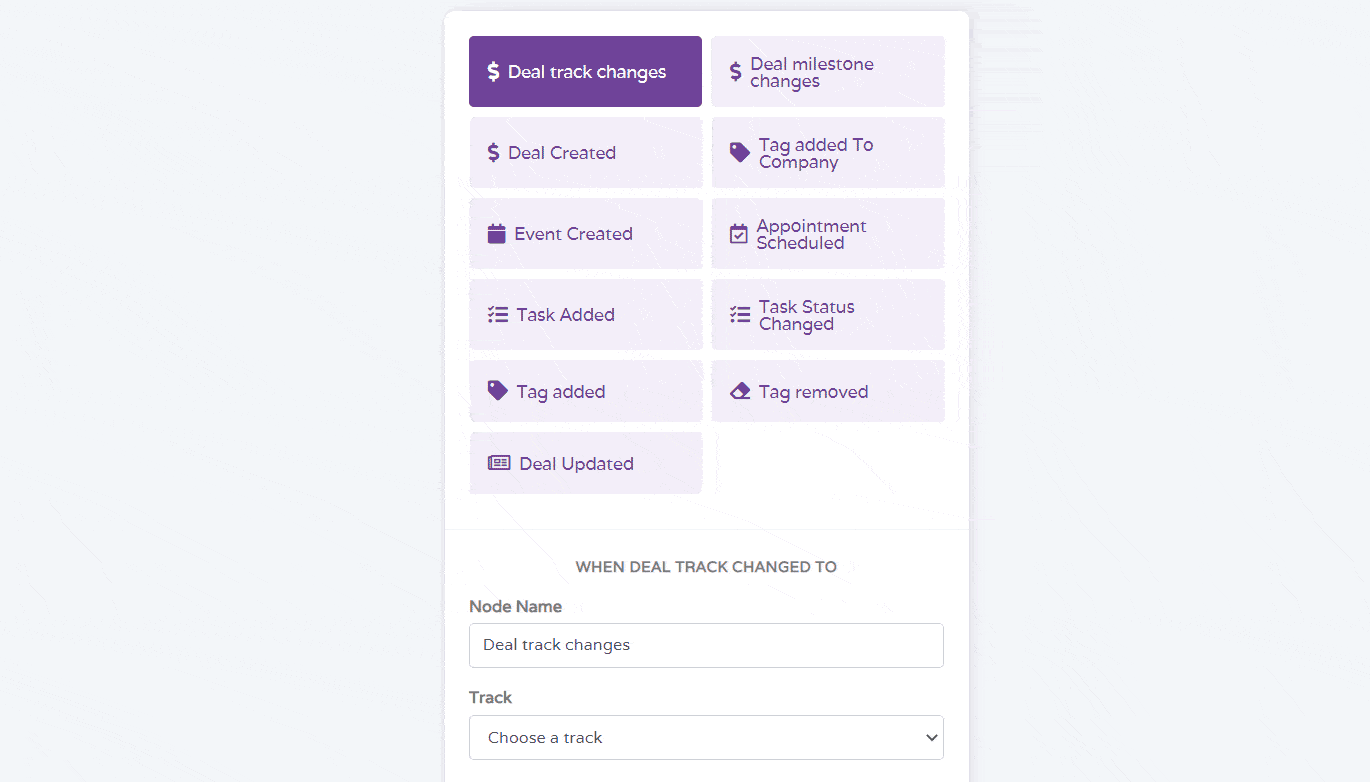 EngageBay is among the best sales cadence tools that offer an all-in-one platform for streamlining tasks related to both marketing and sales.
With EngageBay, you can create multi-channel campaigns, including SMS campaigns to reach out to prospects through email, text, phone, and social media.
Moreover, it offers an integrated approach to enable your marketing, sales, and support teams to work in tandem, helping enhance customer experience.
Effective sales cadences can lead to more revenue, thus making EngageBay a top solution.
Its multiple features in the lead generation process like drip email campaigns, web form creation, and lead tracking ensure that you don't miss out on sending emails or making phone calls to your potential clients.
Pros
Efficient and easy to use

Automated reminder

Predictive lead scoring for higher conversion rate
Cons
GUI interface needs improvement

Free products have very limited features
Pricing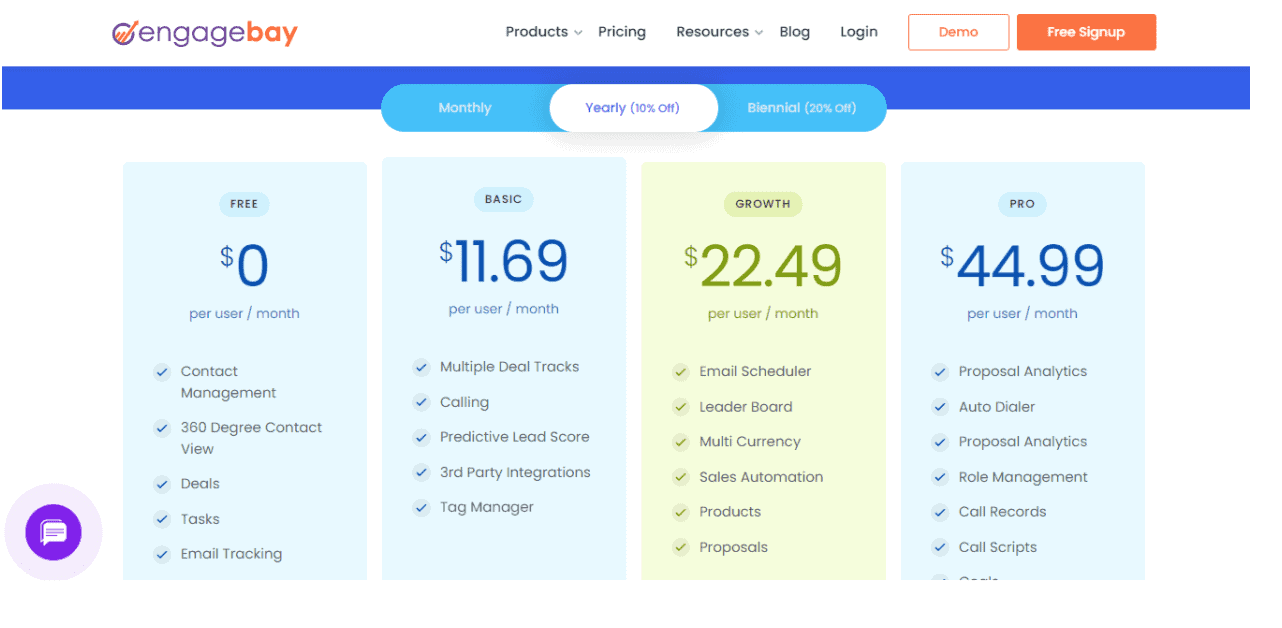 EngageBay has four types of pricing: Free, Basic, Growth, and Pro.
Under the Free Plan, you can get tools such as contact management, email tracking, task scheduling, and G Suite integration.
With the Basic Plan, you can upgrade your service with features like predictive lead scoring, tag management, web form building, and integration with Office 365 and Outlook. It costs $11.69 per user per month.
For additional functionalities like email scheduling, sales automation, custom deal tracking, and call reporting, the Growth Plan works best. It starts from $22.49 per user per month.
Businesses that want to use services like call recording, email sequencing, custom reports, and a dedicated account manager, should opt for the Pro Plan. This plan costs $44.99 per user per month.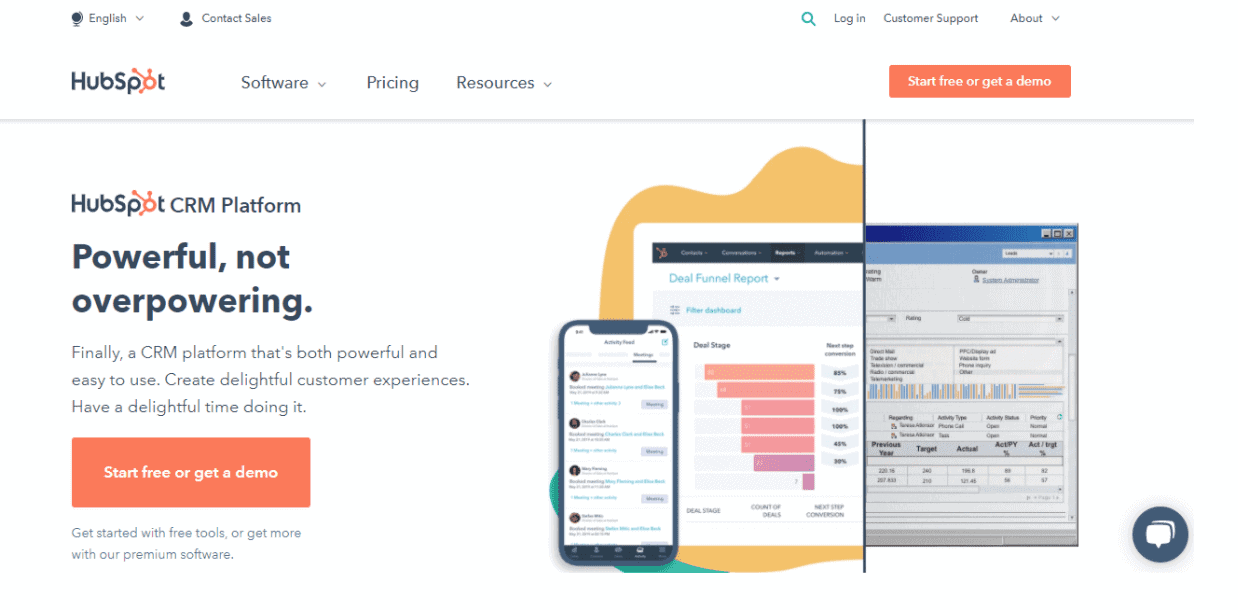 HubSpot is a sales cadence tool that automates your follow-up sequence, preventing any prospects from slipping through the cracks.
The platform helps queue a series of automated emails along with follow-up tasks for each prospect, depending upon which stage of the sales pipeline they are in.
It eliminates the need to set reminders to send emails to your leads, thus saving time.
It also helps record calls to the sales CRM platform directly so that you know when and which prospect you need to reach out to.
What's more, this sales cadence automation tool helps you develop better relationships with your customers through personalized emails. You can choose from a variety of email templates for better reach.
Pros
Helps in better sales

Sends real-time task notifications on leads that have been interacted with
Cons
Bulk emails cannot be sent to all contacts at one go

A limited number of email marketing templates are available
Pricing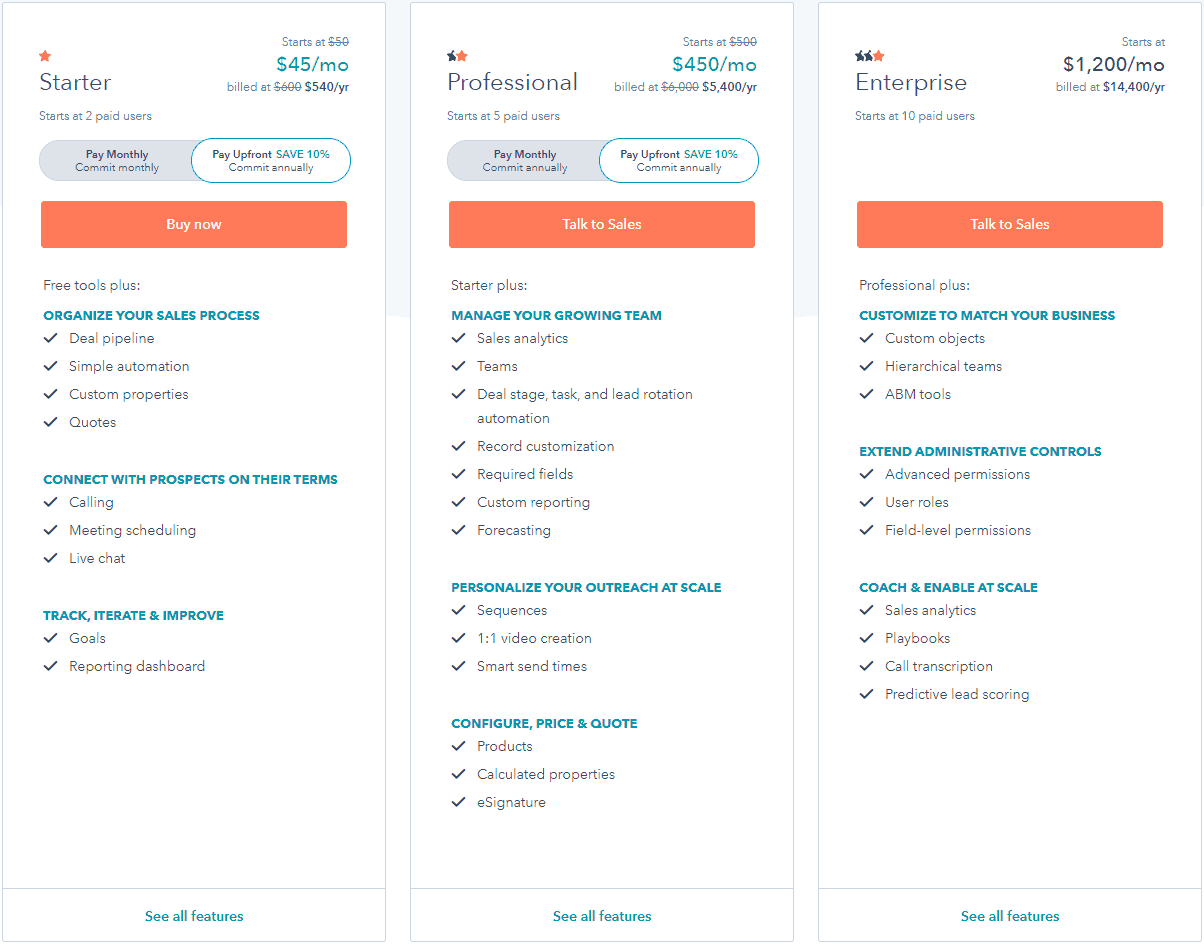 HubSpot offers three types of pricing: Starter, Professional, and Enterprise.
The Starter Plan costs $45 per month. Its key features include meeting scheduling, conversation routing, task queueing, and one-on-one emailing.
With the Professional Plan, you can get additional features such as one-on-one video messaging, phone support, sales analytics, and deal, task, and lead rotation automation. This plan starts at $450 per month.
For large and growing businesses, the Enterprise Plan is most suitable. The plan costs $1,200 per month and comes with services like predictive lead scoring, conversation intelligence, and customized permissions.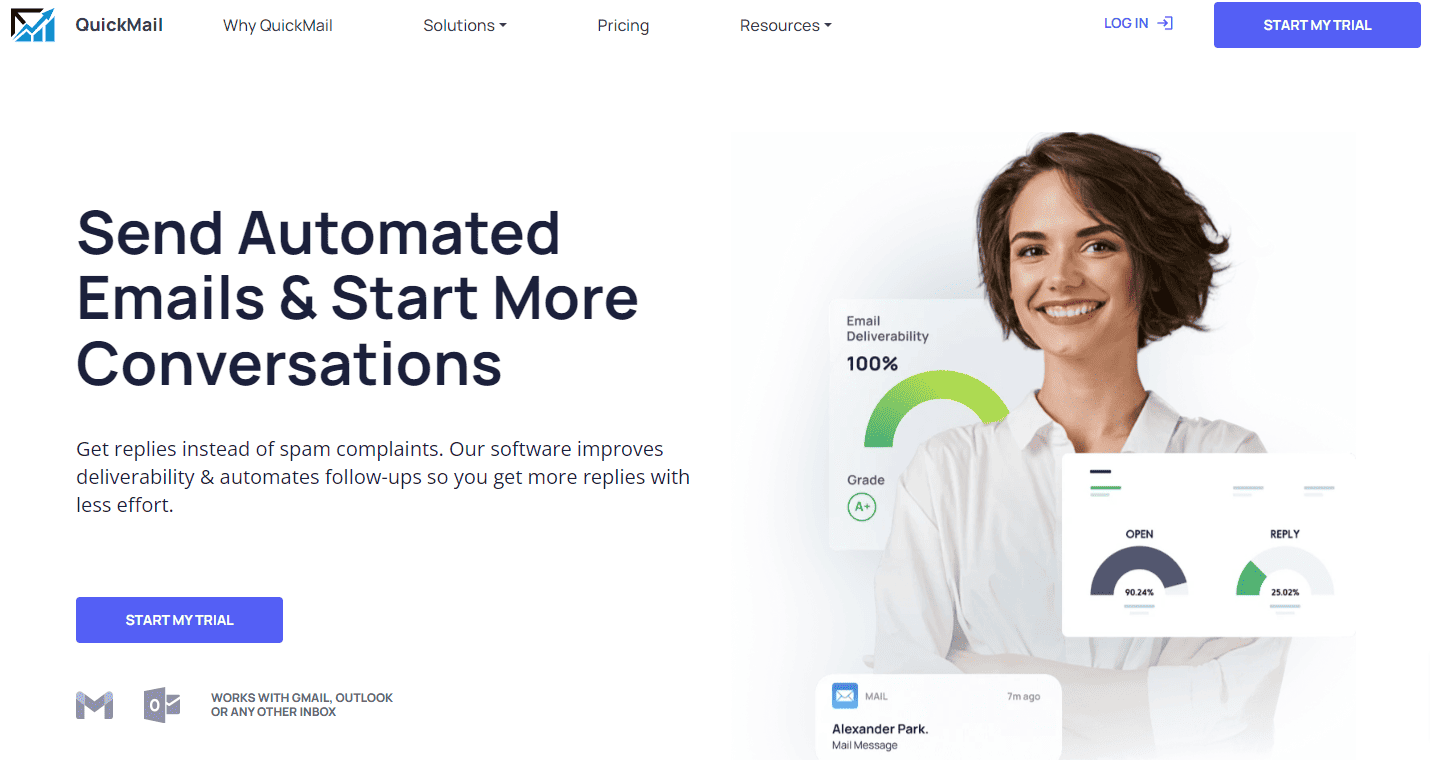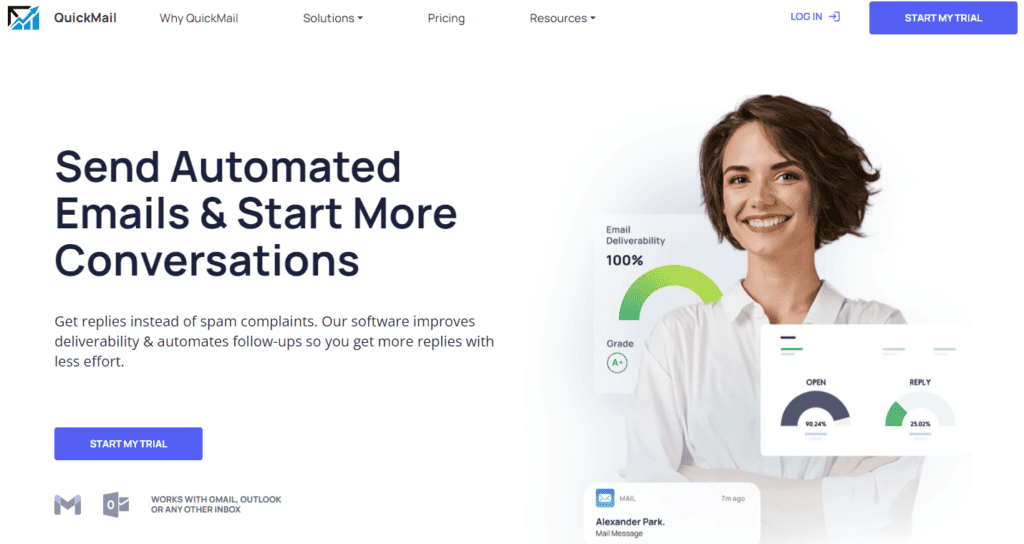 QuickMail is a sales cadence platform to help teams start conversations using personalized email outreach.
First, import your prospect list from a CSV or Google Sheet. Then, write your email templates. These can be personalized for every recipient thanks to attributes, and you can easily run A/B tests to find out which emails perform best. QuickMail lets you add automatic follow-up emails which send if a prospect doesn't reply, and it's a powerful way to boost your response rate.
Once your templates are ready, you'll turn on your campaign and it will run on autopilot, with replies being sent to your email account, and logged in QuickMail's Opportunities inbox – ensuring you never miss a message from a qualified sales lead.
You can add multiple team members to your account, and even send email campaigns from multiple inboxes at once to increase your sending volume without harming email deliverability.
Pros
Send personalized emails to sales leads on autopilot

Add automatic follow-up emails to campaigns to increase your reply rate

A shared conversations inbox means every response from leads gets seen by your team

Email deliverability features and inbox rotation makes it easy to send high-volume campaigns

Wide range of automation features to reduce your time spent on manual tasks
Cons
Small learning curve but dedicated support team will walk you through everything

No free plan, but you can try it for 14-days at no cost
Pricing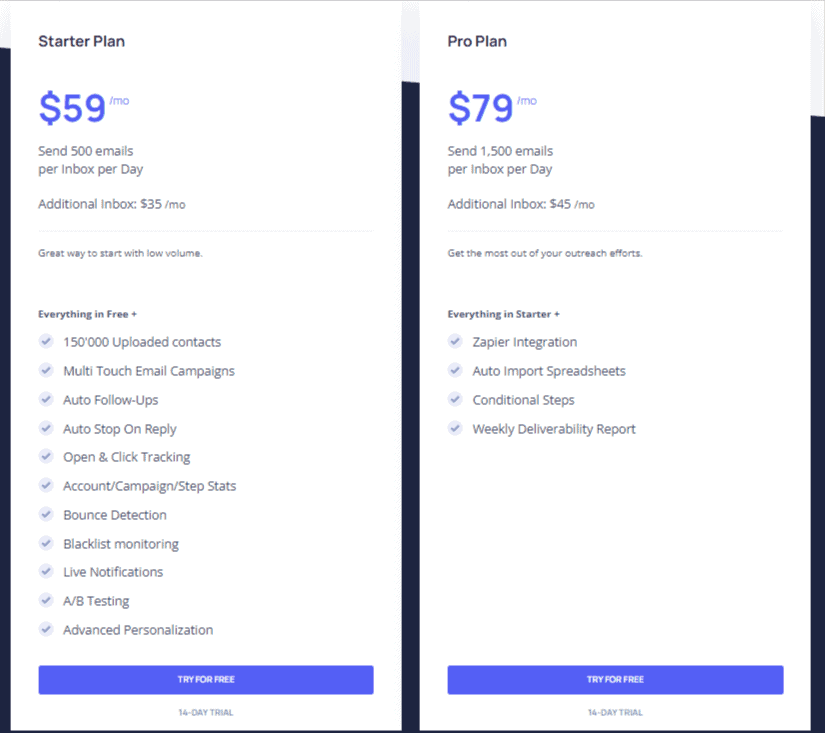 QuickMail has two main pricing tiers: Starter and Pro.
The Starter plan starts at $49 per month, and that lets you send 500 emails per inbox per day. The plan includes everything you need to create multi-touch email campaigns, automatically follow-up, track your results, and more.
The Pro plan, which starts at $60 per month, adds extra tools such as conditional steps, a Zapier integration, and more detailed deliverability reports.
Both plans let you add as many users as you need to your account, but you will need to pay a small extra fee per month to send emails from new inboxes ($29 per month on the Starter plan and $39 per month on the Pro plan).
For a large number of cold emailers, the Starter plan has all the tools you need to get started and see results. When you're ready to scale your outreach to the next level, you can upgrade to the Professional plan.
There's a 14-day free trial, so you can try QuickMail and see if it works for your sales needs.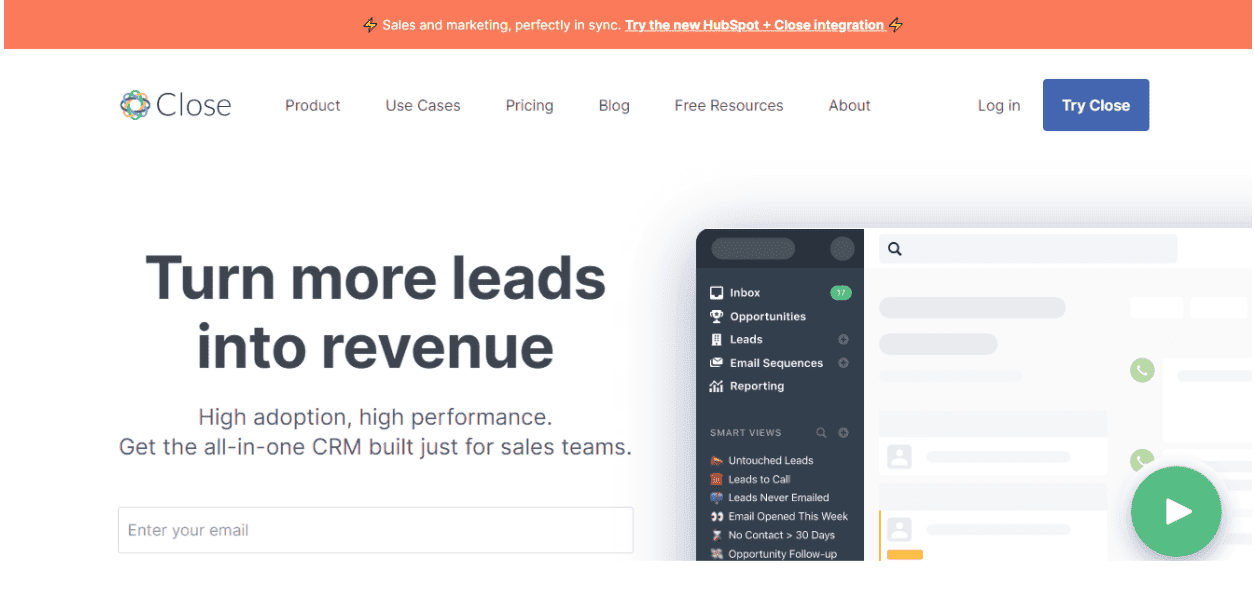 Close boasts of a multi-channel sales outreach platform so that you don't lose track of any leads.
Using Close, you can communicate with your potential customers through multiple channels, including phone calls, SMS, and video chat.
As one of the best sales cadence tools, Close provides all the information you need regarding task automation, communication, and reminders – in one place.
Moreover, you can get visibility into time spent on calls to revenue generation in real-time.
Pros
Highly flexible and customizable

Easy to set up and use
Cons
Cannot be accessed on a mobile device

Has a learning curve
Pricing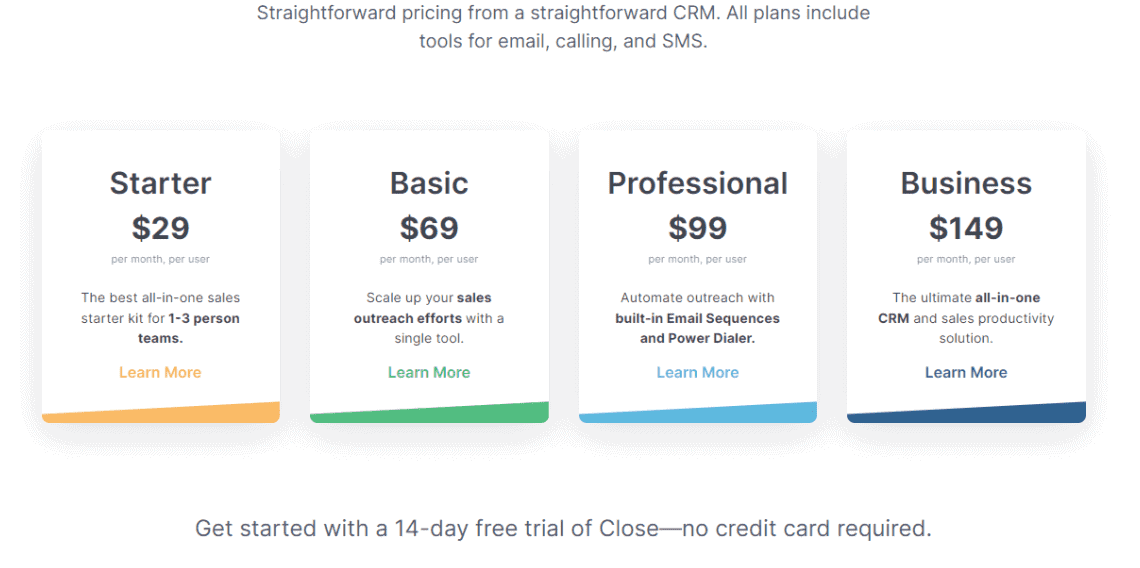 If you are skeptical about using Close, it offers a 14-day free trial to verify its potential.
Close has four types of paid plans: Starter, Basic, Professional, and Business.
The Starter Plan costs $29 per user per month. It is suitable for small teams and includes features like pipeline viewing, five custom fields, and up to five email templates.
Under the Basic Plan ($69 per user per month), you can get services like call forwarding, sales leaderboard, and unlimited leads and email templates.
If you want to send out bulk emails to your contact list, you need to go for its Professional Plan. It comes equipped with full-fledged email marketing tools whereby you get an email and domain filtering and email sequencing features. This plan costs $99 per user per month.
And, for an all-in-one CRM and sales productivity platform, the Business Plan works best. The Business Plan begins from $149 per user per month and comprises unlimited users, a predictive dialer, screen share support, voicemail drop, and a dedicated account manager.
Read also: 11 Sales Tools for Automation, Prospecting and CRM Integration in 2022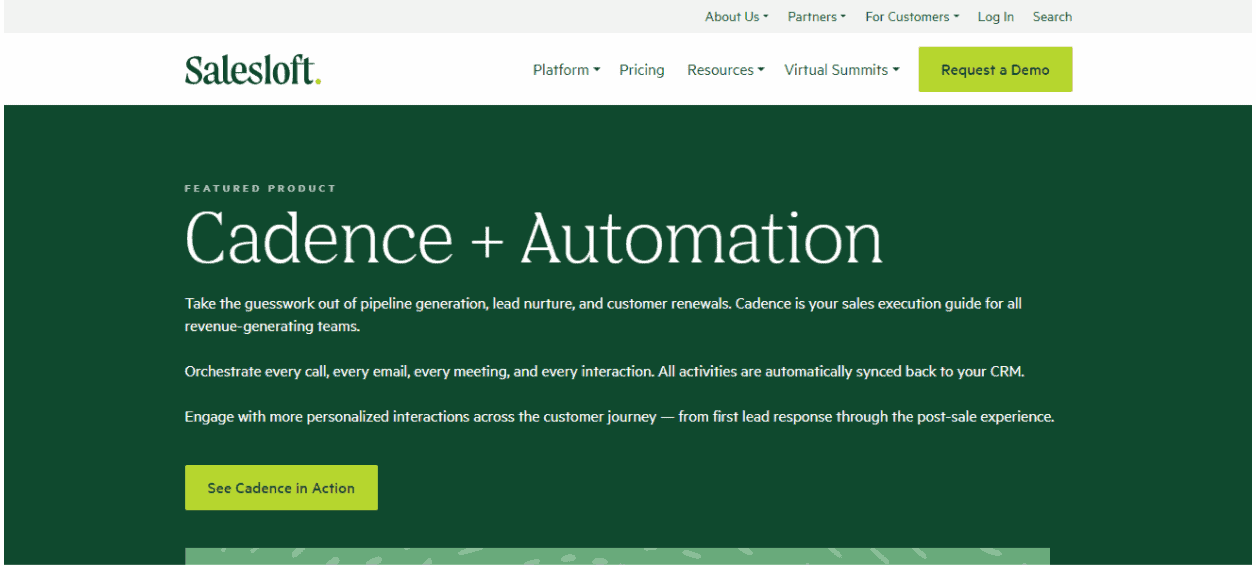 SalesLoft is an all-in-one sales cadence and automation software that comes with a robust set of functionalities.
With this sales cadence tool, you can contact your buyers via call or text, with just a single click. These calls are then automatically recorded and synced to your CRM system.
SalesLoft provides a wide range of templates to help you send customized emails. You can also get real-time notifications when a prospect clicks your emails. This helps understand who your target audience is, and what kind of products they like.
What's more, the deliverability dashboard feature eliminates the chances of emails bouncing, so you don't have to worry about whether or not your emails reach people.
Pros
Quick to set up and start using

Keeps track of metrics for each cadence
Cons
Technical issues can make the platform difficult to use

Slow customer service
Pricing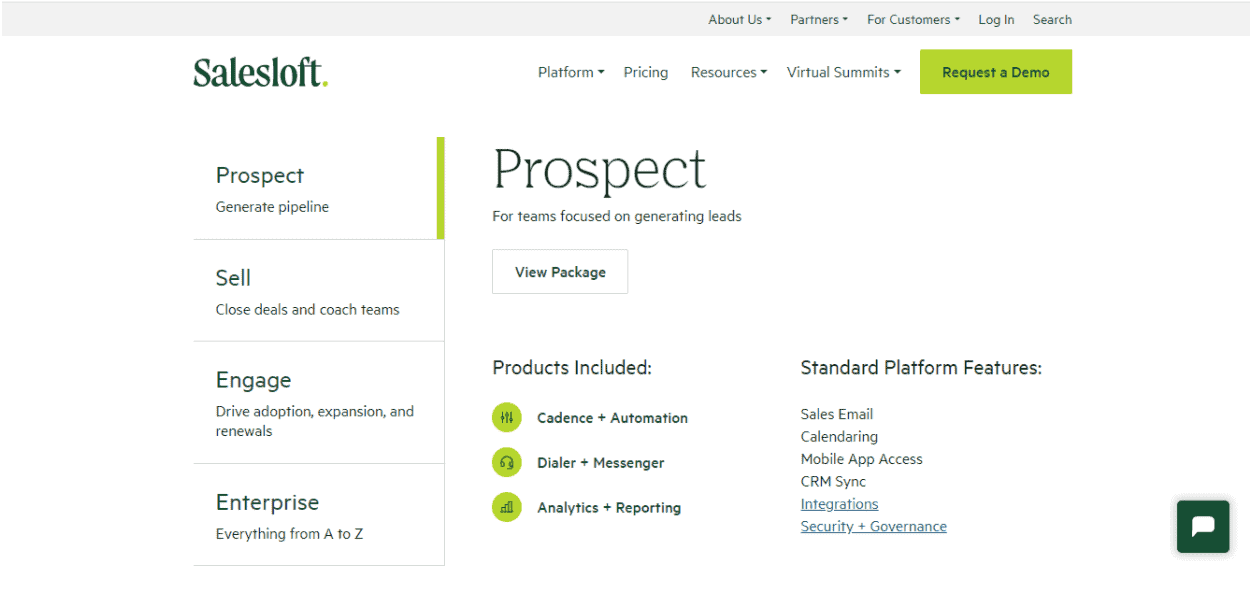 SalesLoft offers four categories of plans: Prospect, Sell, Engage, and Enterprise.
The Prospect Plan is for users whose main goal is lead generation. The main features under this plan are dialer and messenger, sales analytics and reporting, and sales automation tools.
Under the Sell Plan, users can avail of additional services like deal tracking and conversations. This plan is suitable for those who are looking at closing deals within a short span of time.
For companies looking to enhance their post-sales service, the Engage Plan works best. Here, you can get all the features of the Sell plan along with automation.
For sales teams that are involved at every stage of the sales cycle, the Enterprise Plan is ideal. It consists of sales automation tools, deal tracking, dialer and messenger service, conversations, analytics, and reporting.
For pricing, businesses must contact SalesLoft's sales team.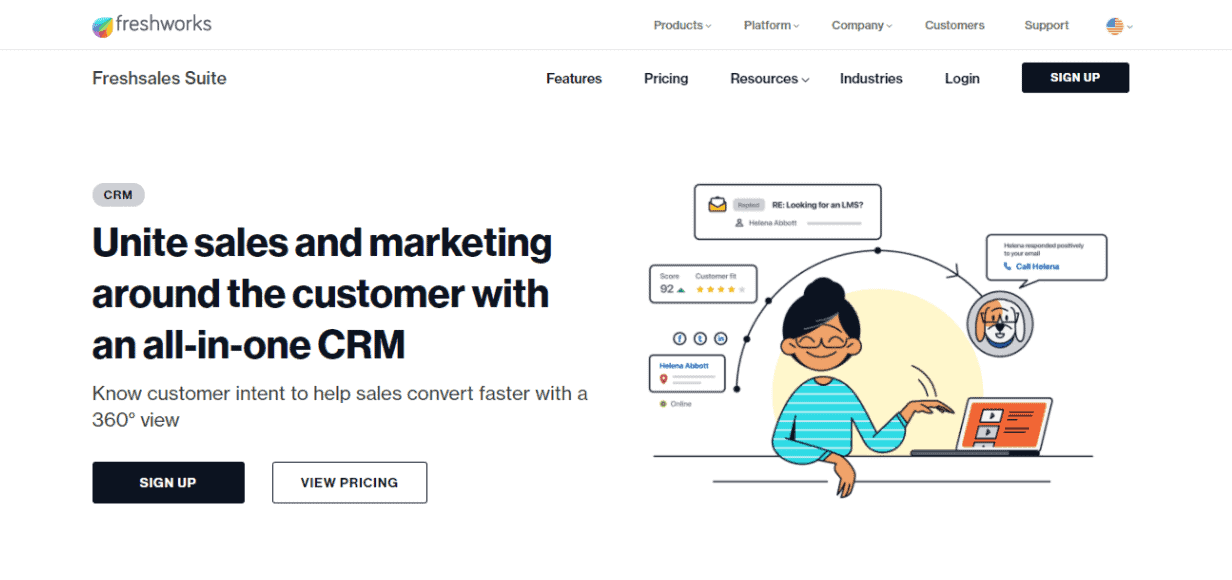 Freshworks delivers seamless engagement across multiple channels by providing a 360-degree view of your customers.
Using Freshworks, you can bring your sales and marketing teams on the same page, eliminating communication gaps and enhancing customer satisfaction.
Besides, it enables you to send out automated email follow-ups and welcome messages so that you don't lose touch with your leads at any time.
You can also create nurture campaigns, get real-time revenue predictions, and identify priority leads thanks to Freshworks' AI-based Deal Insights tool.
What's more, this cadence tool helps you interact with your customers on phone, email, live chat, and WhatsApp.
Pros
Easy to use

Easy access to customer accounts
Cons
Limited number of email templates

Takes time to resolve issues
Pricing
Freshworks comes with four pricing plans.
The Free plan offers you up to 100 contact information storage and a range of services that are limited to account management, 24*5 support, mobile app support, and built-in email, chat, and calling features.
If you want to grow up to 1,000 contacts and get access to its AI-powered contact scoring, you should check out its Growth Plan (available for $13.43 per month). You also get a sales pipeline visualization tool along with custom reporting and dashboards.
For those handling multiple sales and marketing teams, the Pro Plan works best. The plan starts at $37.62 per user per month. Some of the services included under this plan are product catalog, multiple sales pipelines, sales teams and territory management, and WhatsApp Business service.
The Enterprise Plan has a price of $67.19 per user per month. It makes for the right sales cadence tool if you want to run a quick sales forecast and have an auto-profile enrichment tool.
Read more: 5 Sales Tools and 6 Sales Techniques That Always Work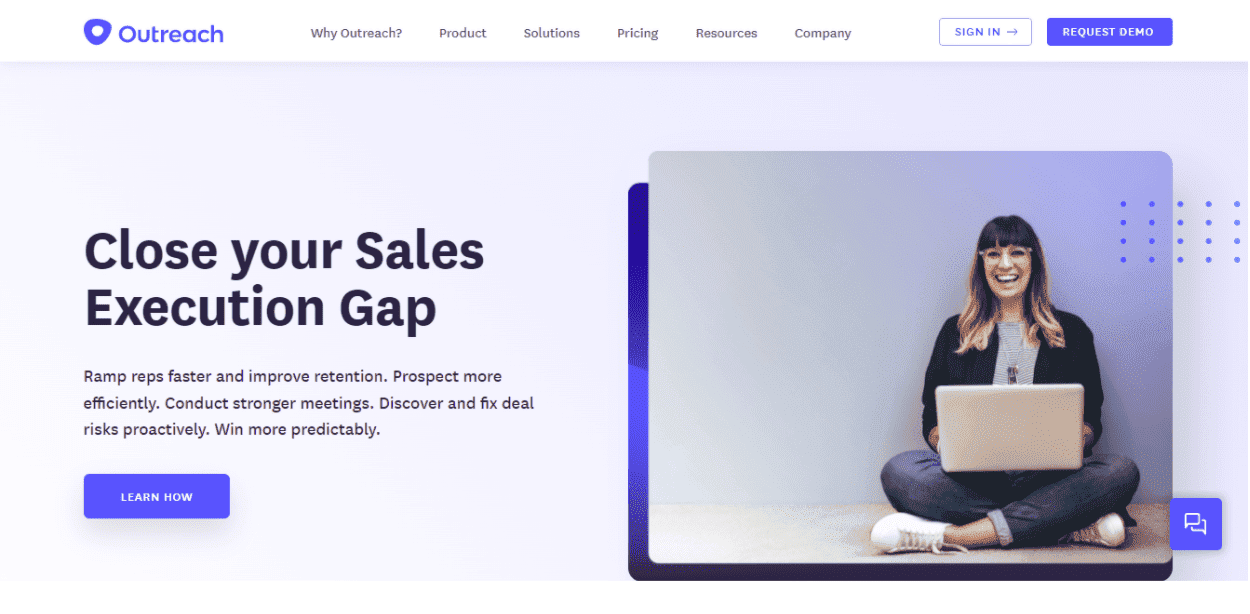 Outreach's sales cadence platform not only helps you be in touch with prospective customers at each stage of the pipeline but also improves customer retention rate.
With Outreach, you can identify the right leads, get real-time updates on revenue growth and forecasting, and customer engagement.
Thanks to its AI-Guided Deal Intelligence feature, it helps teams determine where to engage the most to drive revenue growth.
Pros
Seamless integration for expanding functionalities

Easy onboarding process
Cons
Technical issues can make it slow to load

UI needs to be improved
Pricing
To get quotes, users can contact Outreach's sales team directly.
Read also: Top 10 Sales Tools For Effective Lead Generation [2022]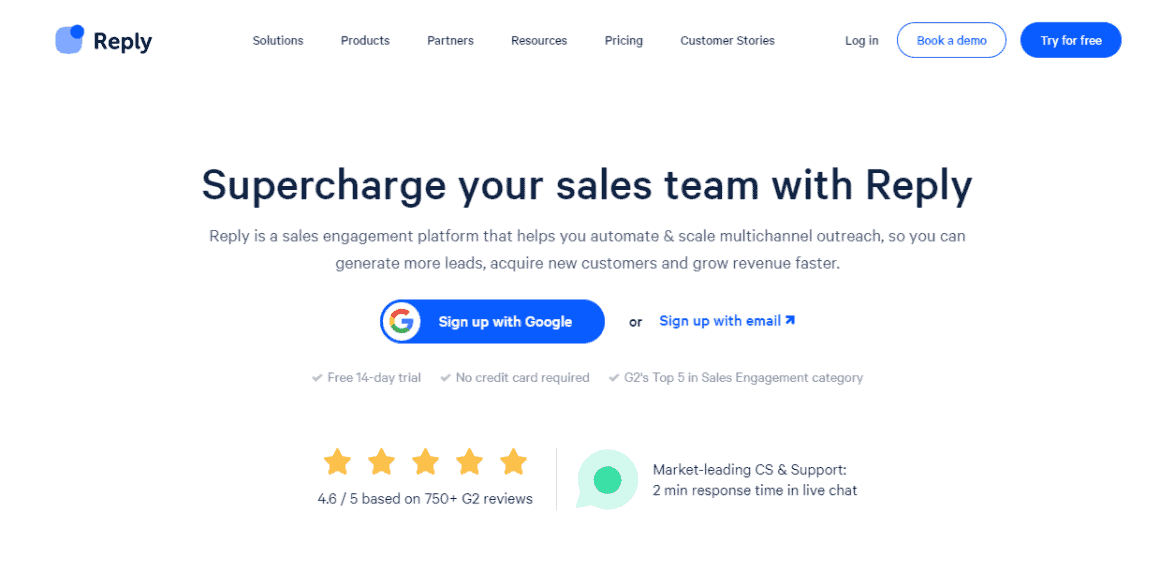 Reply is not just a good sales cadence tool but also acts as lead generation software.
With Reply, you can find contacts through LinkedIn or Sales Navigator. These contacts are first verified and then added automatically to your sales outreach list.
Reply helps you engage with your audience across various channels, including emails, text, WhatsApp, LinkedIn, and social media. These channels can then be combined into a multichannel sequence.
Moreover, you can improve your email content with the help of its AI-powered quality text scoring. It helps you send out personalized and targeted emails to your leads.
What's more, Reply is integrated with prominent third-party apps like HubSpot, Zapier, Salesforce, Pipedrive, Copper, and Vidyard.
Pros
Have a rich interface

Helps easily find and export contacts from LinkedIn
Cons
Setting up is a time-consuming process

CRM integration and reporting is difficult
Pricing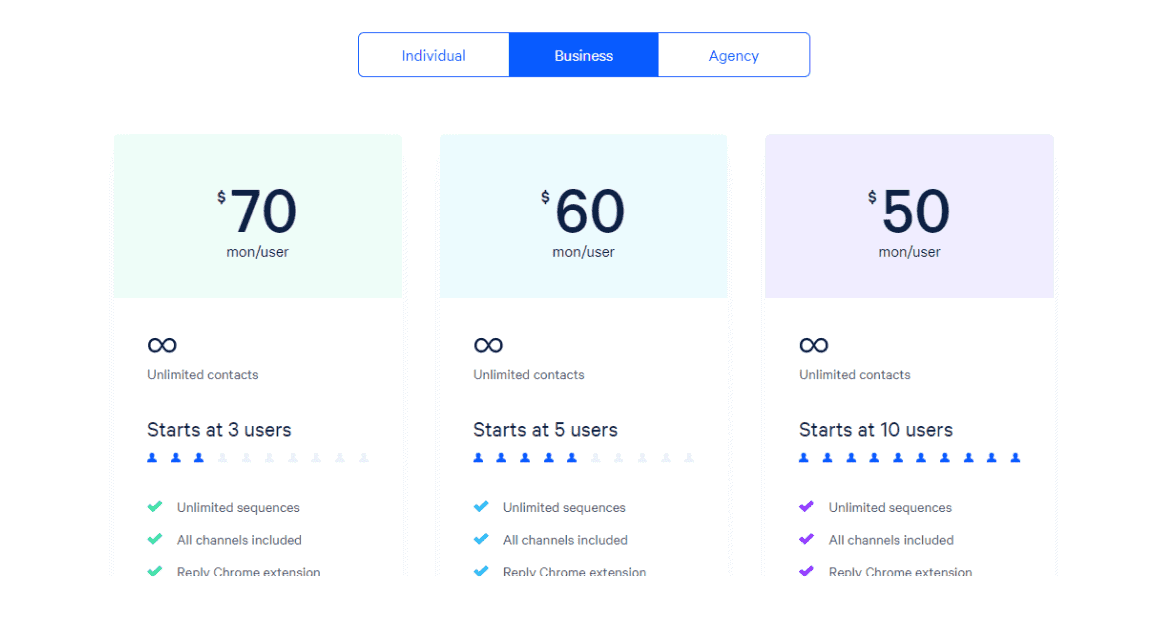 Reply offers three types of business plans according to the number of admins.
For up to three admins, you need to pay $70 per user per month. If you have five admins, the plan will cost $60 per user per month. And if there are 10 admins, you need to pay $50 per user per month.
All the plans boast features like a free Reply Chrome extension, task flow automation, email copy A/B testing, contact segmentation, real-time performance tracking, and email schedule automation.
The best part is that you get unlimited contacts in all three plans.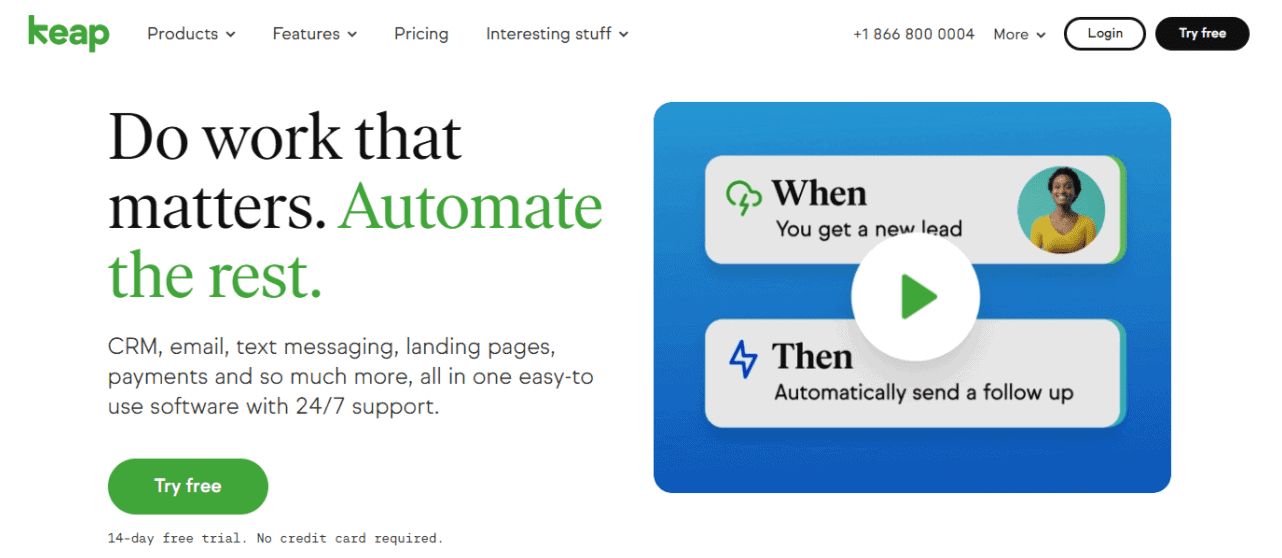 Keap is an all-in-one sales cadence tool that helps you automate customer interaction.
It has a CRM platform and helps you create landing pages and make payments, all in one place.
Using Keap, you can capture leads through various channels and organize them in one place. Furthermore, you can segment them and then send customized emails.
It even allows you to set up automated follow-up reminders for sending emails, texts, or calling prospective clients.
Pros
A great cadence tool that can scale across multiple channels

Helps with efficient execution of sales strategy
Cons
Confusing due to a wide range of features

Lousy customer service
Pricing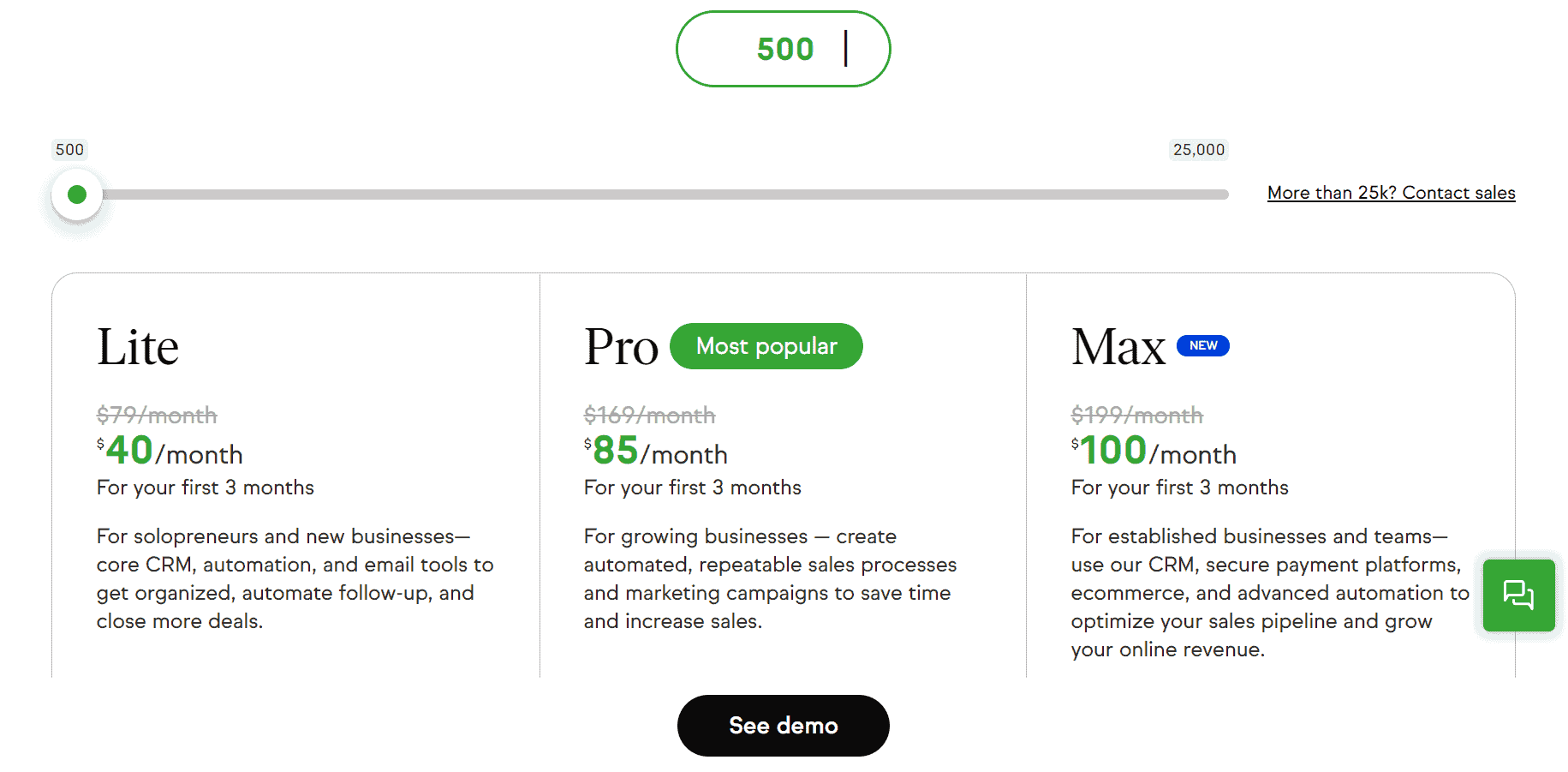 Keap provides three types of plans: Lite, Pro, and Max, whose pricing varies based on the number of contacts.
The Lite Plan costs $40 per month and comes equipped with features like email marketing, lead capturing, appointment scheduling, and automated text messaging.
If you want to run A/B testing for better sales outreach and create checkout forms, Pro Plan should be the right choice. It starts from $85 per month and offer tools like landing pages builder, sales pipeline, and sales reporting and analytics.
With the Max Plan, you will get features, including lead scoring, sales funnel, engagement analytics, and marketing performance analytics.
Read also: Infusionsoft (Keap) Pricing and Comparison with Alternatives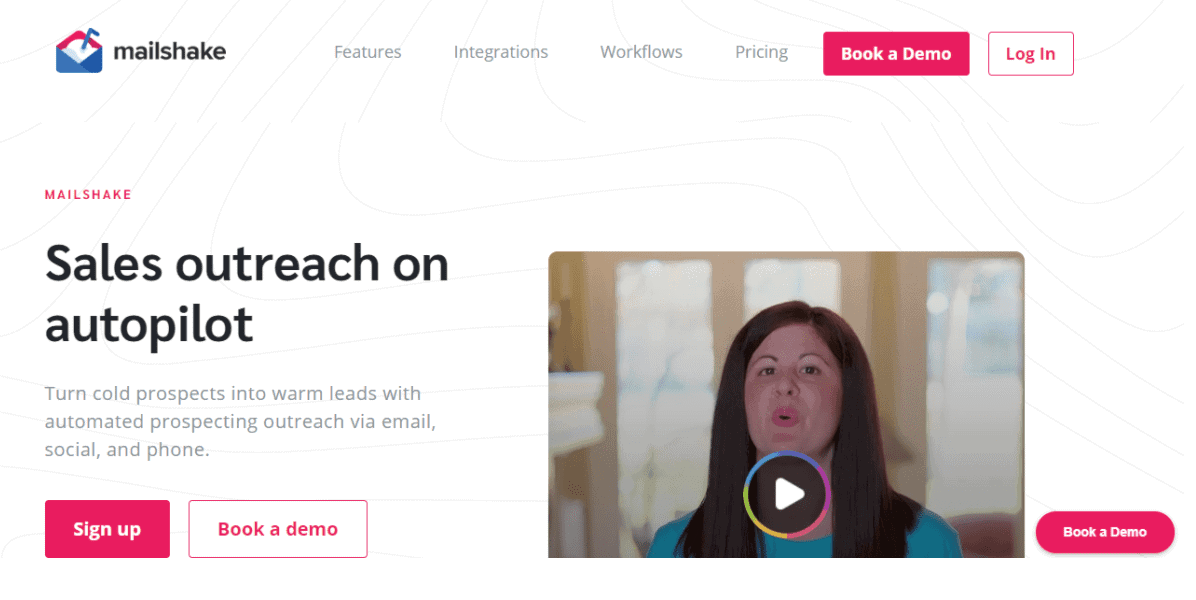 Mailshake is a sales engagement and automation platform that aims to turn cold leads into loyal customers in no time.
With Mailshake, you can stop worrying about sending impersonal emails. Its AI Email Writer feature helps determine the ideal subject line and the content that needs to reach your audience.
You can also run and test multiple versions of emails to understand what works best.
With the help of this sales cadence tool, you can identify your most active leads and remain in touch with prospects at all times through its multi-touch outreach tool.
Pros
Quick customer support

Provides a variety of email customization options
Cons
Limitations on the number of emails you can send in one day

Has a bit of a learning curve
Pricing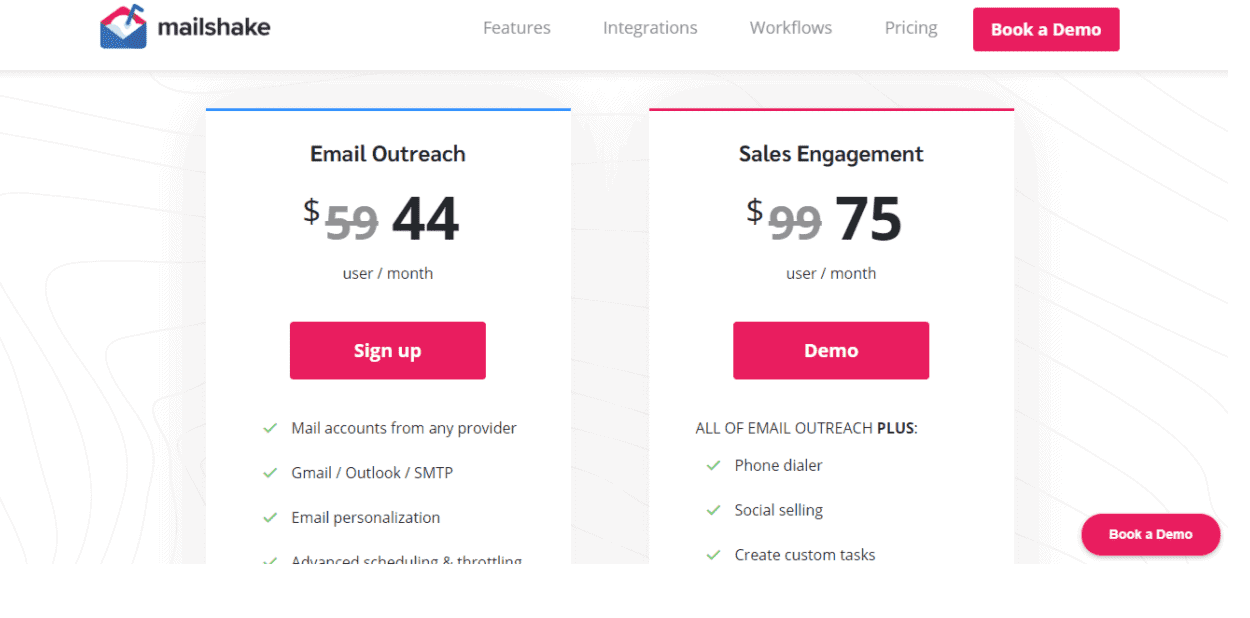 Mailshake offers two categories of plans: Email Outreach and Sales Engagement.
The Email Outreach Plan costs $44 per user per month. Some of its key features include email personalization, advanced scheduling, automated email sequences, A/B testing, and prospect viewing.
The Sales Engagement Plan offers additional features such as task customization, social selling, phone dialing, and lead segmentation. The plan starts at $75 per user per month.
Read also: 5 Sales Planning Tools For Small Businesses to Grow Revenue Fast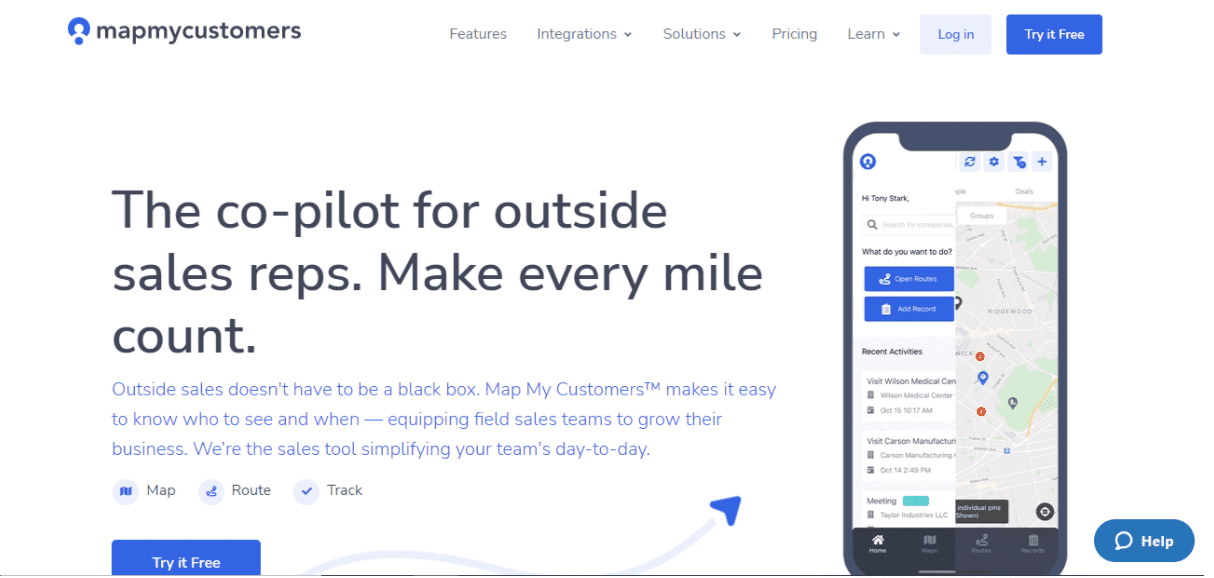 Map My Customers is a sales cadence and sales mapping software that helps you visualize your contacts, sales performance, and deals on an easy-to-use map.
With Map My Customers, you can get a 360-degree view of your team's sales activities and connect them with relevant data to increase revenue.
The tool also helps automate communication using calls, emails, and other channels.
This will then be automatically recorded along with important customer data, helping you keep track of their activities and interactions.
Pros
User-friendly interface with easy navigation

Maps out customer information from a simple spreadsheet
Cons
Unreliable customer service

Costlier as compared to other sales cadence tools
Pricing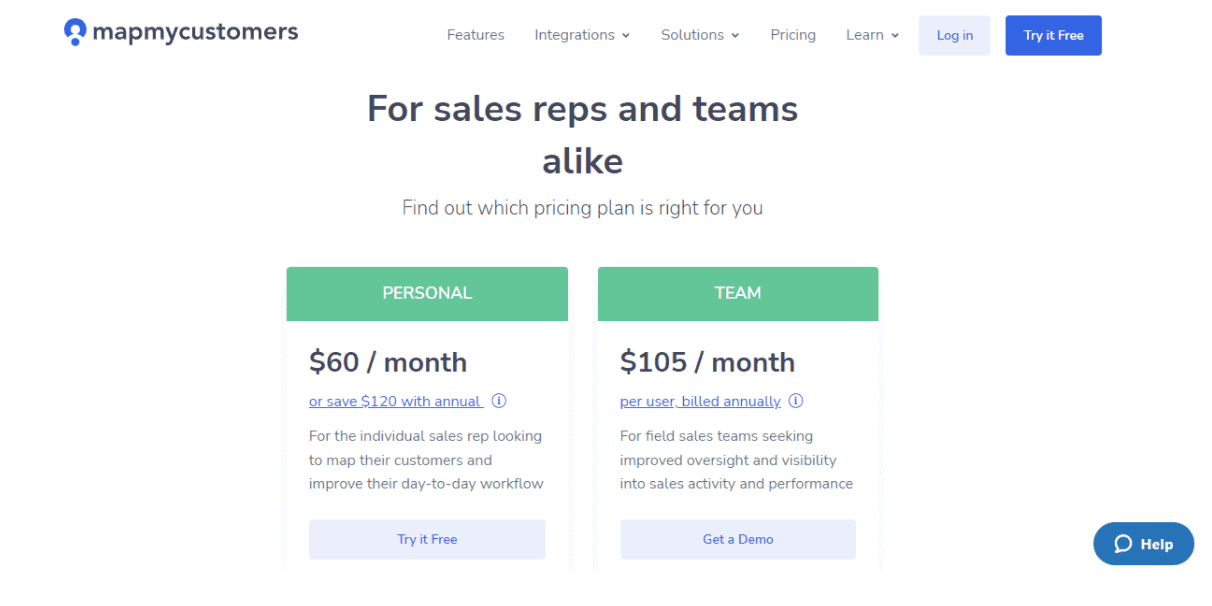 Map My Customers has two types of plans: Personal and Team.
The Personal Plan costs $60 per month and is ideal for individual sales reps looking to make their workflow more efficient. The plan includes features like CRM system integration, activity tracking, report generation, and live customer support.
Under the Team Plan, you can get additional services such as team-wide reporting and live dashboards, customized user permissions, and a dedicated account manager.
Conclusion
A good sales cadence tool not only automates communication but also helps you track leads at every stage of the sales pipeline.
It enables you to communicate with prospective clients till they convert into loyal customers.
Luckily, you will find many affordable options in the market to choose from. Not all offer the same value, though. We believe EngageBay offers the best bang for the buck, and that's because it offers everything you'll need in one super affordable package.
If you want to know how EngageBay can help your sales team, just sign up and we'll give you a call and a free demo!
👉Want to improve your sales workflow? Explore 12 incredible sales database tools and their top features! 💡