Hotels are the epitome of customer relationship experiences. 
No hotel is complete without offering a 'guest' experience that lingers long after the guest leaves. 
One happy customer can become a loyal brand advocate. On the other hand, one unhappy customer can leave a nasty review somewhere and spoil a whole season's bookings. 
In today's age where consumers have unlimited options, expectations touch the sky. As a hotel owner or manager, you'd know this already.
Let's say, a particular guest prefers a room with a seaside view. This guest is Particular, with a Capital P!
How would you keep track of every such guest, and every such demand??
With an Excel Sheet? Or a software application that's only a fancier MS Excel?
Please!
You need a hospitality CRM software.
Top hospitality brands use CRM or customer relationship management software to market their services, acquire and nurture new leads, and retain customers over decades.
A hotel CRM comes with specialized tools specifically designed for hotels, like built-in telephony, 360-degree customer views, loyalty programs, lead management, and so much more. 
The Benefits of Hospitality CRM Software
By using CRM for the hospitality industry, hotels can keep in contact with their customers and provide them with personalized attention while they are on the property.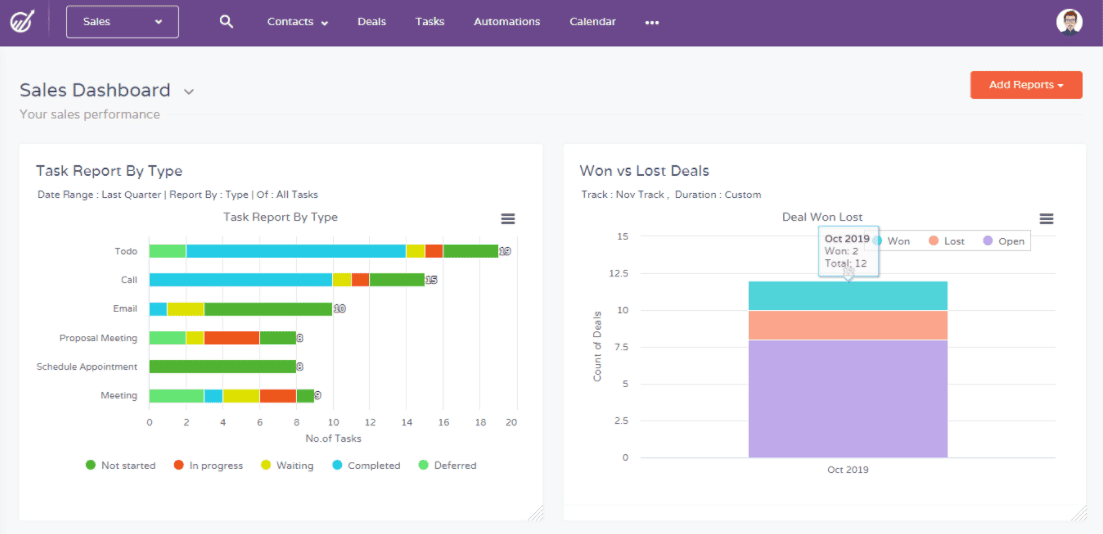 The hospitality industry has seen a resurgence over recent years due to improvements in customer service.
Tools like hospitality CRM allow for more personalization of interactions between hotel staff and guests.
They do this by keeping tabs on guest preferences through past visits or social media posts. The CRM software can also analyze statistics about visitor spending habits.
This way, hotel managements are better equipped for memorable customer service.
Let's look at the key CRM benefits in a bit more detail now.
Building Customer Relationships
Unlike other industries, communications between your hotel and the customer begin days or even weeks before check-in. 
Without CRM software to manage your customer journey — from the point someone pays a visit to your website and long after they have left — you'll be left wading in the dark. 
A CRM software helps you offer a tailored and unforgettable experience for your guests. 
Centralized Database
Gone are the days when hotels used dozens of software for managing each aspect of their hospitality business.
A hotel is a complex machine with multiple parts; from reception, housekeeping, and chauffeurs, to marketing and customer support teams. 
All these parts need to work together to offer guests an experience greater than the sum of its parts. 
This is why CRMs play an indispensable role here.
A CRM software helps all the units access information from a centralized database. In essence, it stores 'guest profiles.'
Customer Loyalty
Satisfied guests are more likely to keep coming back while also recommending the hotel to others. This is especially true for large hotel chains in multiple locations.
As a result, many CRMs in the hospitality industry have features designed specifically to enhance and quantify customer experience.
For example, hospitality CRMs have tools for launching promotional campaigns, managing loyalty programs, and analyzing post-stay surveys.
This shows that you care for your guests and are dedicated to improving their experience.
Track Sales Tasks
Hotels offer multiple PoS channels for their guests to enhance convenience. Many hotels even offer bookings through third-party brokers and applications. 
That's a lot of stuff to keep track of. Fortunately, a CRM software can help your sales teams keep track of all the processes and offer the tools to drive up revenue. 
Analyze Customers
Hotels can upsell quite beautifully.
Guests have a plethora of needs. Some have babies and need diapers or toys. Some need special services, like wheelchairs. Others are allergic to certain foods.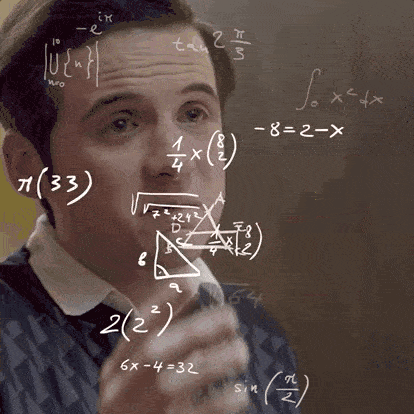 This is where a CRM software shines. 
It collects and stores guest data — which you can use to sell personalized packages to guests.
Hotels can use this customer data to launch campaigns to attract potential customers, too. 
Key Features of Hospitality CRM Tools
Track
A Hospitality CRM software offers tools to track room occupancy, goods inventories, supply management, and room service. This is why you need CRMs designed for hospitality businesses, as they include operations management tools and even property management systems. 
With a good CRM software, you can collect every single data collected by all these tools, store them in a centralized location, and analyze them.
Schedule
A hotel may have hundreds or even thousands of employees working across different sectors. 
Managing such a vast workforce is no easy task. 
With a hotel CRM software, your HR team can manage various day-to-day tasks, including appointment scheduling, task delegation, and even use workflows to automate hiring and training new staff.
Automate
CRMs can generate invoices with your hotel's logo and branding, create quotes, and help you send branded emails to customers, vendors, and suppliers.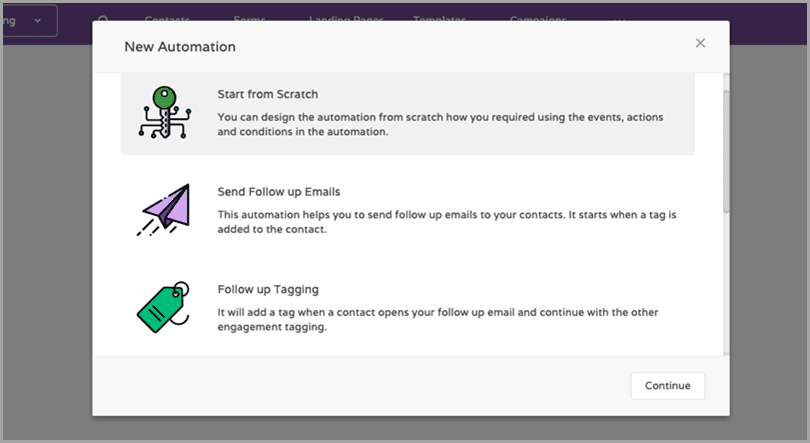 What's more, you can automate this process, schedule emails, and receive notifications about due dates and completed payments. 
Manage
To provide the best customer service, hotels have to offer multiple ways for customers to communicate.
Many CRM platforms offer omnichannel support to let customers connect through phone, live chat, email, SMS, and even social media. 
The CRM then saves all the communications in the database for easy future access by customer service reps.
Engage
With the likes of Airbnb and OYO dominating the hospitality sphere, it is vital, now more than ever, to put yourself out there and promote your brand. 
The best hotel CRMs have the tools to let you do this.
They leverage multichannel marketing broadcasts, social media ads, and a powerful segmentation tool to deliver your content to the right audience at the right time. 
Top 5 Hospitality CRM Software in 2021
#1. EngageBay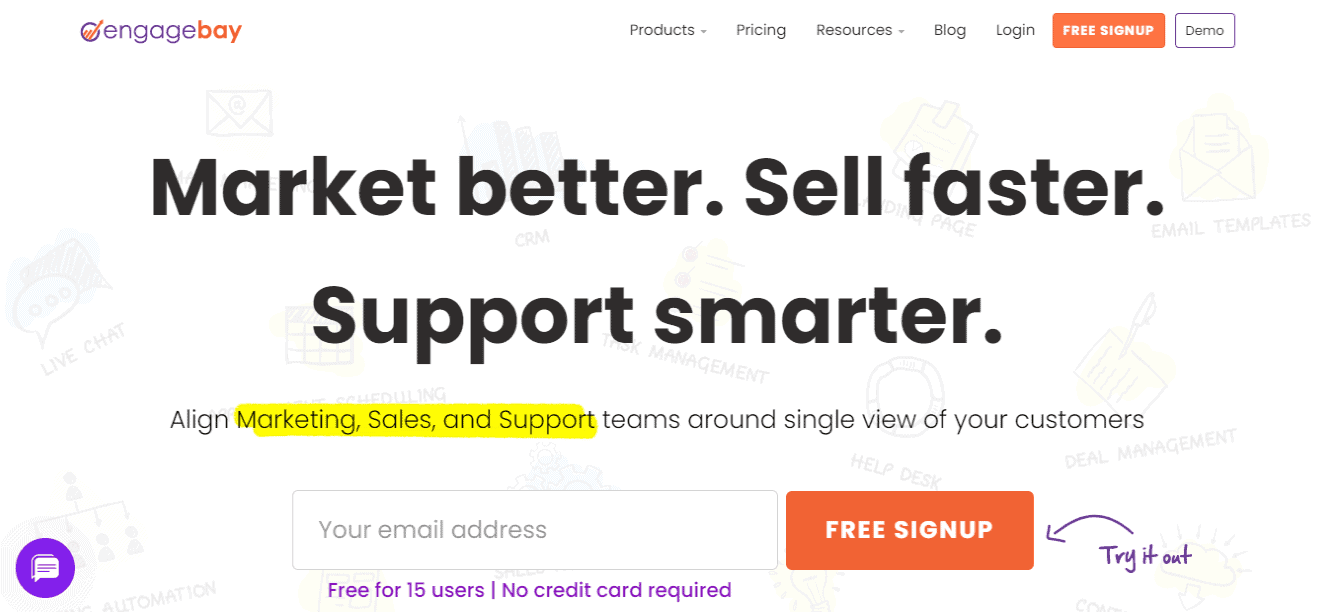 EngageBay is one of the best hospitality CRM solutions that won't require you to dish out thousands of dollars for tools you don't need. 
EngageBay's all-in-one marketing, sales, and customer service platform offer you all the tools you need to promote your hotel, manage housekeeping, launch marketing campaigns, respond to customer inquiries, and get post-stay guest feedback. 
Features
Need a landing page for your hotel? EngageBay has got you covered there. You can drag and drop elements to build stunning pages or choose from dozens of pre-built templates. Oh, and you can optimize them for responsiveness. 
You can even A/B test your landing pages and email broadcasts to maximize performance. With this tool, you don't have to take shots in the dark.

An omnichannel presence is becoming increasingly vital for hotels, partly due to competition from platforms like Airbnb. With EngageBay's omnichannel marketing, you can reach out to your customers through phone, chat, SMS, email, and social media. 

Similarly, you can view all your appointments in one place using EngageBay's 2-way calendar sync. 

Customer service is at the heart of hospitality. EngageBay lets you bring out your A-game through its Service Bay. Issue, track, assign, and solve

tickets; automate support using canned responses, macros, and autoresponders. 

Need more? Choose from dozens of powerful integrations. Use JustCall to place calls directly from the CRM; place reCAPTCHA to enhance security; integrate Stripe and offer your guests a complete billing solution.
Cons
No search marketing yet.

Marketing automation is not offered in the Free and Basic plans. 

Can have more interactive tutorials for advanced tools.
Pricing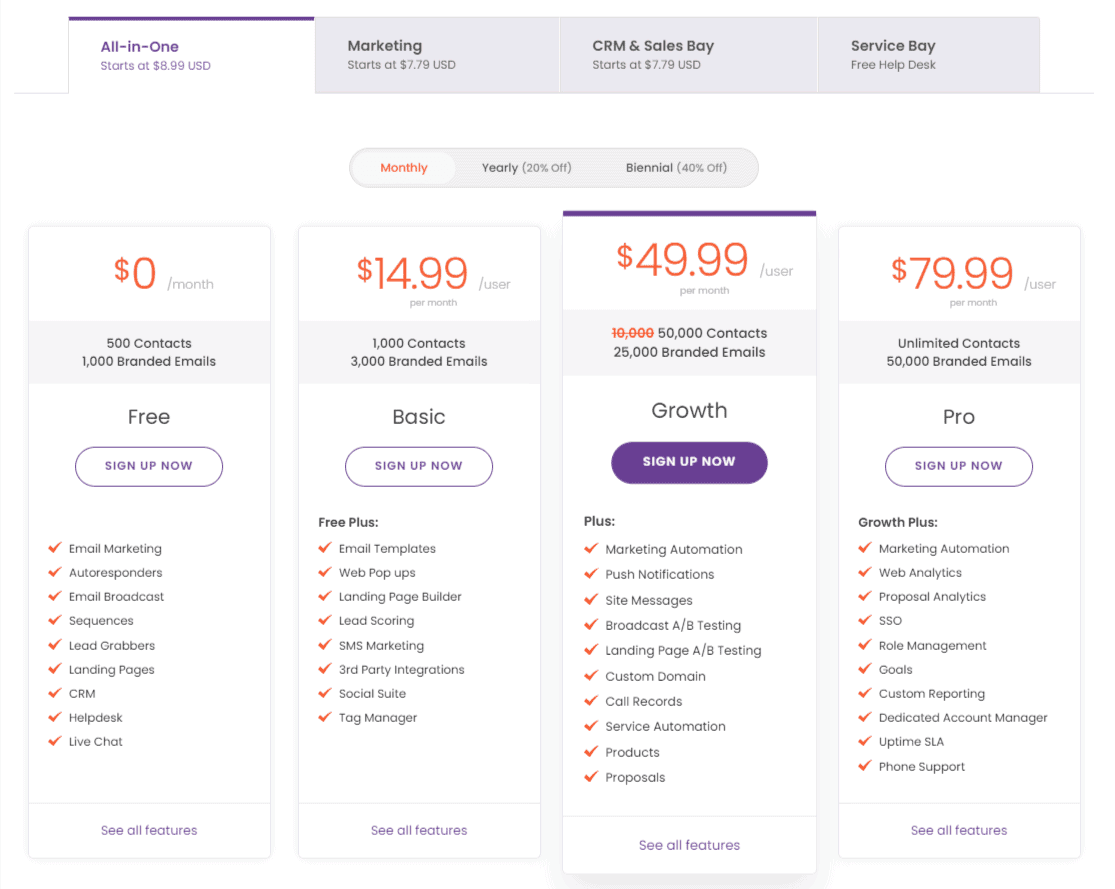 Have we mentioned that EngageBay is highly affordable?
That said, don't let the pricing fool you; it is power-packed with all the tools you need to manage your hotel and keep attracting new customers.
Here's a breakdown of the pricing plans and their features.
Free All-in-One plan: This plan is free forever for up to 15 users, making this one of the best free CRM software for the hospitality industry.
1,000 branded emails per month

500 contacts

Live Chat

Help Desk

CRM

Landing pages

Autoresponders

Email marketing

500 MB storage

360-degree contact view

Appointment scheduling
…and so much more.
All-in-One Basic Suite: This plan costs $14.99 per month and includes:
3,000 branded emails per month

1,000 contacts

All Free plan features

Custom deal milestones

1 GB of cloud storage

Conversational inbox

Lead scoring

SMS support

Web pop-ups.
All-in-One Growth Suite: This popular plan starts at $49.99 a month and offers:
25,000 branded emails

50,000 contacts

All Basic plan features

Marketing automation

Push notifications

Free onboarding sessions

Custom domain

A dedicated account manager
All-in-One Pro Suite: This plan starts at $79.99 a month and offers advanced tools like: 
50,000 branded emails

unlimited contacts

All Growth plan features

call scripts and recordings

Custom reporting

APIs

Web analytics

Phone support

Proposal analytics

Web analytics
All the paid plans also get a 20% discount on annual subscriptions and a 40% discount on biennial subscriptions. 
#2. HubSpot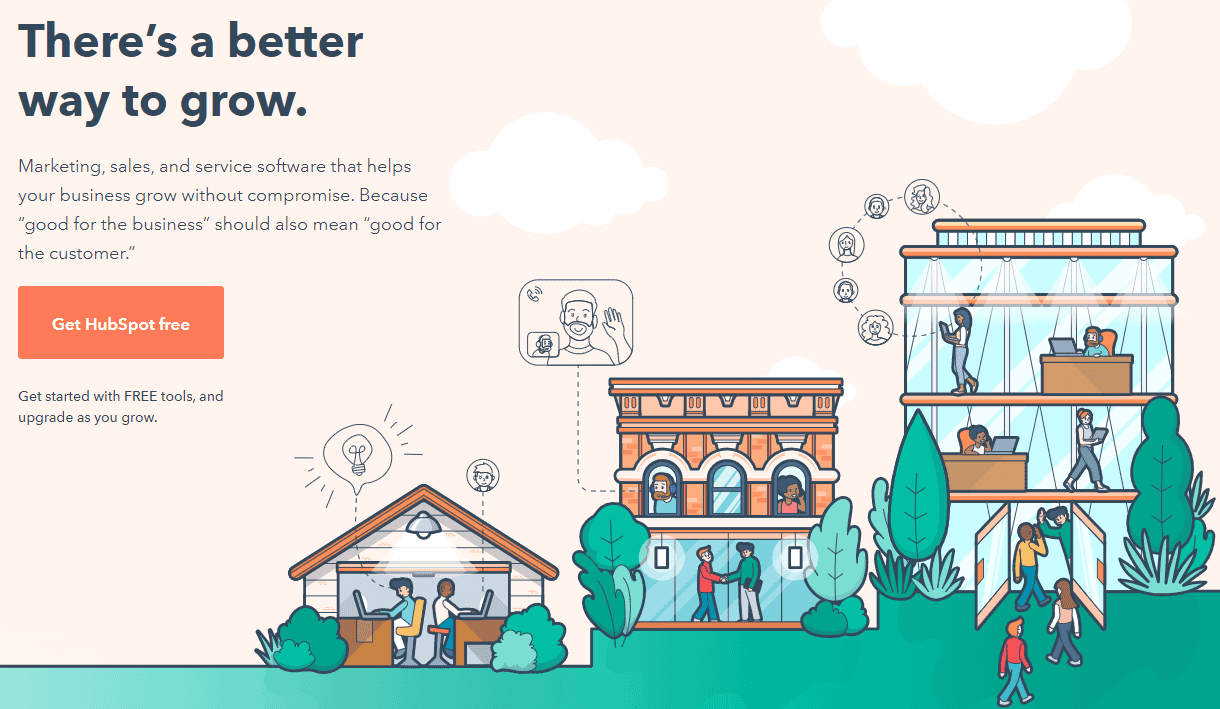 HubSpot is another one of our favorites. It leverages various tools to keep your hotel running smoothly. 
Features
Using HubSpot's 360-degree customer view, you can get a comprehensive perception of your guests. 

HubSpot's Service Hub lets you issue tickets, prioritize them, assign them to agents, and close them quickly and efficiently. 

The software lets you create email forms quickly, A/B test them to maximize reach and launch email campaigns. Then, once the leads start pouring in, you can segregate your customers, attach tags to them, and even add them to lists. 

HubSpot's landing page builder is intuitive and powerful. You can drag and drop desired elements to create stunning pages and email forms. Need more control? You can use HubSpot's A/B testing tool to maximize clickthroughs. 

The software's on-the-go content optimization offers readily available ideas while drafting content. Boost your SEO ranking with this powerful tool.
 Cons
One of the most expensive CRM software

HubSpot's standalone products won't provide the best value for your money

Limited reporting

Paid technical support

No A/B testing on lower-end packages
Pricing
Starter Growth Suite

: This plan costs

$50

a month and offers email marketing, 25 smart lists, 10 reporting dashboards, deal pipelines, canned scripts, live chat, and mobile forms.

Professional Growth Suite

: This plan starts at

$1,343

per month and offers company scoring properties, 1,000 smart lists, salesforce account, A/B testing, custom reporting, snippets, calls, web analytics, eSignatures, and NPS surveys. 

Enterprise Growth Suite

: Pricing starts at a whopping

$4,200

and includes Events API, webhooks, multitouch revenue attribution, call transcripts, single sign-on, user roles, and slack integration. 
#3. Freshworks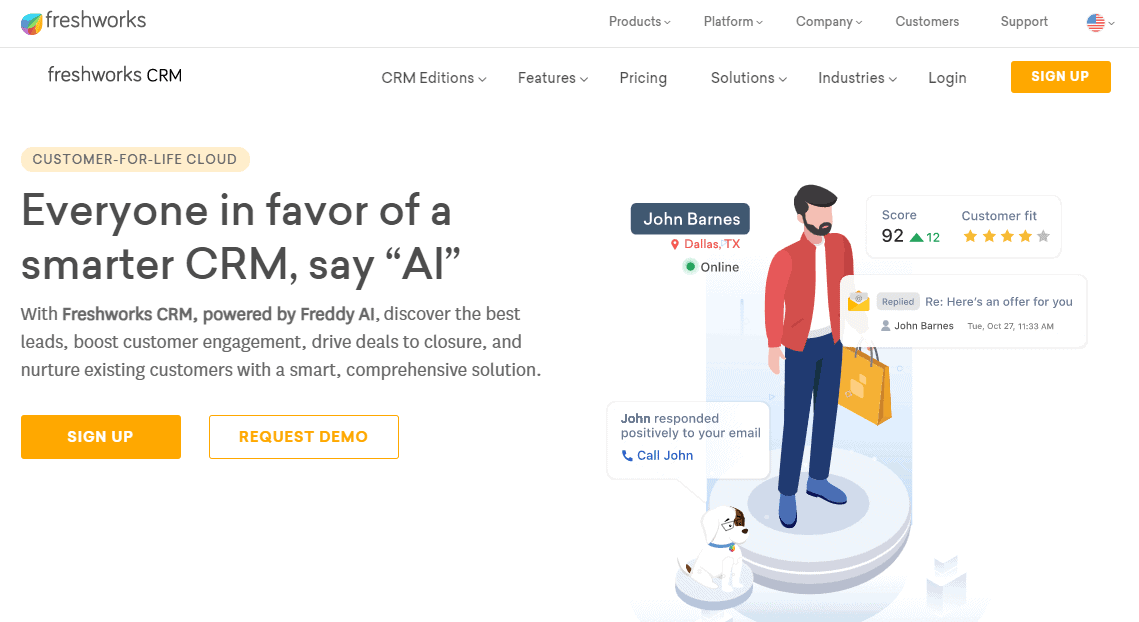 Freshworks is yet another great CRM automation platform for hotels. It also has a suite of other products that you can connect to, like FreshDesk and FreshCaller.
Features
You can use Freshworks' AI-based predictive lead scoring tool to gain high-value customers. With 2-way email sync, you can view your appointments in one place. 

With Freshworks' CRM and automation, you don't have to fret about whether your campaigns have a positive impact. The software's tracking metrics give you a bird's eye view of open, clickthrough, and bounce rates. 

You can call your guests, suppliers, and even other branches directly from the CRM using Freshcaller, add important notes to your calls, and record them. 

Chauffeurs, hospitality workers, and field agents can work on the go through Freshwork's iOS and Android apps. 
Cons
Complicated error logs

Freshworks' complex user interface may feel clunky to use at first
Pricing
Growth plan

: This plan costs

$29

a month and gives you access to a visual sales pipeline, custom reporting, sales sequences, Slack collaboration, Freshdesk integration, and built-in phone and email. 

Pro plan

: This plan costs

$69

a month and adds conference calls, sales goals, answer bots, conference calling, active marketing journeys, behavioral segmentation, and territory management. 

Enterprise plan

: This plan costs

$125 a month and adds features like auto-profile enrichment, deal teams, audit logs, sales forecasts, advanced metrics, and a dedicated account manager. 
#4. GetResponse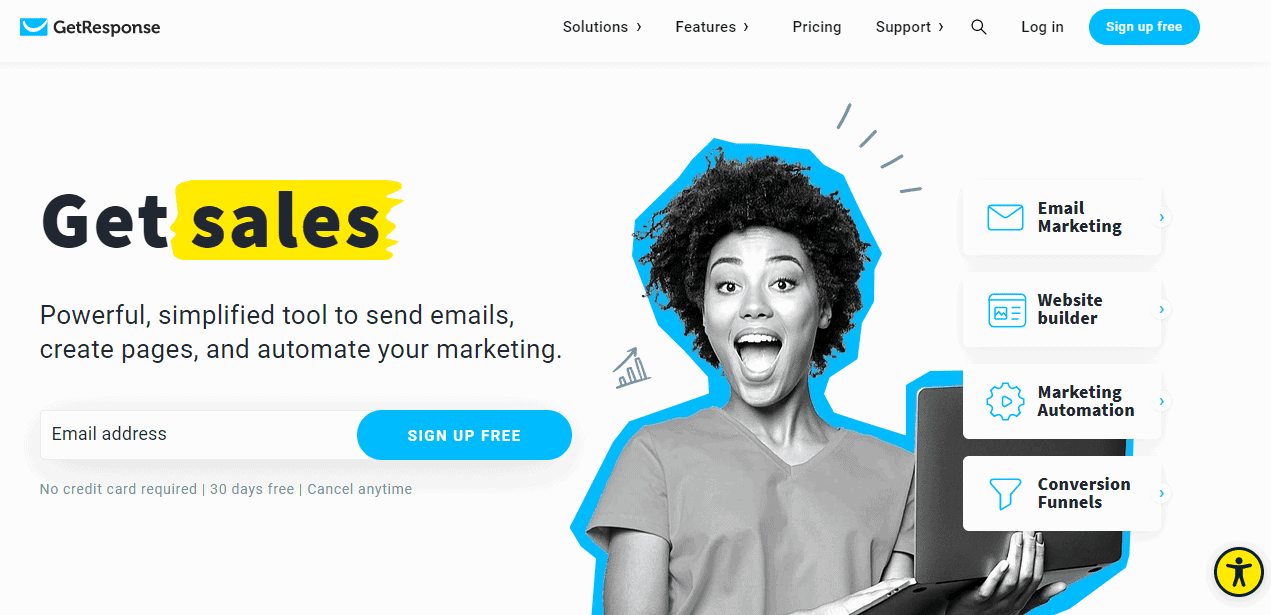 The fourth hospitality CRM system on our list is GetResponse. 
GetResponse offers an array of tools for hotels to manage, organize, and automate their workflows. 
Features
With GetResponse's autoresponders, email broadcasts, and scalable workflows, you can launch powerful campaigns to reach potential customers. 

GetResponse's landing page builder lets you design beautiful landing pages for your hotels. You can even A/B test your page to ensure that each guest finds something they want. 

Additionally, you can keep an eye on your hotel's sales and marketing performance through GetResponse's insightful reports and dashboards. 

Again, GetResponse's conversion funnels and paid ads let you enhance your outreach and pull in more customers. 
Cons
Lack of third-party website tracking links. 

No free plan; GetResponse only offers a free trial for 30 days.
#5. Keap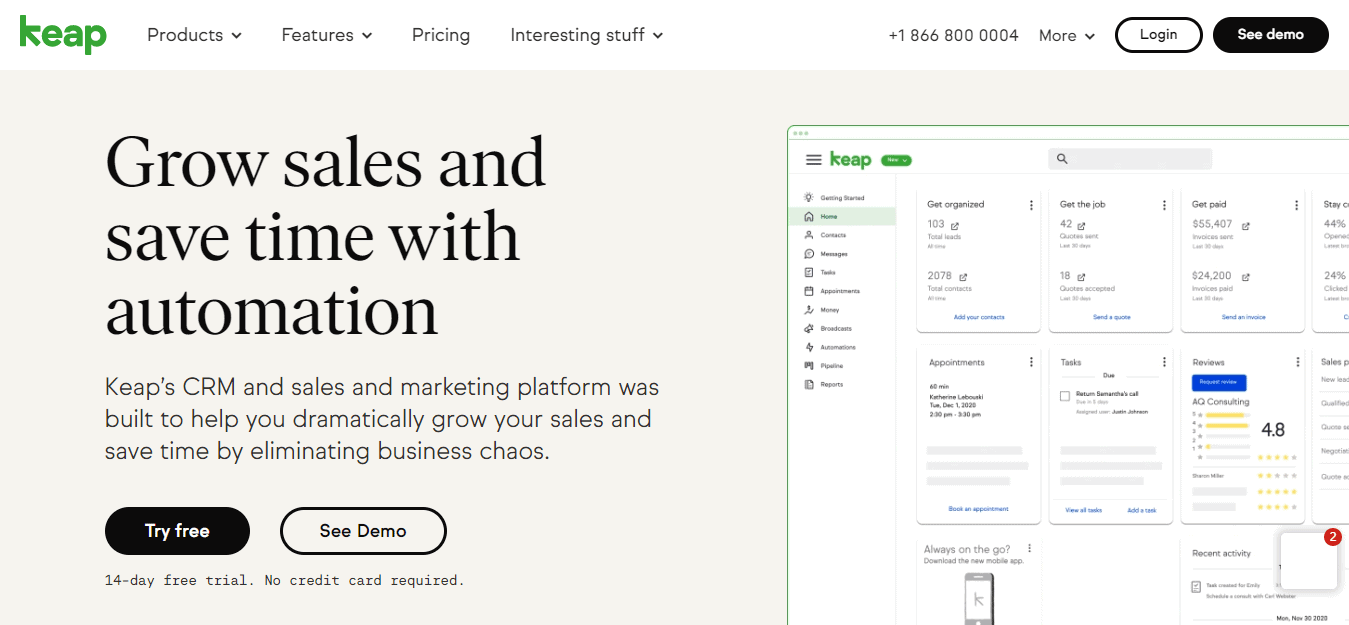 The final hospitality CRM on our list is Keap. 
Features
Keap offers tools to capture potential customers, segment them, organize them in a central location, and send targeted marketing material.

Keap also offers calendar-booking so that so your guests or suppliers can easily schedule appointments. Tools like invoicing and integrated payments make it easy to send bills and receive payments. What's more, everything's logged into the CRM. 

Sometimes, you might need more hotel-specific third-party integrations. With Keap, you can choose from over 2,500 integrations, including Eventbrite for event management, Google forms to create surveys, and Stripe for payments. 

Your housekeeping staff can contact other departments and respond to guests' queries on the go using Keap's iOS and Android apps. 
Cons
Newcomers may find it hard to navigate through the software
Issues in email deliverability in some instances
Pricing
Lite plan

: The Lite plan starts at $79 a month and offers a core CRM dashboard, automation tools, mobile app, payments, B2B management, and quotes. You can store 500 contacts for one user. 

Pro plan

: The Pro plan starts at $159 per month and offers a landing page builder, tasks, forms, sales pipelines, invoices, A/B email testing, subscriptions management, and 500 contacts. 

Max plan

: The Max plan costs $199 per month for 500 contacts and offers lead scoring, pipeline automation, Shopify integration, automated text messaging, custom user roles, and much more. For 10,000 contacts, you'll have to pay $399 a month for one user and $30 for every additional user.

Max Classic:

Keap also offers the Max Classic plan for advanced hotel sales needs. You get access to features like opportunity records, lead source tracking, sales round robin, and a dedicated business line. You can get a quote from their website. 
Wrapping Up
If there's one thing that hotels need to master, it's customer experience.
Fortunately, there are excellent hospitality CRM systems to help hotels offer the ultimate guest experience. 
Most customers travel to escape their mundane reality: traffic jams, hours-long workday, and the pressures of everyday life. Offering them a seamless experience will make them your loyal guests. 
Ultimately, investing in a great CRM software can help you offer that 'magical' experience your guests are so desperately seeking. 
This is where EngageBay comes into play. It offers all the tools you require, packed into one comprehensive software. 
The sweetest thing about EngageBay is that it costs less than $1 a day. That's less than the cost of all the complimentary coffee you're giving away!

Interested? Watch the demo below to know more: 
Take a look at our latest article: