---
Summary
Netflix is a leading subscription-based streaming service with over 238 million paid subscribers as of 2023. The marketing strategy Netflix incorporates is undoubtedly one of the best — outperforming all other streaming services worldwide. Marketers and businesses everywhere can get valuable lessons and learning experiences from Netflix.
This blog aims to decode the Netflix marketing strategy and the various tactics it uses to keep customers hooked.
---
As marketers, we can all learn from the Netflix marketing strategy.
The streaming sensation has slayed at marketing and captured us all, sucking us into one episode after another.
The Netflix marketing strategy is all about innovation and the latest technology, and it has paid off big time.
Growth is essential for any platform to survive, and so, a winning company must design powerful marketing strategies that have a universal appeal. In this blog post, we're decoding the multi-pronged Netflix marketing that has helped the company eat its competition for breakfast and impress us all so much 😄
What you'll learn about Netflix marketing strategy:



✔

 What is the Netflix marketing strategy?


✔

 What is the Netflix business strategy?


✔

 What is the Netflix content strategy?


✔

 What is the marketing mix of Netflix?


✔

 What is the Netflix social media marketing strategy?


✔

 How did Netflix use Guerrilla marketing strategies?

...and more.
What Is the Netflix Marketing Strategy?
Netflix marketing is an integrated, agile approach to brand development and customer relationship management, which works great in the digital age thanks to innovation, adoption of the latest technology, creative advertising, and real-time data analytics.
Unlike traditional marketing methods that focus on making the sale through one or two channels, Netflix marketing evolves with the changes in the market.

Just like Netflix, your brand, too, can connect with customers across a range of mediums, devices, and touchpoints. Netflix marketing is data-driven, customer-centric, personalized, and omnipresent. The good news is, none of it is superhuman, and you can do it all too.
Netflix and Chill: A Netflix Marketing Case Study
Why is it 'Netflix and Chill' and not 'Let's Stream and Chill'? Why is Netflix synonymous with watching a movie or a series online?
What makes Netflix a significant part of our daily lives? Even though Netflix was founded in 1997, it has only recently found success.
Why?
The following sections cover key points on Netflix's strategy and how Netflix came to be a household name.
Storytime: The Netflix Business Strategy
What is the Netflix marketing strategy?



➤

 Netflix key partnerships


➤ 

Netflix mission statement


➤ 

Netflix target audience


➤ 

Netflix promotion strategy


➤ 

Netflix growth strategy
Netflix was founded in 1997. Back then, nobody knew what Netflix was. If you are a 90s kid, you probably know how 'Blockbuster' was the go-to for everything DVD rentals. Netflix was pretty much doing the same, but Blockbuster was huge.
With the onset of the internet era in the early 2000s, Netflix decided to switch to online movie rentals, initially with less than 1,000 movies.
This switchover is a testament to how agile Netflix is with its business and digital marketing strategy. Netflix followed up this shift with another major change in its business model — the switch to a subscription-based revenue model, which has seen Netlifx's revenue grow manifold.
From a $24 million company in 2000 to a $203 billion company today, and with more than 151 million Netflix subscribers globally, it is safe to say Netflix has made it big.
Let us now evaluate the Netflix marketing techniques over the years that have steadily helped its significant growth from the 2000s.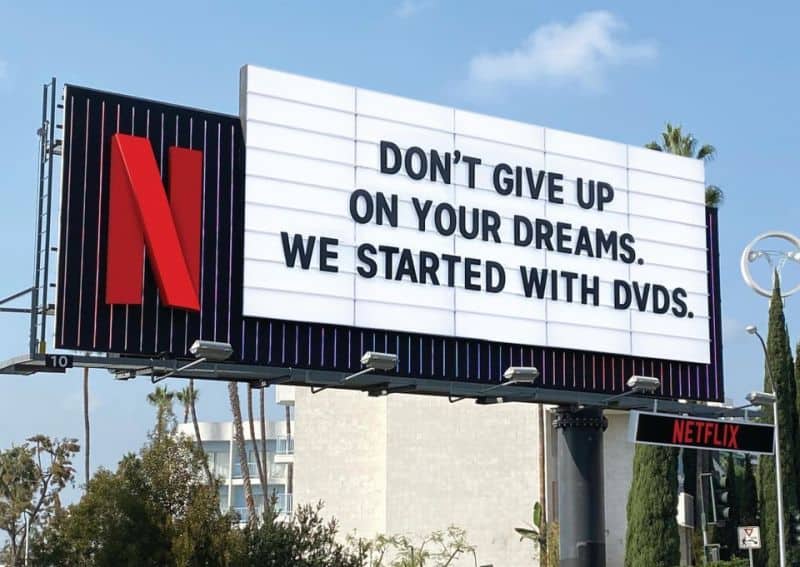 #1. Key partnerships
Formulating a network of key partnerships is essential for a global brand. One important Netflix promotion strategy is partnering with the right companies across the globe to fit different customer profiles for Netflix.
Netflix has over 35+ business partners globally, and these companies vary from Smart TV brands to software platforms such as Apple to network providers such as Vodafone.
This strong network of alliances helps create a stronghold for different Netflix customer segments across the globe.
#2. Netflix mission statement
Netflix aims to provide more than just an online streaming service.
What Netflix does differently is the personalization and emphasis on the customer experience that makes it leagues apart from its competitors., including Amazon Prime Video, Apple TV, Hulu, Disney+, HBO, and more.
Here is a brief review of Netflix's objectives:
Netflix provides 24*7*365 online streaming services, which can be viewed from anywhere in the world as long as you have a Netflix subscription.

All the videos streamed on Netflix are in high definition.

There are hundreds of Netflix original TV shows and movies produced by and unique to Netflix.

An AI algorithm provides personalized recommendations based on your viewing history.
#3. Eye on the target: Netflix's target audience
Netflix is at its peak popularity today. It is no overnight success story. One key question that has dictated Netflix's advertising strategy is – who is Netflix's target audience?
Netflix has consistently sought out the best way to target its audience and understand the target market demographics. It has continually expanded its services to different platforms, such as mobile apps as well as websites, and prioritized providing the best customer experience to its viewers.
Netflix has also expanded its video library with numerous high-quality 'original' content, a huge hit worldwide (this is one of the core Netflix product strategies). This high-quality content combined with user recommendations powered by AI makes targeting the audience and retaining the customer base a great marketing strategy for Netflix.
Read also: 18 Marketing Strategies & 10 Examples From Top Brands
#4. The Netflix promotion strategy
In any marketing model, consistency and promotion go hand-in-hand. But with a global setup, staying consistent while churning out high-quality marketing systems can be challenging.
Netflix is brilliant in this aspect, as it has combined more than one game plan to promote its end goal consistently. Netflix steadily uses multiple social media channels to do the heavy lifting regarding promotions.
Often, the brand ties up with key influencers (influencer marketing), celebrities, and other big brands to do a joint promotion of a TV show or movie release., thus improving brand awareness.
No surprise that Netflix's social media presence is huge and unmissable 😄
#5. Netflix's growth strategy
We think that three main strategies contribute to the success of Netflix today. Take a look.
The Netflix revenue model:

Netflix has a subscription-based revenue model. This is smart as it offers a monthly and annual subscription to users and can be canceled anytime. This business model is lucrative to customers as, for a nominal price, every month or annually, they get to experience the whole range of the streaming network. Today, there are over 125 million subscribers to Netflix worldwide.

Key tie-ups:

Netflix has created a crucial network of alliances globally, from the likes of filmmakers to animators to broadcast their content on their portal. This critical alliance is what makes Netflix unique and top-notch.

Partnership with network providers:

Even for a global brand, it is hard to reach some parts of the world. Netflix partnered with major internet service providers from different countries to promote and stream their services, so that people who don't have access to high-speed internet can still watch Netflix shows on their telly. This is a win-win. Today, Netflix is accessible in 190 countries.

Ad-free streaming and unlimited streaming: These two are the most important USPs of Netflix and mark a radical change from ad-based TV networks and content purchases.
Read also: Top Retail Marketing Strategies To Grow Your Business
What is the Marketing Mix (4Ps) of Netflix?
A marketing mix (also referred to as the 4Ps of marketing) is a framework companies use to promote and sell their services and products. This framework helps companies identify critical components of their business and develop effective marketing strategies. The 4Ps of a marketing mix include product, price, promotion, and place.
Here's Netflix's marketing mix: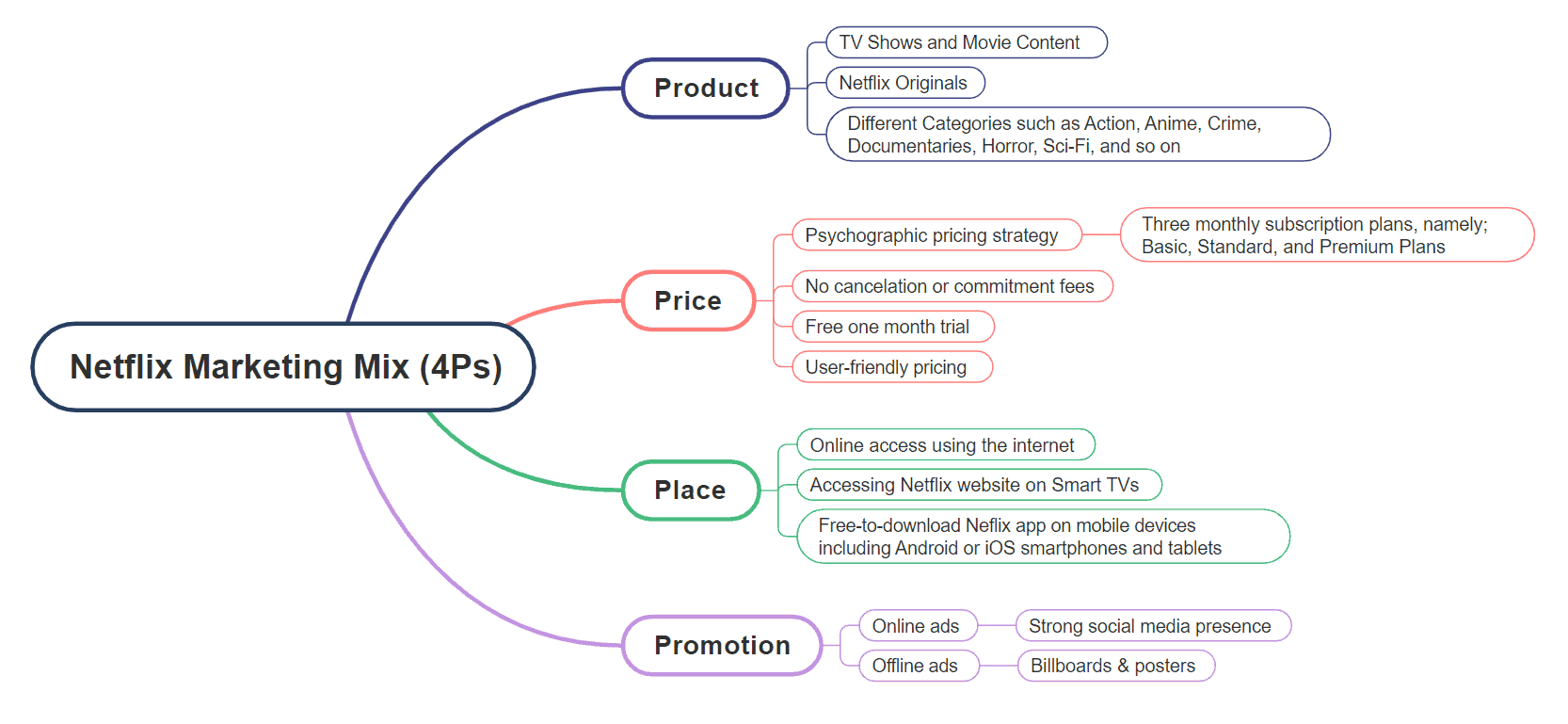 Product
Netflix is an online streaming service offering an extensive library of original content, movies, documentaries, TV series, and more. Netflix caters to a wide range of audiences and offers various genres.
With high-quality streaming, minimal buffering, and a smooth viewing experience, Netflix is set to be one of the best streaming products in the market today.
Price
Netflix's subscription model and tiered pricing plans make it really convenient for subscribers. They get unlimited streaming without going through the trouble of purchasing/renting individual content.
The tiered pricing model allows everyone to access Netflix, irrespective of budget. Plus, Netflix's ad-free subscription model is a game-changer. In an era of ad-based TV and streaming services, Netflix stood out as a platform with an "uninterrupted viewing" experience.
Place
Netflix is a fully online streaming platform, and the digital distribution model allows Netflix to reach a global audience without the need for physical elements such as disks/Blu-rays.
In addition, Netflix is optimized for viewing across multiple devices with different resolutions and operating systems. With this, customers can watch their favorite movies and shows wherever they want, whenever they want.
Finally, Netflix has aggressively built its own content delivery network (CDN), Open Connect, to ensure a smoother and buffer-free streaming experience — a great distribution strategy.
Netflix has partnered with major device manufacturers, ISPs, telecom giants, and other companies by bundling its subscriptions with data plans, pre-installations, and deals.
Promotion
When it comes to promotion, Netflix is the G.O.A.T., as you'll soon see for yourself in this blog. Netflix uses a myriad of unconventional, smart, and viral strategies to improve reach quickly.
Recipe for Success: Netflix Content Strategy
What marketing strategies does Netflix use?



➤

 Hyper-personalized content


➤

 Consistent brand voice


➤

 Social media marketing strategy


➤

 Meme marketing


➤

 Guerrilla marketing


➤

 Invoking a sense of community
Now that we have an overview of how Netflix started from scratch and made it big, let us now review how Netflix constantly stays on top. Its well-reputed image worldwide is consistently maintained due to the Netflix content marketing strategy.
With the best content marketing and promotional strategies in place, Netlifx has gained popularity in key digital media platforms, leaving customers excited and hungry for more.
Today, Netflix has a steady growth in customer base every day.
Here is an analysis of the key aspects of content marketing and digital marketing strategies used by Netflix that have made it a distinguished brand today.
#1. One-on-One Personalized Content
Netflix has built its brand around providing a unique customer experience and personalization of content. The customer profile for Netflix is vastly varied, and providing personalization seems quite daunting.
So, how did Netflix achieve this?
Netflix has taken personalization one step further by providing users the freedom to set preferences and personalize their accounts. Another essential factor that Netflix capitalized on is binge-watching.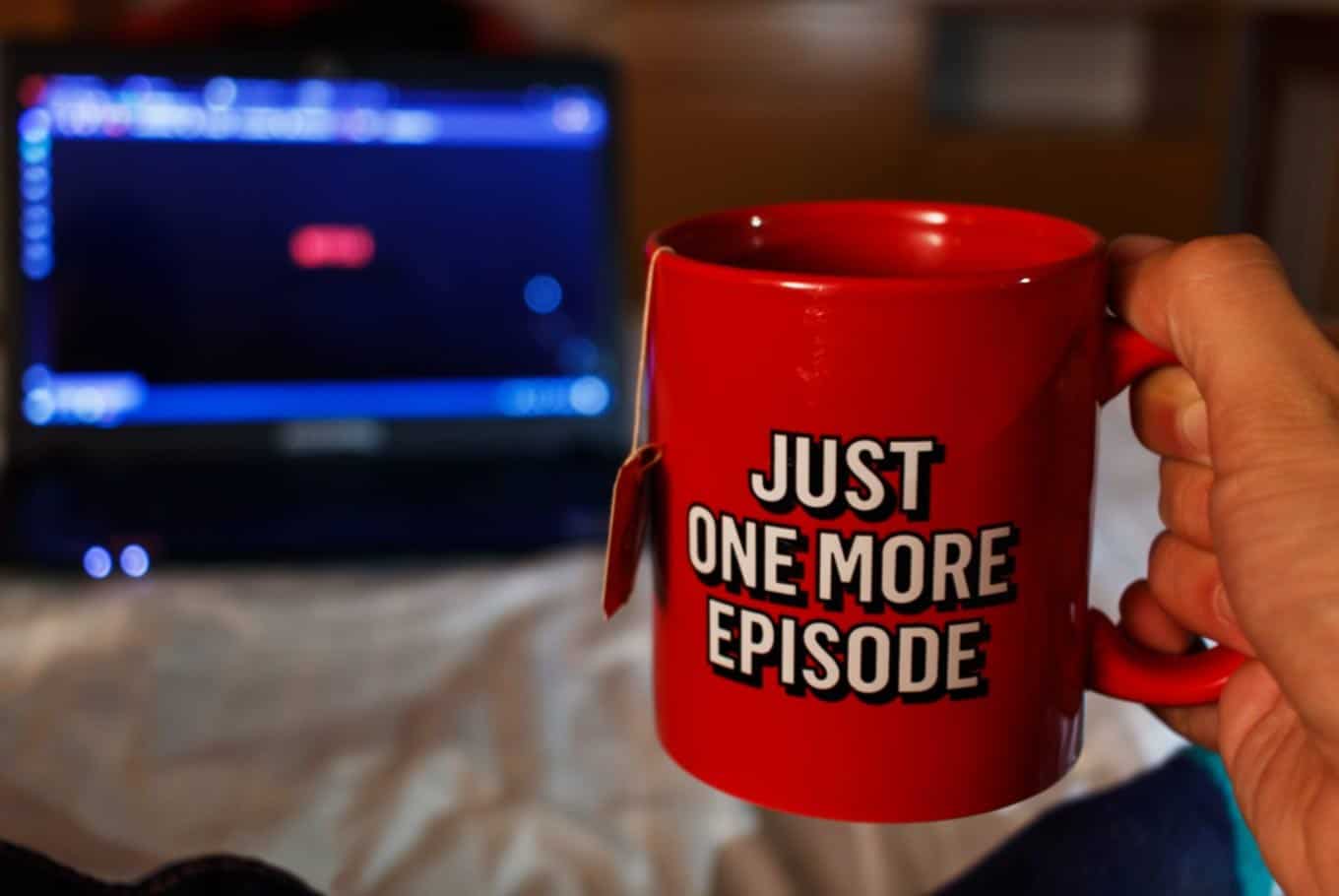 We've all been here, and quite frankly, the design of Netflix makes us want more! Features like auto-play and cueing the next episode make it hard to skip and stop binging.
Besides these features, on a more personal level, recommendations based on your viewing history also elevate the viewing experience. This recommendation feature can recommend an entire category based on a viewer's watch history and preferences.
Building a powerful marketing automation strategy is within your reach. Get step-by-step insights in our in-depth guide.
Why personalization worked for Netflix (Key standpoints)
Netflix has built the brand around personalization and capitalized on providing a unique customer experience to each of its million users.
To summarize:
An elevated and unique customer experience is provided due to the personalization features of each of Netflix's 125 million users worldwide.

The recommendation is based on the viewer's watching history, which makes personalization even more personal.

The unique algorithm of Netflix ensures users primarily watch content they would most likely prefer.

Tools such as auto-play and 'watch the next episode' make binge-watching much more likely, thus benefiting both the user and Netflix.

The user interface of the Netflix app makes it easier for the user to customize their preference and display only the genres they prefer the most.
An essential part of Netflix's personalization campaign is understanding how different customer profiles can be grouped into watching the same type of content but for various reasons. Netflix understood this critical aspect and worked around it to capitalize on providing the most personalized customer experience.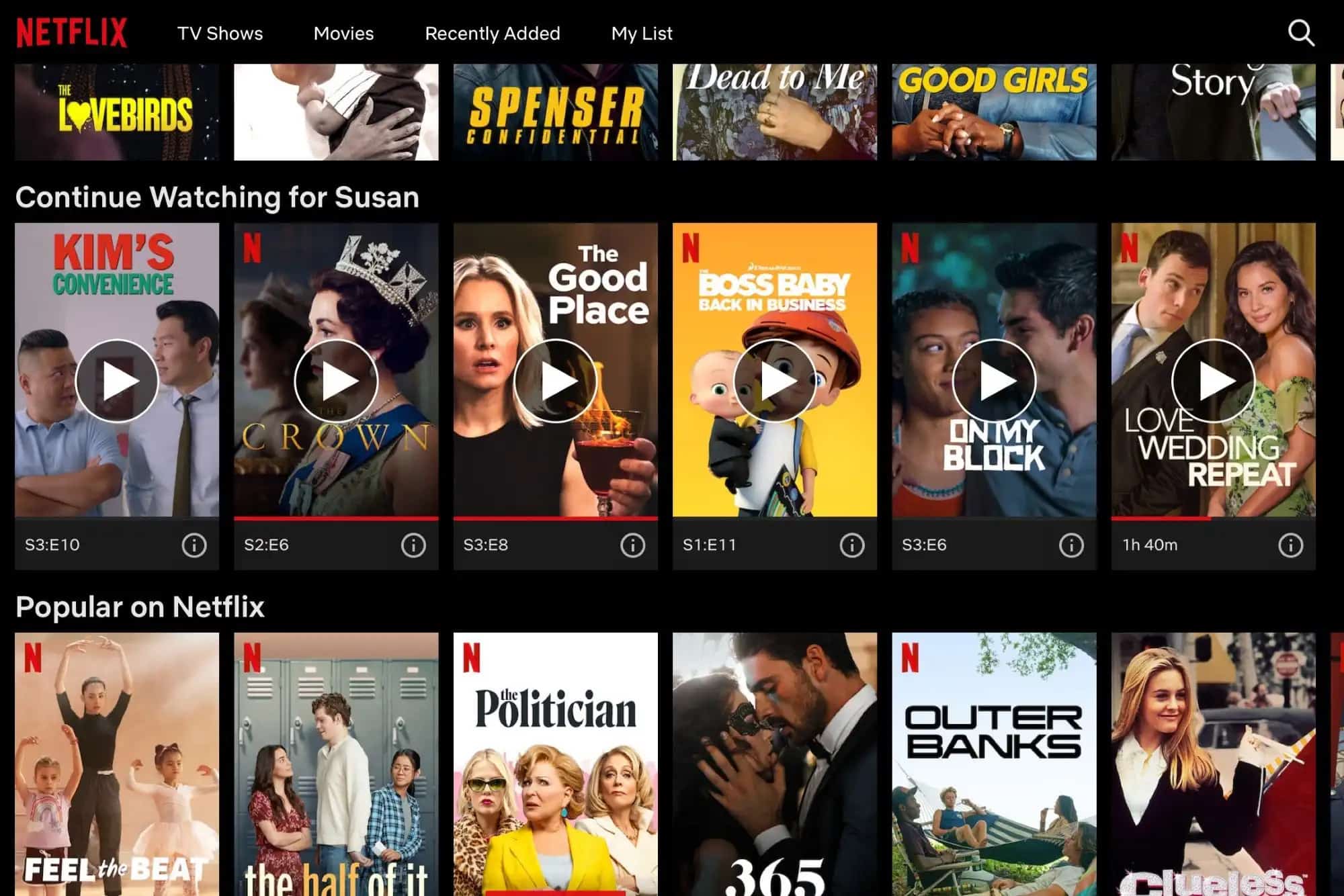 #2. Netflix Brand Voice: How Netflix Delivered Brand Consistency
When we see black and red, we immediately think of Netflix. When we hear the famous Netflix introductory theme, we know the movie/series we are about to watch will be damn good!
Netflix, with its minimal design, has achieved this brand correlation. But how exactly was such a simple design such a sellout?
Consistency.
Netflix has worked hard to create an everlasting imprint on a user's mind with its logo, audio, and visuals. This mind map that a user automatically relates to took years and years of brand promotion and consistency in Netflix's approach.
The brand identity is bolstered further by the quality of consistently high-quality content provided by Netflix. Netflix carefully curates the quality and type of videos displayed on its platform.
The PR team of Netflix ensures a good rapport is maintained with the customer base by constantly engaging with the audience through polls and social media campaigns. These approaches ensure that Netflix has a distinct brand voice that resonates well with the audience.
Netflix brand consistency and visual identity (Key standpoints)
The iconic logo of Netflix immediately speaks of class and quality. Through consistent marketing efforts, this visual identity and brand voice of Netflix has been established all over the globe.
Here is why and what Netflix did to make the brand identity speak for itself:
By carefully curating only high-quality content on its platform, Netflix has ensured that quality is associated with its brand name and brand value.

The minimalistic Logo and audio are played at the beginning of every video to ensure the brand's identity is imprinted in the minds of Netflix users.

Consistent marketing and Netflix promotions through various social media channels enable the brand to stay fresh on top of the user's mind.

Engagement online through polls and social media with the audience helps create a healthy rapport for Netflix with the target audience.
Read also: Glamorous Marketing Strategies For Cosmetics Companies
#3. Netflix's Social Media Marketing Strategy
Netflix's social media marketing is pretty strong. The brand's ability to engage with the audience in creative ways creates a strong sense of community which helps create a groove with the crowd.
A mixed bag of different social media marketing approaches has amassed Netflix millions of followers across various social media platforms over the years. These include exclusive behind-the-scenes content, interactive polls, and fun quizzes.
Netflix Socials: How Netflix used social media as a powerful resource
The key stand-alone point for Netflix when it comes to the social media marketing game is how experimentation with different content formats has worked best in its favor.
Here is a look at some of the tactics used by Netflix over the succeeding years.
Riding the trends
As new social media trends emerge, Netflix has adapted its social media strategy to stay relevant and viral. This constant adaptation to ever-changing trends has made Netflix one of the top gears in the social media marketing aspect.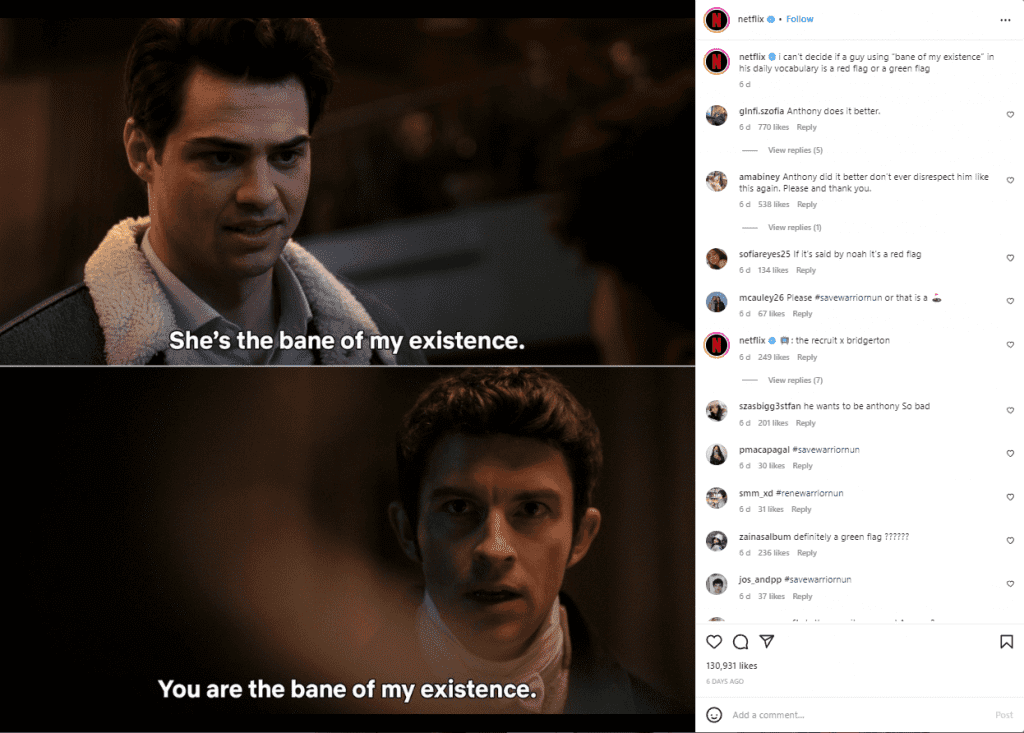 Direct engagement with the audience
Netflix has used the influence of the internet and the power of people to its advantage. By experimenting with creative ways to engage with the audience, Netflix has ensured a healthy relationship is established, which benefits both ends.
Polls, quizzes, and even interactive tweets are trendy due to Netflix's trendsetting content.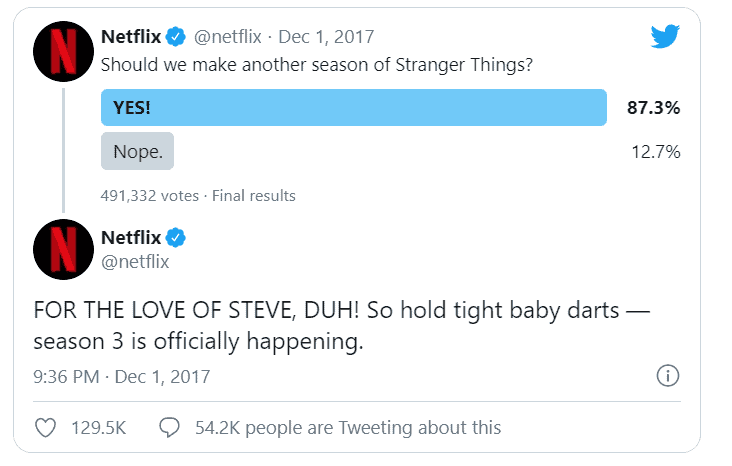 Churning out relatable content
It is one thing to create content that a target audience likes, but it is a totally different thing when the audience can relate to the content posted. Netflix has always tried to create relatable and relevant content that resonates with the audience across different customer profiles and age groups.
While they create memes and funny posts to appeal to the younger Gen Z crowd, they use famous Golden Era content to appeal to the older crowd.
Influencing with celebs
Celebrities love Netflix. They love to partner up with Netflix to promote their movies and series. The audience is also well-receiving to the idea of celebrities promoting their goodies. Netflix has made a haul with this influence and used celebs to promote Netflix as well as the content on the platform.
This has worked out in the favor of everyone!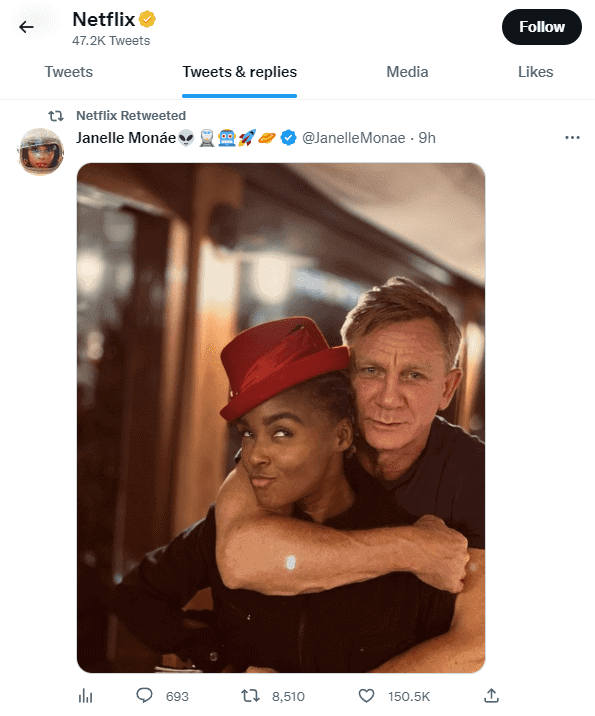 #4. Meme Marketing
For a brand to stay on top and fresh, it is important to adapt and move with the world as it changes. In recent times, Netlifx has been a completely different (some may even call it absurd!) approach to appeal to the younger audience – Memes.
Over the past 5 years, Netflix has consistently amped up its meme game. Netflix's Instagram account at one point has been a meme account with its witty, relatable memes which are a lighthearted but strong social media strategy.
From current affairs memes to totally relatable memes, Netflix has ensured these memes solidify its social media presence. Here are some of the best memes posted by Netflix and how they worked in their way.
Meme-ing away to glory: How memes made it big for Netflix
Netflix used memes to its advantage. This helped them stay in the world of pop culture and trends. What better way to promote content appealing to a certain audience than to make it as entertaining as possible?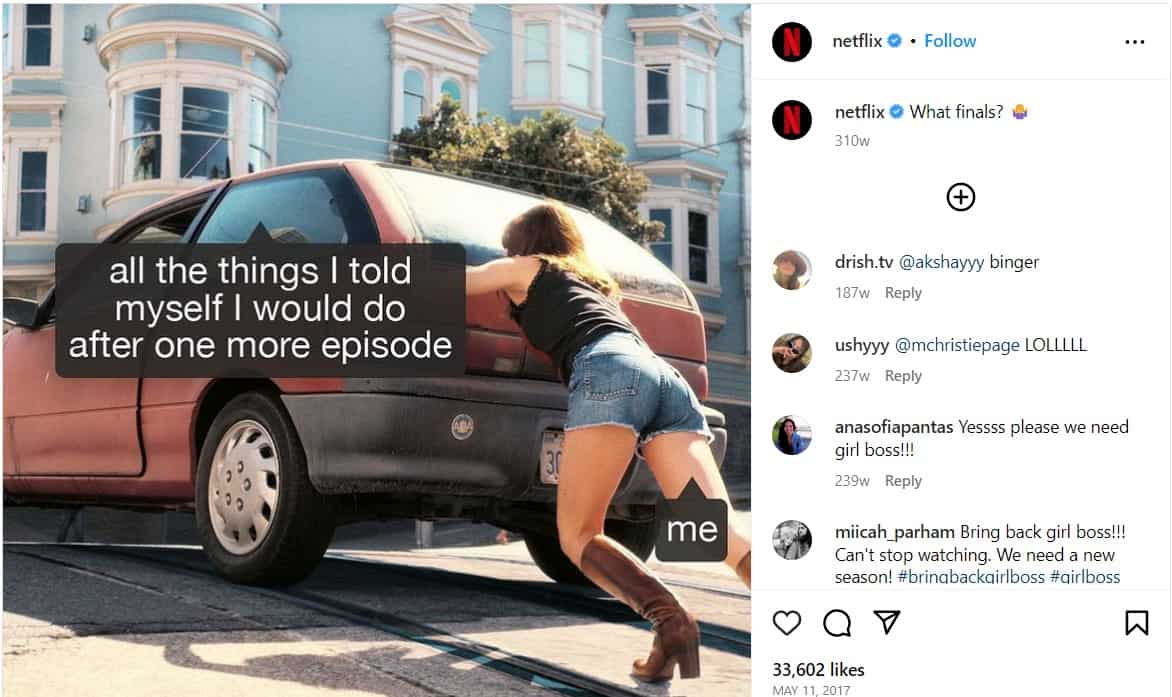 Combine memes with a streaming service, and you can slay!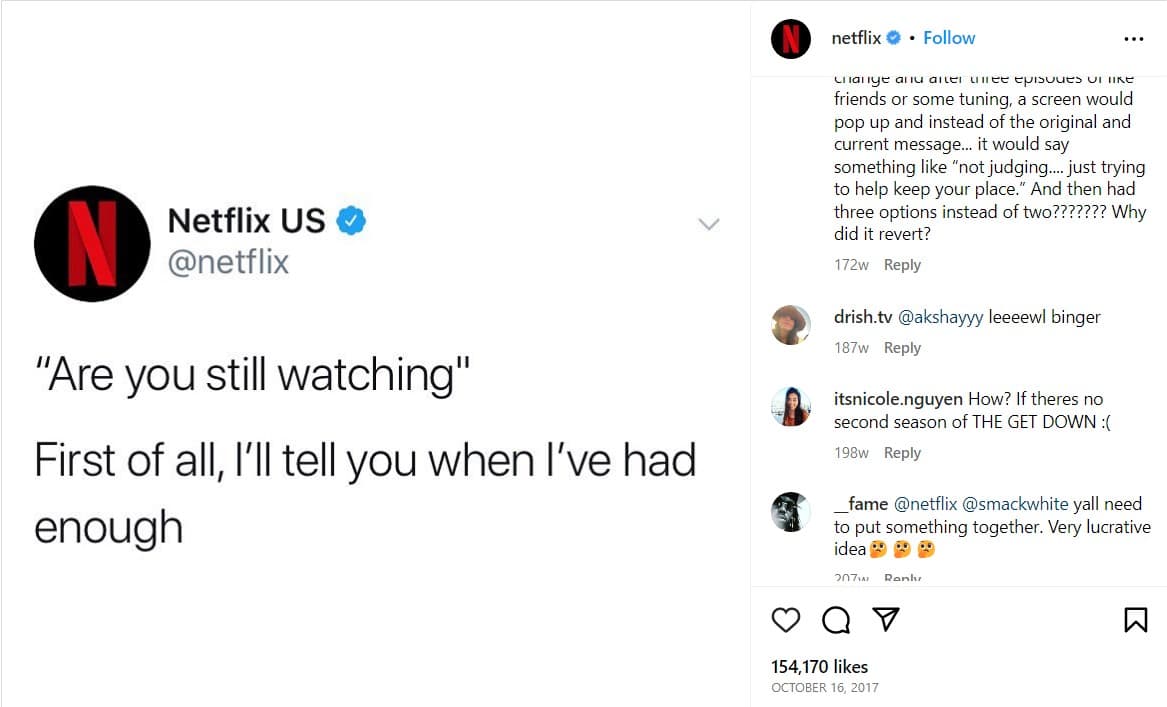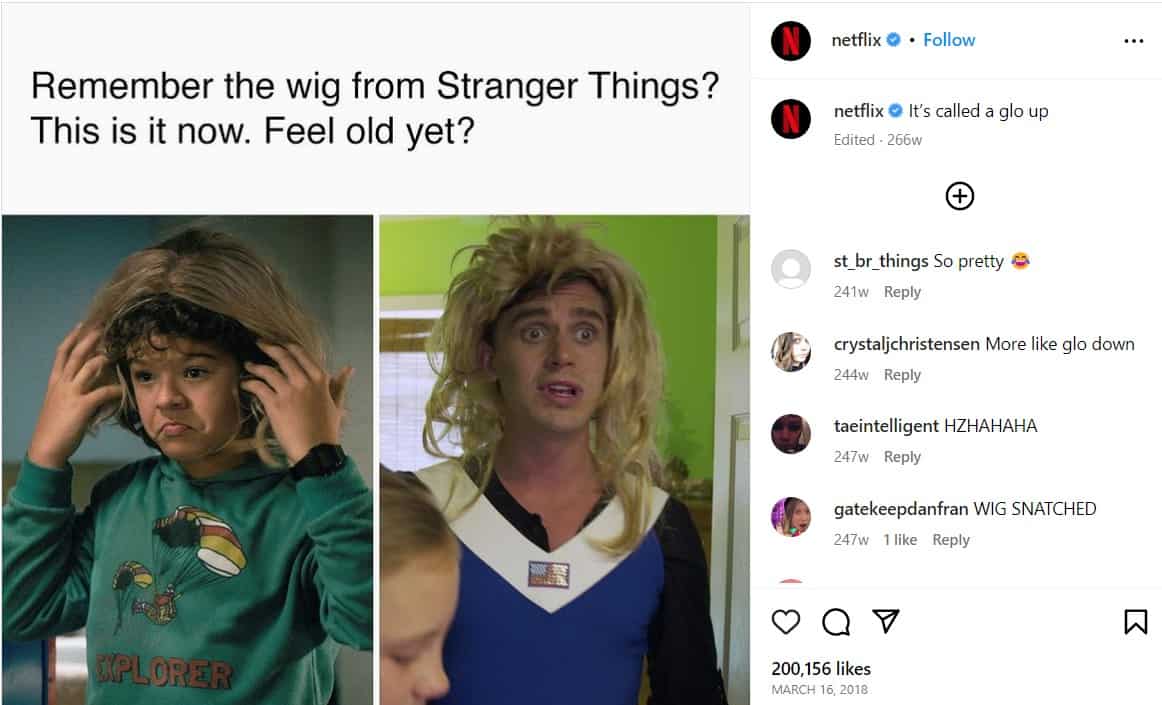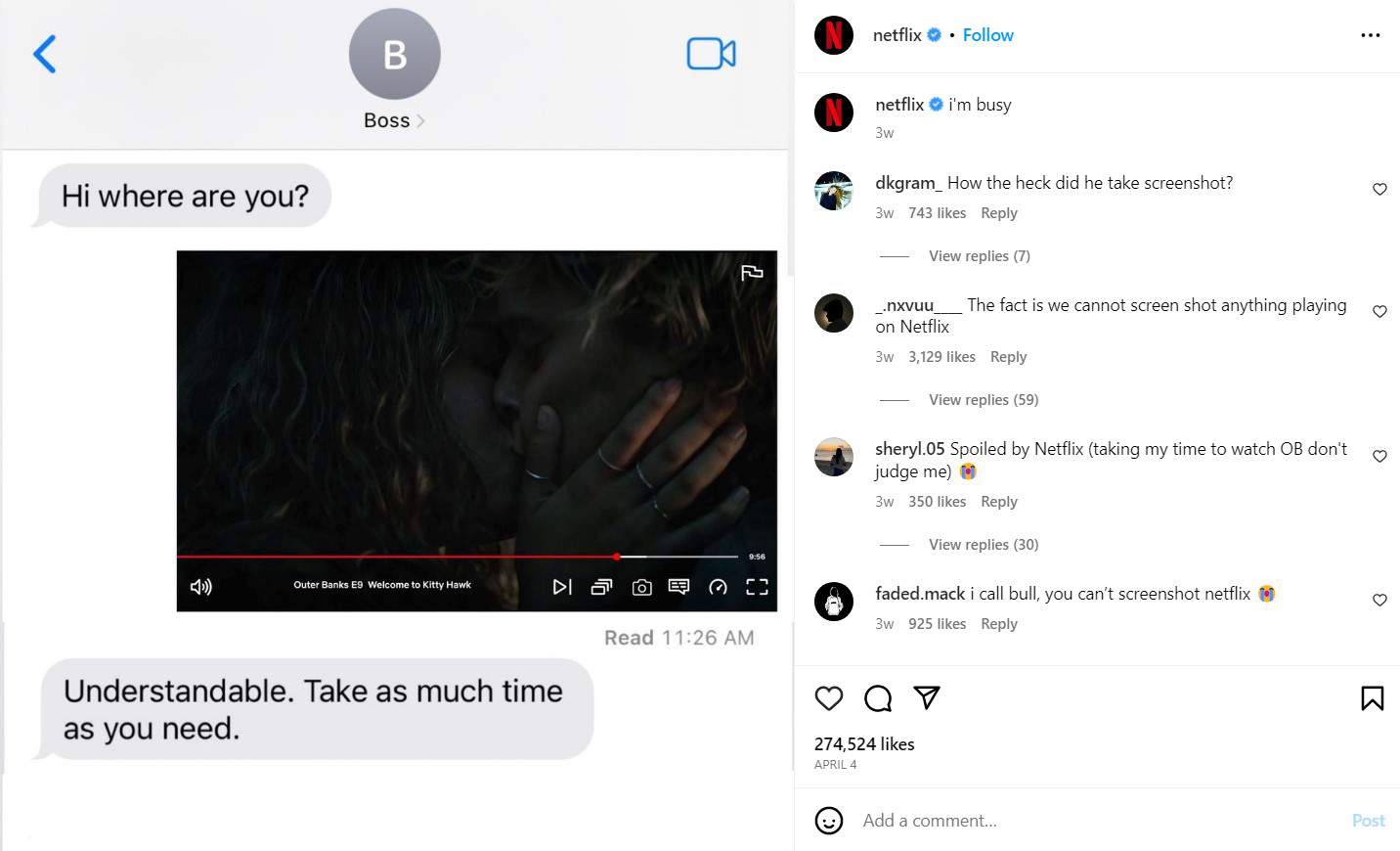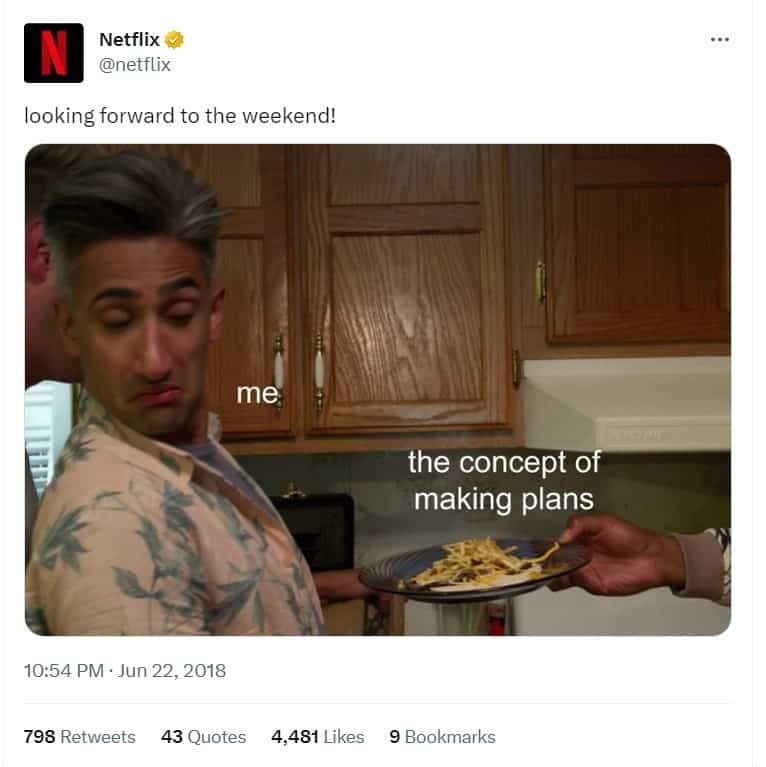 Netflix's marketing team works hard to make the most relatable memes. This marketing strategy, even though it seems simple, has worked well among the younger crowd.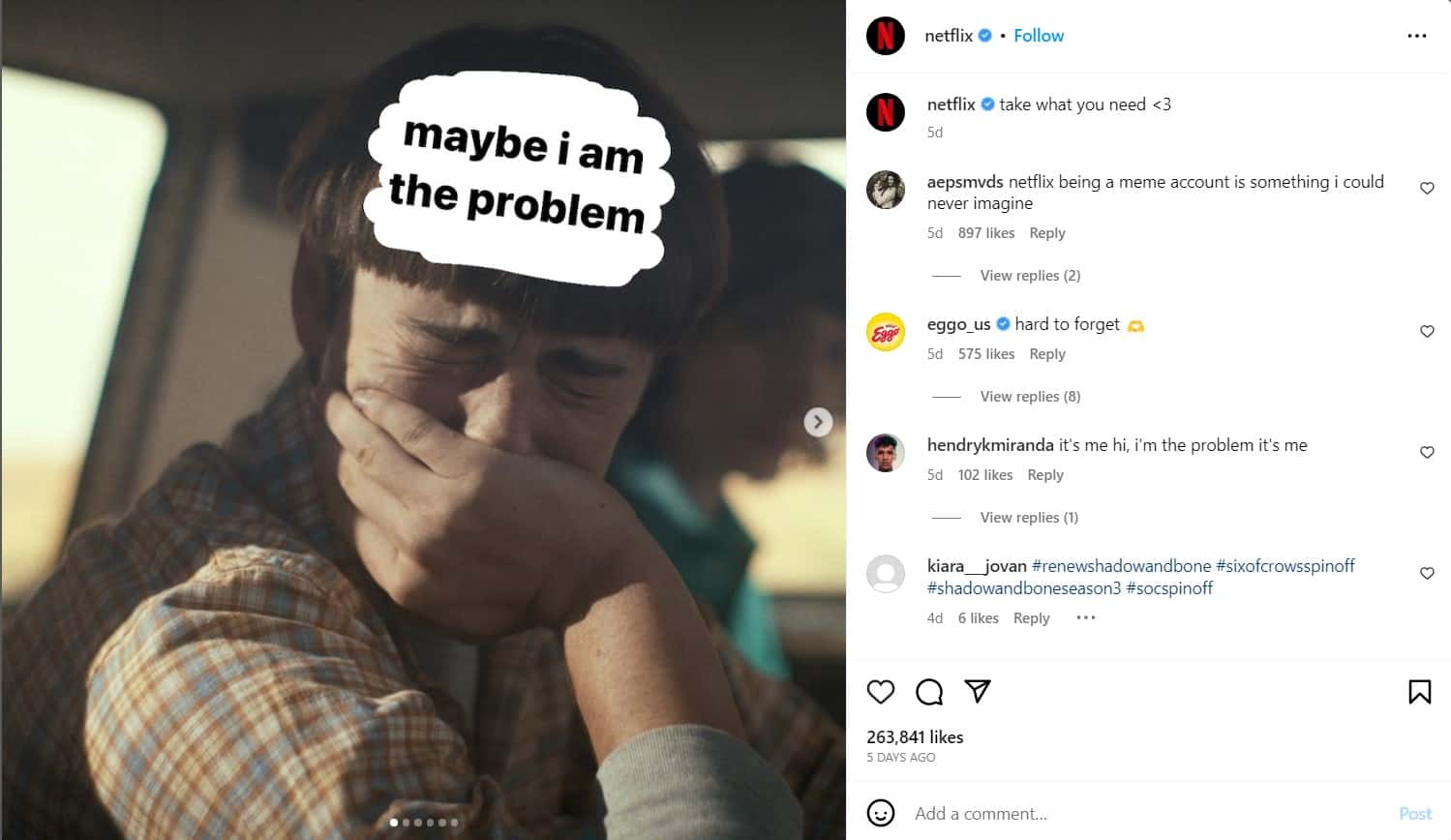 #5. Shock Value: Netflix's Guerrilla Marketing Hit
Success of Netflix Guerrilla marketing strategy



➤

 Squid Game


➤

 Red Notice


➤

 Narcos


➤

 Stranger Things
Guerrilla marketing, in general, adapts the approach from guerilla warfare, where an element of shock, surprise, or wonder takes the target by surprise. This shock value creates waves and helps create a viral influence.
Netflix has used this guerilla marketing and taken it to the next level. Gone are the days when a simple billboard could effectively advertise a series or a movie. A billboard can easily be ignored now.
Creating a shock value is important to get the message across. Take a look at how Netflix used guerilla marketing to create an element of surprise that took the world by storm.
1. Squid Game
Spoiler alert!
The famous 'red light, green light' scene from Squid Games was horrifying but also the main startling factor for the series. The famous 'Mugunghwa kkoci pieot seumnida' immediately rings a horror bell.
So, how did Netflix use this scene to its marketing advantage?
The 'murder doll' is one of the iconic characters from Squid Game. Netflix took the murder doll and placed it all over the world in key locations. This giant doll was placed in train stations, bus stands, and malls across the USA, South Korea, and Australia.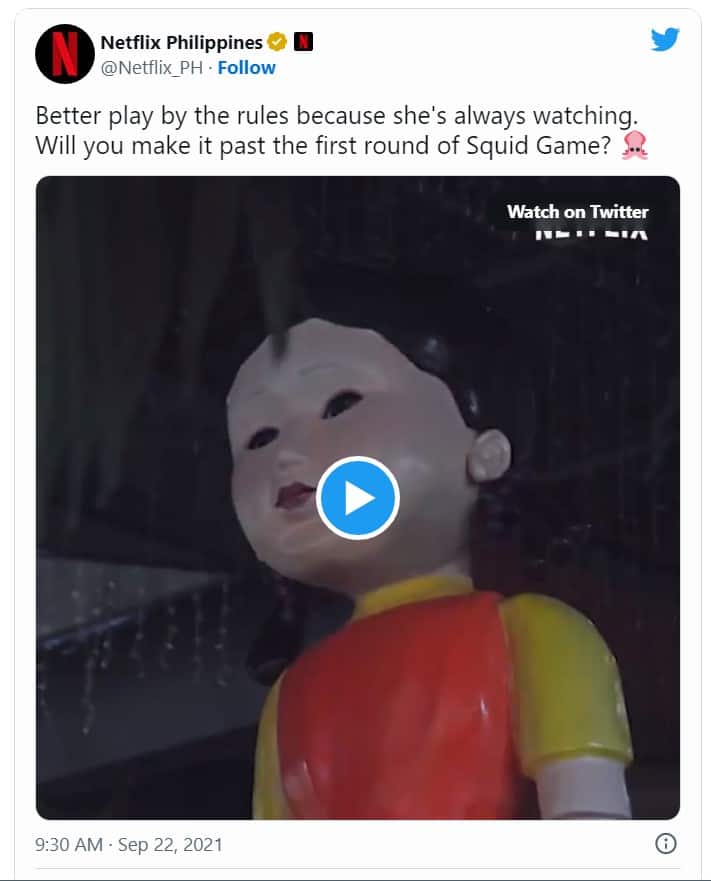 Talk about going above and beyond!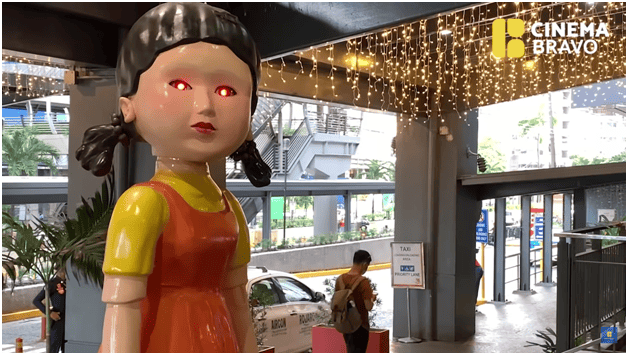 The virality of the series itself helped Netflix gain more popularity. Popular brands used references from squid games to promote their product.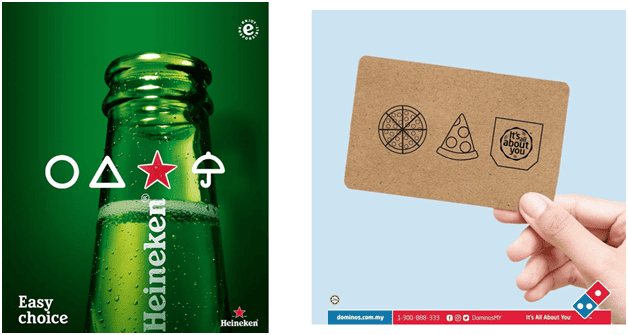 This sort of cross-influencing helped Netflix massively.
Was the guerrilla marketing for Squid Game by Netflix influential?
Netflix's guerilla strategy for the squid game not only made the series a global phenomenon but also made Netflix grow exponentially in a short span of time. Through word of mouth, people tuned in to watch the series even though the series was in Korean.
The audience was influenced by the horror factor promoted by Netflix, which made them watch it for the shock value. Squid Game was 2021's most trending series, thanks to the marketing as well as the global influence created by Netflix.
Read also: 7 Incredible Guerrilla Marketing Examples For Digital Marketers To Learn From
2. Red Notice
Let's look at the two marketing tactics that influenced the success of Red Notice and Netflix.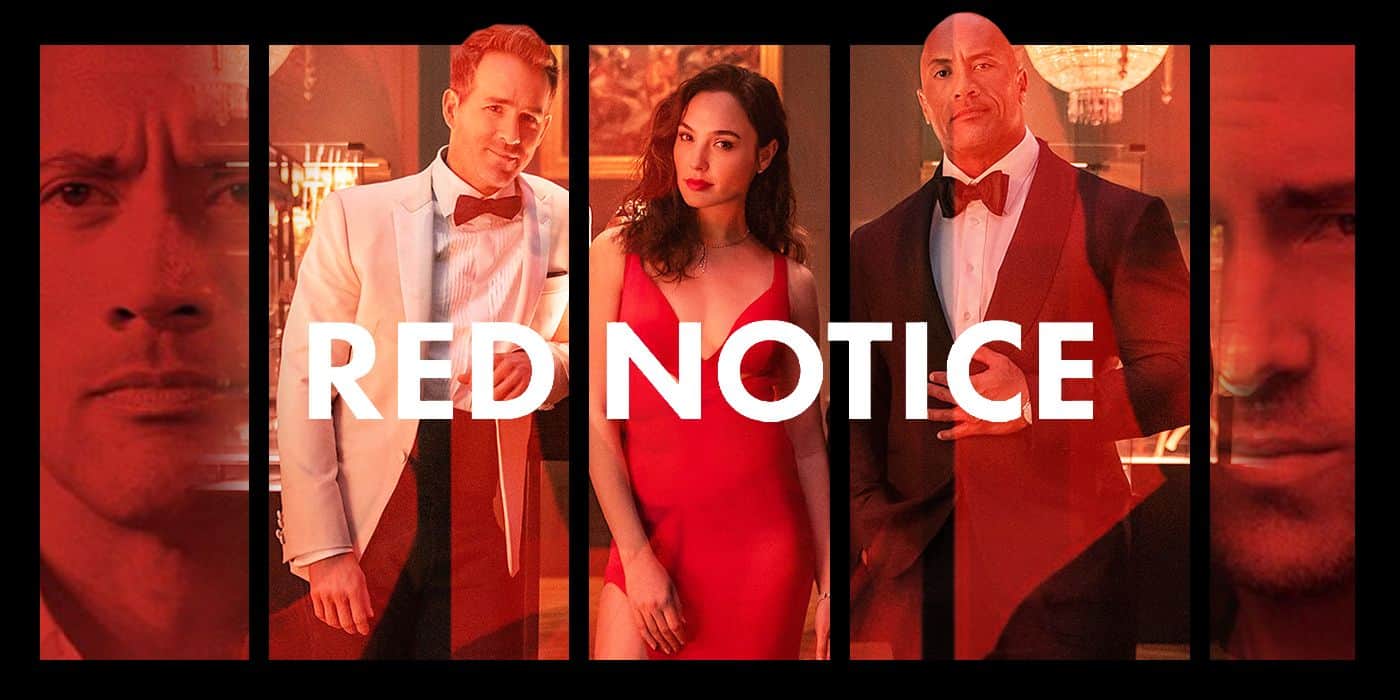 1. Retail shop concept
Red Notice is an American action comedy film released in 2021, released on Netflix. The theme of the movie is based on an FBI agent trying to chase down two notorious thieves.
Quite a simple concept, right? But how did it become one of the biggest hits of 2021? Was it the movie itself, or was it the PR game by Netflix?
Yes, you guessed it right … The PR game by Netflix was the reason for its massive success. Talk about a movie scene becoming a reality. Netflix, with its incredibly creative guerilla marketing tactics, set up a simple concept shop in Mumbai, similar to the one in the movie.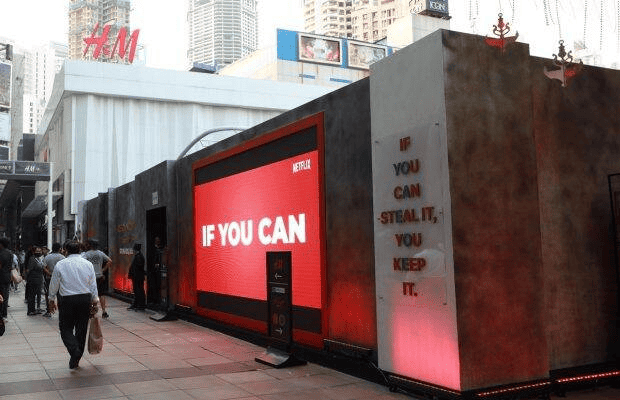 The catch? You can get any item for free if you can steal them without getting (red) noticed! This concept was a huge influence in promoting the movie in India and worldwide as well. The shop quickly became viral.
The shop was set up in one of the largest shopping malls in India, and the interiors had all the influencing factors of the movie Red Notice. For just the three days it was open, the shop created a massive influence for the movie and for Netflix India.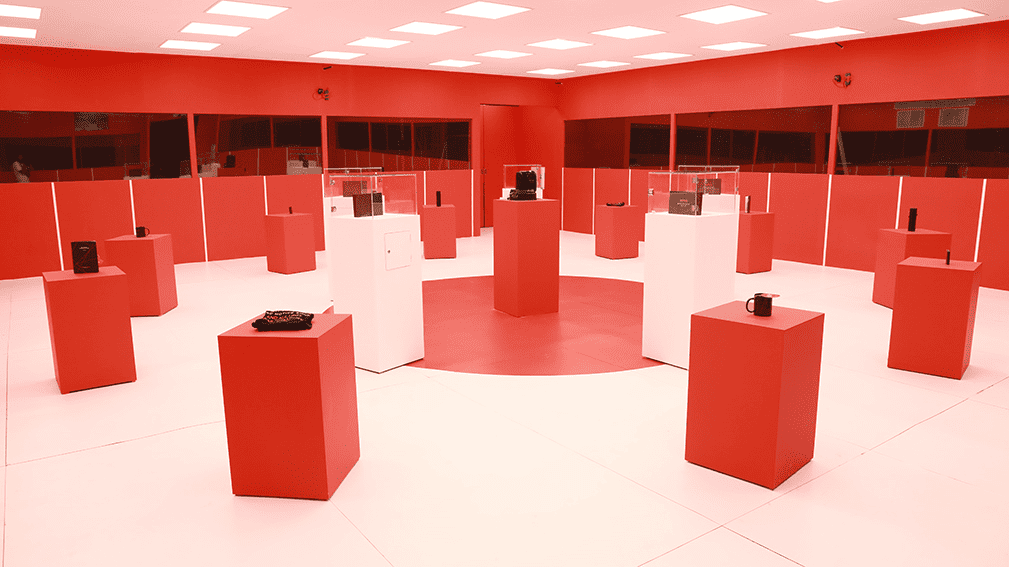 2. Where did the globe go?
Here is another guerilla marketing tactic used by Netflix to promote Red Notice. An entire globe installation went missing at the SM Mall of Asia in the Philippines, which left everyone in shock.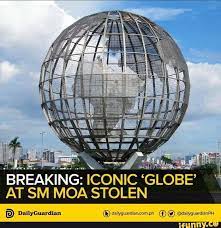 A viral video of a helicopter stealing the globe away was making its rounds on social media. This created a lot of buzz, even from Filipino celebrities.
Finally, Netflix revealed the secret behind the mysterious heist that left the whole of the Philippines in shock.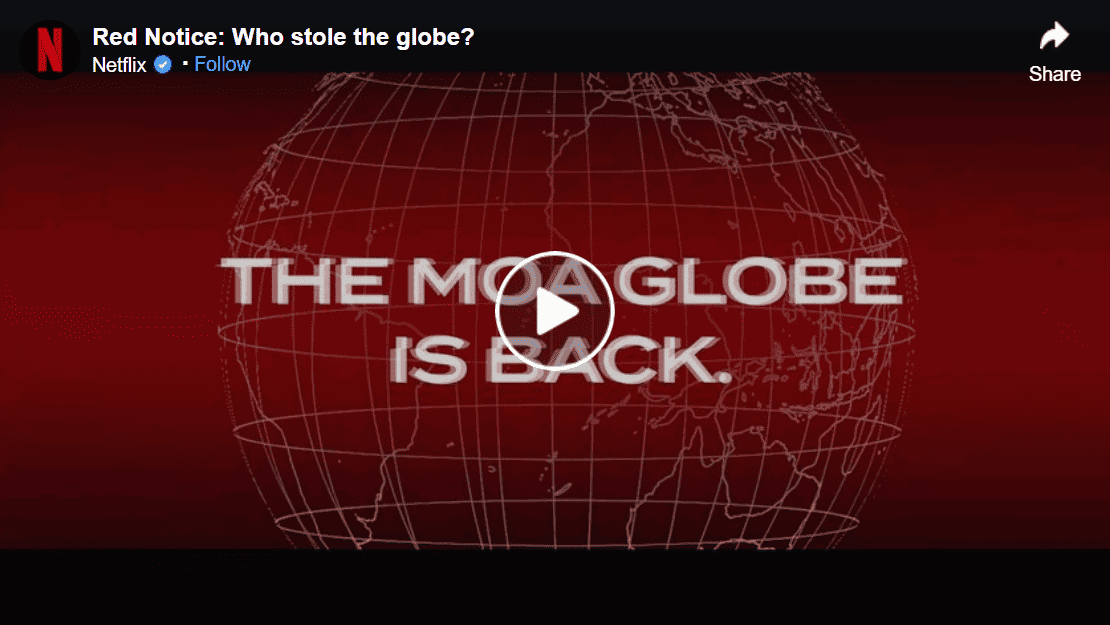 This revelation made the promotion of Red Notice a piece of cake as people were already hooked on the story.
Kudos to Netflix!
Was the guerrilla marketing for Red Notice by Netflix influential?
A loud yes!
Both these marketing campaigns were enough to capture people's attention and get them to notice red notices. Netflix became viral on social media, with the red notice shop garnering 100,000 + views in 24 hours!
Red Notice naturally became Netflix's top 10 most wasted movies in November 2021 across 94 countries. The trailer where the missing MOA globe was released on Netflix's social media accounts received 105,000 + shares, meaning Netflix was viral as never before.
Safe to say, Netflix's guerilla marketing for Red Notice was quite successful. Well played, Netflix!
Read also: 9 Customer Management Strategies to Boost Loyalty
3. Narcos
Is that white powder what we think it is? 'Narcos', a series about the cocaine drama involving the infamous Cali cartel, had enough traction due to the notorious nature of Pablo Escobar, the real-life drug Lord from Columbia.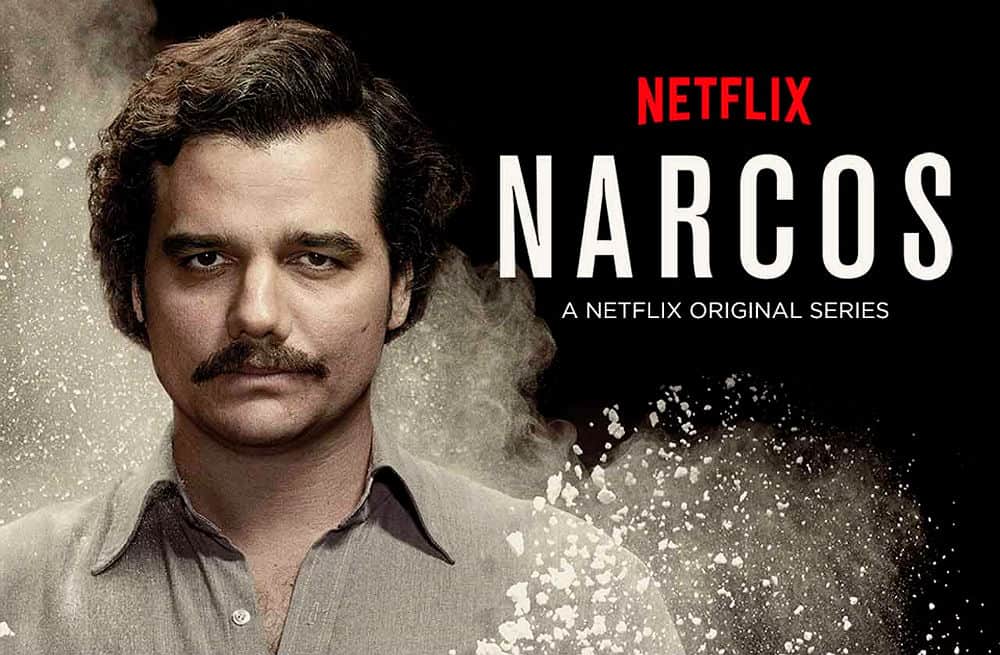 To make things more interesting, Netflix decided to include ads in the most unlikely places- Nightclub bathrooms!
A series of transparent stickers with the caption, "Here in the '90s? There's an 80% chance this power came from the Cali Cartel", and a packet of white powder starting popping up in random night clubs across the United States.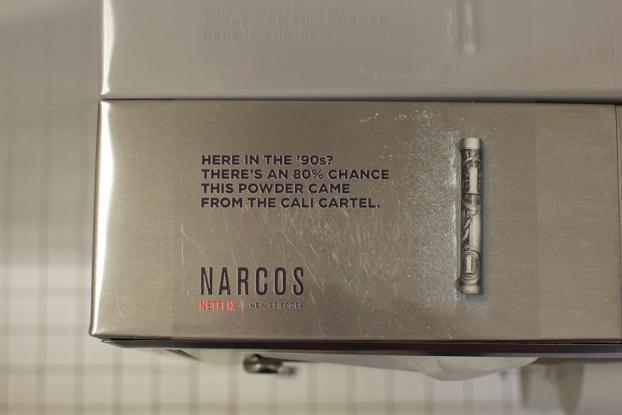 Some would call this creepy and weird, but nevertheless, it helped create the shock value for Narcos, and people were curious to know more about this mysterious white powder and its correlation.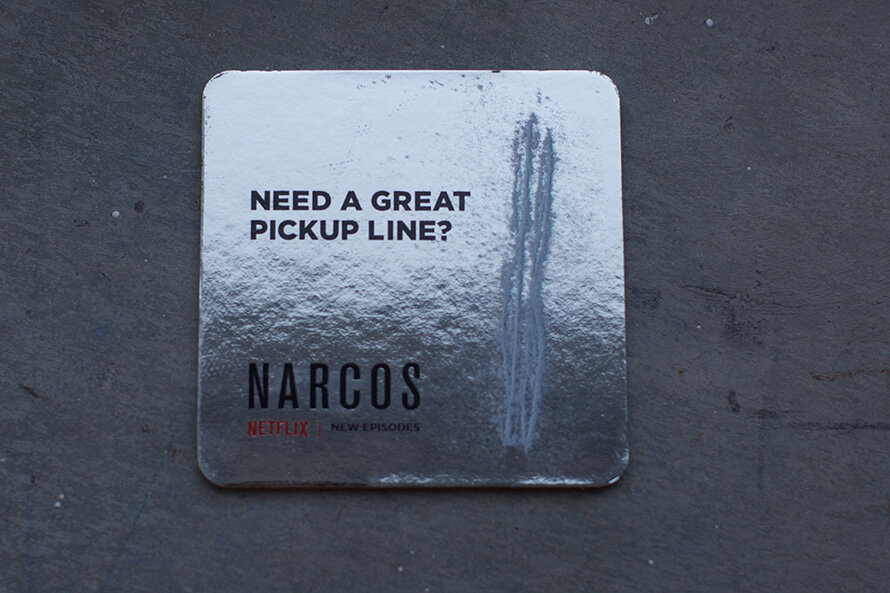 Was the guerrilla marketing for Narcos by Netflix influential?
Even though a smaller marketing campaign in comparison, this simple yet effective way of promoting Narcos did influence the viewing rate for Narcos and eventually made it viral.
These random pop-ups helped Netlifx send the message across about Narcos as well as Netflix and the creative way of marketing.
4. Stranger Things
What is upside down? Spoiler alert (again!) If you are a Stranger Things fan, you know what 'upside down' (dimension) is and how it is the core of the series.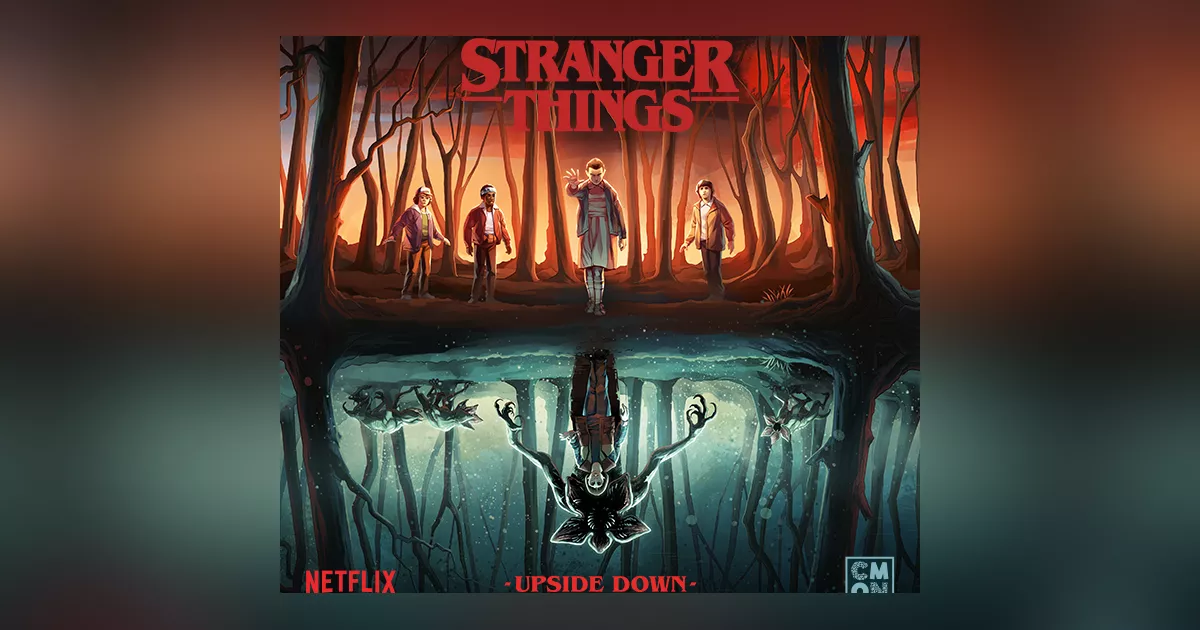 Making a fantastic collab with Burger King outlets across the US and UK, Netflix came up with … drum roll … an upside-down burger, and an upside-down coke!
This collaboration made Netflix and Stranger Things viral, and Burger King benefited too!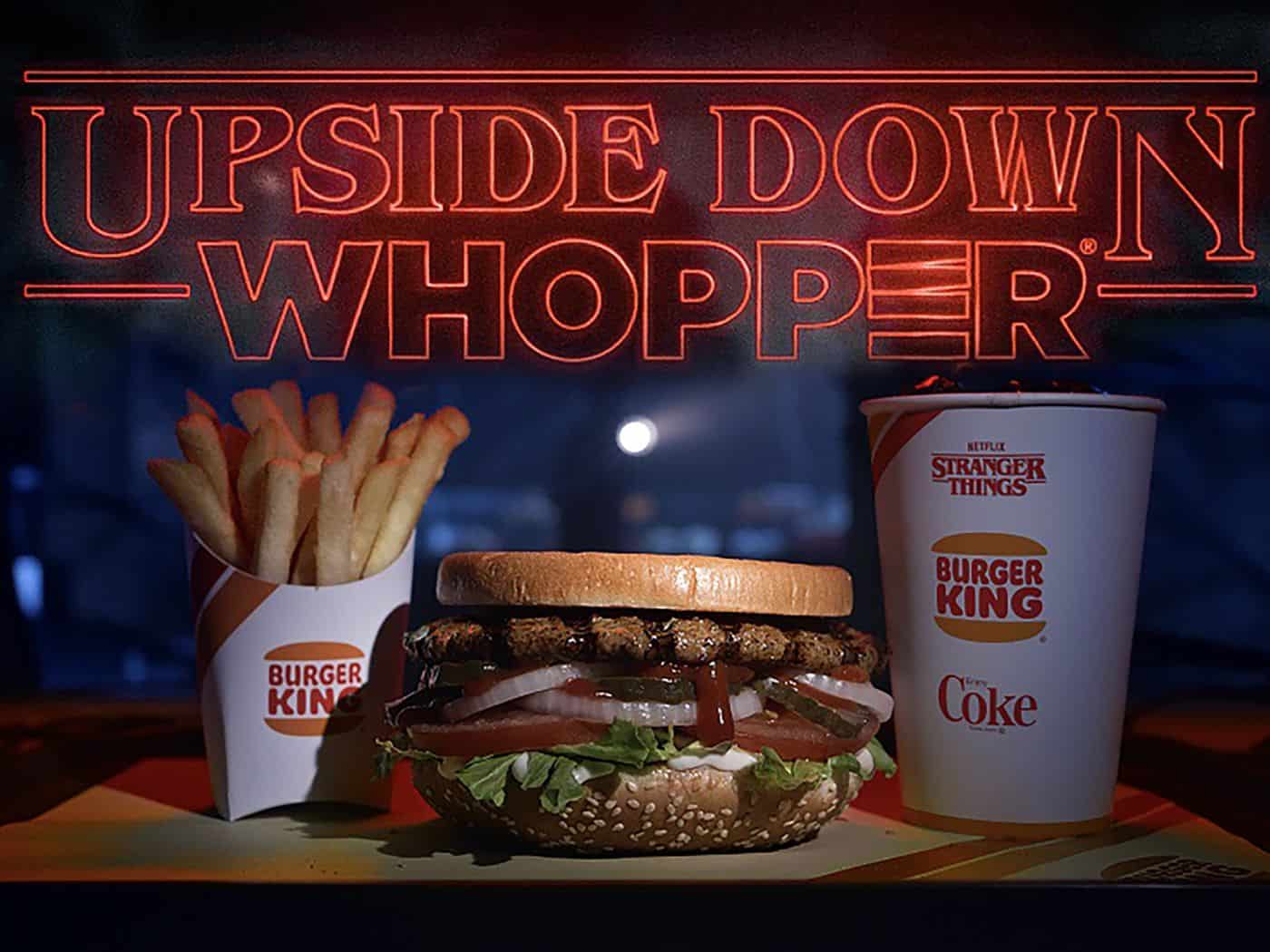 The packaging was also fashioned in an 80s-style wrapping. This cross-influence marketing helped promote Stranger Things on Netflix across different age groups. Who wouldn't like an upside-down burger?
Read also: Demarketing: The Surprisingly Effective Approach to Marketing
Was the guerrilla marketing for Stranger Things by Netflix influential?
People love burgers and Burger King. Partnering with something people already love and adding a twist to it made this marketing move by Netflix a quick and big success.
Needless to say, the upside-down burger was a massive hit that saw sales of Burger King skyrocket and Stranger Things a superhit. It's safe to say: Guerrilla marketing is the new black.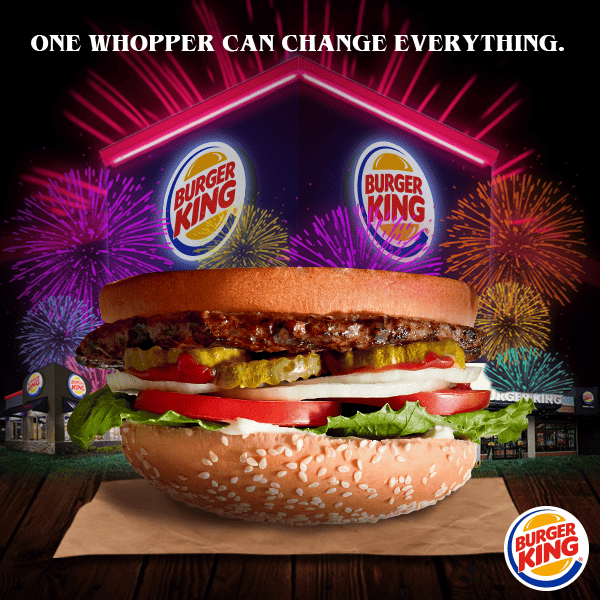 The creative way Netflix promoted Stranger Things also saw Netflix gain thousands of followers overnight, as people were curious to know what Netflix was going to do next.
Read also: 12 Creative Small Business Marketing Ideas That Work
#6. Campaigns that Made a Difference to Netflix
Netflix is not a stranger to social media ad campaigns for a cause. It is one of the best brands on top of its social media marketing games.
What makes Netflix stand out from its core competitors is how a certain socially responsible message, while creating a shock value through each of its ad campaigns.
Take a look at these two examples of how the element of community and shock has been used to capture the viewer's attention by Netlifx.
1. Black Mirror
The dystopian out-of-the-box series Black Mirror has been a viral hit since its inception.
An episode called The Waldo Moment created more traction for Netflix and the series. A mysterious, anonymous message reading "We know what you're up to. Watch and see what we do" started popping up in Turkey's equivalent Reddit community.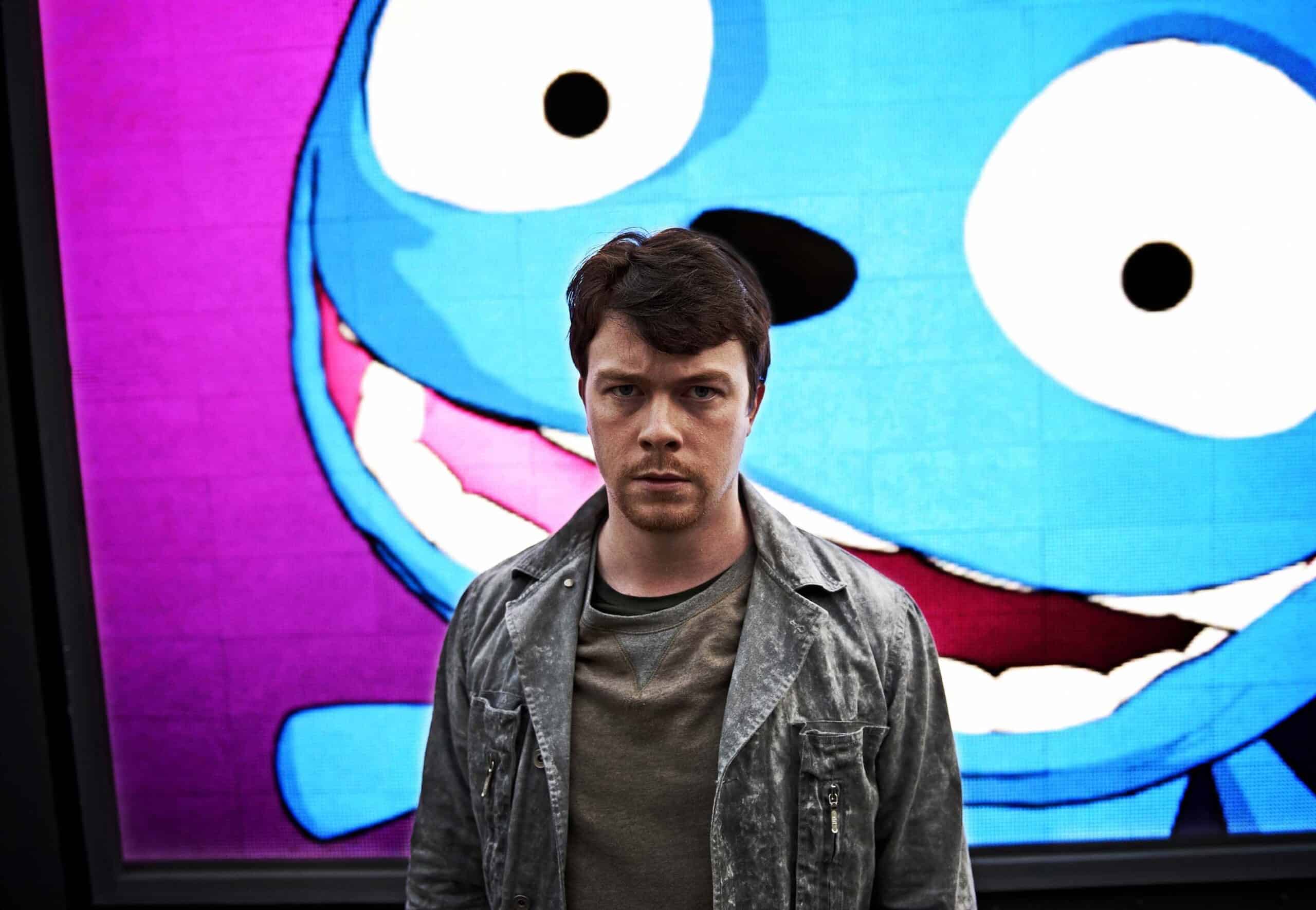 This shocked users and was impeccably relevant to Black Mirror's theme. Viewers tuned in soon. Another example is the Bandersnatch episode, where users can choose each episode. With each choice, it feels as though you are directing the main character's life.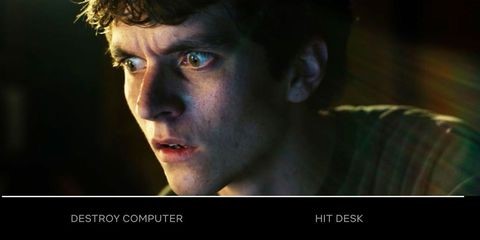 Netflix capitalized on this and started a campaign to promote the Bandersnatch episode where you are in control of the ending. This helped create an element of curiosity and made the show a great hit.
2. Diversity
Netflix is big on diversity and inducing people of all ethnicities and backgrounds onto the screen. To focus on the diversity of Netflix, a video was released inspired by the famous A Great Day in Harlem, in which 47 leading black characters from different Netflix movies and shows are portrayed.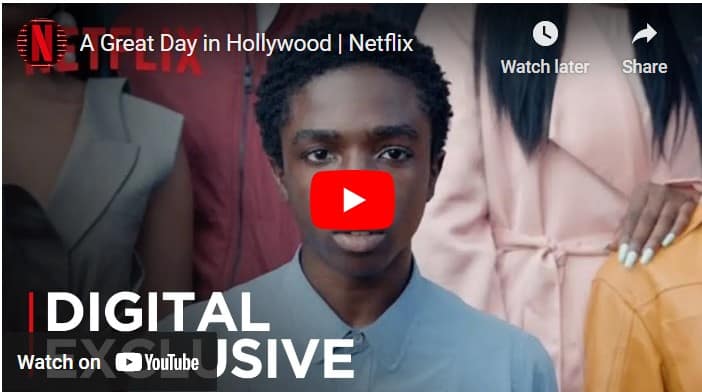 The message was clear – Netflix loves and embraces diversity. In the wake of 'Black Lives Matter' and 'Oscars So White' controversy, Netflix highlighted the positive influence it had, and how it represented all ethnicities equally.
This created an effective PR campaign for Netflix and painted a positive image for the brand across the globe.
Read also: Proven Salon Marketing Ideas to Attract More Clients
Wrapping Up
If you want to nail modern marketing, you must dare to be different. This statement easily summarizes our blog post about Netflix marketing and what modern marketers can learn from it.
As one of the ultimate digital disruptors, Netflix rose to power by breaking the mold — and also the hearts of Blockbuster employees and every illegal download website owner.
It's no surprise that the company would continue in the same vein by actively exploring unorthodox marketing strategies.
Being unpredictable and experimental is the foundation of Netflix marketing.
Whether it's the memorable embrace of augmented reality and the edgy video marketing or their twist on the reliable old email, Netflix never stands quietly in line with its rivals.
Bandersnatch may be the beginning of a whole new era of television, and it came from Netflix's desire to push boundaries continually.
The company is always testing out new ideas, embracing new technology, and leveraging machine learning and data analytics as much as possible to engage audiences.
Netflix seeks to connect with people through omnichannel marketing, and ultimately offer a customer-centric, personalized user experience that people won't forget.
p.s. This avant-garde approach to modern marketing is much easier to execute when you have a powerful, integrated marketing, sales, and service platform.
Check out how EngageBay can transform your marketing ROI and boost your sales 🙂
→ Content revised for freshness by Haripriya and Abdul Bashid