If you want to provide seamless customer support, having an excellent customer service solution is of utmost importance.
Zendesk is probably the first name that pops up when someone mentions the best customer support software in the market today.
It has managed to create a name for itself by providing some unique, robust functionalities that cater to all industry types.
Despite that, we are going to talk about the 10 best Zendesk competitors that you can consider using to retain your customer base.
But why? Let's understand that first.
Why Should You Consider Using Zendesk Competitors?
Zendesk is one of the most popular customer support software, especially amongst large enterprises.
For starters, it enables enterprises to opt for conversational support to make it convenient for customers.
It uses automation and AI-powered bots for a personalized customer experience.
To add on, Zendesk supports multiple communication channels to provide a seamless support system.
While everything looks good, one drawback is that the pricing can be on the higher side. Even though it claims to have dedicated support software for small and medium enterprises, the pricing point starts at $49 per user per month.
Besides, it doesn't even include some of its attractive features like a self-service customer portal and service level agreement (SLA) management.
Zendesk offers three pricing plans for its service category:
Zendesk Suite Team (starting at $49/month)
Zendesk Suite Growth (starting at $79/month)
Zendesk Suite Professional (starting at $99/month)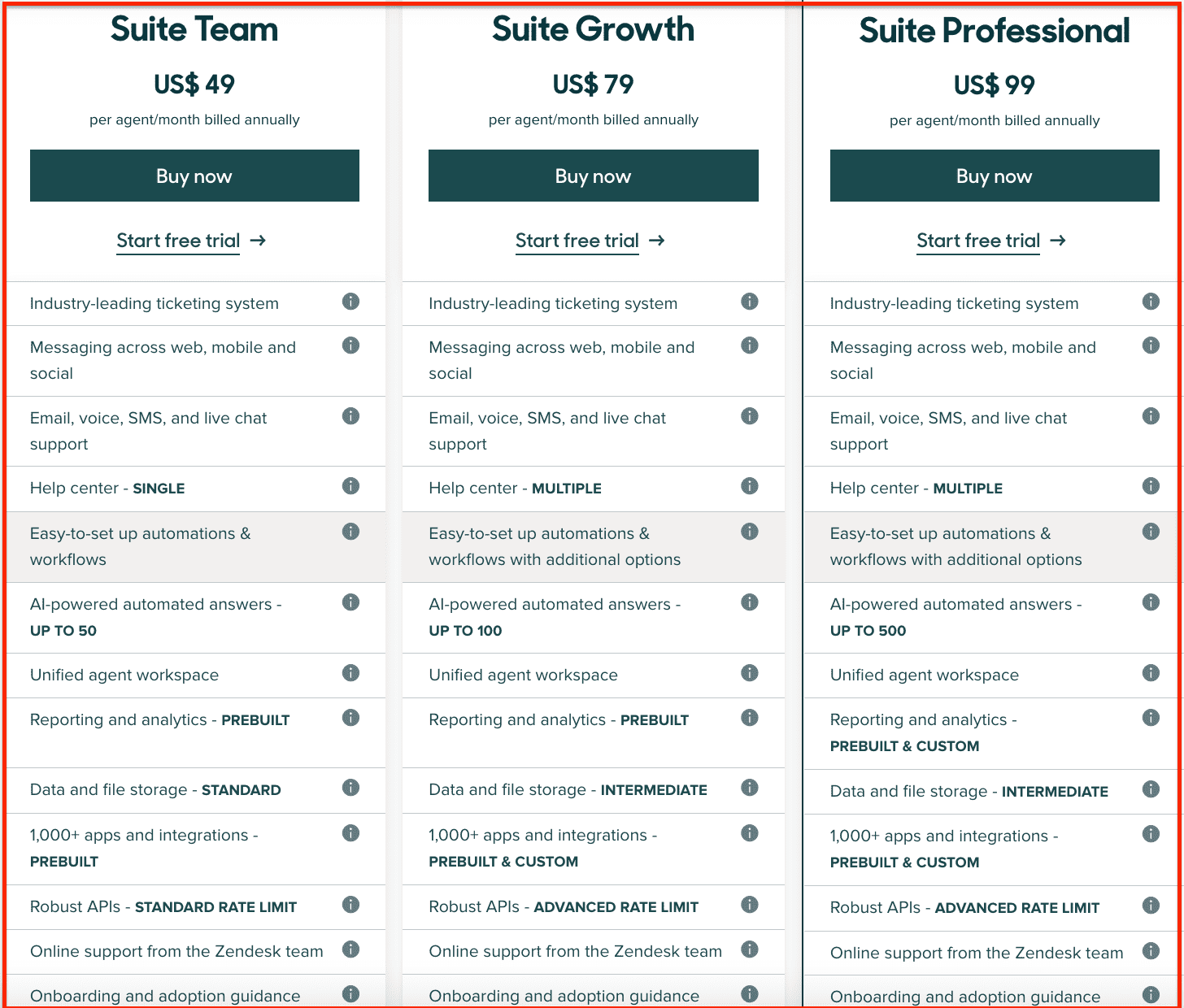 Moreover, it offers limited customizable tool options, which can be a drawback for companies looking for bespoke solutions.
If you are convinced, let us look at the list of top Zendesk competitors that aren't only affordable but scalable at the same time.
Let's dive in.
Best Zendesk Competitors For Your Business
Here are 10 of the best Zendesk competitors (in no particular order).
We've shown the features, pros, cons, and pricing to help you make an informed decision.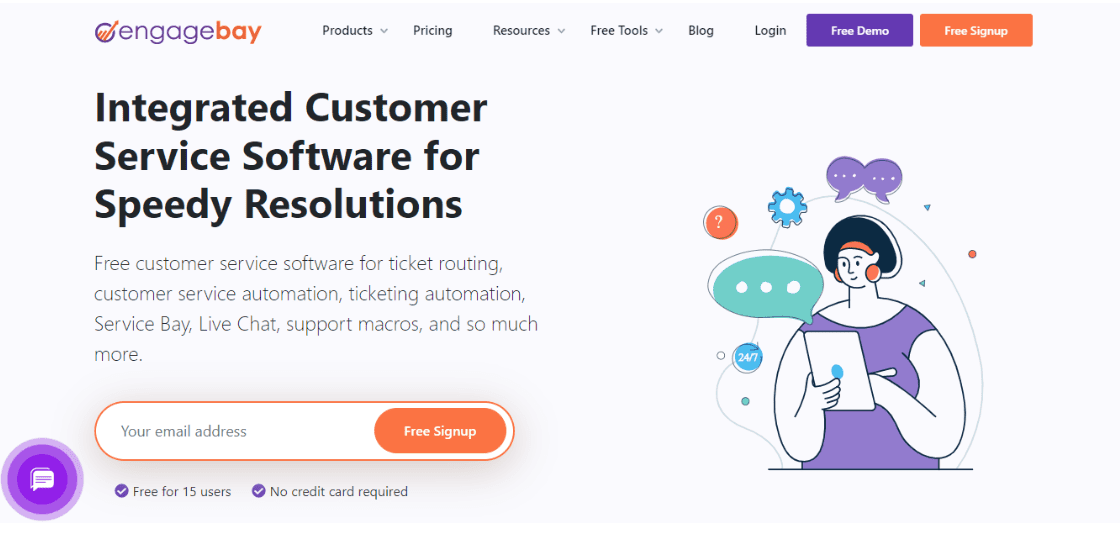 What makes EngageBay one of the top Zendesk competitors is its affordability for the number of features it has to offer.
Besides, this platform is easily scalable as and when your business starts to grow.
And most importantly, you can align your marketing and sales teams on a single platform.
It enables you to track all customer interactions across various channels from your dashboard, helping you deliver a better customer experience — making EngageBay the best Zendesk alternative for small businesses.
Features
Ticket View:

The ticket viewing feature allows you to organize all your customer queries and grievances on a single platform, helping you find and track them easily. In addition, the tool automatically assigns tickets to the available team members and allows you to sort them according to priority and the type of issue.

Personalized Responses:

EngageBay enables you to create a repository of personalized answers in response to questions asked by users. This helps your customer support team resolve queries within a short span of time. Agents can also create individualized responses.

Service Automation:

With service automation and routing, you can send automated customer marketing emails and internal notifications to your team. Moreover, the feature helps you automatically assign tickets to agents, direct them to the next available team member, and keep track of the ticket status.

Analytics and Reporting:

You can get detailed insights into your customer service team's performance using the analytics and reporting tool. It helps you generate reports on the number of queries resolved, the average time taken to resolve the queries, and the volume of tickets assigned to every team member. This allows you to find areas of improvement, enabling you to provide a better customer experience.

Macros:

Support macros allow your agents to create and send automated responses to queries of similar nature. Further, they help you schedule response time for grievances, saving time and improving the efficiency of your customer support team.
Pricing
EngageBay's customer service suite is free for all teams, irrespective of size and industry. To access the free-forever help desk and live chat software, you can just sign up using your G Suite or create a new account with just a username and password.
All you require is to sign up, without providing any credit card information.
However, if you want to expand the functionalities to its other features like live ticketing, support groups, and more, you can easily upgrade to its paid plans starting from $11.99 per user per month.
Pros

One of the best features of EngageBay is that it provides tailor-made solutions depending on the size and needs of a business.
Cons

Compared to other Zendesk alternatives, EngageBay does not provide many tutorials on its website.
However, users have not faced any issues with the same, owing to EngageBay's highly responsive customer support team.
Compare EngageBay with Zendesk [with tables]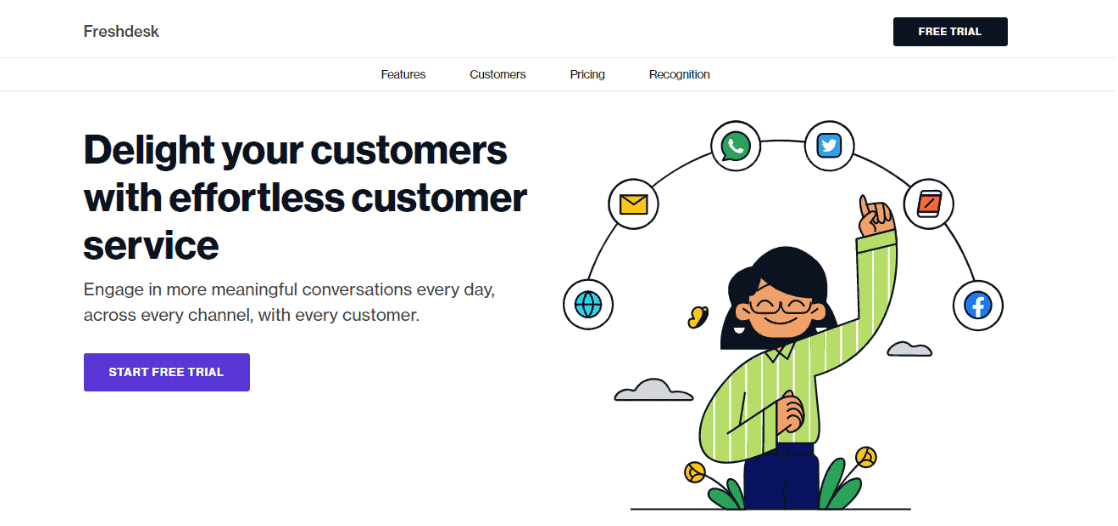 Freshdesk is a customer support platform that broadly provides four tools to help you deliver exceptional customer service.
These tools include the omnichannel suite that allows you to contact clients across multiple platforms, a support desk, a contact center for handling and routing calls, and customer success for fostering customer relationships.
Features
Team Inbox:

The team inbox feature allows customer support teams to track, assign, and manage tickets from multiple channels in a single inbox.

Agent Collision Detection:

This feature ensures that no two agents are assigned a single ticket, preventing collision and overlapping.

Canned Responses:

Using canned responses, you can create standardized responses for queries of similar categories, helping agents save time and resolve issues faster.

Thank You Detector:

This tool prevents you from opening a ticket if the customer has replied with a 'Thank You.' It indicates that the query has already been resolved, saving time and helping you track responses more efficiently.

Parent-Child Ticketing:

With the parent-child ticketing tool, teams can split a complex issue into multiple tickets of smaller sizes and split them among the members. As a result, each team member works on a specific aspect of the problem, helping them resolve queries faster.
Pricing
Freshdesk also has a free plan that is available for up to 10 agents only.
It helps you integrate ticketing across email and social media platforms, generates analytics, dispatches tickets to the right teams, and allows for team collaboration.
However, if you are looking for help desk automation and collision detection for better work productivity, choose the Growth Plan, available for $14.05 per agent per month.
The Pro Plan, which is Freshdesk's most popular plan, starts at $40.98 per agent per month. It includes up to 5000 collaborators, customized reports and dashboards, a multilingual knowledge base, and allows you to segment customers for better service.
And under its Enterprise Plan, you can avail of unlimited products, AI-powered social insights, manage agent shifts across time zones, and respond to tickets using automated email replies, all for $70.25 per agent per month.
Pros

A key advantage of Freshdesk is that it helps companies gain valuable insights into customer behavior, which helps them better understand their clients and deliver improved customer service.
Cons

The number of integrations and automation features in Freshdesk is quite limited, compared to other competitors.
Read also: 5 Freshworks Alternatives for Great Customer Support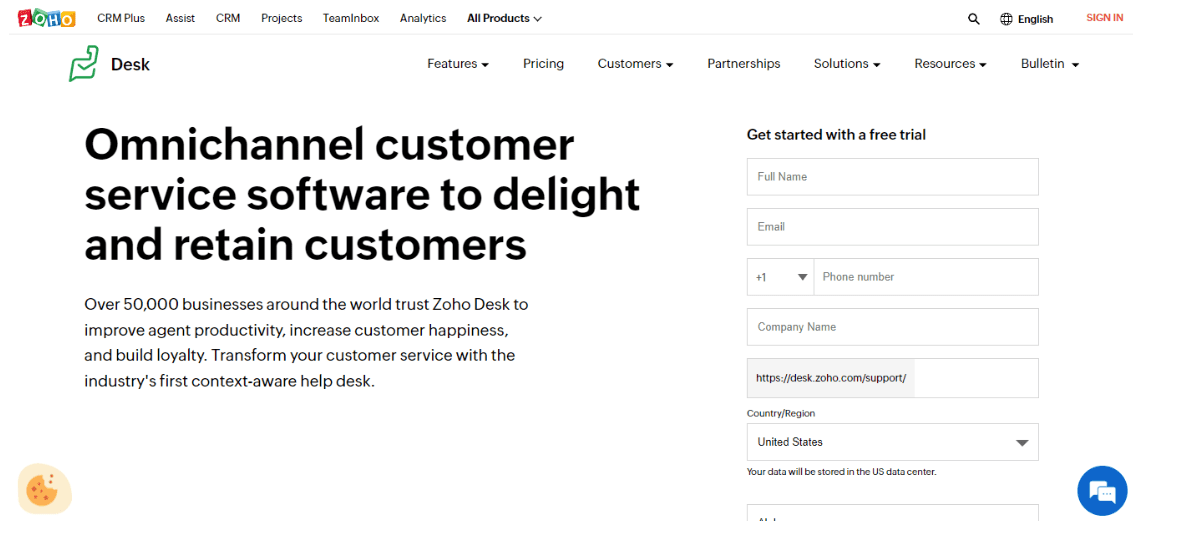 If you are looking for help desk software that allows you to connect with your customers through multiple channels, try Zoho Desk.
Top companies like Zomato, Godrej, and Daimler are using the Zoho desk to resolve their customer queries faster.
Features
Multichannel:

Helps you keep in touch with customers across multiple platforms, depending upon their choice.

ZIA:

AI-powered feature that allows you to gain useful insights from past conversations, generates relevant solutions to queries, and tags key aspects of grievances.

Response Editor:

This allows you to create and send personalized replies to customers when they raise queries.

Ticket Assignment:

Ensures that all tickets are assigned to agents and no two team members are allotted to the same issue.

Time Tracking:

This helps you track progress and the average time spent resolving a query.
Pricing
Zoho Desk provides four pricing plans, Free, Standard, Professional, and Enterprise.
Under the Free Plan, you can avail yourself of tools such as email ticketing, a private knowledge base, a multi-language help desk, and 24*5 email support.
With the Standard Plan, additional features including product-based ticket management, reports and dashboards, marketplace extensions, and 24*5 phone support are available, for $14.05 per agent per month.
But if you are looking for something more advanced like multi-department ticketing, and automatic time tracking, you can get the Professional plan for $21.07 per agent per month.
For large companies, the Enterprise Plan works best. It costs $40.98 per agent per month and comes with a live chat feature, AI-powered insights, help center customization, contract management, validation rules, and role-based data sharing.
Pros

Users have found Zoho Desk's helpdesk platform quite useful since it boasts of centralized communication and prevents two agents from being assigned the same ticket.
Cons

Initially, the platform might appear difficult to navigate.
Moreover, certain tools have only a limited number of features and can only be increased with a more expensive plan.
Read also: Zoho Alternatives: CRM Solutions You Can't Avoid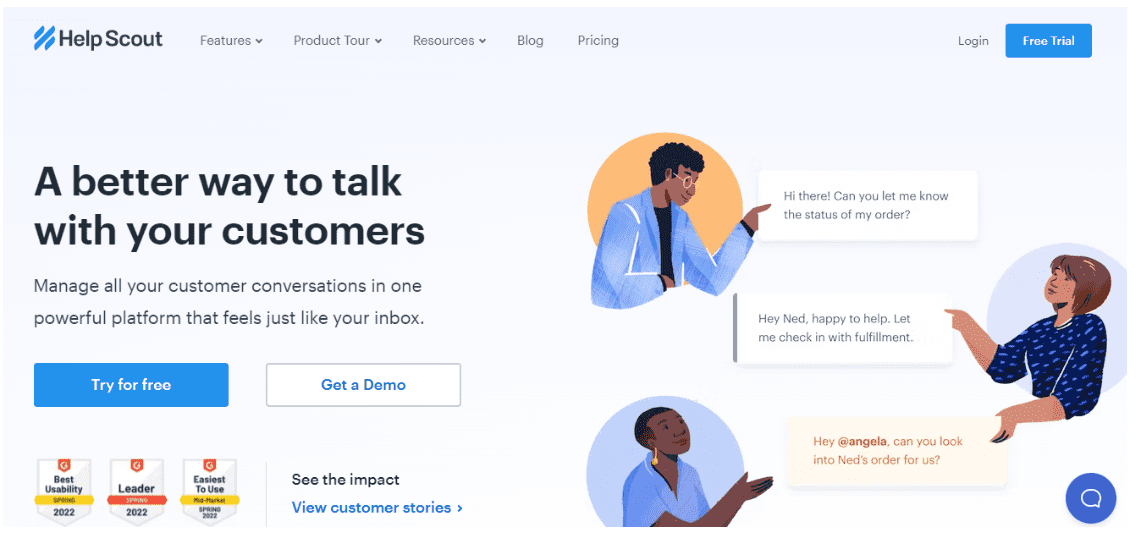 Help Scout is a customer support software that helps you manage all your client conversations from a single inbox.
It gives businesses the right set of tools, such as a collaborative platform and shared inbox amongst others that help them solve queries faster.
Features
Shared Inbox:

With the shared inbox feature, you can sort your emails in order of priority, create different inboxes for different teams, build automated workflows, personalize conversations, and collaborate in real time.

Live Chat:

Using live chat, you can respond to customer queries faster and in real time, and generate automated responses to problems of similar nature.

In-app Messages:

Helps you use customer properties and events to deliver the right messages, provides an overview of the messages delivered monthly, tracks insights into the messages customers engaged the most with, and increases revenue by including CTA in messages.

Knowledge Base:

Helps you categorize and create articles and a list of questions on how to address commonly asked queries.

Integrations:

Helps you build your customized app store by choosing from over 90+ integrations including Jira, Salesforce, Zapier, and so on.
Pricing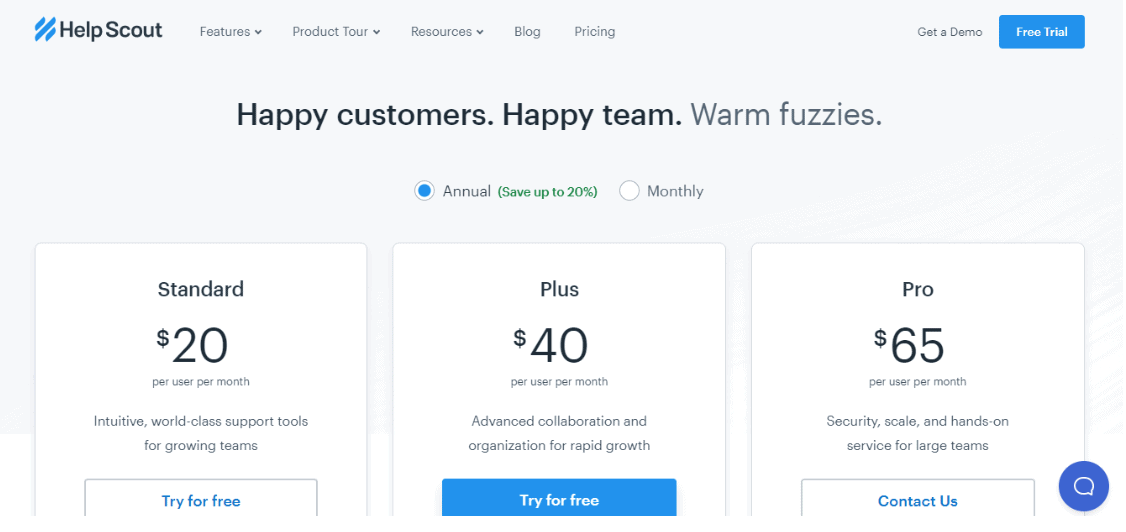 Using Help Scout, you can choose from three plans, Standard, Plus, and Pro.
The Standard Plan starts from $20 per user per month and is ideal for growing teams. Here, you can get tools like live chat, in-app messaging, automated workflows, custom reporting, 2 mailboxes, and over 50+ integrations.
Under the Plus Plan, there are additional features such as 5 mailboxes, advanced permissions and API access, unlimited reporting history, and integration with Salesforce, HubSpot, and Jira apps. It costs $40 per user per month.
For large teams, the Pro Plan is ideal. With this plan, you can avail of 25 mailboxes, enterprise security, and a dedicated account manager, all for $65 per user per month.
Pros

Help Scout has made it convenient for teams to handle queries via email.
Using the platform, users can assign email threads, manage them, and track employee progress.
Cons

Help Scout's mobile app needs improvement, as the interface is not very user-friendly.
Read also: Finding the Perfect Fit: A Guide to Freshdesk Alternatives for Your Support Needs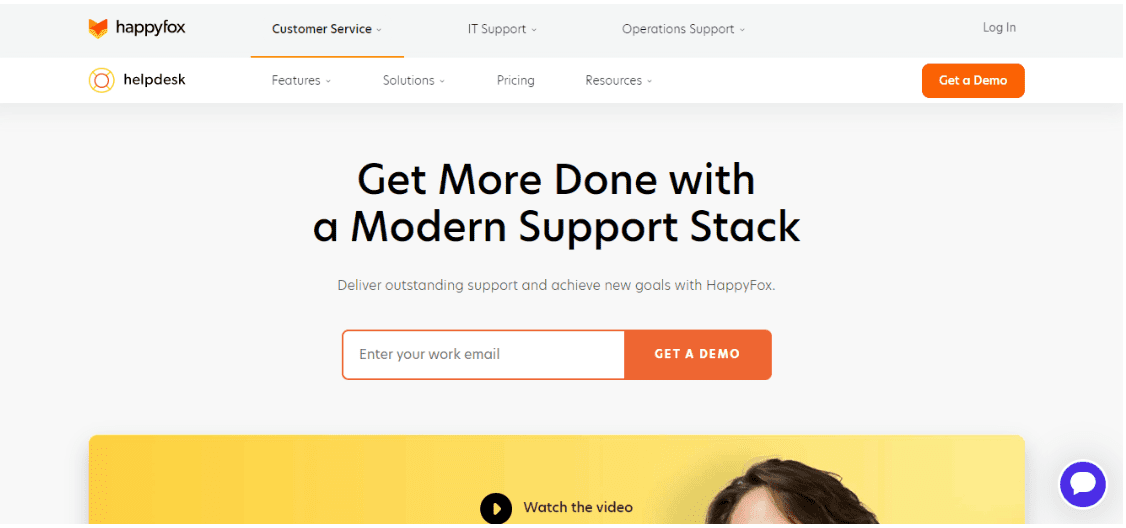 HappyFox is a customer support software and helpdesk solution that aims to provide faster and better support for your clients.
It has even built a community forum where businesses can come together to discuss their issues and help each other resolve them.
Features
Ticketing System:

Helps you automatically assign tickets to available team members and prevents agent collision.

Canned Actions:

Creates a template of responses and actions you can undertake while resolving queries of similar nature.

Task Management:

Allows teams to create and assign tasks under a single issue to agents, helping resolve the problem in less time.

Automation:

Helps save time by creating automated email sequences and responses to address client grievances.

Knowledge Base:

Enables teams to create articles and web pages consisting of frequently asked questions and their solutions.
Pricing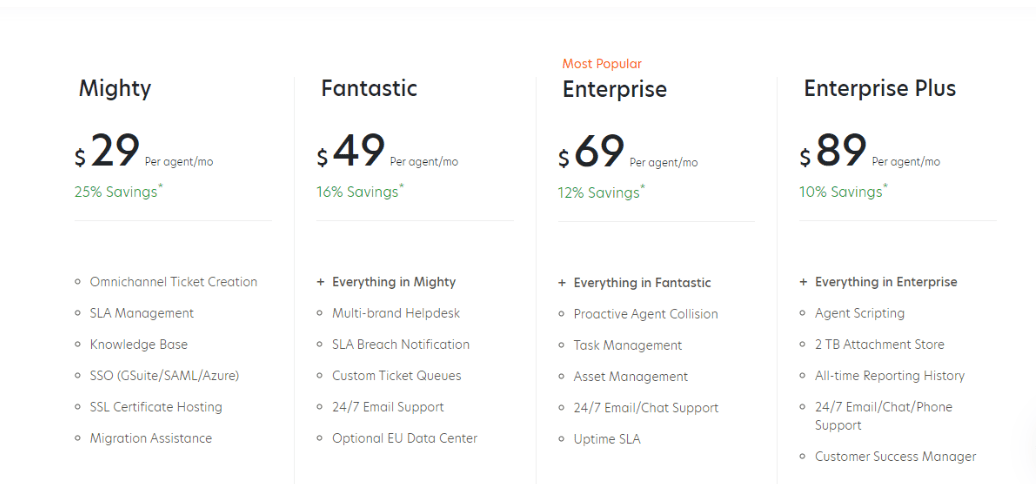 HappyFox includes four pricing models, Mighty, Fantastic, Enterprise, and Enterprise Plus.
Under the Mighty Plan, which is HappyFox's most basic plan, you can avail of a knowledge base, migration assistance, omnichannel ticket generation, and SLA management, for $29 per agent per month.
To get additional tools like 24/7 email support, multi-brand helpdesk, and custom ticket queues, choose the Fantastic Plan. It starts at $49 per agent per month.
With the Enterprise Plan, users can add more features such as asset management, task management, proactive agent collision, and 24/7 email and chat support, for $69 per agent per month.
For large teams, choose the Enterprise Plus Plan. The plan starts at $89 per agent per month and comes with key tools including agent scripting, a customer success manager, and 24/7 email, chat, and phone support.
Pros

HappyFox's major advantage is its ease of use and field customization, which helps teams understand and track the number of requests received, addressed, and still outstanding.
Cons

Although easy to use, HappyFox takes time to implement, particularly in setting up the inbox.
Read also: 5 of the Best Keap Alternatives (Features, Pricing)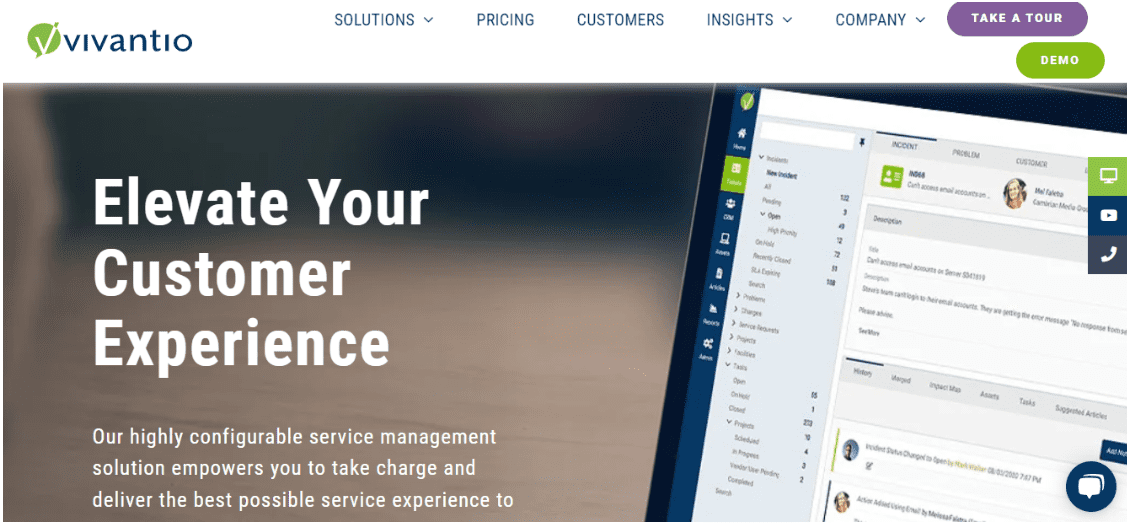 Vivantio is an IT service management and customer support platform catered primarily to B2B companies.
One of its unique features is that it lets you collect surveys and feedback from your customers by sending automated forms through emails.
Features
Case Management:

Keeps a track of all the tickets raised and resolved by the customer support team. Besides, it syncs all the cases across every other system for a consolidated view and better service management.

Customer Configuration:

Maintains a database of the electronic, hardware, and software devices delivered to customers, allowing you to keep track of the units sold.

Contract and Service Leads:

Under this feature, you can maintain a record of contracts made for each customer and the tickets associated with them.

Self Service and Knowledge Management:

Helps direct clients to the knowledge base to resolve queries, and handle incidents by routing them to the available agents.
Pricing

Vivantio provides four pricing models, Value, Vital, Velocity, and Visionary.
The Value Plan starts at $37.47 per user per month. It comes with an intuitive interface and self-service portals and helps you record all tickets in one place.
With the Vital Plan, you can manage multiple tickets, monitor KPIs, manage workflows, and customize dashboards, for $49.18 per user per month.
For managing multiple teams, the Velocity Plan works best. It costs $72.60 per user per month, and helps you create unlimited ticket categories, generates real-time statistics of team performance, and automates reporting and KPIs.
For companies with global operations, the Visionary Plan is suited. Under the plan, businesses can avail of a unified corporate approach, and customer data warehousing, and get complete visibility into service operations, for $119.44 per user per month.
Pros

Vivantio is known for its workflow feature that helps automate manual and repetitive tasks, boosting the productivity of customer support teams.
Cons

Vivantio users expect an interactive chatbot or a live chat feature that can help customers resolve their queries themselves by providing a link to the right article.
Read also: 5 Top HubSpot Competitors That Cost a Lot Less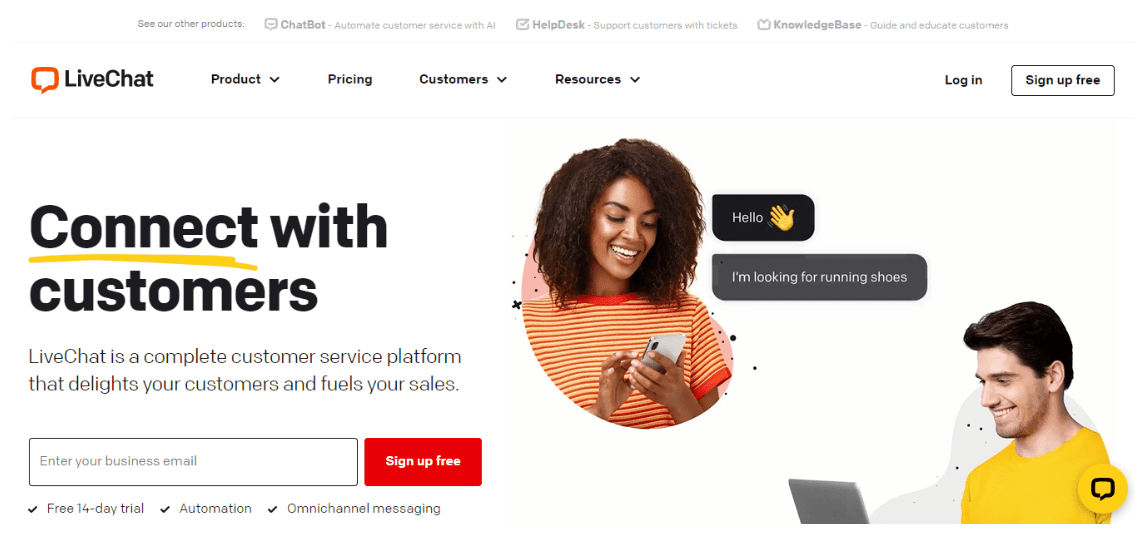 LiveChat's customer support software is here to deliver an enhanced customer experience and boosts your sales as well.
It helps you create an omnichannel presence by supporting various channels, including messenger, SMS, WhatsApp, and others.
Features
Chat Tools:

Helps create canned responses to queries, archive chats, tag messages, and find insights into what messages drive engagement.

Customer Engagement:

Allows teams to send highly targeted messages, assign tickets to agents, and ensures that no two agents are given the same ticket.

Reports and Analytics:

Generates reports on customer service team performance, in terms of the number of queries resolved, the average time taken, and finds areas for improvement.

Security:

Provides enhanced security while using the LiveChat platform, including credit card masking, encryption, access restriction, visitor banning, and a single sign-on.
Pricing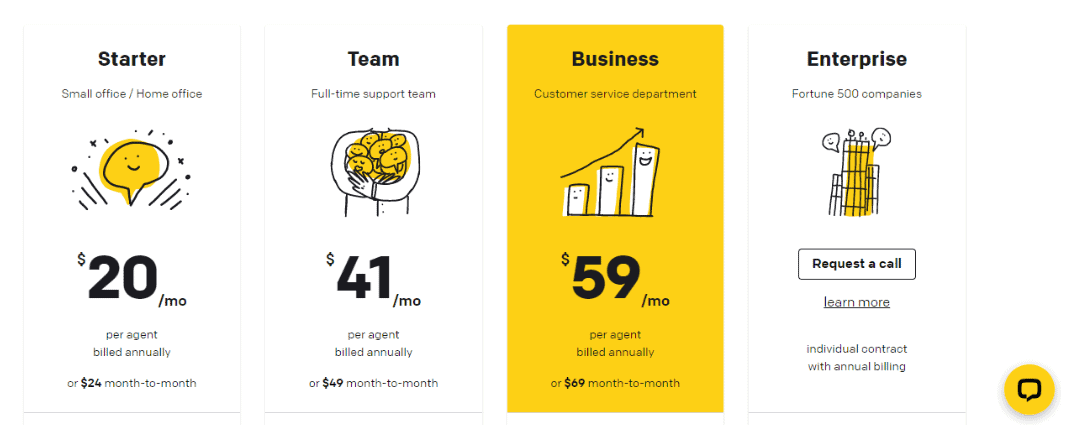 LiveChat has four plans to choose from, Starter, Team, Business, and Enterprise.
The Starter Plan starts as low as $20 per agent per month and offers data security, a ticketing system, basic widget customization, and 60-day chat history as some of its key tools.
Under the Team Plan, you can avail of additional features such as basic reporting, agent grouping, multiple brandings, and full widget customization, for $41 per agent per month.
The most popular plan of LiveChat is its Business Plan, which starts from $59 per agent per month. The plan boasts of tools like advanced reporting, unlimited ticketing systems, staffing prediction, and a worker scheduler.
To purchase advanced tools such as single sign-on, product training, and a dedicated account manager, go for the Enterprise Plan. To buy the plan, companies can contact LiveChat's sales team directly.
Pros

With LiveChat, users can personalize their conversations with clients, helping them nurture and build better customer relationships.
Cons

For small businesses, LiveChat can be expensive as compared to other Zendesk competitors.
Moreover, users have experienced slow customer service.
Read also: SharpSpring Pricing, Features, and Top 3 Alternatives for Small Businesses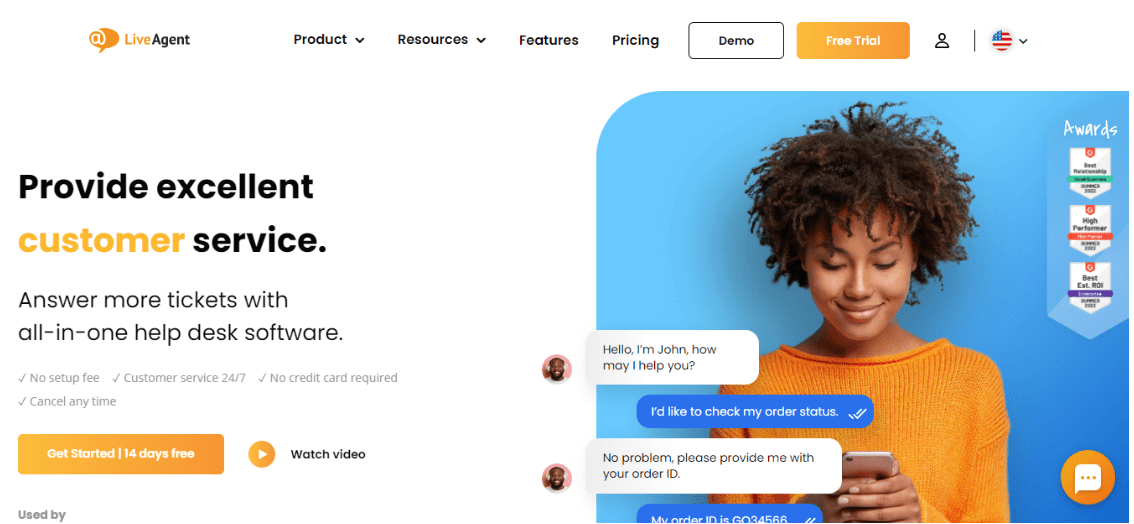 If you are looking for a helpdesk platform that helps you resolve queries through social media, go for LiveAgent.
This Zendesk competitor offers 130+ ticketing features and 200+ integrations with popular tools.
Read also: The Top 8 EngageBay Alternatives of 2022 [Features, Pricing, Reviews]
Features
Ticketing:

Using this feature, you can

track the status of tickets, assign tickets to agents, and prevent agent collision.

Live Chat:

This allows you to talk to customers in real-time through chatbots and address queries faster.

Call Center: Built-in call center tool and customer service software enables you to make phone calls from the dashboard itself. It helps save time and provides clear visibility into the tickets pending.
Social Media Integration: This helps

you meet your customers where they are and interact with them faster, enabling a good customer experience.

Knowledge Base:

Maintains a database of frequently asked questions that agents can refer to while talking to customers.
Pricing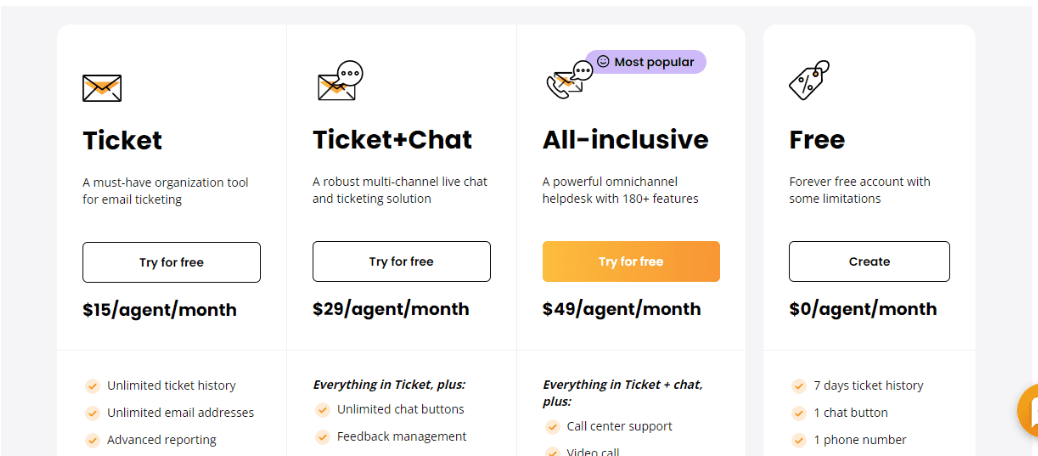 LiveAgent has four plans to choose from, Free, Ticket, Ticket+Chat, and an All-inclusive plan.
LiveAgent has a Free plan, however, it is limited to one phone number and seven-day ticket history.
Under the Ticket Plan, you can get a complete ticketing history, unlimited email addresses, advanced reporting, API integrations, and a customer portal, for $15 per agent per month.
The Ticket+Chat Plan costs $29 per agent per month and has more tools, including unlimited chat buttons, feedback management, social networks, time tracking, audit log, and real-time visitor monitoring.
With the All-inclusive Plan, users can get call center support, video calling, call routing, and unlimited call recordings, for $49 per agent per month.
Pros

LiveAgent is considered to be a good alternative to Zendesk, owing to its affordable pricing and seamless transition of conversations from live chat to email.
Cons

The Android app and UI interface need improvement.
Read also: AWeber Alternatives — Which One Should You Choose?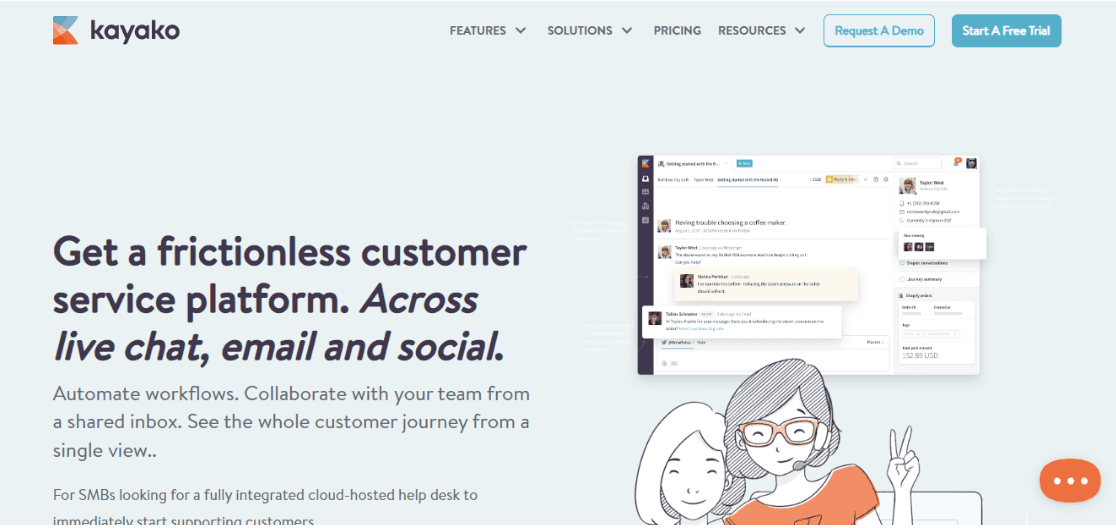 Kayako is a customer service platform that helps you collaborate with your team in real-time and provides a 360-degree view of your customers.
It boasts of an award-winning help desk solution that also includes live chat for customer support.
Features
Help Center:

Eliminates redundancy and time wastage by referring customers to a knowledge base where they can refer to a list of commonly asked questions and resolve their concerns.

Help Center Analytics:

Monitors search terms to identify how customers engage with your content and find any possible gaps.

Proactive Engagement:

Provides valuable insights into customer behavior to send them targeted content and boost revenue.

Mobile Support:

Kayako's mobile app allows you to access the dashboard from anywhere, helping you stay in touch with clients at all times.

Customer Journey:

Provides a 360-degree visualization of your client's journey along with every interaction.
Pricing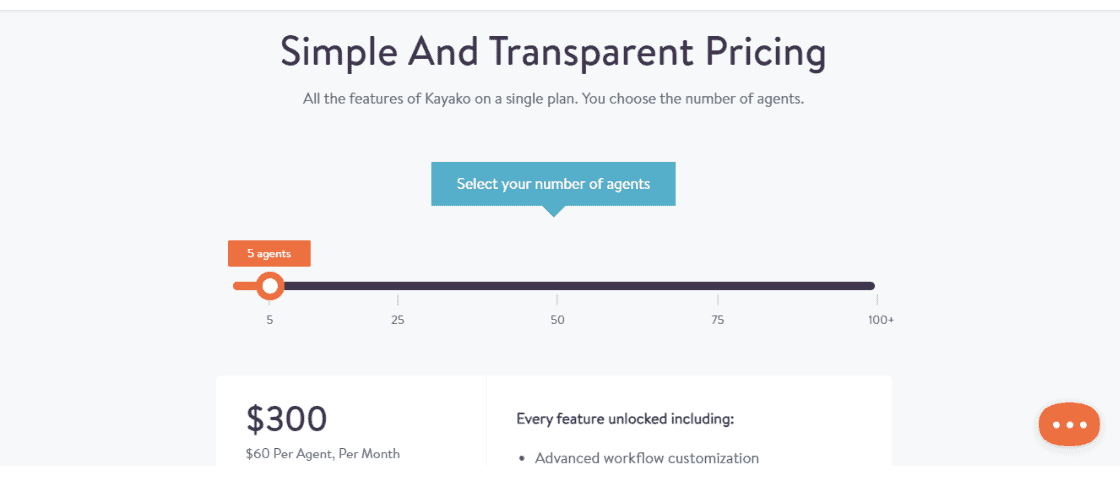 Kayako's pricing depends upon the number of agents in your team.
The minimum number of team members that you can have is 5, while the maximum is 100 or more.
If you choose 5 agents, the cost is $300 or $60 per agent per month.
On the other hand, if you have more than 100 agents, the price is $6000 per month.
Every plan boasts of features such as advanced workflow customization, an internal help center, and knowledge base, Salesforce integration, custom roles and permissions, and customer access to their tickets.
Pros

Kayako is among the most popular customer support software owing to its efficient ticketing system, easy-to-create knowledge base, built-in templates for automated replies, and easy ticket routing process.
Cons

Despite its advantages, Kayako makes it difficult for users to generate customized reports, create signatures, and is slow to notify agents about the status of tickets.
Read also: Copper CRM Pricing & Comparison With Top Small Business Software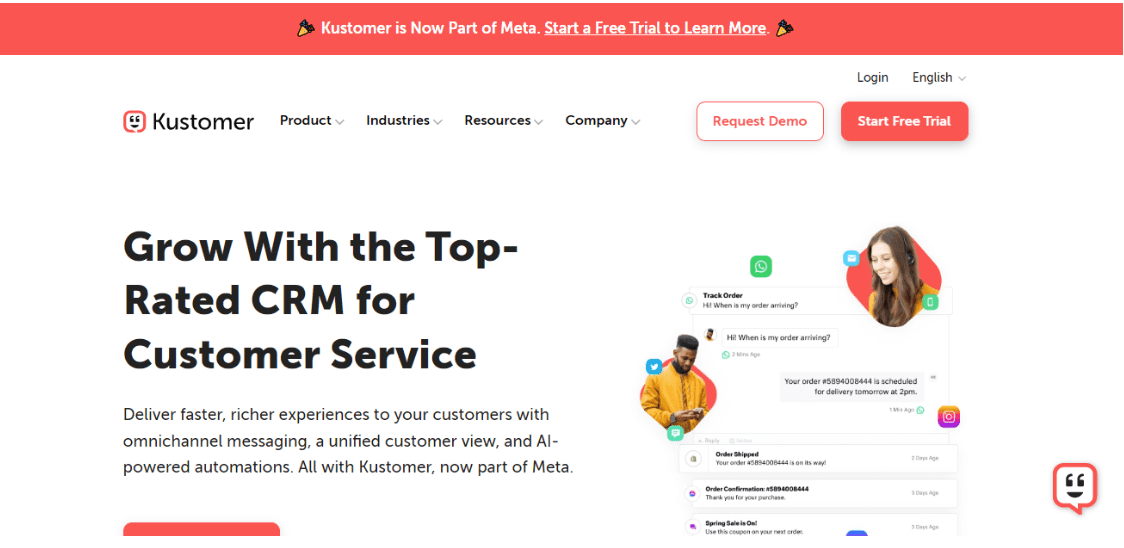 Kustomer, another Zendesk alternative, is a helpdesk platform that boasts a CRM (Customer Relationship Management) tool as well.
Part of Meta, Kustomer uses AI-powered automation to deliver an improved customer experience.
Features
Omnichannel:

Kustomer allows you to communicate with clients across multiple platforms including email, SMS, social media, and voice calling.

Timeline View:

This helps you view all customer interactions from the beginning, allowing you to deliver a better customer experience.

Artificial Intelligence:

Natural language processing detects customer intent through conversations and suggests the best possible plan of action.

Bulk Messaging:

This allows you to schedule messaging and emails to re-engage with inactive customers.

Agent Productivity:

Increases efficiency of customer support agents using tools such as auto-translation, canned responses, and dynamic text messaging.
Pricing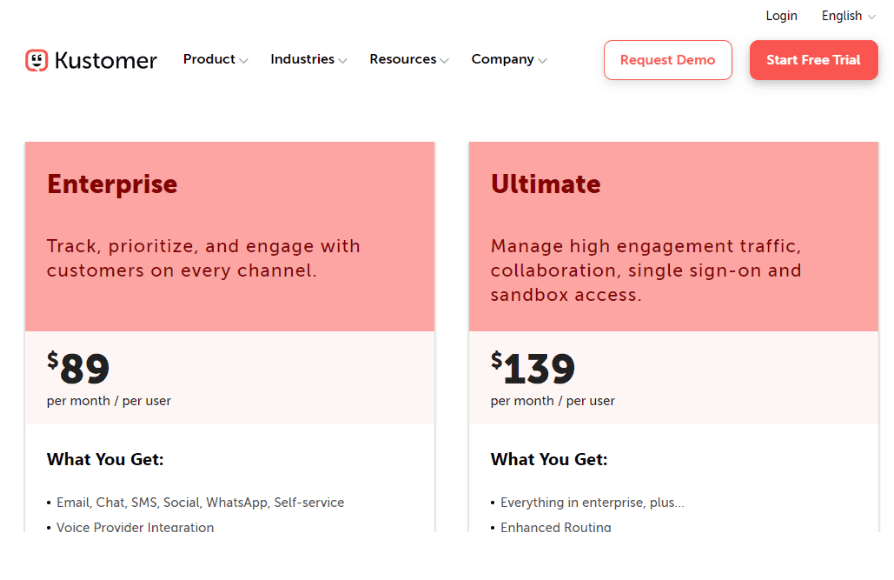 Kustomer has two pricing plans, Enterprise and Ultimate.
The Enterprise Plan starts from $89 per user per month and boasts of omnichannel communication, voice provider integration, sentiment analysis, multi-lingual support, standard and customized reports, and business process automation, as some of the key features.
Under the Ultimate Plan, you can get enhanced ticket routing, real-time dashboards, live agent auditing, unlimited collaboration access, and sandbox users, all for $139 per user per month.
Pros

Kustomer boasts of excellent email routing and ticket assigning tools, helping teams save time and improve productivity.
Cons

One of the major drawbacks of Kustomer is that the platform crashes quite often, causing frequent disruptions to the work.
Read also: The Best Free CRM Apps, By Category (with User Reviews)
Wrap Up
While Zendesk is a good customer support system, there are several affordable competitors with better pricing and functionalities.
The right choice of tool depends on your company size, its needs, and the industry you operate in.
If you are looking for an all-in-one customer support platform at an affordable price, EngageBay makes for a perfect Zendesk alternative.
You can set up a service workflow automation to increase your support team productivity. This, in turn, helps resolve issues faster.
Besides, with its top features like canned responses, support groups, and others, you can surely improve your customer satisfaction rate.
If you need any help with the demo, reach out to us.