You may find it difficult to choose the right email marketing software since all platforms offer similar features. So, as we compare Mailchimp vs Drip, we'll review the ins and out of each email marketing automation platform and show you how each product actually performs.
Mailchimp's marketing platform allows you to perform basic email marketing functions like sending email newsletters, running automations, building customer journeys, and A/B testing.
Drip is designed for eCommerce owners. It has powerful pre-built automation playbooks and advanced segmentation and personalization capabilities. But do its features meet your business needs?
I signed up for the free plan and free trial of both platforms to test the features. I tested the landing page builders and reviewed the segmentation capabilities and automation features.
And in this detailed Mailchimp vs Drip comparison article, you'll learn:
Mailchimp vs Drip differences

Why Drip's automation is better

How both platforms' split testing features work

Which type of campaigns can you create
Mailchimp vs Drip: The Key Difference Between the Two Platforms
The major difference between Mailchimp and Drip comes down to your business needs. Mailchimp packs features that meet the needs of small businesses while Drip caters to the needs of eCommerce owners.
Mailchimp – An all-in-one marketing platform designed for small businesses and email marketing experts
It started as an email marketing tool for small businesses. You can use its segmentation tool to target customers based on their interests, send automated emails using the journey builder, and choose from a list of email templates to improve customer experience.
But it later transitioned into an all-in-one marketing platform for small businesses. So apart from the email marketing platform, they also offer features such as:
Social Media Management:

Manage social accounts, create social campaigns, and engage with people all in one place.

Ad Management:

Run ad campaigns to target audiences with similar interests to your contacts and retarget site visitors with display ads, Facebook ads, and Instagram ads.

Marketing CRM:

Mailchimp's simple CRM helps you manage and organize your contacts. You can then use the segmentation tools to tailor campaigns to specific contacts.

Website Builder:

You can build your website on Mailchimp and use its marketing tools to engage with site visitors. You can also create an online store and start managing orders.
Read also: How Does Mailchimp's Pricing Compare To Its Competitors?
Drip – An email marketing platform for eCommerce owners
Drip's design, workflows, templates, dashboards, and automations meet the needs of eCommerce owners–that's the major difference between Mailchimp vs Drip. So expect an easy-to-use user interface and a fast learning curve with Drip as compared to Mailchimp.
Drip's simple email marketing platform has the following features:
Forms & Pop-ups:

Pick designs from a list of pre-built templates, customize buttons, and personalize pop-ups based on different factors.

Advanced segmentation:

It helps you analyze how your customers shop and send hyper-targeted content based on what they're interested in.

Automation:

Save time by picking from the list of pre-built automations and workflows designed for eCommerce stores. You can also customize your workflows using the visual workflow builder without coding.
Overall verdict:
Mailchimp is suitable for you if you/your team is tech savvy and can work with an all-in-one platform. This means it could take some time to get used to some features, but the upside of it is you replace platforms like social media management apps.
But if you're an eCommerce store owner, Drip is your best-fit email marketing platform. It has pre-built workflows and playbooks designed for eCommerce and its entire user interface is built with eCommerce stores in mind.
Read also: The Definitive Pipedrive vs Salesmate Review: Which is The Best CRM Solution?
---
Comparing Mailchimp vs Drip
We'll have an in-depth look into the email marketing features of each platform and give you our review based on first-hand experience and usage of the platforms.
Drip vs Mailchimp: User Interface (UI) & Ease of Use
This review will look into how easy each platform would be to implement and the resources available to help you get started.
Mailchimp
All its features are a click away from the main dashboard. But its UI is not user-friendly for beginners and non-tech users, so it might be too much for you if you're just looking for an email marketing platform.
But Mailchimp makes it easy for you by personalizing your onboarding.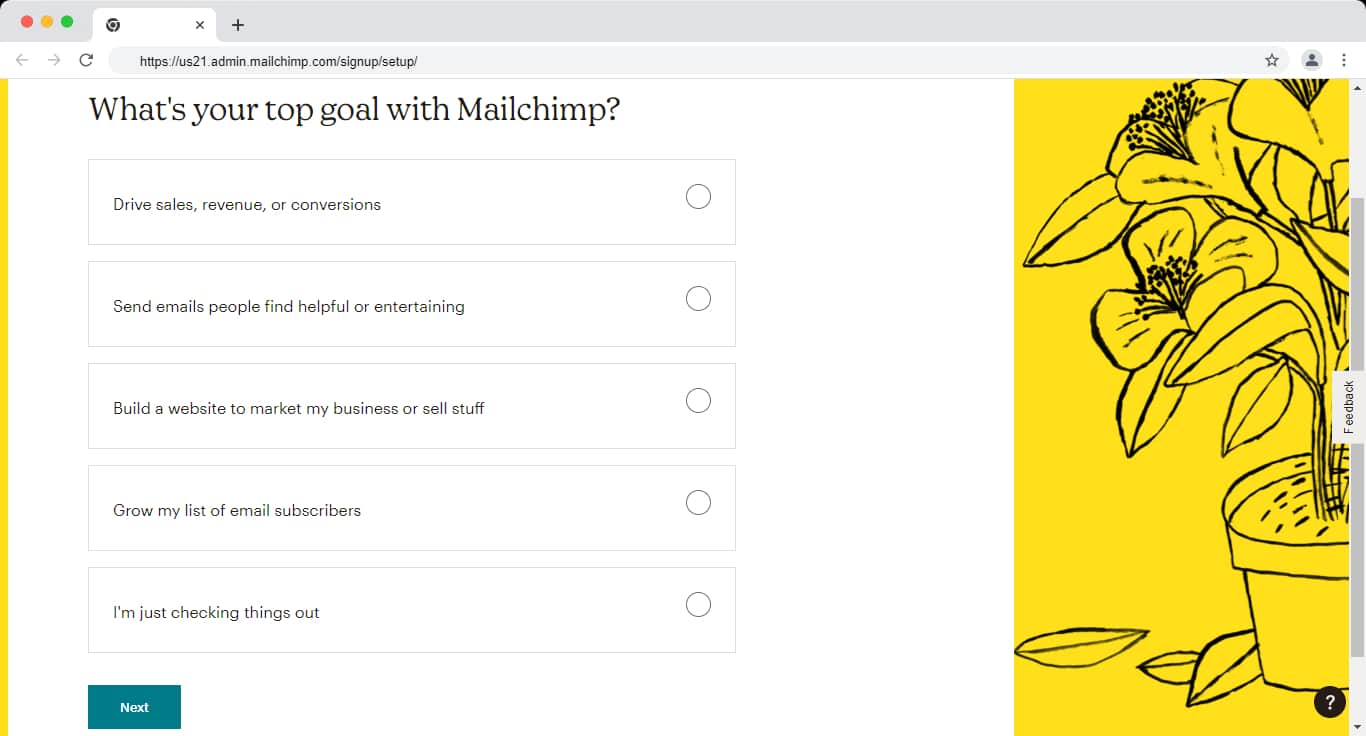 When you choose the goal you want to achieve with Mailchimp, it would recommend the next steps tailored in line with the goal. The dashboard would also be personalized based on your goal.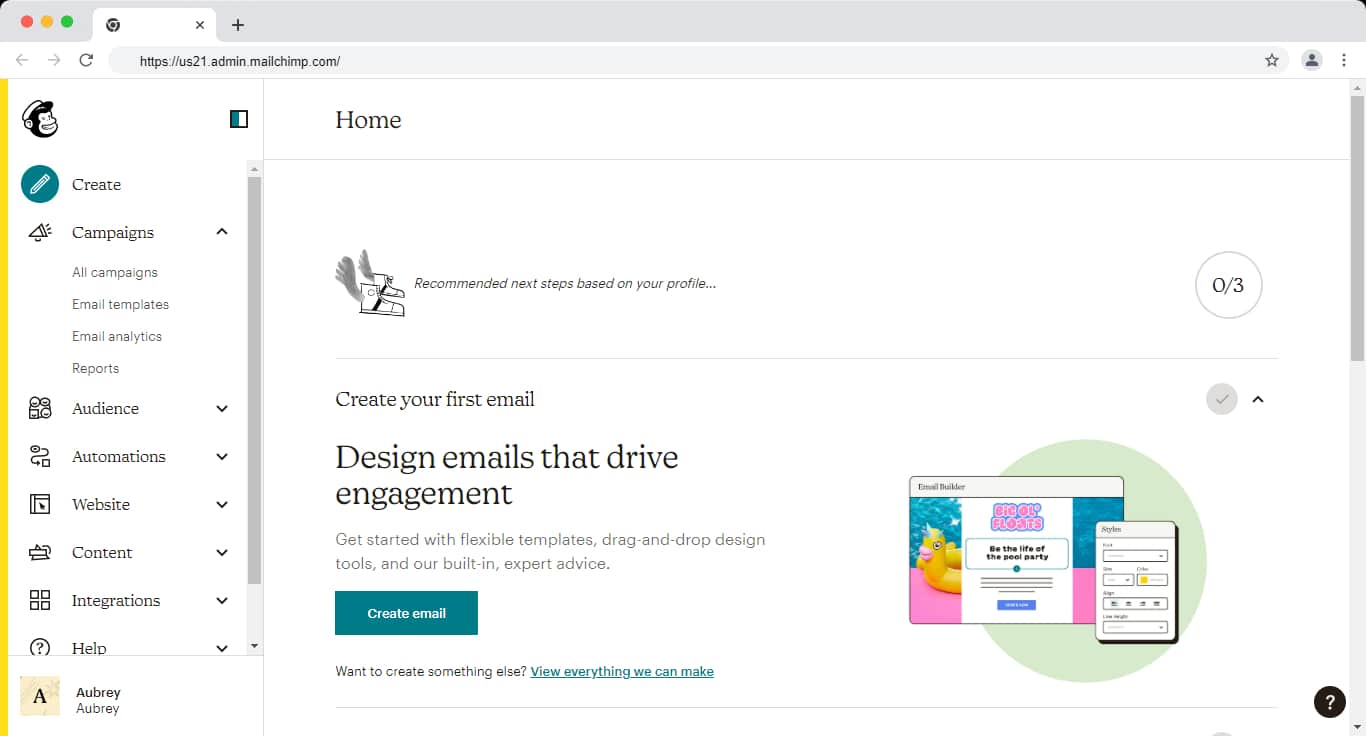 Despite Mailchimp being more than just an email marketing platform, they make it easy for you to get started by providing detailed tutorials and webinars. When you also hover over the features, it highlights the benefits of those features making it easy to get around the interface.
Mailchimp has a marketplace where you can hire experts to build automations, organize your contacts and even train you on how to use the platform.
But when an email marketing solution has such a marketplace, know that it isn't that easy to use for most people.
It also offers native integration in categories like customer service, analytics, eCommerce, payments, subscription management, and many more.
Read also: 13 Mailchimp Alternatives With Pricing, Comparison Tables
Drip
Drip has a clean UI mainly because it's only an email marketing platform and lacks all the bells and whistles of Mailchimp. It's easy to use and has all the essential features a click away so you don't have to be an email marketing specialist to use Drip.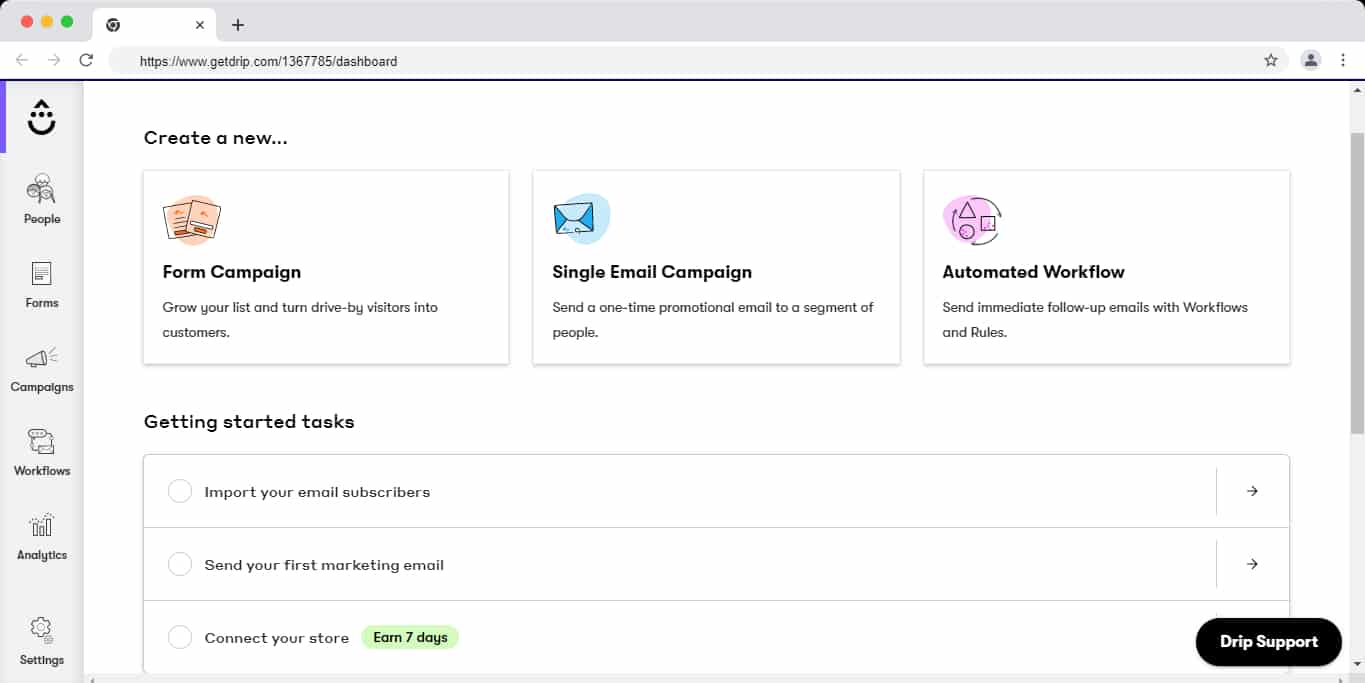 Once you import your subscriber list, you can send automated emails using its automation builder. For eCommerce owners, you get direct integration with all the major eCommerce platforms such as Shopify, Magento, WooCommerce, and BigCommerce. For regular users, you can install their WordPress plugin and start creating forms and segmenting your contacts.
Drip also offers integrations with eCommerce platforms, CRM platforms, payment processors, and many more.
UI & ease of use verdict:
Drip has a cleaner UI, and it's easy to use compared to Mailchimp. This is because Drip only has the essential email marketing features, while Mailchimp packs more marketing features so it crams all of them into one dashboard.
Want to find a Drip alternative that's better suited to your needs? Check out our article on the top Drip alternatives.
Read also: Pipedrive VS Monday: Which Is Better? A Side-By-Side Review
---
Drip vs Mailchimp: Pricing
The pricing of most email marketing platforms depends on the number of contacts you have. Mailchimp and Drip are no exception.
But the pricing model of both platforms differs a bit–Mailchimp is tier based where features are restricted on some plans while Drip is based on the number of contacts you have and includes all its features in the total cost.
Mailchimp
Mailchimp has four pricing plans. Here are the plans based on the base number of contacts (500):
The essential plan starts at $11 per month
The standard plan starts at $17 per month
The premium plan starts at $299 per month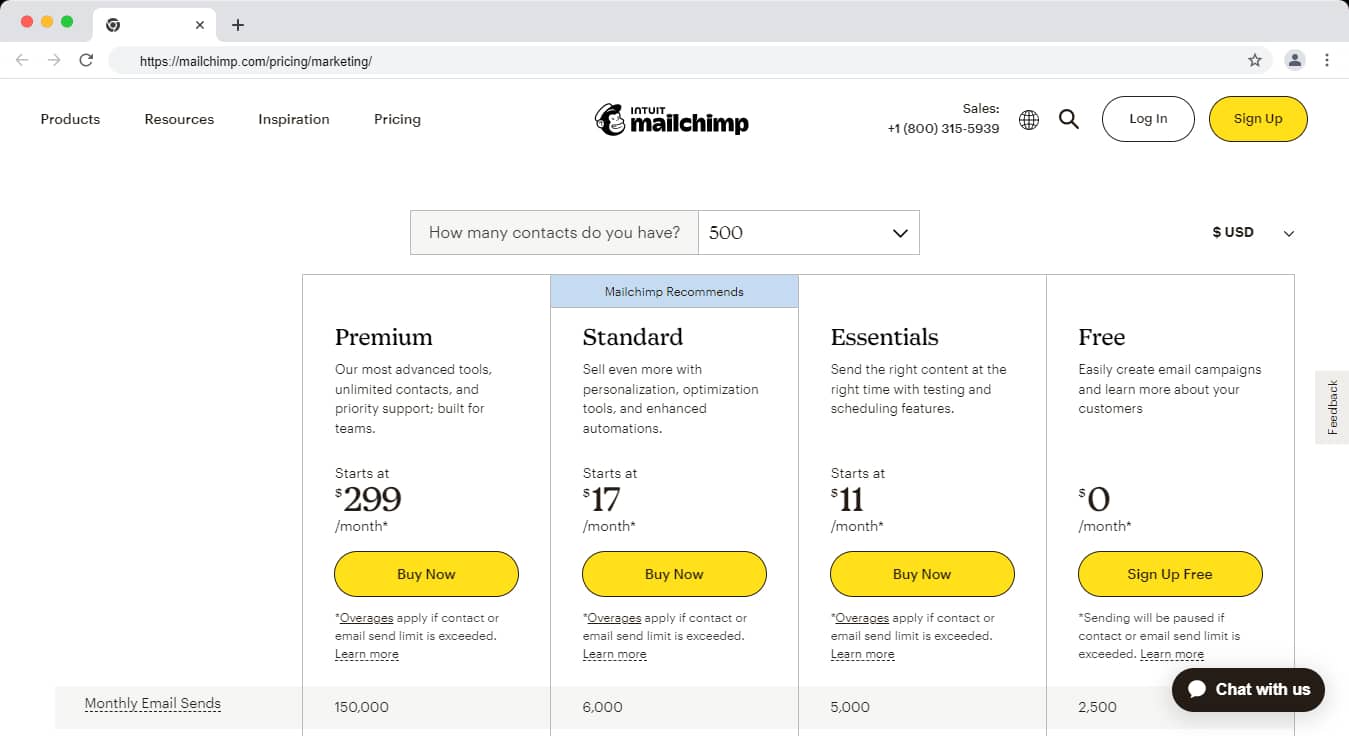 Here are the features included in each plan:
Free plan
Maximum contacts–500

Users–1 seat

Email support for the first 30 days

1 user role; owner

Pre-built email templates

300+ integrations

Basic reporting and analytics

Forms and landing pages

Creative assistant which automatically imports your brand assets into Mailchimp
The essentials plan includes all the features in the free plan plus
Maximum contacts–50,000

Users–3 seats

24/7 email and chat support

2 user roles; owner and admin

Remove Mailchimp branding

A/B testing

Email Scheduling

Automated customer journey builder
The standard plan includes all the features in the essential plan plus
Maximum contacts–100,000

Users–5 seats

4 user roles; owner, admin, author, and viewer

Enhanced automated customer journeys

Pre-built journeys

Custom-coded templates

Predictive segmentation

Content optimizer

Send time optimization

Dynamic content
The premium plan includes all the features in the standard plan plus
Unlimited maximum contacts

Unlimited number of users

Phone and priority support

5 user roles; owner, admin, author, manager and viewer

Comparative reporting

Multivariate testing

Advanced segmentation
The pricing in each tier changes depending on the number of contacts you have. The maximum number of emails that can be sent per month also changes with the number of contacts.
Don't settle for MailChimp's high prices. Check out our article on the best MailChimp alternatives for a better deal.
Read also: Constant Contact Competitors: Features, Pricing, Pros and Cons [Tables]
Drip
Drip's pricing plan only depends on the number of contacts you have. Here's the price based on the base number of contacts (2,500):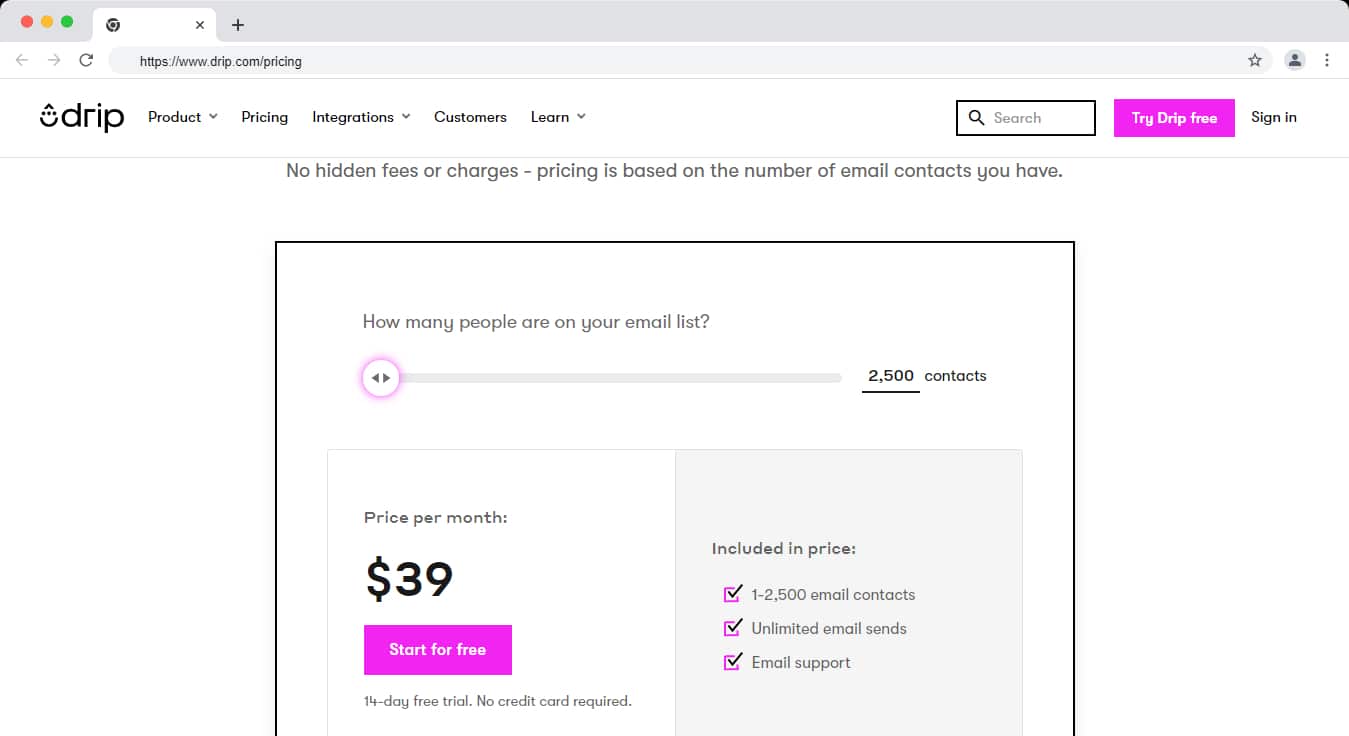 A few things to note:
There's only a 14-day free trial, no free plan

Unlimited email sends

All features are included in this pricing
Here are the features included in the plans:
Pre-built playbooks

Advanced segmentation

A/B testing

Integrations

Reporting and analytics

Forms and pop-ups

Advanced email marketing automation
Pricing verdict:
Mailchimp has a more favorable pricing plan compared to Drip. Although Drip includes all its features in its price, Mailchimp's standard plan alone beats that price as contacts increase. With Mailchimp, you also get access to other marketing features.
One key thing to note though is the advanced segmentation feature is only available in the highest-priced tier on Mailchimp, while on Drip it's all-inclusive with the price.
Read also: Mailchimp vs Constant Contact — What's Right for You?
---
Drip vs Mailchimp: A/B Split Testing
A/B testing campaigns provide data that helps you understand what your audience finds engaging. Both Mailchimp and Drip offer A/B testing capabilities, but they differ when it comes to the variables you want to test.
Mailchimp
Mailchimp has two ways of A/B testing depending on your pricing plan:
A/B testing campaigns:

This tests different versions of a single email campaign based on

one variable at a time. Variables to test include the subject line, front name, content, and send time. This feature is available in all the plans except the free plan.
Multivariate campaigns:

This allows you to test

multiple variables at one time

. Mailchimp will create different combinations of your email marketing campaign based on multiple variables and send the campaigns to your recipient.

This feature is only available on the premium plan

.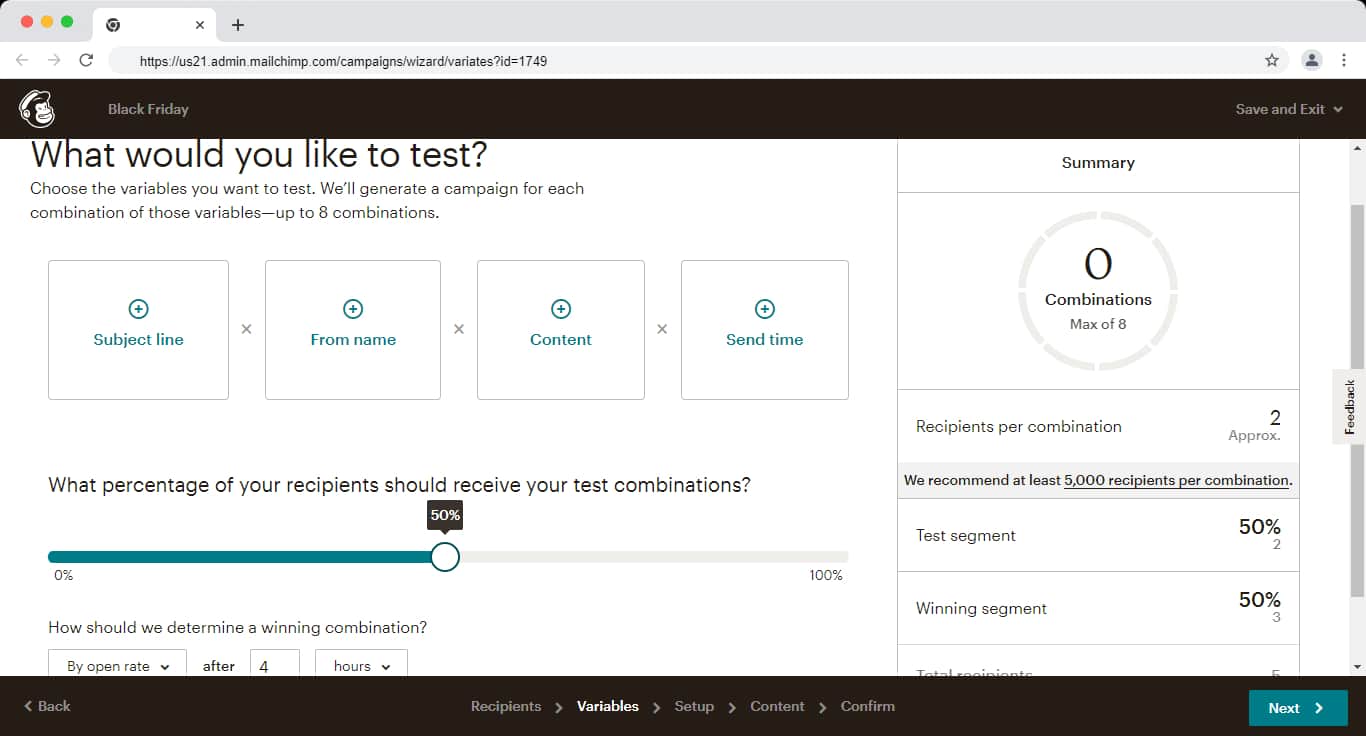 When you choose a combination of variables you want to test, Mailchimp allows you to set up the configuration of the split test before designing the details of the campaign.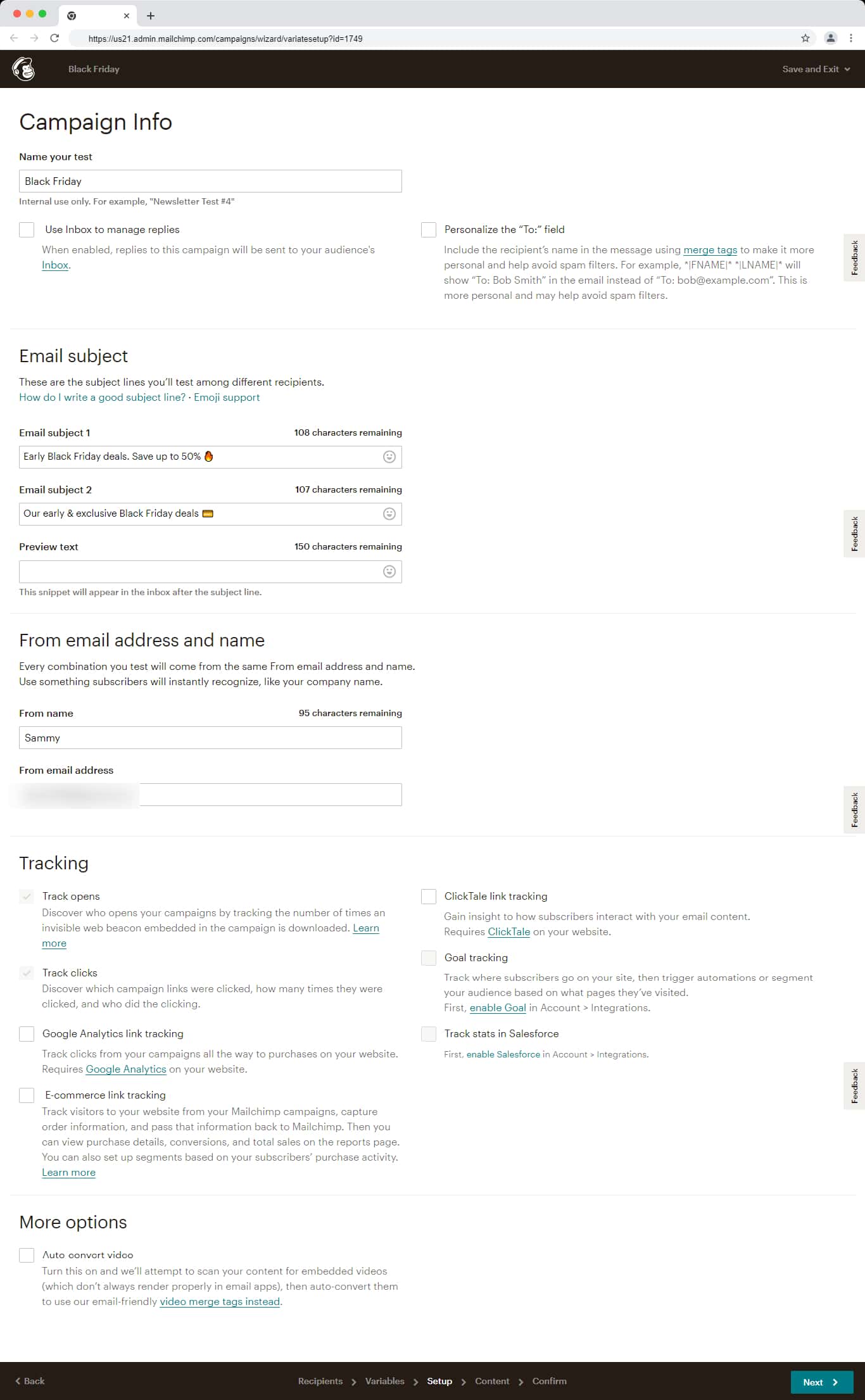 Apart from having a powerful split testing interface, Mailchimp lacks the ability to split test automations like Drip.
As Kumar Bhanushali sums it up:
"Mailchimp A/B testing is limited. You can separate the test subject line, content, submission time, and form name. However, you cannot split the entire automation of the test or isolate the emails within the automation."
Drip
Drip has a fairly simple split-testing functionality. There are two ways you could run these tests:
Single email campaign split tests: This allows you to test up to four versions of a single email based on one variable at a time. But there are only two variables you can test; the subject line and email content.
Workflow split tests:

This test allows you to test variations of automation based on one variable in each automation. There are four variables you could test with this; timing, channels, frequency, and content.
The single campaign split tests have a simple interface. And since you can only test two variables, it's easier to get started but less powerful compared to Mailchimp.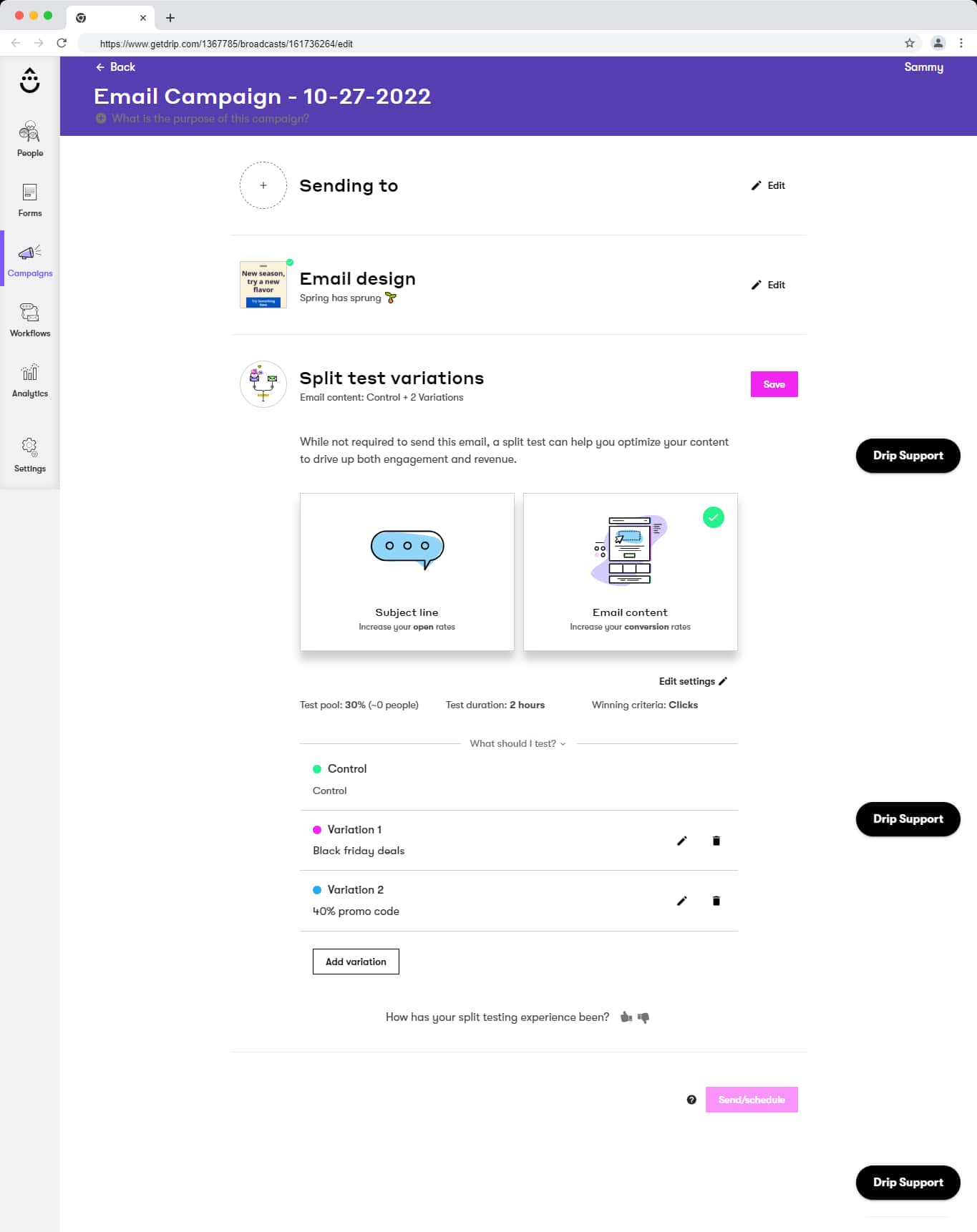 The outcome of the workflow split tests gives you results on your marketing strategies. You can measure revenue, site visits, email engagement, and order conversion.
For example, you could split-test a cart abandonment automation to find which version of the automation provides a higher chance to nudge people to complete the checkout process. With one version, you could add them to a Facebook custom audience (channel) for retargeting and with the second path, you could send an email after a certain number of hours (frequency).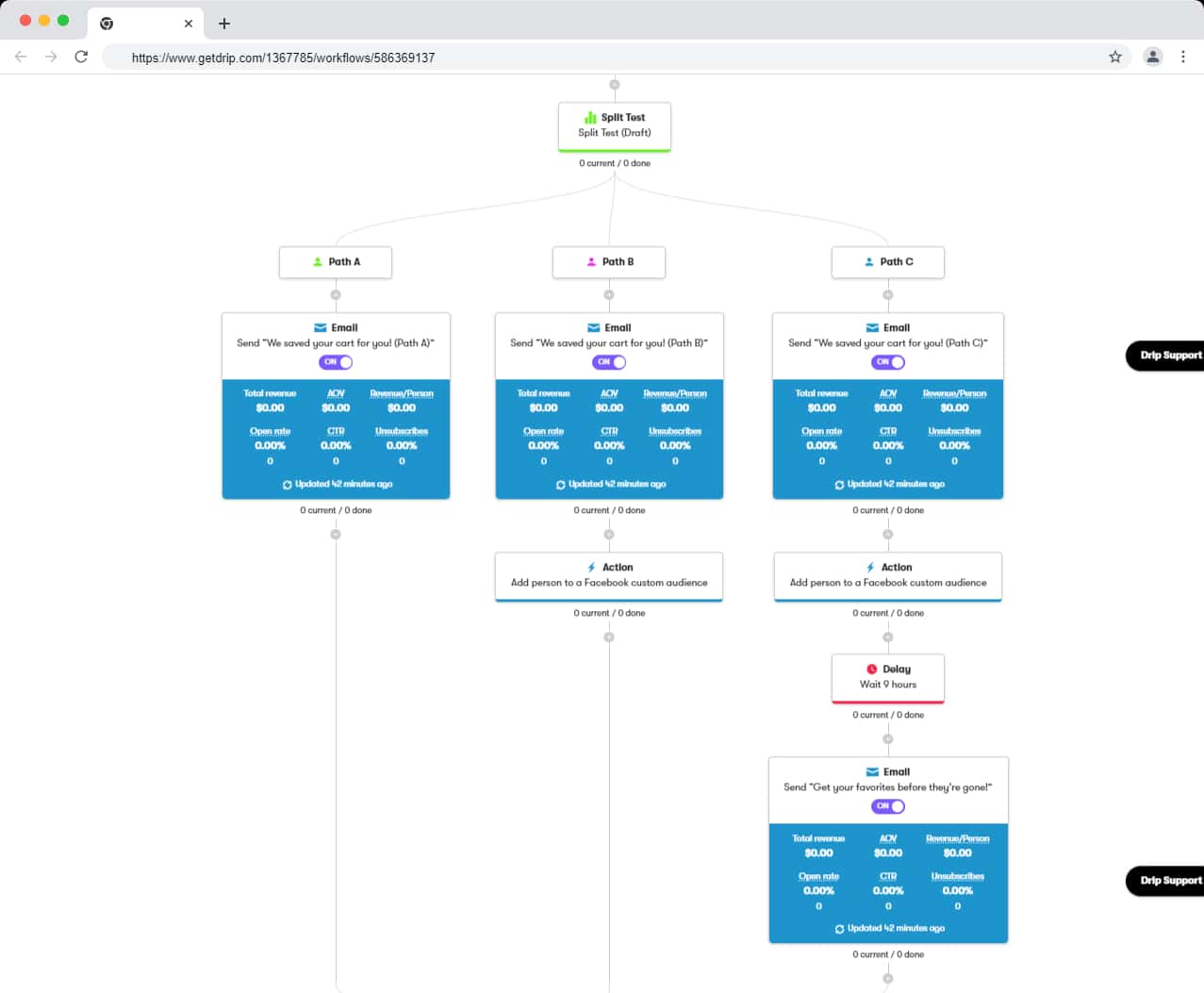 But for sure, one of the downsides with Drip is the lack of split-testing email content with single email campaigns.
As Rose Hoffmann, an email marketing director, puts it:
The split testing feature is fairly limited – it's easy to split test subject line, send time, and "From" name, but you have to do some DIY wrangling to split test email content.
Split testing verdict:
Tie. Both have powerful split testing capabilities. Mailchimp has better single email campaign split tests while Drip excels at automation split tests which measure bottom-line goals.
Read also: 5 of the Best Drip Alternatives (Features, Pricing, Pros and Cons)
---
Mailchimp vs Drip: List Management
Both Mailchimp and Drip have powerful email list management functionality. You can segment and apply tags to your list and manage inactive accounts with just a few clicks.
Mailchimp
Mailchimp renamed lists as audiences. It has a powerful audience management interface where you could create an audience, apply tags, and segment based on different criteria.
You can import an audience through a CSV file or connect with a third-party app like QuickBooks and automatically sync your contacts. Mailchimp has three audience management tools:
Since Mailchimp charges you based on the number of contacts on your list, it's important to clean your audience. But you have to manually delete contacts from your audience or archive inactive accounts.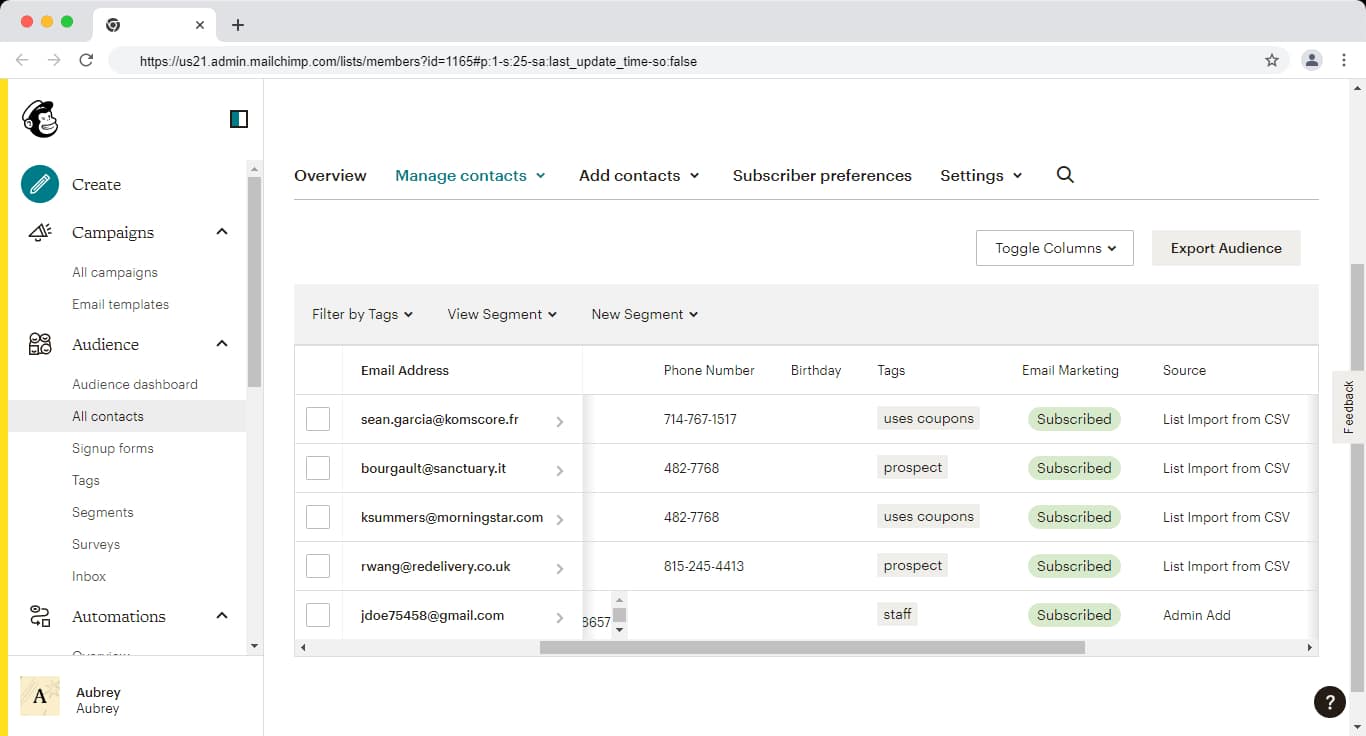 Mailchimp is quite expensive as your list expands. For example, when a contact is duplicated in multiple lists, it's counted as two contacts.
As Preeti Gautam, a content manager says:
"The thing I don't like about this software is that if your subscribers' list grows, it can quickly become an expensive platform to work with unless you have to buy its higher plan."
Read also: Constant Contact Pricing 101: Plans, User Reviews, and Comparison
Drip
Drip also has a decent list management interface. When importing contacts, you can apply tags to contacts directly on the importing dashboard. Drip has pop-ups and landing pages that'll help you grow your list which you can segment and send personalized emails.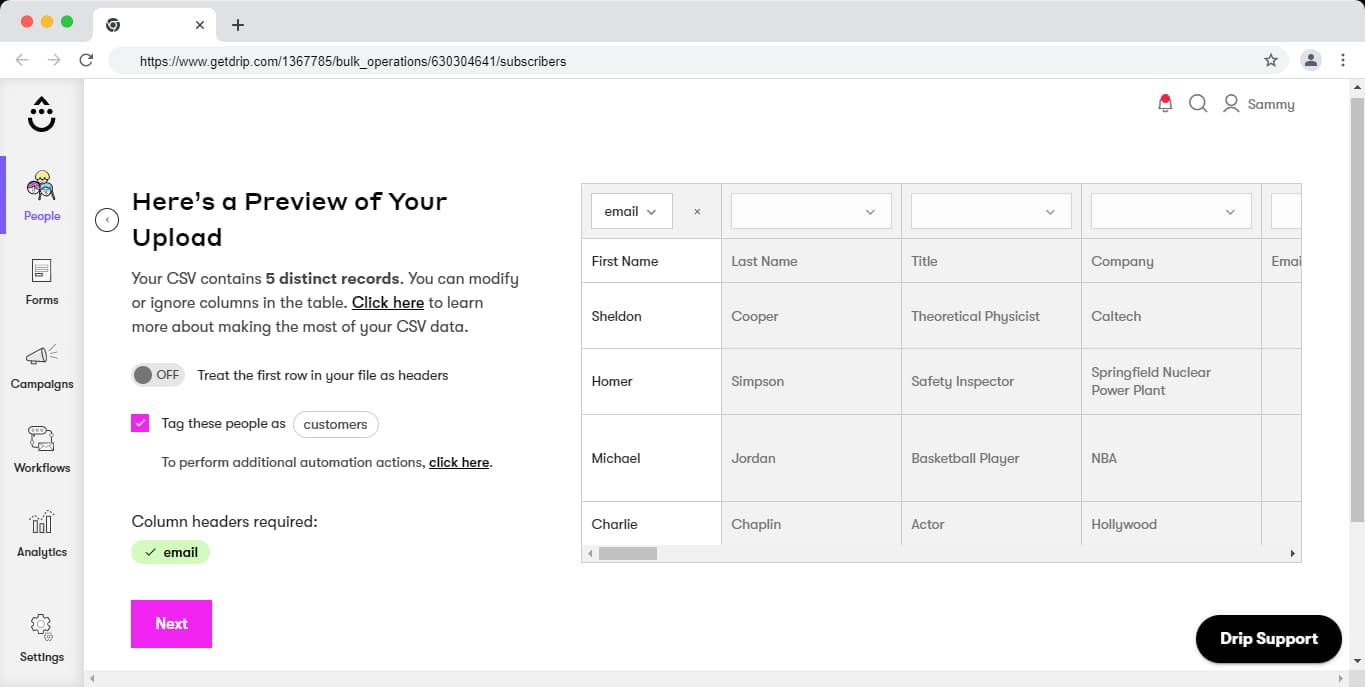 Like Mailchimp, Drip has tags, groups, and segments to help you send targeted emails. But you won't be able to create multiple lists. Multiple lists are helpful if, for example, you serve both B2C and B2B audiences. You'd then have separate lists for both audiences.
Drip has powerful automations to clean your list. Their pre-built sunset workflow automatically unsubscribes people who have received multiple emails but they haven't engaged with the emails. There's also a pruning feature where you can unsubscribe people in bulk based on different filters such as email inactivity, email not opened or clicked, bounced, etc.
List management verdict:
Tie. Drip came close because of its pruning feature and pre-built sunset automation. But Mailchimp has a better interface with everything like segments, tags, and sign-up forms a click away.
Read also: EngageBay vs HubSpot: Market Leader or Emerging Powerhouse?
---
Mailchimp vs Drip: Email Campaigns
The easier it is to create campaigns and build workflows, the faster you'll measure the results and meet your goals. Both Mailchimp and Drip have impressive campaign management functionality that'll save you time.
Mailchimp
Mailchimp has an intuitive campaign management dashboard. You can view ongoing campaigns, view by type of campaigns created over time, and create new campaigns all within a click away.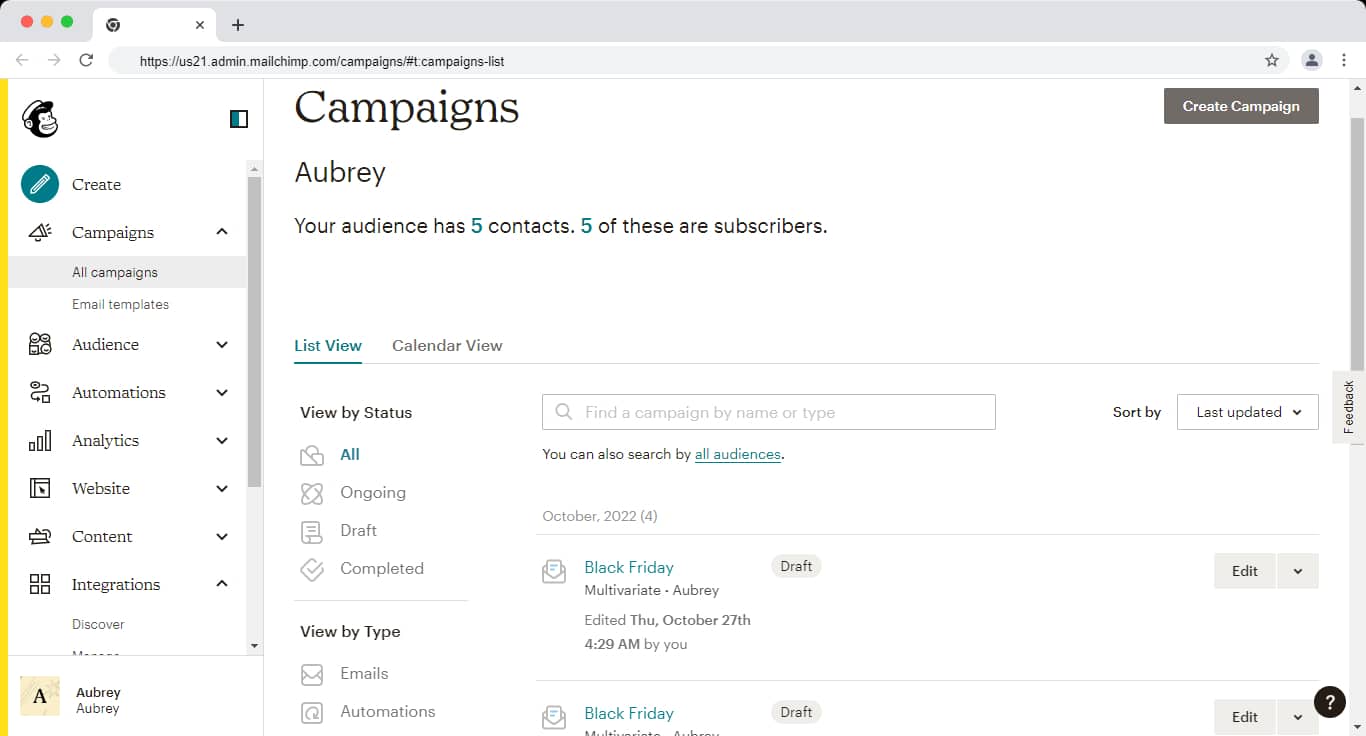 Depending on your goal, you can create single emails, landing pages, embed forms, ads, and social posts. You can also run workflow automations to nurture subscribers, welcome new subscribers, and re-engage subscribers.
When sending single emails or newsletters, you can choose the audience you want to send to. They can be from a certain segment or a new tag. You are also able to personalize the "To" field in an email. So instead of "To: Sam@example.com" it would be just "To: Sam"
Read also: Brevo (Sendinblue) vs Mailchimp And Other Marketing Automation Tools [Tables]
Drip
Drip's single email campaign builder is simple to use since you can only create one type of content–emails. With Mailchimp, it's cluttered as there are more types of content you can create, such as ads and social posts.
When you decide on what emails you're sending, you are directed to the visual builder. Drip recommends segments to target to increase email engagement and provides a list of segmentation criteria to choose from.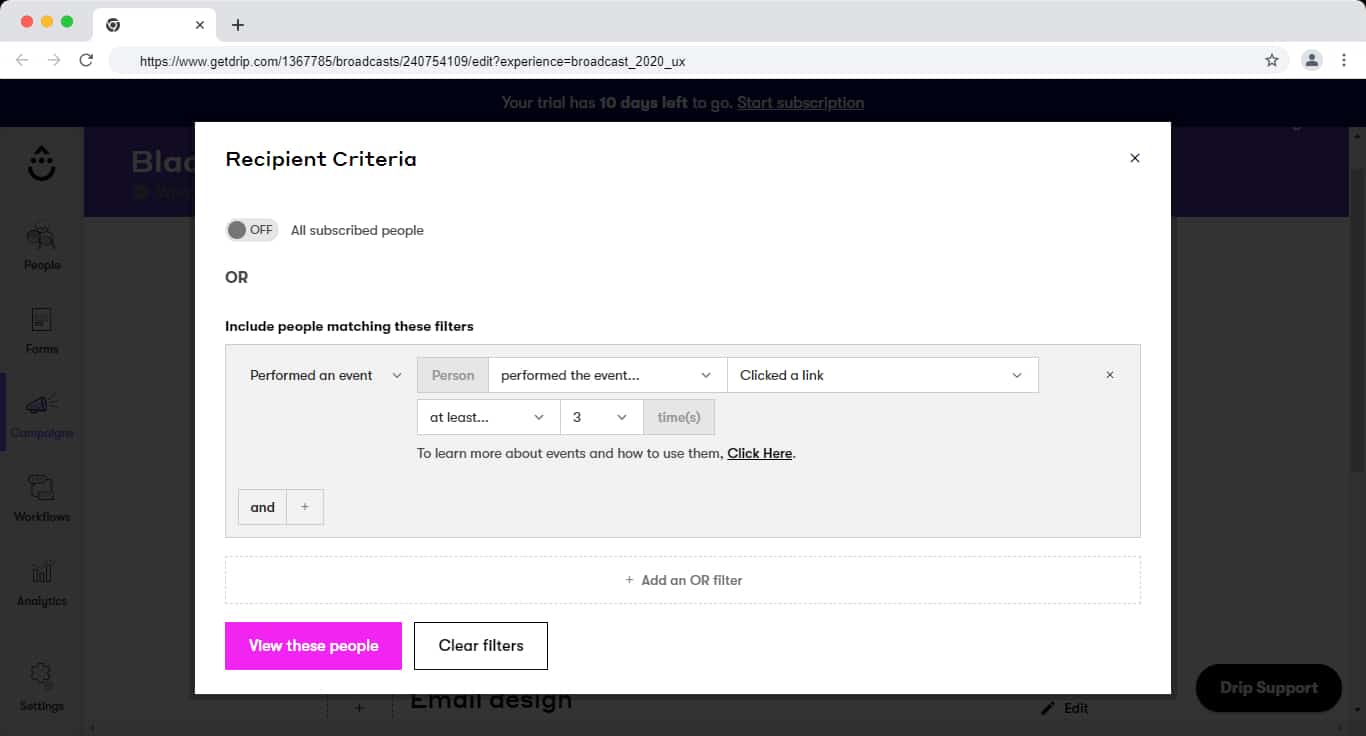 Drip's email builder has all the creative tools on one dashboard. You can pick segments, email templates, and split test emails without leaving the interface.
It lets you schedule emails in a contact's time zone so there's a higher chance of subscribers opening an email. You can also select a date and new subject line to resend the email to subscribers who didn't open the last email.
Email campaigns verdict:
Drip has better campaign management than Mailchimp. It has an intuitive visual builder with a vast number of templates and the segmentation criteria are quite powerful.
Read also: MailerLite vs Mailchimp and Other Email Tools
---
Drip vs Mailchimp: Marketing Automation
Marketing automation takes care of mundane and repetitive tasks. It gives you time to focus more on one-on-one personalized communication with customers or creative tasks.
Mailchimp
Mailchimp has a fairly simple and straight-to-the-point automation interface. You can either build automation from scratch or choose from the list of pre-built templates.
You can use the visual journey builder to plot the starting point, actions, and rules that'll determine the path each contact will go through.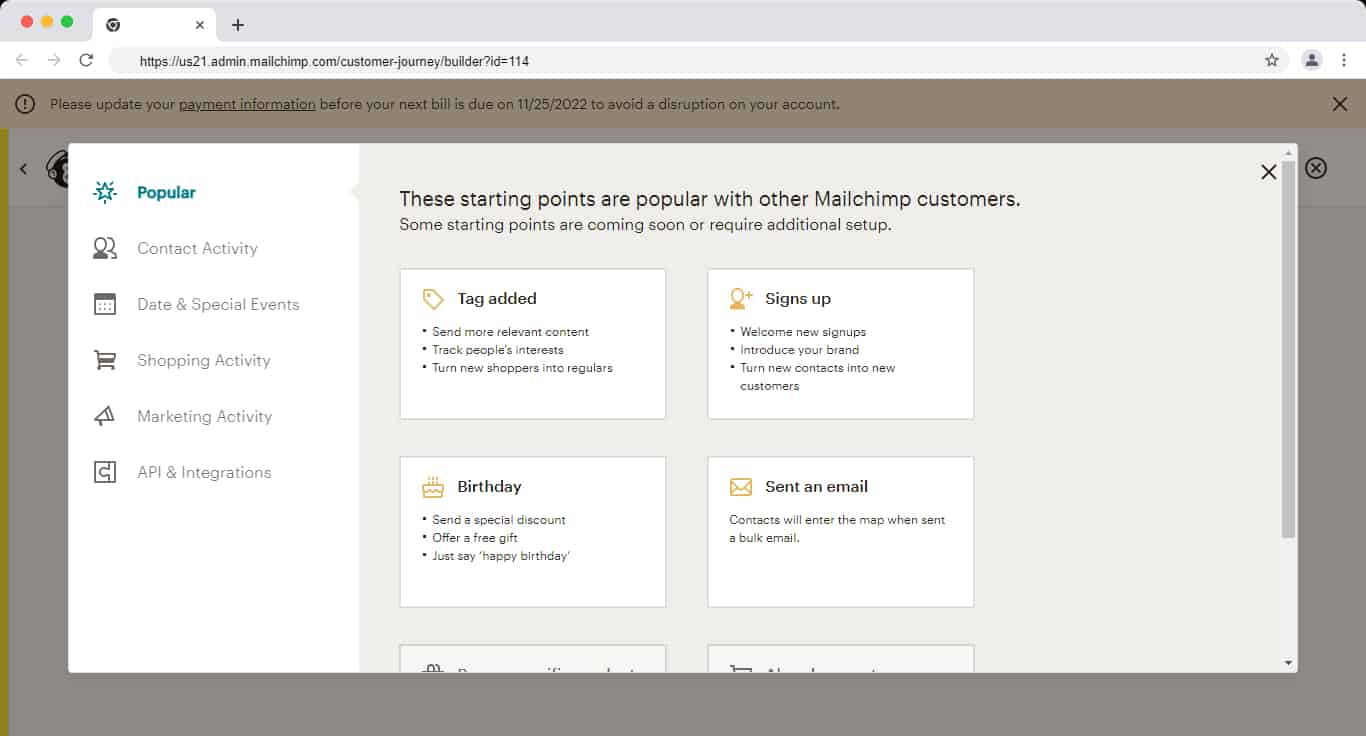 But this process can be time-consuming. Luckily Mailchimp has a list of pre-built templates for the most common tasks. The automations are categorized based on common activities like:
Find and welcome contacts: You can find automations that welcome contacts who subscribed via your pop-up form or welcome new contacts with a series of emails
Nurture leads: Here you can send emails over time using a Mailchimp drip campaign or welcome attendees to an event when they check-in
Re-engage contacts: Use automations that send multiple offers to abandoned cart customers or engage customers who have not made a purchase in x months
Support and manage contacts: Use automations to encourage online reviews or identify high and low-engagement customers
Transactional emails: You can automate sending an order confirmation or shipping confirmation email
That said, Mailchimp's automation UI isn't user-friendly. According to Page Vandiver:
"Accessing the automated emails, and viewing their analytics (so that you can see whether or not you're performing at industry standards/see if you need to change anything) isn't as quick or easy as it is with some other systems."
Drip
Drip has three automation tools:
Workflows

Rules

Email series
You can either build workflow automation from scratch or choose from the pre-built list of templates. The workflow is enabled once people have met the trigger criteria. You can then add workflow components such as action, Decision, Goal, Parallel Paths, Split Test, Delay, and exit.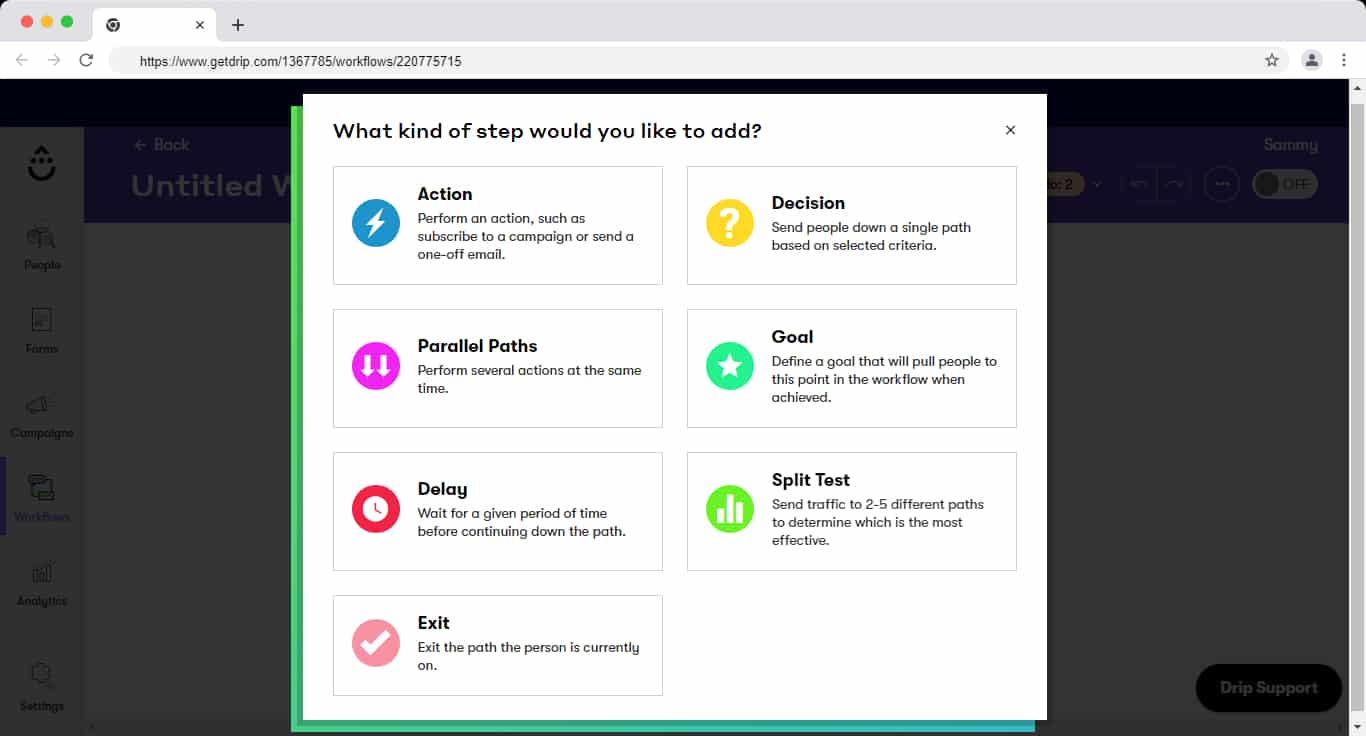 You can also choose workflow templates to get you started. They are organized into different categories:
Sales: you can find workflows that automate cross-selling campaigns or retarget customers with Facebook ads
Abandonment: Send cart abandonment emails to customers whether you are on Shopify, WooCommerce, BigCommerce, or Magento
Loyalty: Send automated birthdays and anniversary emails to customers or know which customers will make a purchase if you give them a coupon
Leads: Send emails when customers visit your website multiple times or deactivate a contact who is undeliverable
Nurture: Send post-first purchase emails to retain current customers
Rules are automations activated when certain triggers on connected third-party apps are met. For example, you could send a contact to Pipedrive once they create a checkout in Shopify.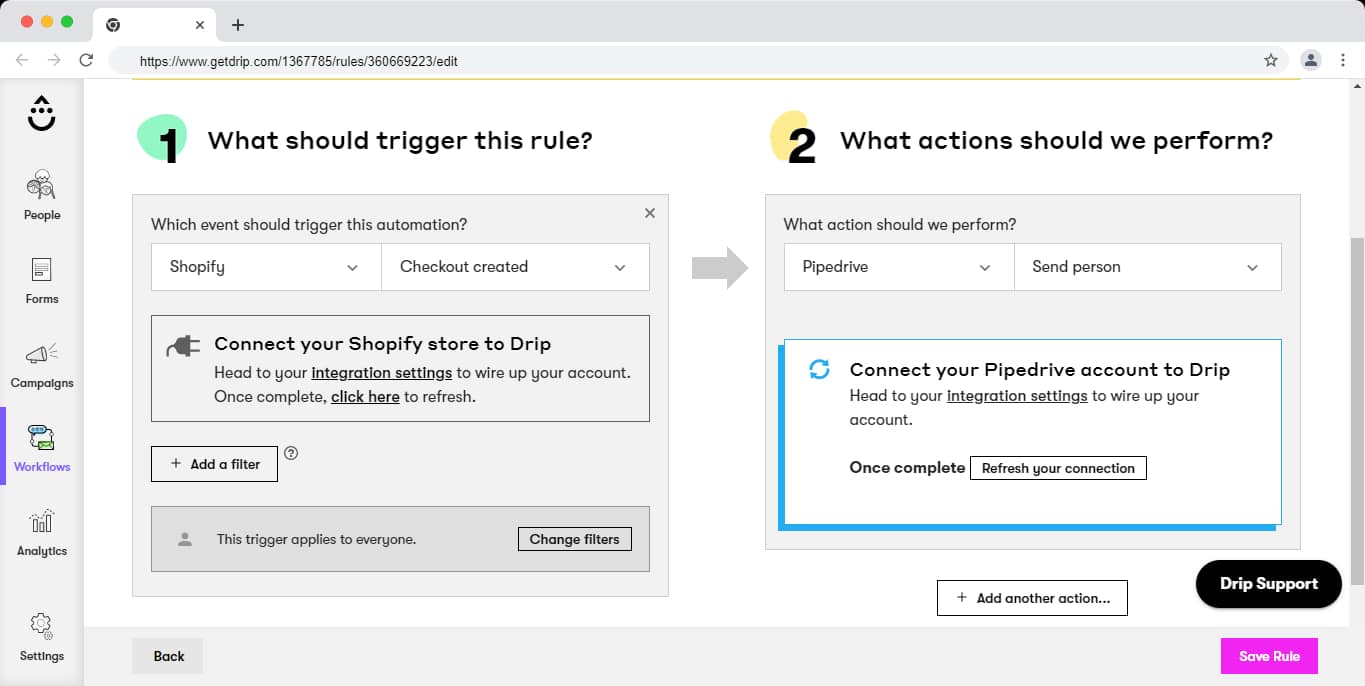 Email series is a type of automation for topic-specific sequences with delays in between. For example, there's a 5-day email mini-course blueprint where you can run a 5-day email sequence.
Marketing automation verdict:
Drip has better automation functionality compared to Mailchimp. Its UI is simple to use and well thought out. Its rules, workflows and email series can work for any online store.
Read also: Insightly vs Hubspot vs EngageBay: Find Out Which CRM Is Best For You
---
Mailchimp vs Drip: Opt-in Forms and Landing Pages
Sign-up forms and landing pages help you grow your audience by capitalizing on website visits. Both Mailchimp and Drip have sign-up forms but slightly differ in functionality.
Mailchimp
It offers three ways you could acquire subscribers on your site. You can use embedded forms, pop-up forms, or landing pages. You can design these forms using HTML or pick a design from their list of templates.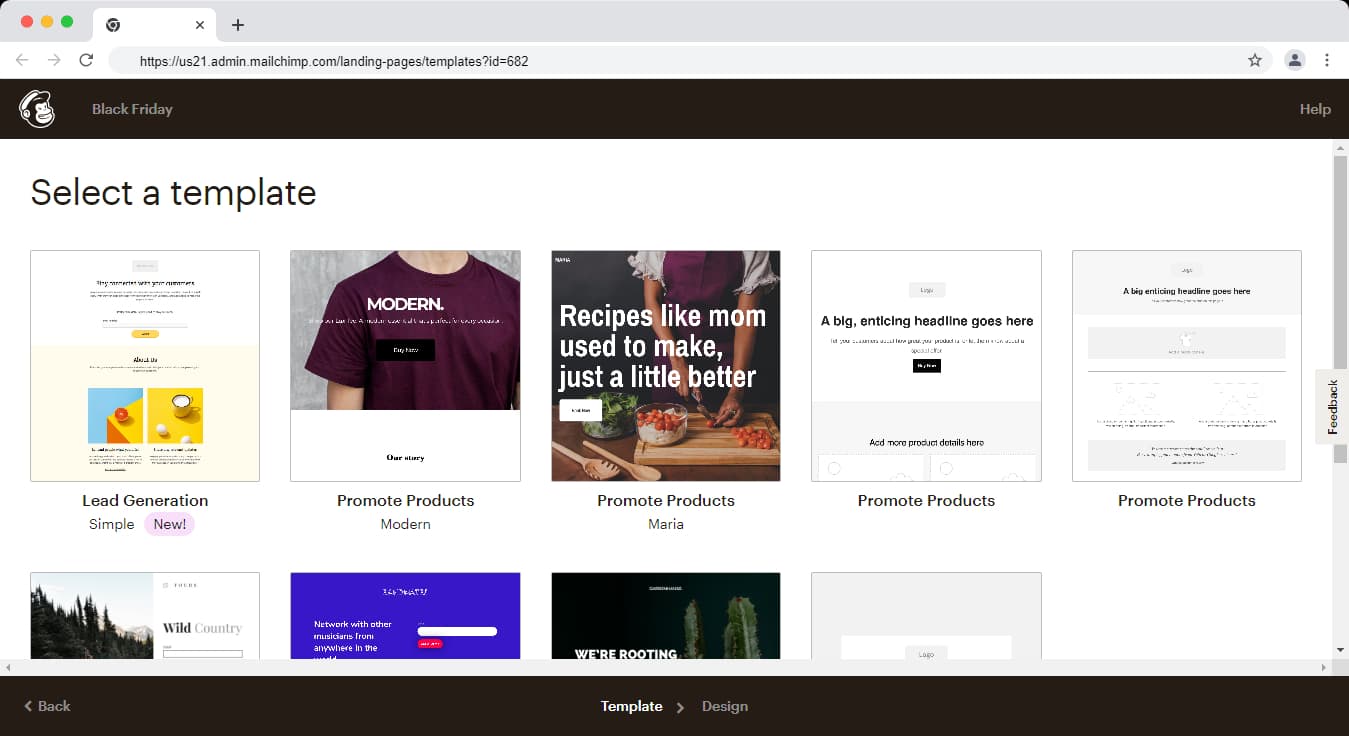 When an existing subscriber tries to sign up on a different form, their contact details would remain the same. The forms are single opt-in by default. But if your contacts are in the EU, they may be double opt-in by default.
Drip
Drip only has pop-up forms to help you build your list. They have a wide range of templates, ranging from product announcements to welcome discounts. The design interface is quite rich. You can add tags to people who subscribe, pass them into workflow automation, and configure the timing of the pop-up.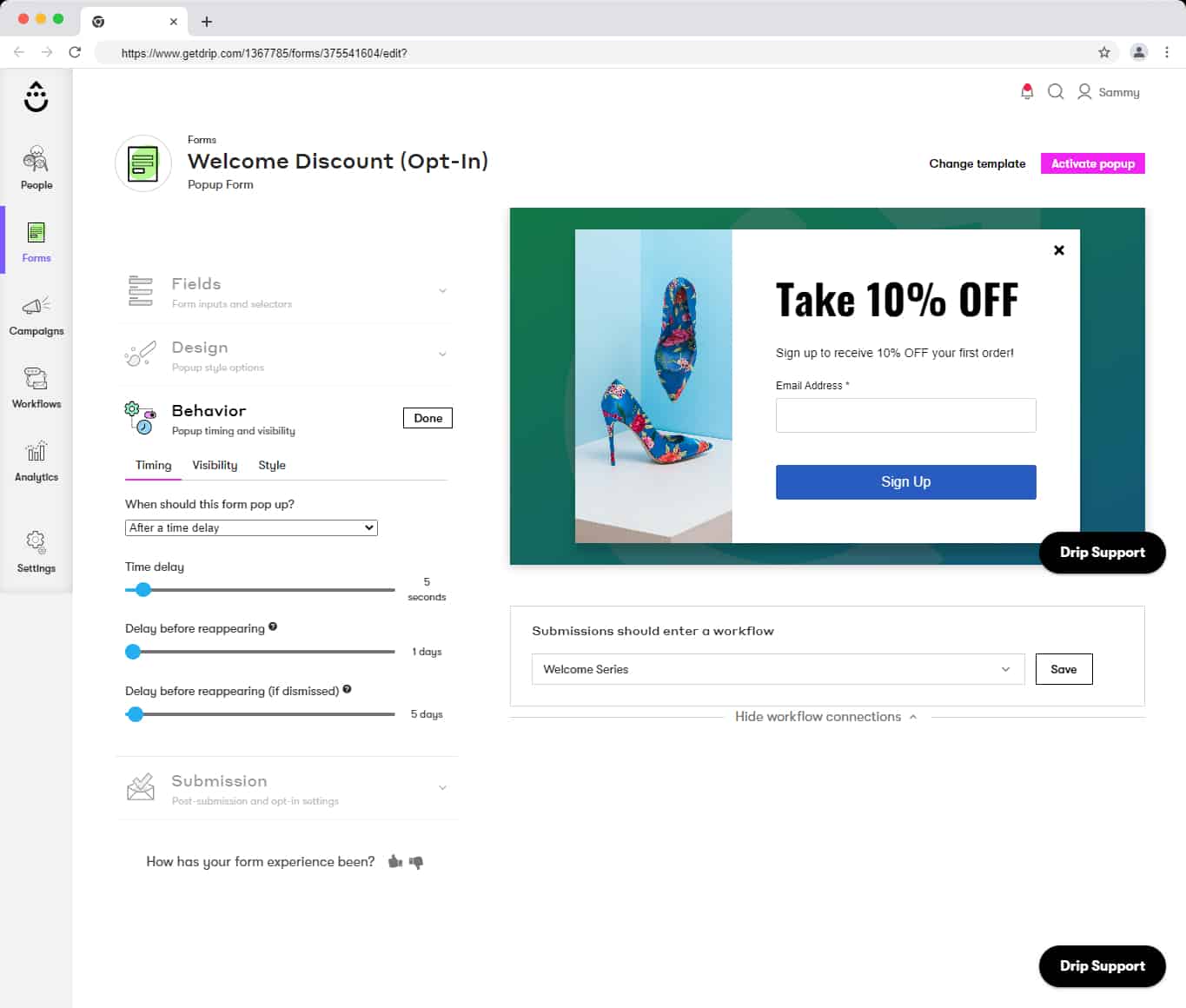 Opt-in Forms and Landing Pages verdict:
Mailchimp has better sign-up form features compared to Drip mainly due to its landing pages feature. But Drip's ability to direct subscribers to a workflow right in the design interface is convenient.
---
Mailchimp vs Drip: Customer Support
Email marketing is time-sensitive, so when you encounter a problem, you need it to be resolved as soon as possible.
Mailchimp
Mailchimp offers guides and tutorials, email support, live chat support, and phone support to its customers. The guides are comprehensive and provide quick answers to how-to questions.
Live chat and email support are available in all the plans except the free plan which only has access to email support for the first 30 days. Phone support is only available in the premium plan. I tested the live chat and it's quite resourceful but their email support can sometimes be off.
As Jacob Gagnon a marketing director says:
"Though I think Mailchimp's software is pretty solid overall, the main thing that frustrated me a little bit is the customer service. When I had an issue and referred to support, they couldn't always help me in great detail with our specific email campaigns."
Drip
Drip only offers two support channels for its customers–the user manual and tickets. The user manual is straight to the point and helps you learn how to use each feature and get the most out of Drip.
Although it only offers email support, according to Jamie they are quite helpful:
"Learning how to set up funnels is not the most straightforward. However, especially if you are new to email marketing, Drip's support team and chat are elementary to use and will guide you through every step."
Customer support verdict:
Mailchimp has better customer support features compared to Drip. They offer more channels to get in touch with the support team including phone calls.
Read also: SharpSpring vs Hubspot vs EngageBay — Which CRM Software is the Best?
---
EngageBay: A More Powerful & Affordable Alternative
EngageBay is an all-in-one CRM for your sales, marketing, and support functions. It has powerful automation and email marketing features like both Mailchimp and Drip. And since the CRM stores your contacts, you have a holistic view of customer activities, from tickets submitted to web pages visited.
It helps you avoid working in silos where you have data on your customer support app, email marketing platform, and CRM. It integrates all your data into one app.
EngageBay has better sign-up forms compared to both Mailchimp and Drip. It offers inline forms, pop-up forms, and landing pages. It also has the most number of templates to choose from.
You can run email campaigns using its marketing platform. It offers email drip campaigns, campaign metrics, and marketing campaign automation.
EngageBay has a free forever plan and a free helpdesk platform. The paid plans are feature-rich and don't limit core features like Mailchimp. The pricing plans start from: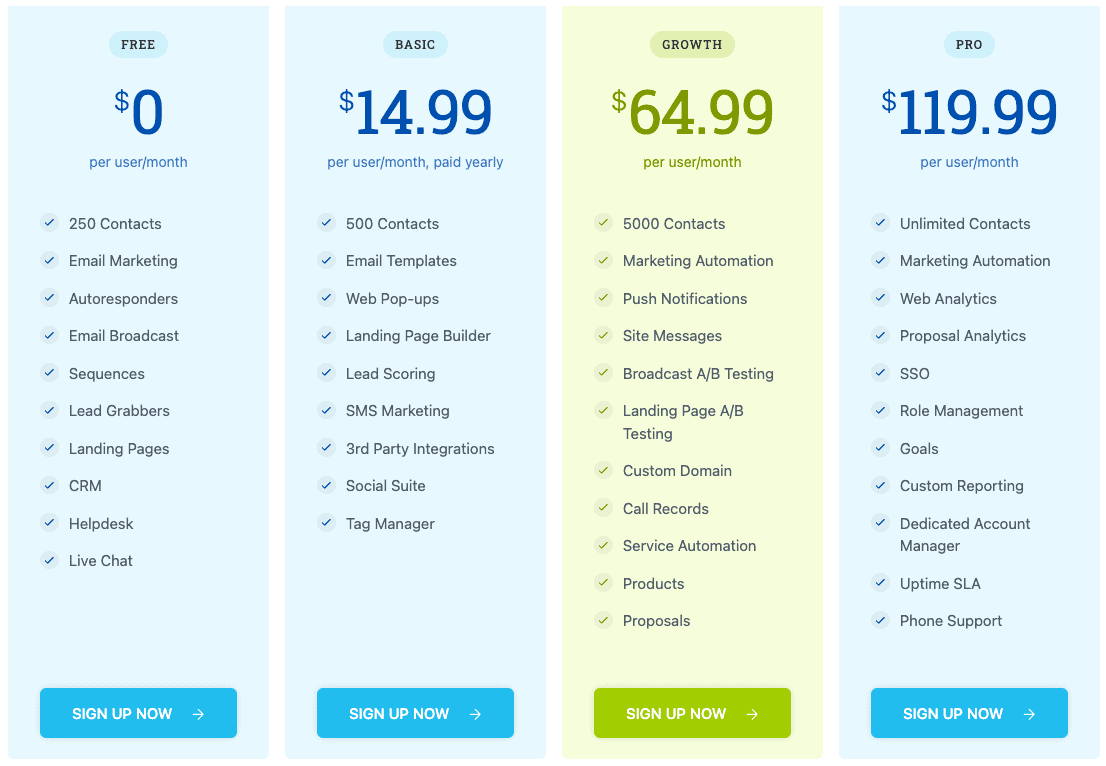 All-in-One Suite
Basic–$14.99 per month

Growth–$64.99 per month

Pro–119.99 per month (offers unlimited emails)
Marketing Bay
Basic–$12.99 per month

Growth–$49.99 per month

Pro–$79.99 per month
CRM & Sales Bay
Basic–$12.99 per month

Growth–499.99 per month

Pro–$79.99 per month
Service Bay
Service Bay is completely free to use
Here's a detailed comparison of EngageBay with Drip and Mailchimp:
| | | | |
| --- | --- | --- | --- |
| Feature | EngageBay | Drip | Mailchimp |
| Marketing automation | ✔ | ✔ | ✔ |
| Email marketing /email automation | ✔ | ✔ | ✔ |
| Gamification | ✔ | 𐄂 | 𐄂 |
| Sales automation | ✔ | 𐄂 | 𐄂 |
| Service automation | ✔ | 𐄂 | 𐄂 |
| All-in-one | ✔ | 𐄂 | 𐄂 |
| A/B testing | ✔ | ✔ | ✔ |
Wrapping up
So, when you compare Mailchimp vs Drip, which tool is better for your business?
Mailchimp is great for growing businesses that require more than just email marketing features. But EngageBay's all-in-one CRM and marketing automation package is better since it fits customers who want integrated marketing where all the data can be accessed from one app and performs better than native email marketing platforms.
Drip is great for eCommerce owners, given the powerful automations and simple layout.
So, you decide 😄