Every business owner invests a fair amount of time and energy in curating their retail store and making their retail marketing process better. That's no surprise.
There's a whole lot to handle. From greeting a customer when they enter your store to enabling a smooth billing process — every part has to be seamless from beginning to end.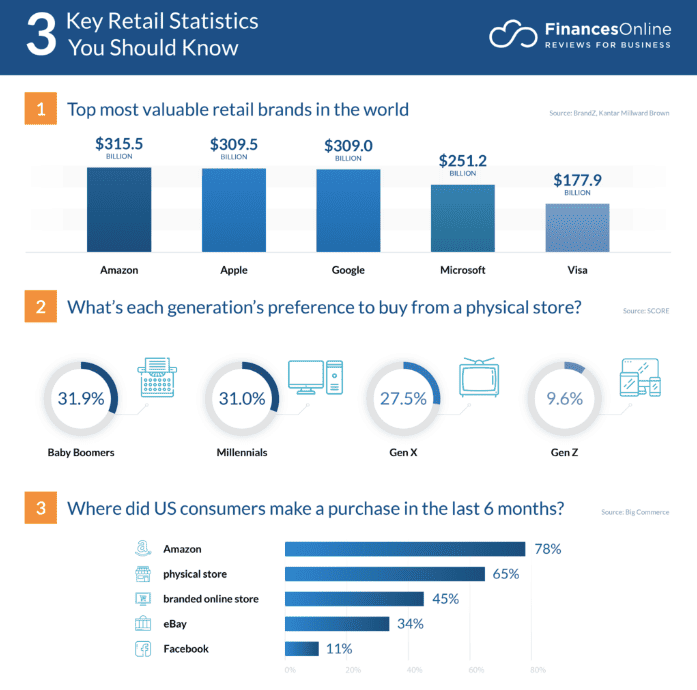 Retail marketing is something many retailers struggle with. It can get tricky to stay on top of the latest trends and evolution of big data.
That's why we've written this article. It will help you understand:
Retail marketing definition and types
The differences between retail marketing and marketing
The six Ps of the retail marketing mix
Benefits of retail marketing
Five proven retail marketing strategies
Retail marketing tips and best practices
The top 3 retail marketing trends in 2022-2023
How retail marketing works for direct-to-consumer (DTC) brands
Retail pricing strategies
Here we go!
Retail Marketing Basics: Definition and Types
Let's start with the basics. What do we mean by retail marketing?
Retail marketing refers to the set of activities or steps taken by a retailer or its brand to promote its products to consumers.
It attempts to bridge the gap between consumer demands and manufacturer supplies.
Retail marketing includes aspects like the design of your store, the exterior design of your store, advertisements, and in-store offers or discounts.
One great example of using retail marketing to your advantage can be seen at Ikea stores. According to an analysis by the University College London, the store layout of Ikea prompted 60% more impulse buys.
The same article found that only 20% of purchase decisions in Ikea are based on the customer's actual needs.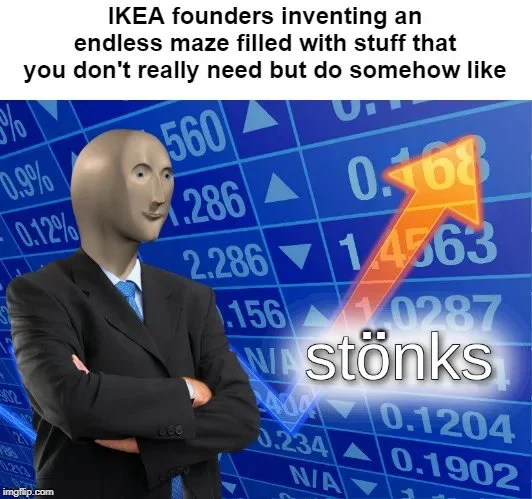 Types of Retail Marketing
There are two major types of retail marketing — in-store retail marketing and non-store-based retail marketing. Remember that for best results, you'll need to use both types of retail marketing across multiple channels.
In-store or Store-based
You'll need to maximize promotional opportunities at your store. By leveraging the right offers and loyalty programs, you'll be able to increase the average time a customer spends at your store. This means more revenue for your company.
Here are some popular channels of in-store retail marketing 👇🏻
In-store displays and layout: The layout of your store and product displays are crucial. Consider creating a centerpiece to display best-selling products to draw customers in. Online digital display boards are also a great option to display customer reviews and feedback.
In-store offers and promotions: You can consider giving in-store offers. This could be a part of a promotional campaign. Or, it could be an offer that doesn't need advertising outside your store.
Events: Hosting events like a live music night or a talk by an industry expert is a great way to boost footfall in your store. It is based on the interests of your target audience and your brand image.
Sample Products: Most people love getting free samples. For brands, it's a way of promoting products that customers may otherwise miss. This is especially helpful before the launch of new products.
Suggestion box or interactive board: You can use interactive boards for displays or for promoting products. A suggestion box can also help you understand your customer's pain points.
Non-store based
Now, this brand of retail marketing includes traditional marketing channels and digital marketing channels. Retailers aim to leverage these channels for non-store-based marketing 👇🏻
TV ads: TV ads have been a huge factor since the 'Mad Men' days of advertising. Advertising in your local TV channels can help you target customers from your area.
Posters and direct mail: A creative poster can often work wonders for promoting your store. This could be in the form of large hoardings or smaller posters around your neighborhood. You can also leverage direct mail to send promotional codes or offers.
Word-of-mouth marketing: People still trust what their friends and family have to say about your brand. Creating a referral program or a loyalty program is a great way to boost word-of-mouth marketing.
Email marketing and email newsletters: Whether it's sending transactional emails when a customer makes a purchase or an email newsletter — you can no longer afford to ignore email marketing. With email marketing automation, you'll save time and effort too.
Social media marketing: Use the power of social media channels to send targeted messages to a variety of prospects. Keep prospects engaged with social media giveaways and relatable stories.
Website and blog posts: Your website is your digital storefront. So, ensure it is optimized for mobiles and is easily accessible. Promote your products with well-researched blogs that add value to your customers.
SMS or push notifications: This is particularly useful for purchase or shipping updates and promotional messages.
Read also: What is DTC? The Ultimate Blueprint [With Examples & Tips]
Retail Marketing vs Marketing? What's the Difference?
It's easy to confuse these concepts.
On a basic level, marketing is much broader in scope when compared to retail marketing. Marketing is the process of generating more demand for products and services. Retail marketing aims to do the same– but in the context of a retail store or a brand.
Let me give you more context with an example of a company selling 'smart' home speakers. The marketing team would be responsible for identifying the target audience and the proper marketing channels and centering the overall marketing messages under a cohesive narrative.
Your retail marketing team would be responsible for translating these marketing strategies and tactics and applying them to retail settings like the storefront, third-party retailers, or the online marketplace. Your retail marketing team would prioritize activities like hosting events and targeted campaigns to boost customer footfall and drive purchases.
Read also: Glamorous Marketing Strategies For Cosmetics Companies
What Are the Six Ps of Retail Marketing? Why Are They Important?
You must already be familiar with the four Ps of marketing. When it comes to retail marketing, there are six Ps for you to consider. Here are the six Ps of the retail marketing mix.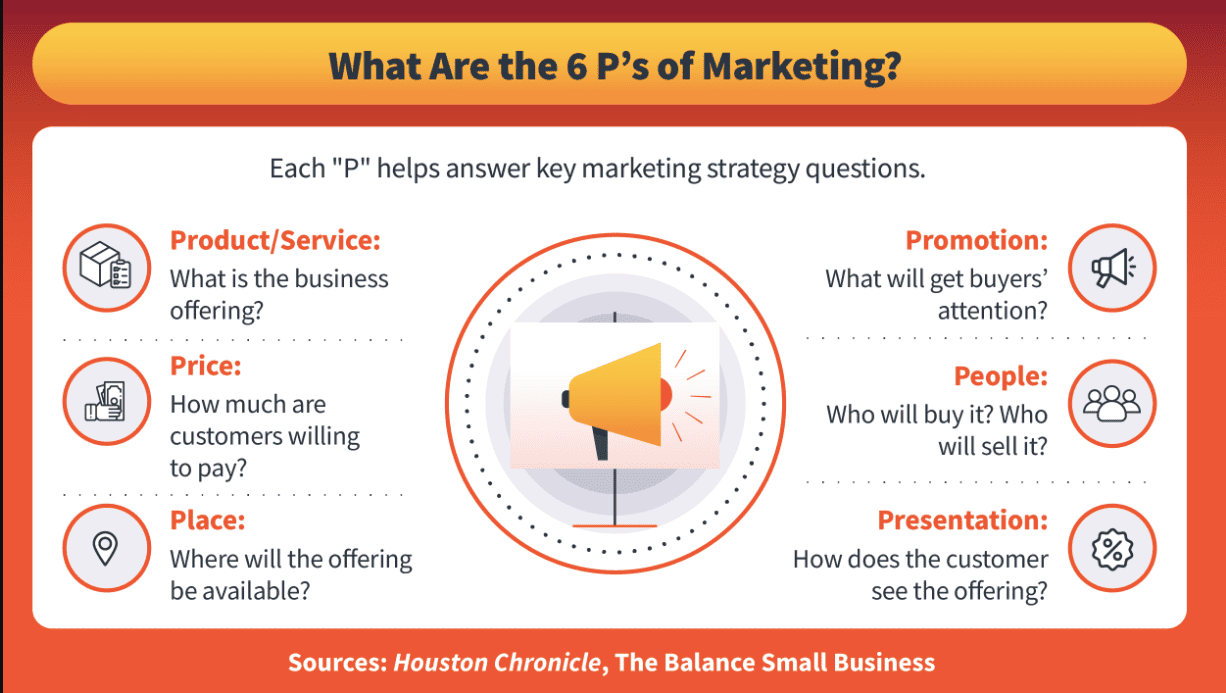 1. Product
The product is any tangible or intangible goods and services sold by your company for profit. The product defines the raison d'etre of your organization and fulfills a customer's need or desire.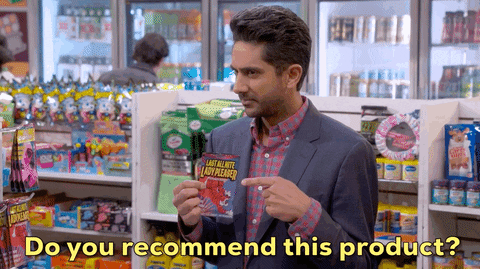 Retailers classify their products in many ways. Let's look at some of them.
Manufacturing-based classification: These include your core products, line extensions, and related products.
Procurement-based classification: This includes categories like consignment, regular, deposit, and non-trading.
Sales-based classification: This is based on the number of sales made. It includes top-selling products, different levels based on average sales, and clearance products.
Read also: 11 Bowling Alley Marketing Strategies For A New Spin
2. Price
This refers to the pricing plan for your products. But, it's not as simple as studying your margins and setting a selling price.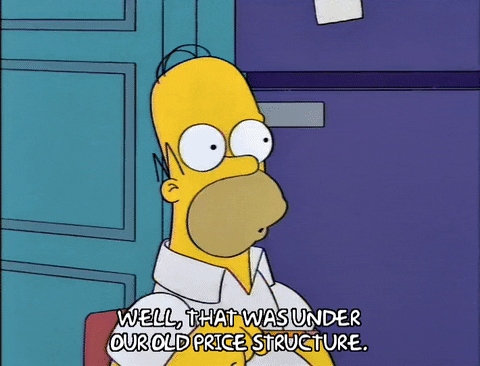 Rather, it requires a more nuanced and dynamic understanding of your customers' purchase habits and the product lifecycle. We'll discuss this in greater detail in the final section.
Read also: Master Email Marketing Automation Strategy: Tips & Examples
3. Place
This refers to your store location and your visual merchandising. First, where should the store be located to attract the maximum number of customers? Keep the needs and habits of your target audience in mind.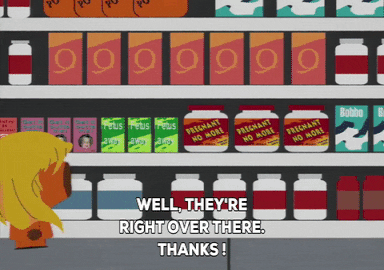 Visual merchandising is the art of creating attractive shop displays and mapping out the placement of each product. This is a great tactic to boost impulse purchases in your store. Remember, your product displays can also work as a "silent salesperson" in your store.
Supercharge your marketing with our ultimate guide on the best powerful strategies – don't miss out!
Read also: Local Marketing Automation 101: A Beginner's Guide
4. Promotion
This includes all the steps you take to ensure that your marketing messages reach your target audience. Most promotions aim at increasing customer loyalty, brand image, average bill value, and conversion rate.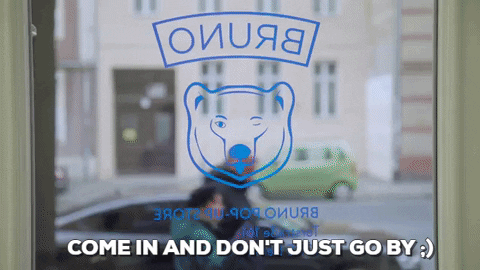 Most retailers use a wide variety of marketing channels to promote their products. These channels could be a mix of traditional channels like TV ads and digital channels like social media and email.
There are two types of promotions 👇🏻
In-store promotion: This includes every promotion that takes place in-store, like events, visual merchandising, and window displays.
Above-the-line promotion: This includes all promotions that take place outside the physical store. It includes email and social media marketing, hoardings, and flyers.
Read also: How To Nail Your Retail Marketing Automation [Tools, Examples]
5. People
You could have the best marketing plan in place, but it would fail if you don't have the right people executing your plan. Of course, your marketers and sales reps are important players. But, so are the floor staff at your storefront.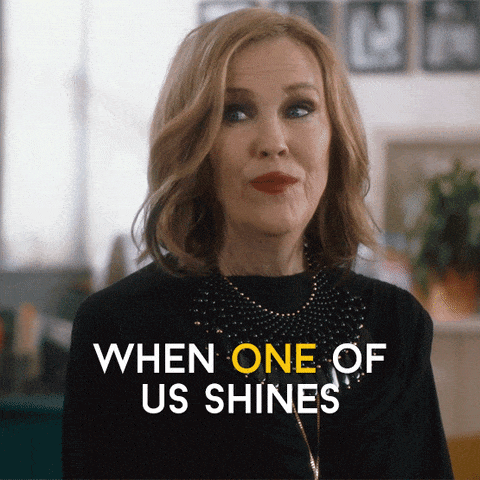 So, you'll need to pay attention and recruit and train the right people for the job. And, take steps to boost the morale and motivation of your employees. This will translate to better customer loyalty in the long run.
6. Presentation
The presentation refers to how your customers view your product. Your presentation includes everything from packaging to a smooth billing process. If you're struggling with building your brand image, then you'll need to focus on this area.
Read also: 18 Powerful Marketing Strategies to Grow Business Faster
Benefits of Building Customer Loyalty Through Retail Marketing
Whew, we've dealt with enough theory for now! 😅
You may think, "That's great, but how does retail marketing benefit my company?" That's an important question. Here are some stats that highlight its importance for SMBs.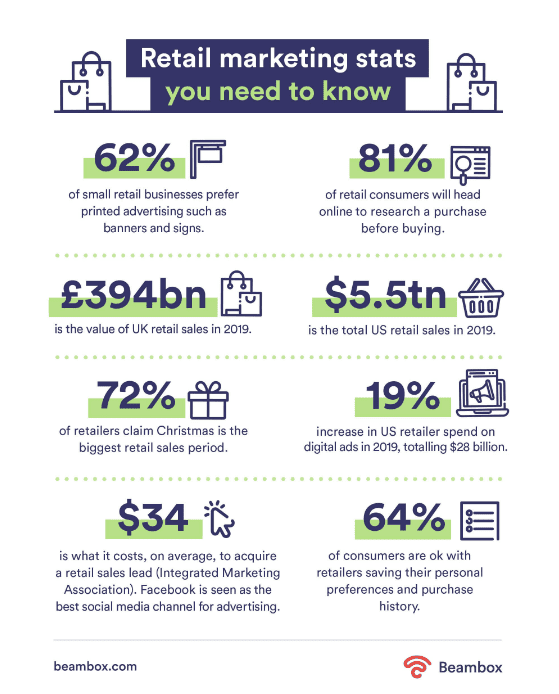 But, there are a lot more benefits for your company 👇🏻
Increased customer loyalty: By building strong customer relationships, you'll see increased customer loyalty. By creating a positive brand image and customer experience, your customers will feel an emotional attachment to your bond. You can offer loyalty programs for loyal customers.
Build better brand awareness: Retail marketing is the linking chain between your product and your target audience. With the right marketing strategy, you'll be able to create a positive brand image and maintain that image over time.
Increased sales and revenue: One of the goals is to increase customer footfall in your physical store. The more potential buyers walk through the door, the more you're likely to earn on any given day. And, with the right promotions, you're boosting your sales and overall revenue.
Get a competitive edge: By investing in the right marketing strategies, you'll build a unique niche for yourself in the market. For customers, it helps keeps the prices competitive.
Take data-driven decisions: Once you've built brand awareness, you'll get access to a wealth of feedback and data about your customers. Then, you can begin the iterative process of using this data to optimize and troubleshoot your existing strategies.
Read also: 14 Low-Cost Local Marketing Ideas That Will Make a Big Impact
5 Proven Retail Marketing Strategies For Every Retail SMB Owner
When it comes to retail marketing — here are some proven strategies you can begin applying today for a successful 2023.
1. Find ways to build curb appeal
They say beauty is in the eyes of the beholder. This applies to businesses too.
Curb appeal is a way of optimizing the look and feel of your store when it's viewed from the street.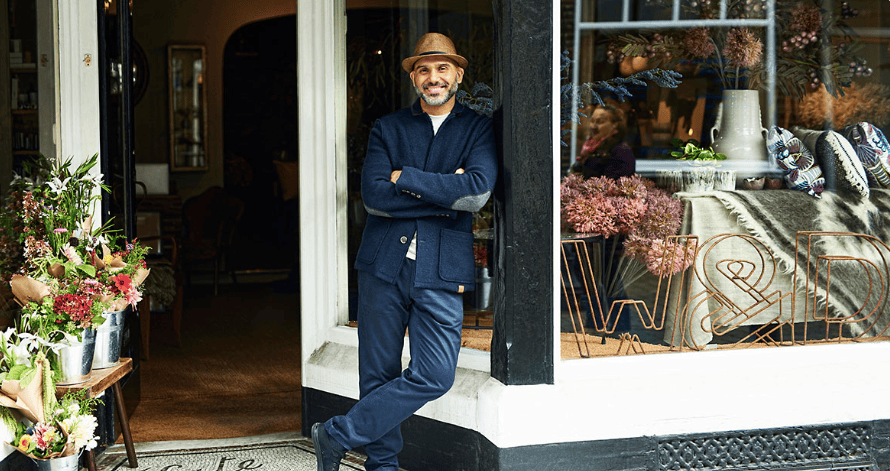 Marketers use many strategies to improve the curb appeal of their storefronts. Some proven strategies are as follows.
Design attractive window displays: An interesting and enticing window display can tempt prospects to enter the store, even when they had no plans of doing so. You can seasonal with window displays or use it to promote limited-time offers and new products.
Invest regularly in your store's upkeep and maintenance: This is incredibly important and effective. Even if you're located in an older building, keeping the store spick-and-span will create a good impression with customers.
Upgrade your signage: Your signage isn't just about your brand name and colors. It should tie in with your overall marketing messaging and your branding. According to a recent study, more than half of retailers surveyed said they were able to improve sales by 10% by updating their signage.
Offer free or valet parking for customers: Chances are that most customers would use their car to get to your store. Offering them free parking or valet services can be a game changer for the overall customer experience. This could have a medium set-up cost, so make sure your budget allows for this.
Don't forget the store's surroundings: Don't forget your surroundings. Your customers want a clean sidewalk and outdoor lighting at night. It's also an issue of safety. So take it seriously.
2. Start a referral campaign
Set up a referral campaign as a part of your customer loyalty program. If you've already done this, then you can consider new techniques to make it more attractive. Read on to find out how. But first, here are some stats you need to know.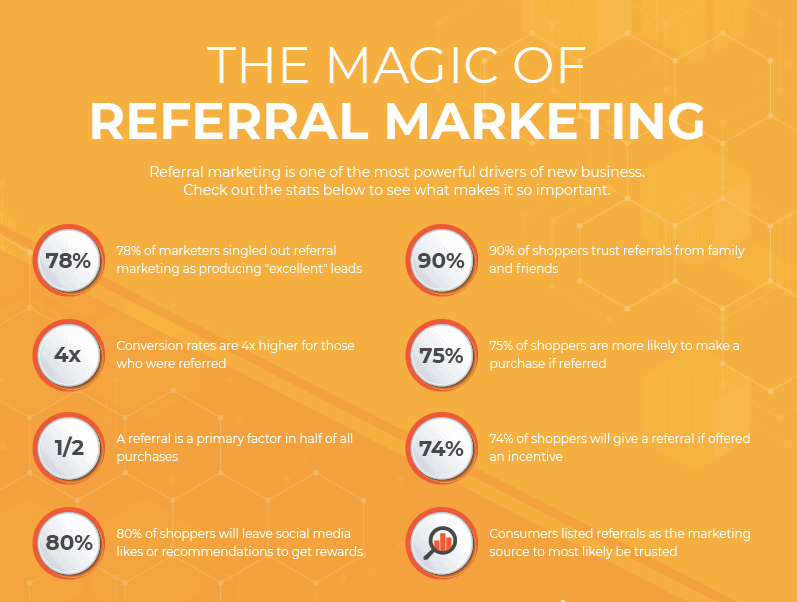 With an effective referral program, you'll build trust and bring in qualified leads prospects for a fraction of the acquisition cost. Here's a great example.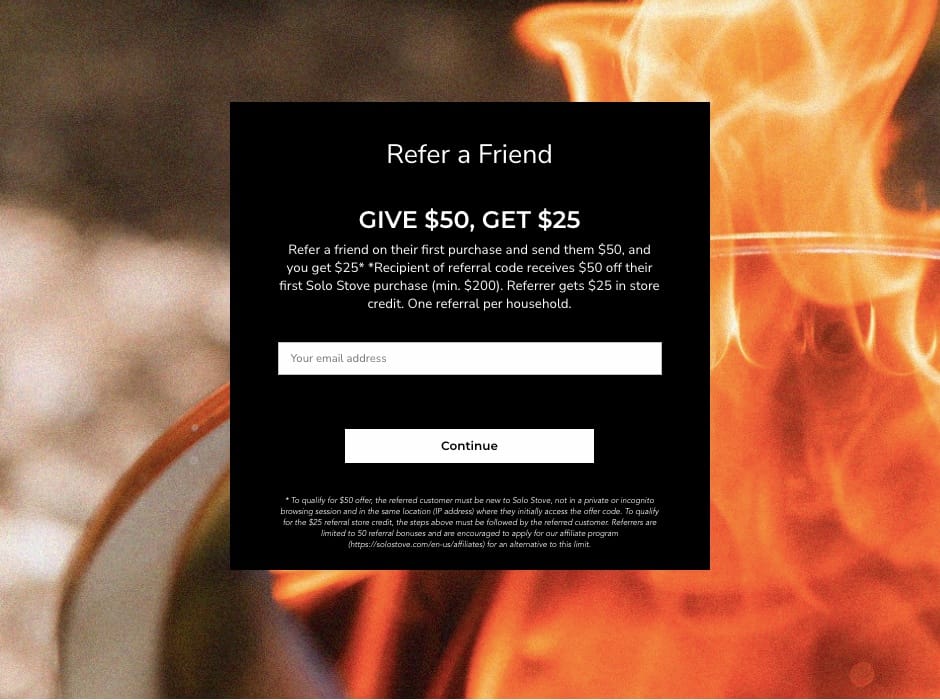 Here are some tips for creating a killer referral program 👇🏻
Get the timing right: The timing of your referral program is very important if you want to maximize conversions. Consider offering referrals during festive seasons. And, capitalize on a moment when a customer is satisfied with your brand. If they've made repeat purchases or upgraded their subscription recently — these are great situations to ask for a referral.
Offer a variety of rewards: Offer rewards that give the customer an immediate, tangible value. And, offer a wide variety of rewards. Sometimes a great reward can make or break your referral campaign.
Use personalization techniques: Based on your ideal buyer personas, you can send personalized messages to different segments of your contact list. This ensures that the right contact receives the right message at the right time.
Read also: Interesting Insights From Samsung's Marketing Strategy
3. Optimize your 'Google My Business' page and invest in local SEO
Your Google My Business page also acts as a storefront whenever someone searches for your product niche in their local area.
Whenever someone searches for your product category "near me", your Google My Business page pops up. And, according to Google, "near me" searches have gone up by 3x recently!
So, this is not something you can afford to ignore. Here's a great example from Aritzia in New York 👇🏻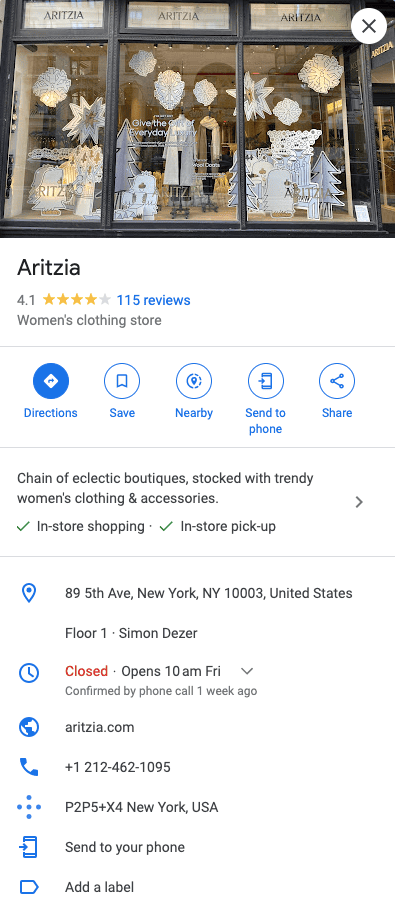 Leaving your Google My Business Page incomplete is a sure way to lose valuable prospects. You'll also need to invest in local SEO to drive more prospects to your profile.
Here's the difference between an optimized and an unoptimized profile 👇🏻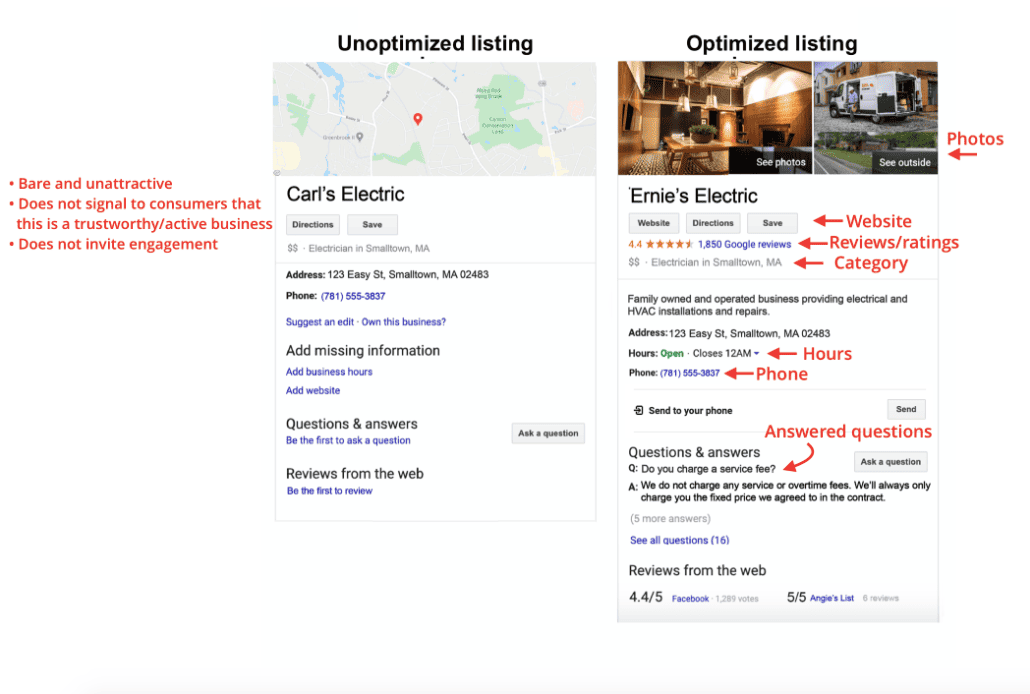 Follow these steps to optimize your profile with local SEO tactics:
After you've claimed and verified your listing, make sure that all your basic information is correct. This includes your website, your store's address, phone numbers, working hours, and a brief bio.
Then, upload only the best-quality pictures for your Google My Business Page. Update your profile with new photos regularly. You can also add videos. Video marketing is an essential component, so ensure the titles and tags of your videos are optimized with local SEO keywords.
You'll need to encourage your customers to post reviews. And, answer all questions on your profile. You can also get the ball rolling by asking questions (FAQs) and answering them yourself.
Run an SEO audit and identify the local SEO keywords used by competitors. This could include your local neighborhood name or city name.
Get your business listed in a local directory like TripAdvisor or Yelp. Invest in local ads to boost your visibility in your city or neighborhood.
4. Consider interactive displays or pop-up shops for new products
Interactive displays may just end up becoming a powerful tool in your arsenal!
According to studies by Capgemini, over 72% of consumers surveyed said they were expecting more interactions with brands in physical stores. This is higher than pre-pandemic levels.
This means Americans are shopping at brick-and-mortar stores more than before. Interactive displays can help you leverage this trend.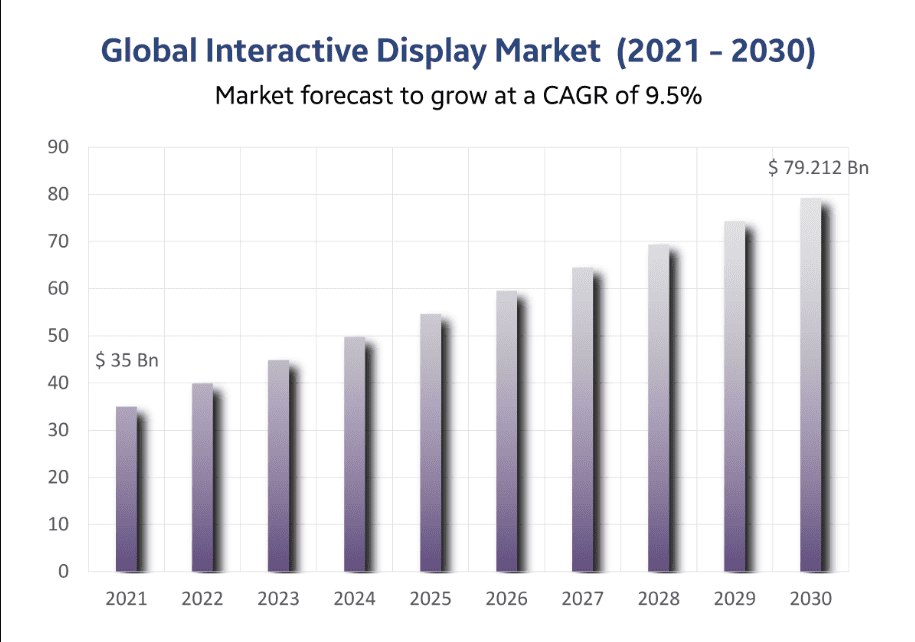 Some ways retail marketers can use interactive displays, including the following:
Interactive kiosks for promoting a new line of products. Most interactive kiosks have a touchscreen interface and a payment portal for quick payments. Make sure your kiosk is visible to shoppers. Consider using personalization and predictive analysis to enhance the customer experience.
Interactive displays to help provide product demonstrations to customers, especially if you're launching new features that need explanation.
Interactive catalogs and gamification techniques for the product catalog to keep customers engaged longer.
Instagram-worthy displays with a clean aesthetic to promote social media engagement. You can also ask customers to tag you on their Instagram stories to promote your brand with user-generated content. Ideally, with omnichannel marketing, you can provide seamless integration between your physical store and your eCommerce stores.
Pop-up Shops
Displays are great, especially interactive ones. But, if you're launching a new product or want to find new leads from targeted locations, then a pop-up shop can be your answer.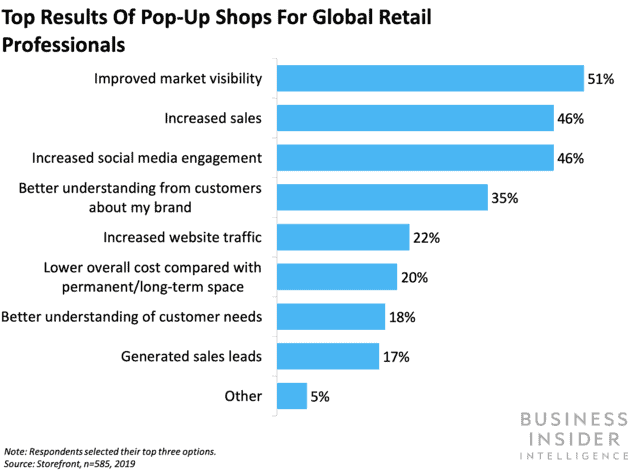 Here are some tips to follow for your next pop-up shop:
Location is everything! Choose the location carefully. The location should make sense for your product and should be in an area with high foot traffic.
Try to deliver a unique and unforgettable experience for your customers. This is also a great opportunity to get more leads to sign up with you.
Consider collaborations with other brands or influencer marketing in your niche. Or, you could sign up local influencers to help promote your pop-up on social media. Encourage your visitors to tag you in their stories to generate a buzz on social channels.
5. Partner with a charitable organization or promote a social cause
You've probably already heard of cause marketing. On the off chance that you haven't — it means partnering with and promoting a social cause to improve brand visibility.
But, there's a caveat with cause marketing. You'll need to continue supporting the cause even after your marketing campaign is over. This shows your ongoing commitment to corporate social responsibility and the cause itself. And, you'll need to be transparent with how much money you've raised for the cause or donated.
Brand loyalty is built on shared values, and this trend will only rise. Values-based branding is an emerging trend where companies leverage their commitment to engage with social issues authentically. At the same time, you're adding value to your brand and shareholders too.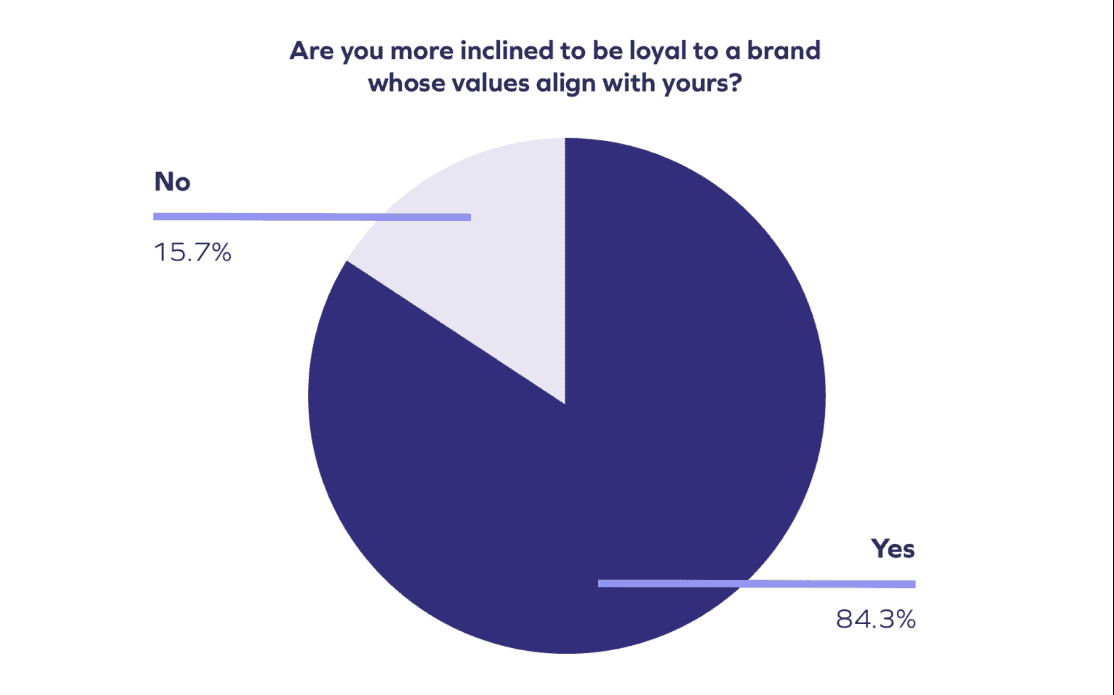 The pandemic has also raised expectations for companies to be responsible entities in their society. Here's an example.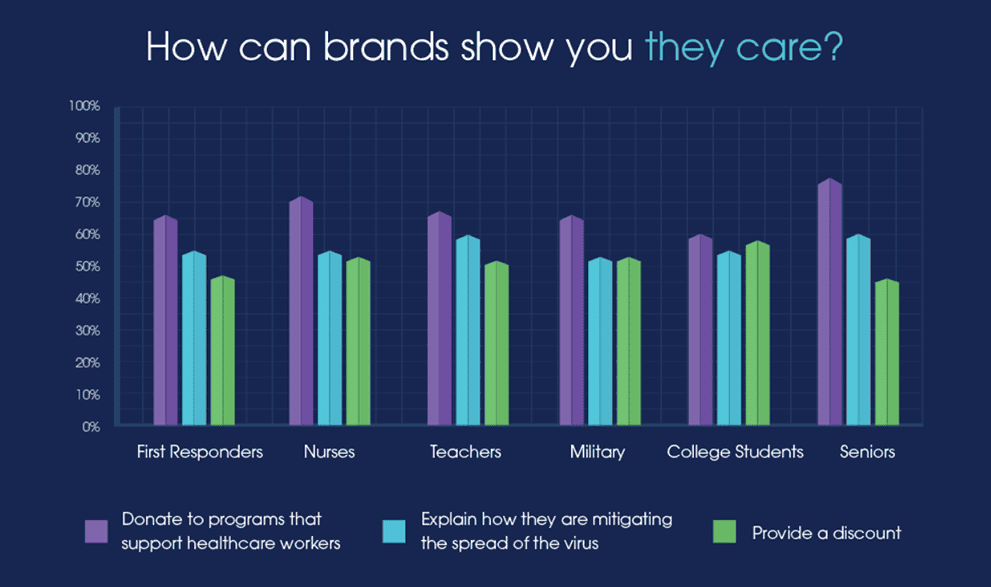 Here's how to get started 👇🏻
Find the right causes that align with your brand values. Whether it's sustainability or inclusion, you're giving a long-term commitment to support a cause.
Consider different tactics like donations at the checkout counter, donating a percentage of your sales to the cause, a "buy 1 give 1" offer, and much more.
Partner with reputed non-profits and established activists. They'll have a wealth of data and new ideas that you can learn from. Remain authentic to generate a genuine conversation around your cause.
Create a marketing campaign that leverages all marketing channels. Create a buzz around your cause on social channels like Twitter. You'll need to leverage user-generated content here fully.
Finally, measure your impact and take feedback on how you can better your campaigns.
Here's a great example from Chipotle 👇🏻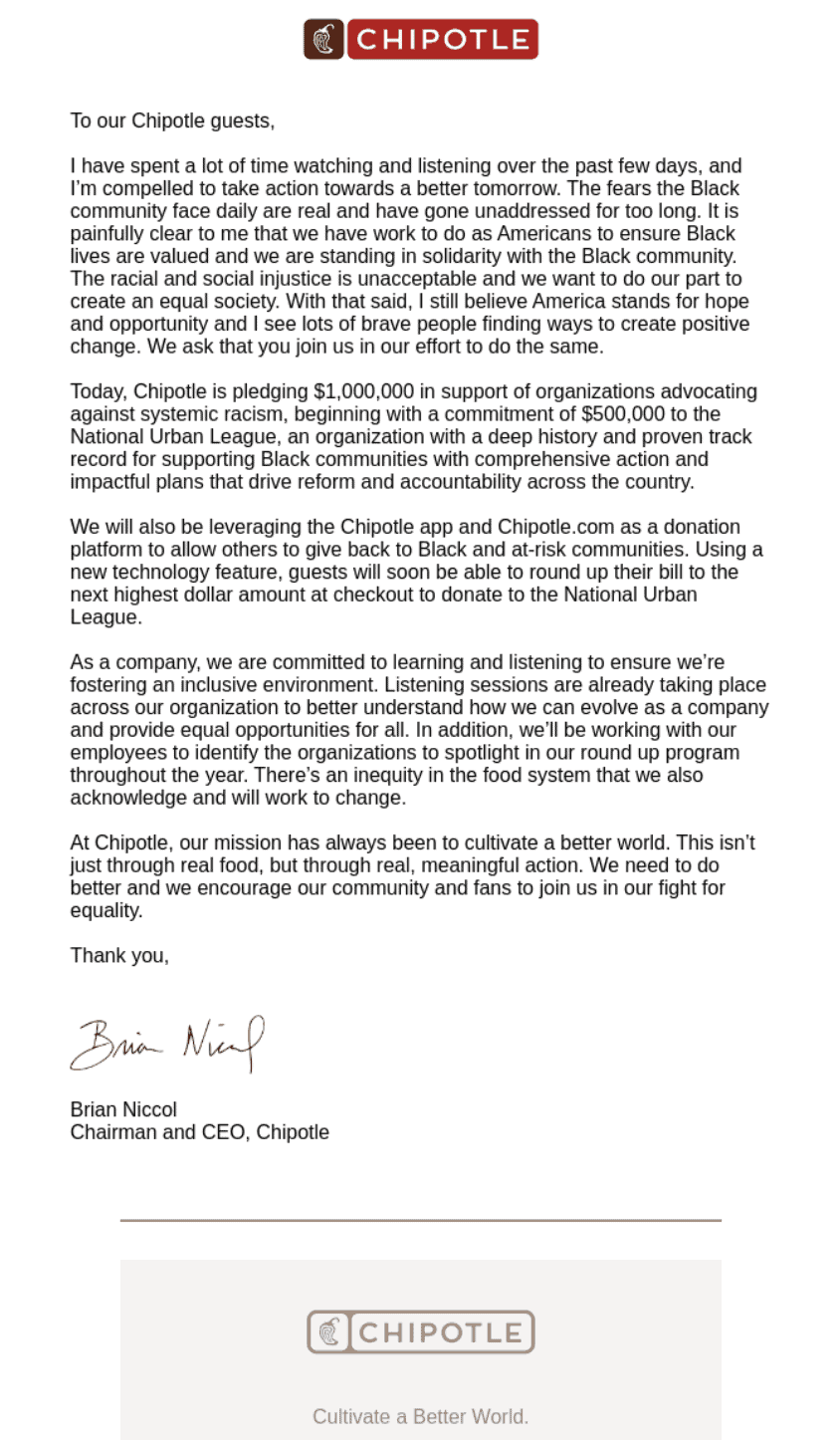 3 Tips and Best Practices for Retail Marketing
Here are the top tips and best practices for retail marketing in 2023.
1. Leverage social media targeting features to the fullest
With billions of daily users, social media marketing for retailers is indeed here to stay. But, some retailers haven't yet leveraged the full power of social media marketing for retail.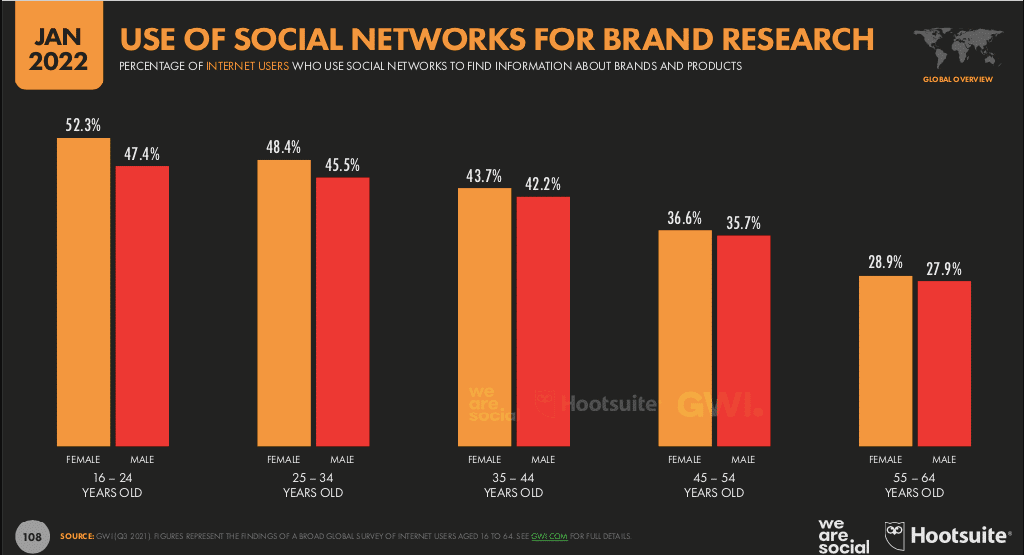 Here's how you can use social media marketing to target your ideal customer profile.
Once you've defined your ideal customer profiles, then you're ready to start using social media targeting features. You can use Facebook's Audience Insights or Instagram's Ad Targeting features to send targeted messages to ideal prospects.
Deploy retargeting ads to re-engage your website or profile visitors. This way, you're reaching out to prospects who are already aware of your brand.
You'll also be able to leverage social media to promote targeted discounts or offers. You can create content that resonates with different segments of your audience.
2. Focus on building long-term customer relationships
Don't forget about the basics of marketing. Your long-term goal is to build sustainable relationships with prospects and loyal customers. After all, they are the backbone of your business. Academic research has conclusively proved that better customer relationships improve customer retention in both online and offline retail spaces.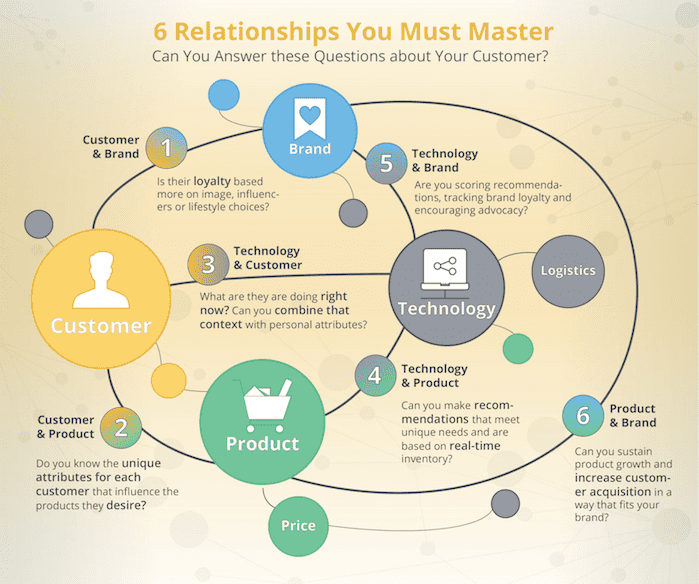 Here are some tactics to build customer relationships over time 👇🏻
Start a loyalty rewards program: If you don't already have one in place, start today. A customer loyalty program rewards repeat customers for their loyalty. Survey their needs and pain points. Then, create several rewards they can choose from.
Use email marketing to stay in touch: Email marketing is a great way of keeping your customers engaged with new promotions and offers. And, you can even set up automated emails to wish customers for milestones like birthdays and anniversaries.
Curate personalized experiences and content: By tracking customer behavior, you'll be able to curate personalized recommendations or shopping experiences for them. This makes customers feel valued and saves time for everyone.
Invest in a customer relationship management (CRM) platform: A CRM platform would help you gather and segment your data, create automated workflows, and give you live analytics and reports. EngageBay's all-in-one CRM platform allows retailers to seamlessly integrate and deploy their sales, marketing, and customer service strategies for maximum efficiency.
3. Run A/B Tests or Multivariate tests before launching any campaign to the public
A/B Testing is used to compare two versions of a web page or its elements and determine which one performs better with your target audience.
How does this work?
Let's say you're building a landing page. And, you need to determine which font and color work better on the CTA button. You can run an A/B Test or a split test to determine which font your audience likes.
Or, you could run a multivariate test. You can test multiple combinations of fonts and colors for the CTA button and determine the best one. Here's how this process looks on EngageBay's CRM platform.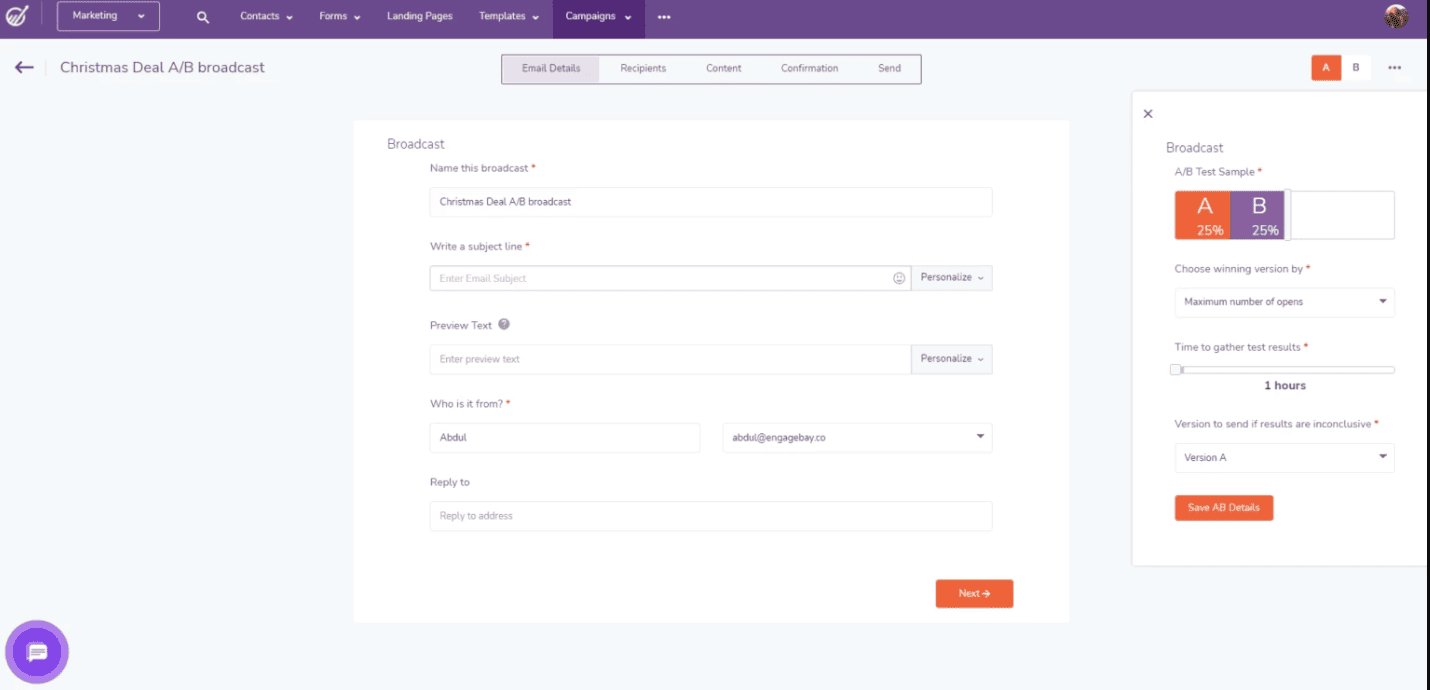 Here are some common elements to run A/B Tests on:
Entire web pages or landing pages, and your homepage messaging
eCommerce shopping companies should A/B test elements of their marketing and sales funnels, checkout processes, and promotions.
Test the best time of day to send emails and social media posts
CTA buttons for emails and landing pages
The tone of your emails and web pages.
Test the length of your content and blog posts
Read also: The Tricks of Trade Marketing: 7 Strategies That Work
3 Retail Marketing Trends to Watch in 2022-23
The retail and eCommerce industries are changing rapidly. It's important to stay updated with the latest trends. Here are our top trends retailers should watch out for in 2023.
1. Sustainability is increasingly important to consumers
Increasingly, consumers are shifting their brand preferences to meet their sustainability goals. Especially in the fashion retail industry, sustainability is the new buzzword.
Even the 2023 Oscars Red Carpet event promoted sustainable fashion and encouraged other celebrities to do the same.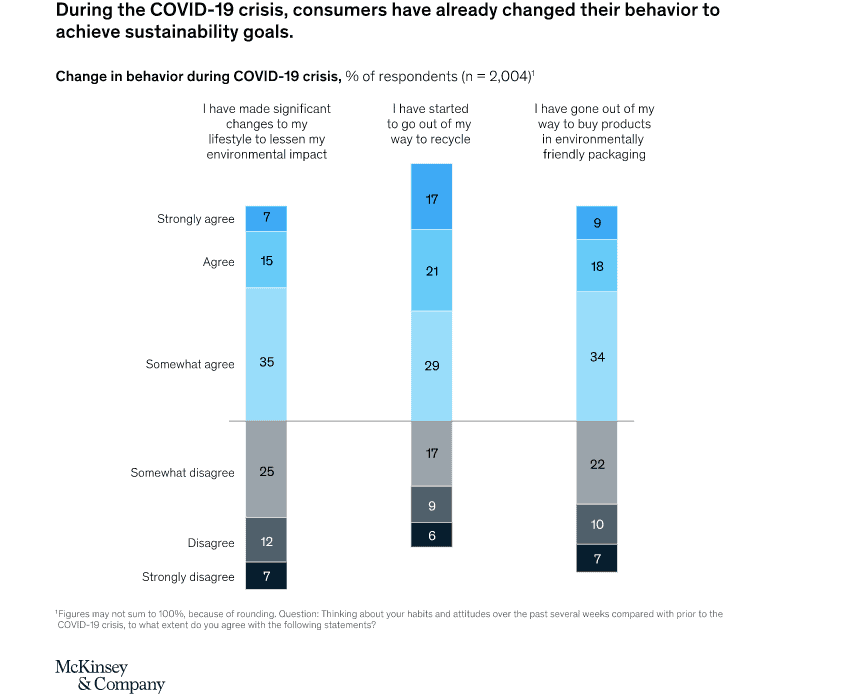 According to a report by Capgemini, 79% of consumers said that they would change brand loyalty based on sustainability. And, companies that invest in green initiatives see a 63% increase in revenue and improved customer retention. We expect this trend to keep growing in 2023.
2. Automation and Artificial Intelligence continues to improve customer experiences
Marketing and sales automation are important components of providing a seamless, integrated shopping experience. Recent studies have shown that 73% of consumers prefer if some aspect of their shopping experience is automated.
Automation can also help retailers with inventory management. You can even set up automated messages to inform customers if items are back in stock.
Today, consumers can search for a product using an image, a video, or a voice command. And, Artificial Intelligence (AI) is deployed for visual searches to predict and track user behavior and shopping trends. In 2020, almost 80% of shoppers had searched for a product using an image.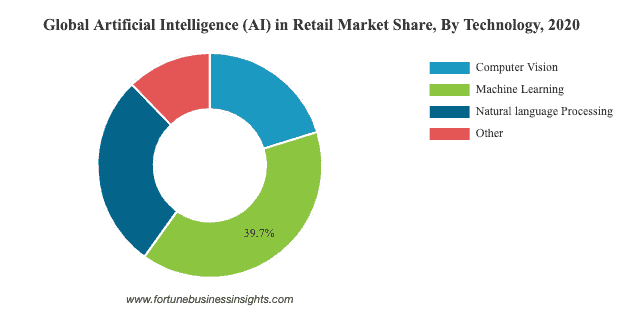 Additionally, many eCommerce and DTC brands are using AI-powered chatbots to provide a better customer experience and personalized recommendations. These AI chatbots are backed by natural language processing (NLP) and machine learning technologies.
3. Retailers are preparing for the death of third-party cookies by the end of 2024
In 2021, Google announced that it would phase out the collection of third-party cookies by 2023. This year, Google has pushed this date to 2024. Many journalists are calling it the "privacy-first wave." Safari and Firefox have plans to phase out cookies too.
So, how does this affect marketers?
Marketers have already started taking steps like relying on their own customer data collection platforms and prioritizing gathering first-party data. Each marketer will need to take a call on whether they need to increase spending or optimize their existing systems.
Contextual advertising is becoming more important now than before. It's expected that Universal IDs will replace cookies. A universal ID is an opt-in encrypted ID based on your email address. A trial version of Google's Privacy Sandbox API is also available now.
Read also: Multichannel Retailing: Everything You Need to Know
How Direct-to-Consumer (DTC) Brands Can Leverage Retail Marketing
As a relatively new player in the economy, direct-to-consumer (DTC) brands have proven that they're here to stay.
The direct-to-consumer (DTC) business model is one where brands leverage their online presence to sell directly to consumers and eliminate middlemen.
The goal of retail marketing for DTC brands is to provide a seamless eCommerce shopping experience. The industry is expected to grow well into the future. Retail marketing becomes even more crucial for DTC brands, so make sure to leverage all the tips and strategies above.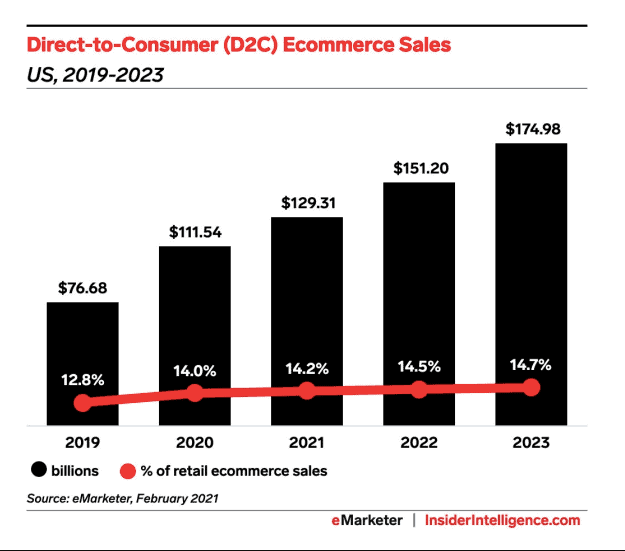 Read also: What Is a Vertical Marketing System? Definition and Types
Top Retail Pricing Strategies
There's a lot of effort and time to craft a great retail pricing strategy. Here are some helpful retail pricing strategies for you to consider.
1. Bundle Pricing
Bundle pricing is a discount pricing strategy that's used frequently by retailers and eCommerce stores. By creating product bundles out of related products, you can create a better customer experience and upsell or cross-sell products.
Usually, a high-demand product is bundled with slow-moving products.
2. Dynamic Pricing
This pricing strategy is based on adjusting your prices based on market demand and supply. This is most suited to eCommerce companies with a large online presence. You'll have to track live data from your eCommerce websites for the dynamic pricing strategy.
3. Psychological Pricing
This is an example of a value-based pricing strategy. It's also known as charm pricing. Here, instead of selling a product at $5, you offer a price of $4.99.
This pricing strategy is especially useful for non-essential products where consumers are likely to impulse spend.
4. Competitive Pricing
Competitive pricing is a strategy where you deliberately set prices to gain a competitive edge in your product niche. This is most suited for retailers with many competitors in the market, and the price is a feature that sets you apart.
Read also: Cross-Channel Marketing: What You Need to Know
Wrapping Up
That's all, folks.
If you found this article to be of help, give us a shout-out and share the piece with your friends.
For marketing automation and CRM tools, remember to try EngageBay for free.