No matter how great the services in your salon are, without creative salon marketing strategies, your brand will quickly fall behind its competitors. In the past, a salon business generally prospered with the help of strong business-client relationships and word-of-mouth marketing.
But these methods alone have become inadequate in this digital age. Smart salon business owners are now diversifying their salon marketing strategy to include different aspects of digital marketing techniques, like email marketing and social media marketing, to reach their target audience.
In this article, we will look at different innovative salon marketing ideas for boosting your client base.
Salon Marketing Ideas for Boosting Your Client Base
In today's overcrowded industry of hair and beauty salons, innovative salon advertising ideas have become the most important component of a profitable salon business.
Business owners should come up with a strategic and solid salon marketing plan to attract and retain their customers. Here's how that can be done.
Team up with charities
Partnering with national-level charities is a great idea to showcase your commitment to important causes, and it will make your customers aware of your business ethics.
You can join forces with the local chapters of important charities and organize or participate in activities to raise money for important issues.
You can also participate in pledge drives or cut-a-thon events. Such involvement demonstrates your care towards societal and environmental concerns and boosts the brand image of your salon.
Read also: Direct Mail Marketing Ideas Inspired By Global Brands
Start a hair salon workshop or class
You can greatly increase your brand's reach and the reputation of your salon business by offering workshops or classes to both existing and potential customers.
Many salon businesses offer such workshops at their establishment, but you can also collaborate with local community centers or colleges to organize these workshops.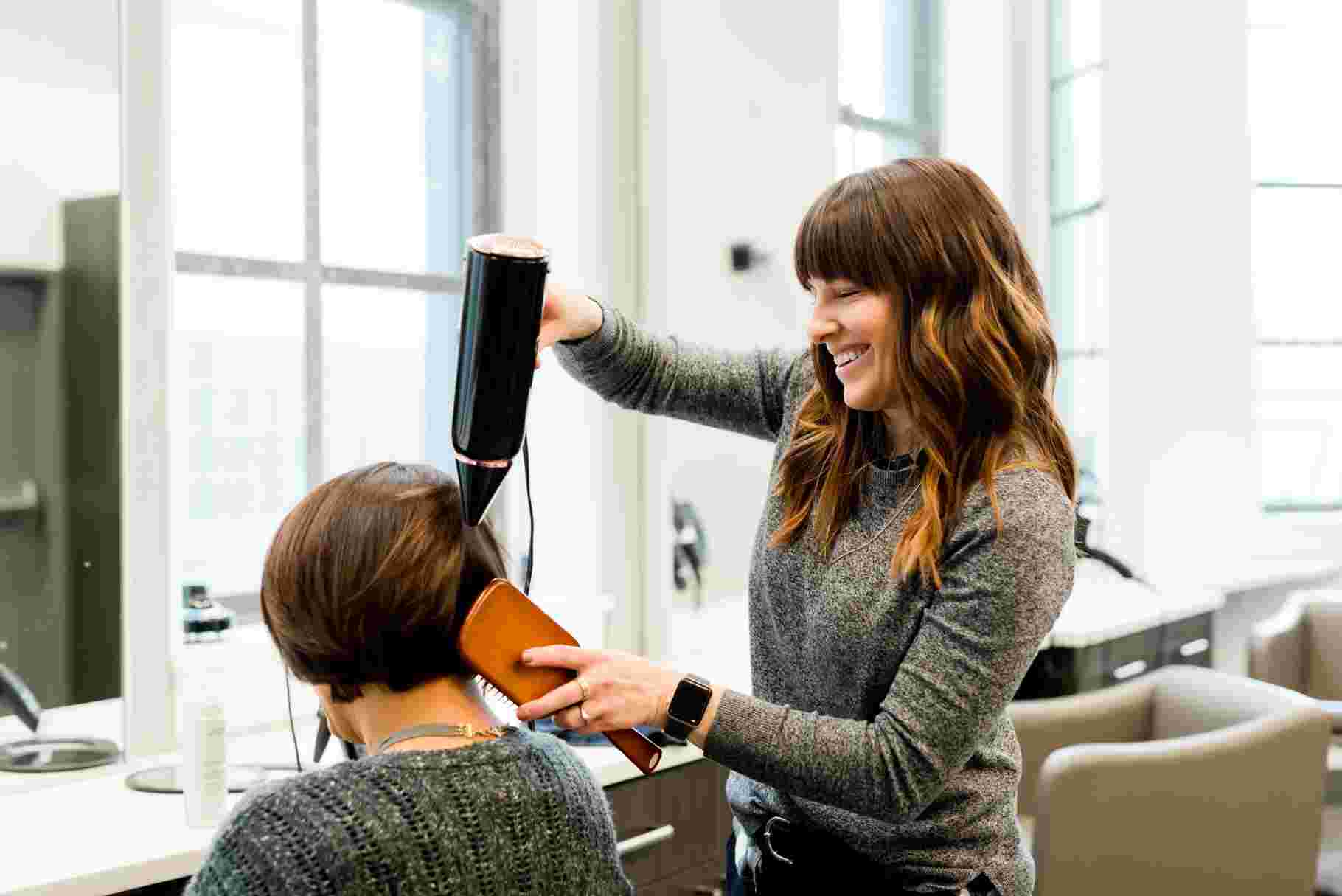 Collaborating with such institutions is a great idea to widen the reach of the workshops. You might even get several loyal customers from these workshops who are impressed by the services offered by your salon business. Some workshop or class ideas that your hairstylist can do include:
Grooming and shaving classes for young teenage boys
Hair braiding classes for teenagers and young adults
Workshops for single fathers to help them style and care for their little daughter's hair.
Read also: Glamorous Marketing Strategies For Cosmetics Companies
Create video content
Creating video content related to your salon is one of the most effective salon marketing ideas. In fact, around 96% of marketers consider videos as an essential component of marketing strategies. Statista has also predicted that the spending on digital video advertising will increase by $134.5 billion in the US by 2026.
Salon businesses can leverage this popularity of video content and post fun and informational videos on social media platforms like YouTube, TikTok, or Instagram. You can also make use of some video editing tools and enhance them to make eye-catching content for salon promotions.
You can make instructional videos regularly to assist your clients in styling their hair. Likewise, you can also make hair care routine videos and even advertise your new products in them.
Another popular kind of video marketing content is live salon tours. Make your audience acquainted with the feel and ambiance of your salon and show them a sneak peek of the service they can expect when they visit your establishment.
Instagram and Facebook ads promoting special events at your small business can also help you attract more clients.
14 Low-Cost Local Marketing Ideas That Will Make a Big Impact
Blog about your salon
You can create great curiosity about your salon business amongst potential customers by diligently and passionately maintaining a salon blog.
A study by DemandMetric indicated that businesses maintaining blogs generate 67% more leads per month on average than those that don't.
Blogs will also help you generate more traffic to your hair salon website and build authority by engaging your potential customers. This is also an easy and effective marketing technique for local and small businesses.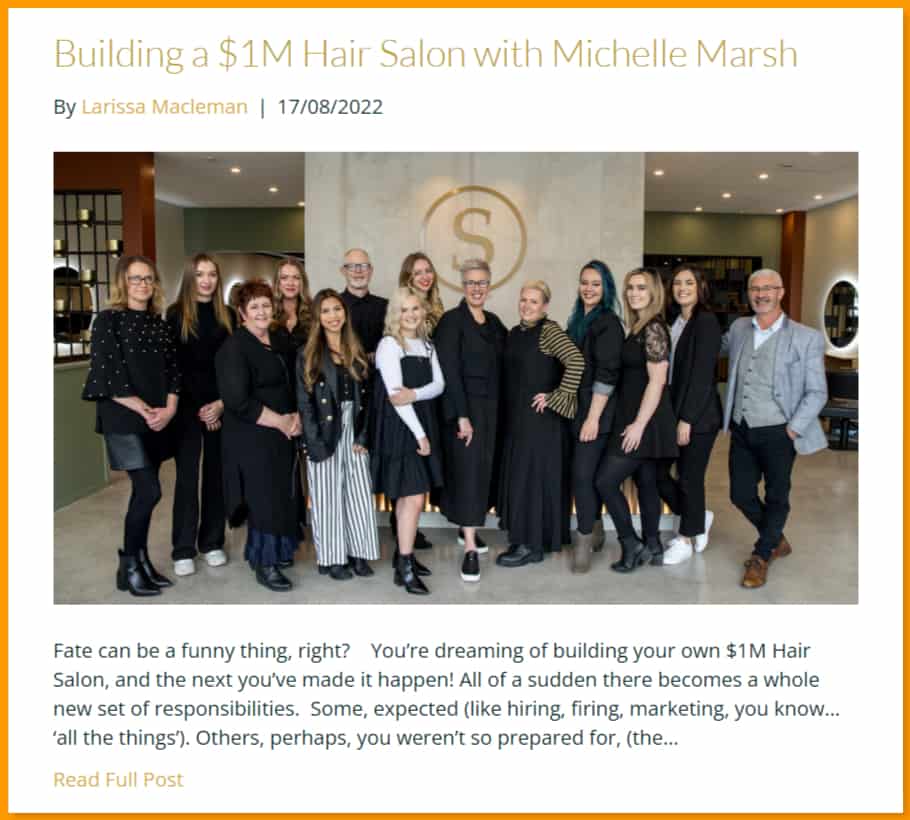 Build a salon selfie station
Selfie stations have become an indispensable part of hair salons in this digital world dominated by social media.
You can create a perfect selfie area in your salon by creating a custom background using the logo for your business.
Just ask your clients to tag your salon when they post the photos on social media.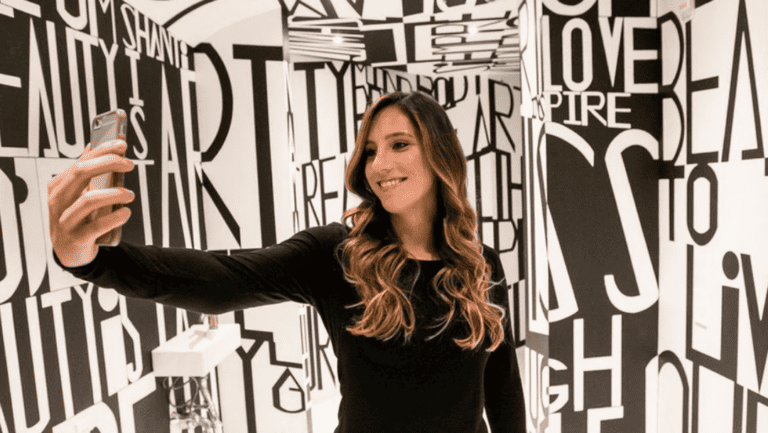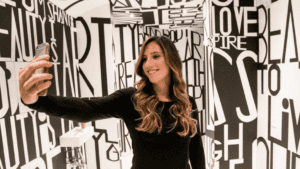 Use automated salon email marketing
One of the best ways to stay in touch with your loyal clients is to use email marketing.
However, you shouldn't limit it to your existing clients. You can obtain the email addresses of individuals who are yet to visit your salon and send them email newsletters offering different promotions.
2023 Guide to Email Marketing for eCommerce
Leverage business cards
Many people feel like business cards are an obsolete marketing idea. But this is far from the truth.
You don't have to settle for generic business card designs – with the help of modern technology, it's easier than ever to design your own cards that reflect the unique style and branding of your salon.
You can also carry them with you and give them to interested parties who may have expressed appreciation for your haircut or nail art.
Read also: Creative Event Marketing Ideas to Get People Excited
Offer a Flash Sale on Twitter
People love flash sales, and offering such sales on a social media platform like Twitter is a compelling marketing idea.
Send out scroll-stopping tweets that offer a special service, like a free haircut with your best stylist, and give it to the first few responders of the tweet.
A Flash Sale program will help you a great deal in widening your reach and give your brand much better exposure.
Read also: Rejuvenate Your Spa Marketing With These 15 Proven Strategies
Allow online bookings
This is an excellent marketing idea for both big and small businesses. This will allow people to make salon bookings when commuting or waiting in queues.
It will also benefit introverted clients who may not be comfortable speaking to actual people. You can also consider including the salon's email address on the website homepage, so customers can contact you to make an appointment.

Use hashtags to pitch your salons for events
Using hashtags to discover local celebrations and events and pitching the services offered in your salon to them is a great marketing idea. This is especially beneficial during the wedding season, typically from late spring to early fall.
Take the initiative to message the hashtag owners directly and drop your sales pitch.
12 Creative Small Business Marketing Ideas That Work
Go for mobile ads
The proliferation of mobile devices has made mobile marketing an essential component of innovative hair salon marketing ideas.
This mobile ad strategy can be anything ranging from a text message to clients updating them on some hair care product launch or a special event to banner ads embedded on mobile websites.
Text messages can also remind your clients of an upcoming appointment or some special beauty deal specifically for them. This will make the clients feel seen, and they might refer your business to others.
Read also: 13 Game-Changing Law Firm Marketing Ideas to Try
Focus on geotargeted ads
These ads will help local businesses give out their addresses and connect with clients near their salons. It will also help you avoid wasting clicks by choosing the exact locations where your ad will be seen.
Suppose your hair salon is located in Las Vegas. Then you may not want to field appointment requests to people living in Seattle. You can even hide your new offers or strategies from competitors by including IP exclusion with geotargeted ads.
It is also one of the best ways to become relevant locally. There are options for geotargeting on social media platforms like Instagram and Facebook that allow you to tag a location with your posts.
Read also: 12 Farmers Market Ideas: What to Sell to Stand Out
Incentivise your clients for Yelp reviews
Yelp has become a gold mine for marketers in recent years, especially for attracting millennials. A study has shown that businesses can expect a 9% rise in sales for each Yelp star.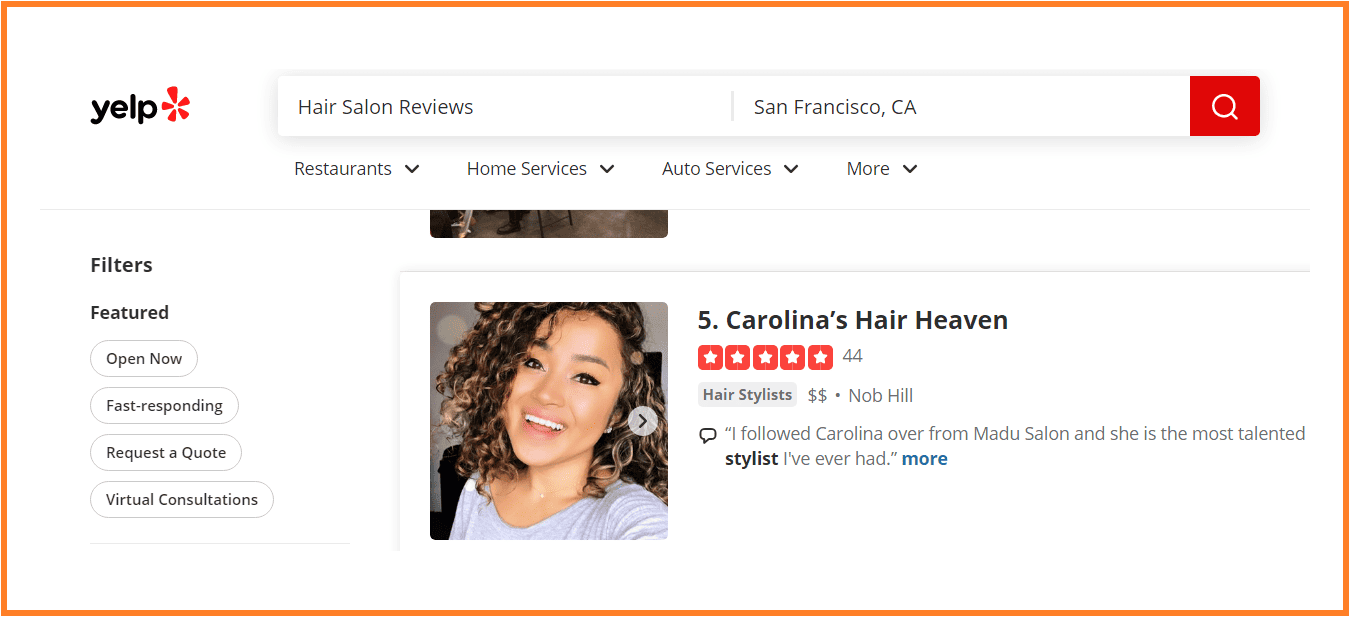 Also, around 45% of people read Yelp reviews before visiting a business. Claim your beauty salon business, upload photos of your salon, and reply to your clients' questions consistently to create a robust online community.
It'd help if you offer discounts or any other salon specials to your clients for posting Yelp reviews.
Read also: Nailing the Website: Try These Proven Veterinary Practice Marketing Ideas
Add a Google Maps listing for your business
Creating a Google Maps business profile for your company is a crucial step in maintaining your internet presence.
You can include information like your address, business hours, website, and phone number to make it easier for people to contact you.
Don't skimp on your Google Ads budget
If you are located in a region with many salon businesses, it becomes difficult to show up on top in Google searches.
In such cases, you must invest in paid Google Ads to make your company appear on top. You can also customize these promotions by making them appear for particular keywords, services, or locations.
Google Ads generally get excellent ROI for local businesses, so don't try to save too much money there.
Read also: 15 Gym Marketing Ideas to Pump Up Your Client Base
Ask all your stylists to tag your salon in their social posts
You can encourage your hair stylists to post their excellent work in the salon on their accounts on different social media platforms. You can also motivate them to create their own content and post them.
Request your staff to include your salon's social media handles in their posts. Since many people love seeing stylists in action, these videos will garner more views and likes, and your salon will also gain more exposure.
Here's What Micromarketing Means, and How It Can Help Your Business
Punch cards or loyalty programs
You can issue punch cards or loyalty cards to your regular customers to show them your appreciation. Offer them free or add-on services after a specific number of visits.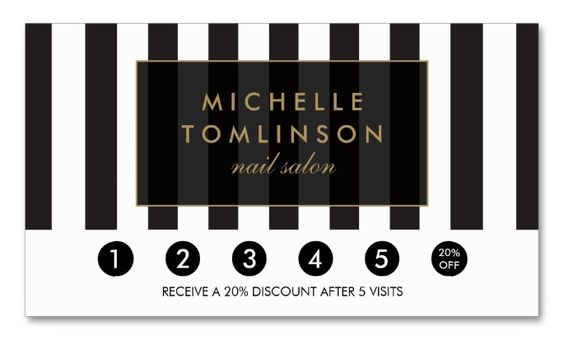 Provide those products and services in the loyalty program that the customer values the most. Loyalty programs enable you to interact with your clients more effectively.
You may also use this chance to boost product retail sales by enticing visitors to purchase other items so they can accrue extra points.
Read also: 50+ March Marketing Ideas To Make Your Brand Unmissable
Work with local influencers
Social media influencers have devoted fans who rely on them to make service recommendations. A survey by Rakuten Marketing has indicated that around 87% of customers were motivated to buy a product upon recommendation by an influencer.
Collaborating with a local influencer is a great idea to boost the marketing reach of your salon. You can even hire them as your brand ambassador.
This will give you immediate access to the influencer's audience, and when they mention your salon or highlight your superb work, it will be like large-scale word-of-mouth marketing.
You can use hashtags and Google searches to find the local influencers you want to collaborate with. Besides influencers posting content on social media platforms, you can also look for local bloggers with a considerable following.
Offer incentives like a gift card or special add-on services as a thank you for blog entries on their experience by reaching out via the salon email or direct messages on social media.
Read also: 17 Fab Ideas for eCommerce Business in 2023
Develop or update the salon website
More often than not, prospective clients look at a salon's website before deciding to visit it. In the present beauty industry, a classy brand image and a good first impression are everything.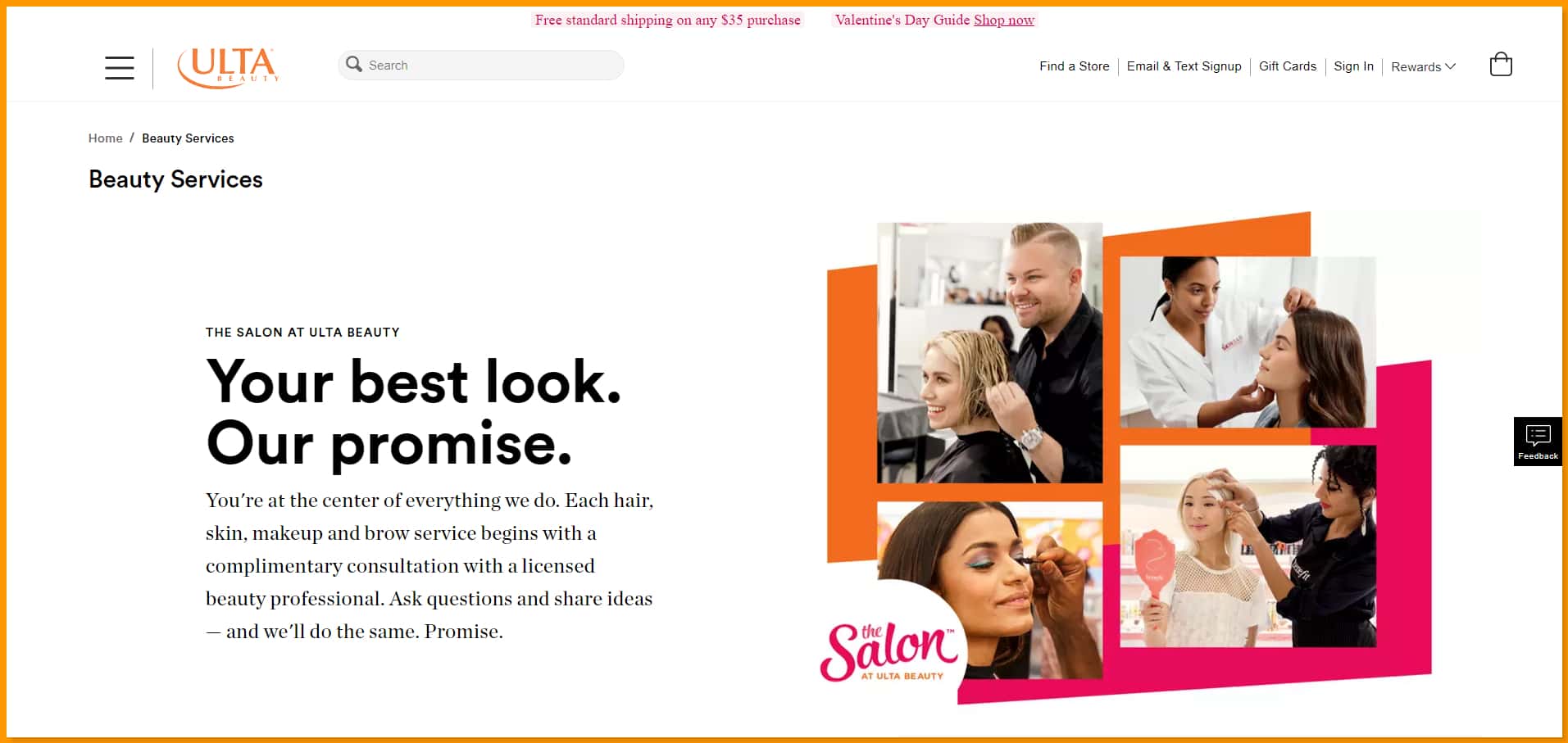 People may not trust a salon that has a sloppy or outdated website. Update your salon website on a regular basis and give information like upcoming events or discounts. You can also include the facility of online booking on your website.
It is also a good idea to include features that allow you to accept payments in advance, offer membership cards, or sell gift cards on the website.
You can add functionalities that will send automatic appointment reminder notifications to your clients' email addresses or phone numbers.
You can design your website by using online website builders or a marketing firm. Either way, make sure your salon website looks inviting and ranks high in search results.
See How EngageBay Can Change Your Marketing
Wrap Up
If you have a salon and you need some marketing magic, it helps to redesign and update your website, team up with charities, start a selfie station, and ask clients for Yelp reviews.
Regardless of your marketing strategies, consistency and diligence are the keys to effective salon marketing.
Therefore, be imaginative, consider your long-term goals, and always keep abreast of the latest trends in salon marketing.
If you need a marketing automation and client management tool that's super affordable, try EngageBay.
👉Discover the most effective marketing strategies that will transform your campaigns in our detailed article! 📈