HubSpot and Zoho CRM are market leaders used by both enterprise and growing businesses. But what separates the two?
HubSpot is a CRM with a suite of products that'll help you grow your business. The unified product suite includes CRM, marketing, sales, and customer service software. These products seamlessly connect to create a unified experience where your entire team has a uniform view of customers' data and journey points.
But is its ease of use and unified system worth the steep price increase between the plans?
Zoho CRM is a standalone sales-focused CRM, but you can integrate it with Zoho's other apps in its ecosystem.
You can automate routine sales and marketing tasks, use blueprints to define the sales process for the entire team, and provide a seamless customer experience by coordinating your teams' actions across the customer journey.
It's cheap and feature-rich, but for some users, Zoho's imperfect usability and lackluster customer support can be a deal breaker.
I signed up for the free trials of both platforms to test the core features, and in this detailed HubSpot vs Zoho CRM comparison article, you'll learn about:
HubSpot vs Zoho differences

What makes the two platforms different and similar in different categories

The pricing difference between HubSpot and Zoho

A more affordable and better alternative
What Is the Difference Between Zoho and HubSpot?
The main difference between HubSpot and Zoho is in the product offerings. HubSpot offers an all-in-one package that serves the marketing, sales, and support teams, while Zoho is only a sales-oriented CRM with features catered to the sales teams. But if you are using any of Zoho's apps, you can integrate them with the CRM.
HubSpot – An all-in-one CRM
HubSpot is built for growing teams. Its all-in-one package gives you tools you'll gradually use as your business grows.
This suite of products brings together the marketing, sales, and support teams into one platform. It includes:
The Marketing Hub:

It helps you attract an audience and convert them into customers. Some features include a landing page builder, marketing automation, email marketing, and social media management.

The Sales Hub: It helps your sales team engage with customers and prospects and close more deals. Some features in this hub include email tracking, sales automation, document management, live chat, and pipeline management.
The Service Hub:

It helps your service team work efficiently by bringing customer service tools and data from multiple sources into one app. Some features in this hub include a knowledge base, shared inbox, customer feedback surveys, and integration with the CRM.

The CMS Hub:

This hub helps you create web pages directly on HubSpot. It replaces CMS like WordPress and Wix. Some features include website themes and integration with the HubSpot CRM.

The Operations Hub:

This hub connects your apps, syncs your customer data, and automates business processes. It ensures all your data mirrors each other across the different connected tools.
Zoho CRM – A sales-focused CRM
Zoho CRM is not a unified CRM like HubSpot or EngageBay. It's a basic CRM that improves your sales workflow and processes.
While it lacks all the bells and whistles of HubSpot, it has all the essential features you'd expect to find on a sales CRM and an advanced workflow builder. You can capture leads and automate lead scoring, track your deals, and get a 360° view of your customer's interaction with the company.
You can build a standardized sales process that new sales reps can get accustomed to quickly. Zoho has three main tools for this function:
Validation rules ensure the data reps feed into the CRM meet your requirement

A defined review process helps maintain a clean pipeline

The blueprint editor gives you the tools to create clear guidelines for your team on what to do at each stage of the sales process
The command center is the equivalent of automations in most CRMs. It lets you personalize the customer journey by creating complex workflows that provide an automated, personalized, and uniform engagement with leads and customers.
Read also: EngageBay vs HubSpot: Market Leader or Emerging Powerhouse?
HubSpot vs Zoho overall verdict:
HubSpot is suitable for you if you are looking for an all-in-one software tool. This will save you money as it bundles a suite of products into one platform. You don't have to switch between apps and you get to view your marketing, sales, and support data in one place.
Zoho CRM is best for you if you are looking for a sales CRM. Its workflow builder is more advanced than HubSpot's and is included in a cheaper plan as compared to HubSpot.
👉Looking for the perfect HubSpot competitors? Our in-depth guide covers the top alternatives.😊
Comparing HubSpot vs Zoho
I used the two platforms to give you a detailed and first-hand review of their performances. We'll look at how each tool stacks up against the other based on eight key factors.
Ease of use
Your team will be more productive and efficient if they can get started with the software faster and with ease. So, when comparing HubSpot vs Zoho:
Evaluate how difficult it is to configure the CRM to your needs

Test their customer support on the free trials to see if they are fast enough to respond to issues

Create automations and play with their features to see if they fit your needs
HubSpot
HubSpot has a cleaner and more intuitive user interface compared to Zoho. It links all the hubs and ensures data is shared seamlessly across the team.
The navigation bar at the top makes it easy to access each hub with only a few clicks. Each hub also has a dropdown menu for its main features. For example, when you hover over the sales hub button, the drop-down menu includes deals, forecasts, tasks, documents, and meetings. This makes it easy to jump to specific features.
As Aneesha Nair, account manager at Survey Sparrow, says:
"HubSpot helps us make things organized and as everything is one tool, it becomes easy to navigate and reach out to the right leads and update things accordingly."
HubSpot has a resourceful help center. You'd have access to step-by-step guides to each feature, live chat with customer support, create tickets, and get instant answers from the community page.
Read also: 8 Incredible Ontraport Alternatives & Their Key Features
Zoho
While Zoho has a number of tools ranging from marketing to customer support platforms, its CRM connects to these platforms through integrations like any other third-party application. This might make it hard for your team to provide a seamless customer experience since the data shared might not be in real-time.
According to G2 ratings, its customer support is one of the worst among CRMs. The average rating among CRMs is 8.6 but Zoho CRM has a rating of 7.4 compared to HubSpot's 8.6.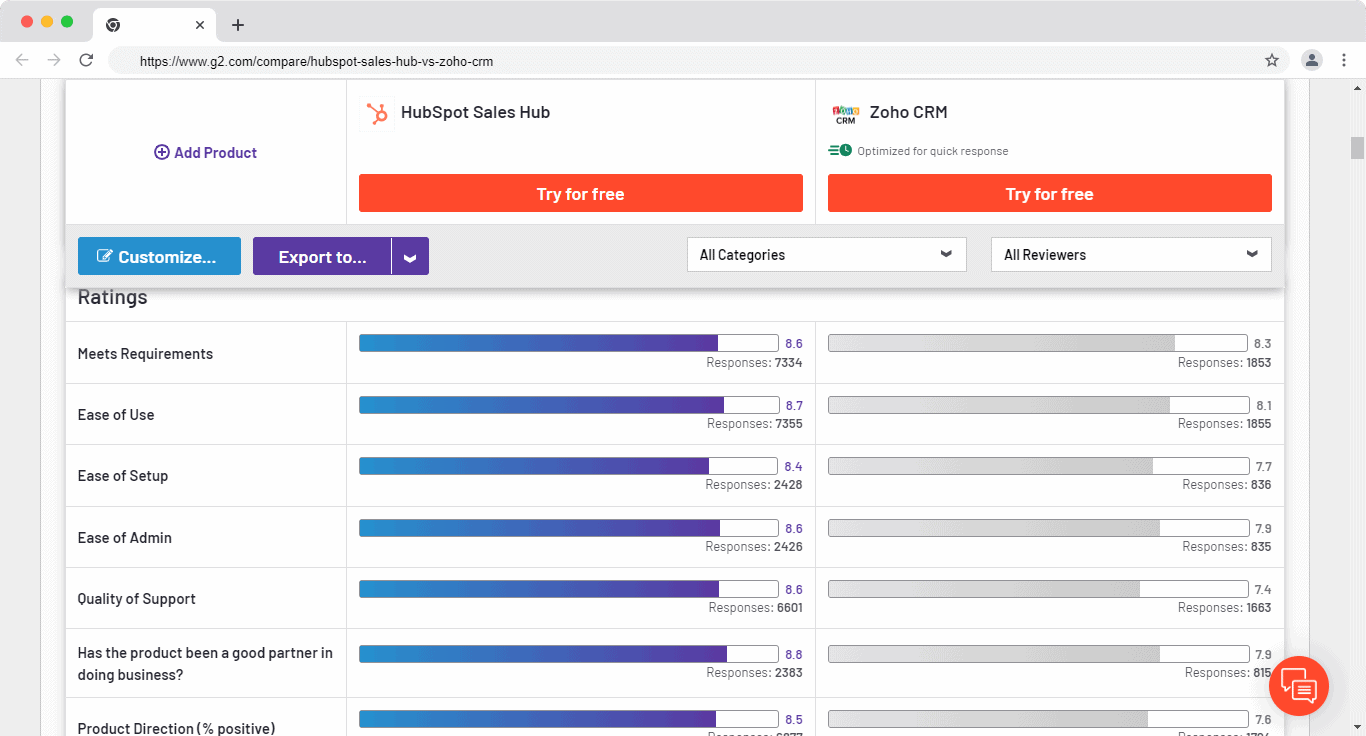 Here's how Lisa Parshan, a content manager, summed up her experience with Zoho's customer support:
"As we began to onboard, we had a few questions. Googling helped, but when we needed customer service (which we did once or twice) it took a very long time for anyone to get back to us."
Ease of use verdict:
HubSpot is easier to use compared to Zoho. It's easier to set up, its customer support is much better than Zoho's, and its Help Center is comprehensive.
Read also: HubSpot Pros And Cons — A Candid Assessment
Pricing
Zoho and HubSpot have different product offerings–HubSpot is an all-in-one platform while Zoho is just a sales CRM. So, the pricing mainly differs because of this. HubSpot has a bundled pricing plan and individual pricing for each 'Hub' while Zoho has a tier-based pricing plan.
How much does HubSpot cost?
Here's HubSpot's CRM suite pricing plan:
Starter–$50 per month
This plan includes the marketing, sales, service, CMS, and operations hub starter packages which have the essential marketing, sales, and service features for your team.
Professional–$1,780 per month
This plan includes all the hub's professional packages which you can use to personalize your outreach and optimize campaign conversion.
Enterprise–$5,000 per month (billed at $60,000/year)
This plan includes all the hub's enterprise packages which you can use to create advanced marketing reports and use AI to get insights into your team's sales calls.
Here are a few things that quickly become clear from their pricing structure:
The steep price jump from the starter plan to the professional plan–$50/month to $1,780/month–makes it hard to upgrade when you only need one feature which isn't in the starter plan

You must make a 12-month commitment plan whether you pay monthly or annually. This locks you into paying for the software for the whole year

The Starter plan by default starts with 2 users, the Professional plan 5 users, and the Enterprise plan starts with 10 users

If you want to add additional users, the Starter plan costs $25/month/user, the Pro plan $100/month/user, and the Enterprise plan at $120/month/user
HubSpot's pricing gets expensive very fast and lacks some key features on some plans.
As Daniel Fernandez, account executive at Lotus Connect, says:
"I think that the pricing structure could work differently. Luckily, I work at a company that can afford the professional accounts but I do think that the price increase is way too steep and some of the features, namely sequences, should be available on the less expensive plans."
HubSpot Pricing and Comparison with Affordable Alternatives
How much does Zoho CRM cost?
Zoho CRM has four pricing plans:
This is the cheapest plan. You can manage your deals and leads, create reports and run simple automations.
Professional–$30/user/month
Some key features included in this plan include Macros, sale signals, unlimited custom reports, and webhooks.
Enterprise–$45/user/month
Some key features include integration with other Zoho products, web form analytics, web form A/B testing, workflow usage report, segmentation, and access to multiple scoring rules.
This plan includes an increase in limits on most features. For example, you get 100 blueprints and 5 journeys compared to 50 blueprints and 5 journeys on the enterprise plan.
If you're considering switching from Zoho, don't make a move until you read our article on the best Zoho alternatives.
Pricing verdict:
Zoho has a better pricing structure compared to HubSpot. It's quite generous with the features it offers in each plan. HubSpot's steep price increase, annual commitment, and locking of some key features make it unfavorable for most businesses that are small and medium in size.
Read also: Is HubSpot CRM Free? An Unbiased Guide (with User Reviews)
Customization and pipeline management
Both HubSpot and Zoho have great customization capabilities and a simple pipeline management interface. The main difference is in which pricing plan some customization features are included.
HubSpot
You can customize every field possible from deals, contacts, and quotes to products. You can customize reports and forecasting and choose from the pre-built reports, to begin with.
But when you want to custom-create an object relevant to your specific business needs, you'd have to be on the Enterprise plan, which costs $5,000 per month (billed at $60,000/year).
Its pipeline management could be improved. Its bad UX, for example, makes it hard to push a deal to a customer.
Here's how Damien Frye, an enterprise sales representative at WordRake, sums it up:
"The way deals and pipelines are used don't help the salesperson, they help the manager. It is designed for the marketing side. I feel like we need a revenue management solution where both are considered and it is easy to progress a lead to a customer."
Zoho
You can customize Zoho to fit your needs using its custom modules which are only available starting from the enterprise plan billed at $45/user/month. This is cheaper than HubSpot's pricing.
Zoho lets you customize the view and filter fields so each member of the team can focus on what matters the most to them. You can also duplicate the custom setting across other accounts in the team and link your records in custom modules to provide more context to your sales team.
Pipeline management in Zoho is table stakes; it does what a CRM is supposed to do. You can follow up with leads, score leads, and the interface is designed to help you close more deals by showing you more details in a deal's card.
Customization and pipeline management verdict:
Zoho is better than HubSpot in both customization and pipeline management functionality.
Read also: 9 Sales Pipeline Tools for Power Sellers (Pricing, Features)
Marketing and campaign management
Both HubSpot and Zoho have campaign management features but the main difference lies in the product offerings. HubSpot has more of an all-round package, and is therefore a better marketing solution, while Zoho is mainly a sales CRM with basic marketing features for sales teams.
HubSpot
It has a fully featured marketing platform with advanced tools. You can create blog posts, track your ads, manage social media accounts, build landing pages, A/B test emails, and run marketing automation.
Its campaign feature lets you link different marketing assets like ads, emails, and workflows to work towards one common goal and allocate a total budget. You'll be able to track the metrics of the entire campaign and the individual assets.
For example, if you have a Black Friday campaign, you can create blogs, ads, landing pages, and emails to work towards achieving the goals of the Black Friday campaign.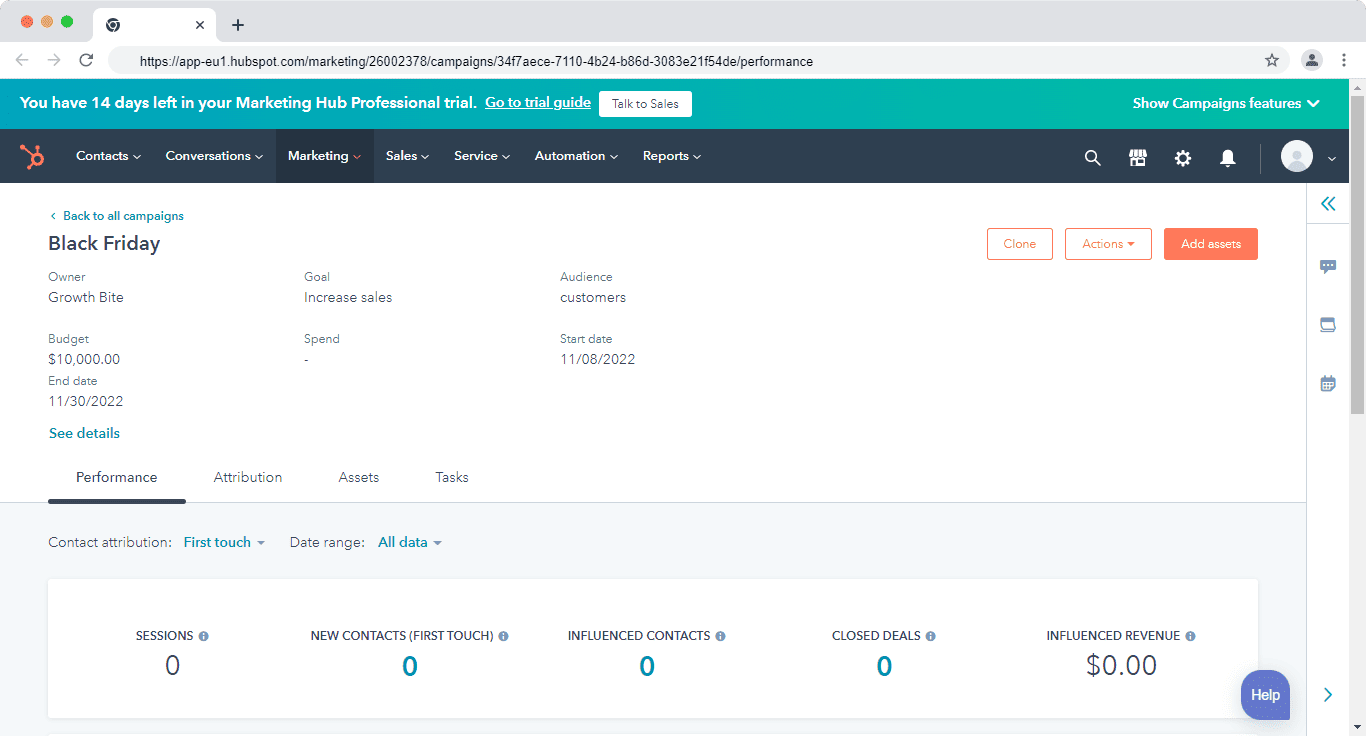 Here's how Krishna Raj, a digital marketing strategist, summed up his experience of using HubSpot:
"Before the implementation of HubSpot, we were using multiple tools for all marketing activities, now with this single platform we can have email marketing, marketing & sales automation, social media posting analysis, website analytical reporting, and leads nurturing everything can be done under this single platform."
Zoho
Zoho has only two marketing features: campaign modules and web forms. You can use both features to improve your lead generation process.
The campaign module basically helps you plan marketing campaigns like trade shows, Google Ads, and events. This module helps you track these activities by filling in details such as expected revenue, budget, actual cost, and the duration of the campaign.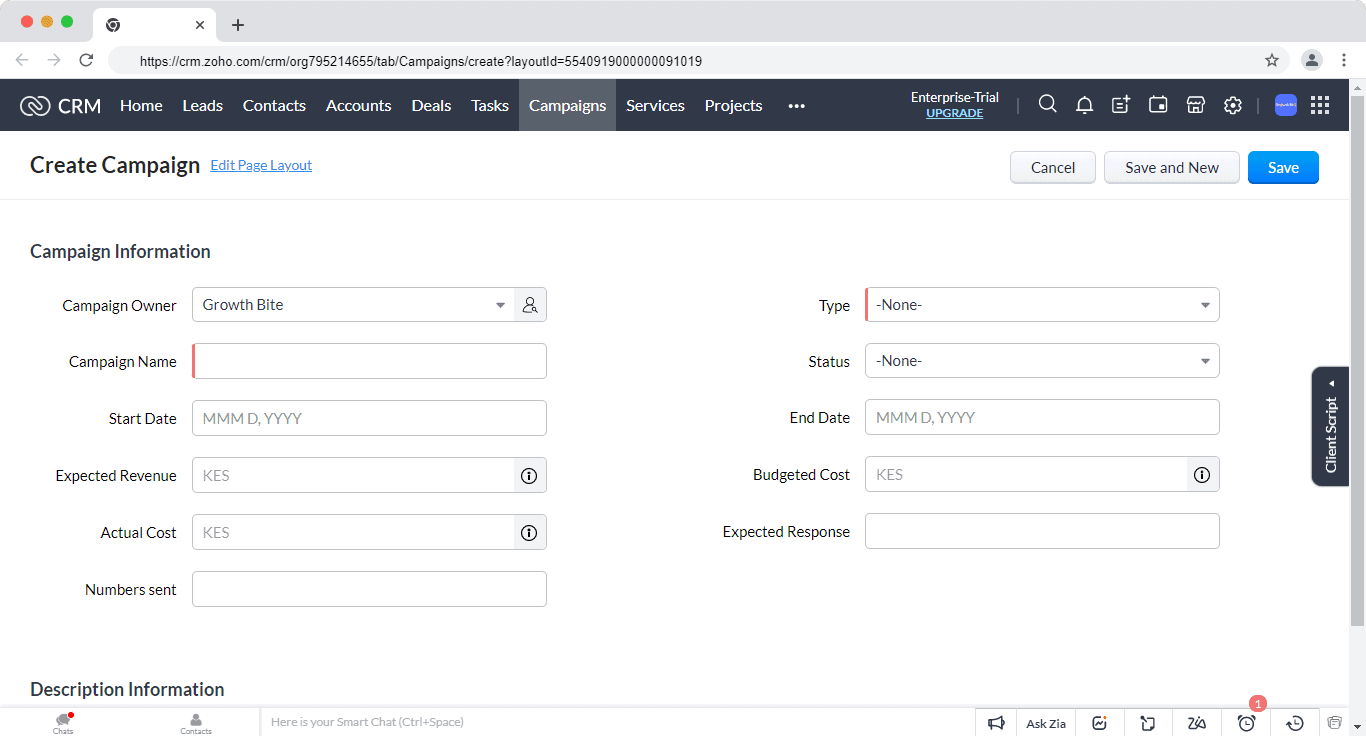 This module is very different from campaign management in other CRMs where you can create email campaigns and nurture leads through a drag-and-drop automation builder. Zoho's campaign only lets you report, for example, the status of offline events.
The web forms are also simple with minimal to no design interface to work with. You can customize the fields, send automated emails and import the data into the CRM.
Marketing and campaign management verdict:
HubSpot has better marketing and campaign management features. You can run email marketing campaigns, attract leads with landing pages and web forms, and nurture them with marketing automation.
Read also: HubSpot vs. Mailchimp vs. EngageBay: Which Tool Worth Spending Money?
Integrations
Integrating a CRM with your current tech stack gives you a complete picture of your business without working in silos.
HubSpot
HubSpot has over 1,000 integrations in categories like customer service, sales enablement, scheduling, project management, and many more.
It even offers integration with other CRMs like Pipedrive, Copper, Insightly, and Salesforce.
Zoho
Zoho integrates with software in different categories like marketing, customer service, sales telephony, and many more.
But when I looked into the reviews, most users either complained of the lack of some major integrations or integrations not working well.
For example, Nabab Sharif, a senior manager at Vantage Circle, says:
"They need to strengthen their telephony integration because we occasionally run into problems dialing leads and receiving missed call alerts. Due to delays when a chat request is received, they might also make the chat platform more robust."
Integration verdict:
HubSpot has better and well-functioning integrations compared to Zoho.
Sales automation
Automations and workflows improve your team's productivity by eliminating manual work and repetitive tasks.
HubSpot
HubSpot automation is based on two features–sequences and workflows.
Sequences ensure no deal falls through the crack. You can create a series of timed emails to nurture leads and follow up with deals. Personalize the sequence emails using contact and company data from HubSpot CRM and Salesforce.
Workflows automate manual and time-consuming activities. Some tasks you could automate include nurturing leads, updating leads' lifecycle stages, and handing off leads to sales.
HubSpot also has seven types of triggers that start a workflow–contact-based trigger, company-based, deal-based, ticket-based, quote-based, conversation-based, and feedback-submission based.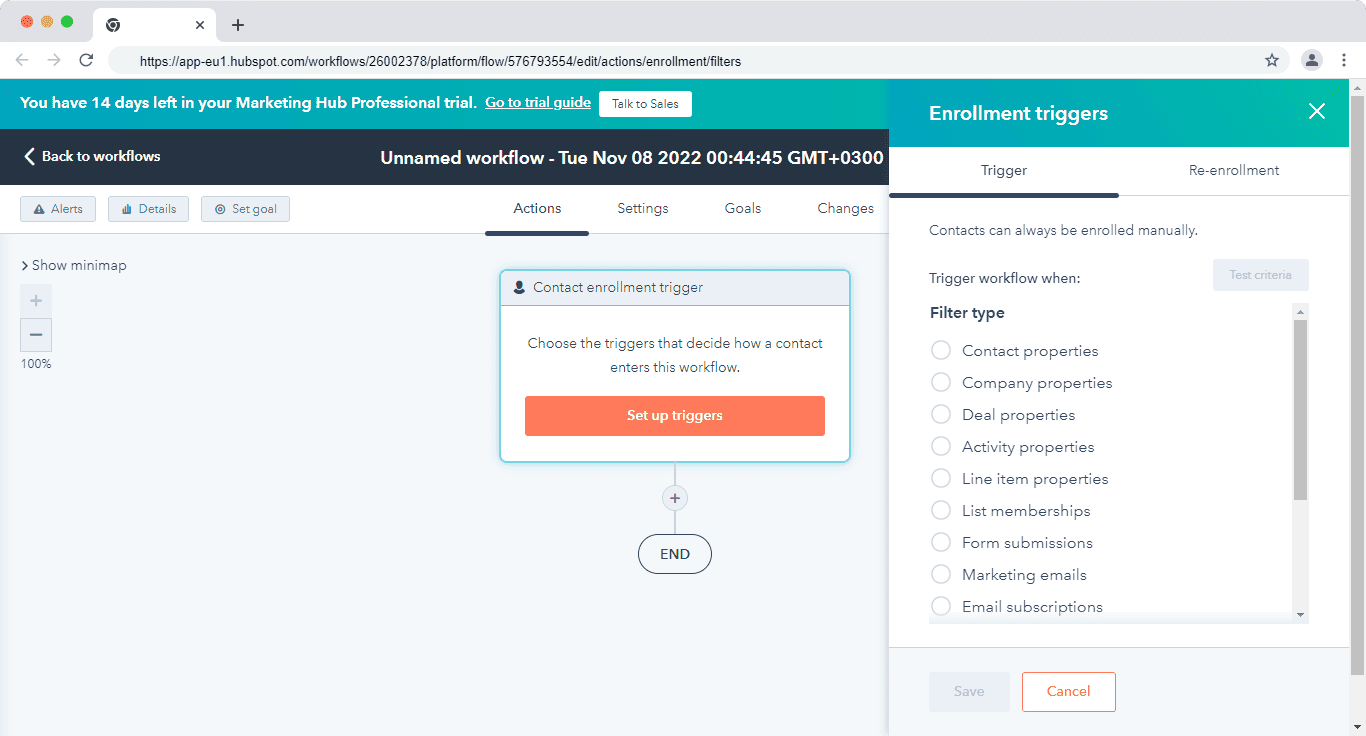 You can also pick automation from the pre-built list. This list has automations for converting leads, sharing meeting details, promoting something, and many more.
Zoho
You can automate routine tasks with Zoho's workflow rules. This workflow builder lets you automate updating of fields, following up with leads, or assigning a deal to a rep. When certain conditions are met, these workflows automatically trigger the actions.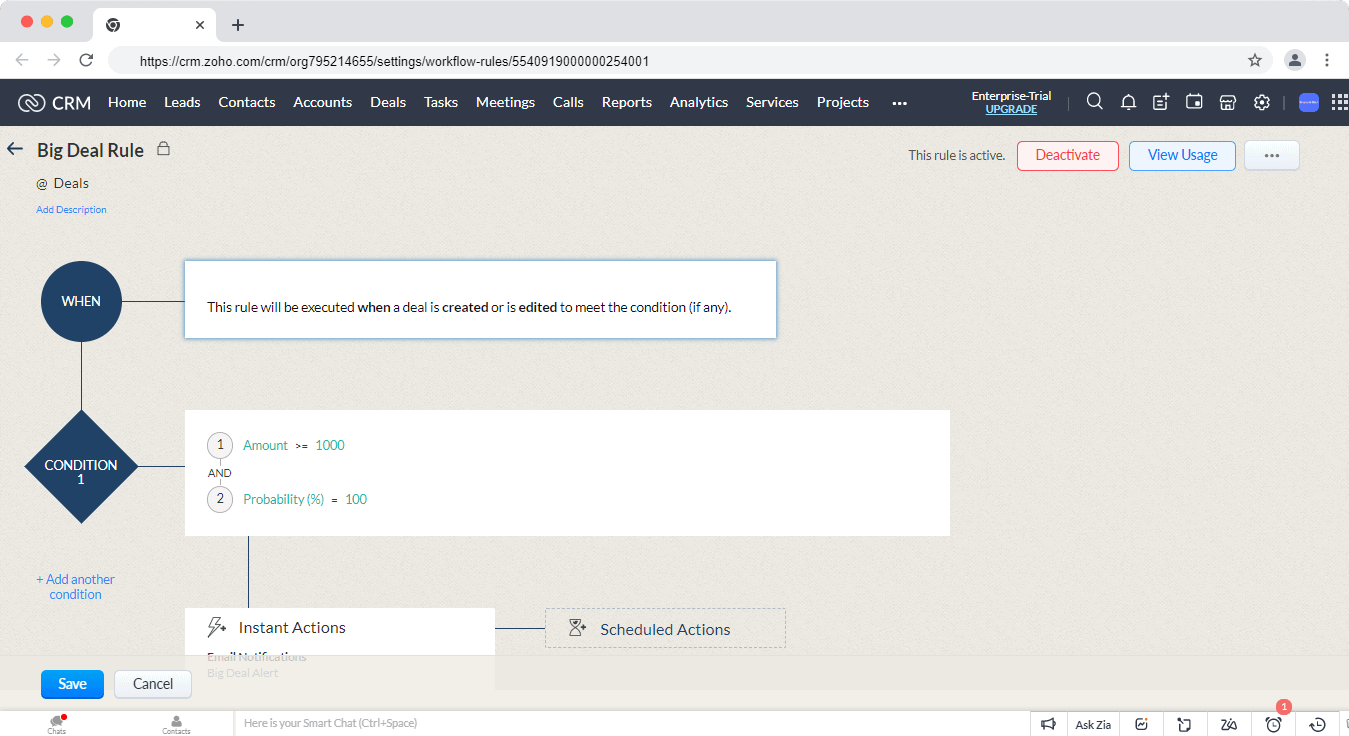 The case escalation feature lets you set a rule where a case can be distributed to other members of your team when it's not attended to by the specified person.
You can set the rule depending on different criteria such as case number, account name, or priority.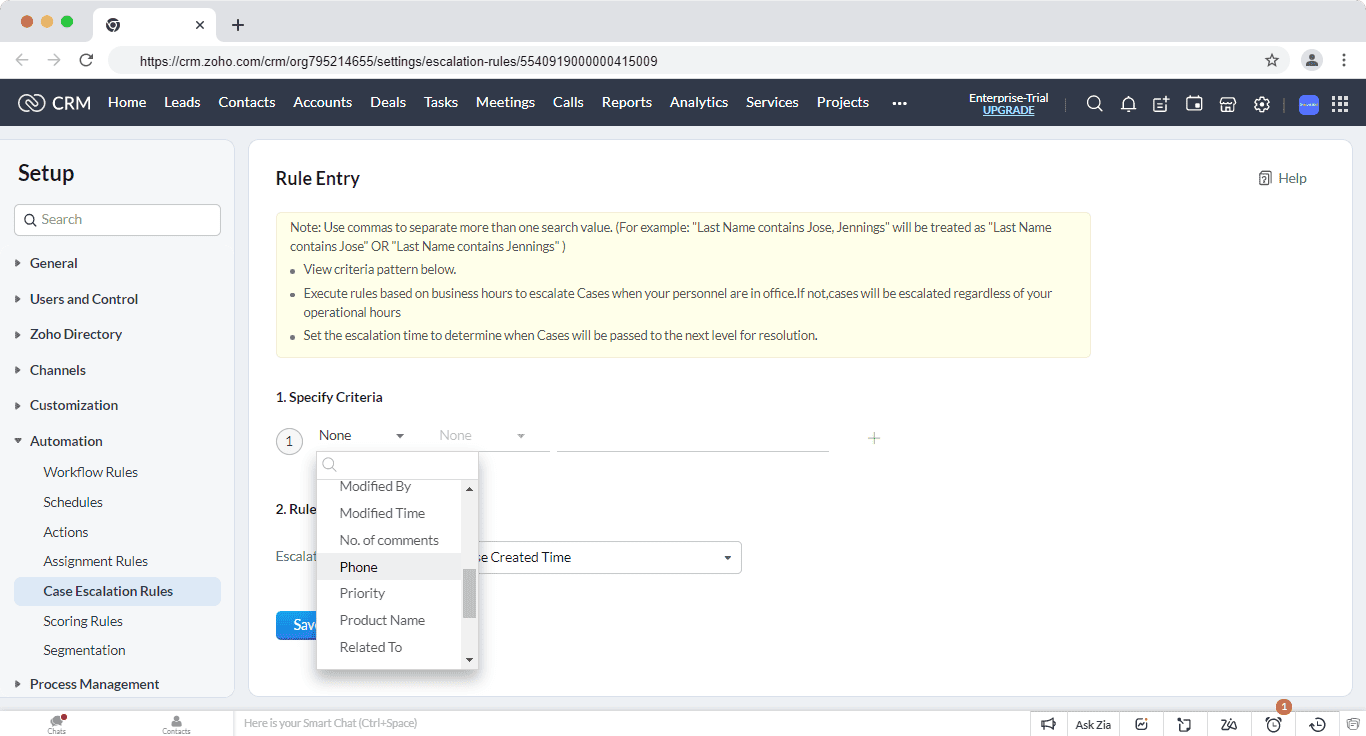 Sales automation verdict:
Tie. They both have great automation capabilities but HubSpot is slightly better in terms of ease of use and user interface.
Read also: HubSpot vs Mailchimp: A Complete Product Comparison
Reporting
CRM reporting helps you know what's happening across your sales process and how each team member is performing.
Here are some details you can look out for:
How easy it is to create reports and dashboards

The type of reports available

How presentable and easy to understand the reports are
HubSpot
Its reports and dashboards are comprehensive and use the data from the CRM and marketing hub to provide insights into your pipeline, forecast revenue, and coach your team.
HubSpot has a list of 90+ pre-built reports built into dashboards. For example, the sales manager dashboard has eight pre-built reports. Here are some of the reports:
Deal closed total vs goal

Deal leaderboard – all-time amount closed by rep

Activity leaderboard by rep with type breakdown

Deals open by close date of this month

And many others
Some dashboards that you might find useful are the sales opportunity review with nine reports on the overall performance of your sales for the month and the sales dashboard, which has five reports that focus on your deals and sales.
You can also gain insights into the progress of deals and contacts in their respective life cycle stages using the funnel reports. You can also build custom reports to get insights based on your specific needs and help in presenting them to stakeholders.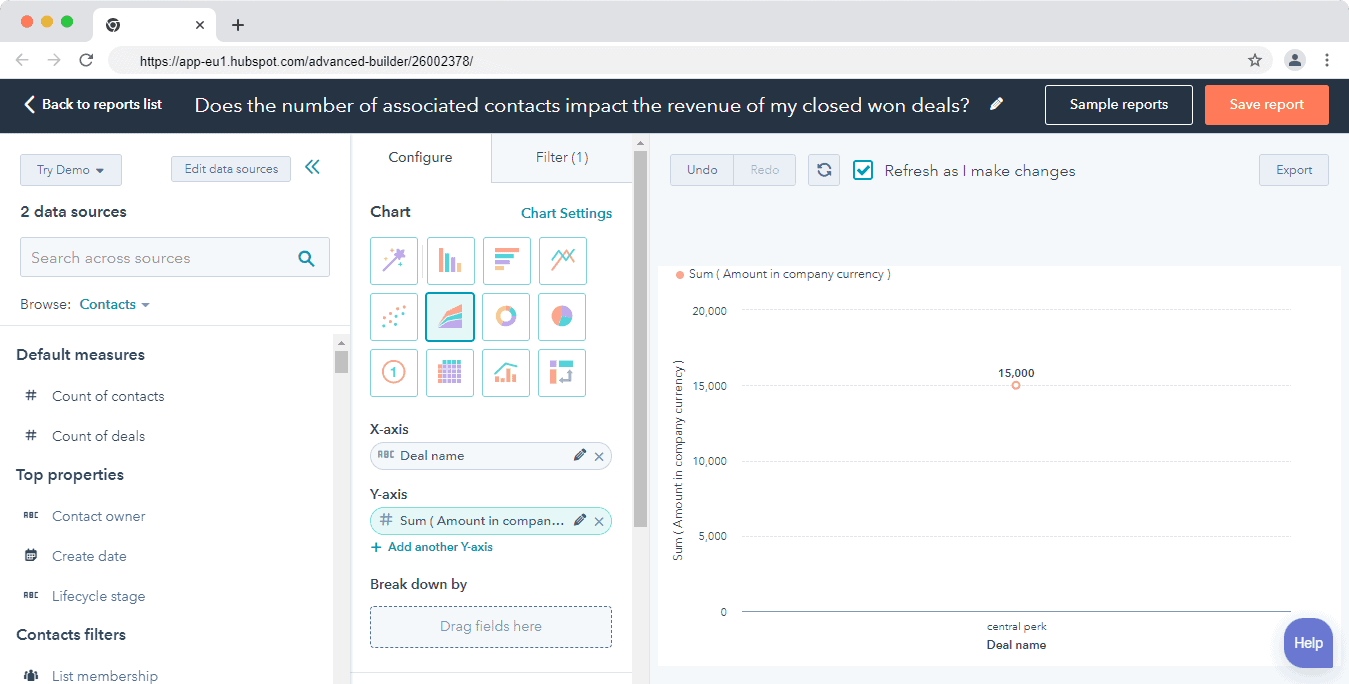 Zoho
Zoho's reporting function is comprehensive enough. The visual builder lets you build custom reports by picking the modules you want to import data from and selecting the fields you want in the final reports.
You can combine multiple reports to get deeper insights into your sales process and track your team's performance. For example, you can combine your deals report with your sales for this month to analyze your team's progress.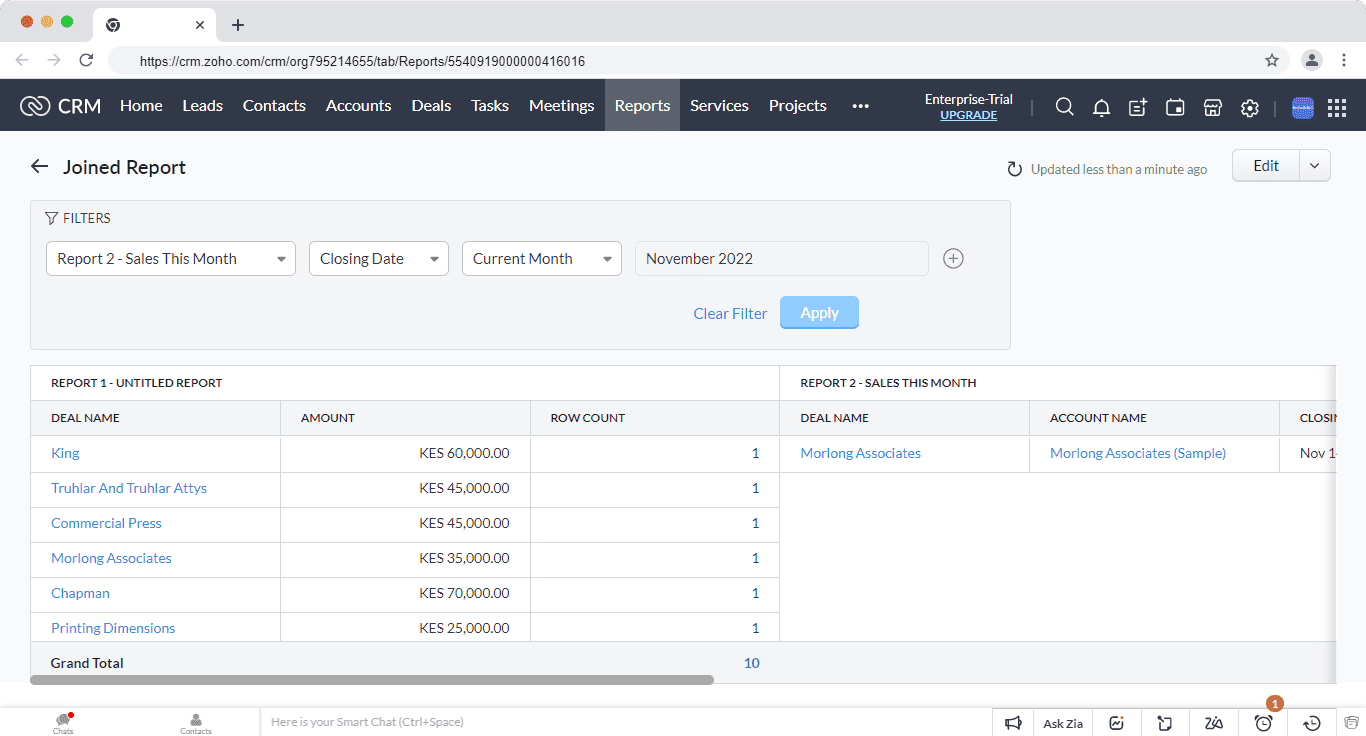 Choose who to share the reports with. You can choose to share based on user roles, groups, or territory and schedule the reports to be sent weekly, monthly, yearly, or based on your own timing.
Reporting verdict:
Tie. They both have powerful reporting functions and the ability to customize reports based on your needs.
Lead management
Both HubSpot and Zoho have table stake lead management features. Here's my review of each platform's capabilities.
HubSpot
Its lead management software lets you view communication history, manage leads, and prioritize your leads all in one dashboard.
HubSpot's smart contact database lets you see every detail about a lead from the contact's profile. You can track the conversations and every touchpoint between them and the company, such as social media, tickets, and email.
Attract leads and nurture them using forms, live chat, and chatbots. Manage conversations with your leads in the universal conversation inbox that gives your sales, marketing, and support teams a place to engage with leads and customers.
Zoho
Its lead management platform allows you to attract, qualify, analyze and nurture leads into deals.
Some of the lead generation tools at your disposal are web forms, live chat, and social media integration. These tools help you attract leads that interact with your brand on your website or on social media platforms.
Once you attract leads, you can score them to identify which ones are most likely to close and put your team's focus on. You can assign leads based on a number of criteria such as demographics and behavior such as email interactions and responses to surveys.
Lead management verdict:
Tie. Both tools cover the entire lead management process from attracting leads to passing them to sales.
EngageBay: A More Affordable and Powerful Alternative
EngageBay is an all-in CRM powering sales, marketing, and support teams. It's ideal for small businesses that are starting out or those that are scaling.
HubSpot packs advanced features and replaces standalone apps like marketing automation software, but it's expensive. Zoho is cheaper, but it lacks key marketing features and it's only suitable as a sales CRM.
EngageBay packs the best of both worlds. It's cheap like Zoho and has advanced marketing, sales, and support features like HubSpot.
Here's how Edo Modun, a sales specialist, summed up EngageBay:
"It's very useful that you have a package with the most important tools such as CRM and email marketing as one service. Workflow is much easier, data flow is simpler and results are more visible. CRM has many options that you can only dream about in some other online solutions. The file repository is a nice touch."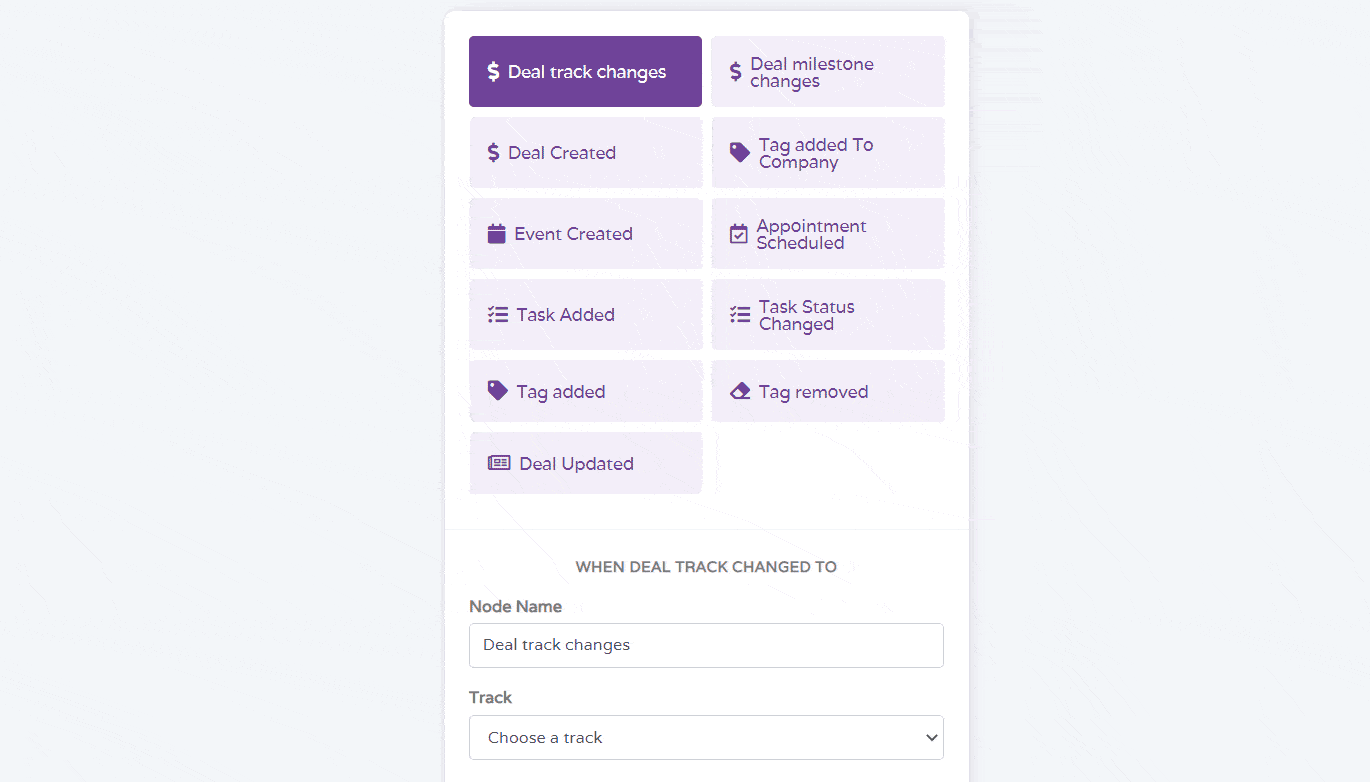 You can create multiple deal pipelines for different products, run automations with multiple triggers, and get deeper customer insights with a bird's-eye view of the entire customer journey touchpoints.
The marketing automation platform lets you run drip campaigns, build forms and landing pages, automate lead scoring, and segment customers based on their activities and behavior.
The free help desk and live chat software lets you engage with customers and provide contextual support. You get to run ticket automations, assign tasks to reps and view customer interactions with the company in one dashboard.
Want to find a HubSpot alternative that's better suited to your needs? Check out our article on the top HubSpot alternatives.
Wrapping Up
Zoho CRM is great for you if you are using one of their apps and looking for a sales CRM with powerful automation.
As David Begin puts it:
"I like the integrations with the entire Zoho ecosystem and the marketplace is huge. Zoho CRM offers powerful features with Automations, blueprints, and great reporting."
HubSpot is suitable for you if you need something for your entire organization to use. The marketing, sales, and support teams can use HubSpot and have clear visibility into customers' data. But it gets expensive as you scale.
That's why EngageBay is a better alternative. It's cheaper, has the same functionality as HubSpot, and has better customer support.