Construction, like any other industry, is facing challenges in the current economy.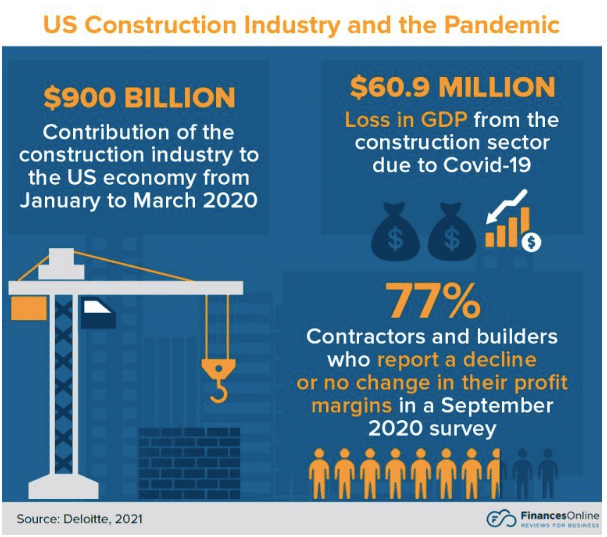 But, marketing doesn't have to be one of those challenges in 2023.
We may not be able to control the economy, but we sure can take charge of our marketing strategies to tide over most situations.
In this blog post, we have collated 14 time-tested, actionable construction marketing ideas. These strategies can help you generate new leads like never before!
Let's jump right in.
14 Great Construction Marketing Ideas for More Leads in 2023
A great website, high-quality images, smart email marketing, and employee-focused campaigns … There's a lot you can do in marketing to boost your construction company's revenues.
Let's look at these ideas in detail now.
1. Create an authoritative website that adds value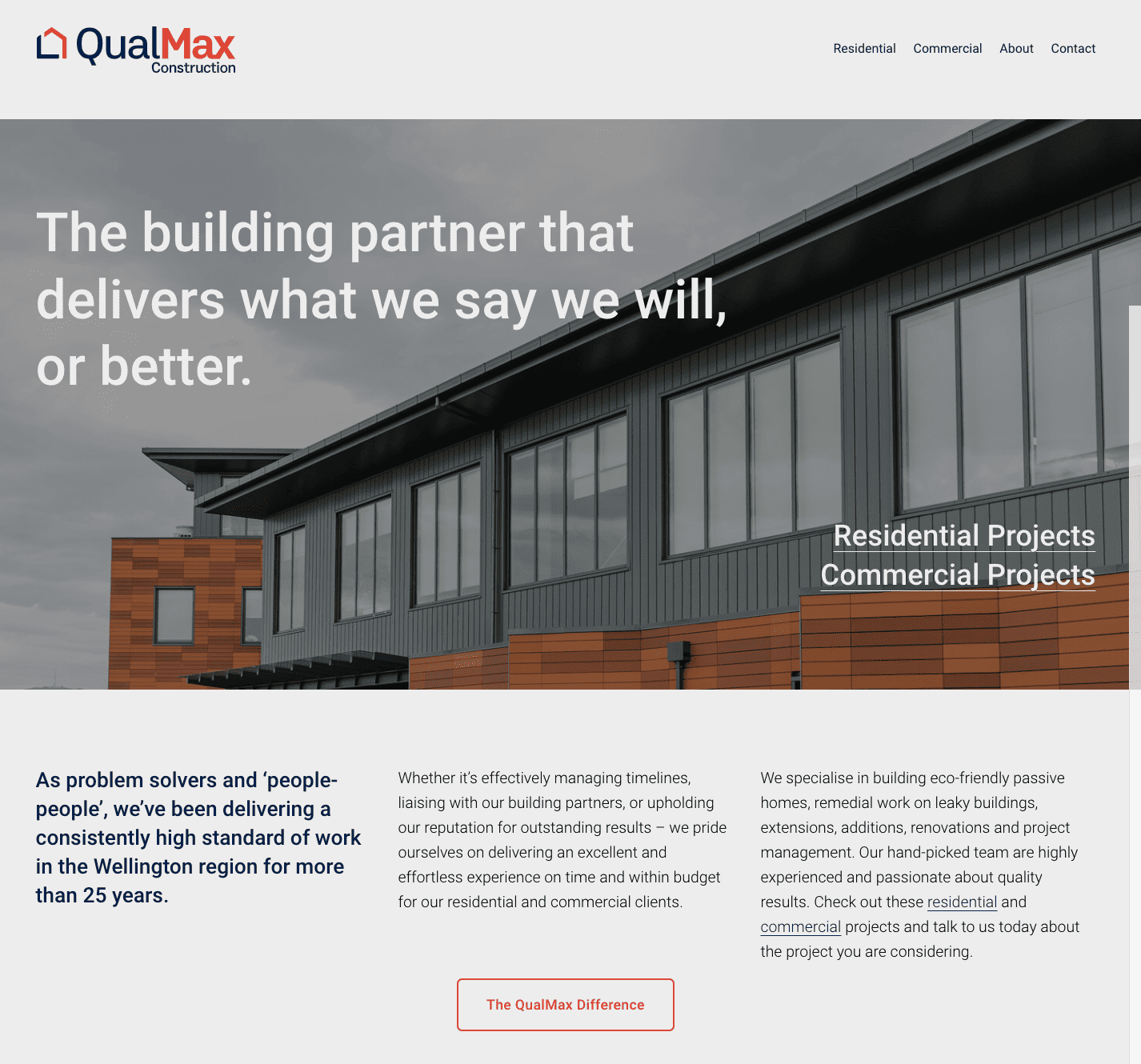 Your website is one of the most important marketing platforms available for your construction company.
In a world where 85% of people find their trusted contractor online, it would be marketing suicide to have a website that's clunky, slow to load, and uninteresting. For a clearer vision of what works, take a look at some examples of manufacturing website designs.
Here are some key features and pages that are a must for construction companies:
About Us page: This page shows your customers what makes you unique. It highlights your company's story and the values you stand for.
Services page: This page should outline all the services you offer in different sectors.
Portfolio page: This is a portfolio of your past work in construction. Use high-quality images and videos to show off your best work.
Client Testimonials page: This should ideally be a part of your home page. Use this section to highlight why prospects should trust your work.
Contact Us page: This segment is vital and should be immediately accessible to the site visitor without much scrolling. Make it easy for clients to contact you by leaving multiple options for contact.
Gallery page: Use this page to highlight your best work, and some behind-the-scenes images of your team hard at work.
Work in Progress page: Use this section to showcase your current projects that are yet to be completed.
Also, all these web pages should be responsive and optimized for viewing on mobiles and tablets. With people consuming more and more data through their mobile devices, this is a necessity and not a luxury anymore.
Read also: 8 Free eCommerce Website Builders For Every New E-Preneur
2. Use only high-resolution images for blogs and website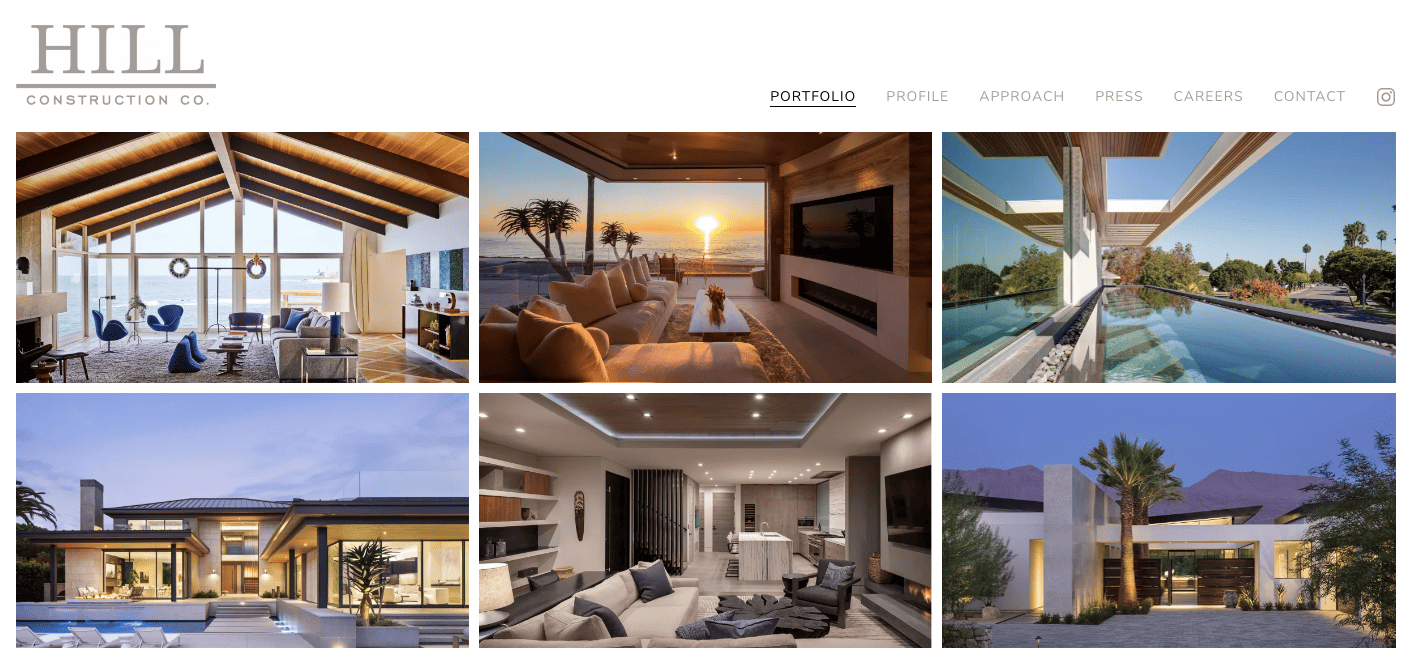 Photography is one of the secret weapons that can make or break how prospects view your company. And, when images are one of the most potent non-verbal modes of communication that can evoke strong feelings in viewers.
When you use professional photography, your construction company's home page, website, and social media channels hold more attention.
Each photograph should tie in with your brand. And, ask yourself if you'd be proud to show these images to any prospective client.
For best results, plan a mix of these different types of construction photography in addition to regular shots.
360-degree images and videos: As the name suggests, these images give you a 360-degree view of the surroundings. This can be a great option for showcasing indoor rooms or capturing the views of the gardens or lawns you've worked on.
Drone photographs and videos: An advantage of drone photography is that can capture aerial photographs of construction sites. Especially for properties with a scenic view, drone photography does a great job of selling this.
Time-lapse images and videos: A time-lapse video is another great way to showcase the quick progress of a construction site. People are always fascinated by how beautiful buildings are built from scratch.
Read more: 20 Actionable Email Marketing Tips that Drive Results
3. Leverage email marketing to boost engagement
In 2022, it is estimated that over 333.2 billion emails were sent each day! And, this is only expected to grow to 337 billion emails sent daily by 2025.
When most people are already checking their email every single day, email is an excellent opportunity to maintain relations with previous clients. And, it's a way to boost brand awareness for your prospects.
According to marketing surveys, the Return on Investment (ROI) for email is $40 for every $1 spent. Do I need to say more? Here's what an automated welcome email template from a construction company can look like.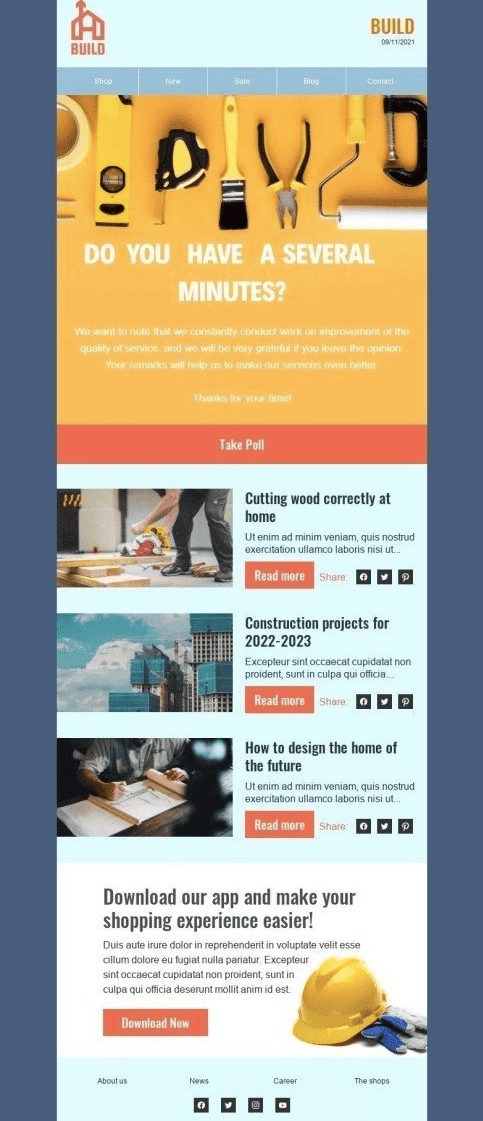 Here are some time-tested tips for construction companies to leverage the power of email to generate new leads regularly 👇🏻.
Build and segment your email list
First, you'll need to gather all your contacts into a centralized system. We suggest using Customer Relationship Management (CRM) software to build and auto-populate your contact list.
Then, you'll need to segment your audience based on factors relevant to you. This could be age, gender, location, service history, event attendance, and trade specialty.
Not all of your content would be relevant to all segments of your list. This segmentation will help you zoom in and target quality leads.
Read also: Stepping Into Summer: A Handy June Marketing Ideas Guide
Write a catchy subject line for each email
A catchy subject line entices more prospects to open your email instead of simply deleting it. The subject line should ideally be between 5-10 words. But, don't overpromise, and don't use generic subject lines.
Ensure that the email designs and templates fit your brand
Send marketing emails only from your company address. Ensure that your company logo is visible clearly in each email. And, it's a great opportunity to reinforce your brand colors and aesthetic.
Make use of responsive email templates that are available with most leading CRM platforms. You can even code new email templates from scratch using CRM software.
Read also: 12 Farmers Market Ideas: What to Sell to Stand Out
Include a clear, concise call to action button
A CTA button is an essential part of your email. After all, that's what tells the prospect what to do next. Instead of generic CTA buttons, use action words and highlight the value to the customer.
For example, instead of 'Submit', you can say, 'Get my 20% discount now'.
Optimize different elements using A/B Testing
The next step is to run A/B Tests on various elements of your emails to find out what works best with your audience.
Ideally, you should run A/B Tests on aspects like subject line length, length of the email copy, email signatures, design aspects, and the best time to send out an email.
Set up automated email campaigns
Email automation can save you a lot of time and manual effort while offering personalized email messages to different segments of your contact list.
Remember, this is not the same as an autoresponder. When you set up your automated workflows, user actions like browsing your services can trigger emails.
Here are some popular types of automated email campaigns:
Welcome emails for new subscribers
Targeted email campaign for unresponsive subscribers
Feedback or survey emails
Time-sensitive discount or sale emails
Customer milestone emails for birthdays, anniversaries, etc.
Read also: 15 Gym Marketing Ideas to Pump Up Your Client Base
Avoid spam triggers
One nightmare for any marketer is their emails ending up in the spam folder! Your ISP (Internet Service Provider) has spam filters that look out for red flags like fake or shady subject lines, a blacklisted IP address, and spam-related keywords.
Here are some tips to avoid triggering these spam filters:
You'll need to start and maintain a good IP address reputation to increase email deliverability. If you're just starting, you need to slowly warm up your IP address by sending a few useful emails. You can send more volume of emails once you've established a good IP address reputation.
Use double opt-in forms. This means that once someone signs up, they'll have to verify their email address with a second email. This confirms that the user indeed wants to receive updates and it's less likely to be marked as spam later.
Avoid spam trigger words in your subject line. This includes words like 'earn extra cash', 'double your income', 'home-based work', or 'online biz opportunity'.
Read more: The Importance Of CRM For Construction Business: A Guide
4. Implement account-based marketing for your company
Account-based marketing (ABM) is a term that emerged out of B2B marketing.
To simplify ABM, it's a focused approach that goes beyond simple lead generation to target bigger and high-value accounts that are likely to make a purchase. Especially for SaaS marketing with its long sales cycle, targeting high-value clients can save a lot of time and money.
Follow these steps to implement and benefit from account-based marketing for your construction company:
Align the sales and marketing teams to identify high-value accounts. Target accounts that are likely to generate the most revenue for your company if you're able to close the deal.
Decide on the marketing and sales Key Performance Indicators (KPIs) that you'll measure later. Have a clear goal in place for both your marketing and sales teams. The team can then start creating content based on the pain points of these accounts.
Measure and revise your account-based marketing strategy based on how the campaign performs.
Read also: The 101 of Account-Based Marketing – An Exhaustive Guide
5. Create content featuring your star employees
Each employee works around 40 hours a week for your company! So, creating an employee spotlight page is a great brand-building strategy.
It gives viewers a behind-the-scenes view of your brand values and the values of your employees. And, your employees feel valued and a part of the team as well.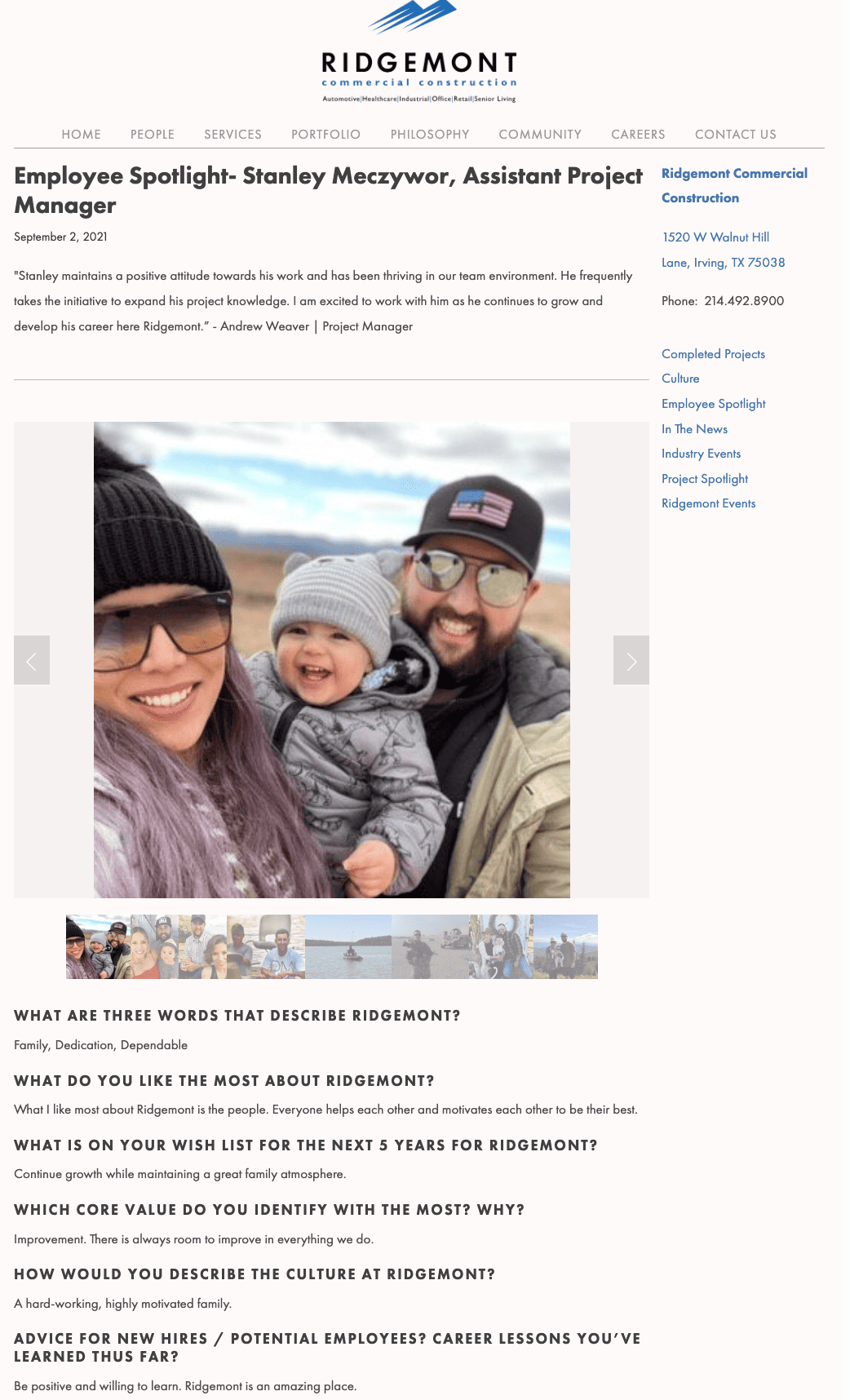 Remember that the end goal of an employee spotlight is to showcase your work culture and work environment. You can consider video interviews of employees as well.
Here are some key aspects you can include in your employee spotlight:
Team culture and workplace culture of your company
Core values of your company and your employees
Accomplishments and success stories of your employees
Passion projects
Perks and benefits that keep them coming back to work
Future goals, aspirations, and prospects in the company
Employee opinions on the top leadership team
Aspects that make your company unique
Read also: The Functions of Sales Management: What Every Team Lead Needs To Know
6. Consider investing in co-marketing campaigns with similar businesses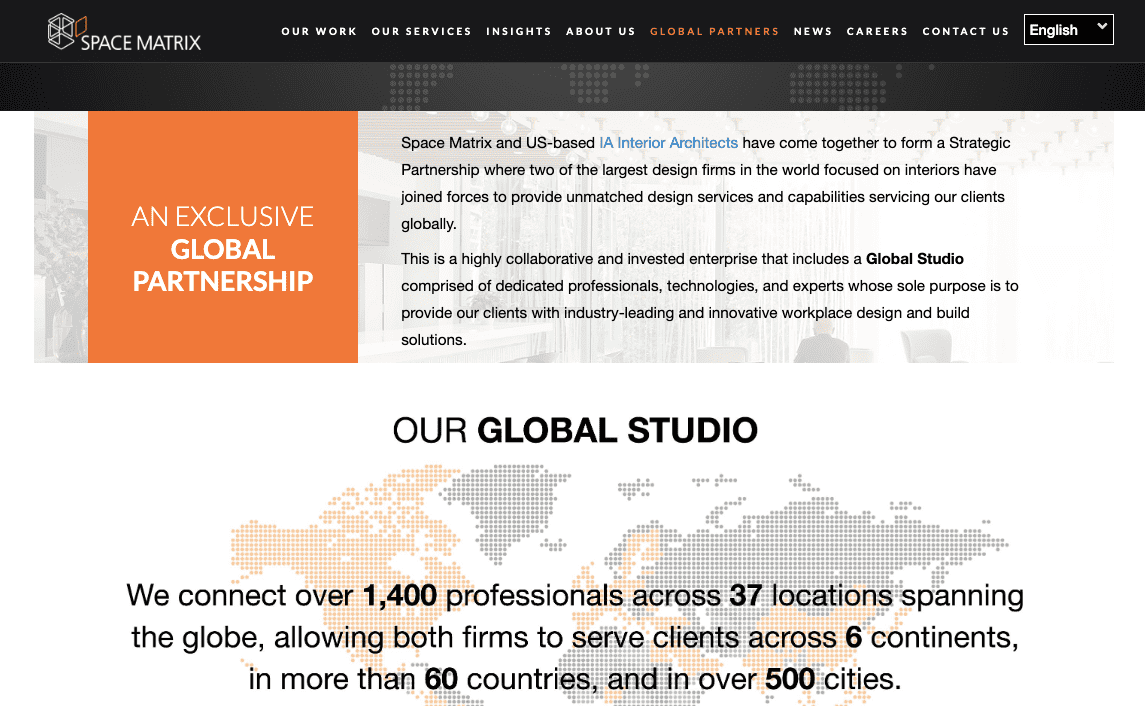 Strategic partnerships are hardly new for the construction industry. Ever since the publication of the Latham Report, strategic partnerships have been all the rage in the construction industry.
After all, these partnerships help both companies offer more value to their clients.
But, how do you maximize lead generation using strategic partnerships? We're glad you asked.
Here are three factors to consider before getting into a strategic partnership to generate more leads:
Partner with companies that offer services or products that complement your own. If you're a company specializing in renovating old homes, consider partnering with building supplies companies, HVAC professionals, and electricians.
Partner with companies that have a good lead-generation strategy in place already. For instance, some companies may have such a good lead generation process that they have more prospects than they can handle.
Choose to partner with a company that already has a large customer base. If you can offer genuine value through your partnership, you'll get new leads through your partner company.
Read also: Mastering SaaS Marketing: Key Metrics to Measure Success
7. Boost visibility and engagement with quality video content
In 2023, online video is expected to account for 82.5% of total web traffic. This easily makes video the most popular type of content on the internet today. And, we don't expect this trend to change anytime soon.
The time is ripe for construction companies to invest in high-quality, engaging video content.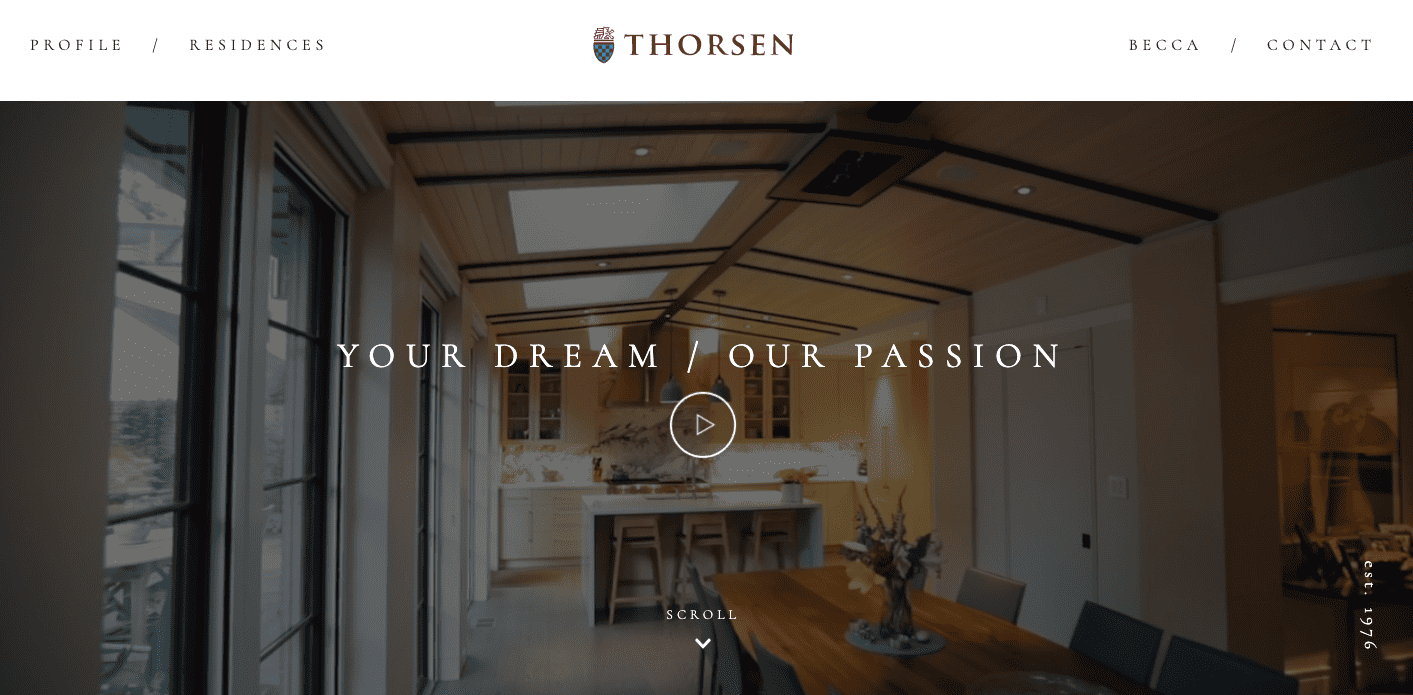 Video content is also known to boost your company's credibility and speed up the sales process. Remember to shoot high-quality videos with subtitles or captions. And, remember to run an SEO audit for your videos, so they gain more visibility.
Here are some creative video marketing ideas for construction companies:
Meet the team or a behind-the-scenes video of your team
About us videos that explain your brand values and achievements
Videos explaining the construction process for your clients
Case study videos of your successful projects
Client testimonial videos
Before and after videos of projects
Read also: Direct Mail Marketing Ideas Inspired By Global Brands
8. Build a helpful blog that adds value
A super informative blog can bring in loads of new leads over the years if you do it right.
Not only that, it's a valuable and informative resource for your prospects who may not have your level of knowledge in the construction industry.
When it comes to blogs, remember the old saying — 'If you build it, they will come'.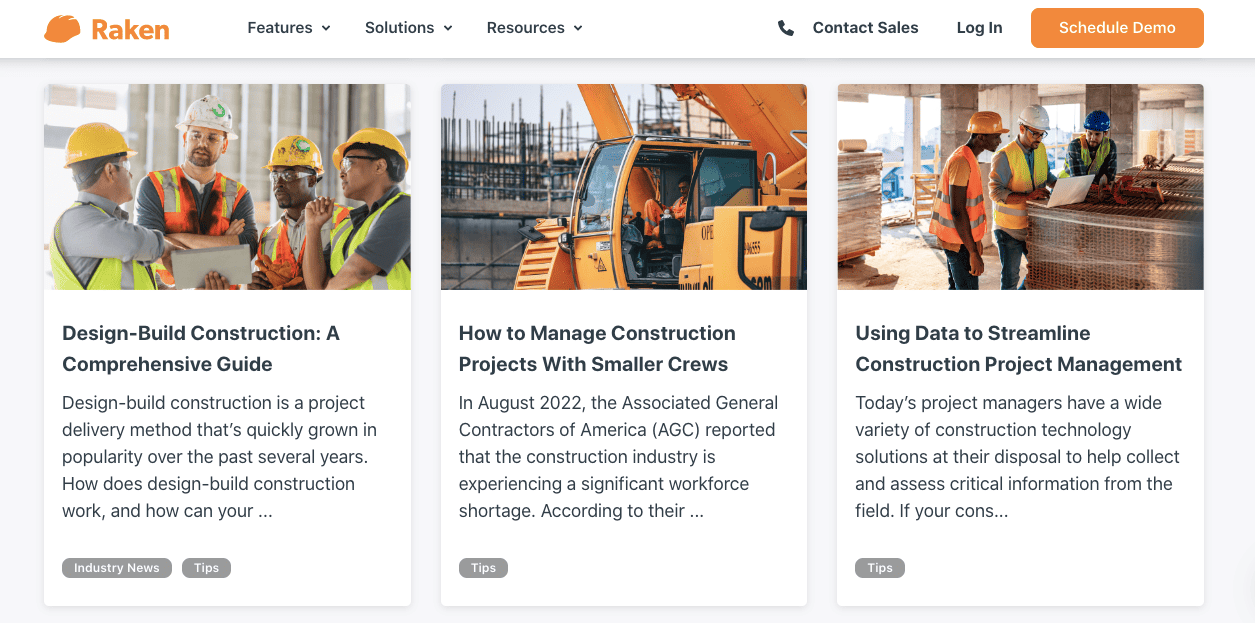 Here are some ideas for your blogs:
Discuss the latest market trends in the construction industry
Write about different materials they can choose for different construction projects
Share some ideas on DIY home improvement projects
Share tips on choosing the right contractors for your projects
Write about completed projects featuring happy clients
Compare two similar products
Write about common pain points faced by your prospects
Read more: 10 Content Marketing Tips to Make your Day
9. Don't let SEO get you down
We will meet our content marketing goals only if we focus on SEO.
If you want to rank higher in the SERPs and get more organic search traffic to your website, consider an SEO audit, especially if you're struggling.
Ideally, your business should show up on the first page when someone searches for construction companies or contractors in your area on Google.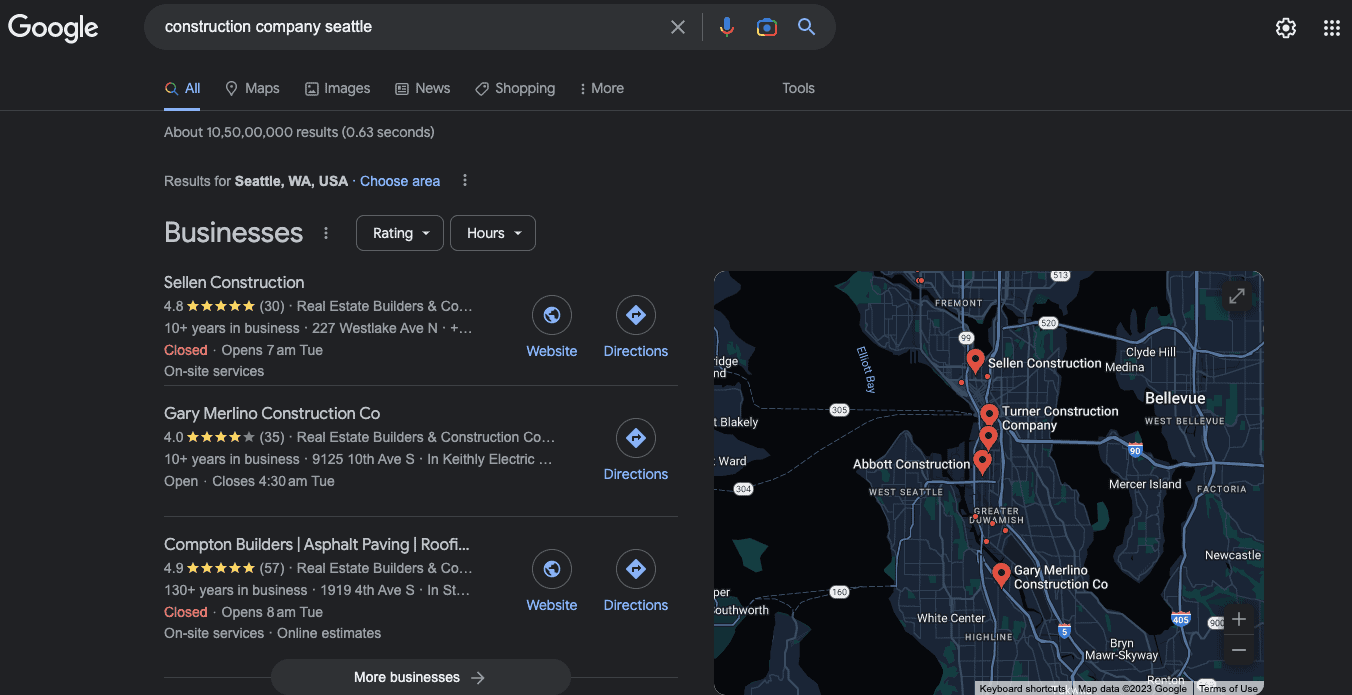 Here are some expert tips and best practices to follow while you conduct an SEO audit:
Conduct in-depth keyword research for your niche and market. Analyze the keywords used by your competitors. Consider aspects like relevance, user intent, volume, and difficulty for keywords.
Focus on local SEO keywords to rank higher whenever someone searches for your services in your area.
Remember to run keyword research for your page titles, meta descriptions, and Alt Text for images.
Optimize your Google My Business (GMB) profile with the latest updated photographs, posts, and all your contact details.
Earn quality backlinks from related websites to boost your authority and rank higher on SERPs.
Read more: Breaking the Rules: The Art of Guerrilla Marketing and Why It Works
10. Consider SMS marketing integrations
Take a look at this infographic to see why you need to integrate SMS marketing.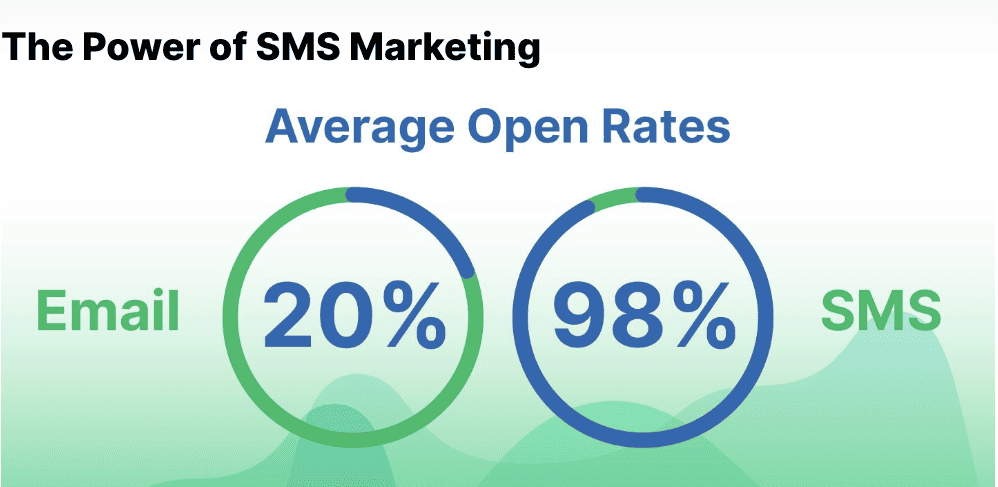 Here are some crucial points to help you integrate your SMS campaign:
First, determine how you'll use SMS marketing to complement your overall marketing strategy. Can you use SMS marketing to drive more purchases? Or, can SMS help re-engage existing customers with offers or limited-time deals? Determine the KPIs to track for your SMS campaigns.
Choose the right service provider to suit your unique needs as a company. For instance, are you looking to scale your SMS marketing or expand internationally? What volume of SMS should you be sending out each week? How many contacts do you have?
Consider if you require SMS automation capabilities. For instance, if you plan to run SMS campaigns to onboard new clients and send regular updates on the progress of the construction, you'd save time with SMS automation.
Keep the copy brief, crisp, and insightful. Include a call to action (CTA) button or link with each SMS.
Finally, measure your KPIs and re-work your SMS marketing strategy regularly.
Read also: 13 Game-Changing Law Firm Marketing Ideas to Try
11. Make the most of multichannel marketing
Multichannel marketing means using multiple channels of inbound and outbound marketing to reach prospects and build brand awareness.
Companies typically use direct channels like catalogs, flyers, hoardings, and direct mail for marketing. Indirect channels like blogs and social media channels are also equally important.
With multichannel marketing, you use all these channels so customers can choose their preferred communication channel.
Follow these simple steps to build your multichannel marketing strategy:
Collect enough customer data and run analytics for each customer segment. This will give you a wealth of data about your customer behavior and pain points.
Understand channel preferences for each customer segment. This ensures that the right message reaches the right customer through their preferred channel.
Your marketing message should remain consistent across all channels. This makes it easier for the prospect to get familiar with your firm.
Choose the right marketing attribution model to measure the performance of your multichannel marketing strategy.
Read also: Multichannel Retailing: Everything You Need to Know
12. Create and run a referral program
Even though marketing has evolved by leaps and bounds over the last decade, referrals remain one of the most lucrative sources of new leads for companies across industries. Here's why.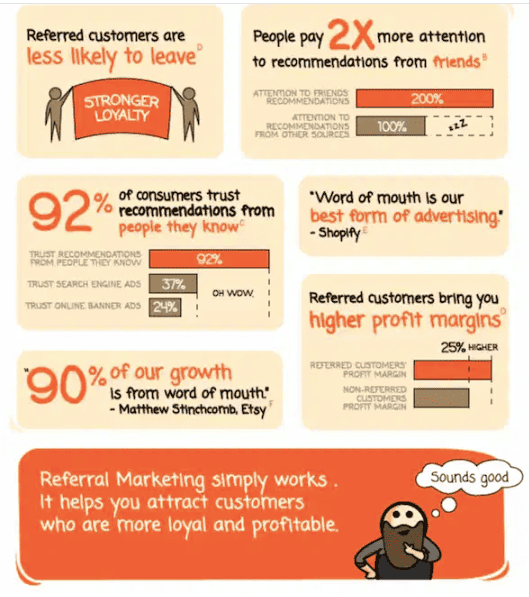 By building a great referral program, you're letting your existing customers help you out by finding you new leads.
When a customer wants to refer a friend or relative, you can provide them with a referral code or link they can share. Depending on the campaign, both your customer and their friend get some incentive like a discount.
Once you automate this workflow, you're ready to get new leads automatically!
Read also: 31 SaaS Affiliate Programs for a Great Side Hustle
13. Get featured with building material companies
Many building material companies feature a list of construction companies that use their building material supplies. This is a great way to boost your brand visibility.
But, it's also a lot more than just visibility. You gain solid backlinks when you get featured on their website too. If you're a small construction company or a company that's starting out, this is likely to boost your domain authority too.
So, make a list of your building supply providers and reach out to them with a well-worded email. Keep it brief and explain how their products have added value to your business. Then, request them to feature your company on their website.
Yes, it's that simple.
Read also: 9 Best CRM Tools for Architecture Firms
14. Set up an Instagram account to post regular content
First, begin by setting up your business account on Instagram. This will help you target a wider audience and network with interested prospects.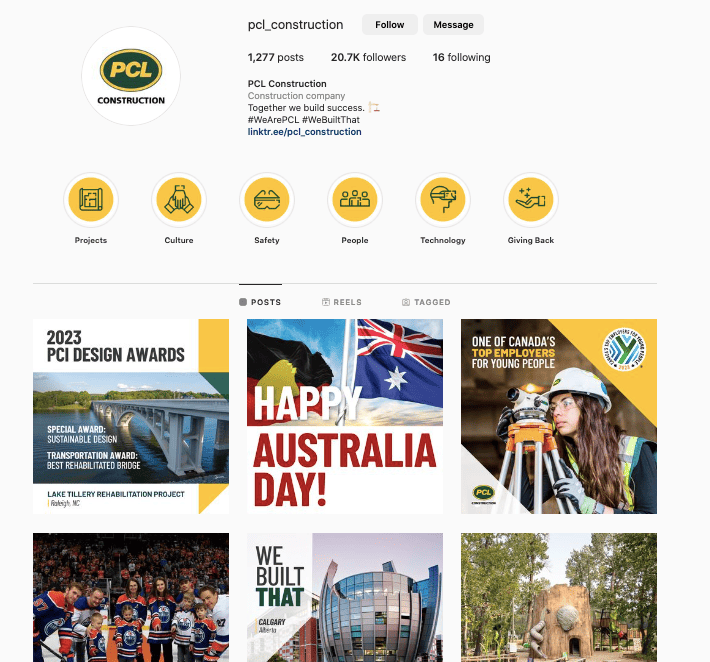 Once you've got your account set up, update your company bio and provide a link to your website. Then, choose high-quality images that are engaging to your audience and start building a database of posts.
Ensure that you use industry-specific hashtags and update the location for each post. Curate posts for holidays and special events as well. You can schedule social media posts in advance using a reliable CRM system.
Now, your Instagram marketing strategy should feature regular content on each of these four categories:
Posts that build brand awareness
Show off your best work and feature snippets from your portfolio
Posts that offer expert advice to prospects and other contractors
Posts that create a buzz and allow you to network with interested parties
With these tips, you're officially ready to market on Instagram!
Want to win at sales? It all starts with effective lead management. Find out more from our comprehensive guide.
Read also: Spring To Success With These Vibrant May Marketing Ideas
Ready To Market Your Construction Company? Let's Go!
So, there you have it. These are some time-tested construction marketing ideas that can generate new leads without burning a hole through your budget.
If you're looking for a cost-effective and feature-packed CRM solution for your construction company, reach out to us at EngageBay for a demo.
👉 Discover the most effective marketing strategies that will transform your campaigns in our detailed article!