HubSpot vs SharpSpring comparison is similar to comparing two sports cars. Both are high-performing with similar capabilities, but each has its own unique features, user interface, and cost that sets them apart.
Both platforms are all-in-one CRMs with powerful marketing and sales features. Although SharpSpring is cheaper compared to HubSpot, but at what cost?
Choosing between the two is difficult, that's why in this article we'll compare the two platforms and you'll learn:
The main difference between the two platforms

In what ways are the two platforms different and similar?

The pricing difference between the two platforms

A more affordable and better alternative
What's The Difference Between HubSpot and SharpSpring?
The main difference is that SharpSpring is cheaper compared to HubSpot but offers almost similar features. But there are little details that make HubSpot superior to SharpSpring. For example, its reports are advanced and rich in data compared to SharpSpring. You would also have access to a vast number of integrations and workflow templates compared to SharpSpring.
HubSpot – An all-in-one CRM for marketing, sales, and support teams
HubSpot's suite of tools is designed to work together seamlessly and share a single database. This makes it super easy to get real-time insights from your various campaigns and quickly access your company's data.
It's not just one tool, but a collection of different hubs, each with its own set of features:
Marketing Hub: This one has a ton of features to help you with your marketing efforts. Think marketing automation, landing pages, email marketing, live chat, social media management, and more.

Sales Hub: It has features like pipeline management, email tracking, sales automation, conversation intelligence and more to help you close deals.

Service Hub: This one's all about customer service. It helps reps serve customers with all the context they need by connecting to the CRM. You'll find features like shared inbox, helpdesk and ticketing, customer portal, and omnichannel messaging.

CMS Hub: This hub comes with everything you need to build a great website. Dynamic content, drag-and-drop site builder, web hosting, custom domain connection, and CRM integration.

Operations Hub: This one is all about making your work easier. It integrates apps, syncs and cleans customer data, and automates business processes. Workflow extensions, programmable automation, data sync, and data quality automation are just a few of the features you'll find here.
What is HubSpot? Definition, Features, Pricing, Who it's Best for
SharpSpring – A cheaper all-in-one marketing and sales CRM platform for small businesses
SharpSpring is an all-in-one platform just like HubSpot. But it only unites the marketing and sales teams because it lacks service features like ticket automations in HubSpot or EngageBay.
Its main selling point is the low price compared to HubSpot while offering almost the same set of features. You can use the email designer to style your emails and drag and drop elements to create the perfect email or choose from the list of pre-built templates. Its visual automation builder lets you create comprehensive marketing and sales automation. For example, you can set a drip campaign for when a user visits a specific page on your website.
Its sales CRM allows you to view your pipeline in one dashboard, attach reminders to deals so you don't miss on anything, view your contacts' history with the company, and add notes in each of your opportunities.
Overall verdict
HubSpot is great for you if you need a complete product to meet the needs of your marketing, sales, and support teams. Its feature set is a bit more comprehensive compared to SharpSpring. It's also suitable for you if you have a big sales team because of its extensive sales reports.
SharpSpring is a great cheaper alternative since it has most of HubSpot's functionality at a fraction of the cost. But little details of the features set the two platforms apart. As Gareth Roberts, a campaign and marketing manager says:
"SharpSpring doesn't quite live up to HubSpot in terms of the intricacies of its features. But what it does, when compared to the cost of using other premium marketing automation systems, it does well to help meet marketing objectives."
What's The Best HubSpot Alternative?
Comparing HubSpot vs SharpSpring
We've put both of these platforms to the test. We took a close look at their features and evaluated each one based on eight important factors. By the time we're done, you'll have all the information you need to pick the best-fit software.
Ease of use
Both HubSpot and SharpSpring have some learning curves for new users. But they both have extensive resources and customer support to help you. Their user interfaces are a bit different though.
HubSpot
HubSpot's design is more intuitive and user-friendly. The platform is easy to navigate, with each hub leading to different functions within its category. For instance, the service hub leads to tickets, a knowledge base, and all other service-related tools.
In the community center, you can seek answers to your questions from certified HubSpot partners, who provide in-depth responses. The extensive knowledge base is also available for you to quickly find answers to common questions. For immediate customer support, you can choose from email, chat, and phone support, depending on your subscription level.
HubSpot is famous for its academy offering certification programs in the areas of sales, marketing, and customer service. They also have a library of helpful video tutorials to show you how to fully use the product suite.
SharpSpring
It has a bit of a generic user interface. Its dashboard and the overall interface look more like Zoho CRM or Insightly but it still does its job well.
That said, It has one of the best knowledge bases in the industry. Instead of having to reach out to customer support for every little thing, you can quickly find answers to questions and solve problems on your own. It's a real time-saver.
It also ranks above average on G2 for ease of use, quality of support, and ease of setup. This means most customers can get up and running quickly and start using it immediately and customer support is quick to offer assistance.
Ease of use verdict
Both platforms have some learning curves because of their all-in-one nature. But the resources and customer support available make it easy to get going with the products immediately. So it's a tie.
What's The Best SharpSpring Alternative
Pricing
The pricing is the main factor that sets the two platforms apart. HubSpot offers both individual and bundled pricing, while SharpSpring has a single pricing plan which is cheaper than HubSpot. In this comparison, we'll analyze HubSpot's bundled pricing and compare it to SharpSpring's plan to provide a detailed overview of the benefits each offer.
How much does HubSpot cost?
Here's HubSpot's CRM suite pricing plan:
Starter–$50 per month
It includes starter plans from all the hubs. So you get the essential features in marketing, sales, service, CMS, and operations. This plan is most suitable for small businesses.
Professional–$1,780 per month
This plan offers an increase in limits and additional features from all five hubs' pro plans. It's suitable for you if you are looking for one tool that connects your entire team and a platform that meets your growing needs. You can scale your sales process, create custom reports, and run marketing automation.
Enterprise–$5,000 per month (billed at $60,000/year)
This plan includes features suitable for established businesses that have a hierarchical organizational structure with multiple levels of management. It includes features such as more custom reporting options, the ability to add more teams, custom permission sets, predictive lead scoring, and more marketing and sales automation workflows.
But a quick glance at their pricing structure reveals a few things:
The steep price jump from the starter plan to the professional plan–$50/month to $1,780/month–makes it hard to upgrade when you only need one feature which isn't in the starter plan.

you have a 12-month commitment plan whether you pay monthly or annually. This locks you into paying for the software for the whole year.

The starter plan by default starts with 2 users, the professional plan 5 users and the enterprise plan starts with 10 users.

If you want to add additional users, the starter plan costs $25/month/user, the pro plan $100/month/user, and the enterprise plan at $120/month/user.
HubSpot has a free plan but once you outgrow the free features it gets expensive fast.
Here's how one of its users summed up its pricing:
"Pricing-wise can be a little pricey compared to some other CRMs out there, and a lot of the features that make it useful are not accessible unless you pay for the premium accounts."
How much does SharpSpring cost?
Its pricing is based on the number of contacts you have. Here's its pricing when on an annual contract:
1,000 contacts – $449 per month
10,000 contacts – $999 per month
20,000 contacts – $1449 per month
All plans include:
Unlimited users

Unlimited support

Dedicated onboarding specialist

A $1,999 onboarding package fee

Access to most of its marketing automation, email software, and CRM
Pricing verdict
SharpSpring has a better pricing structure compared to HubSpot. It's cheaper and offers almost the same features as HubSpot.
As Raymond Leffelaar, a marketing automation specialist, puts it:
"It's like HubSpot but then with 1/3 of their pricing"
Read also: HubSpot Pricing and Comparison with Affordable Alternatives
This is a long article. If you don't have the time to read, you can watch our video on HubSpot vs SharpSpring:
Customization and pipeline management
Both products are customizable to your needs. We'll look at what you can customize with each software.
HubSpot
With HubSpot, you can customize your reports and forecasts. There's a range of templates available, and you can create custom fields for deals, contacts, quotes, and products.
But if you want to make custom objects that are specific to your needs, you'll have to sign up for their enterprise plan. It'll cost you $5000 a month or $60000 a year, which isn't cheap.
As for the pipeline management, you can set multiple pipelines, edit and delete stages, and assign tasks to reps when deals are ready. The only weak spot is the user interface design, which could use some work.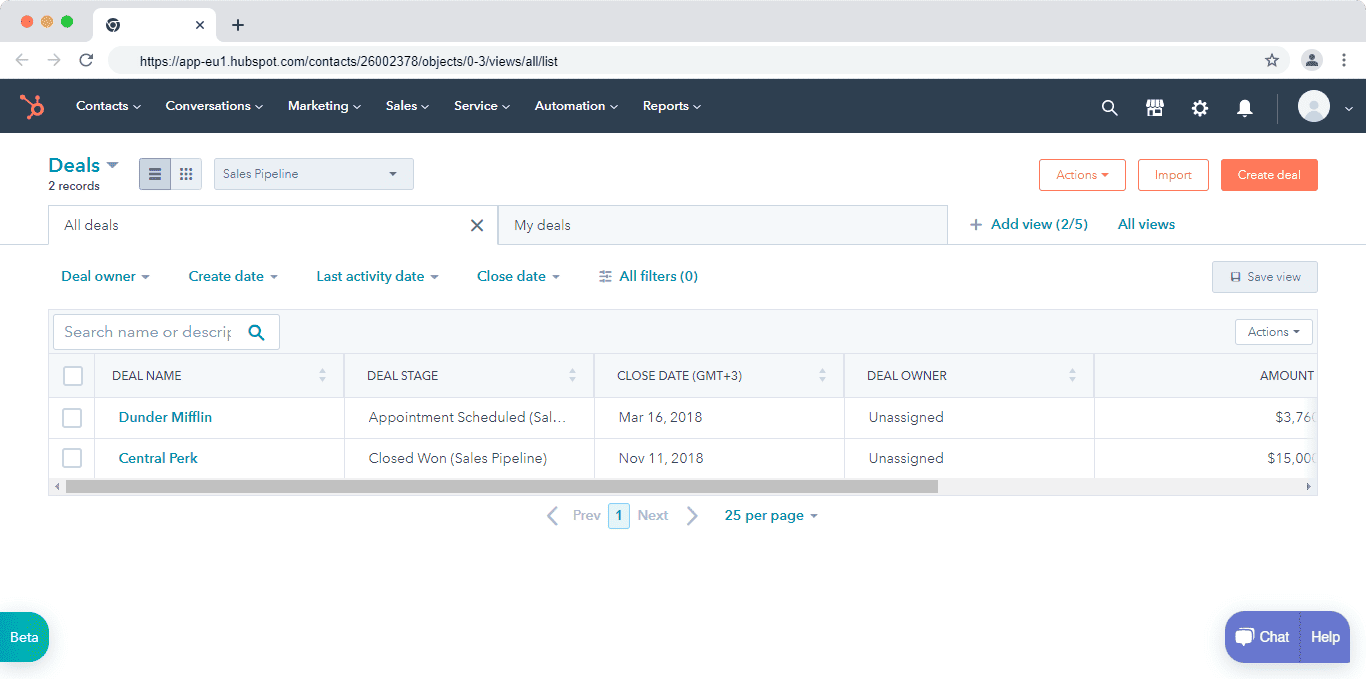 Read also: SharpSpring vs Hubspot vs EngageBay: Which CRM Software is the Best?
SharpSpring
When creating a form, it's not just about inserting fields – you can also customize the look and feel of your form using the Visual Form Styler.
It allows you to see your design changes in real-time. There are different categories within the Visual Form Styler, each covering a specific portion of the form, where you can configure various design aspects of the form.
You can also create personalized lead-scoring parameters that fit your business needs. For example, custom rules can modify points for page visits or create entirely new custom attributes and configure leads based on custom fields.
SharpSpring's custom reports provide a comprehensive view of your sales progress. The reports are built using a library of widgets that display different types of information on key components of your business. You can mix and match these widgets to create either granular or high-level reports tailored to your needs.
You can have multiple pipelines for different sales types, but only one if you're a CRM user. Stages can also be edited or deleted, but be aware that the default Sales Pipeline cannot be edited or erased. Once you've created opportunities, you can view, export, and delete them based on your needs.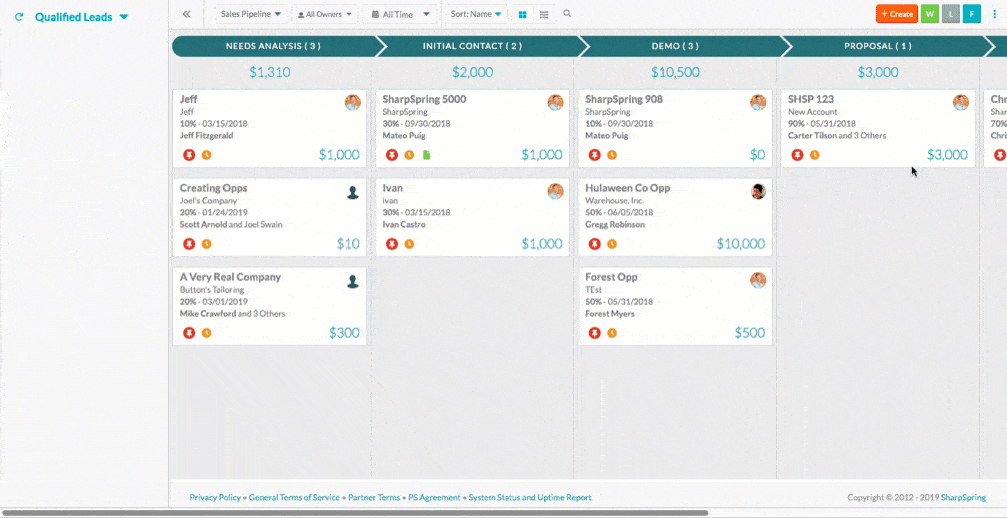 Customization and pipeline management verdict
Both platforms have a lot of options for customization, but SharpSpring is the better choice because it allows you to customize things in all of its plans.
Looking for a more flexible solution to SharpSpring? Our article on the top SharpSpring alternatives will help you find the perfect fit.
Marketing and campaign management
SharpSpring's acquisition by Constant Contact made it compete toe-to-toe with the best email marketing and automation software such as HubSpot. Let's look at how they compare.
HubSpot
You can use HubSpot to draw in the right audience using tools such as blogs, SEO optimization, ads, live chat, social media, and video. You can then engage with your audience using the email marketing feature where you can run A/B test campaigns or automate drip campaigns using the automation feature.
One useful feature is campaigns, which integrate all your marketing assets in one central location, enabling you to track the effectiveness of your entire marketing effort, including ads, landing pages, forms, and emails, for any campaign you create.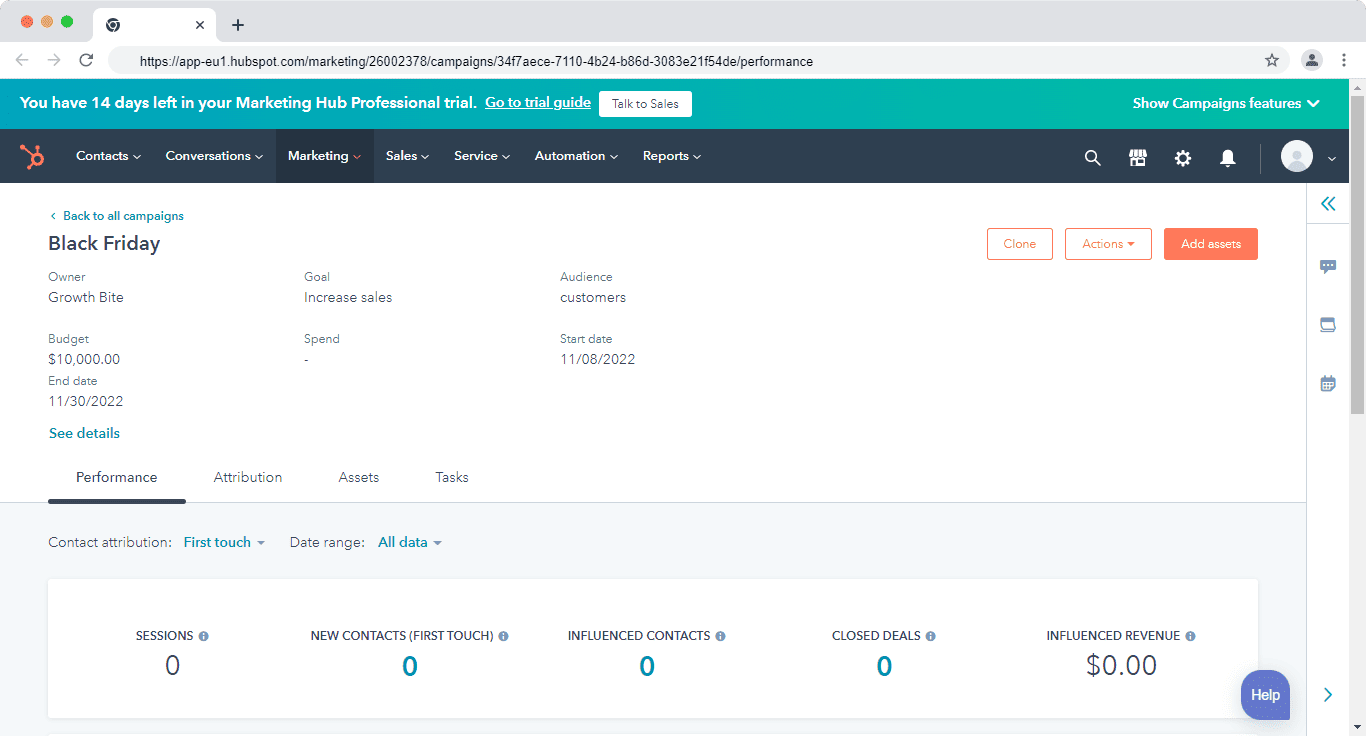 Read also: HubSpot vs Keap: Is HubSpot Really a Better Product?
SharpSpring
Much like HubSpot, SharpSpring lets you attract potential customers using ads, campaigns, landing pages, forms, and emails.
From the ads dashboard, you can break down campaign data by date or individual metric, and export campaign information as reports.
One unique feature is the media center. It allows you to create trackable resources such as white papers, coupons, and contracts that can be used in emails or workflows. When leads view these resources, you can track their interactions with them and follow up with them in a meaningful way. This is a great way to keep tabs on important content and see if your leads are actually engaging with it.
SharpSpring also shares one feature with HubSpot that most CRMs lack–the campaign feature. Campaigns are a way to track marketing initiatives, including landing page traffic and social media tracking. You can manage and view your campaigns based on attributes such as status ( active or inactive), the channel being tracked ( email, social media, etc), date range, tags, and attribution level.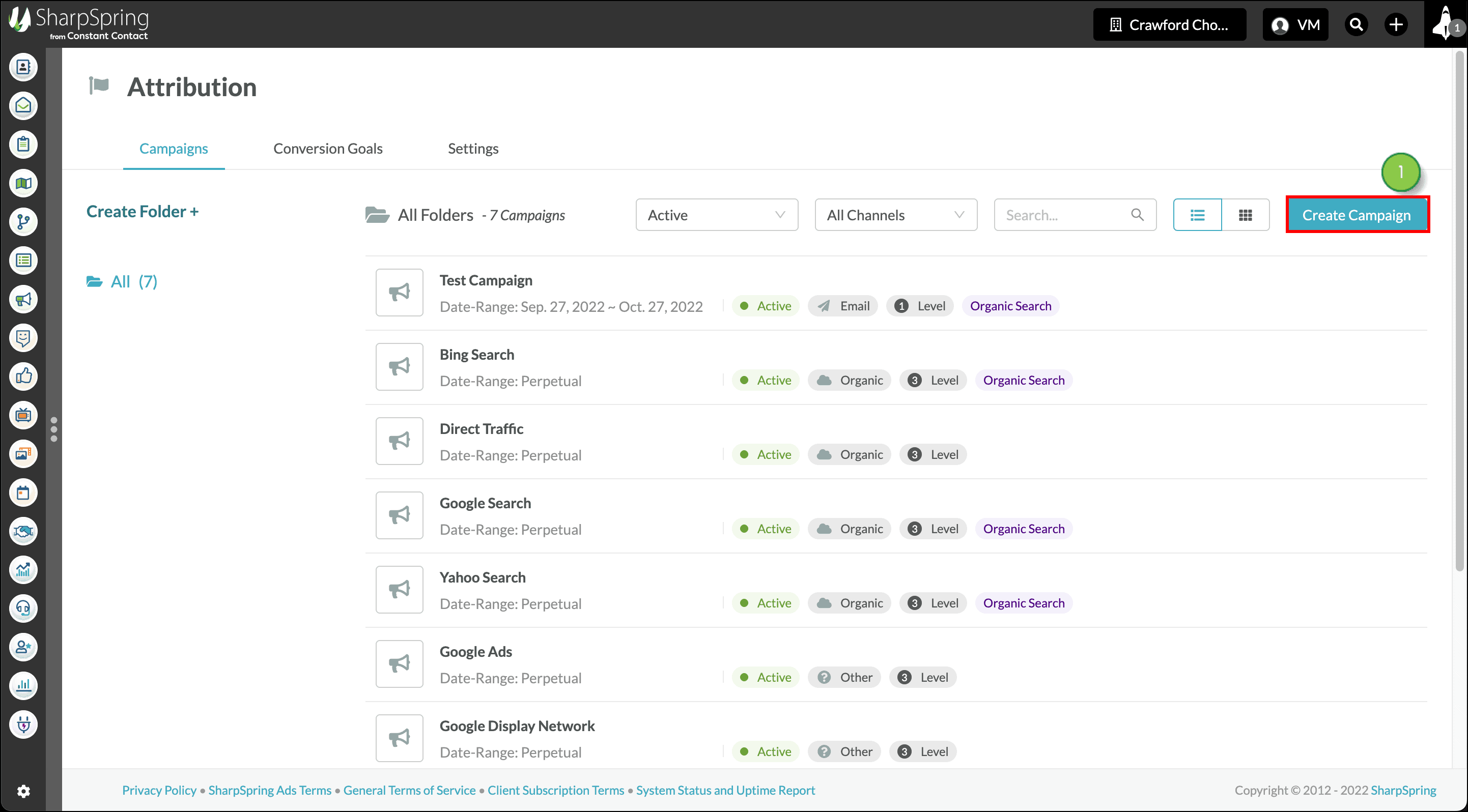 Marketing and campaign management verdict
They both have similar features but SharpSpring includes its features in all the plans, unlike HubSpot.
Read also: SharpSpring Pricing, Features, and Top 3 Alternatives
Integrations
This is one of the main differences between the two platforms since HubSpot offers more integration options than SharpSpring.
HubSpot
It has over 1,000 native integrations spanning different categories like HR, productivity, billing and invoice, e-commerce, and many more. You can find new integrations as your business grows and connect HubSpot with your existing tech stack with ease.
I have noticed, however, that some customers are having difficulty connecting to Salesforce.
For example, here's what Heather Bakire, a Content Marketing Manager at Revenue.io had to say:
"One downside is the Salesforce integration, which is less than perfect. The fields aren't always 1:1 and the metrics don't always transfer properly."
SharpSpring
SharpSpring lacks a lot in terms of the number of integrations available. Most of its integration is through Zapier, unlike HubSpot. It lacks native integration with even basic apps like Gmail, Facebook ads, and Google ads. Most of the integrations you'd have to build for yourself using their API.
Integration verdict
HubSpot has a better app marketplace because of the extensive native integrations and API access.
Read Also: HubSpot Pros And Cons — A Candid Assessment
Sales automation
Both HubSpot and SharpSpring allow you to build visual workflows that save you and your team's time. But SharpSping's automations lack templates, and it's more difficult to use.
HubSpot
You can create a workflow from scratch or use a template. When creating a workflow from scratch, select an object and workflow type that fits your goals, such as contacts, companies, deals, quotes, or tickets.
After that, you can set up enrollment triggers to automatically enroll records and choose actions that execute once the record is enrolled. Depending on your subscription, you may have access to different actions.
When finished, HubSpot lets you add additional enrollment triggers or actions if needed. You can also use a template to create a workflow that aligns with your goals, and then customize it to fit your specific needs. Once you've created a workflow, you can enable re-enrollment, clone or move actions, and add comments for reference.
You can also A/B test emails in a workflow. HubSpot will gradually distribute the email variations across enrolled records, ensuring that the 50/50 split is achieved over time as the number of recipients increases.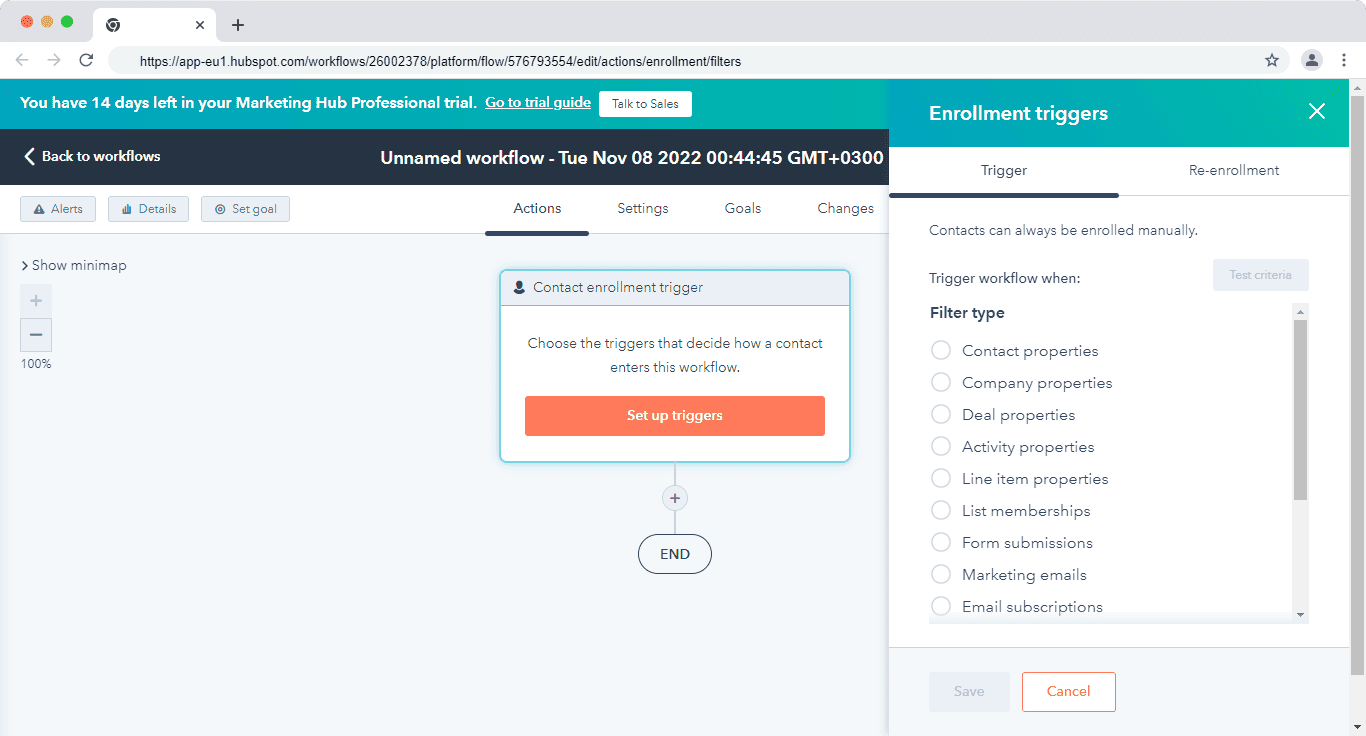 SharpSpring
SharpSpring's Visual Workflow Builder is a powerful tool that lets you create and visualize the journeys of your leads. It can be used to build simple or complex automation workflows that help control the paths your leads take toward conversion.
Once you have created a visual workflow, you can add branch content to it. Branch content includes actions, filters, delays, and action groups that make a workflow function. A yes/no branching filter is an optional part of automation that evaluates if specified criteria are met or not, then filters down the automation tree. This is common among most CRMs and automation software.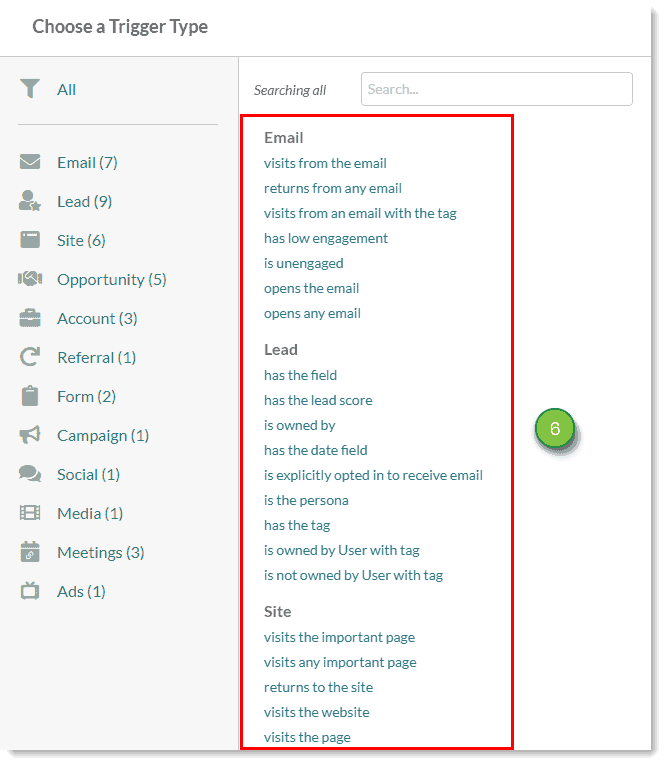 Sales automation verdict
HubSpot has a better sales automation feature because it's easy to navigate, provides templates and pre-built sequences, and it's generally easier to use.
Read Also: 9 Amazing Marketing Automation CRM Software [Comparison Table]
Reporting
One of the main factors that separate the two platforms is their reporting functions. HubSpot has more advanced and comprehensive reports than SharpSpring, and in this section, we'll look at how they compare.
HubSpot
Two features in HubSpot enable you to create and manage reports:
Dashboards are used to organize related reports in one view. You can create new dashboards for different reporting purposes, share them with other users in your account, and clone or delete existing ones to stay organized.
HubSpot makes it easy to manage your reports by providing templates. For example, the sales manager dashboard includes 8 reports that focus on your team's performance, such as deals open by the close date of this month and deals closed won all time by the rep.
You can also customize your dashboards and choose who can access them.
You can also create individual reports, filter the report list and manage existing reports from the report feature. The types of custom reports you can create depend on your subscription level.
These include single-object reports that let you analyze deals, quotes, custom objects, payments, etc. You can also create funnel reports to measure conversion rates between specific stages in a customer's lifecycle or deal pipeline.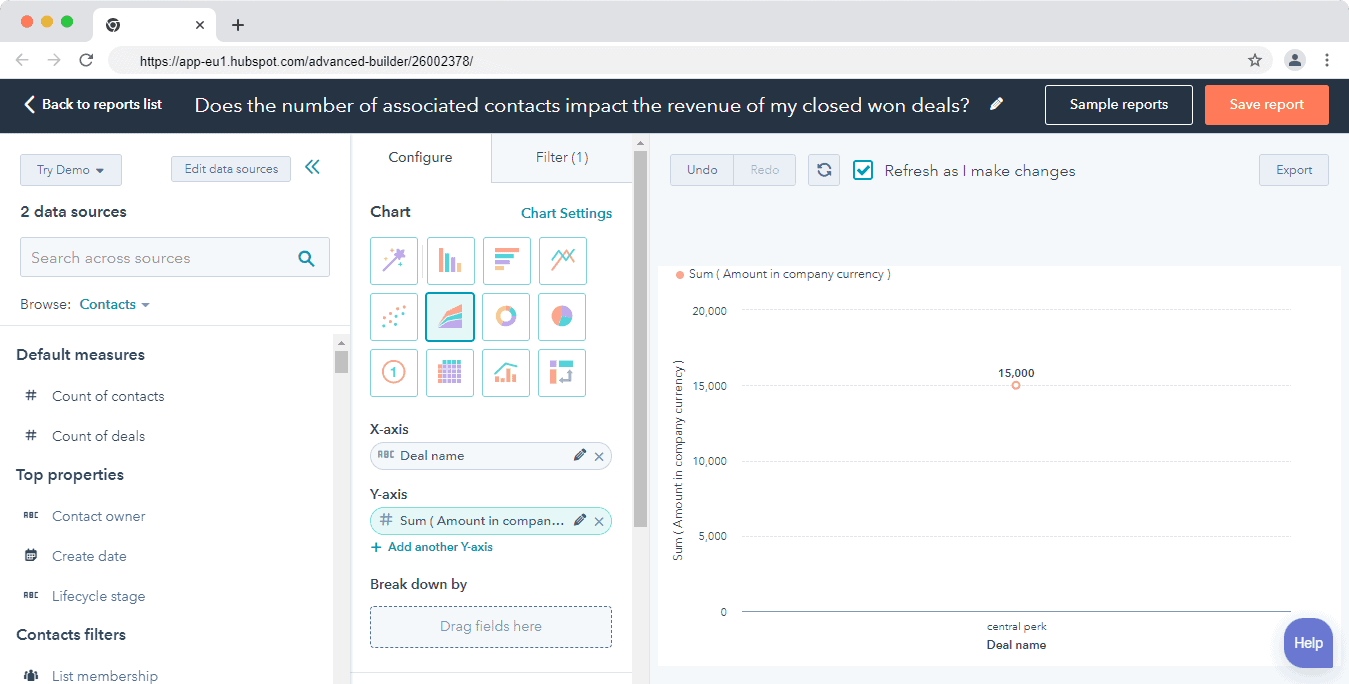 Read also: CRM Showdown: HubSpot vs Zoho Review and Comparison
SharpSpring
It offers a variety of reports for you, such as:
Pipeline Value report which displays all opportunities expected to close within a specified time period.

The Opportunity Health report allows you to monitor the performance of your pipeline opportunities.

For a specified date range, the Conversion Analysis report presents the current stage of each created opportunity.

The Won/Lost report provides information on all opportunities won or lost across all pipelines during a given timeframe.

The Sales Optimizer Tasks report generates a detailed report on the number of automated tasks per individual user and sales team.

The Activity report displays important tasks, notes, and statuses for a filtered set of opportunities.

The Follow-Up report shows the number of calls or emails that should have been sent alongside the actual calls and emails sent.
But it lacks detailed reports making it hard for you to draw meaningful insights.
Here's how Grant Eggleston, summed up his experience with SharpSpring's reporting:
"Reports can lack depth and detail, making it difficult to draw meaningful insights from the data. In addition, the lack of queries based on custom field values limits the ability to perform granular analysis. These issues call into question SharpSpring's effectiveness as an analytics platform and need to be addressed for satisfactory performance."
Reporting verdict
HubSpot has a better reporting function than SharpSpring. Its reports are diverse, comprehensive, and easy to understand. It's built for mature companies that need a better way to view, manage and share reports.
Read also: An In-Depth Look At HubSpot vs Pipedrive
Lead management
Both platforms offer lead management features, but they differ in how easy they are to use.
HubSpot
HubSpot lets you view the communication history with your leads, manage and prioritize them, and even score them to determine their level of engagement.
Its smart contact database takes it a step further by allowing you to track everything from conversations to social media posts and email interactions. This means you can get a deeper understanding of your contacts and tailor your communication to their specific needs.
With forms, live chat, automation, and chatbots, you can engage with leads right from the start. And once they are in the system, the universal conversation inbox ensures that your sales, marketing, and support teams can all interact with your leads and customers in one central place. So, you can easily keep track of all the interactions, and make sure that none of the leads slip through the cracks.
SharpSpring
It covers the basics of the lead management process. You can use forms, landing pages, and chatbots to capture leads and use automation, although not as comprehensive and easy to use as HubSpot, to nurture and engage with leads.
You can also personalize how you score leads based on what interactions are important to you. Custom attributes like tracking pages or media assets can help you to attribute point values. It also lets you group leads based on their score value and categorize them with different colors, which is helpful for reps to quickly see which leads are hot and which are not.
One handy feature is the life of the lead. It shows all the interactions a lead had with your website and marketing materials. You can see the history you have with a lead and understand how they engaged with your company even before they became a lead. This is equivalent of the 'smart contact' in HubSpot, which performs similar functions.
Lead management verdict
HubSpot has better lead management functionality. It includes all your leads' touchpoints from marketing, sales, customer service, and operations in one place. Its lead nurturing automation is also comprehensive and easier to use compared to SharpSpring.
SharpSpring vs Hubspot vs EngageBay: Which CRM Software is the Best?
EngageBay: A More Affordable and Powerful Alternative
HubSpot is a great option, but it can be pretty expensive. It has a lot of advanced features and can replace standalone apps like marketing automation software, but the cost may not be worth it for some.
On the other hand, SharpSpring is cheaper and offers almost similar prices at half the price. But its reporting features are limited and lack depth, its UI is a bit harder to navigate, it has few native integrations, and lacks automation templates.
That's where EngageBay comes in. It's cheaper than both platforms and has all of the advanced marketing, sales, and support features that HubSpot has. It's the best of both worlds.
Here's how Nadeem Ahmed summed up his experience with EngageBay:
"It is a helpful tool for small and medium-sized businesses, providing a range of automation and workflow features for sales, marketing, and support. The platform is easy to use and offers good customer service, including the ability to quickly implement new features upon request. Its all-in-one solution and affordable price point make it a good choice for startups and small businesses."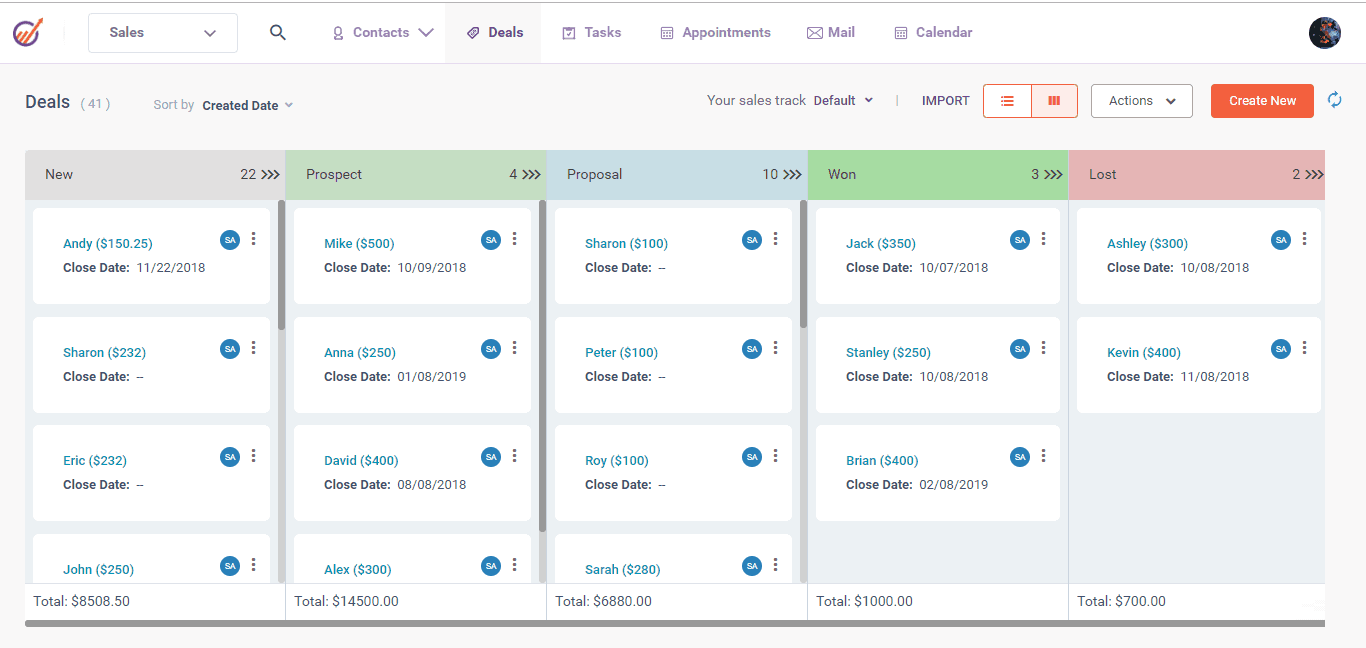 You can create specific pipelines for each of your products and run all sorts of automations with multiple triggers. Plus, you get a big-picture view of all the different touchpoints in your customer's journey, so you can gain valuable insights into their behavior.
You also have the ability to run drip campaigns, create forms and landing pages, automatically score leads, and segment your customers based on their actions.
And if you want to provide contextual customer support, the platform also comes with free help desk and live chat software. You can chat with your customers in real-time and provide relevant support. Plus, you can run ticket automations, assign tasks to your team, and view all customer interactions with your company in one convenient dashboard.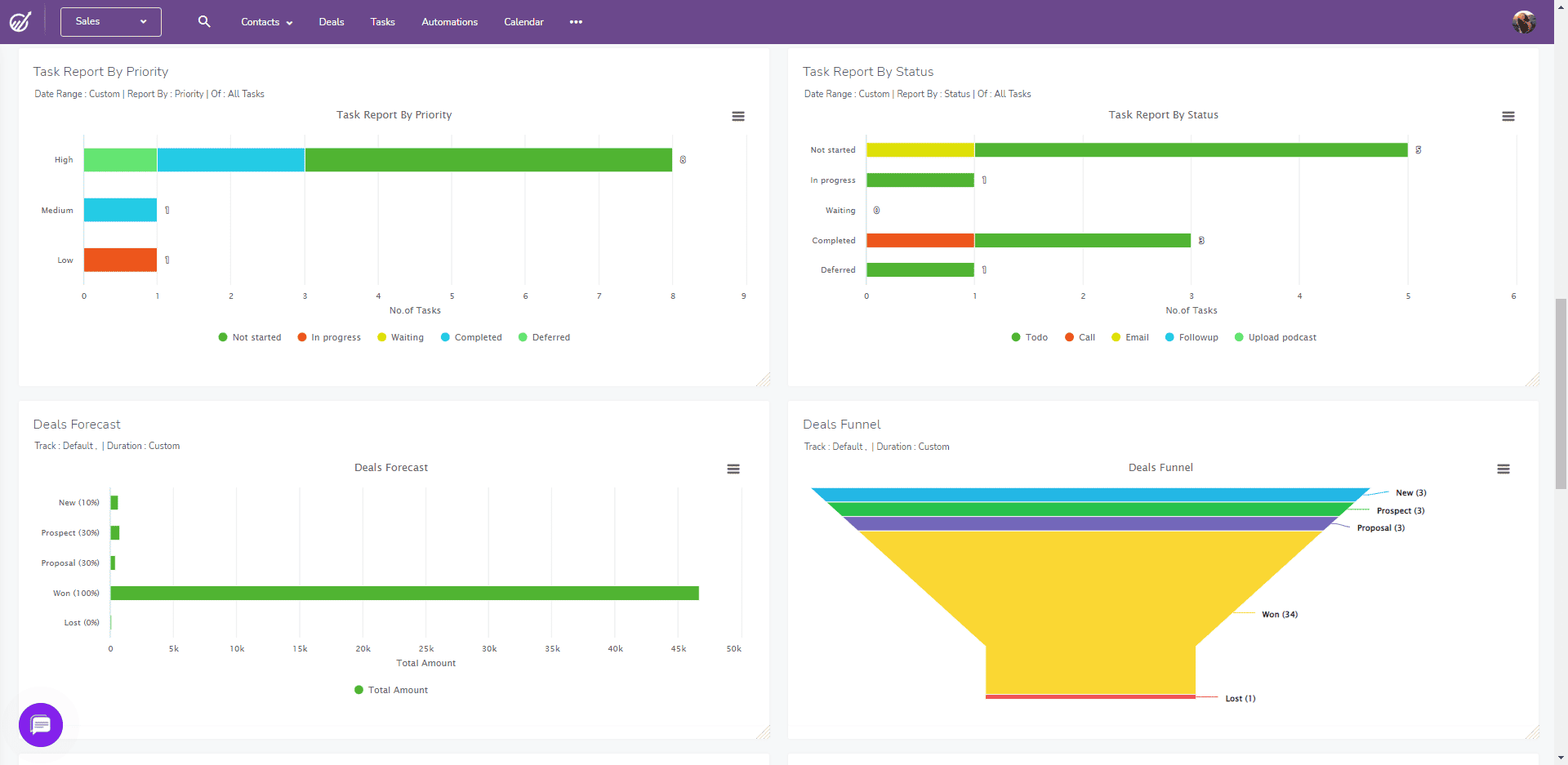 Read also: EngageBay vs HubSpot: Market Leader or Emerging Powerhouse?
Wrapping up
HubSpot suits you if you need a CRM that provides detailed reports, integrates well with your tech stack, it's easier to use, saves reps time, and has an advanced automation builder.
SharpSpring suits you if you need a tool that costs half the price and offers almost similar features. But the lack of integrations with popular apps and its simple reporting features might not be suitable for big teams.
EngageBay is a better alternative; it packs a punch like HubSpot, is easier to use, and much easier to afford 🙂