You need a CRM, but does it have to be as expensive as SugarCRM?
No, it certainly does not!
In this blog post, we'll first examine the SugarCRM pricing and features to help you understand its pros and cons.
Next, we'll look at more SugarCRM alternatives and compare their features and pricing with SugarCRM.
By the time you're done reading, you'll be confident about picking a CRM solution that matches your small business budget.
Let's get started!
What Is SugarCRM?
This software was launched in 2004. The California-based company used to call the product only 'Sugar' earlier, but that was when there weren't so many CRM software in the market.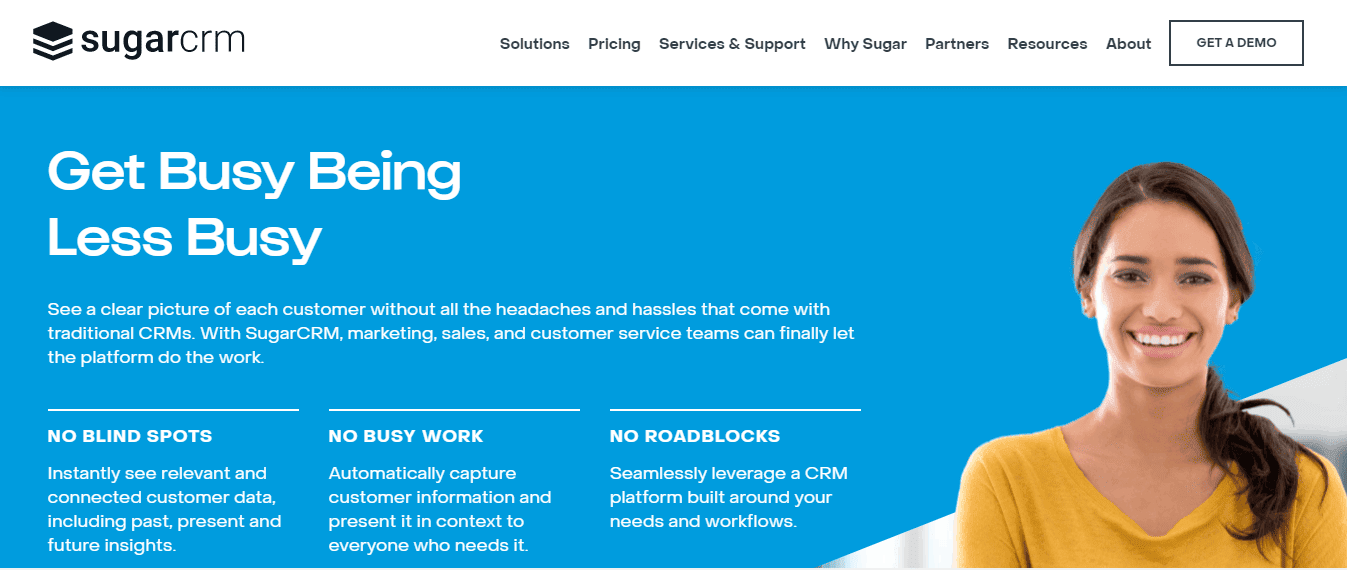 SugarCRM offers all the features you'd come to expect from CRM software, including social CRM, mobile app, collaborative features, customer support, marketing campaigns, automation, and reporting.
SugarCRM amassed two million active users by 2017 and continues to grow well. Some of its high-profile clients include Tetley, Tyson, Star2Star Communications, Act Enviro, and Sennheiser.
SugarCRM Features
So, what does SugarCRM offer? Let's look more closely.
Predictive lead scoring: You're looking for more qualified leads, but finding the time to do so yourself is hard. SugarCRM has automation-driven predictive lead scoring that will identify more marketing-qualified leads or MQLs.
Multi-channel marketing: SugarCRM promises multi-channel marketing options such as predictive analytics, social media engagement, and email marketing for both inbound and outbound purposes.
Form builders: Do you want to send an email that shines or build a landing page that converts? SugarCRM has a free form builder that also works for making opt-in forms and other types of forms. The form builder is drag-and-drop type.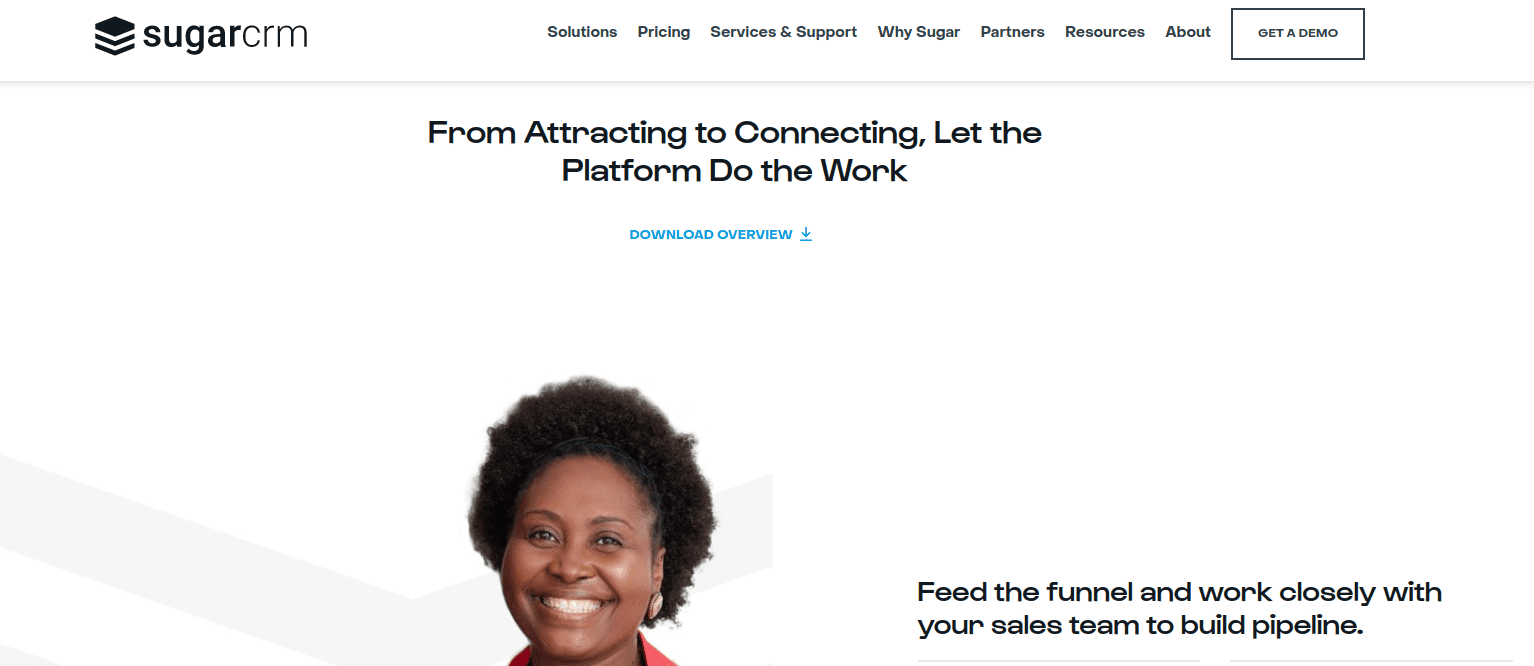 Lead interest analysis: Which leads are the likeliest to convert? With lead interest analysis from SugarCRM, which uses AI, you'll know.
Data reporting: SugarCRM has Advanced Analytics within its Sugar Market that provide BI-level reporting.
Sales predictions: What will your company's sales look like over the next month or even further out? The SugarCRM AI known as SugarPredict will tell you.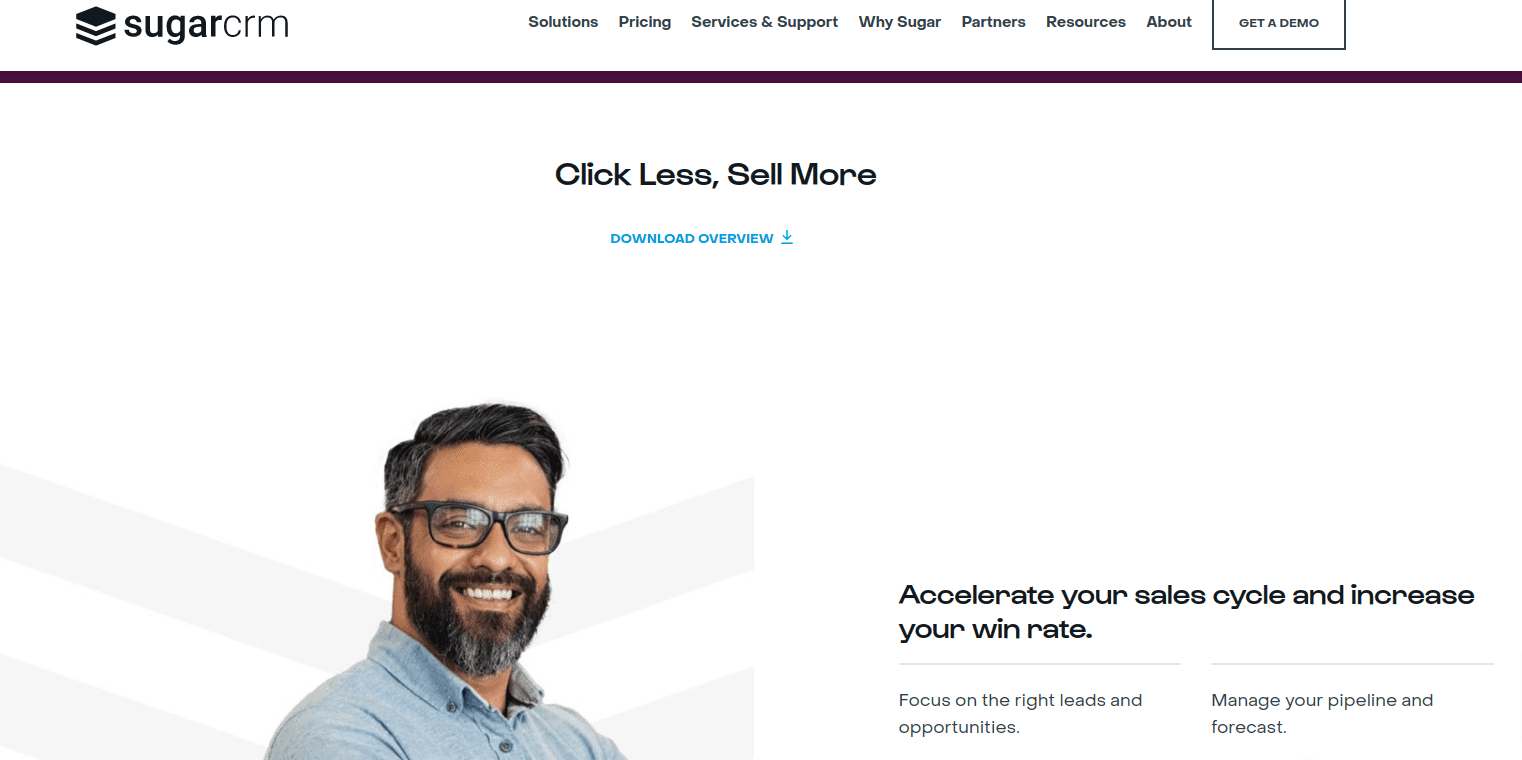 Full customer records: From the moment you log customer information into SugarCRM, it begins creating a historical database on that customer, including their past and present interactions with your sales staff.
Automated data-logging: Your sales team will appreciate having more spare time to focus on selling when SugarCRM logs data using automation workflows.
Subscription accounts: Keep your audience subscribed now and in the future by using subscription support.
Call routing: For customer service reps, you can route all incoming customer service calls to other members of the team so reps only tackle the issues pertinent to them and their skillsets.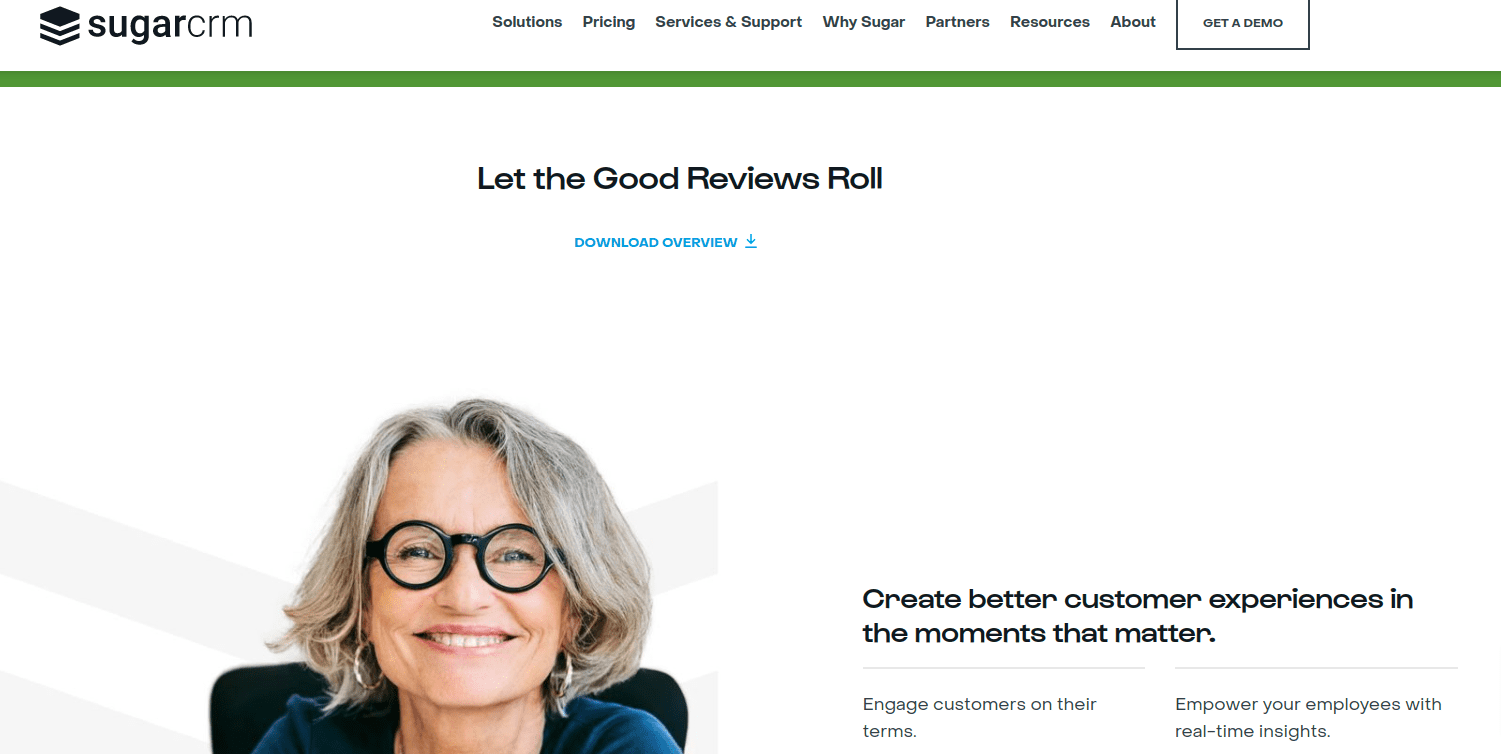 Compliance: Do you worry about staying compliant with GDPR and other regulations? SugarCRM can help you.
Mobile support: SugarCRM has a mobile app, so you can take your marketing or sales tasks with you no matter where you have to travel for work (or pleasure).
Discover the strengths of the top HubSpot competitors in our detailed guide, and see what suits your business best.
SugarCRM Pricing
You're probably wondering how much SugarCRM costs. Here's a breakdown of SugarCRM pricing.

Sugar Enterprise
SugarCRM plans are quite expensive. Take Sugar Enterprise, for example. This plan is for "highly-tailored, on-premises CRM applications" and costs $85 a month for three users when billed annually.
You gain access to more features, among them four support-authorized contacts, SugarCRM Support Portal and phone support, accelerated support SLAs, SQL-based reporting, and SugarBPM advanced workflows.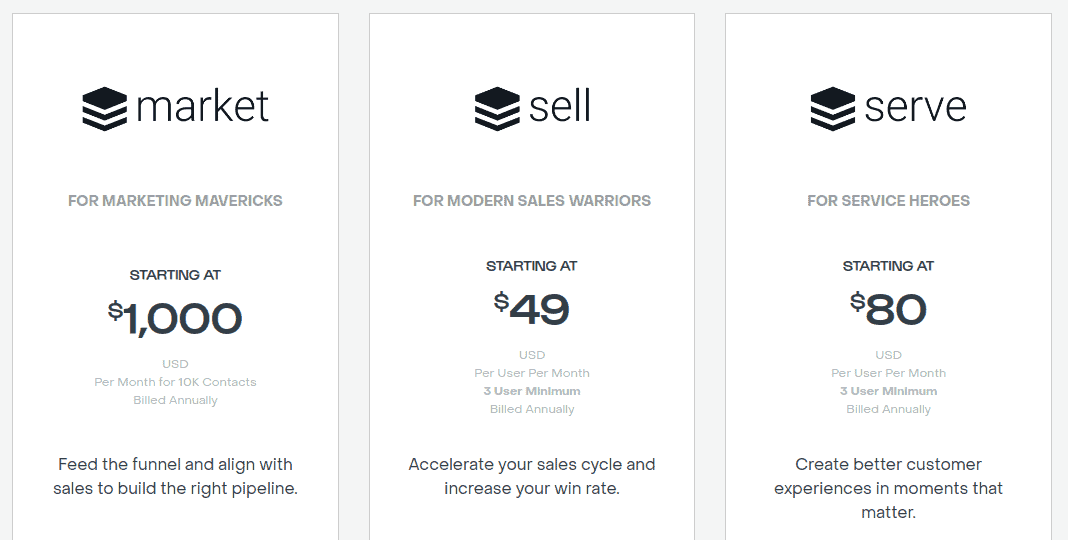 Sugar Serve
For growing companies looking for greater customer service and support, the Sugar Serve plan is the right fit. It costs $80 per month for three users when billed annually. The added features are phone support, 60 gigabytes of file storage, and two sandbox instances.
Sugar Sell
As the name implies, Sugar Sell is the plan geared towards sales reps. Its price is also $80 per month for three users when billed annually.
Sugar Market
The last plan from SugarCRM is Sugar Market. As you guessed, this is their marketing plan. You can create unlimited landing pages and emails, but this plan costs $1,000 a month for 10,000 contacts.
Read also: How Much Does CRM Cost? Pricing for 18 Best CRM Software
The Downsides of SugarCRM
SugarCRM is a nice platform to help automate a lot of business tasks, but it comes with quite a hefty price tag. Take a look at all the cons of SugarCRM:
High Prices
The $52 a month plan from SugarCRM could be cheaper, especially for a plan that's designed for small businesses.
As you'll recall from the last section, most of the plans are capped at only three users per account. If your small business has six people and you want to use the Sugar Professional plan, it's $104 per month.
Although SugarCRM is a comprehensive tool–as it rolls marketing, sales, and customer service into one–a three-figures-a-month CRM can just drain the entire marketing budget of small businesses.
Hard to Use
Users have complained about many interface issues within SugarCRM.
Some of these are rather benign things such as the lack of colors in the software. Others have said that using certain features such as launching a marketing campaign is far harder than it should be.
Slow Speeds
CRMs are supposed to simplify your day-to-day working life. If you have to wait for your CRM to load or operate tasks and functions, that sort of defeats the purpose of having one, right?
Yet, users have complained that SugarCRM is rather slow.
SugarCRM Customer Reviews
Let's take a look at a few user reviews, shall we?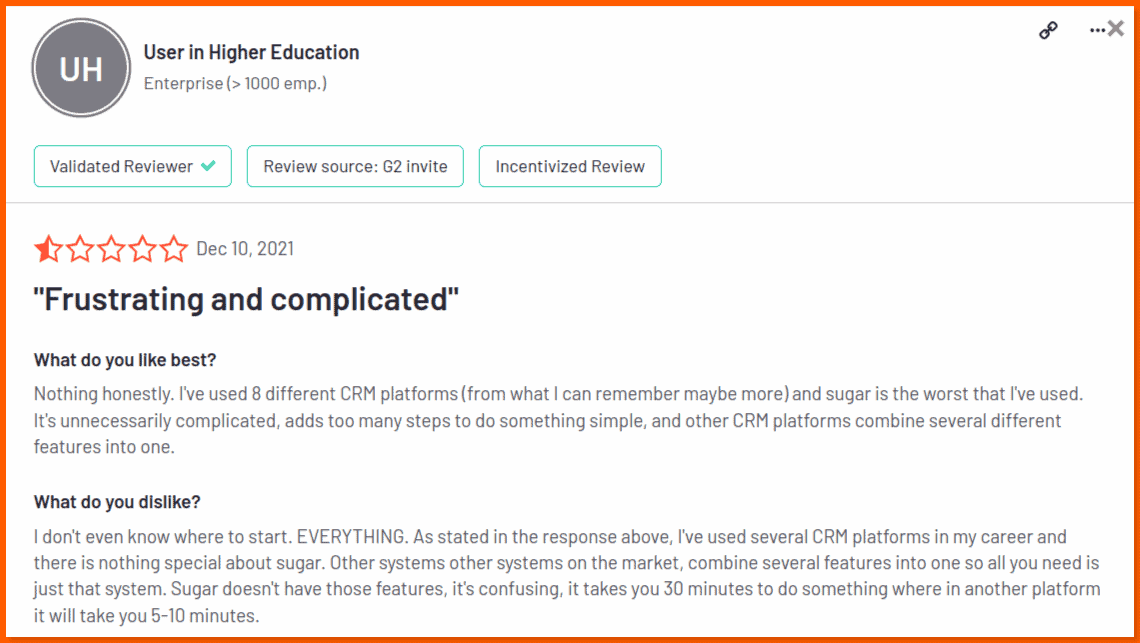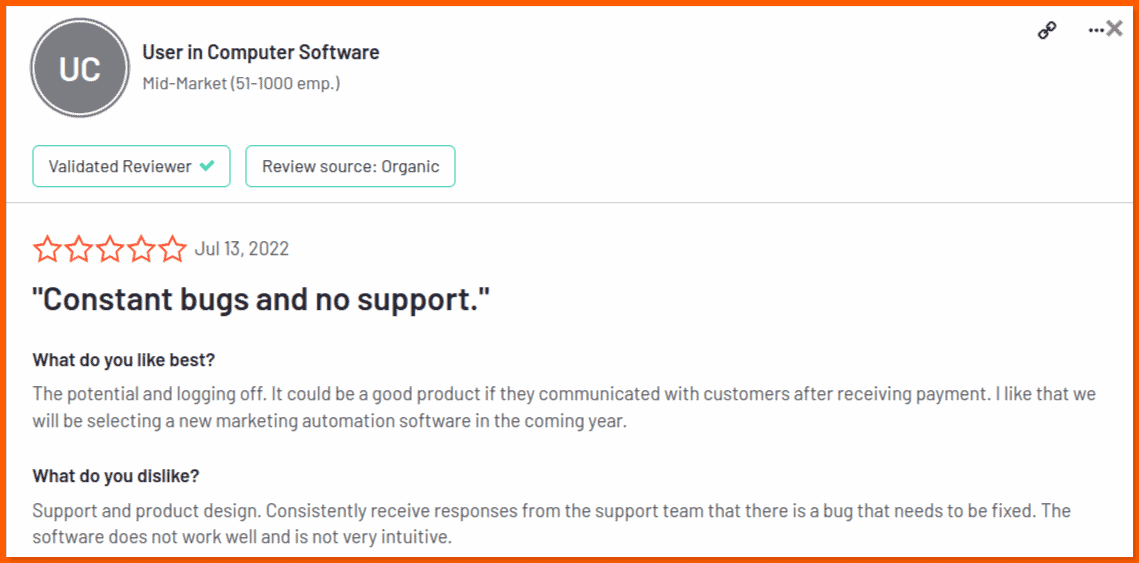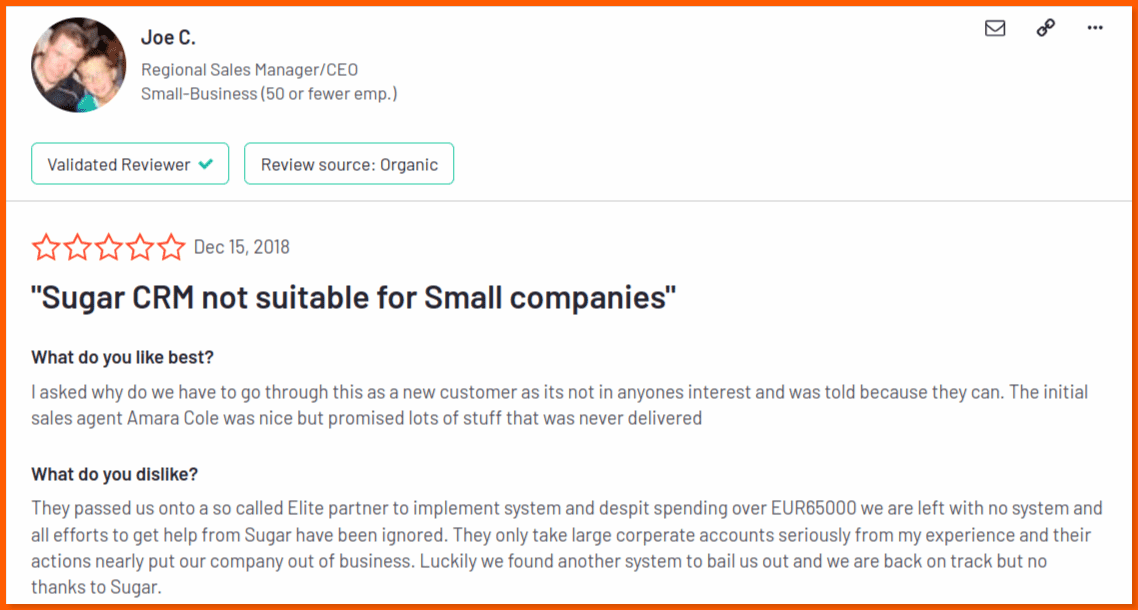 Freemium and Affordable CRM Alternatives
Have you decided that SugarCRM pricing is too high for your startup or small business needs?
You're not alone!
In this section, we talk about two SugarCRM competitors that won't break the bank. These are EngageBay and ActiveCampaign, and here's what you need to know about them.
EngageBay
Founded in 2017, EngageBay is an all-in-one sales, marketing, and customer support software with integrated CRM, so it's directly comparable to SugarCRM.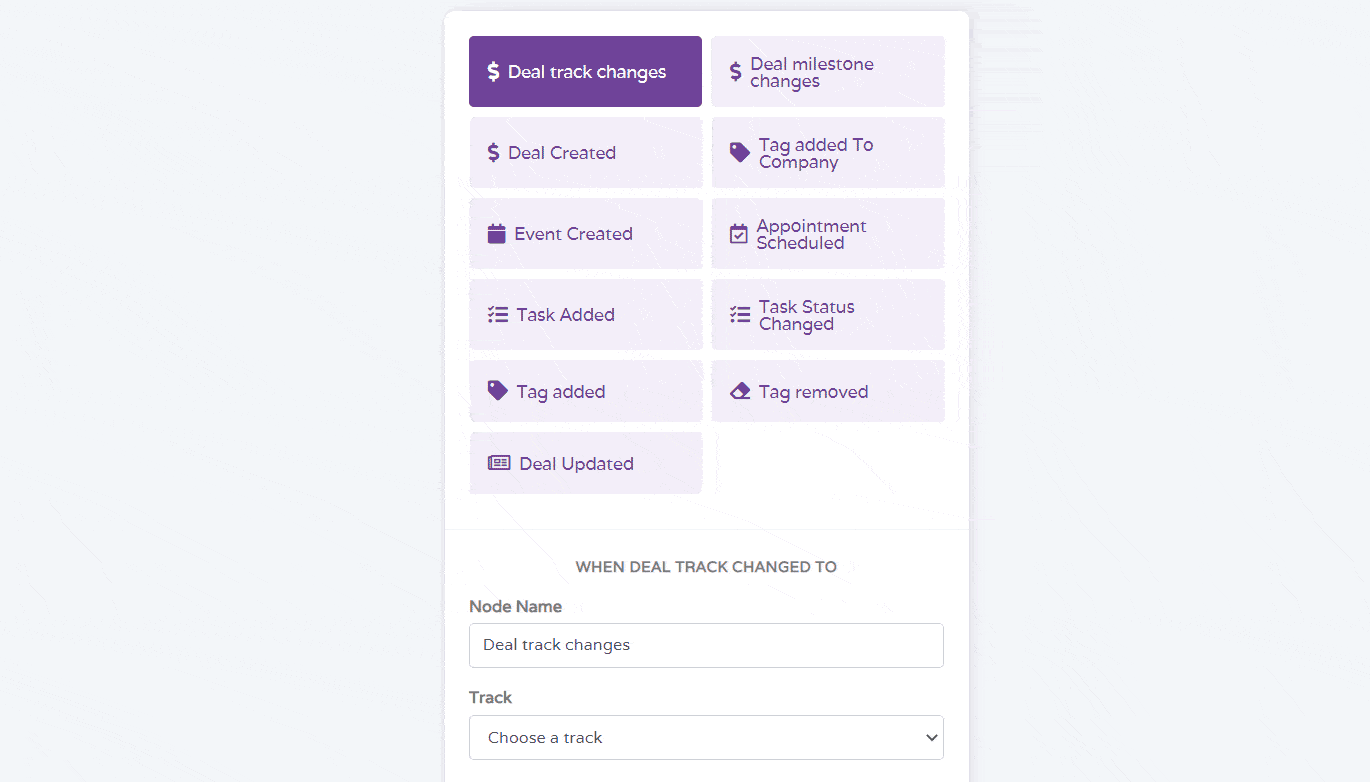 Originally designed as a lower-cost alternative to HubSpot, EngageBay is now a comprehensive, holistic solution for all businesses.
Four years into its launch and 30,000 happy customers later, EngageBay has remained the world's most affordable integrated CRM software.
EngageBay Features
EngageBay has four products: the All-in-One Suite, the Marketing Bay, the CRM & Sales Bay, and the Service Bay. Here is a smattering of features from each Bay:
Marketing automation: Whether you want to segment your customers, track prospects, engage your web visitors, or post to social media, EngageBay's marketing automation features make it all work, and easily so.
Email marketing: Launch your most comprehensive email marketing campaigns yet in EngageBay when you build emails using the drag and drop tool. You can also use templates of emails and personalize them, so your emails appeal to your various audience segments.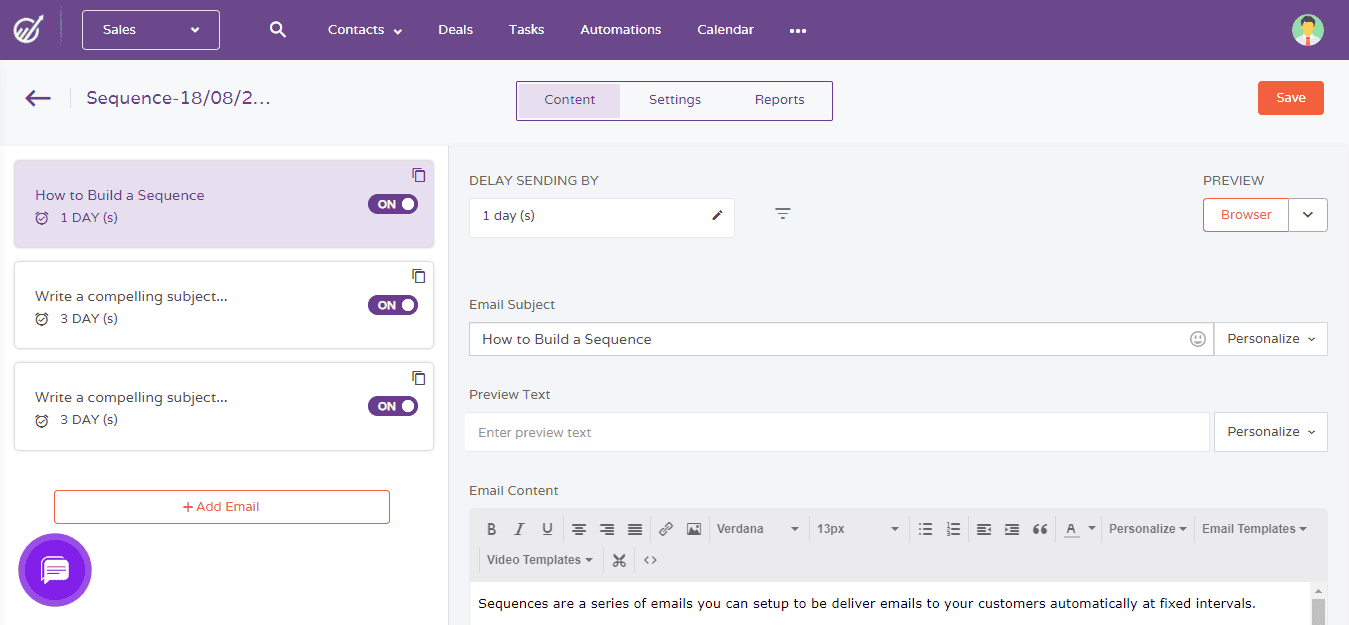 Form builder: Building forms and pages in EngageBay couldn't be easier. The drag-and-drop form builder lets you customize the look and feel of all your web forms from the bottom up so they're uniquely yours.
Lead scoring: Segmenting your audience is something that EngageBay's CRM can do for you automatically. You set the parameters of lead scoring and let EngageBay take care of the rest.
360-degree customer view: The incredible 360-degree view you get into your customers as an EngageBay user will help you understand your audience better than ever before. You can track the past communications of your customers and leads, including phone calls, SMS, site chat history, and emails. Your sales team can have full access to this data so they have clear direction when they speak to your prospects and clients.
CRM Telephony: The CRM Telephony is also built-in, so you don't need another app to make calls, record them, or access the call scripts. Do it all from one place, even for international customers.
Live Chat: The free live chat software integrated with EngageBay lets you track chat requests, manage past chats, change the chat category, let your customers figure things out with chatbots, and much more.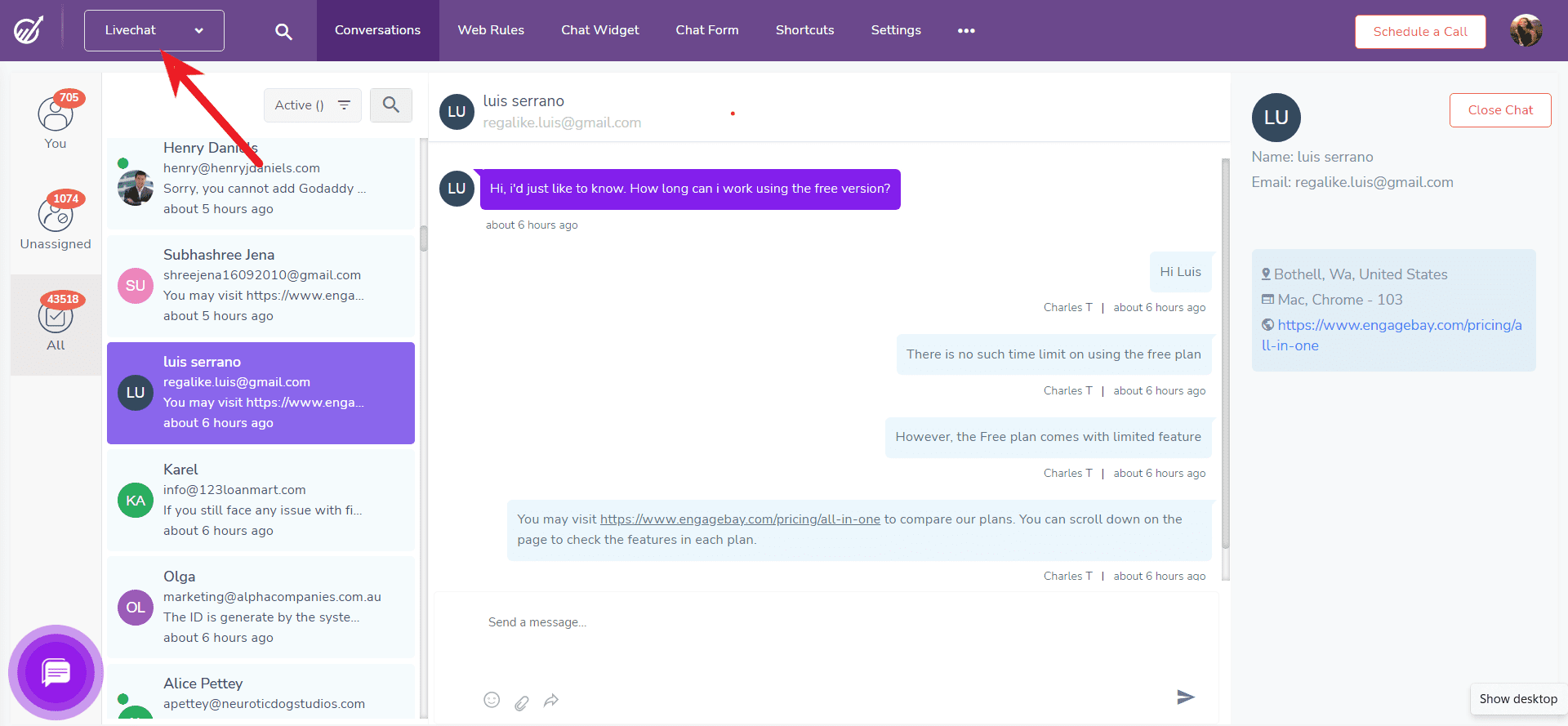 Visual deal pipeline: The highly intuitive visual deals pipeline in EngageBay makes it easier to review the progress of all your leads and customers across the sales funnel. Your sales team can see visual predictions of revenues by projects, financial year or quarter, and even for particular sales reps, managers, or project owners.
Reporting: The detailed insights in areas like sales, marketing, and customer service that you can glean from EngageBay's reporting will enhance your small business decision-making. You can even add your own custom metrics to generate business or marketing and sales reports.
EngageBay Cost
Many of EngageBay's features are free, including the integrated CRM and the Service Bay. These remain free forever.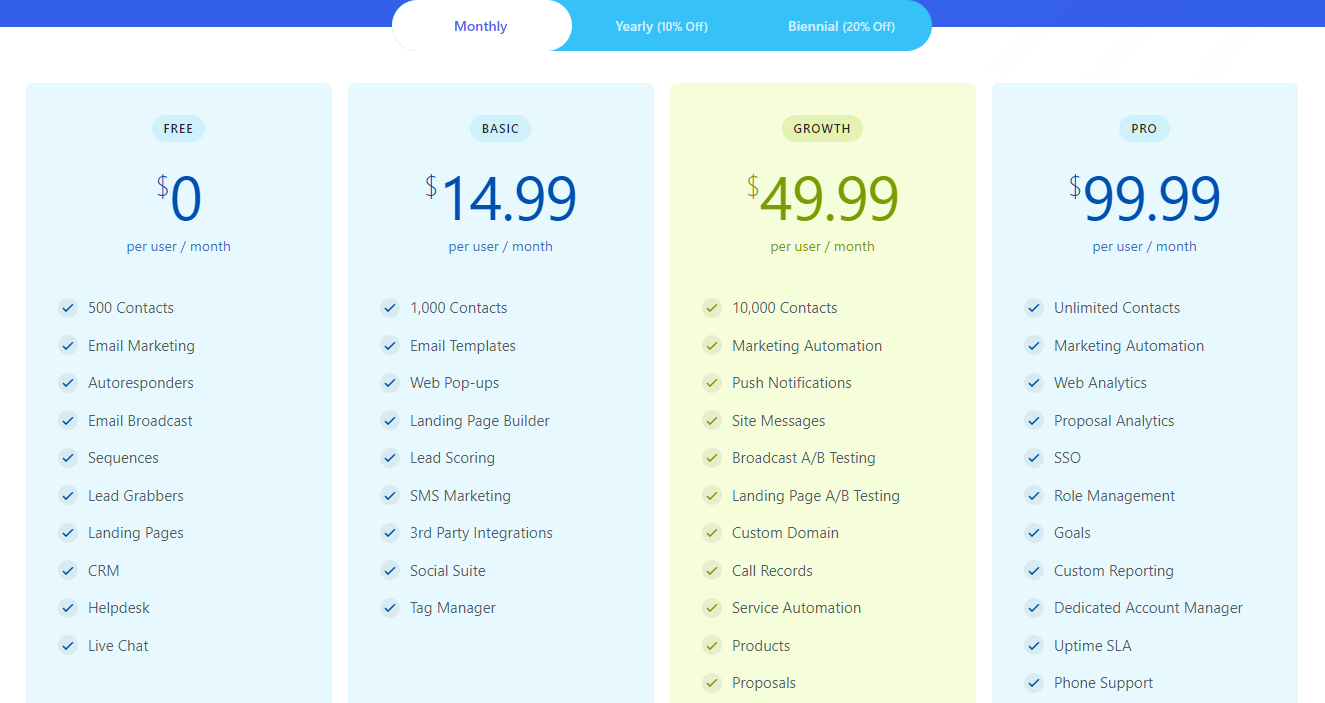 You can also select from a Free plan for the other three Bays. Whichever Bay you pick, the following features are free to use forever:
Live Chat
Helpdesk
CRM
Landing pages
Lead grabbers
Sequences
Email broadcasting
Autoresponders
The paid plans start at $14.99 per month. The most expensive plan, the Pro plan, is $99.99 per user.
The features available in the Pro plan are:
Phone support
Uptime SLA
Dedicated account manager
Custom reporting
Sales goals
Role management
SSO
Proposal analytics
Marketing automation
Related blog: Best CRM Functionalities: Zoho, HubSpot, and EngageBay compared
ActiveCampaign
The second SugarCRM alternative we want to delve into is ActiveCampaign. This cloud software was founded in 2003.
Their solutions are for a large variety of industries, spanning fitness and nutrition, healthcare, nonprofits, hospitality and travel, entertainment and arts, and e-commerce.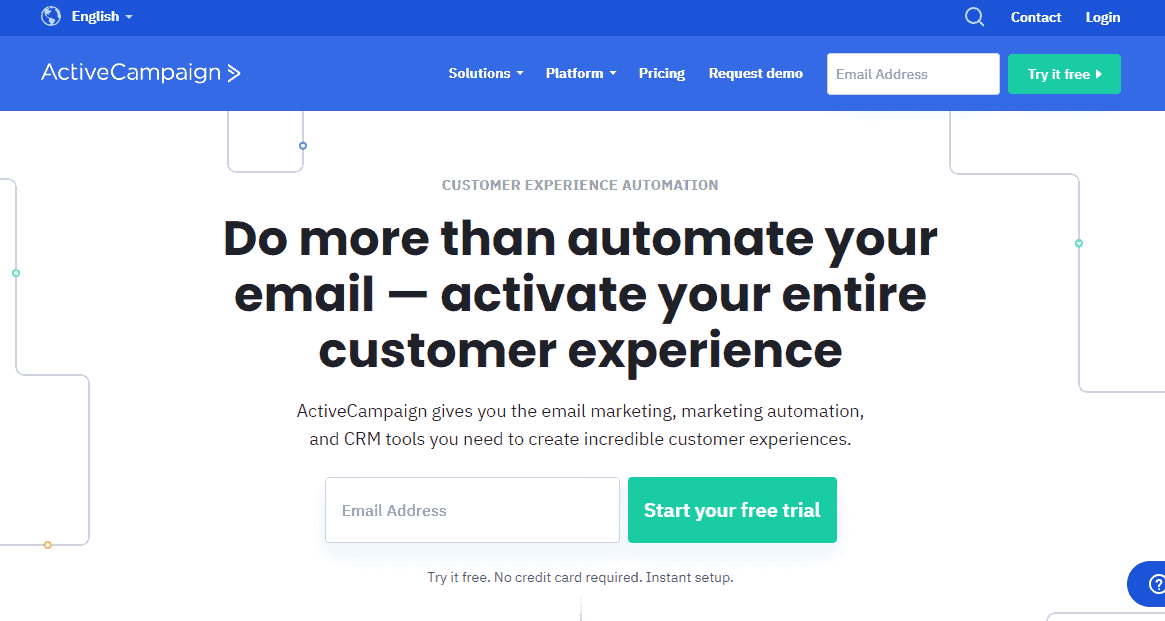 ActiveCampaign Features
ActiveCampaign offers a wide range of key features.
Email marketing: ActiveCampaign lets you expand your email marketing campaigns, sending a bevy of email types. Your options include email funnels, triggered emails, email autoresponders, and broadcast emails. Segment your email audience and schedule email sending as well.
Marketing automation: The automation workflows available in ActiveCampaign use standard "if, then" rules that put you in the driver's seat. Your marketing campaigns have never been so hands-off!
Lead segmentation: Continually tracking and scoring your leads can be difficult work, but not with ActiveCampaign. You can create automation workflows to divide your leads into different buckets.
Customer lifecycle data: ActiveCampaign's automations map presents pertinent customer lifecycle data, including historical data.
Sales automation: Separate from the marketing automation features are ActiveCampaign's sales automation. You can still use the same easy automation workflows with "if, then" rules, though!
Contact management: Who is your audience? How many of them are actively engaging versus those who aren't? By automating contact management in ActiveCampaign, your sales processes move swiftly.
Mobile app: ActiveCampaign has a mobile app called Deals CRM that's especially valuable for salespeople. You can change deals (including opening or closing them), call customers, create tasks, assign work, and review your contacts anytime within the app.
ActiveCampaign Cost
How much does it cost to use ActiveCampaign? Their services are priced by how many contacts your small business has.

If your contacts list is small at 500 customers, then the Lite plan starts at $9 per month, the Plus plan is $49 per month, the Professional plan is $129 per month, and the Enterprise plan is custom-priced.
Once you get to 5,000 contacts, now the Lite plan is $79 per month, the Plus plan is $149 per month, the Professional plan is $209 per month, and the Enterprise plan is custom-priced.
Some of the features included in the Lite plan are:
Three users
More than 850 integrations
Over 500 automation recipes
Lead segmentation
More than 125 email templates
Lead imports
Subscription forms
Email builder
Marketing automation
The Enterprise plan boasts these features:
Unlimited users
Free design services
Social data enrichment
Unlimited email testing
Custom domains
Custom mailserver domains
Custom reporting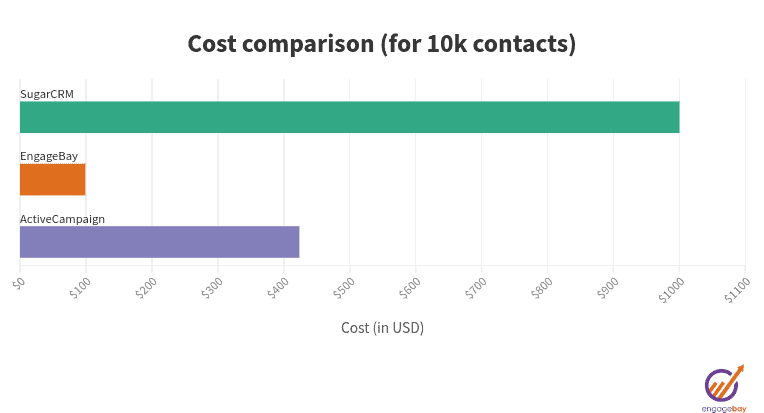 If the cost of SugarCRM is overwhelming your small business, know that you have alternatives. Here are some affordable CRM software options, including freemium services.
Read also: 11 of the Best ActiveCampaign Alternatives
Zoho CRM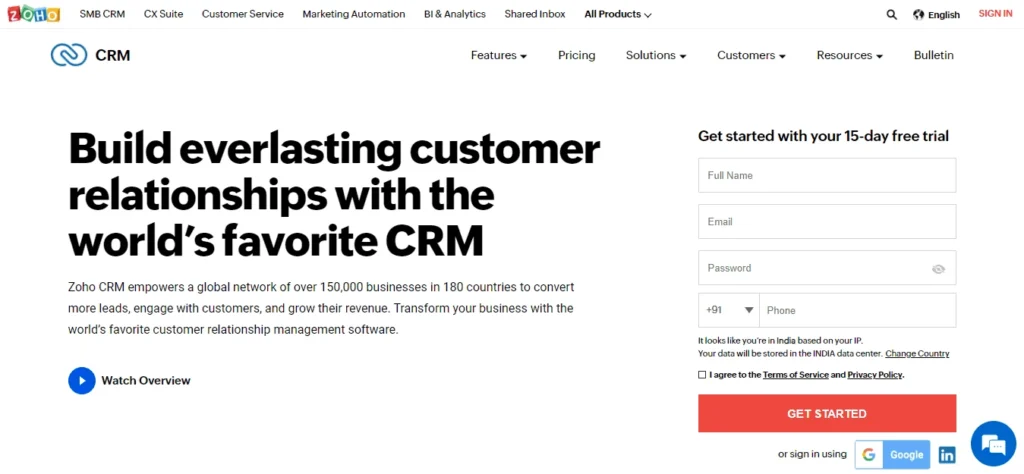 Zoho is a business cloud software suite with marketing, finance, customer support, sales, HR, and legal services. We'll focus on the CRM and how it can help your small business scale up its operations.
Zoho CRM Features
The following features are included with Zoho's CRM:
Customer journeys: Better understand where your leads and customers come from and where they may go next with Zoho's rich customer journeys.
Automation: How much time do your teams spend on menial tasks? It's time to cut down on the busywork with Zoho CRM's automation features.
Lead management: Zoho's CRM will help you generate more leads with lead capture tools. You can also automate lead scoring to find more qualified leads.
Deal management: How fast does your sales team close deals? With Zoho deal management, you can speed up the process. Manage leads across various stages and strike when the iron is hot.
Contact management: Zoho's contact management feature provides valuable insights into your audience so you can reach them according to whatever channel they use the most.
Zoho CRM Cost
Zoho offers free trials for its two CRM plans, CRM Plus and CRM Flex.
The CRM Flex plan starts at $28 per user per month on the annual plan. You can choose specific users and editions for every app and pick only the apps you'll use.
CRM Plus costs $57 per user per month on the annual plan. This fully-integrated plan opens access to all apps for every user, with eight apps included.
Read also: Zoho Alternatives: 15 CRM Solutions For Smart Sales Teams
Insightly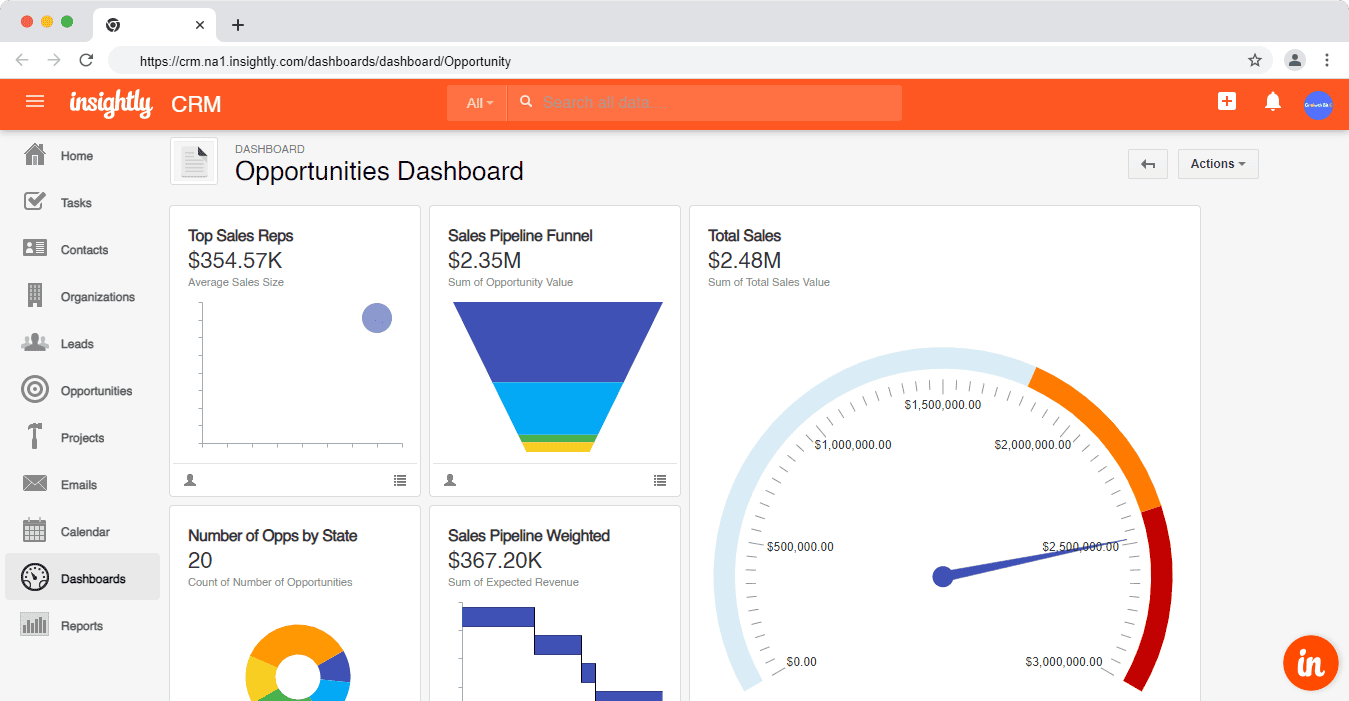 Insightly's software grows with you so that as your small business becomes not-so-small, you have a CRM solution you can count on. You should find Insightly a much better option for your startup than SugarCRM!
Insightly Features
Let's dive into Insightly's scalable CRM software and its features.
Convertible sales pipeline: The sales pipeline you create within Insightly will help you convert higher-quality leads, as you can recognize more valuable opportunities within the pipeline.
Lead management: When your influx of leads becomes a deluge versus a trickle, manage your leads using Insightly. Gain data on your leads and open up the data to relevant members of the sales and marketing teams.
Opportunity management: Customize your pipeline to make the most of every sales opportunity as it arises.
Insightly Cost
If you're interested in trying Insightly's CRM, you must first choose among three pricing plans: Plus, Professional, or Enterprise.
The Plus plan costs $29 per user per month when billed annually. The plan includes these features:
Lead management
Custom emails
Email automation
Web-to-lead capture
Contact management
Opportunity management
Custom sales processes
Insightly's most popular plan is the Professional plan for $49 per user per month when billed annually. You can use all the features in the Plus plan and:
Outbound email scheduling
Custom queues
The Enterprise plan is priced at $99 per user per month on the annual plan. Continue to expand on available features with everything above, plus:
Lead routing
Lead assignments
Unlimited insight cards
Read also: 12 Incredible Insightly Alternatives for Small Businesses
Freshsales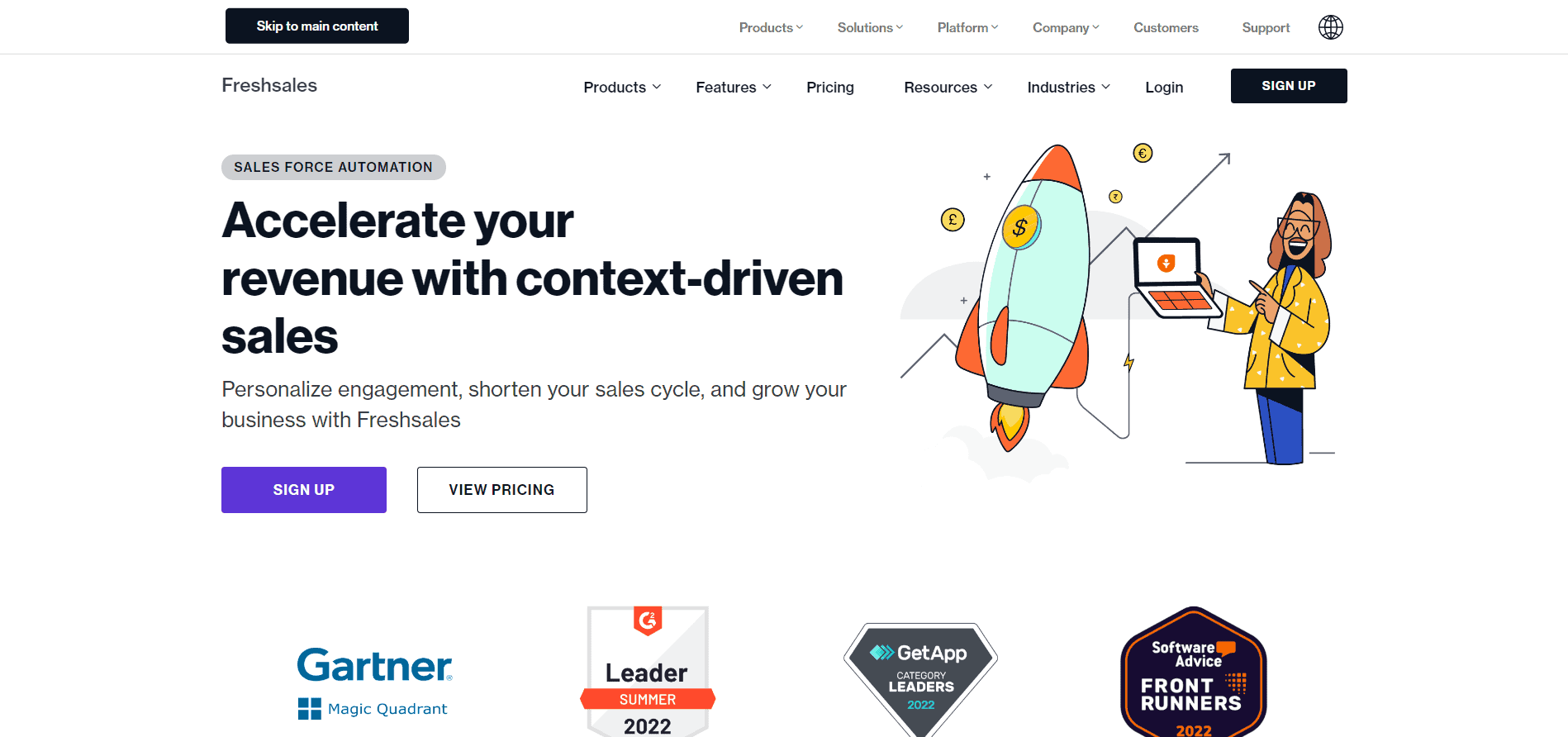 Once you take a look at Freshsales' sales CRM, you might wonder why you ever used SugarCRM. Between the myriad of features and the better customer service rating, Freshsales has a lot to offer.
Freshsales Features
Here are the features included in Freshsales' all-in-one CRM.
Landing page builder: Create landing pages to inspire sales within Freshsales.
AI chat: When your audience has questions, you have answers. Freshsales' AI chatbot acts on your behalf when you're unavailable.
360-degree view: Better understand your users with Freshsales' detailed, insightful customer views.
Freddy AI: Which of your leads are the most viable? You can easily answer that question using Freddy, Freshsales' AI tool.
Campaign analytics: How well are your sales and marketing campaigns performing? With rich, detailed analytics, you can get all the data you need to plan future campaigns more successfully.
Freshsales Cost
To start using Freshsales CRM today, select from three affordable pricing plans.
The Growth plan starts at $15 per user per month if you have 1,000 contacts. This plan is free for three users and includes the following:
Social media campaigns
Workflows
Contact management
Multichannel engagement
Account management
2,000 bot sessions a month
Deal management
Continue growing with the Pro plan, which starts at $39 per user per month if you have 1,000 contacts. You can use all the Growth plan features and:
Territory management
AI insights
Sales team management
AI Next Best Action
3,000 bot sessions a month
Multiple sales pipelines
Customize your CRM to the nth degree with the Enterprise plan, which starts at $69 per user per month if you have 1,000 contacts. The Enterprise plan is jam-packed with features, including everything above and:
Transactional emails
5,000 bot sessions a month
Dedicated account manager
Custom modules
AI forecasting insights
Read also: 5 Freshworks Alternatives for Great Customer Support
Capsule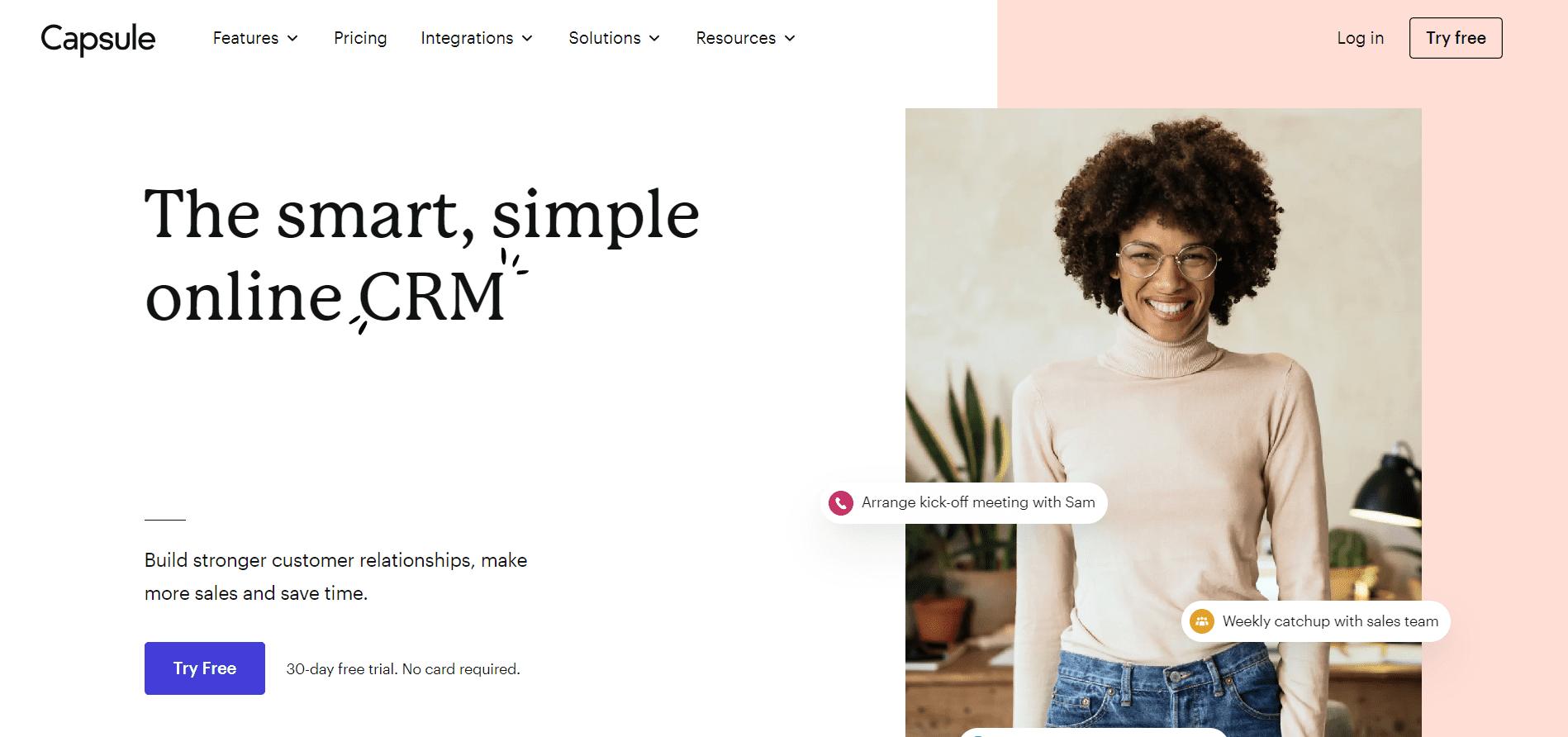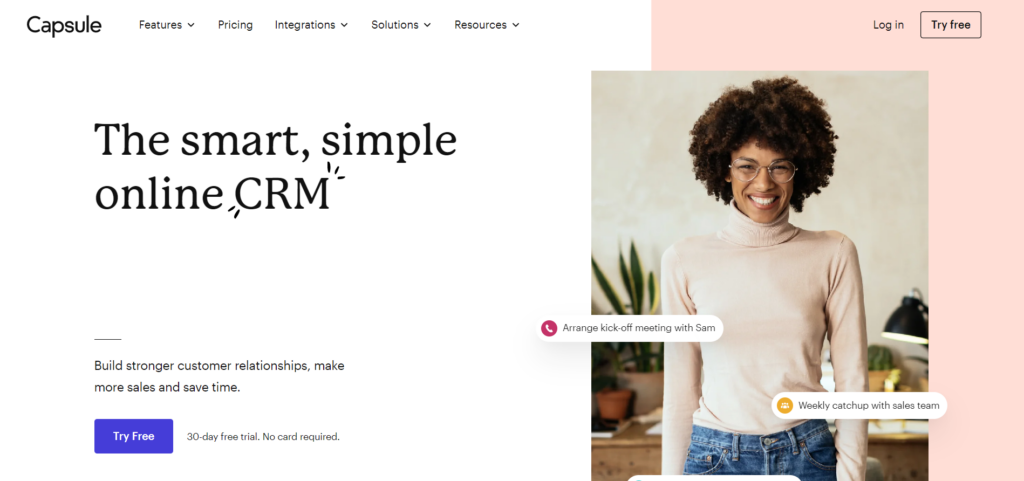 The online-based CRM called Capsule is another sterling alternative to SugarCRM. Simple, smart, and effective, Capsule makes uniting your sales, marketing, and service teams efficient.
Capsule Features
So what kinds of features does Capsule come with? Here's an overview.
Contact management: Import all your contact information in one centralized location with Capsule. Integration syncing makes it easy to pull your contacts in one place. Capsule also allows you to track customer data and record new interactions.
Sales pipeline: The Capsule sales pipeline is its own form of opportunity management. You can review the visual pipeline to see which leads are ready to buy and present a tailored offer to which they're likely to respond well.
Workflow automation: Win back more hours with Capsule's workflow automation feature. You can automate all your routine tasks via workflows that you create and customize as you wish.
Sales analytics: The sales and business analytics Capsule presents include sales pipeline forecasting, lost reasons, average sales value, and the average time to win.
Capsule Cost
Do you want to give SugarCRM the boot and use Capsule instead? You can access its CRM across three paid plans. You can also try the service free for 15 days.
The Professional plan costs $15 per user per month and comes loaded with these features:
Activity reports
Emails
Project management
Sales pipeline
50,000 contacts
10 gigs of storage per user
Integrations with Mailchimp, Google, Zapier, Xero, Microsoft 365, and others
The most popular plan, the Teams plan, is $30 per user per month. Why is it so popular? It includes everything in the Professional plan and:
Custom activities
User restrictions and roles
Multiple project boards
Advanced sales reports
Workflow automation
Multiple sales pipelines
100,000 contacts
20 gigs of storage per user
For the best that Capsule offers, the Enterprise plan costs $45 per user per month. You can use every feature from Capsule that hasn't yet been mentioned, including:
Dedicated customer success manager
Priority support
Custom training
Import assistance
200,000 contacts
40 gigs of storage per user
Implementation support
Read also: 11 Fantastic Capsule CRM Alternatives To Try Today
Streak CRM for Gmail

If you're one of the billions of Gmail users, you should switch to Streak CRM. It's compatible with Gmail in a way that SugarCRM just isn't. You can grow your small business from your Gmail inbox!
Streak CRM Features
Let's talk about the features Streak CRM includes.
Project management: When projects come down the pipeline, you and your team will be ready for 'em with Streak CRM. You can track projects from start to finish to keep everyone on-task and motivated to finish.
Custom pipeline views: The custom pipelines that Streak CRM provides within its software allow you to track notes, emails, and other customer data. You can sort, group, filter, and search for data and save custom settings for future use.
Custom workflows: Tailor your pipeline stages to your small business with colors, personalization, and other customization options. You can also add stages and pipelines.
Mobile app: Streak CRM is compatible with more than Gmail. You can also use it on the go with a free mobile app on the Google Play Store and Apple App Store.
Streak CRM Cost
Save 20 percent by purchasing Streak CRM for the year. You can then choose between five pricing plans.
The Free plan is free forever and includes email tracking, 50 mail merges, and 500 basic CRM actions.
For $15 per user per month, the Solo plan for entrepreneurs who need basic CRM comes with link tracking, more than 800 mail merges, and 5,000 basic CRM actions.
The Pro plan for $49 per user per month features an advanced CRM, shared pipelines, and 1,500 mail merges.
As your company continues to grow, you might consider the Pro+ plan for $69 per user per month. You can now archive users, run automation workflows, and produce advanced reports.
The last plan Streak CRM offers is the Enterprise plan for $129 per user per month. Customization-heavy, this plan introduces priority support, data validation, and custom roles.
Read also: 9 Best Sales CRM Tools for Tracking Lots of Leads
Less Annoying CRM
Do you find SugarCRM…well, annoying? Less Annoying CRM exists to simplify the process of installing and using a CRM so you can focus more on business objectives than confusing software.
Less Annoying CRM Features
Let's look at what Less Annoying CRM offers over its competition.
Simple contact profiles: Customer data should not be a mishmash, as that's why you switched to a CRM in the first place. Less Annoying CRM keeps its customer data simplified so you can quickly glimpse and understand it.
Unlimited custom fields: How custom do you want your CRM to go? Less Annoying CRM lets you use unlimited custom fields so you have flexibility to your heart's content.
Event and task delegation: Maintaining team productivity won't be hard with the event and task delegation tools Less Annoying CRM offers. You can see who's working on what and send tasks to others who aren't as busy.
Less Annoying CRM Cost
Does all that sound good to you? You'll also appreciate the price of Less Annoying CRM, which offers only one pricing plan: $15 per user per month.
You can try Less Annoying CRM for 30 days free, then begin paying. The paid plan includes these features:
Mobile access
User permissions
Task management
Email logging
25 gigs of storage per user
Unlimited pipelines
Unlimited custom fields
Unlimited companies
Unlimited contacts
Read also: A Comprehensive Guide to Less Annoying CRM Alternatives
Pipedrive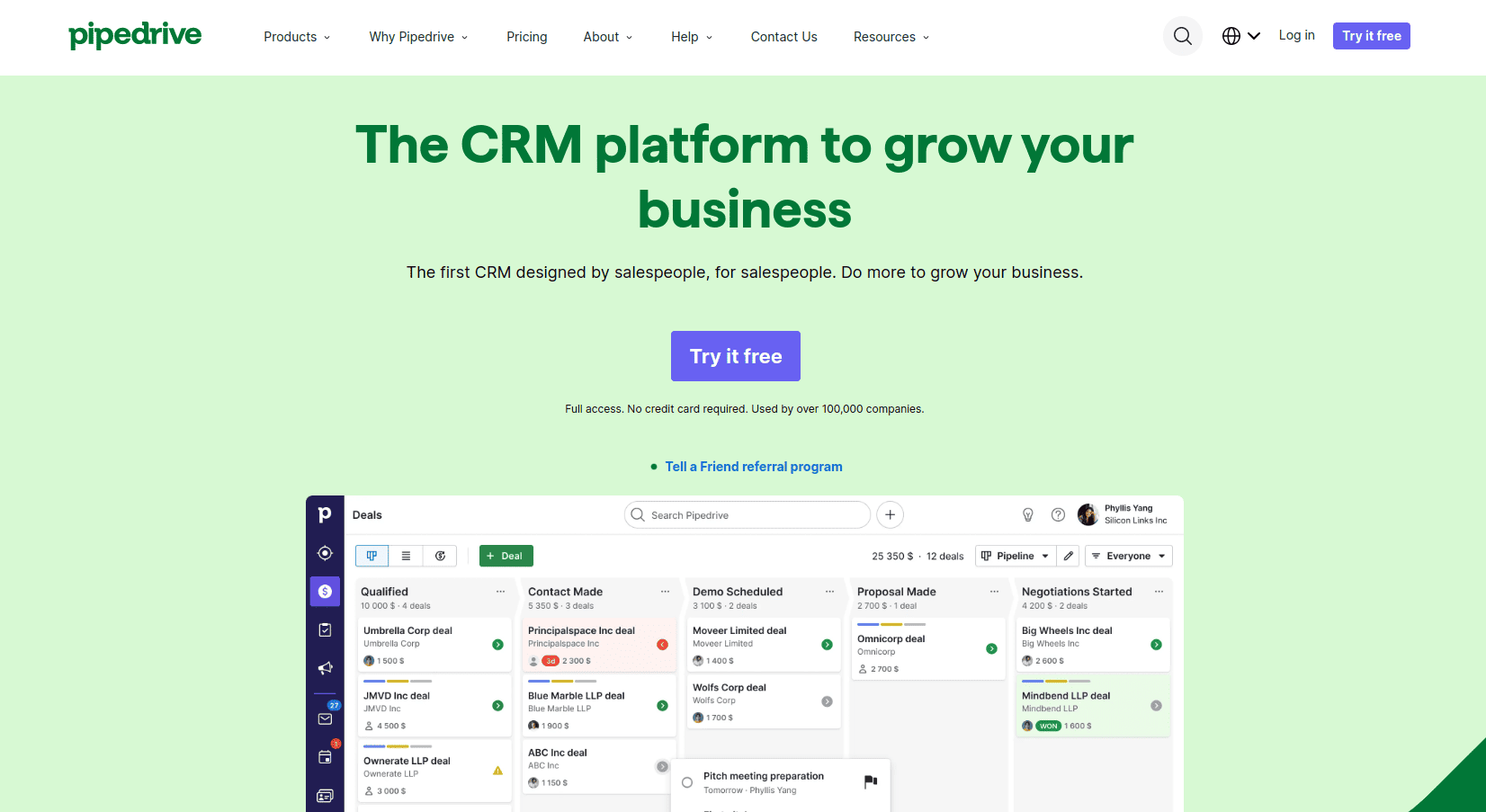 Although Less Annoying CRM is a tough act to follow, Pipedrive comes next. Its CRM platform is made to help your business grow and thrive. If you've gotten the itch to remove SugarCRM from your workflow, Pipedrive could be just what you need.
Pipedrive Features
What kinds of CRM features does Pipedrive offer? Here's what you need to know.
Visual sales pipeline: Pipedrive is all about the sales pipelines, as you might have guessed from its name. Besides the pipeline visualization, you can also customize any pipeline, including custom fields and stages.
Contact history: Pipedrive logs all notes, meetings, emails, and calls with every contact and lead in your contacts list.
Lead segmentation: Divide your leads more easily than ever using Pipedrive. You can segment, categorize, and filter leads within the CRM to qualify leads and personalize interactions.
Revenue forecasting: Predict your revenue more accurately using Pipedrive's forecasting services. Each time your sales team closes a deal, the forecast updates.
Pipedrive Cost
To get your hands on Pipedrive, pick a plan. You can choose from four and try any for free before you buy.
The Essential plan for $14.90 per user per month with annual billing includes CRM basics such as:
Data importing
Lead management
Customization
Pipeline management
Deal management
24/7 support
The Advanced plan for $24.90 per user per month with annual billing tacks on more features, including:
Custom automation builder
Email scheduling
Group emailing
Email templates
Click tracking
Pipedrive recommends the Professional plan for $49.90 per user per month with annual billing. You get yet more features still, like:
Custom reports
Create and manage contracts
Revenue forecasts
Create and manage documents
For $99 per user per month, you can try the Enterprise plan, which has everything above and:
Phone support
Advanced security
Implementation program
Unlimited visibility settings
Unlimited user permissions
Read also: 13 Perfect Pipedrive Alternatives That Can Do More
Nimble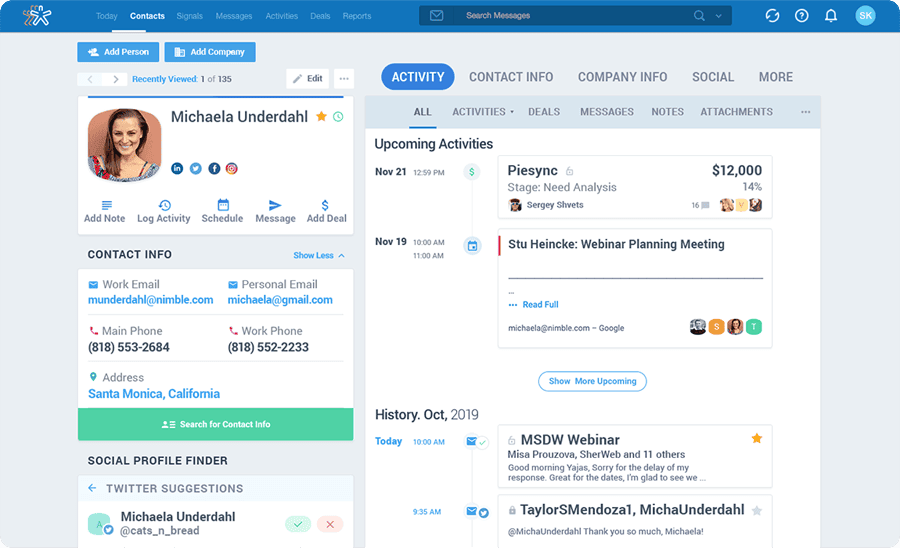 Nimble's CRM is compatible with social media, Gmail, Outlook, and plenty more so you can easily integrate it into your existing workflow. Can you say the same about SugarCRM? No wonder Nimble has such high ratings on services like GetApp and Gartner!
Nimble Features
If you're ready to put Nimble's CRM to work, it includes the following features:
Nimble Prospector: The Nimble Prospector works with Outlook, your web browser app, social media, and your inbox to track your CRM no matter how and where you like to work.
Relationship management: Sync all your contact data from Outlook, Google Workspace, Google Calendar, Google Contacts, Gmail, Twitter, Mailchimp, QuickBooks, LinkedIn, and more.
360-degree customer view: Keep an eye on all interactions with a customer with the 360-degree customer view within Nimble. Update data like social handles, deal statuses, and more so customer data is always current.
Lead segmentation: Divide your leads using Nimble to choose which leads to prioritize first.
Personalization: Once you've split your leads, send them personalized content with tailored email templates.
Nimble Cost
Nimble makes it easy to choose, as the company only offers one pricing plan for $24.90 per user per month when billed annually.
For that low monthly price, you unlock access to features like:
Saved search segments
Custom fields
Email message syncing
Contact records
Calendar syncing
Contact management
Unified message inbox
Automation workflows
Read also: The Eight Best CRM Software for Travel Agencies
HubSpot CRM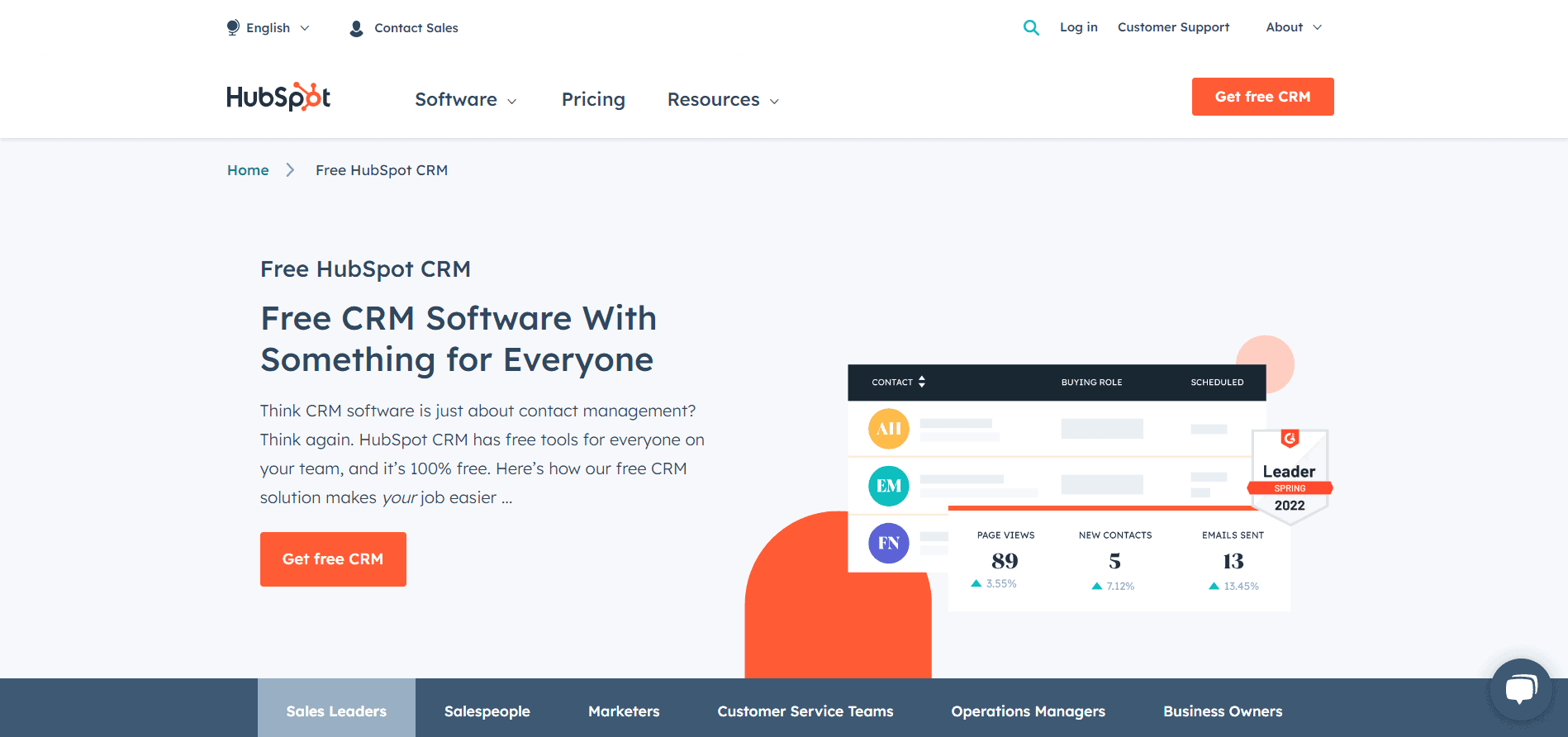 Everyone knows HubSpot for its marketing and sales services, but the company deserves just as much acclaim for its CRM. Designed for salespeople, marketers, customer service teams, sales leaders, business owners, and operations managers, HubSpot's CRM just may blow SugarCRM's out of the water.
HubSpot CRM Features
Let's shine a spotlight on HubSpot CRM to see what's included.
Pipeline management: Get to know your pipeline like the back of your hand with HubSpot's pipeline management. Assess leads, dole out tasks, and review your deals in progress.
Deal tracking: Speaking of deals, HubSpot's CRM features a deal pipeline for managing ongoing deals and ensuring the sales team closes more of them. You can even customize the sales pipelines.
Lead management: Increase conversions with HubSpot's lead management within its CRM. Here, you can see a 360-degree view of your customers, use automation to score leads, review data for lead nurturing, and import lead data across your software solutions and tools.
Sales automation: HubSpot's CRM also includes sales automation tools and workflows for handling routine tasks and saving time.
HubSpot CRM Cost
The best part of HubSpot's CRM is the cost. It's free!
Read also: 14 Surprisingly Awesome HubSpot Alternatives
Copper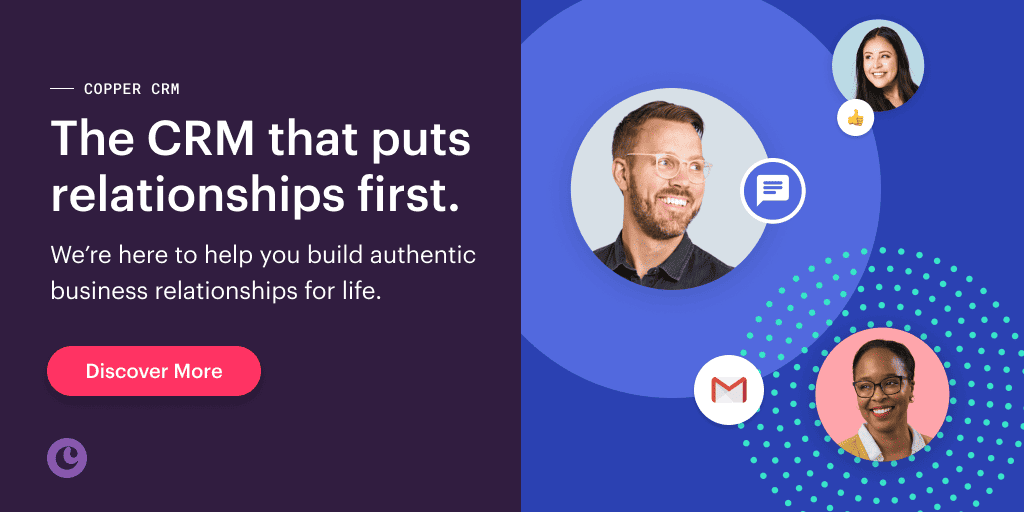 If SugarCRM isn't quite doing it for you, Copper could be the alternative you're looking for. Its CRM integrates with Google Workspace for twice the effectiveness in one handy, dandy tool.
Copper Features
Here are the features that Copper (and Google Workspace) offer in its CRM.
Customer details with Google Calendar: Sync your customer and lead data within Google Calendar and then access it anytime in Copper.
Contact management: Copper will import your contacts from Google Calendar and Gmail so you can have them all in one centralized dashboard.
Customer relationship details: Never forget the big or small details again with customer data displayed between Google Calendar and Gmail in Copper.
Copper Cost
Copper has three pricing plans, and you can shave 20 percent off your costs by choosing the annual plan.
The Basic plan costs $23 per user per month with annual billing. Called a "lightweight solution" by Copper, the plan includes:
Team collaborations
Pipelines
Integration with Google Workspace
Contact enrichment
2,500 contacts
Upgrade to the Professional plan for $59 per user per month with annual billing. As Copper's most popular, it includes plenty of tools and integrations, such as:
Bulk templates
Reporting
Bulk emails
Workflow automation
15,000 contacts
The Business plan for $99 per user per month is the most advanced CRM from Copper, with features like:
Lead scoring
Drip campaigns
Website tracking
Email sequences
Unlimited contacts
Read also: Copper CRM Pricing & Comparison With Top Small Business Software
Keap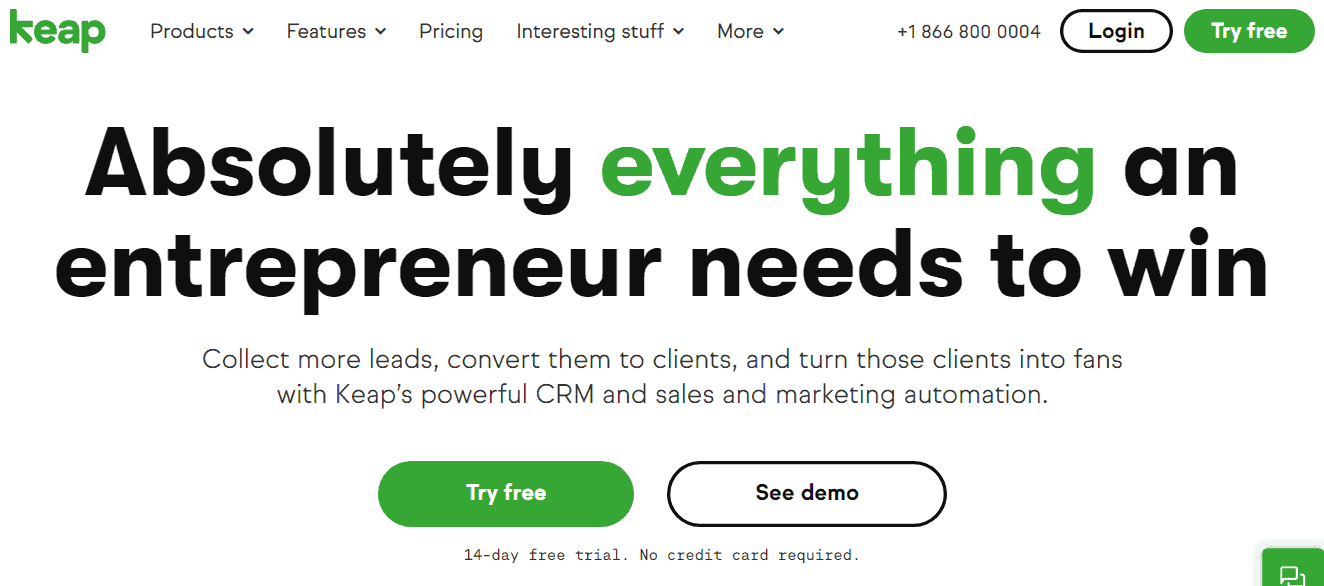 The company once known as InfusionSoft is now Keap. This small business-centered software includes a CRM component that you might find more preferable over SugarCRM, especially if you want something low-cost.
Keap Features
Keap's small business CRM is loaded with the features you need to drive your business forward, including:
Automated lead capture: Sweat less about capturing a lead's contact information with Keap. Whether it's from social media, landing pages, or lead forms, Keap will organize your contacts without you lifting a finger.
Automated emails: Nurture and engage with your leads through an automated email sequence that will move them through the sales funnel.
Integrations: Keap's CRM integrates with all your faves, including PayPal, QuickBooks, Gmail, WooCommerce, Xero, Graphly, and more.
Keap Cost
Keap offers two pricing plans, Pro or Max, and both are priced similarly.
The Pro plan costs $149 a month on the annual plan, which lets you save 20 percent. The Max plan costs $199 a month.
If you have 1,500 contacts, here's what you get with the Pro plan:
Online sales
Landing pages
Sales pipeline
Pipeline analysis
Lead and client management
Automated lead capture
Automated lead follow-ups
Dedicated phone line
Sales and marketing automation
The Max plan with 2,500 contacts includes everything above and marketing analytics, upsells, and promo codes.
Read also: 11 of the Best Keap Alternatives (Features, Pricing)
Nutshell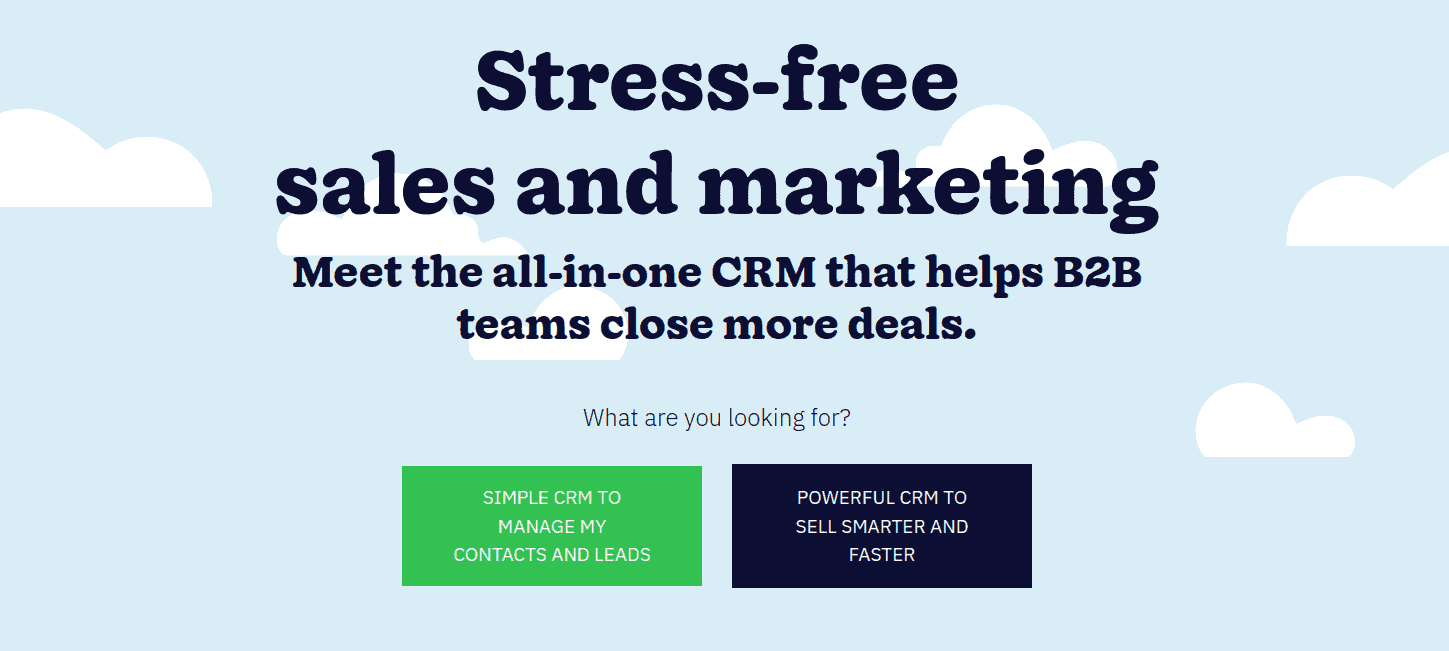 Another great tool for simplifying your CRM over SugarCRM is Nutshell. This B2B-focused CRM includes email sequences, sales automation, web forms, analytics, and a lot more.
Nutshell Features
Let's take a closer look at Nutshell's features.
Sales automation: Automate more of your everyday business tasks using Nutshell. With more time, your sales team can close more deals!
Team collaboration: Work together to convert customers using Nutshell. All customer and lead communications go into the CRM. Sales reps can tag their fellow reps to move a deal along the pipeline.
Contact management: Wherever you store your contacts, Nutshell can import them, including emails, calendar, contacts, and even your smartphone.
Pipeline management: Nutshell's board view presents an interactive look into your sales pipeline. Drag and drop your leads through the sales funnel, tracking their progress along the way.
Nutshell Cost
You can try a free trial to get a feel for Nutshell's CRM. After that, choose from the Foundation or Pro priced plans.
The Foundation plan costs $16 per user per month when billed annually, and the Pro plan is $42 per user per month.
Here's what the Foundation plan includes:
Communication timelines
Calendar and email syncing
Contact management timelines
Lead reporting
Custom single sales pipeline
Activity reminders
Drag and drop pipeline board
Interactive lead map
If you choose to upgrade to the Pro plan, now you can access the following:
Automation
Personal email sequences
Forecast reports
Unlimited in-app dialing
Funnel reports
Unlimited pipelines
Activity and sales quotas
Read also: HubSpot vs GetResponse: A Comprehensive Review
Close
You won't mind canceling your subscription to SugarCRM when you can use Close, an all-in-one CRM solution designed to help your team expand operations.
Close Features
Here's what Close has to offer its users:
Contact importation: Close lets you import contacts from just about anywhere and without paying a cent.
Contact management: Once you've imported your contacts, filter them into lists and save the criteria within Close.
Integrations: Close integrates with so many major tools you already rely on, from HubSpot to Gmail, Zoom, ActiveCampaign, Calendly, and more.
Close Cost
Are you considering Close? You can first download a free trial. If you like it, you can pick from three pricing plans.
The first is the Startup plan for $99 a month with annual billing. The plan for three users includes calendar and email syncing, three sequences, opportunities, contacts, and store leads.
For $299 per month, the Professional plan for three users comes with a power dialer, custom activities, 25 sequences, and multiple pipelines.
The Enterprise plan may be costly at $699 a month, but you can add up to five users and use every feature above, plus:
Custom permissions
Custom roles
Voicemail drop
Predictive dialer
Call coaching
100 sequences
Custom objects
Read also: 8 Best Call Center CRM Software Tested and Reviewed
Enterprise-Level CRM Alternatives
If you're seeking an enterprise-level CRM to edge out SugarCRM, these selections won't disappoint you.
Salesforce

First, we have Salesforce, a software solution that combines CRM with AI and rich data to provide huge insights into your leads and customers. You might never want to use SugarCRM again after trying Salesforce.
Salesforce Features
Should you choose Salesforce as your new enterprise-level CRM, you can use these features:
Customer 360: Salesforce's Customer 360 is its leading CRM software that produces customer views for service, commerce, sales, and marketing teams.
Data Cloud: The Salesforce Data Cloud integrates with Customer 360 to introduce automation and AI features. You'll look smarter and work faster without producing more effort.
Einstein GPT: Salesforce's AI technology Einstein GPT can generate offers, conversations, and emails personalized to your audience and their unique needs. Further, the AI produces insights and data and can even offer custom recommendations and predictions with a bit of coding knowledge.
Salesforce Cost
The small business pricing for Salesforce is as follows:
Starter plan for $25 per user per month
Sales Professional plan for $75 per user per month
Service Professional plan for $75 per user per month
Marketing Cloud Account Engagement plan for $1,250 a month for 10,000 contacts
Read also: Is Salesforce a CRM? A Simple, In-Depth Guide
Microsoft Dynamics 365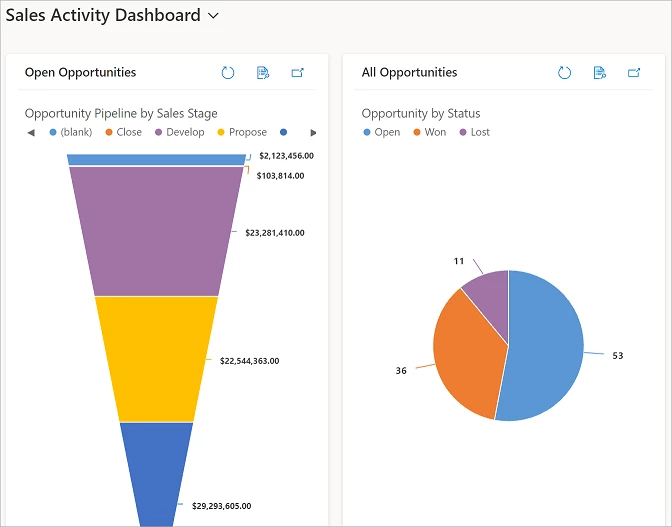 With a much better reputation than SugarCRM, Microsoft Dynamics 365 could be just the enterprise-level CRM your company needs to reach the next level. It has tools for sales teams, supply chain managers, marketers, and financial experts.
Microsoft Dynamics 365 Features
What kind of features are included with a subscription to Microsoft Dynamics 365? Here's what you need to know.
Pipeline management: Guide your customers and leads through the sales funnel with the assistance of Dynamics 365, winning more deals and converting more customers.
360-degree customer view: Better understand where your customers are coming from and what they need with the comprehensive 360-degree customer view offered in Dynamics 365.
Personalization: Touch on a lead or customer's needs when you send personalized correspondence.
Automation: Save more time on everyday tasks when you let Dynamics 365 and its automation workflows take care of them for you.
Microsoft Dynamics 365 Cost
Microsoft has a small and medium business pricing tier for its Dynamics 365 software. You'll pay $70 per user per month for the Business Central Essentials, $100 per user per month for the Business Central Premium, and $20 to $65 per user per month for the Sales Professional plan.
Read also: 14 Incredible Ontraport Alternatives & Their Key Features
Open-Source CRM Alternatives
Let's wrap up by assessing a few open-source CRM alternatives you may using more than SugarCRM.
Vtiger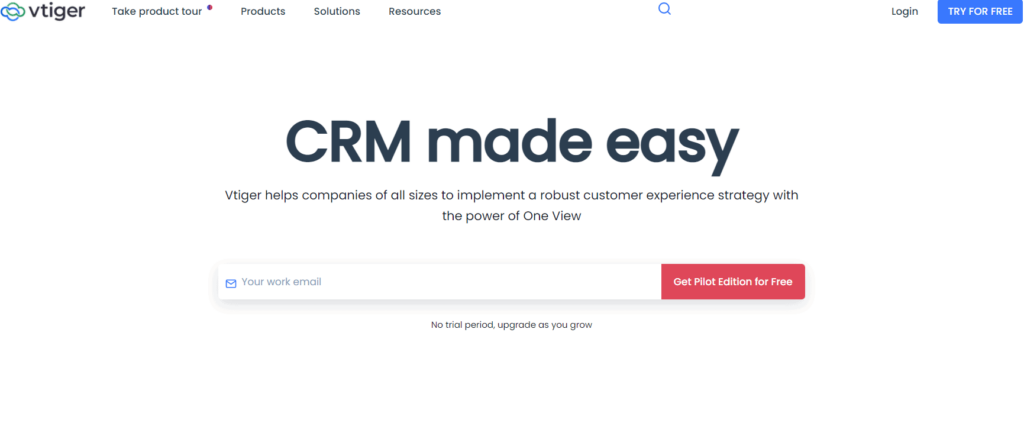 To start, we have Vtiger, with support, marketing, and sales services. More than 300,000 businesses choose Vtiger's CRM, including Pactia, Breezway, TXM, and Aurik.
Vtiger Features
Vtiger's intelligent sales CRM includes these features:
360-degree customer view: The 360-degree customer view within Vtiger provides historical data so you can get up to speed on a transferred customer account in a matter of minutes.
Deal Health: Your sales team will only approach the most viable sales deals going forward with Deal Health, a built-in feature in Vtiger.
Sales automation: Cut back on extraneous tasks using Vtiger automation. You can automate the sales funnel, leads, and even sales playbooks.
Analytics: Forecast your future sales and review custom charts and reports with Vtiger's handy analytics.
Vtiger Cost
Before you decide whether Vtiger is the right open-source CRM for you, try it for free. Then you can choose between the One Pilot, One Professional, and One Enterprise plans.
The One Pilot plan is free, the One Professional plan costs $30 per user per month, and the One Enterprise plan is $42 per user per month when billed annually.
The One Pilot plan offers features like:
10 max users
3,000 max records
One contact management view
Phone and email integration
Custom sales stages
Email sequences
3 gigabytes of storage
Here's what's included with the One Professional plan:
Multiple pipelines
Lead scoring
Engagement and profile scoring
Live web chat
Support insights
Sales insights
Custom dashboards and reports
Business process automation
The One Enterprise plan adds more features, including:
Contact engagement recommendations
Automated billing and time tracking
Read also: 24 Vtiger Alternatives: Boost Your Business Growth
SuiteCRM
Instead of continuing to use SugarCRM, give SuiteCRM a spin. Enterprise-ready and open-source, this CRM software can unite your sales and marketing teams and provide richer insights into your sales pipeline.
SuiteCRM Features
The following features are included with a subscription to SuiteCRM:
360-degree customer view: See every detail about a lead or customer to derive pain points, understand which sales approaches work best, and personalize communications to increase your chances of closing the deal.
Automation: Create workflows and set conditions within SuiteCRM to save time on administrative tasks.
Activity management: Use modules within SuiteCRM like tasks, notes, meetings, and calls.
Reports: Pull data from any SuiteCRM module and put it into a report to derive rich data about the success of your sales and marketing campaigns.
SuiteCRM Cost
Reduce your spending and get a great CRM in one, as SuiteCRM is free.
Read also: What Nobody Tells You About CRM ROI: Food for Thought
Odoo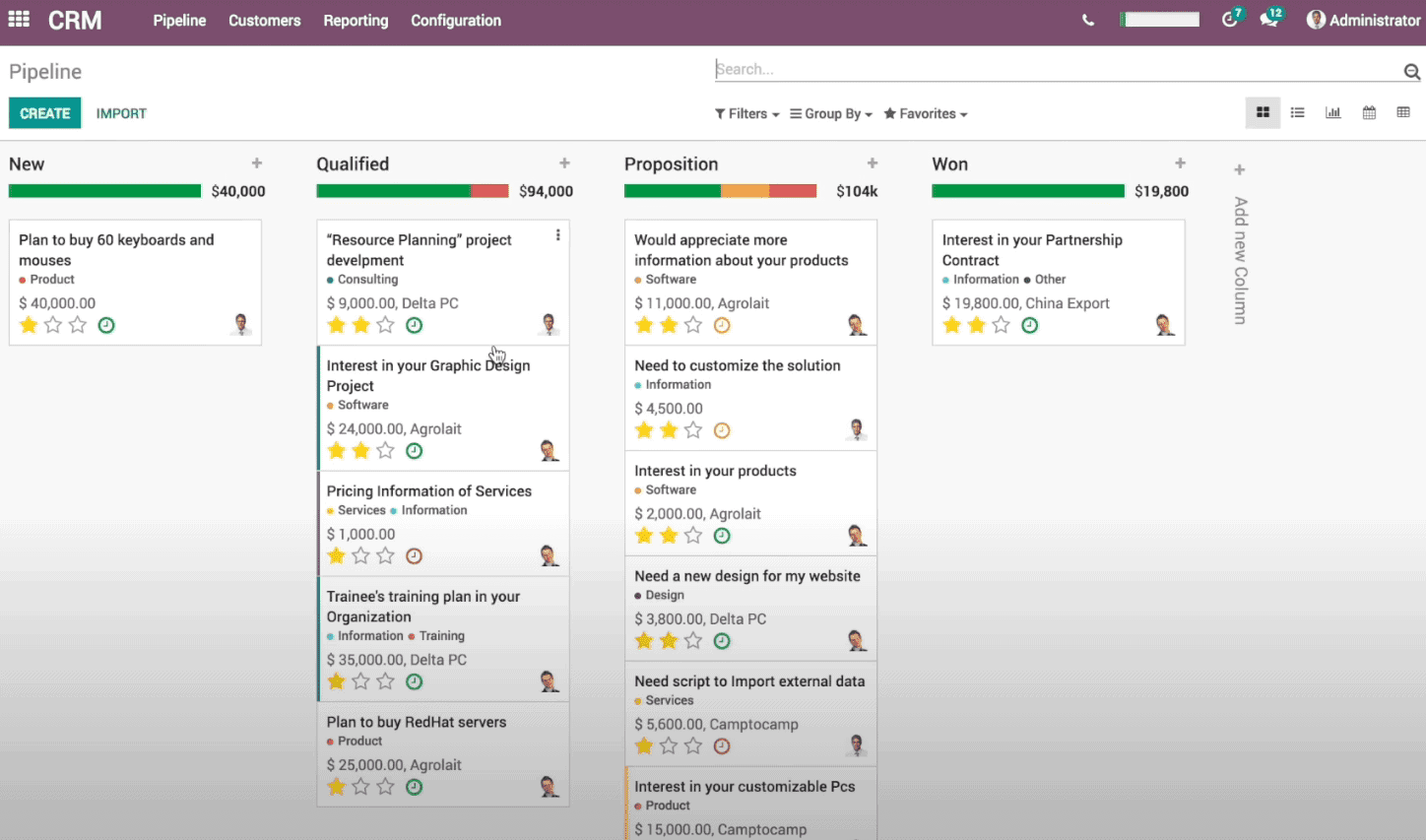 Finally, we have Odoo, an open-source CRM and enterprise resource planning or ERP software. Comprised of a series of apps, Odoo allows you to cherry-pick the solutions that work for your small business.
Odoo Features
So what are some of those solutions? Let's take a look.
Custom dashboards: Design your own dashboards within Odoo to see insights on leads, customers, deals, campaigns, and more.
Pipeline analysis: Monitor the progress of your pipeline through Odoo. You can review data such as profitability, the number of deals expected to close, and more so you can accurately predict conversions and revenue.
Analytics: The real-time sales forecasts and analytical data give you a solid backing on which to make the next decisions for your small business.
Odoo Cost
Odoo offers three pricing plans: Free, Standard, or Custom.
The Free plan is free for unlimited users on one app. If you want all apps, try the Standard plan for $24.90 per user per month when billed annually.
The Custom plan for $37.90 per user per month includes every app, an external API, Odoo Studio, and Odoo Online.
Read also: These CRM Modules Can Skyrocket Your Customer Loyalty
Conclusion
SugarCRM is marketed as affordable, but small businesses can't be spending thousands of dollars a month on marketing software.
Since SugarCRM pricing is not bundled into one package, it may look nice at first. When you do want to use all the features for scaling your business operations, you'll find the costs burgeoning.
Why not try a lower-priced SugarCRM alternative like EngageBay instead?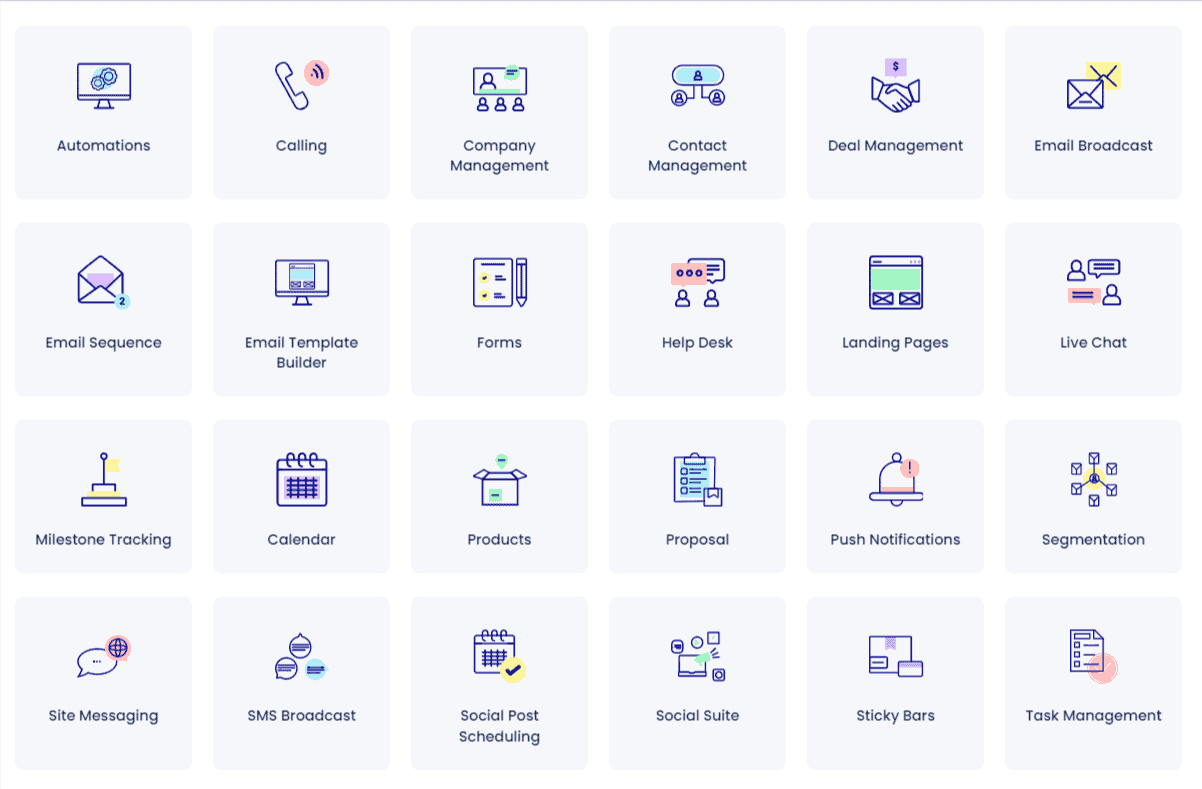 With a clean, appealing interface, lightning-fast operations, and dozens of free features, EngageBay is a great all-in-one marketing solution for small businesses like yours!
In fact, marketing expert Neil Patel loves EngageBay too. Take a look at his top recommendations for marketing automation software here.