Did you know that roughly 87% of realtors quit the industry within five years of starting?
And, it's not just because of their failings, either.
Most realtors face significant challenges like generating new leads and prospects for each listing, housing inventory challenges, and marketing their real estate services to quality clients.
The current housing market has got many first-time buyers scratching their heads a bit like Homer Simpson here. 😅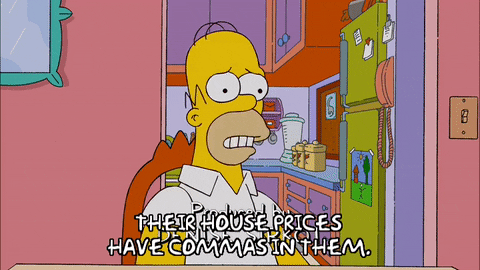 If you're looking for interesting and creative real estate marketing ideas, you're at the right corner of the internet. So, to help realtors out, we've curated a list of
9 real estate marketing ideas for your website
9 creative ideas for real estate content and email marketing
7 out-of-the-box marketing ideas for your social media channels
4 unique real estate marketing ideas to boost your offline marketing
That's 29 unique real estate marketing ideas in total to boost lead generation and increased customer satisfaction. Feel free to read along and pick only the ones that sound great to you.
9 Important Marketing Ideas for Your Real Estate Website
Let's begin with your real estate website. Think of your website as your virtual office space. If your office space is cluttered, disorganized, and unattractive, then people aren't going to be interested in your services, right?
Your website works the same way. A classy, functional, and beautiful website will define your prospect's first impressions.
Here are our top creative marketing ideas to spruce up your real estate website.
1. Design an elegant yet functional home page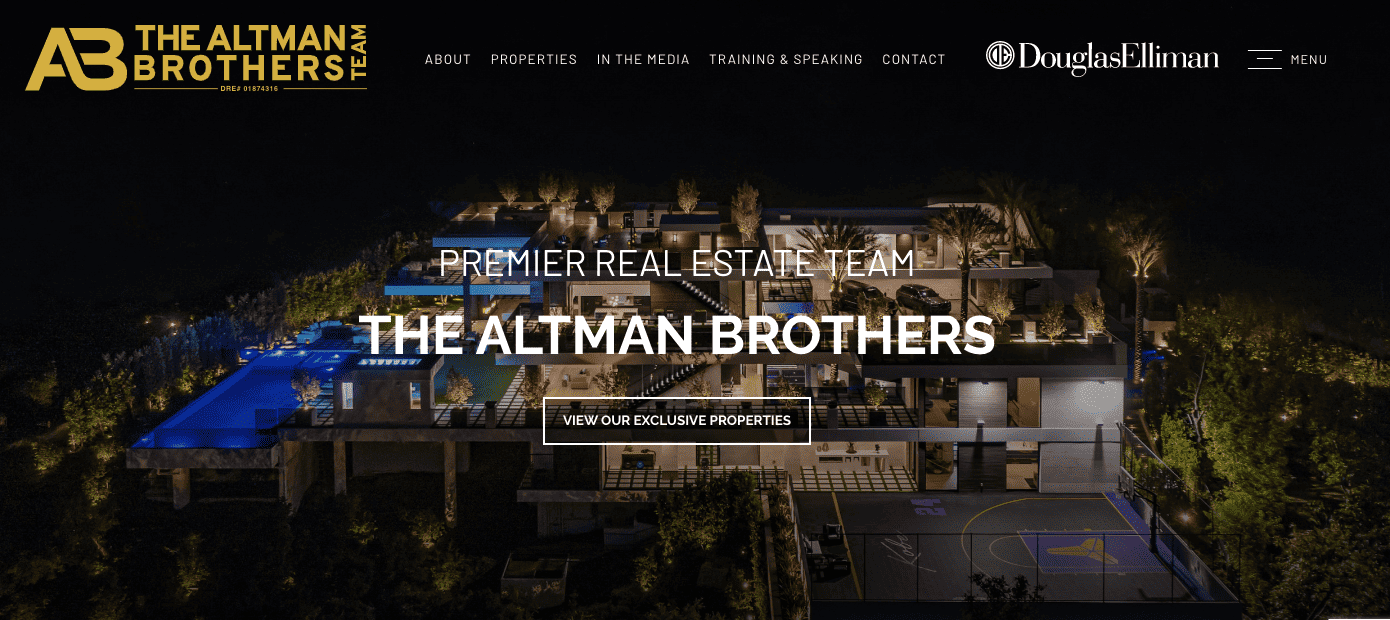 Your home page is likely to be one of the first pages your prospects see. Around 88% of visitors are unlikely to return to any website they've had one bad experience with!
So, you have to get it right the very first time. Here are some expert tips for a truly impressive real estate home page.
Ensure that your home page is easy to navigate and quick to load. If your home page takes more than 3 seconds to load, you're likely to lose 40% of your traffic immediately!
Use only high-quality images and videos of property listings and exclusive previews.
Ensure that your website is IDX (Internet Data Exchange) integrated. This means that property listings within the Multiple Listing Service (MLS) are automatically shared between different real estate agents and brokerages in your area. With an IDX-integrated real estate website, you'll be able to automatically display updated property listings that are imported directly from the MLS.
Give prospects the luxury of advanced search options. Ideally, users should be able to search for properties based on location, price, number of beds and baths, outdoor space, and even luxury amenities.
Link all your listed properties to Google Maps to allow prospects to see the precise location in their neighborhood. You can use static Google Maps, or design your interactive map. But ensure that you're not violating anyone's privacy by giving the location away.
Create a contact form for your home page to maximize new leads and encourage them to sign up.
2. Use responsive web design to optimize your website for mobiles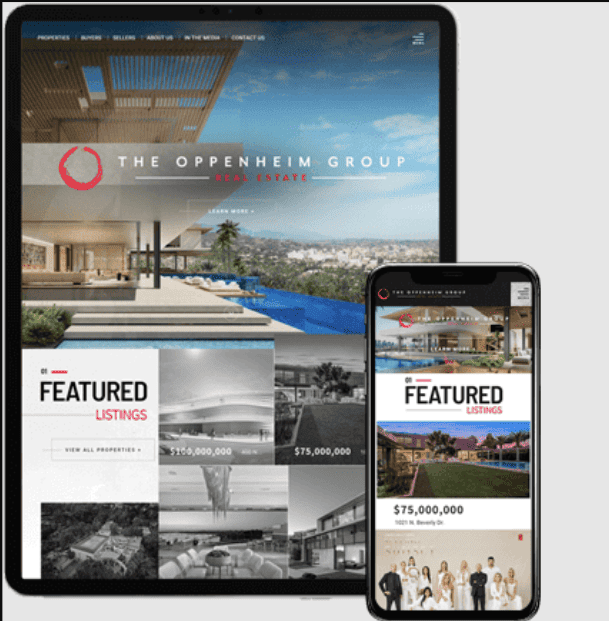 Once you've got the skeleton structure of your website ready, you have to optimize it for viewing on mobile and tablet devices.
Especially after the Google Mobilegeddon update of 2015, mobile optimization is crucial to the success of your marketing and sales strategies.
After all, some of these algorithm updates are based on the latest consumer behavior. Here are the steps to build a responsive website design, along with general tips for mobile optimization.
The first step is to map your customer journey and create several buyer personas. This means that you have a clear idea of each stage of the sales funnel, your marketing goals, and the CTA that'll move a lead to the next stage of the funnel.
After this, you'll need to get more data on customer behavior across your web pages to better predict their future behavior. This will allow you to curate the right flow and the right content for your prospects.
Use responsive web design (RWD) techniques. This ensures that your content is automatically re-sized and pixelated for viewing on any device — desktop, tablet, and mobile.
Keep your buyer personas at the center of your design. Ensure that prospects have the option to save their favorite properties for later viewing. Think of how each buyer persona would want to navigate through your website.
Read also: 14 Real Estate Lead Generation Tips for Quick Results
3. Feature property videos and walkthroughs on your website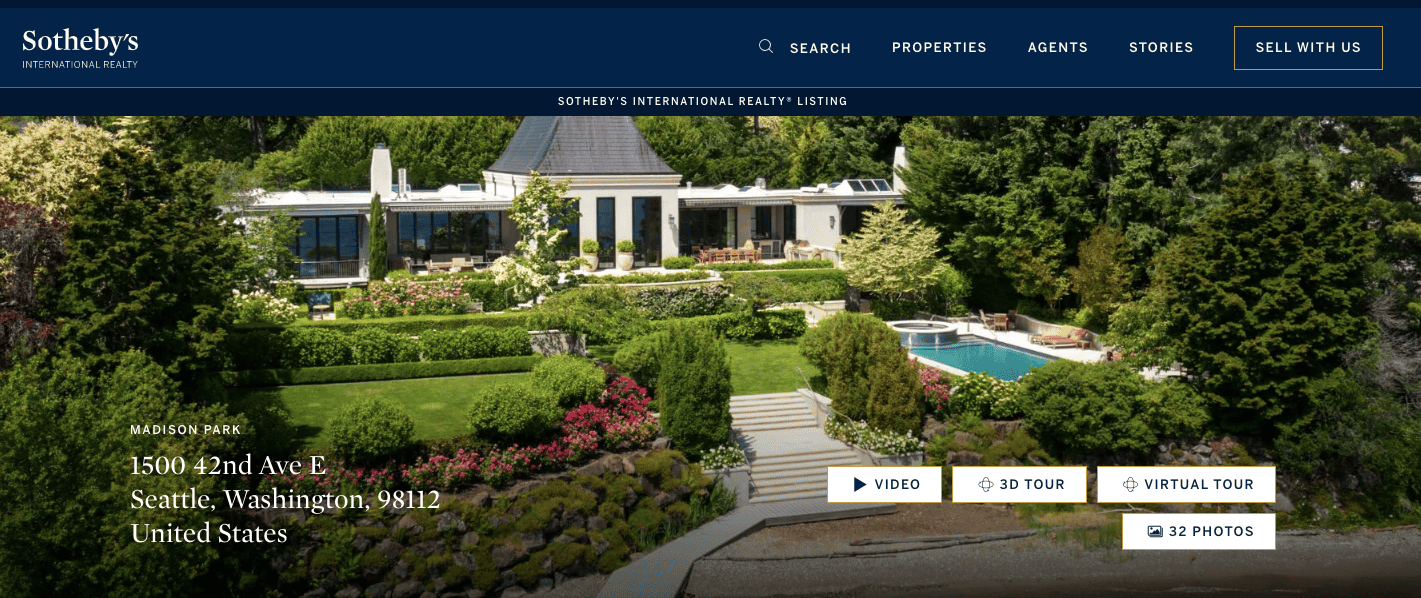 If you're not already creating virtual tours or video walkthroughs of your listings, get started ASAP! We're not joking.
Here are some virtual tour statistics to highlight how much of a game-changer this will be for your real estate website.
Especially if you're considering targeting the first-time millennial home buyer, virtual tours are a great way to grab their attention and get them to come to visit the listing in person.
The example above features both a video walkthrough and a virtual tour of the property. We approve of this idea!
Read also: 21 Real Estate Instagram Post Ideas for Winners
4. Consider using a lead magnet for lead generation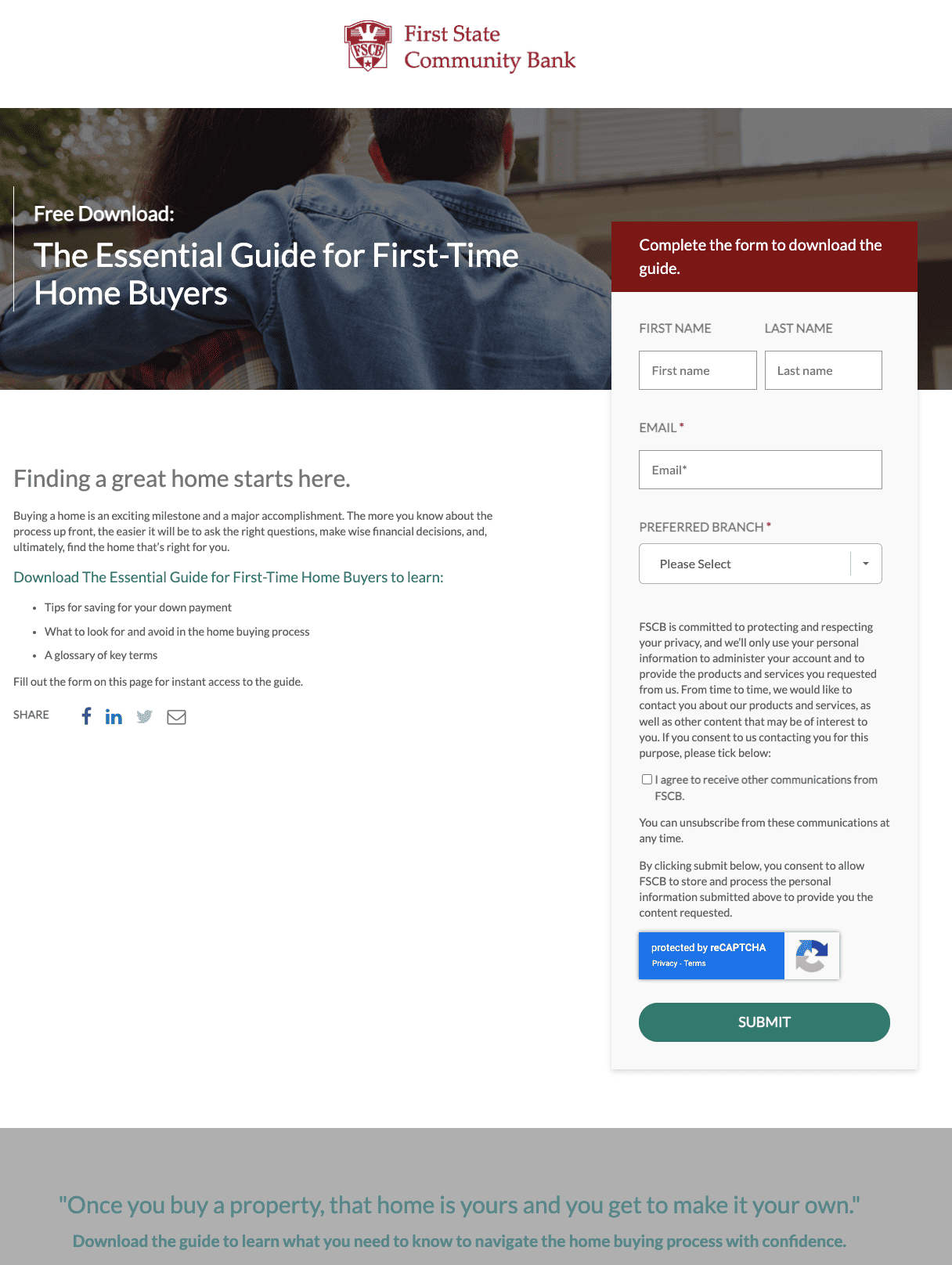 A lead magnet is just a downloadable freebie that you offer to new leads in exchange for their email addresses.
This is the modernized version of those old-school sign-up sheets at expos! But, let's be honest, it works way better online.
Not only that, your prospects will have access to valuable information as they give their contact details to you. And, you've begun to establish yourself as someone with expert know-how in real estate. It's a win-win for everyone involved.
Here are a few lead magnet freebie ideas to get you started:
A checklist or guide for first-time buyers/sellers
An eBook or sections of an eBook
Latest summary of real estate market reports for your area
Educational real estate webinars
A free analysis of the local real estate market
Whatever you do, ensure that your freebie is not too long. Keep it under 50 pages if it's a checklist or an eBook. You also need to ensure that your freebie adds value to your prospects. Your lead magnet is just the beginning of your relationship with the prospect, so make a great first impression.
Read more: Real Estate Landing Pages and Everything You Need to Know
5. Incoroprate local SEO keywords to rank higher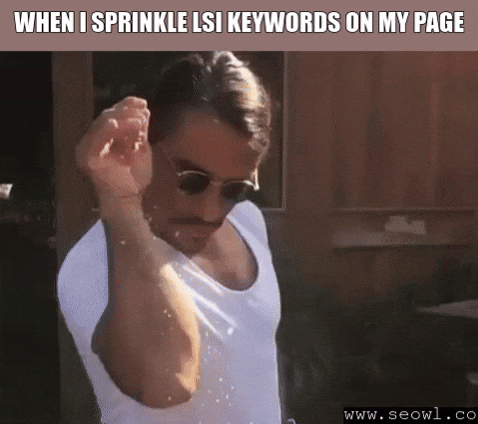 All your websites and web content, including your real estate website, should have a periodic SEO audit. This step will help you rank consistently higher in the SERPs (Search Engine Results Pages).
Just follow these best practices for SEO:
Do a competitor keyword analysis first. Look for the keywords and web pages that have the most engagement online. You can also analyze the backlinks and content quality. This data will help you scale up organic traffic through your website.
The next step is an SEO audit of your websites, blogs, and social media posts. You'll need to evaluate aspects like your backlinking, industry and area-specific keywords, meta descriptions, and page titles.
You'll also need to look at image and listing descriptions, site indexing, average page loading speed, responsiveness, and mobile optimization.
The end goal of SEO is not to stuff your content with keywords. But, it is to build long-term credibility with quality, engaging content. You'll have to target certain keywords and build solid backlinks to do this.
Read also: 12 Best Real Estate CRMs for Investors and Agents in 2023 (Free & Paid)
6. Offer accurate home valuations to get more leads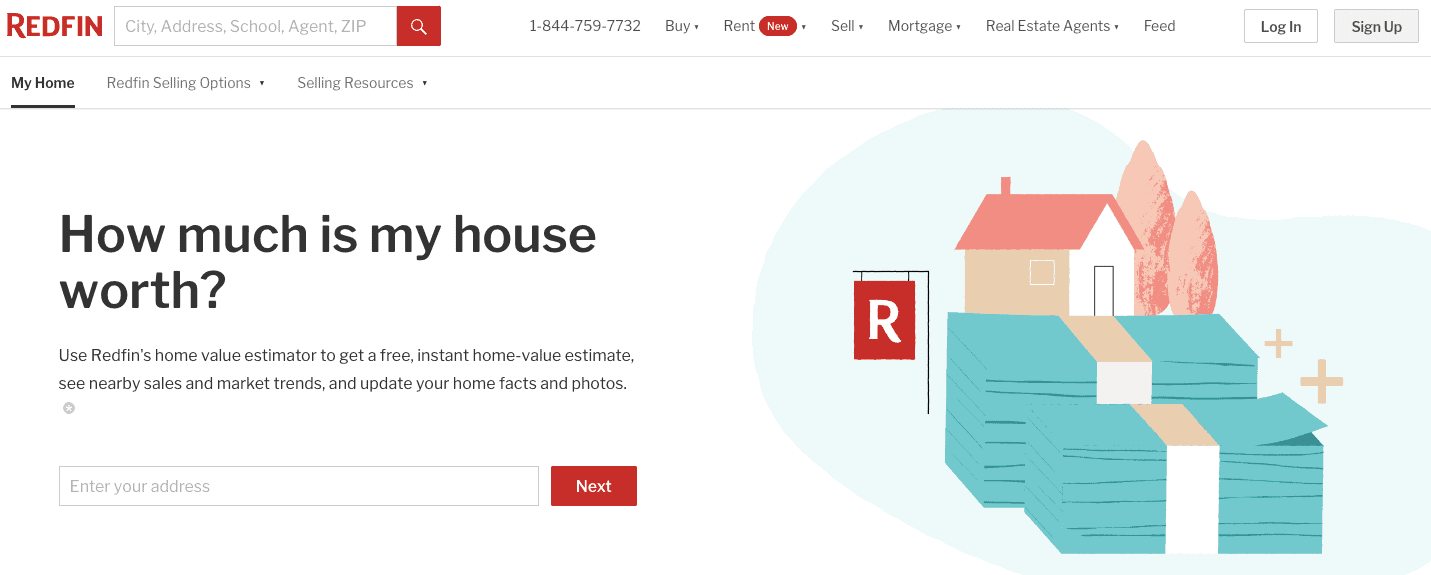 Most of us are familiar with Zestimate — Zillow's home valuation based on a comparative market analysis (CMA).
Many leading real estate companies and websites offer instant home valuations that are quite popular with prospects.
But, many of them don't give prospects an accurate valuation. This is probably because they miss out on certain factors like recent renovations. Of course, this leaves many prospects disappointed.
So, a great way to stand out is to ensure an accurate home valuation, even if you need time to crunch the numbers. Here are some tips for creating your accurate home valuation landing page:
Start with a catchy headline that highlights the value prospects can get by signing up for a home valuation with you.
Include one or two form fields to capture email IDs. Alternatively, you can also consider a multi-step form if you need more information before considering their home valuation.
Use relevant keywords, especially local SEO keywords. For example, if you're working in the Dallas area, you might want to include that as a keyword.
Provide social proof badges or client testimonials toward the end of the landing page. And, make sure to highlight how your home valuation stands out from the rest.
Use only high-resolution images and videos (if any).
Read also: Draft the Perfect Real Estate Drip Campaigns [Templates, Examples]
7. Use predictive analysis to improve your marketing message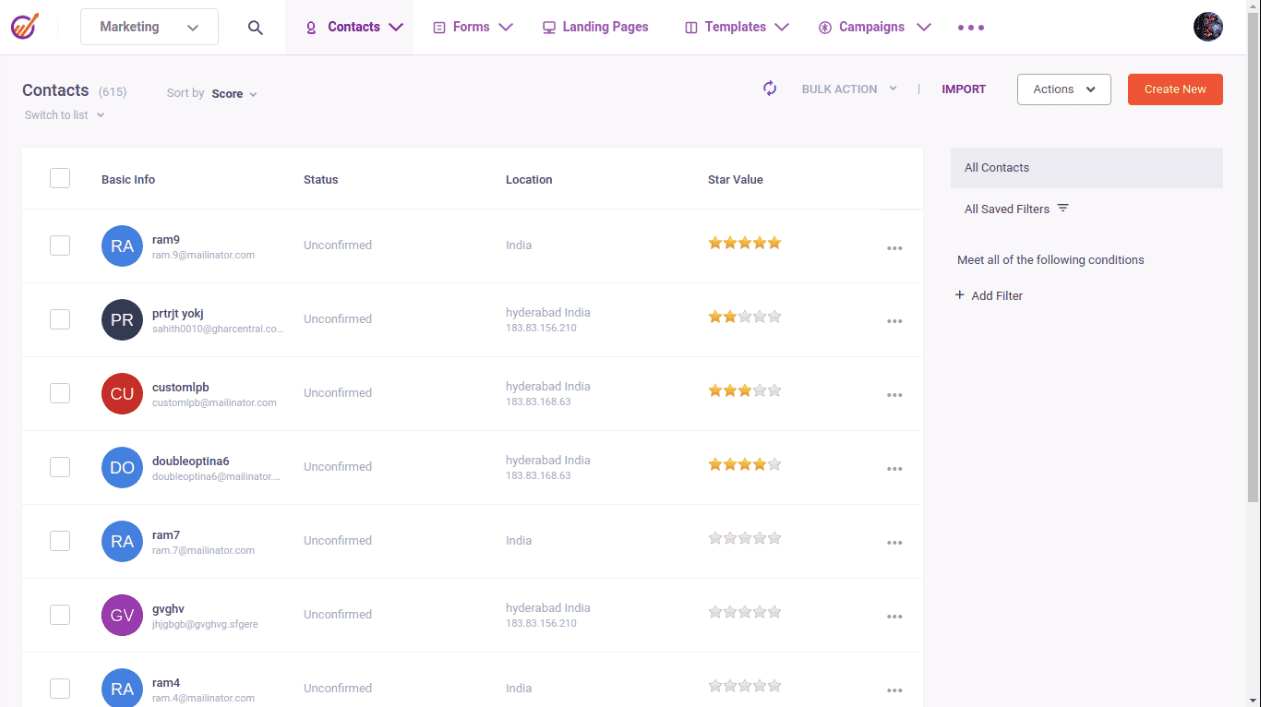 Predictive analysis is the process of analyzing historical data and statistical techniques like data mining, and predictive modeling to predict the likelihood of future customer behavior.
Here are some areas where you can use predictive analysis to craft a more effective marketing strategy and core messaging.
Lead identification and scoring: Using your existing customer data, you can create a model to predict which new leads are most similar to your current clients in a meaningful manner. And, you can use predictive scoring and propensity modeling to score your leads.
Content recommendations: Collaborative filtering is going to be your new best friend here. This is the process of using a visitor's past behavior to recommend new listings they're likely to show interest in. You can use this to upsell and cross-sell products as well.
Personalize customer experience: Predictive analysis can help you personalize your content. Once you've got customer segments, you can use give them personalized content or blog recommendations.
👉Explore the most impactful marketing strategies on the market in our comprehensive guide – revolutionize your campaigns now! 🎯
8. Get featured on the news using HARO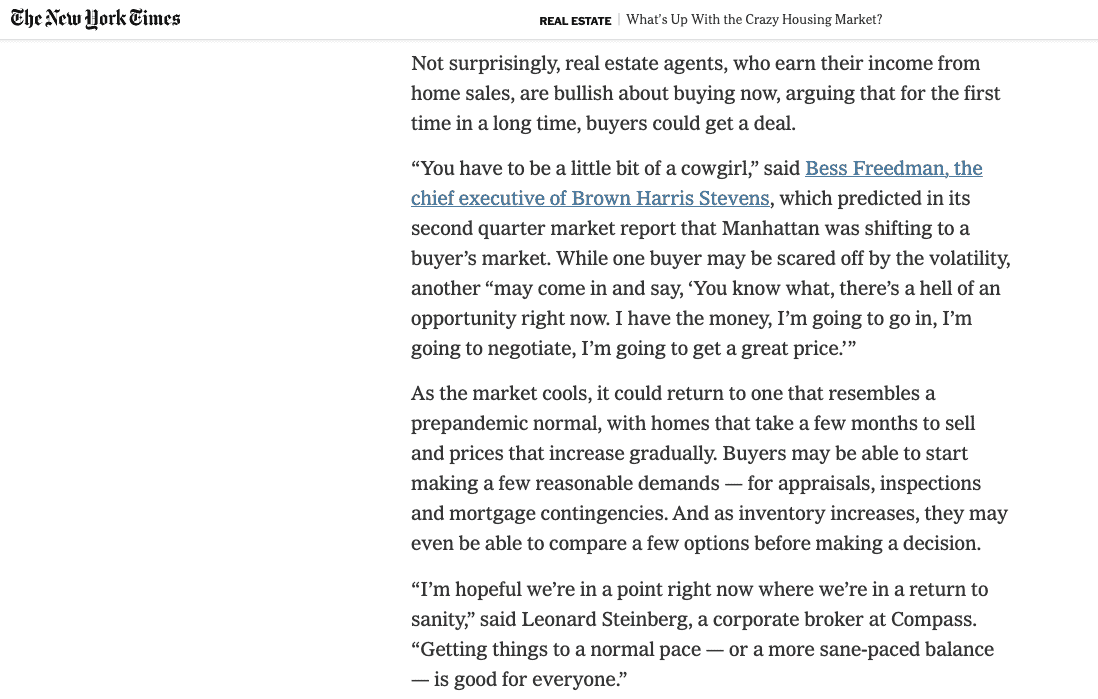 Good media coverage is a pat on the back for any realtor. Look at the example from the New York Times article. It's a great way to build credibility and trust when you get featured in the media.
You can use the HARO (Help A Reporter Out) platform that's owned by Cision. And, you can use this platform to connect with journalists who are looking for credible sources to feature in their articles.
Once you sign up with HARO or a similar platform, you'll get emails every day with requests in your area of expertise. Here are some tips to maximize your pitches to HARO to help you get picked:
Pitch only when you can add value: Don't just pitch your ideas to any journalist writing about real estate. Make sure that it's relevant to your niche and that you have something substantial to contribute.
Be frank and direct: Don't beat around the bush or give irrelevant information. Your best bet is to do thorough research on everything you're pitching. And then put it across in a frank, succinct manner.
Don't sell or promote yourself: Reporters are looking to feature you as an expert in real estate. So, don't promote yourself or sell yourself on this platform.
You can feature all your press and media mentions with a dedicated panel on your home page or about us page. Look at this gorgeous example here!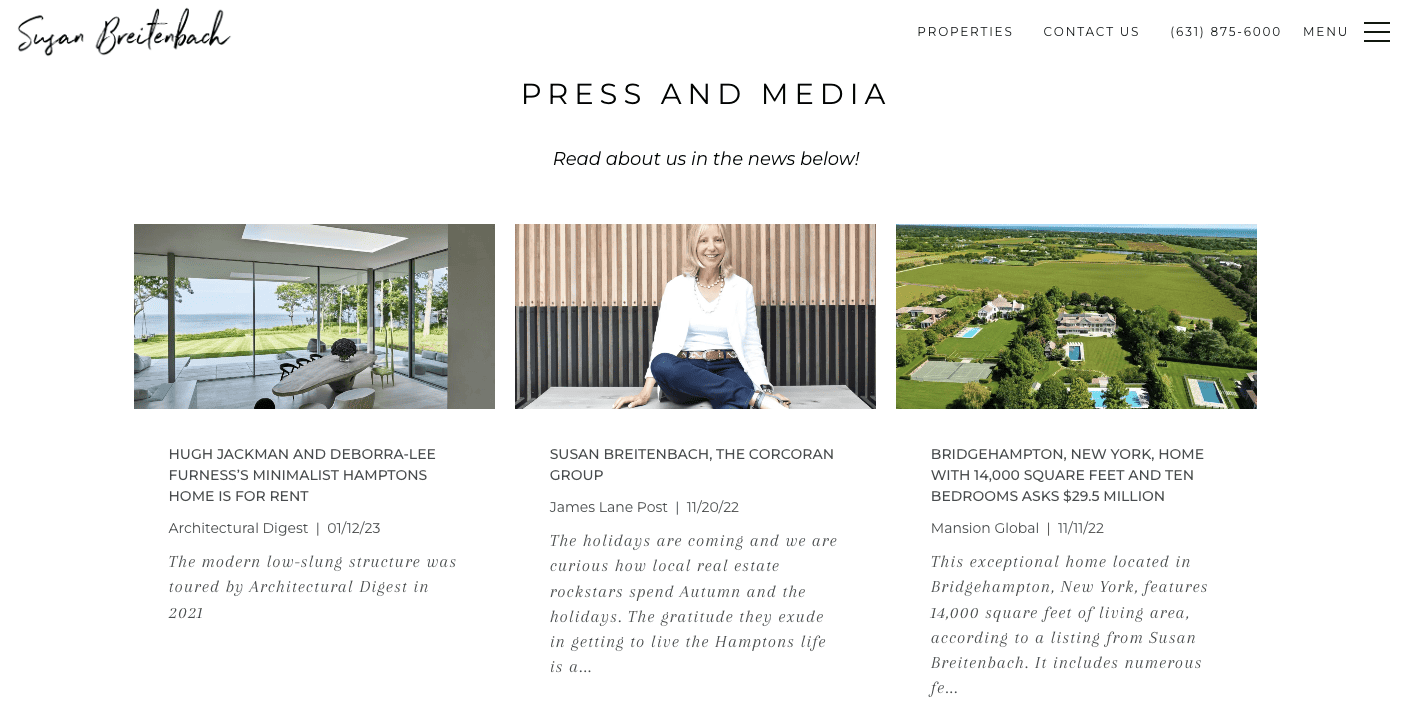 If this isn't your style, then you can feature social proof badges on your home page instead. Here's an example from a leading real estate brokerage.
9. Feature and manage your reviews and client testimonials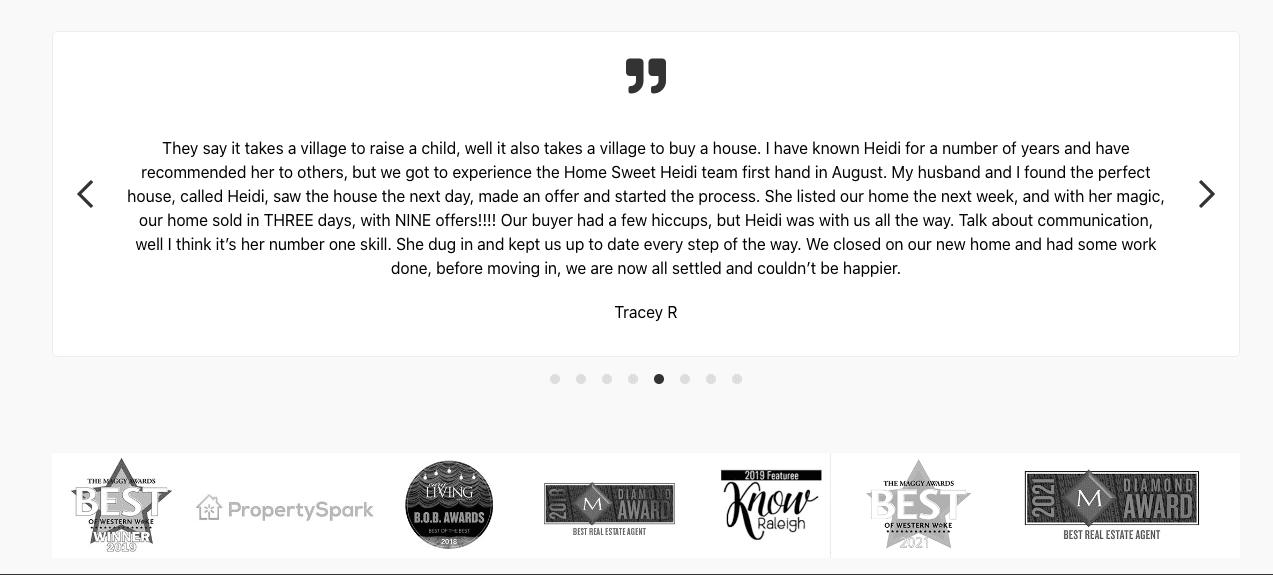 Testimonials and reviews are extremely important.
According to surveys, the average customer reads a minimum of 10 reviews and testimonials before they feel a sense of trust in the business!
So, here are some tips to generate more reviews and manage the ones you already have:
Have some social proof badges and client testimonials on your home page itself. Or, you can have a dedicated testimonials page where you showcase your best reviews.
Set up an automated email campaign to request testimonials and reviews. You can set up a workflow where your email is triggered whenever a listing is closed.
Request client photos if they're exceptionally satisfied with your work. You can feature some client photos on your testimonials page. It lends credibility to the testimonial. However, make sure you ask for consent before using them.
Feature reviews in all channels like your Google My Business profile, Facebook, LinkedIn, and Zillow (or other sites).
You can automate gathering your reviews using platforms like 5StarRocket, Birdeye, or Real Satisfied. These platforms make collecting, managing, and replying to reviews easier.
But, every realtor knows that having a great website isn't enough. Let's brainstorm some marketing ideas for your content and email marketing.
Read more: The Complete Real Estate Marketing Automation Guide (With Steps, Ideas, Examples)
9 Creative Ideas for Real Estate Content and Email Marketing
If you're not already using email and blogs for your marketing, you are missing out, my friend!
But, there's still time to catch up if you apply some of these unique real estate marketing ideas for email and content marketing. Let's jump right in.
1. Use professional photography and fetaure high-quality images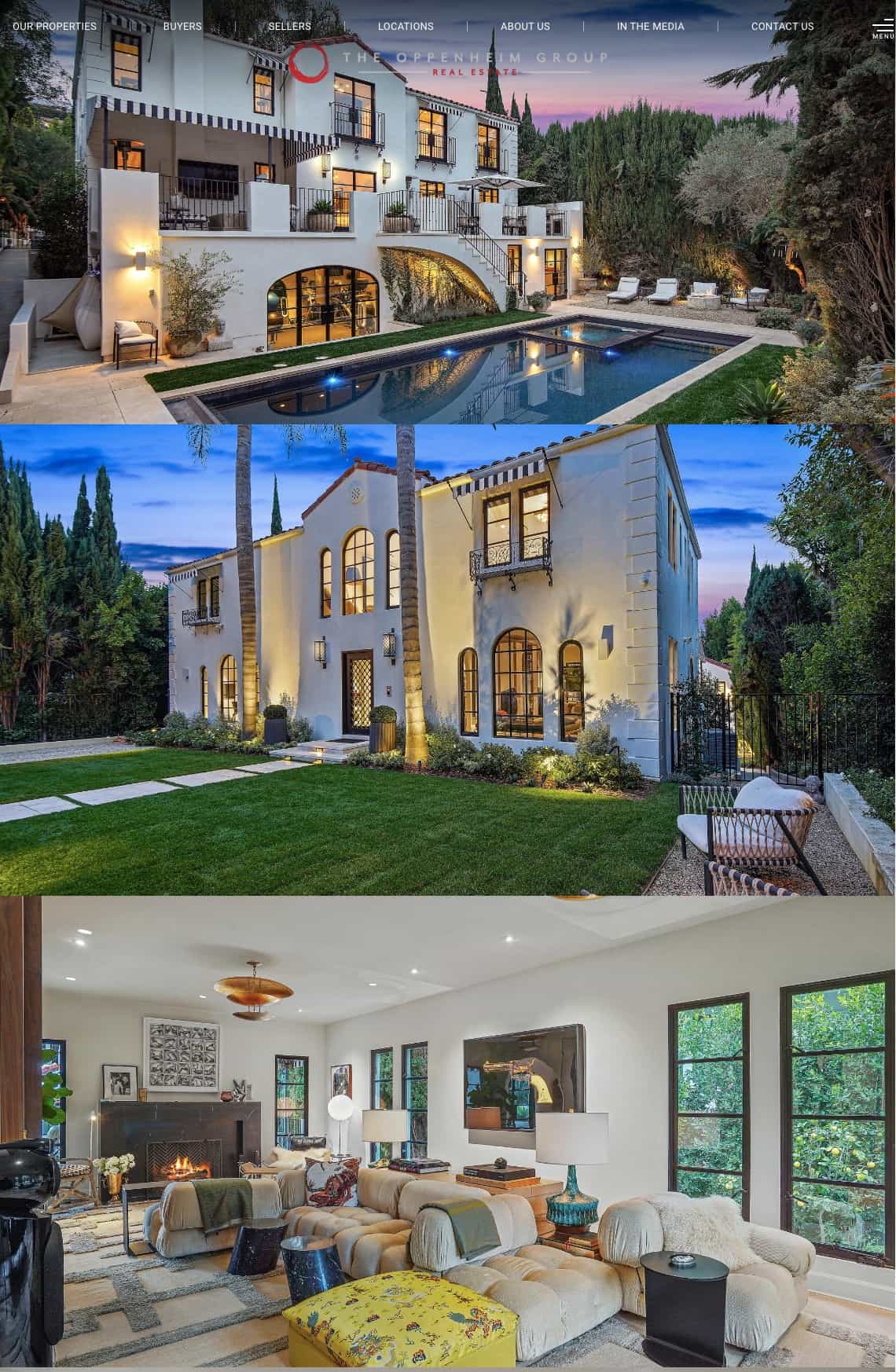 According to surveys by VHT Studios, listings with professional photographs got sold 32% faster than listings without professional photography!
And, this is hardly surprising, right? Especially if a prospect is in a hurry, they may not bother to come back to request you for photographs!
So, capture professional, high-resolution images for all your listings. Also, ensure you capture every significant aspect of the listing, including outdoor facilities.
2. Implement experiential marketing strategies
Experiential marketing (also known as live marketing) simply means creating memorable, real, and live experiences for your prospects.
When prospects are completely immersed in the product or the values associated with that product, they develop a positive emotional association with your brand.
It's also called engagement marketing or participation marketing. Here's a video with multiple real examples of experiential marketing.
For example, instead of staging multiple open houses in your area, you could host a neighborhood photography competition.
This not only lets you showcase your neighborhood in a friendly and positive light, but you'll also get to connect with many potential buyers or sellers from your area.
This was just one example. Here are some tips for realtors to master experiential marketing:
Host in-person educational events: This is a great option depending on the level of your expertise in the real estate market. Prospects are always in need of accurate, reliable information regarding real estate market fluctuations, inflation anxiety, the buying/selling process, choosing the right mortgages, and more.
Host a one-time local event or be part of a larger local event: Think of your buyer personas and create social events that are likely to be of interest to them. Could you get a booth or table at a local fair or expo and improve lead generation? Maybe a neighborhood cook-off could get prospects to engage with your company.
Partner with local businesses and influencers: Partnering with beloved local businesses or eateries is a great way to host impactful events without overspending. Let's say you have to market a stunning 5-bedroom property in an upscale neighborhood. You could host a wine-tasting event at the property and get a famous local sandwich shop to cater the event. The proceeds can go to charity as well.
Read also: Mastering SaaS Marketing: Key Metrics to Measure Success
3. Create a comprehensive and authoritative blog on real estate
According to this survey by the National Association of Realtors (NAR), 97% of buyers started their search for a house online in 2021. You simply can't afford to miss out on these prospects.
Investing in real estate content and blog marketing helps establish you as a subject authority. You'll get more organic traffic to your website, get quality leads who are actively interested in buying or selling, and boost your brand awareness!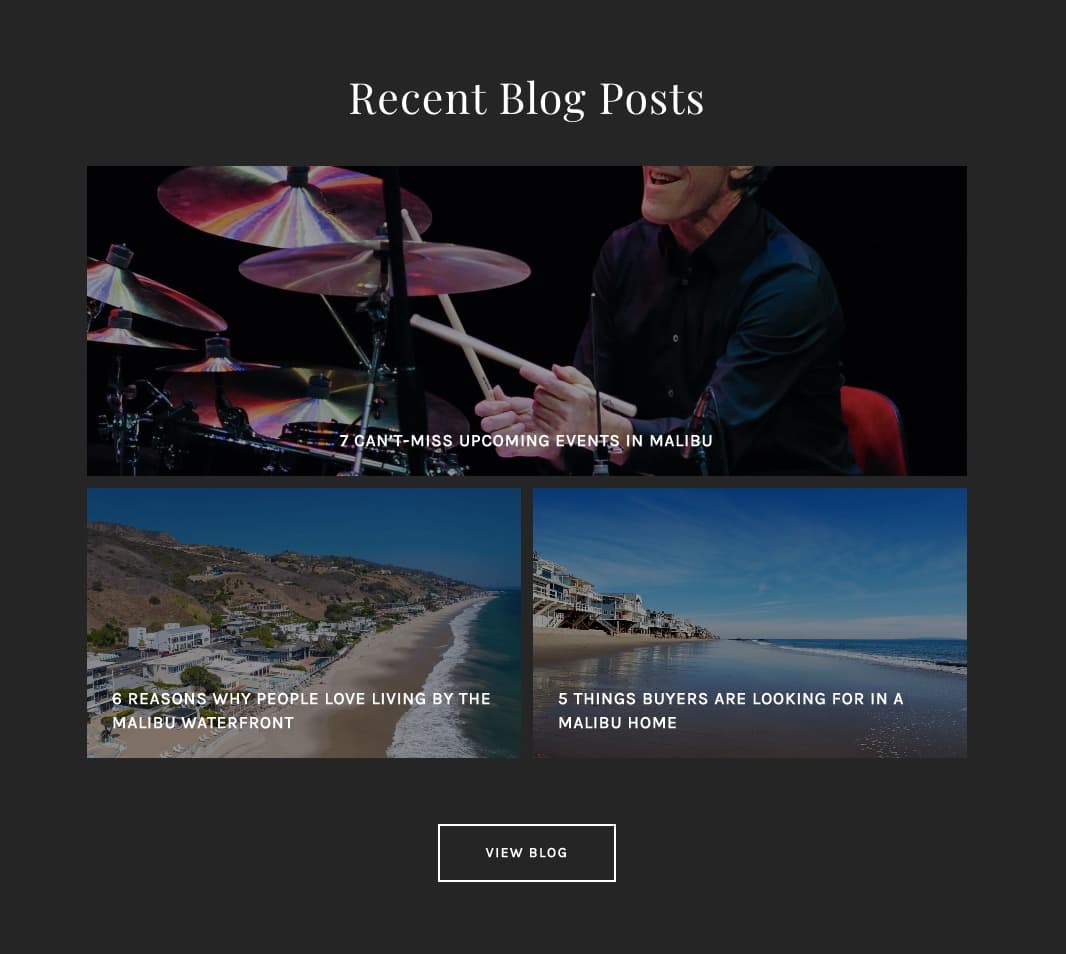 Here are some best practices for content marketing for real estate:
Post content regularly on blogs and social media: You need to post regularly on a wide variety of topics related to real estate. Analyze what keywords and headlines used by your competitors are doing well. Plan your posts accordingly.
Conduct in-depth research: The key to winning with content marketing is also offering in-depth and accurate information that helps your prospects. Try to create content that offers some extra value to prospects. You've got to play the long game, especially if you want to be viewed as an expert in real estate. Your prospects should be able to refer to your blogs as a helpful resource, ideally.
Align your content with your brand values: Tie your content in with your overall brand values. Logically, your content should align with your marketing goals. Don't market or promote yourself incessantly on your blogs unless the context makes logical sense.
Invest in the right content management software: Investing in the right real estate CRM or content management software will make life much easier. Not only will your contact list be updated and segmented automatically, but you can also create content for different segments of your contact list for a more personalized customer experience.
4. Answer frequently asked questions on your blog
Whenever a prospect enters a query in Google, they get a list of further questions to help them zero in on the information they need. Here's an example.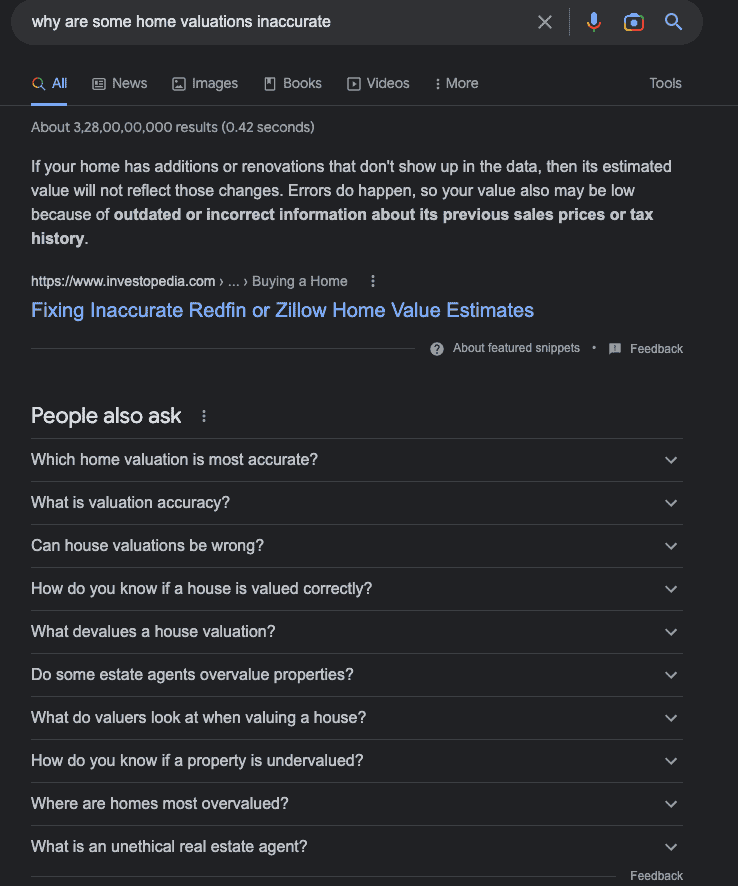 The marketing idea here is to be able to answer most (if not all) of these questions through your blog posts. If a prospect clicks on one of the related questions, your answer may appear on top if your content is good enough.
Here are some steps to get you started with answering pressing questions through your blog posts:
Know your audience: Are your prospects mainly home buyers, sellers, or a mix of both? What's the age range of your current clients, and where are you planning to expand? Ideally, your blogs should respond to questions at every stage of the customer lifecycle as well.
Categorize your content and make it easy to navigate: Ensure that your content is categorized and tagged based on topic. Make it easier for your prospects by linking similar content and creating backlinks.
Post only quality content that's SEO optimized: Ensure that all your content meets a minimum quality check before it is posted. SEO keyword research is important and necessary. But, don't make SEO the only goal of your content. The more value that people get from your blogs, the better you rank on the SERPs.
Read more: 5 Reasons Content Marketing is the Future of your Business
5. Build better engagement with email marketing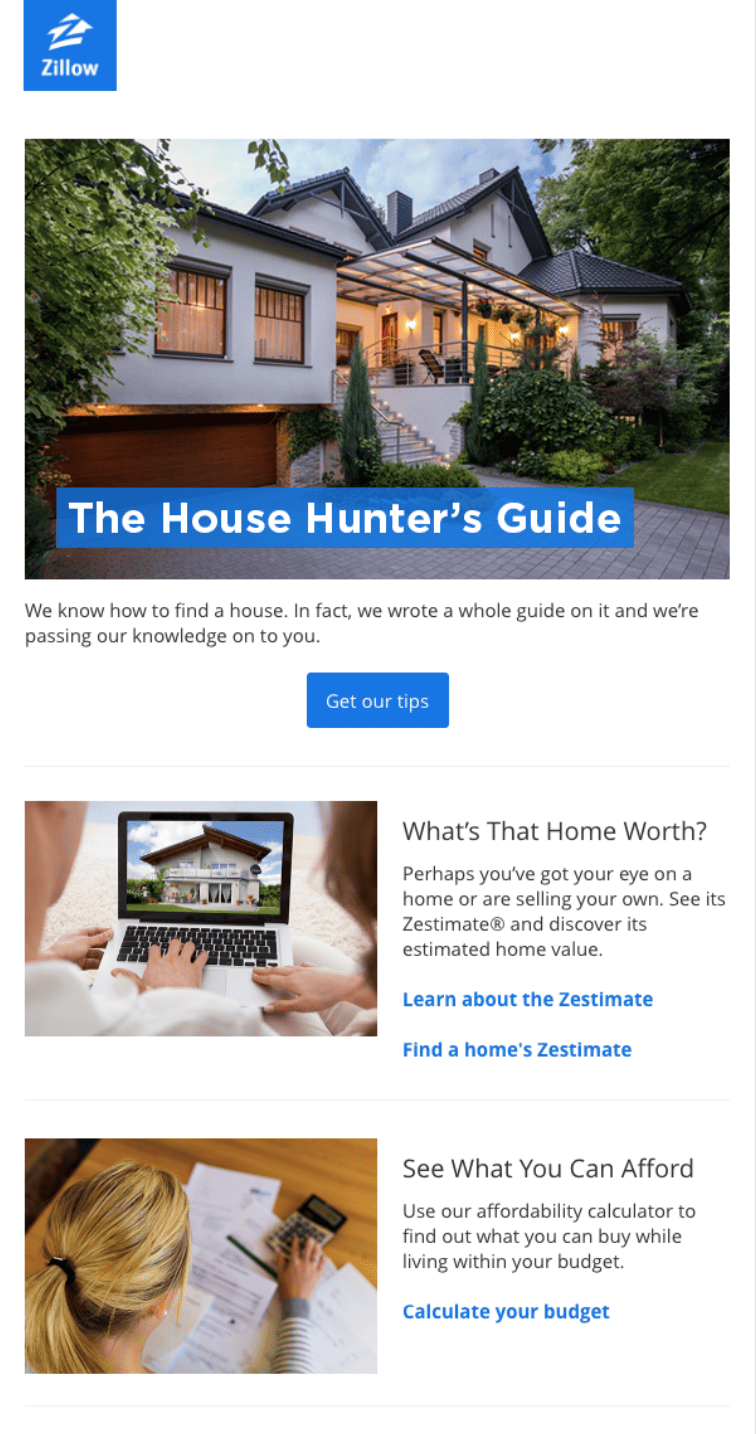 Never discount the power of email marketing in real estate! Not only does email have a great ROI, but it is also cost-effective and much less intrusive than calling or texting.
Investing in the right email marketing software or an all-in-one CRM platform can make email marketing easier. You can set up automated emails that are triggered whenever a prospect completes an action.
For instance, if a prospect has saved a property using the MLS Listing on your website, you can send them an automated email with similar properties in the area.
And, the best part? You won't have to make any manual effort once your automated workflows are set up!
Some common email campaigns you can set up include:
Monthly or bi-weekly real estate newsletter
Drip email campaigns to warm up prospects
Welcome emails
Check-in email for client milestones like birthdays or anniversaries
Follow-up or referral request emails after closing a deal
Emails for exclusive viewings or premium listings
Informational emails about changes in real estate law or market regulations
6. Grow your email list using a sign-up form
Once you have a sturdy email list, you need to update it regularly. And keep adding new prospects to the list as well.
A sign-up form on your home page is one of the best ways to get new leads.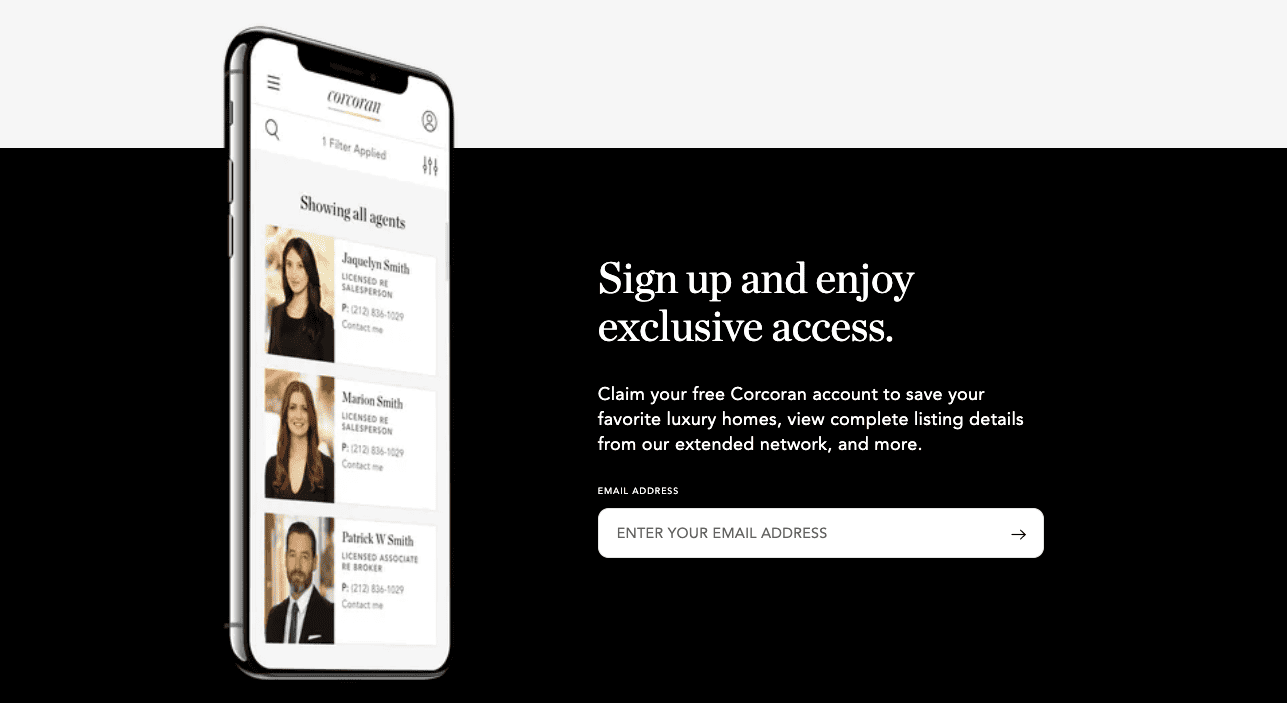 Here are some expert tips on creating your sign-up form:
Keep minimal form fields: Ideally, you shouldn't have more than 3 form fields. Ask only for necessary information. Too many form fields will cause more prospects to abandon the process.
Avoid CAPCHAs: People may be tempted to use CAPCHAs or reCAPCHAs to reduce spam and detect bots. But, this can be hugely inconvenient for prospects in a hurry. It's better to have a double opt-in through email than have a CAPTCHA at the end of the form.
Use action-based CTAs: When you say 'click here' or 'submit', the CTA typically doesn't perform as well as an action-based CTA. Instead, you can write 'Get Access Now' or 'Find Properties Now' for better conversions.
Use a catchy headline and avoid distractions: Your headline should be short and succinct. It should highlight the value provided to your prospect by signing up. Check the example given above.
Read more: 8 Best Email Marketing Software for Real Estate in 2023
7. Get creative with your official email signature
What's in a signature, you ask? Well, lead generation! Lots of it.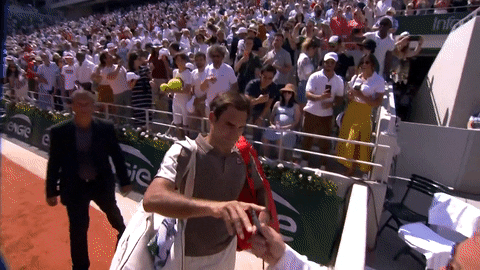 Your email signature is a great opportunity to highlight your profile and expertise as a realtor. It's like your digital visiting card. So, make it uniquely tailored to your best qualities and leave lots of contact information. Here's a great example.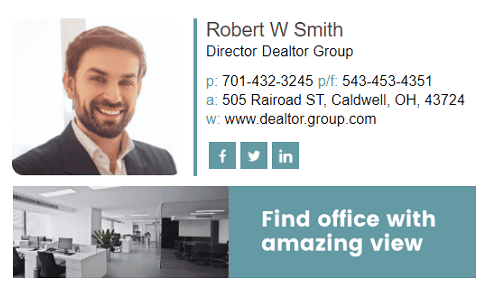 Alternatively, you can also put in a link to schedule an online meeting with you. Or, you can attach links to great content from your blogs or even a video introduction to your brokerage.
Get as creative as you like, but don't overshadow the main message — that your prospects can reach you and your expertise with a click or two!
Here are some tips for a killer email signature that's sure to convert:
Use a clear, professional photograph. Don't skip this step. Prospects are more likely to engage with you if they know who is on the other end.
Include multiple ways to contact you. Don't just give one phone number and email address, leave multiple options. You can also include a click-to-call feature for your mobile number.
Show off your expertise and real estate portfolio with a one-liner. For instance, "Helped 1500 Californians find their dream home in 2022".
Don't include videos or gifs in the email signature itself.
Run A/B Tests for different aspects of your email signature. You can make changes based on this data periodically.
8. Import or code responsive email templates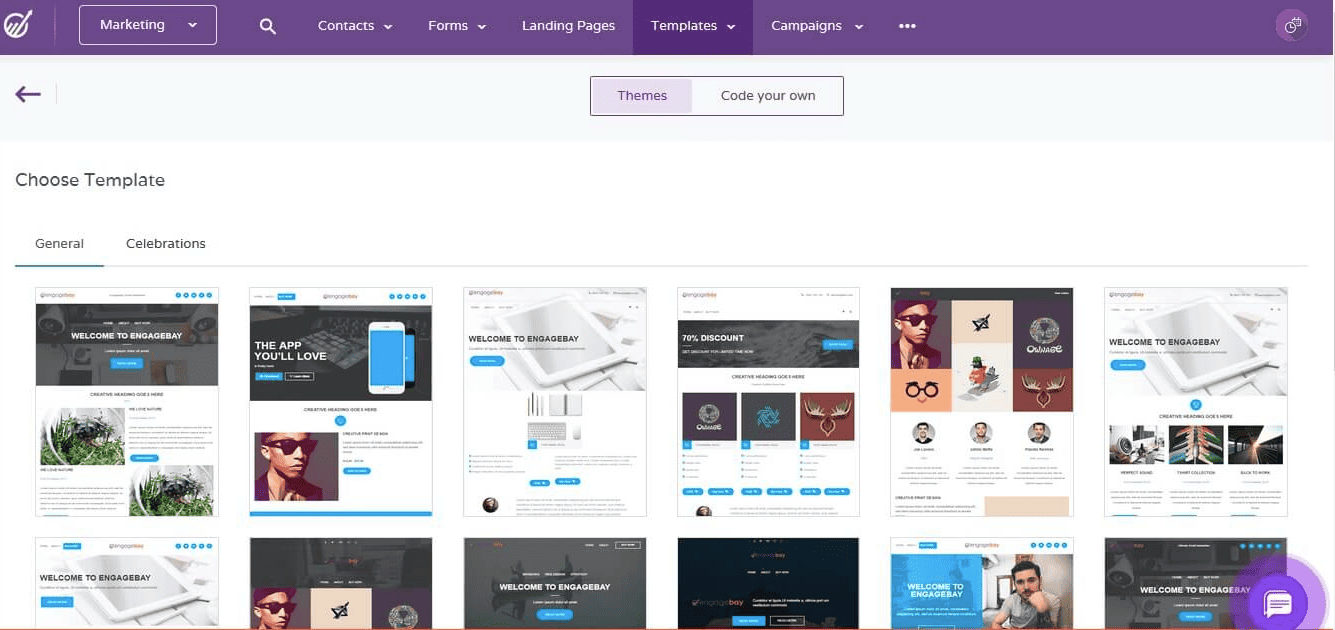 Half your design woes are solved because of email templates that are available with most CRM or content management systems.
A responsive email template is optimized for viewing through a desktop browser, mobile, or tablet. The process of creating a responsive HTML email template is a bit different from creating a responsive web page for your real estate website.
In a responsive email template, the images, tables, text size, and CTA buttons automatically re-size to fit seamlessly into any device. Here's a video tutorial on creating your responsive email templates in EngageBay.
https://www.youtube.com/watch?v=Bct6xrmjM6A
Here are some best practices to follow while creating email templates:
Keep your subject line short. Don't go beyond 60 characters for desktop and beyond 35 characters for mobile.
You can set a priority for certain content so that the right content appears at the top when prospects view the email through their mobile phone. You also have the option of hiding certain content for smaller devices.
Generally, a single-column layout is better for responsive emails. They read better when viewed through a smaller screen.
Ensure that CTA buttons can be re-sized based on the device. And, don't add too many links. This might make the content appear crowded and untidy on smaller devices.
Read more: 10 Emails Real Estate Agents Should Send to Every Lead
9. Understand seasonal real estate marketing
I think most realtors won't argue when we say there are seasonal trends in real estate as well. This depends on your area and the climate in your area as well.
For instance, most parents would not want to move bang in the middle of a school year. And, people generally tend to avoid moving at the end of the year.
For cities like Miami, there could be an upsurge in real estate sales during the winter when many people from colder climates would want to buy a second winter home in a warmer area. For a city like Denver, the cold season may not be so great for real estate. Here are some unique real estate marketing ideas for each season!
Spring and Summer
Spring: During the spring, focus on meeting some prospects in person, as many parents would be looking to move in the coming summer. This is the time to refresh and update your listings with killer photos and videos. Also, focus on curbside appeal by planting new flowers or doing basic home repairs. This is also a great time to send out emails for exclusive previews of premium listings.
Summer: Summer is one of the more lucrative seasons for realtors. Make the most of this time by sending out maximum emails to nurture leads. Hosting an online or in-person webinar and updating your blog is great for summer too.
Fall and Winter
Fall: Focus more on warming up and nurturing leads at this time. It's the optimum time for your drip email campaigns. Build partnerships with local businesses during the fall.
Winter: One advantage of fewer buyers in the market during winter is that you'll have some very motivated buyers for the winter season. When the competition is low, focus on closing a few important deals with motivated buyers. This is also a great time to start a lead generation campaign to prepare for the new year.
Read more: 15 Easy Steps to Start Real Estate Email Marketing Like a Pro
7 Unique Ideas for Real Estate Social Media Marketing
Once you've got a stunning website and great content, the next big step is streamlining your social media presence. So, here are 8 unique real estate marketing ideas for your social media channels.
1. Optimize and claim your Google My Business page
If you don't already have an optimized Google My Business page, get started now. All your competitors are already doing this. Here's what an optimized Google My Business (GMB) page for realtors looks like.

Just like your website, this page could be one of the first points of contact for prospects. Ideally, it should provide all the information that any prospect would need to get in touch with you.
Here are some tips to optimize your GMB page:
First, ensure that your name, website, address, email, and phone number are updated on the GMB profile. Add high-resolution images of your team as well.
Specify your business category. For realtors, category keywords like 'real estate agency' are popular as the primary category. Add two other keywords 'real estate brokerage' or 'real estate consultant' as your sub-categories.
Request for reviews from trusted clients. Reply to all reviews on your GMB page, especially bad reviews.
Use the Q&A section to highlight common issues faced by your clients and prospects. Answer them succinctly.
Use the new profile performance feature launched by Google to get insights into where you're ranking in local searches.
Build location authority over time in the areas you service to ensure that your GMB profile ranks high whenever someone searches for a realtor in your area.
2. Create or join 'nice' Facebook groups to boost engagement
As a realtor, you probably are already a member of different Facebook groups. You're already a part of the usual groups like the National Realtors Association group, your local area groups, and your local homeowners' group, among others.
But, highlighting your expertise in your niche market and joining niche Facebook group pages is a cost-effective way to boost lead generation.
It's a great way to interact with prospects, where you give answers without much expectation of returns.
Let's say you're a realtor in Miami and next month, you're listing several oceanfront properties with a pool. You can join a Facebook group for people who love swimming or surfing from the neighborhood. One or two posts featuring the best Miami views from the poolside could end up getting you a few leads.
Here are some niche areas you can use to create Facebook groups:
Vacation or short-term rental homes
Luxury homes
Outdoor amenities
Historic buildings
First-time homeowner or buyer
Flipped properties
Beach, mountain, desert properties
Read also: Creating The Perfect Social Media Handle For Your Business
3. Use vertical videos on social media to boost views and engagement
Here's an excellent tutorial to make vertical videos for social media and websites for realtors. You may or may not want to hire someone for this, depending on the volume of videos you'd need.
Whether it's Instagram reels, TikToks, Facebook reels, or YouTube shorts — vertical videos are definitely in at the moment.
Vertical videos typically have 13.8x times the visibility when compared to images on Facebook! That is no small number. As more realtors see the power of video marketing on social media and the demand for video content grows, you can't afford to miss out on this opportunity.
4. Create polls, giveaways, and giveaways for your Instagram stories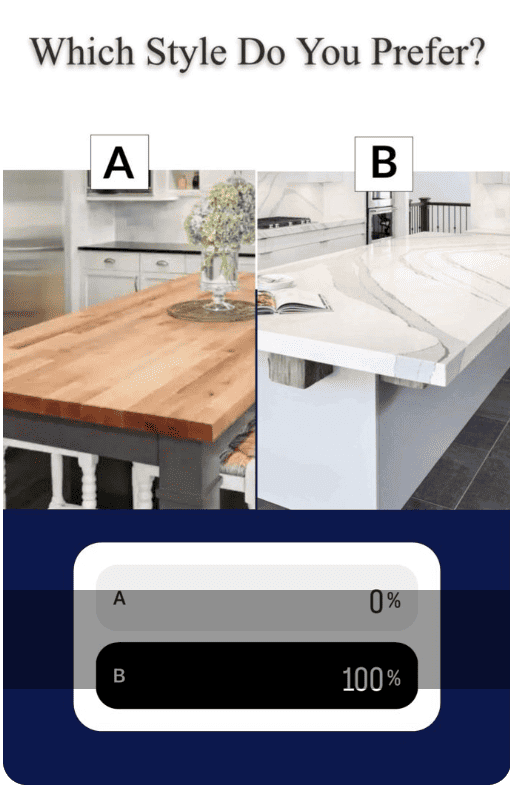 Boosting engagement on Instagram and Facebook is easy when you regularly host contests, polls, and giveaways for your loyal followers. After all, 58% of users said they were interested in a brand after viewing the brand's stories!
The average brand posts around 17 times a month. So, there's no need to post something daily.
Here are some simple ideas for your Instagram and Facebook stories:
Contests and giveaways
Weekly or monthly quizzes
Neighborhood human interest stories
Before and after properties, especially if you flip properties
Question stickers for user queries
Customer testimonials
Read also: Instagram Story Best Practices: 12 Tips for Success
5. Invest in paid Facebook or Instagram ads
A recent study by The Close concluded that 44% of realtors gained one new lead through social media channels in 2020. If this isn't happening for you, then it's time to consider paid ads for Instagram and Facebook.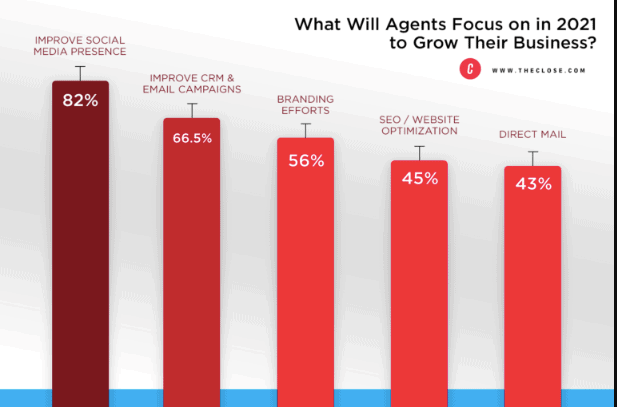 Here are three ways Facebook and Instagram ads can work for real estate agents:
Using the Facebook Ad Manager, you can easily target local prospects who are considering buying or selling a property.
By using the 'Special Ad Category', you'll be able to target prospects based on location and interests.
You can also pay to promote certain posts among your existing followers to boost visibility. So, this is a great option for time-sensitive posts, posts with interesting CTAs, and quality blog posts.
6. Add social share buttons to property listings

This is a no-brainer. You know how important referrals are for realtors, right?
Well, a social media share is a soft, virtual referral by your followers. And yes, we have to do everything in our power to encourage it. It also boosts the diversity of your backlinks.
By including social share buttons on properties, prospects can show off their recently purchased or prospective home to their friends and followers.
Here are some tips:
Place the share buttons where it is easily noticeable. You can decide the order of the social media channel based on your target audience.
Place the share button towards the top or middle of the web page. Ideally, your users shouldn't have to scroll too much to see the share buttons.
Include a clear call to action along with the share button.
Read also: Top TikTok Challenges of All Time and New Ideas for 2023
7. Go live on social media with property walkthroughs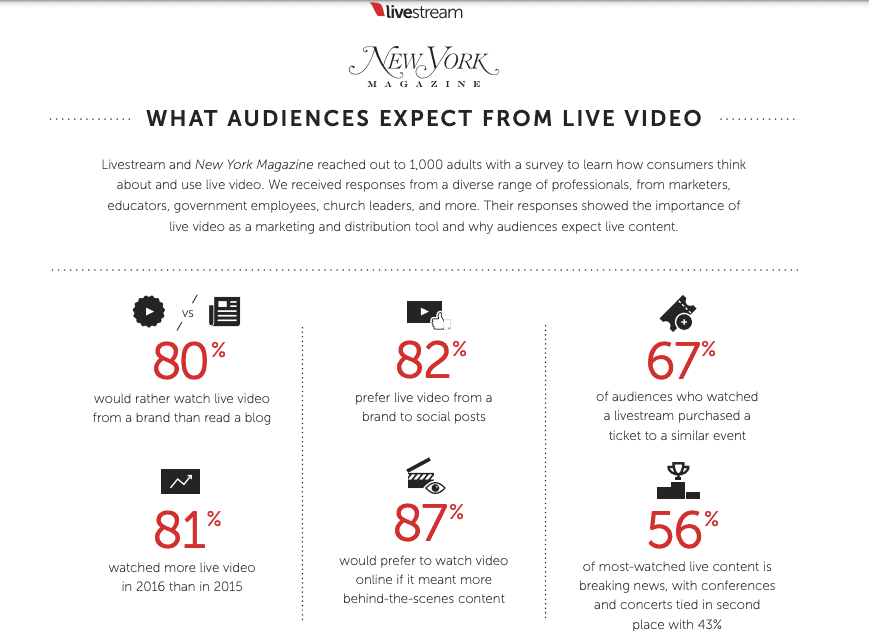 This is yet another interesting real estate marketing idea that costs absolutely nothing.
You can host a Facebook or Instagram Live featuring a top property. A simple, engaging walkthrough would be enough to capture the interest of prospects.
Here are some live-stream ideas for your Facebook or Instagram page:
Virtual open house
Show off great spots in the neighborhood
Interview a local businessperson or celebrity
Tips from homeowners or sellers
Speak to new homeowners after closing a deal
Read also: How to Get Started in Freelance Digital Marketing [Guide]
4 Creative Ideas for Real Estate Offline Marketing
If the pandemic taught us anything, it's the simple value of face-to-face human contact and connections. So, we've curated four unique real estate marketing ideas to use offline.
1. Host paid or free real estate seminars in your area
If you've enjoyed success as a realtor, it means that people already trust your expertise. So, what's stopping you from using this expertise to help out prospects in your neighborhoods?
Remember not to sell yourself too hard during the seminar. The goal is to use your expertise to help people and generate leads on the side. And, be upfront with your agenda as well.
First, decide on the niche or topic on which you would be able to provide a unique perspective. Perhaps you've worked with many first-time buyers and understand their concerns. Or, you might be a pro at helping clients who are bouncing back after losing a home in foreclosure.
Have plenty of content and engaging activities that your prospects can take part in. Create a one or two-page takeaway folder that includes your visiting card. Leave some time for networking as well.
After the event, make sure you follow up with quality leads with a friendly email.
2. Become a sponsor for popular local events in your area
If a real estate seminar is not your cup of tea, then you can simply be a sponsor for local events. Depending on your target audience, sponsor events that would be appealing to them. Here are some ideas:
Sponsor a local pee wee football or soccer team
Fund local radio or television interviews or shows
Plan for local events like picnics for children
Fund a local charity
Sponsor a pet adoption campaign for your local shelter
Finance a bike race or a marathon
Real Estate CRM: Everything You Need to Know
3. Consider strategic partnerships with local businesses
Especially after the pandemic, people are invested in their local businesses and want to support them. By partnering with a local business, you and the local partner gain more brand awareness together!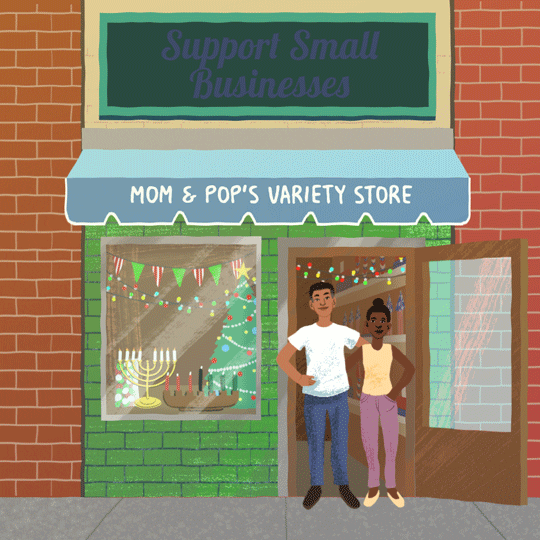 Keep these expert tips in mind while choosing a business partnership:
Choose a local brand whose values align with yours. Do your research well in advance to avoid any unpleasant surprises down the road. Be clear on the goals of your partnership before signing anything. Ideally, you should be able to partner with multiple businesses.
Offer incentives for customers. For instance, if you're partnering with a local artisanal furniture business, you can feature some of their latest pieces in your open houses.
Partner with a local charity, especially during the holiday season.
4. Prepare an elevator pitch for any occasion
Having your elevator pitch ready can be a game-changer and boost your confidence. If handled well, a 30-second pitch is enough to get a new lead.
Here's a simple formula for your elevator pitch.
Start with addressing the biggest pain point for the prospect. For example, "in this market, it's not easy to get a house sold within 25 days."
Then, explain why and how you are best suited to solve this pain point. For example, "Because of marketing and my contact list, I helped two clients sell their properties in under 25 days."
Finally, nudge your prospect to consider your services. For example, "Do you think a monthly market report of this neighborhood would help you? If they say yes, note down their email address."
Remember that this has to be flexible, depending on the needs and interests of your prospects.
Read more: What is a CRM in Real Estate? Cheat Sheet for Realtors
That's All, Folks!
With the amount of competition in the real estate market today, real estate agents have to stay on top of the marketing game.
Whether it's social media, content and email marketing, or offline marketing, these tips will help you streamline your marketing strategy.
Which real estate marketing ideas from this list stood out to you? Let us know in the comments below.
And if you'd like to try a CRM software that comes with marketing automation, sales tools and customer support solutions, try EngageBay.
It's loved by thousands already, and you might just love it too!