Every small business needs a CRM, ideally sooner than later.
Yet selecting the first CRM you come across is rarely the wisest move.
The wrong choice could lead to a skinny bottom line as you overspend on expensive software.
You need a CRM solution that fits your small business or startup budget yet includes a full roster of features designed to further your company.
Is that CRM Zoho?
It could be, but it very likely is not.
Before you commit either way, we highly recommend you read this article.
Ahead, we'll discuss in great detail six of the best alternatives to Zoho.
These options are EngageBay, TeamWave, HubSpot, Pipedrive, Insightly, and Freshworks.
By the time you're done reading, you can proceed with confidence purchasing your small business CRM.
What Is Zoho CRM?
Before we dive into our list of Zoho CRM competitors, let's get on the same page about Zoho, including its features and pricing structure.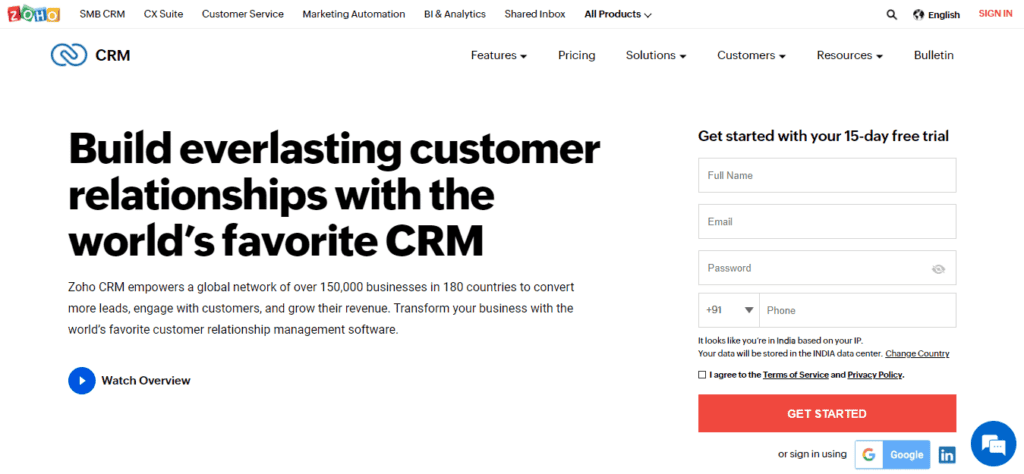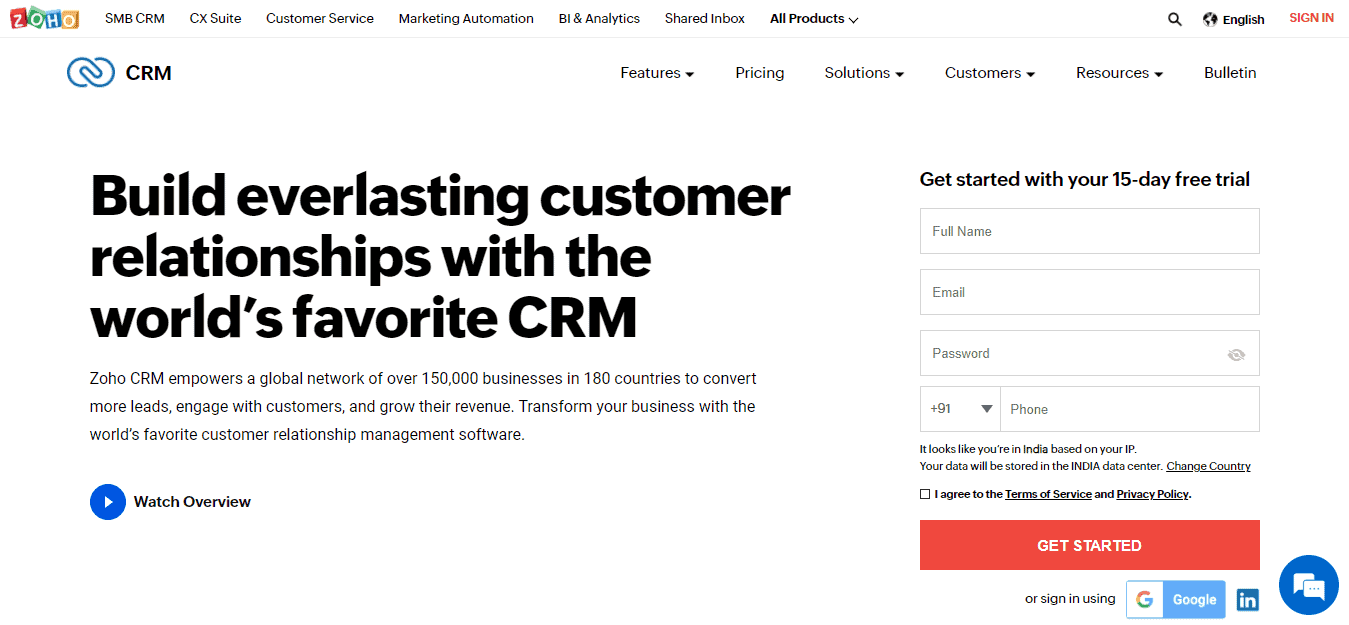 Background
Zoho is a CRM software for sales experts.
Their CRM software is part of the Zoho Office Suite, which includes solutions such as invoicing, project management, web conferencing, databases, presentations, spreadsheets, and word-processing.
According to Zoho's website, their CRM is a favorite among business-owners in more than 180 countries.
Features
Here is an overview of the features available throughout Zoho's various pricing plans.
Mobile and Remote
Now your sales team can do more of their work on the go with the Zoho mobile app available on the Google Play Store and the Apple App Store.
Use the app to scan business cards, open and close deals, track deals in progress, and review analytics.
Zoho's CRM is also adept for remote work as it features cloud collaboration capabilities.
From telephony to presentations, meetings, and analytics, your company can feel closer together even if everyone is apart.
Marketing Automation
Although Zoho's is more of a sales software, their CRM includes marketing automation features.
Here's what you can do using their automation:
Lead and customer segmenting
Card scanning
Lead nurturing
Survey and email campaigns
Event management
Google Ad campaigns
Marketing attribution
Webform creation
Sub-campaigns
Campaign analysis
Predictive Sales
Zoho's CRM comes packaged with Zia, their predictive sales "conversational assistant" that lets you issue voice or text commands with instant responses.
You can call or chat with Zia to use the following predictive sales features:
Best time to contact suggestions
Workflow recommendations
Assignment suggestions
Data enrichment advice
Sales predictions
Sales Automation
You can automate all parts of your small business sales through Zoho, using features such as:
Assignment rules
Macros
Workflow rules
Contact management
Deal management
Lead management
Forecasting
Sales analytics
Pricing
Before you make up your mind on Zoho, you definitely want to check out the CRM's pricing plans.
You can select from four plans: Standard for $20 per month, Professional for $35 per month, Enterprise for $50 per month, and Ultimate for $65 per month.
You might also wish to try a free trial before committing.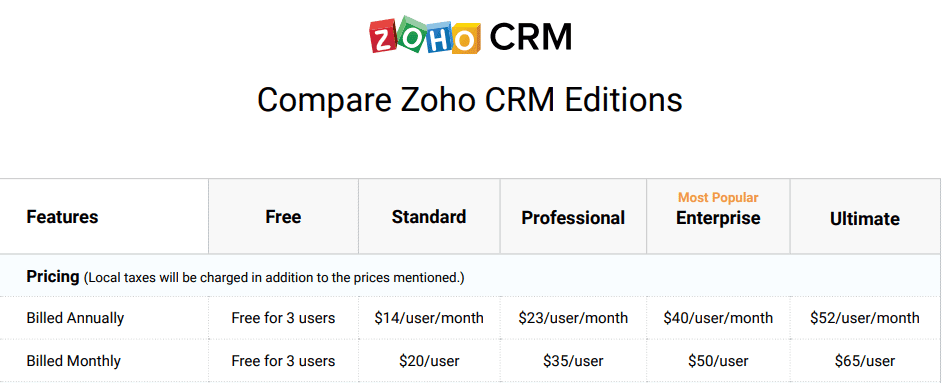 The Standard plan includes the following features:
Basic support
Google contact and Google Calendar syncing
One webform module for Google sites
CRM contextual gadget for Gmail
Website visitor tracking
Marketing campaigns, email authentication, and 100 email templates
10 custom analytics dashboards
100 custom reports
Automation workflow rules
Sales forecasting
Sales deals
10 lead scoring fields per module
In the Professional plan, you have everything above as well as:
10 webform modules for Google sites
Zoho CRM for Google Ads
Unlimited email templates
Unlimited custom dashboards
Unlimited custom reports
20 lead scoring fields per module
The costly Enterprise plan adds these features:
Paid premium or enterprise support
20 modules for Google sites
Autoresponders
Marketing attribution
Workflow reports
Two prediction models per company
30 lead scoring fields per module
If you can afford $65 per month, here's what the Ultimate plan gets you:
100 webform modules for Google sites
20 prediction models per company
50 lead scoring rules per module
Related Article: CRM Functionality: Zoho vs HubSpot vs EngageBay
The Top Six Zoho CRM Alternatives
Now, without further ado, let's get into our list of the top five Zoho CRM alternatives.
#1. EngageBay
At the top of our list is EngageBay, an all-in-one marketing, sales, and CRM solution.
One such reason we think EngageBay could be the perfect alternative to Zoho is that it's made for small businesses and startups like you.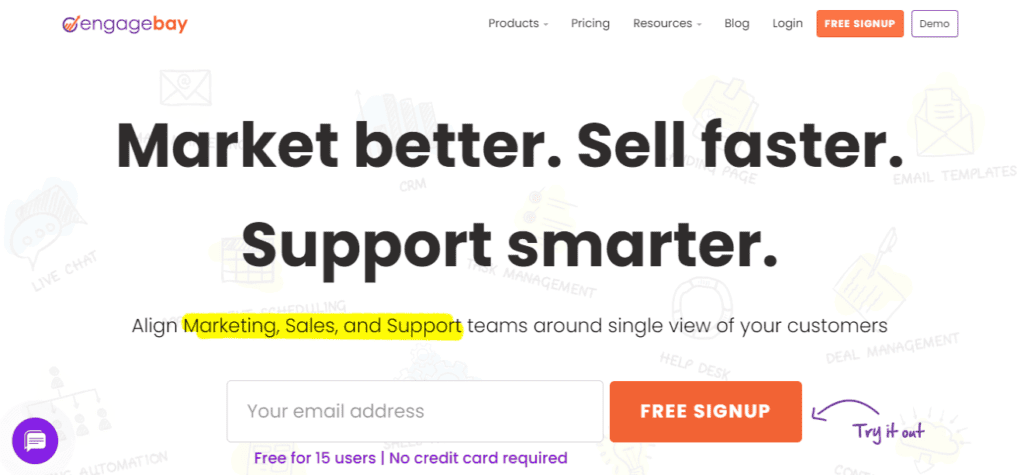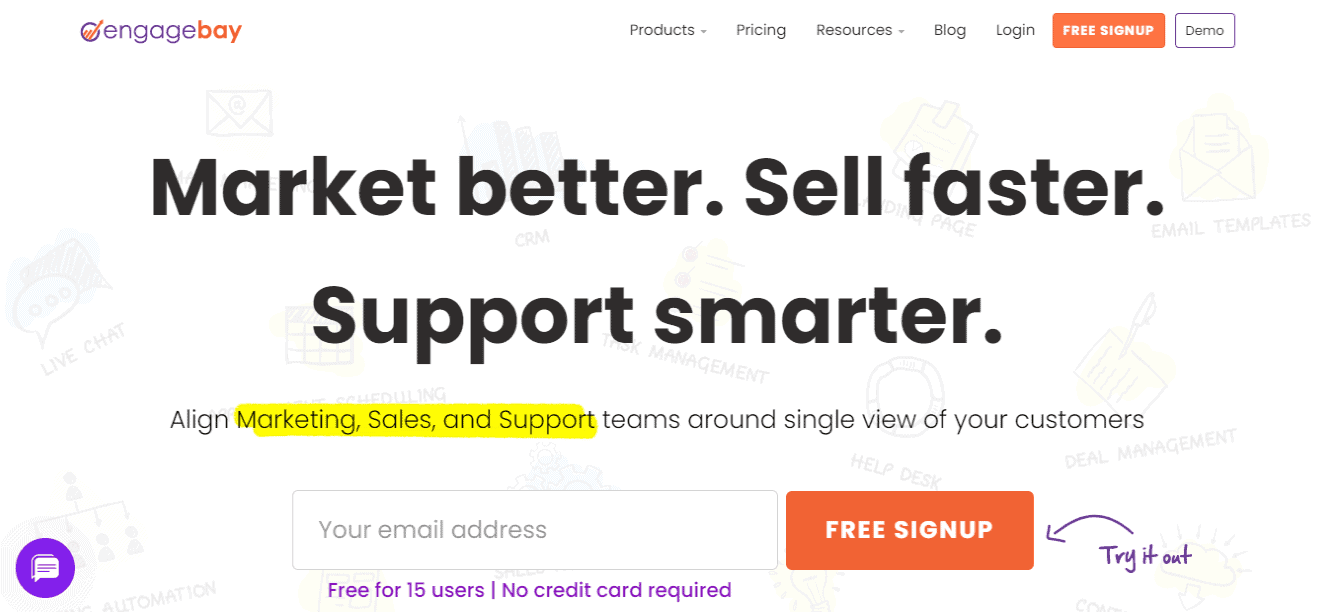 In the CRM & Sales Bay, you'll find a wealth of CRM features made to take your small business further.
Founded in 2017, EngageBay has 28,000 trusted customers and counting!
Features
Let's take a closer look at EngageBay's features now.
Don't miss this video highlighting EngageBay's features in whole!
Pricing
The best part about EngageBay's CRM is it's absolutely free to use.
Even if this is the only EngageBay tool you select for your small business (which it likely will not be), you won't ever have to pay a cent to use the CRM.
In the CRM & Sales Bay, you can add more features through four plans.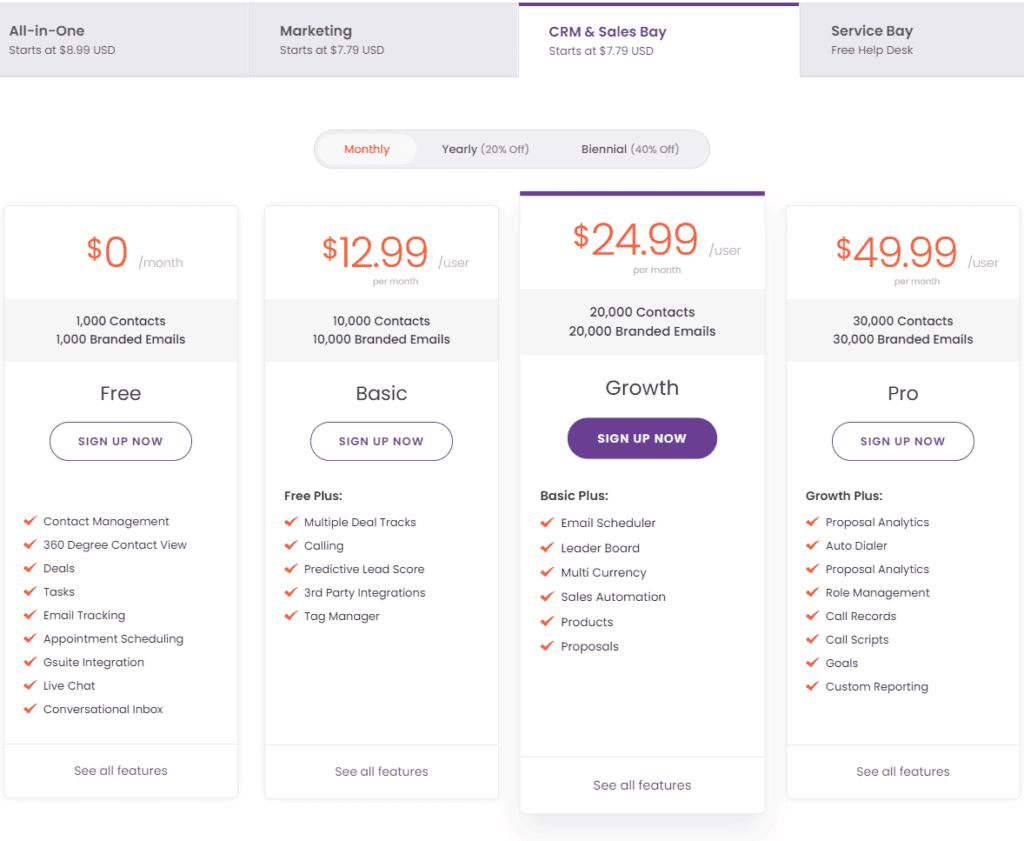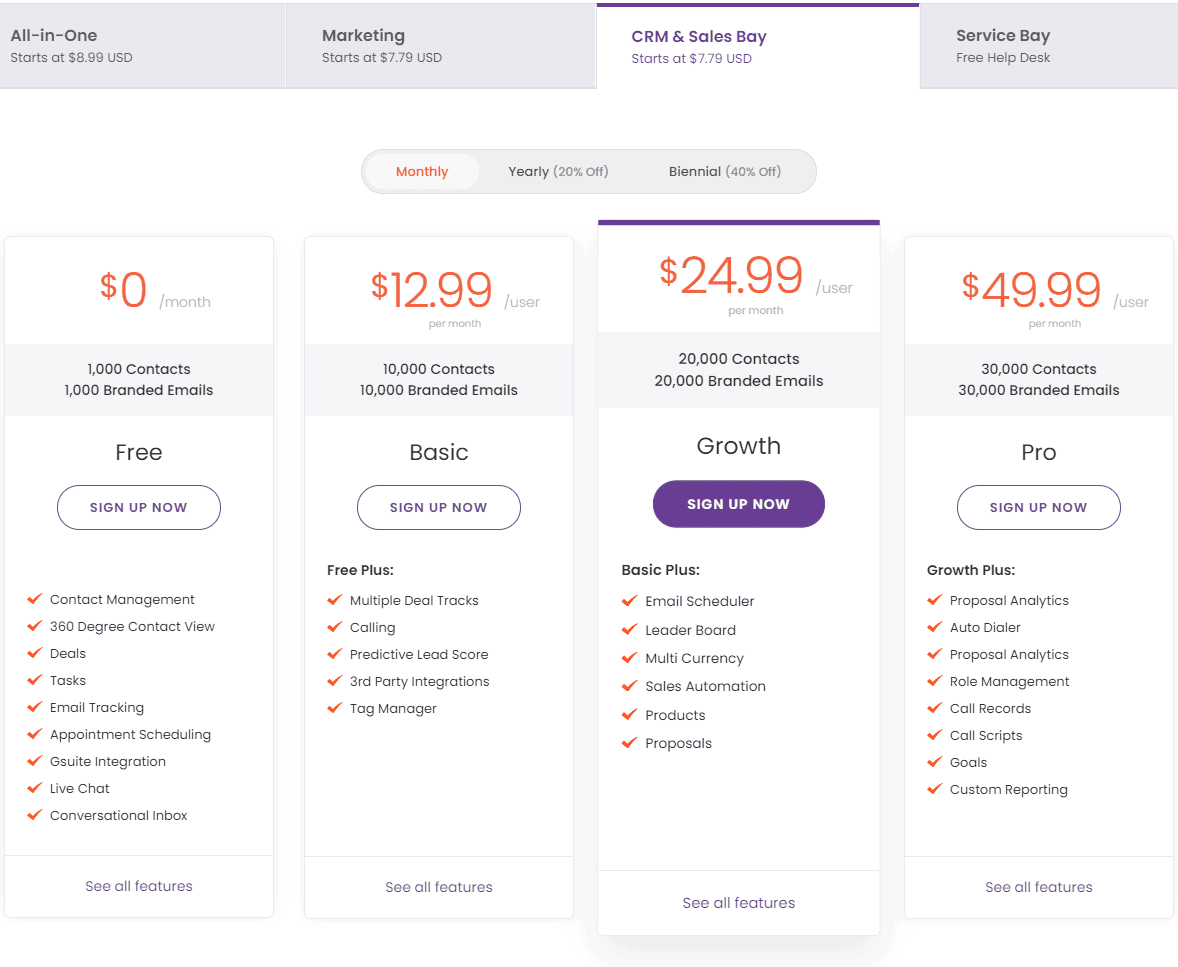 The Free plan is also free forever and provides features like a 360-degree contact view, appointment scheduling, tasks, deals, and more.
The Basic plan starts at $12.99 a month per user.
You get 10,000 contacts and features such as predictive lead scoring, calling, and advanced deal tracking.
The Growth plan for $24.99 a month per user adds 20,000 contacts. Other features include a leaderboard, email scheduling, proposals, and sales automation.
The most encompassing plan is the Pro plan for $49.99 a month per user.
All EngageBay features in the CRM & Sales Bay are available, including custom reporting, goals, call scripts and records, an auto-dialer, and proposal analytics.
#2. TeamWave
TeamWave is an all-in-one, small business productivity platform. It allows businesses to manage their sales, projects, team, clients & marketing – on a single platform. 
The highlights of TeamWave are its easy to use interface and powerful features available at an affordable pricing which makes it one of the best choices for small businesses.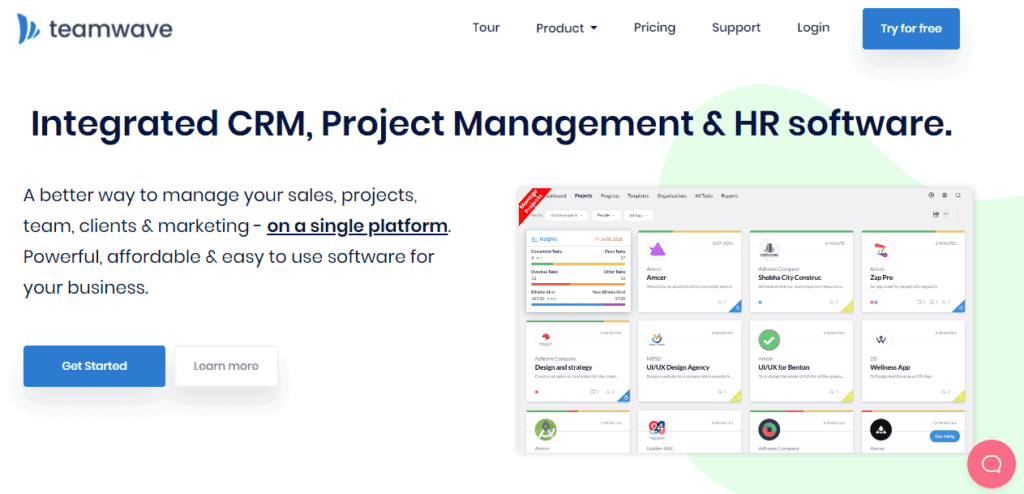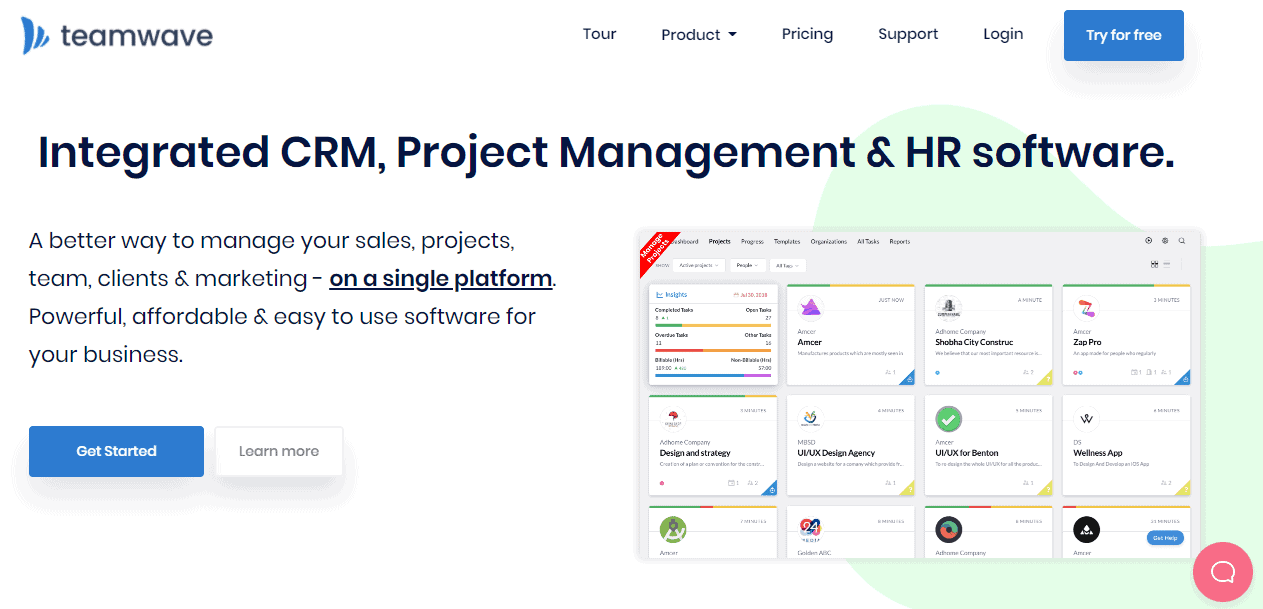 Also, integrations with platforms like Mailchimp, Quickbooks and Google Workspace, without any additional cost, helps increase team efficiency and streamlines processes.
Features
This is how your business can work smarter with TeamWave:
Visual Sales Pipeline:

This gives you complete visibility of your deals across different stages. Quickly see how many deals are in each stage, sort and filter by their expected close date, make smart decisions and stay in control of a complex sales process.

Customize your CRM:

Customize your sales pipeline, filters, contacts and deals with ease, to suit any type of sales process.

Time Tracking:

Keep track of hours worked, improve your team's productivity and your bottom line.

Work Anywhere, Anytime:

Our mobile apps let you access your deals, tasks, projects and contacts even when you're on the road.

Team Calendar:

Schedule and track meetings, tasks, milestones and events for you or other team members.

Collaborate:

Work with clients, partners and your team. With the option to keep things private, you control what the client (and team members) can see.

Contact Management:

Manage all contacts from one place, get a clear overview, and build better relationships.

Reports and Dashboards:

Gain instant visibility and insights you need to make informed decisions in real-time. Spot issues before things go off-track.
Pricing
And the reason we call TeamWave one of the most affordable work management software is because they start at a flat pricing of US $39 per month for unlimited users.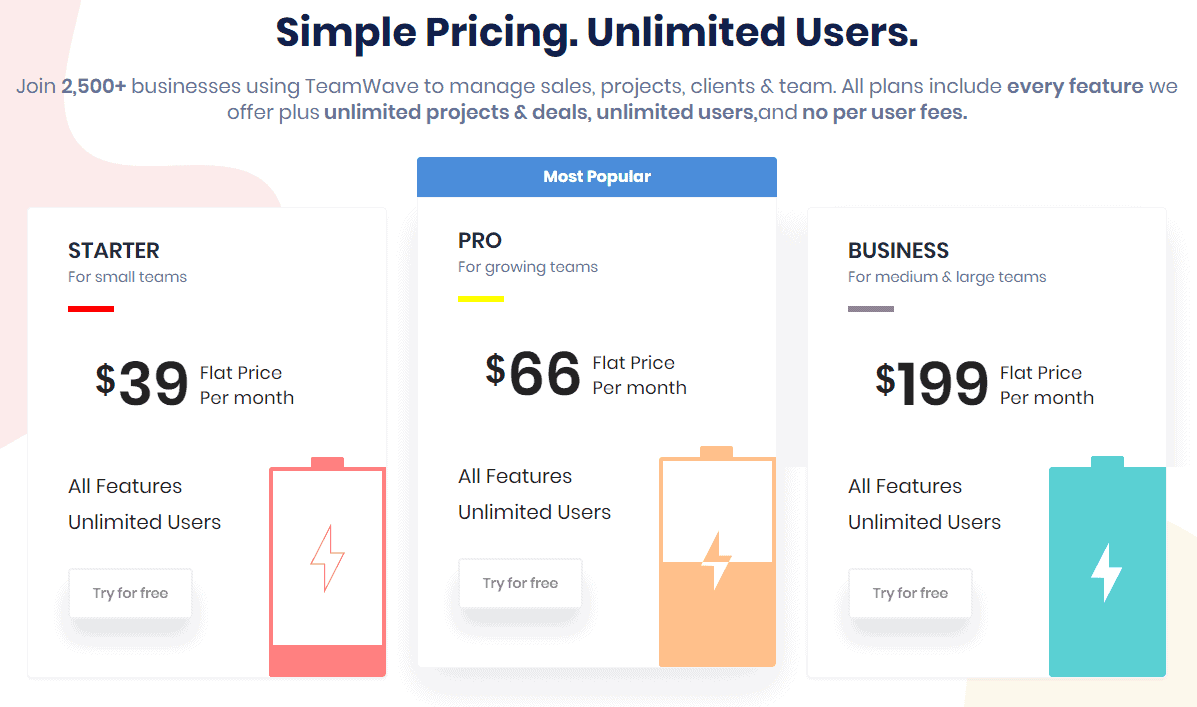 All the 3 plans Starter, Pro and Business are for unlimited users and have the same features that also includes integrations to 1000+ app, visual sales pipeline, sales forecasting, email integration, keeping pipelines and activities private to only a few users, automatic check-ins and much more.
In the Starter Plan, you can add 15000 contacts, has 25 GB storage and you can add 1 company domain.
In the Pro Plan, you can add 30000 contacts, has 100 GB storage and you can add 2 company domains.
In the Business Plan, you can add 150000 contacts, has 500 GB storage and you can add 4 company domains.
#3. HubSpot
As a service, sales, and inbound marketing software, HubSpot's CRM doesn't get all the spotlight, but it should.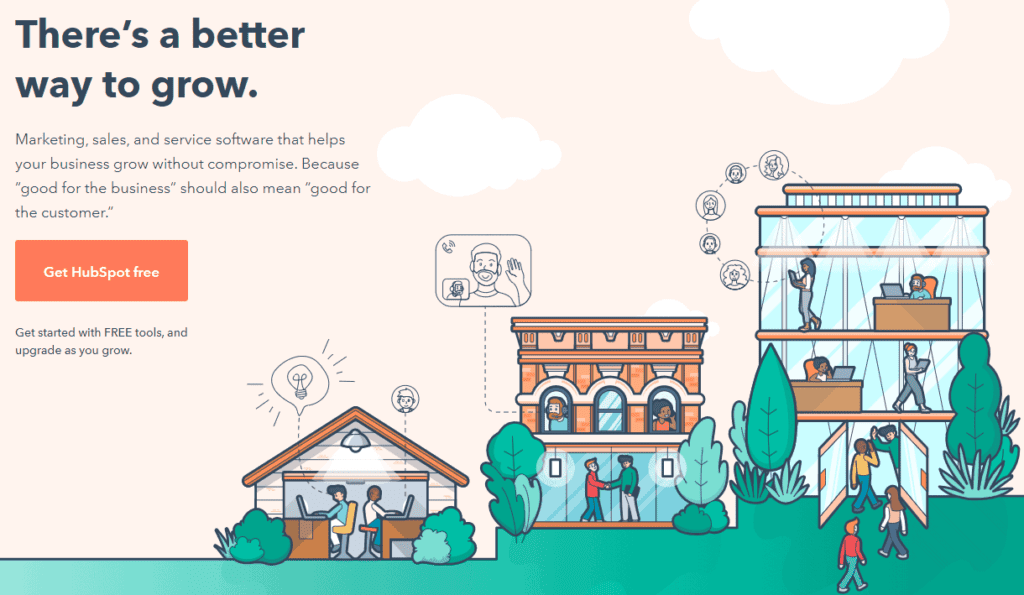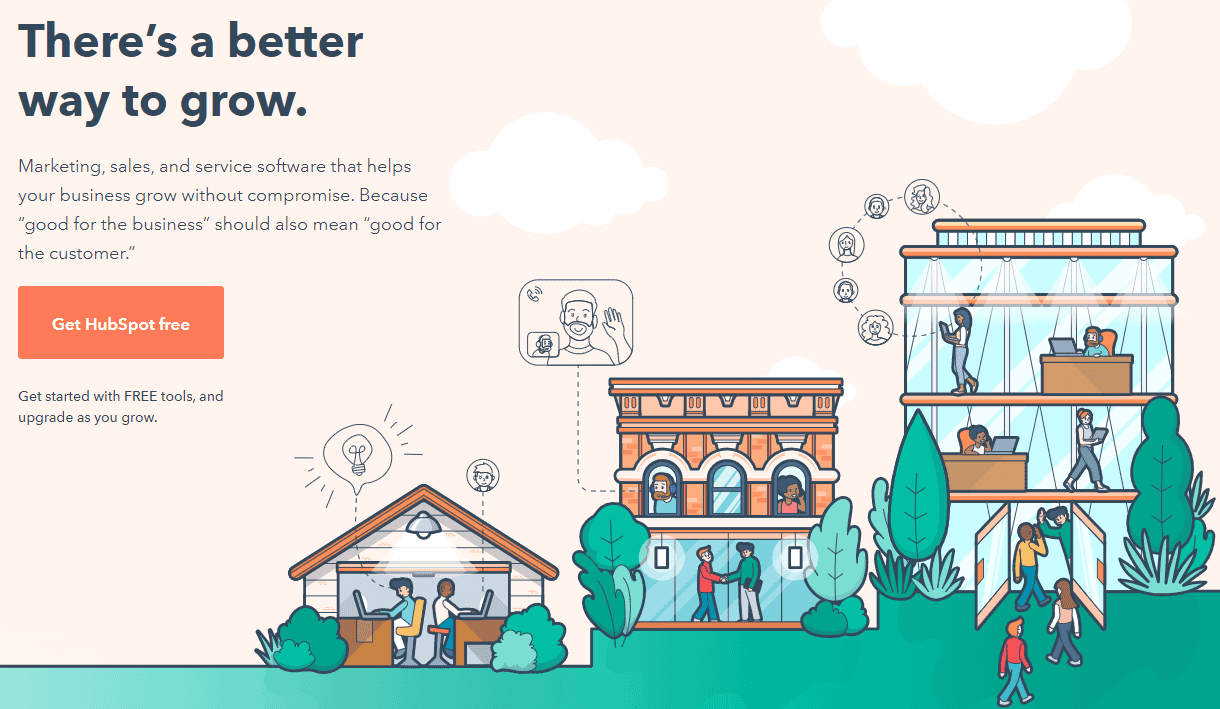 Many business owners at different levels trust HubSpot for their sales and marketing needs and have since the company's founding in 2006.
Features
Here is an overview of the features HubSpot's CRM offers.
Deals: Which deals are open and in progress versus those on the verge of closing? What about the deals your sales team has recently closed? With HubSpot CRM, tracking deals has never been easier. HubSpot lauds its CRM as easy to learn, which makes it a great Zoho alternative.
Email marketing: Send free bulk emails, create custom email templates, add personalization, and track the success of your email campaigns with HubSpot's email marketing CRM features.
Contact management: Although your contacts aren't coming in fast and furious yet as a small business, that will change someday. When it does, you need a contact management system that can keep up, and HubSpot could be it.
Pipeline management: You need to know when and where your leads enter the sales pipeline so your sales team can respond promptly. HubSpot reveals pertinent pipeline information within their CRM.
Meeting scheduling: Keep up with your meetings like a pro using HubSpot's meeting scheduler. Even if you have a full schedule, tracking which meetings are on the horizon will be easier with their CRM.
Reporting dashboard: HubSpot's reporting dashboard reveals the insights that matter to your small business. You'll glean lots of useful information about your company, including what you're doing right and what you can stand to improve on.
Pricing
Like EngageBay, HubSpot's CRM is free.
That's a good thing too, as if you decide you want more out of HubSpot than what their free tools have to offer, you'll quickly find that their prices are outside of most startup budgets.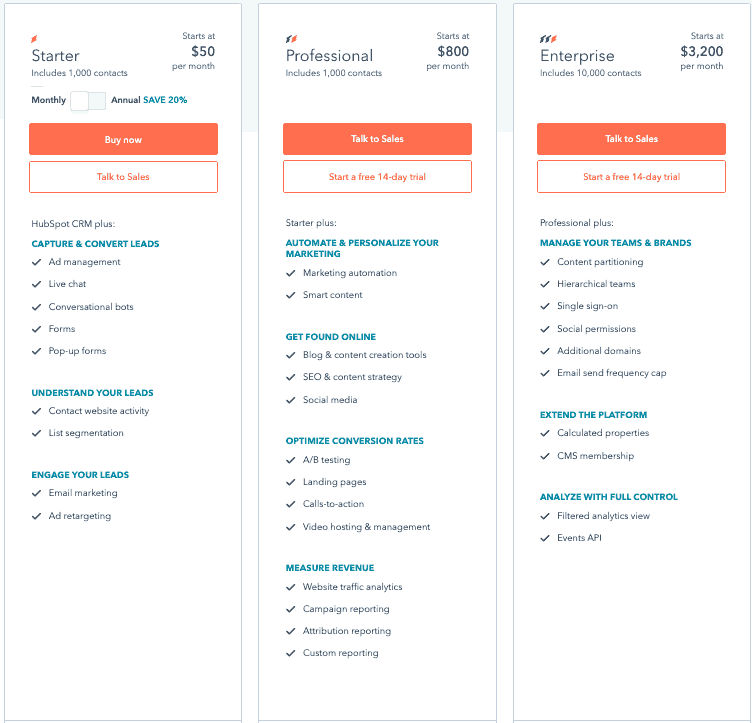 The Starter plan begins at $50 a month and includes features such as meeting scheduling, calling, basic automation, quotes, and a deal pipeline.
Making a steep jump is the Professional plan for $500 a month.
With this plan, you earn such features as calculated properties, forecasting, custom reporting, sales analytics, and lead rotation automation.
HubSpot's costliest plan is the Enterprise plan at $1,200 per month.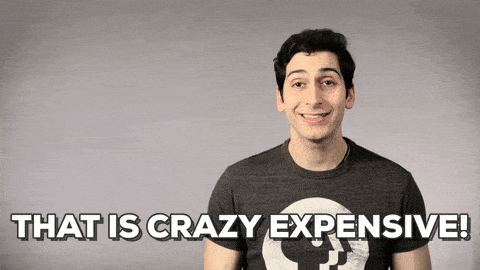 This plan boasts features like call transcripts, sales analytics, playbooks, advanced permissions, and hierarchal teams.
#4. Pipedrive
Declaring itself "the original pipeline CRM," Pipedrive is next on our list of Zoho alternatives.
In the sales and marketing game for more than a decade, Pipedrive focuses on pipeline management and sales CRM.


Pipedrive says their software is favored in nearly 180 countries by more than 95,000 companies.
Features
Let's delve into what's included with a subscription to Pipedrive.
Deal probability: Don't waste your time on what will be fruitless deals when you can use deal probability in Pipedrive that predicts where the money is. For a small business, features like these come especially in handy.
Leads inbox: A dedicated leads inbox with filters and labels keeps your lead information separate from your sales dealings. Import other lead lists and even use chat integration in this inbox.
Visual sales pipelines: Pipedrive, considering its name, specializes in sales pipelines. A visual representation of your timeline with custom fields could help your sales team close more deals.
Contact management: Import your contacts list and track it with Pipedrive's contact management feature. The contacts timeline lets you glimpse all communications with a contact, including activities, emails, and calls.
Email inbox: Use your email inbox for mass-sending emails or mailing tailored content using one of Pipedrive's email templates. You can even track email open rates and click-through rates here.
Automation: Pipedrive's automation features are led by their sales mentor with AI capabilities. You'll get performance tips, report graphs, and automation suggestions.
Reporting and insights: Pipedrive's reports are customizable in that you can add CRM fields in their reports to guide your small business decision-making. Combined with Pipedrive's interactive dashboards, you can get a good internal view of your company.
Pricing
Choose from four plans as a Pipedrive user: Essential, Advanced, Professional, or Enterprise.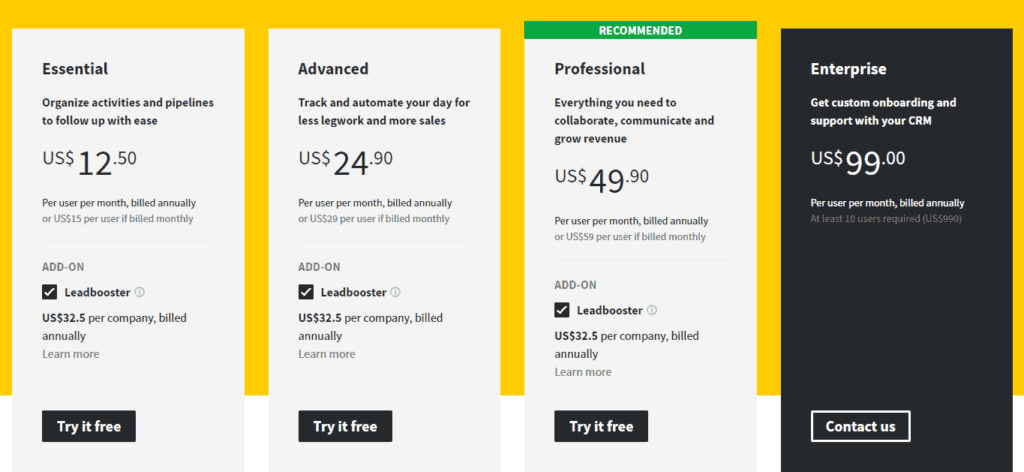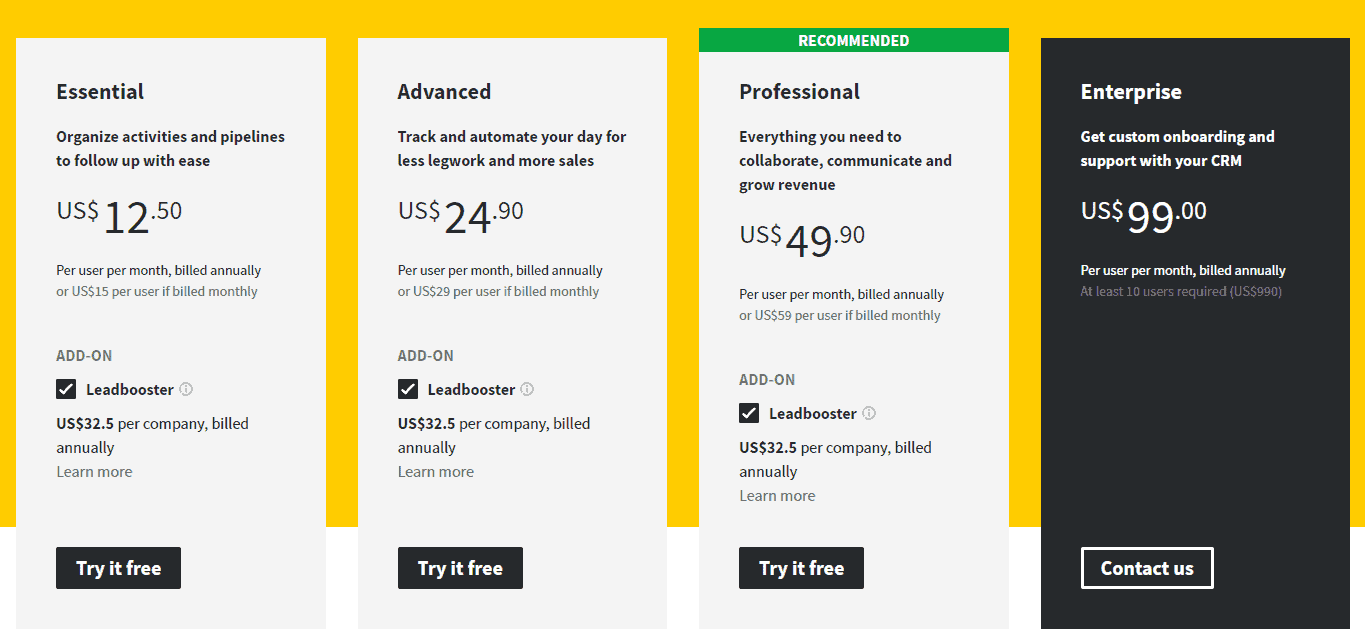 The Essential plan for $12.50 a month per user includes activities management, organization and contact management, and deal management, among other features.
For $24.90 a month per user, the Advanced plan has workflow automation and email syncing.
The Professional plan costs $49.90 a month per user for features such as custom fields, insights, and team goals.
Get it all with the Enterprise plan for $99 a month per user.
#5. Insightly
The fourth Zoho alternative we want to explore is Insightly, a CRM with marketing automation capabilities.
Their software is also intended for project teams and salespeople.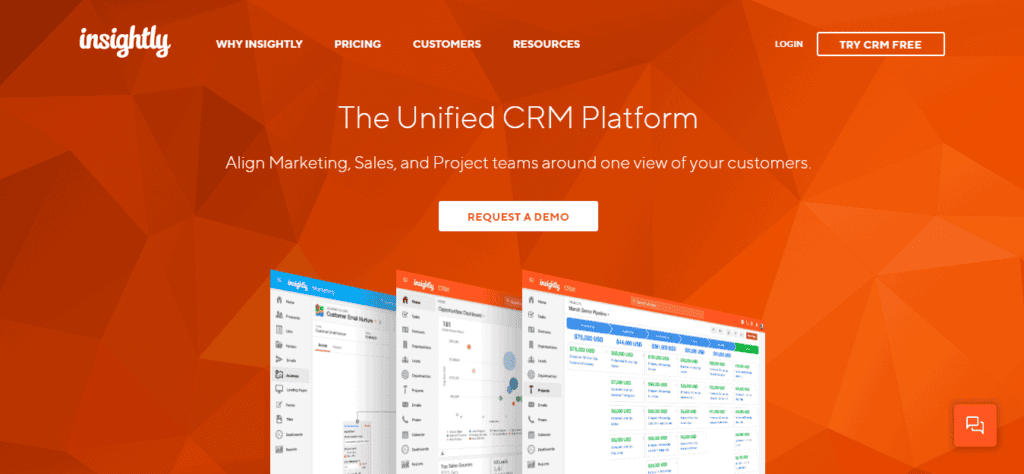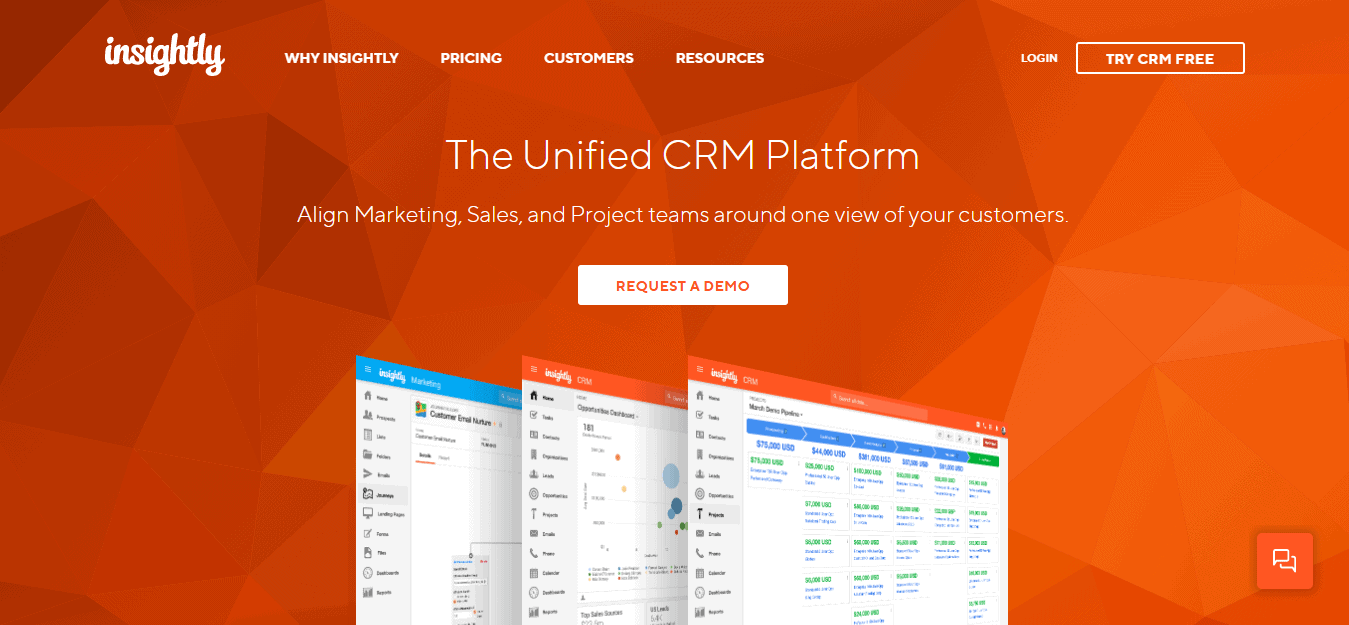 As of current, Insightly has 25,000 businesses and counting that use their software.
Features
Let's take a closer look at Insightly's features.
Custom forms: Make forms that work for your small business and further your company's objectives through Insightly.
Marketing campaigns: Grow small business brand awareness with marketing campaigns that are both customized and personalized using Insightly's CRM. The journey builder lets you preview how your campaign will run before it goes live.
Lead routing: Insightly informs you of your most viable leads with an activity timeline that reviews all lead-related tasks, meetings, calls, emails, and even their campaign source.
Workflow automation: Whether yours is a single-step automation or a more advanced workflow, Insightly lets you save time with automation. Some of the tasks you can automate include record updating, email sending, and meeting scheduling.
Email marketing: Browse through Insightly's email templates, mail out bulk messages or those to tailored audience segments, and review email success stats within Insightly's CRM.
Audience segmentation: Manage your customers from the beginning of their journey and beyond with audience segmentation.
Advanced reporting: Delve deeper into your company's stats and metrics using advanced automated reporting features in Insightly.
Pricing
To access Insightly's CRM features, you have to select from one of their three pricing plans.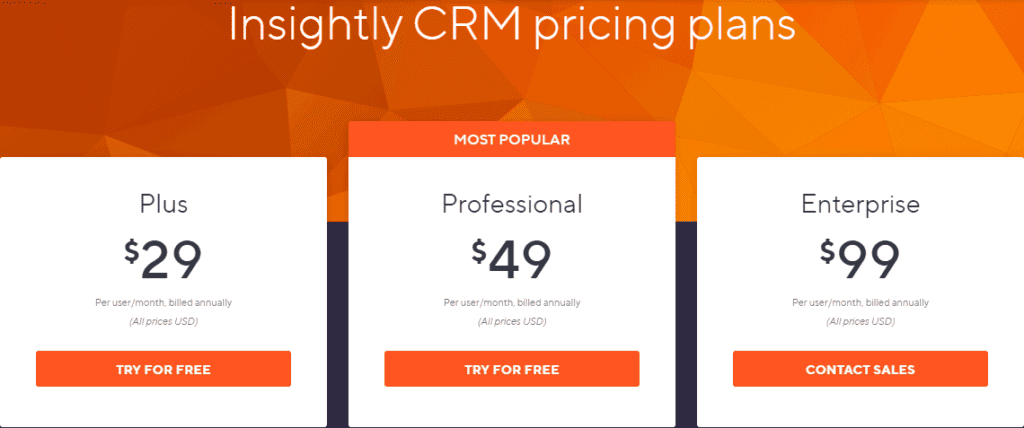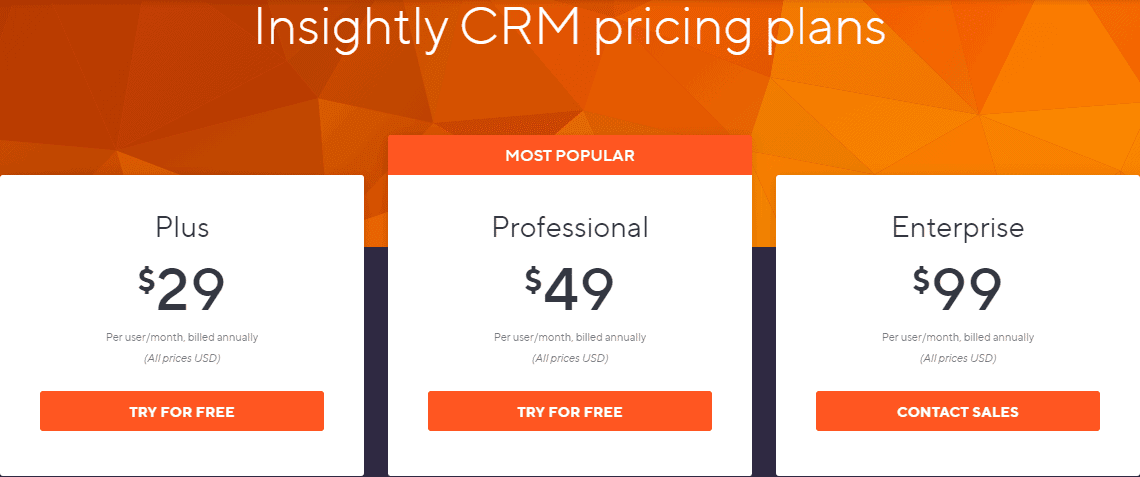 The Plus plan for $29 a month per user has features like integrated project management and calendar synchronization.
The Professional plan for $49 a month per user adds features such as customized reports, business intelligence dashboards, and 25 mobile business card scans.
For $99 a month per user, the Enterprise plan is loaded with features, among them lead management, integrated project management, standard support, and more.
#6. Freshworks
Once known as Freshsales, the last CRM on our list of Zoho alternatives is Freshworks, a software solution for sales teams that's led by AI.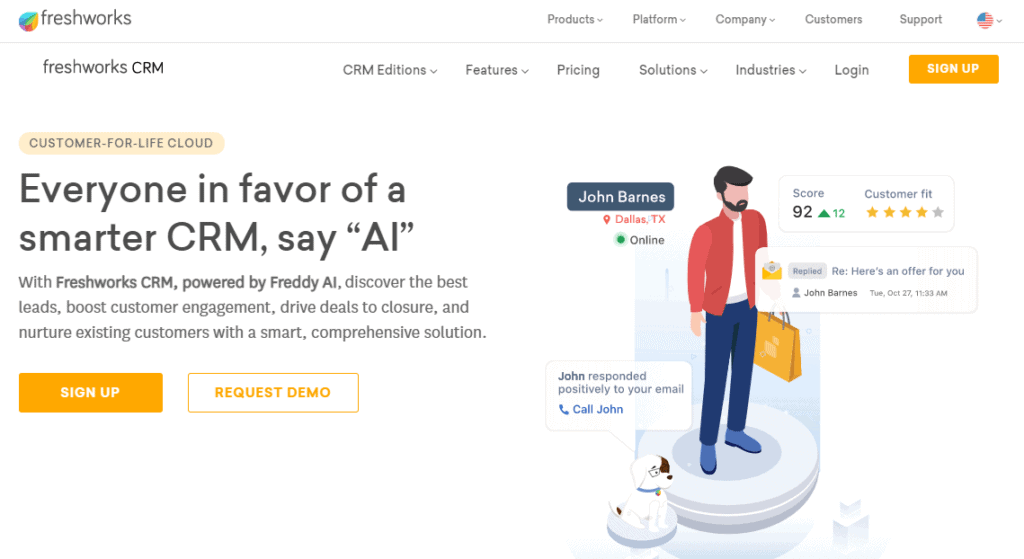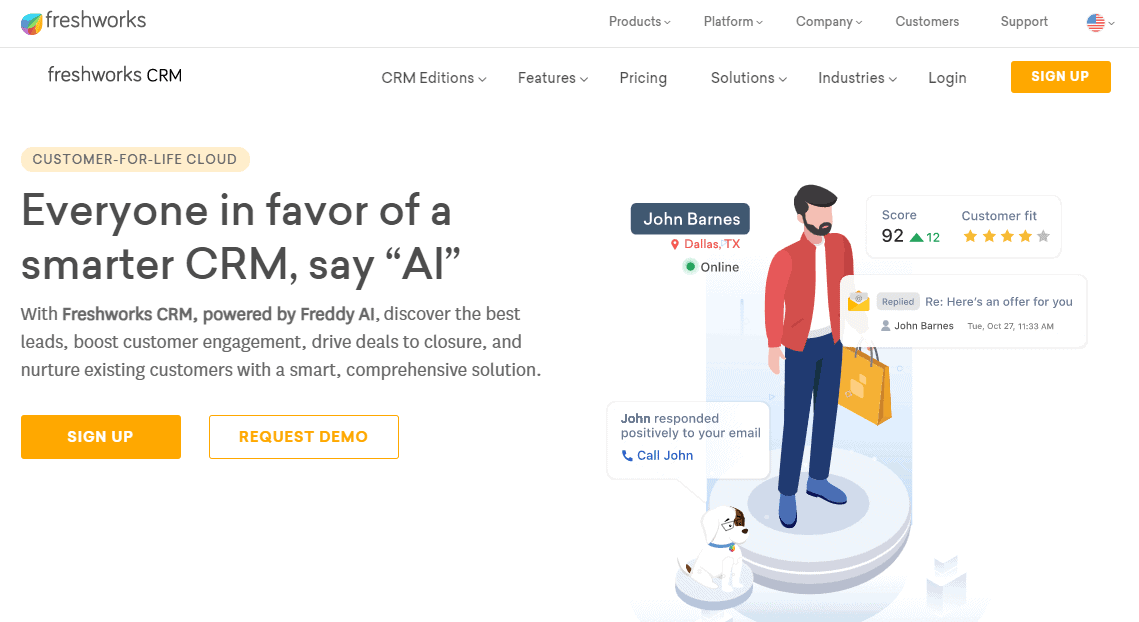 Since 2010, Freshworks has been the primary CRM choice for 40,000+ companies.
Features
If you're thinking of switching from Zoho to Freshworks, here are the CRM features you can use.
Custom fields and modules: From formula fields to checklists, date pickers, and text, customize all aspects of your fields in Freshworks so your forms are attuned to your small business needs.
Task management: In Freshworks, you can set up tasks and appointments as well as remind your sales team what's due and when. Staying on top of work is easy now!
Automation workflows: Use Freshworks' automation workflows when sending personal holiday or birthday wishes to your audience, mailing renewal or appointment reminders, following up, invoicing, and sending welcome emails.
CRM calling: Use Freshworks' CRM to make calls, track call logs, and add contextual information to your contacts' records.
Predictive contact scoring: Freddy AI, Freshsales' AI assistant, can take care of lead scoring for you. The AI uses your company's past data to determine which new leads might be most likely to become customers.
Deal insights: Freddy AI can also present useful deal insights that can help your sales team close more deals.
Pricing
Freshworks gives you the option of selecting from three pricing plans: Growth, Pro, or Enterprise.
The Growth plan starts at $35 a month per user with 1,000 contacts, five sales sequences, 20 workflows, and five active marketing journeys.
The Pro plan starts at $85 a month per user with 3,000 contacts, 50 custom roles, 10 sales sequences, and 50 workflows.
For $149 a month per user, the Enterprise plan offers 5,000 contacts, 100 custom roles, 25 sales sequences, and 100 active marketing journeys.
Conclusion
Zoho's CRM is not the friendliest solution for small businesses.
Your startup is much better off with EngageBay's CRM. Unlike Zoho, you can use EngageBay's CRM for free.
It's full of the features your small business needs to excel, such as CRM Telephony, lead scoring, contact management, automation, and in-depth analytics!