As the name alludes, Less Annoying CRM was designed to make your CRM software easy to use and simple to manage. You might have thought it was the ideal solution for your business, but now, you may be wondering what other options you have.
Fortunately, there's no dearth of alternatives to Less Annoying CRM. Whatever you find is lacking in this platform, you can find a CRM solution that wins on that front.
Here's our list of Less Annoying CRM Alternatives:
EngageBay
Salesforce
HubSpot CRM
Zoho
Microsoft Dynamics 365
Pipedrive
Insightly
Freshsales
Bitrix24
Agile CRM
Copper
Capsule
Nimble
Streak CRM for Gmail
Vtiger
Keap
Zendesk Sell
Nutshell
Close
What Is Less Annoying CRM?
Less Annoying CRM was created as a simple CRM solution for small business owners, so that they need not navigate the complexities many CRM software come with.
It was created in 2009, and the founders have intentionally avoided investor funding to keep their creative freedom intact.
Less Annoying CRM Features
Perhaps because it's suited for startups, Less Annoying CRM doesn't have the most robust CRM platform when compared with other solutions in the market. That's one of its primary issues.
Let's review what features Less Annoying CRM has.
Mobile Access
Pick up your contact management tasks anywhere since Less Annoying CRM is a mobile-based service. It doesn't matter where you go on your travels or what device you're logging in from, you can seamlessly access leads, customer information, ongoing deals, and more.
Customization
Less Annoying CRM touts itself as being wholly customizable, with options such as custom pipelines and custom fields. The service's customer support can assist you in getting started, or you can get off the races yourself.
Multiple User Support
You're not limited to only one user with Less Annoying CRM, but you must pay a fee of $15 a month for each additional user. However, each new user will receive their own login information to keep them separate from everyone else.
If you're in an account admin role, you can determine who has access to what and who doesn't.
Pipelines and Leads
When leads enter your company's sales pipeline, you can track all the critical information, from lead priority and status to contact information. You can also review who's followed up with the leads so no one misses them.
Tasks and Calendar
Manage appointments and ongoing tasks within your CRM. Less Annoying CRM adds all your obligations to its service so you can see everything in front of you.
Contact Management
Of course, what is a CRM if not for contact management? Less Annoying CRM compiles all the critical information you need on leads and customers, including pipeline progress to tasks, files, notes, and events.
Less Annoying CRM Pricing
Less Annoying CRM does away with complex pricing plans, offering only one. You'll pay $15 per month per user. Even better, you can try Less Annoying CRM for free for 30 days before you commit.
Read also: 50+ Call Center Software Explained (All Use Cases)
Less Annoying CRM – Pros and Cons
While Less Annoying CRM is simple and certainly not annoying, you wouldn't be surprised to know it's not the perfect CRM solution.
Let's review some benefits and downsides of this software.
Pros
A bootstrapped company, so they stick to the needs of small businesses
It's good with lead management
It's quite easy to manage tasks and appointments with Less Annoying CRM
Contact management is efficient
Cons
Doesn't have a mobile app despite offering mobile access
Can get expensive as your small business grows and adds more users
Misses out on many CRM features that other software come with
Top Alternatives to Less Annoying CRM for Your Business
Let's take a deep dive into all the awesome Less Annoying CRM alternatives out there, and you can understand what CRM platform can help grow your business best.
Please note that this list is not ranked in any order, nor is it exhaustive. There are many more CRM tools out there, but these are certainly the top ones, with thousands of happy customers and positive reviews each.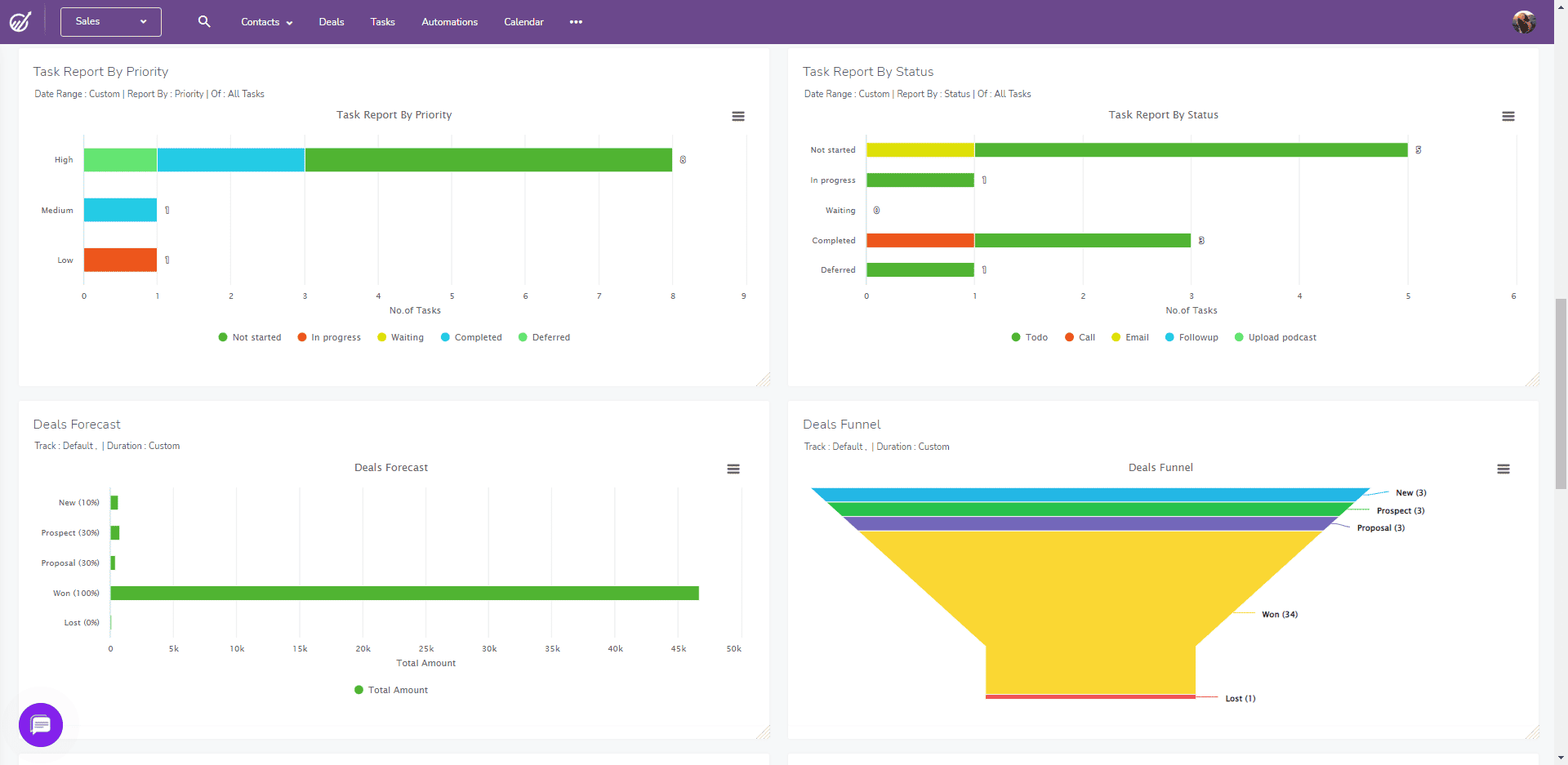 Beginning our list of Less Annoying CRM alternatives is EngageBay, the all-in-one CRM solution for digital marketing, sales automation, and customer service.
Created as a small business and startup solution, its CRM is robust and brimming with features, from sales planning and workflows to telephony, deal management, marketing automation, and more.
The brand is also lauded for its five-star customer support, and EngageBay has received rave reviews on Capterra and G2, and a slew of other accolades.
Advantages
Free CRM for small businesses on a shoestring budget
Ease of use that rivals Less Annoying CRM
Reliable, readily available helpdesk and live chat support
Free migration and onboarding
Free plans for every service
Affordable monthly pricing
EngageBay Pricing
EngageBay's CRM & Service Bay includes four pricing plans to sink your teeth into. Here is an overview of the pricing when billed annually.
Free with live chat, GSuite integration, email tracking, tasks, deals, 360-degree contact management, and 250 companies/contacts
Basic for $11.95 per user per month with multiple deal tracks, third-party integrations, predictive lead scoring, and 500 companies/contacts
Growth for $45.99 per user per month with multiple currency support, email scheduling, sales automation, and 20,000 companies/contacts
Pro for $73.59 per user per month with call records, auto-dialers, proposal analytics, call scripts, and 30,000 companies/contacts
Read also: The 14 Best CRM Automation Software

Switching away from Less Annoying CRM isn't so bad if you have a great alternative awaiting you, such as Salesforce. This smart solution is driven by AI to offer you valuable insights into your sales pipeline and customer data.
Advantages
Customer 360 offers scalable personalization
Einstein GPT can produce content, generate sales tasks, personalize correspondence, and predict sales goals
AI-driven CRM predictions and analytics push your company forward
Small business-specific pricing plan
Salesforce Pricing
Salesforce has a small business CRM with limited capability. Here is the pricing when billed annually.
Starter for $25 per user per month
Professional for $75 per user per month
Enterprise for $150 per user per month
Unlimited for $300 per user per month
All plans include simple onboarding and setup. Advanced plans offer customizable dashboards, pipeline management, forecast management, and workflows.
Read also: Top 9 Salesforce Competitors And Alternatives [Tables]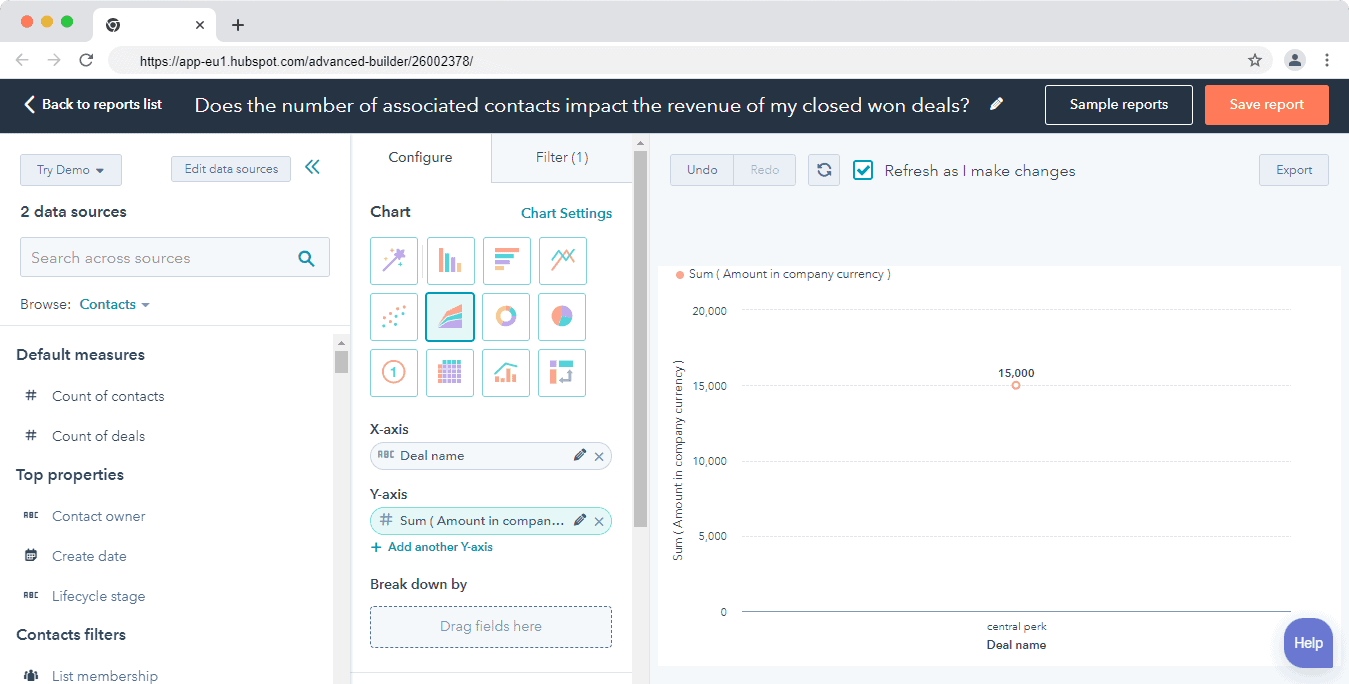 Is HubSpot the right CRM for you? That depends. Do you like the idea of a free CRM? Even Less Annoying CRM's affordable prices can't beat $0 a month.
HubSpot has CRM tools for salespeople, operations managers, marketers, customer service teams, and business owners, so there's something for everyone!
Advantages
CRM features tailored to different business needs
HubSpot's CRM is free forever
Offers time-saving features like lead tracking and pipeline management
Includes a robust reporting dashboard
HubSpot CRM Pricing
HubSpot's CRM is limited in features but is free forever, so if your small business continues scaling and you need the full package, you can choose from two plans in the CRM Suite.
Professional for $1,600 a month.
Enterprise for $5,000 a month.
Note: For HubSpot, it's mandatory to buy an annual subscription. There is no opt-out or refund either.
Read also: HubSpot Pros And Cons: A Candid Assessment
One of the best alternatives to Less Annoying CRM is Zoho. This CRM is used by more than 250,000 customers. You can automate tasks, enable more sales, and harness the power of Zia, Zoho's AI-led conversational assistant.
Advantages
Offers affordable monthly pricing plans
Features team collaboration tools for expediting tasks
Has a remote app for taking CRM insights on the go
Provides rich, detailed analytics for driving future business decisions
Zoho Pricing
Zoho CRM has four pricing plans. The costs are as follows when billed annually:
Standard for $14 per user per month
Professional for $23 per user per month
Enterprise for $40 per user per month
Ultimate for $52 per user per month
Zoho offers flexible contracts and a free trial before committing to any paid plan.
Read also: Zoho Alternatives: 15 CRM Solutions For Smart Sales Teams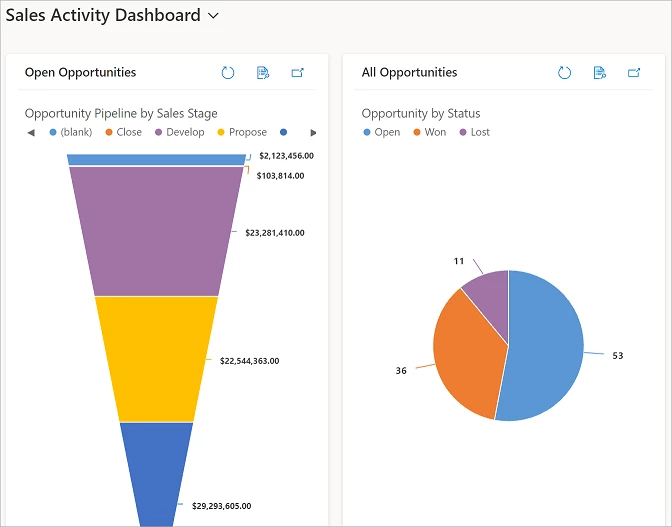 The business application software Microsoft Dynamics 365 drives teams to work their best. This service, sales, and marketing solution promises to increase finance personnel productivity by 55% and ROI by 215% over three years. Sounds good to us!
Advantages
Better understand your customer journeys as they happen
Personalize communications to better capture your audience segments
Convert more prospects into loyal customers
Affordable pricing available
Microsoft Dynamics 365 Pricing
Small and medium business pricing for Microsoft Dynamics 365 is as follows:
Business Central Essentials for $70 per user per month
Business Central Premium for $100 per user per month
Customer Service Professional for $20 to $50 per user per month
Sales Professional for $20 to $65 per user per month
Read also: Pardot Pricing, Features, Reviews, and Affordable Alternatives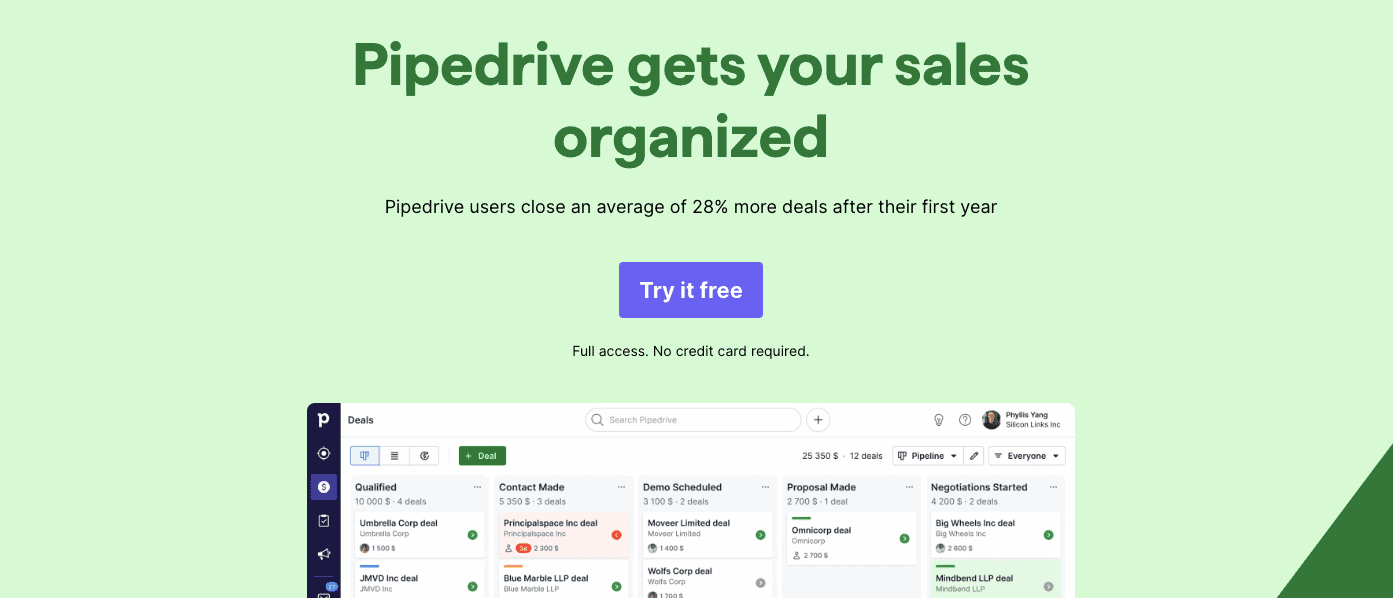 With more than 100,000 companies using Pipedrive, it makes sense to recommend Pipedrive among the top alternatives to Less Annoying CRM.
Your small business can grow in kind with Pipedrive's robust feature set, which you can begin using in three simple steps. It might be even easier to use than Less Annoying CRM!
Advantages
Has a customizable pipeline that you can change with each new sales cycle
Keeps a detailed record of customer interactions, from meetings to mentions
Integrates with more than 400 tools and apps
Visualizes the sales pipeline to catch bottlenecks and discover areas of improvement
Pipedrive Pricing
Save 20 percent by choosing an annual Pipedrive plan, of which there are five. They include:
Essential for $14.90 per user per month
Advanced for $27.90 per user per month
Professional for $49.90 per user per month
Power for $64.90 per user per month
Enterprise for $99 per user per month
You can try any plan for a 14-day free trial, taking advantage of features like email templates, project tracking, revenue forecasts, customization, data importation, automation builders, call scheduling, and more.
Read also: 13 Perfect Pipedrive Alternatives That Can Do More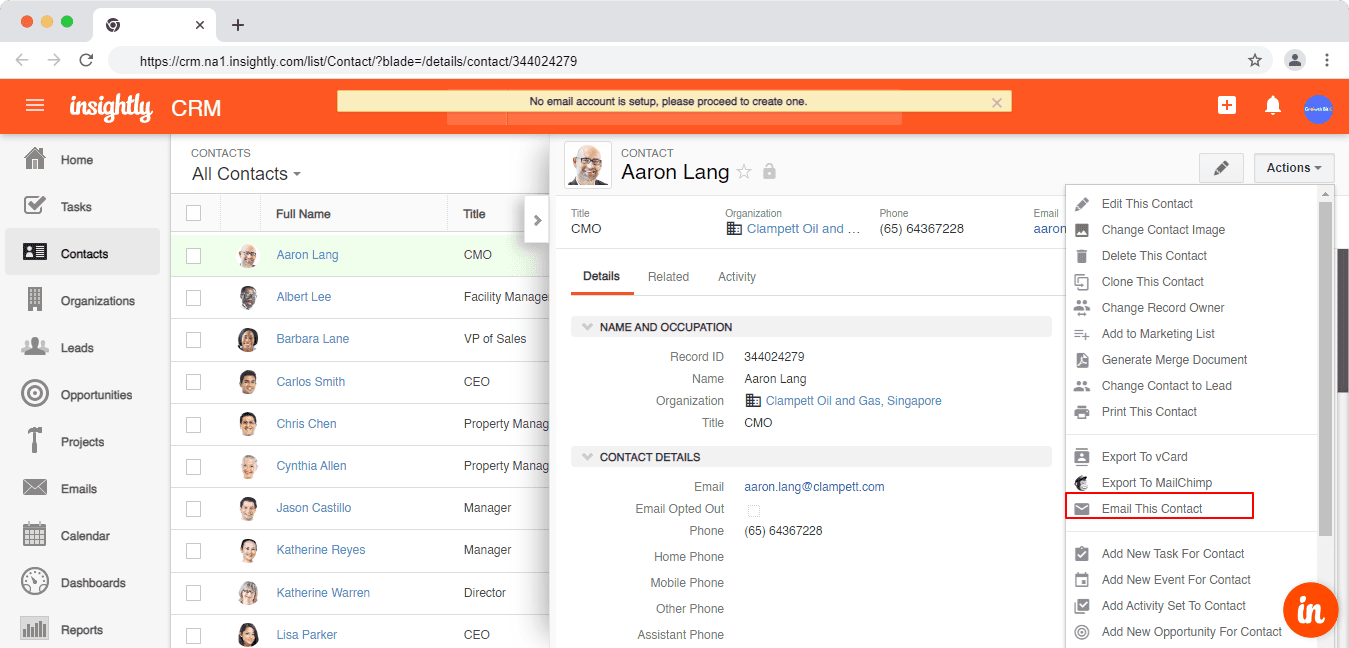 Built to scale, Insightly is a CRM software for customer service, marketing, and sales teams in the growth stage.
As one of the most popular solutions in the CRM space for years now, Insightly is an obvious contender among all Less Annoying CRM alternatives.
Advantages
Detailed sales pipeline with lead prioritization
Better productivity for sales, marketing, and service teams
Automation to save you time so you can focus on what matters
Advanced permissions and validation rules to manage your growing team
Insightly Pricing
Insightly keeps its pricing simple, with three plans for its CRM.
Plus for $29 per user per month
Professional for $49 per user per month
Enterprise for $99 per user per month
All three plans include features like Kanban view, web-to-lead capture, email templates, customized and automated emails, and lead management.
Read also: HubSpot vs Insightly: Pricing, Functionality, Features & More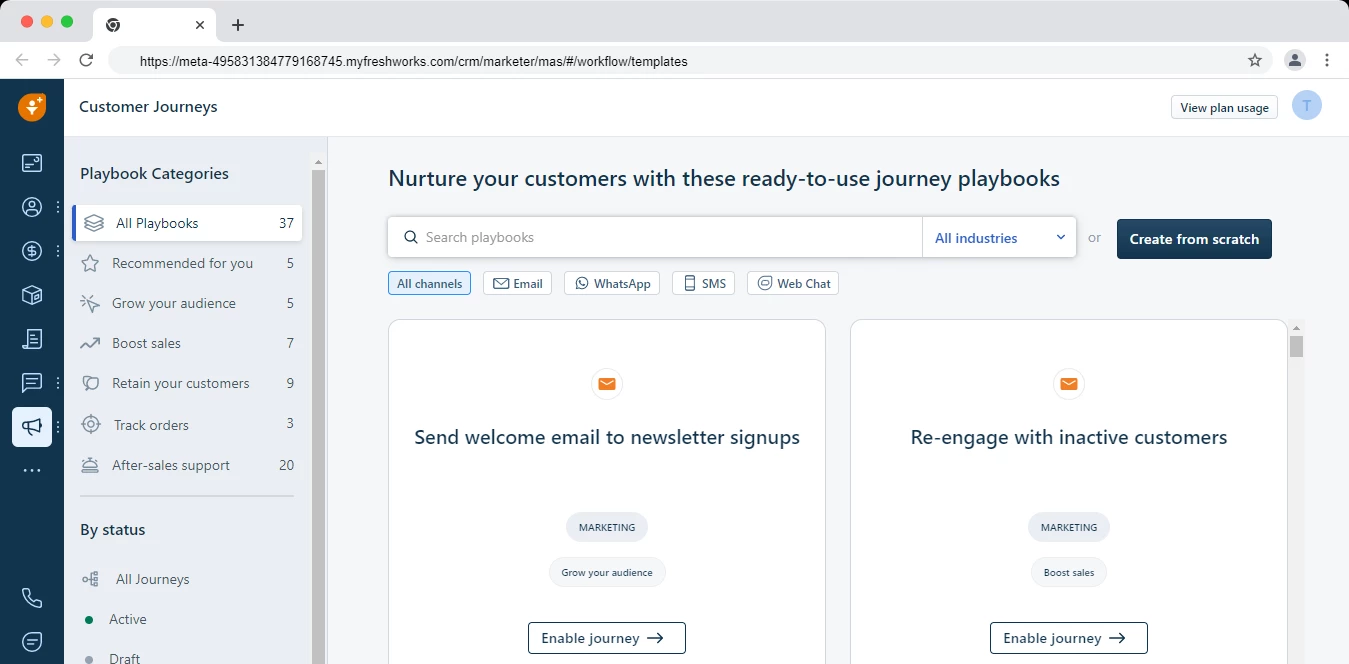 Launching your business into the stratosphere is easier with Freshsales. This comprehensive CRM solution might suit your startup better at this stage than Less Annoying CRM.
Review customer data how you like to see it (with Kanban, list, and table views), use sales tools like sequences and workflows, and pore over richly detailed AI-led reports.
Advantages
Allows you to communicate with your customers your way, such as through email, chat, messenger, phone, SMS, or Zoom
Create several sales pipelines to scale up as your small business does
AI-powered sales forecasts
Integrates with popular tools like HubSpot, Google Calendar, Magento, Mailchimp, QuickBooks, and Asana
Freshsales Pricing
Freshsales's CRM is part of its Freshsales service (with the other options Freshchat, Freshmarketer, Freshservice, and Freshdesk). Here is the cost of each paid plan with annual billing:
Growth is free for three users, then $15 per user per month
Pro for $39 per user per month
Enterprise for $69 per user per month
The Growth plan offers 2,000 AI sessions a month. It's 3,000 for the Pro plan and 5,000 for the Enterprise plan.
Read also: 15 Freshworks Alternatives for Great Customer Support

Bitrix24 calls itself "your ultimate workspace," which is quite apt. This software toolkit offers a CRM solution with key features for any small business on an upward trajectory, perhaps even more than Less Annoying CRM.
In addition to sales automation, Bitrix24 also lets you automate your other project workflows, collaborate across teams and divisions, and manage any ongoing projects and tasks efficiently, reducing the need for project management tools like Asana, ClickUp, or Monday.
Advantages
Invoice and manage quotes within the CRM
Use sales intelligence to make smart financial decisions for your business
Offers 18 languages
Free plan available
Bitrix24 Pricing
If you're contemplating Bitrix24 as your new CRM, here are the plans you can choose from with annual billing:
Free for $0 a month and unlimited users
Basic for $49 a month for five users
Standard for $99 a month for 50 users
Professional for $199 a month for 100 users
The more you pay for any plan, the more advanced the features become, encouraging you to spring for a paid plan.
Read also: Bitrix24 Alternatives For Customer Engagement and Sales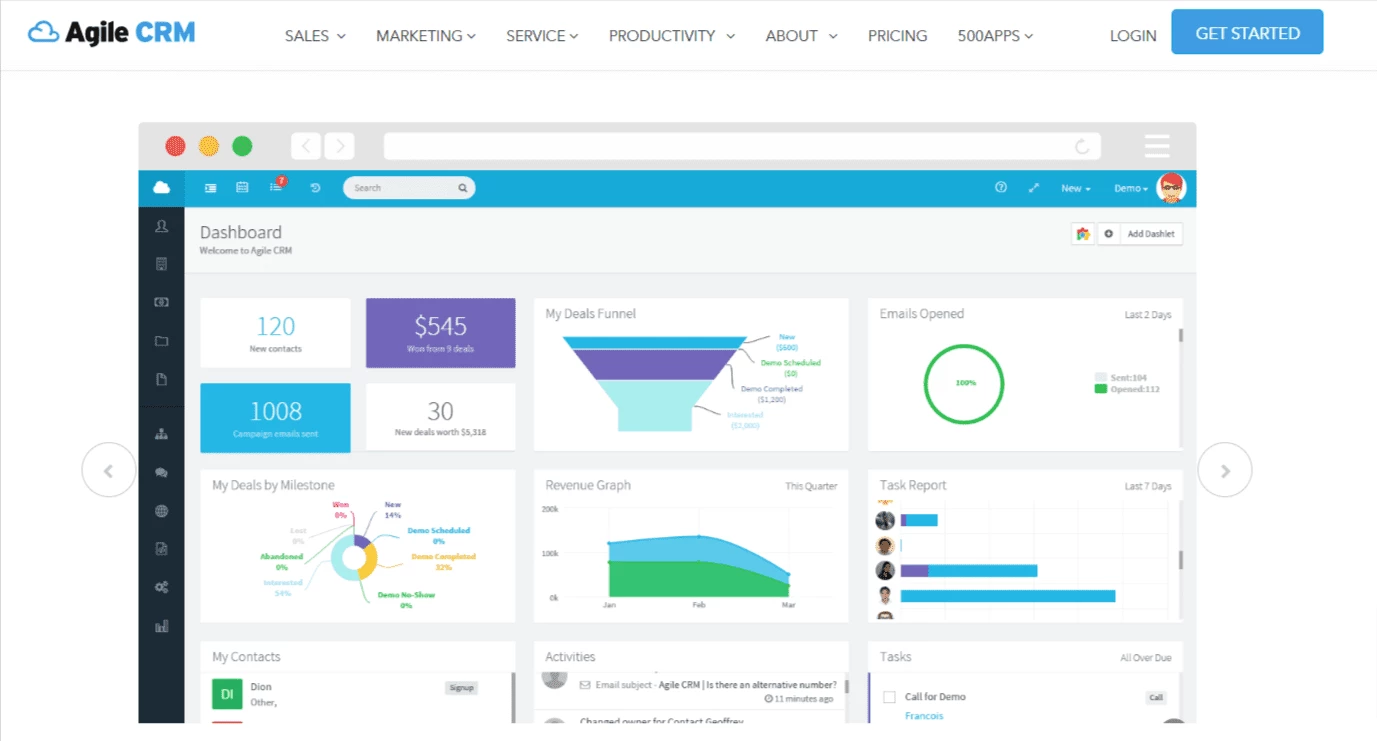 Agile CRM also makes for a good alternative to Less Annoying CRM. Between its marketing automation, customer service, and sales enablement, you could find this solution the better option, especially because it's not too hard to figure out.
Advantages
Has a slew of marketing automation features, from email tracking to newsletters, video emails, a website builder, and a content planner
Provides 360-degree contact views to gain more insights into your leads and customers
Offers a mobile CRM for taking your sales funnels on the go
Integrates with Facebook, Twitter, TowerData, FullContact, LinkedIn, Google Plus, HelpScout, Zendesk, Google Apps, Twilio, Mandrill, and many more
Agile CRM Pricing
If you're interested in trying Agile CRM, explore its pricing plans as follows:
Free for $0 a month and 10 users
Starter for $8.99 a month
Regular for $29.99 a month
Enterprise for $47.99 a month
The Free plan caps you at either 10 users or 1,000 contacts. You gain 10,000 contacts with the Starter plan, 50,000 contacts with the Regular plan, and unlimited contacts if you choose the Enterprise plan.
Some of the available features across all four plans are custom data fields, unlimited tasks, lead scoring, appointment scheduling, email tracking, custom deal milestones, email campaigns, web engagement, and contact-level analytics.
Read also: Say Goodbye to Agile CRM: 11 Alternatives to Consider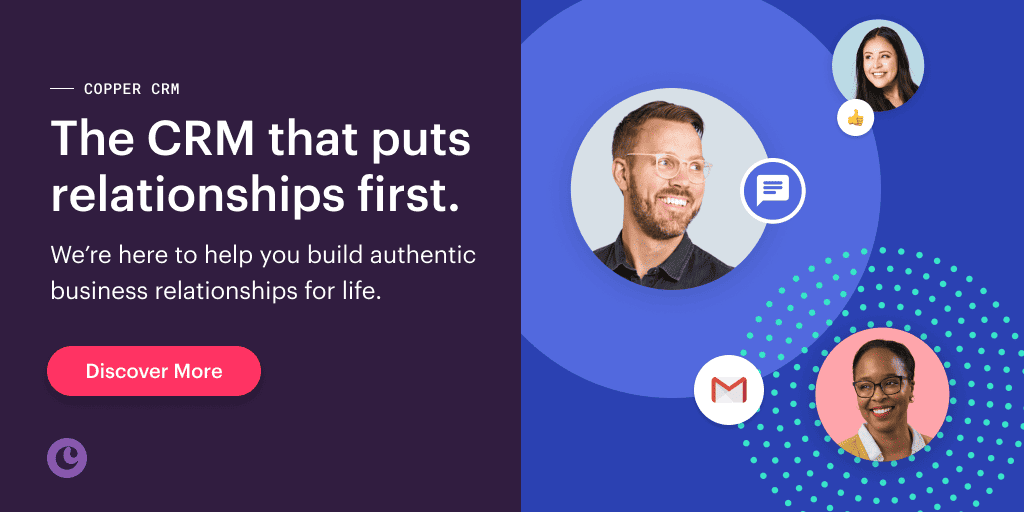 Copper is a great CRM for tracking deals, organizing your contacts, generating reports, automating work, and integrating with the top email and marketing tools. As such, it is one of the best alternatives to Less Annoying CRM.
Advantages
Its Google Workspace CRM merges emails, deals, and contacts onto one convenient dashboard
Offers a mobile app so you never miss a moment, even when out of the office
Sends notifications and alerts so you'll never let a lead go cold again
Integrates with tools and software in areas like accounting, calendar, invoicing, scheduling, data importation, document management, email, phone, productivity, contracts, sales automation, and social media
Copper Pricing
Simplifying your CRM with Copper begins with selecting a pricing plan. Here's how much you'll pay for each plan if you choose annual billing:
Basic for $23 per user per month
Professional for $59 per user per month
Business for $99 per user per month
You can try any plan for free before buying. The Basic plan includes 2,500 contacts, the Professional plan 15,000 contacts, and the Business plan unlimited contacts.
You can also use features like workflow automation, pipelines, contact enrichment, website tracking, and lead scoring, depending on the plan you pick.
Read also: Copper CRM Pricing & Comparison With Top Small Business Software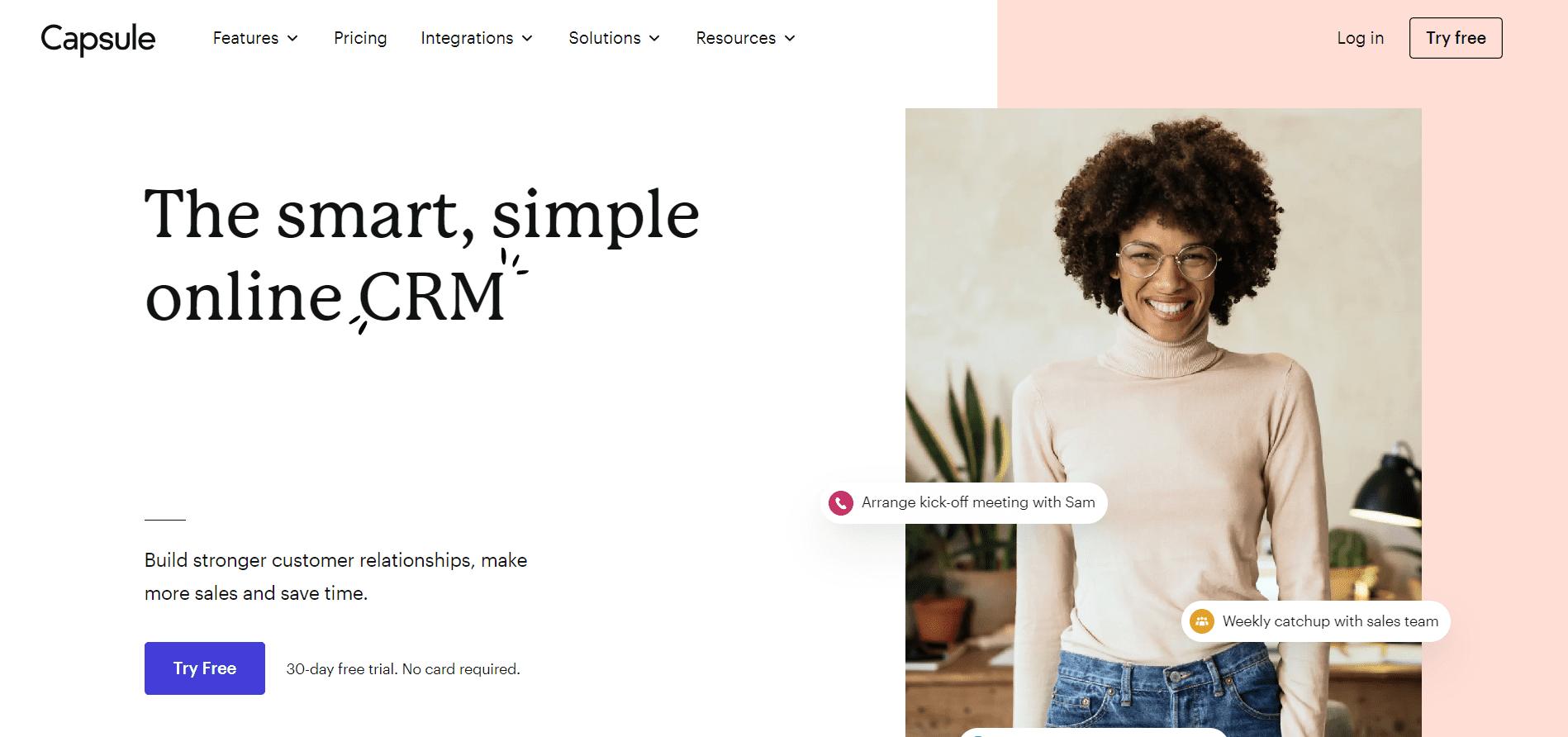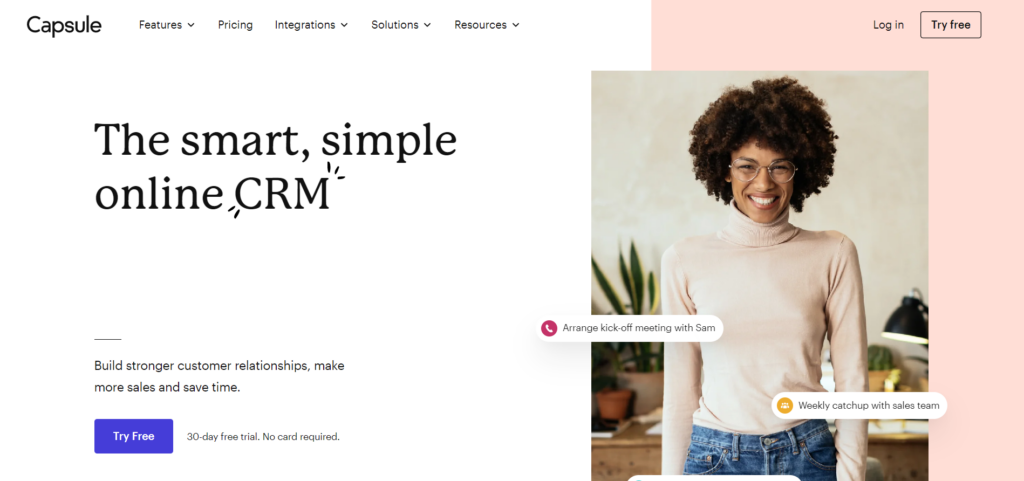 Your CRM should simplify your workflow, not complicate it. And while Less Annoying CRM is great at keeping things simple, it can lack some key features.
Capsule CRM includes features like workflow automation, sales analytics, tasks and calendars, and contact management. This way, you have more options, making it a good alternative.
Advantages
AI content assistant can produce emails so you can send more with less work
Offers customization options for configuring your CRM just the way you like it
Visualizes your sales pipeline and spotlights opportunities
Has a free mobile app for Android and iOS devices
Capsule Pricing
Capsule charges by the month and allows you to cancel anytime if you wish to continue exploring your CRM options.
The available plans are:
Professional for $15 per user per month
Teams for $30 per user per month
Enterprise for $45 per user per month
The Professional plan offers 50,000 contacts, the Teams plan 100,000 contacts, and the Enterprise plan 200,000 contacts, which are some big numbers.
You can try Capsule for free for two weeks.
Read also: 11 Fantastic Capsule CRM Alternatives To Try Today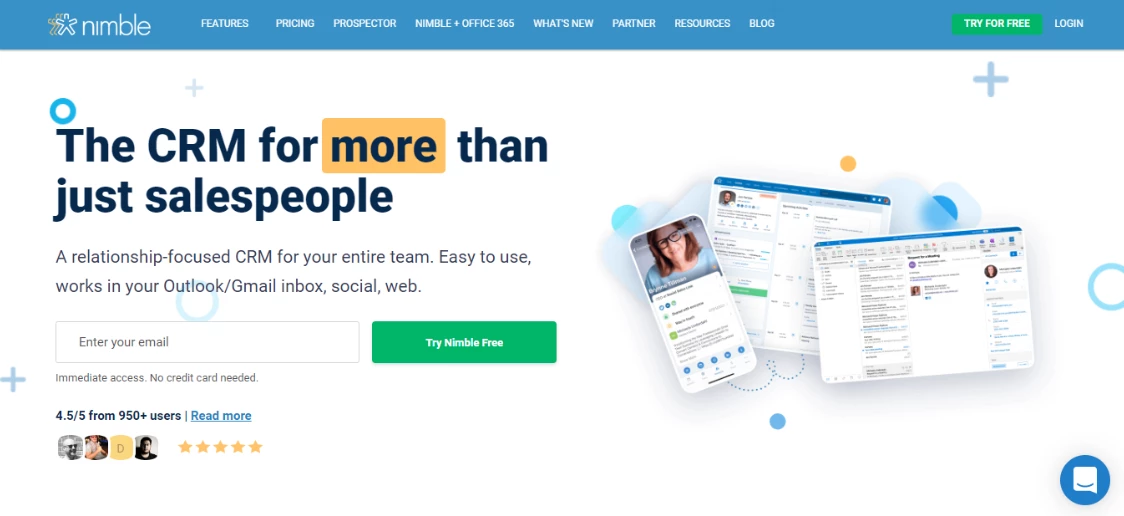 If you found LACRM a little too sales-centric, Nimble is a more well-rounded CRM alternative. This solution for business teams and solopreneurs focuses on building and nurturing customer relationships, uniting your contacts, and driving your business processes forward.
Advantages
Nimble Prospector is compatible with Outlook and works on web browser apps, social platforms, and inboxes, so you always have your CRM data handy
Contact syncing from SaaS business apps, calendar appointments, inboxes, and social media connections
Segment your audience to target groups, then personalize communications
Offers an appealing visual pipeline
Nimble Pricing
One of Nimble's best features is that it only has one pricing plan, the Nimble Business plan.
You'll pay $24.90 per user per month when billed annually.
This plan includes features like workflow automation, unified message inbox, calendar syncing, contact records, saved search segments, custom fields, data enrichment, lead qualification workflows, and activity tracking.
Read also: 19 Great Nimble Alternatives: Finding the Best Fit for Your Business
If your small business currently conducts its operations from a Gmail inbox, it makes much more sense to use Streak over Less Annoying CRM. Streak is built as a Gmail-compatible tool, while LACRM simply isn't.
This CRM has solutions for hiring managers, real estate agents, support teams, sales teams, fundraisers, and biz dev, so it truly touches on all corners.
Advantages
Customizable, so no matter your small business niche, Streak should work for you
Import and export contacts from Gmail to manage appointments, leads, and tasks
Offers a free mobile app with call logging, contact sending, and task and information updates
Has privacy settings like data validation and custom permissions
Streak CRM for Gmail Pricing
There's a Streak CRM plan for you no matter your small business budget, as this CRM solution offers five. Here is the pricing with annual billing.
Free for $0 per user per month
Solo for $15 per user per month
Pro for $49 per user per month
Pro+ for $69 per user per month
Enterprise for $129 per user per month
Some of the features shared across the plans are private pipelines, email snippets and tracking, unlimited contacts, Google Workspace integrations, automatic email sharing, core CRM, and mobile access.
Read also: 16 Superior Flodesk Alternatives for Slick Email Marketing

The all-in-one CRM solution Vtiger promises detailed views into your contacts and solutions for support, sales, and marketing teams. You can use Vtiger no matter the size of your team at current, and with flexible pricing, it might have everything you need to make the jump from Less Annoying CRM.
Advantages
Doesn't require training or complicated implementation to use
Follows data compliance regulations, including ISO and GDPR, so your business information stays safe
Automates sales, marketing, and helpdesk tasks for more time and better productivity
Integrates with more than 500 apps and tools, including Mailchimp, DocuSign, Zapier, Gmail, WhatsApp, Microsoft Office 365, and Microsoft Teams
Vtiger Pricing
Before you switch to Vtiger, take a closer look at its pricing.
One Pilot for $0 per user per month
One Professional for $20 per user per month for single-app use and $30 per user per month for standard users
One Enterprise for $30 per user per month for single-app use and $42 per user per month for standard users
The free plan includes contact management and engagement, marketing, internal collaborations, sales enablement, and project management.
By upgrading to One Professional, you can add advanced project management, inventory management, salesforce automation, and helpdesk features.
Read also: 24 Vtiger Alternatives: Boost Your Business Growth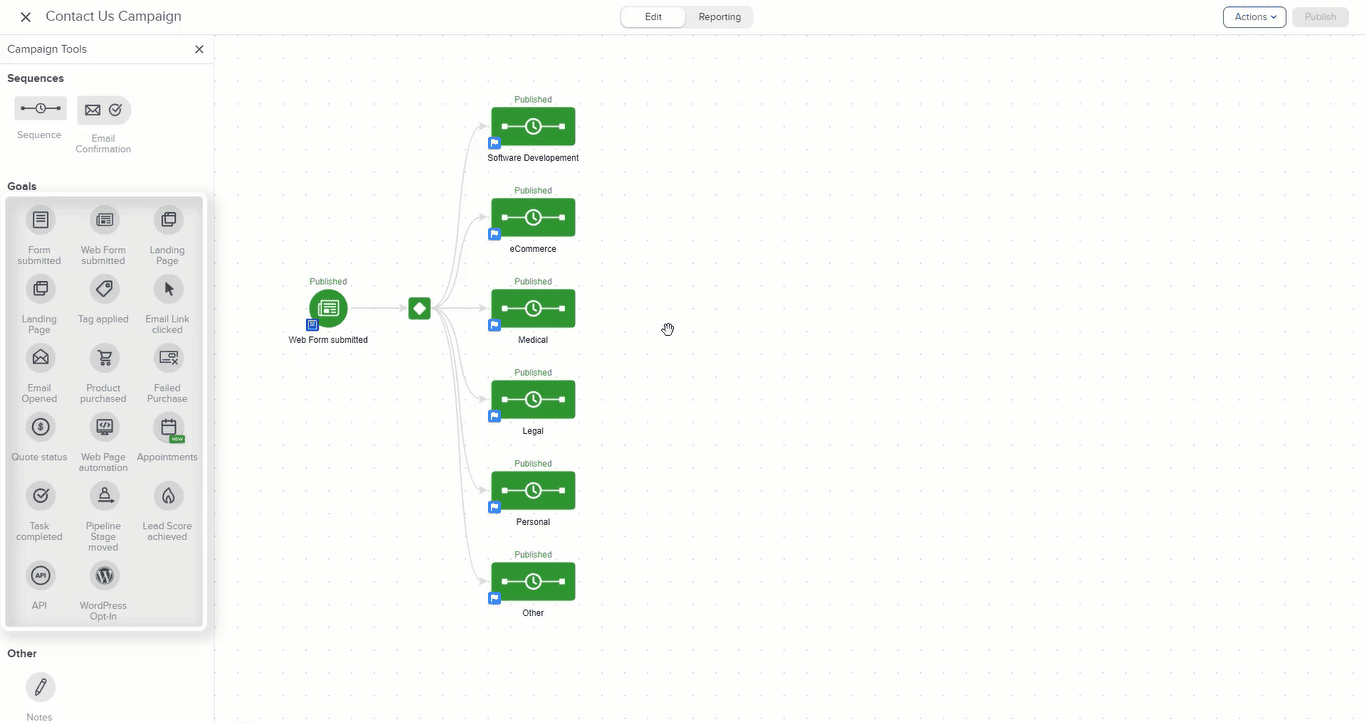 Keap is a small business-centered, all-in-one CRM solution promising to help you convert more customers and grow your business. It's an ambitious software that might go better with your goals than Less Annoying CRM.
Advantages
Offers a small business CRM perfect for this stage in your company's growth
Helps you migrate for free, retaining your email templates, automations, contacts, and landing pages when you switch
Provides a dedicated business phone number for texts and calls
Generates CRM, sales, and marketing reports for dissecting your business and determining your next step
Keap Pricing
Keap doesn't overcomplicate with its pricing. You can choose from two plans. Here are the prices with annual billing:
Pro for $149 per month with 1,500 contacts
Max for $199 per month with 2,500 contacts
For both pricing plans, the cost increases as your contacts do. The Pro plan includes two users, and the Max plan three.
Read also: 11 of the Best Keap Alternatives (Features, Pricing)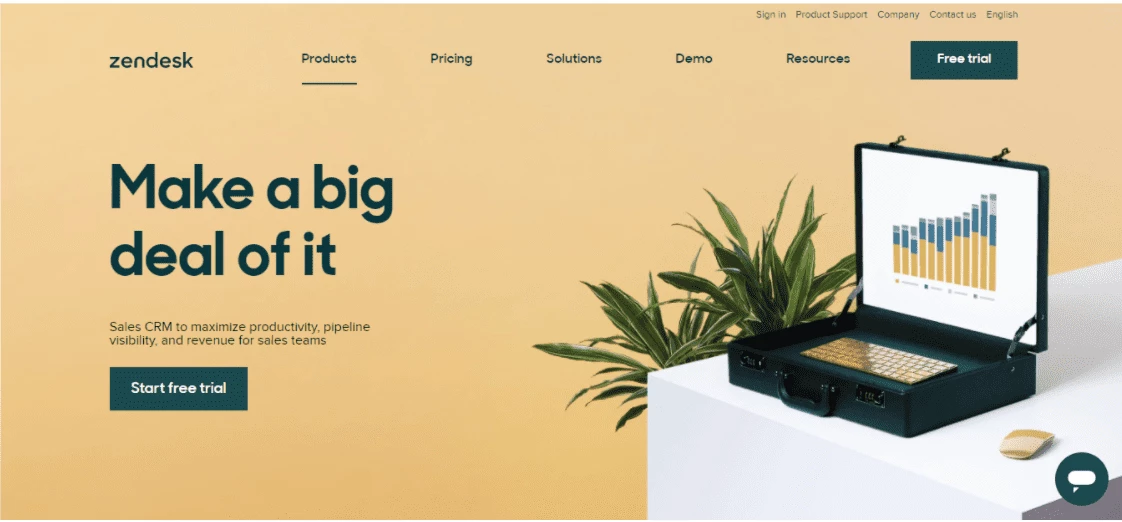 Zendesk Sell is one of the best and most popular alternatives to Less Annoying CRM. You can use this tool to strengthen your customer experiences and enhance the productivity of your sales reps.
Advantages
The Sunshine Platform will help you quickly maximize your customer experiences to drive more business
Scales as your startup does
Has a mobile app for tracking sales tasks
Integrates with apps like Slack, Mailchimp, JIRA, Exporter, Trello, Assembled, Stella Connect, Productboard, and more
Zendesk Sell Pricing
While Zendesk has enterprise solutions and pricing, it also offers more affordable pricing plans for businesses of all sizes. You'll pay the following with an annual plan:
Suite Team for $49 per agent per month
Suite Growth for $79 per agent per month
Suite Professional for $99 per agent per month
If you're still unsure, Zendesk Sell offers a free trial of any of its plans. You can access great Suite Professional features like AI automated answers, custom analytics, and workflow automation.
Read also: Zendesk Alternatives – 14 Great CRM Software for SMBs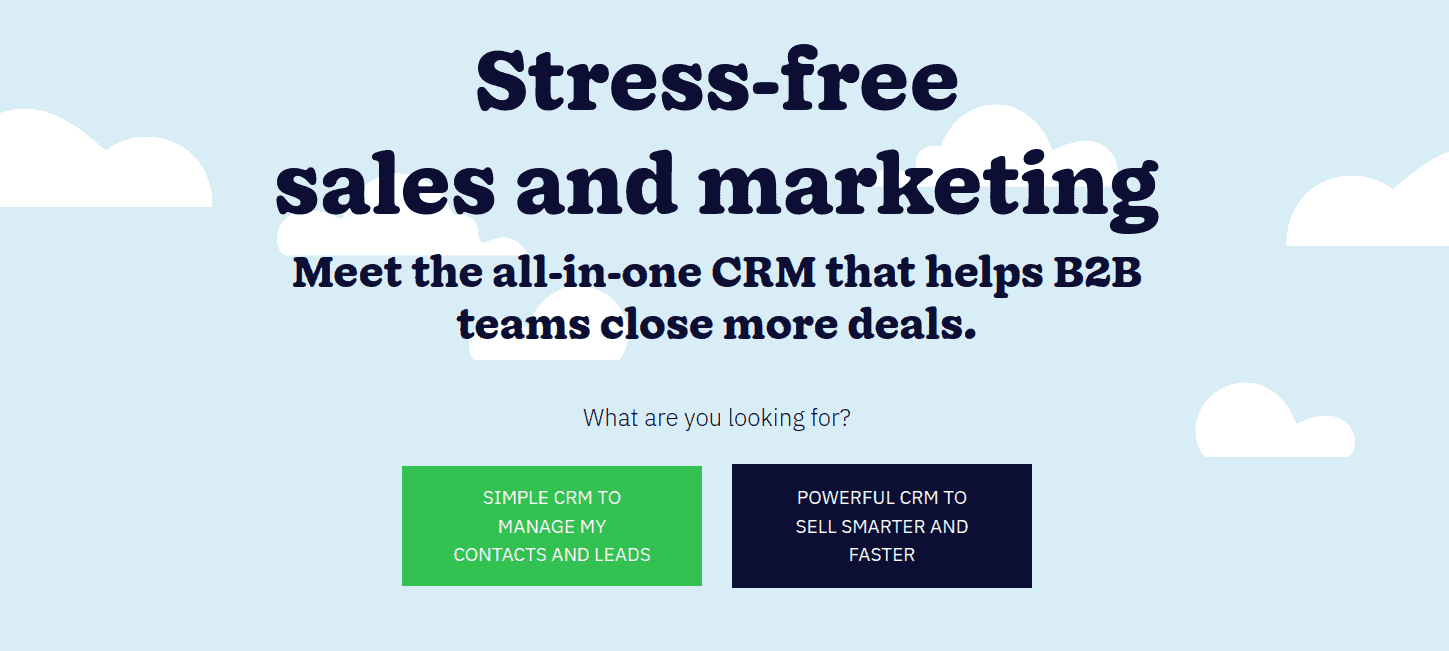 Become the small business you want to be with a supportive CRM solution like Nutshell. This CRM touches on all bases, from sales to marketing and service solutions for teams big and small.
It could just have what you believe Less Annoying CRM is missing!
Advantages
Automate and customize sales processes and pipeline triggers so you can always strike when the iron is hot and close deals faster
Collaborative features to keep your sales and marketing departments or teams in the loop on customer details
Import customer data from almost any platform for free
Review sales performance as it happens with reporting dashboards
Nutshell Pricing
Is Nutshell right for you? Check out its pricing on an annual plan:
Foundation for $16 per user per month
Pro for $42 per user per month
The pricing above is for 2,500 contacts and will increase as your small business adds more contacts. Available features between the two plans include email syncing, sales automation, contact management, custom pipelines, communication timelines, and personal email sequences.
Read also: Nonprofits CRM – Using Your CRM for Fundraising and More
Close is favored by businesses like Studi, Hipcamp, WinIt, and FareHarbor. This CRM is built for sales reps and sales operators eager to grow revenue, review critical KPIs, and migrate without any hassles from their current CRM solution.
Advantages
Opens communications with modes like SMS, calling, email syncing, and calendar syncing
Automates more of your tasks, including sequences
Offers robust sales funnel reporting with custom activities and fields
Integrates with more than 100 tools and software, no coding needed, including Zapier, Zoom, Gmail, Trello, and more
Close Pricing
You can watch an on-demand demo or try Close for free for two weeks before committing to one of these paid plans. The costs are for annual billing.
Startup for three users and $99 a month
Professional for three users and $299 a month
Enterprise for five users and $699 a month
Between the three plans, you can access features like voicemail, drop sequences, call coaching, power dialer, custom permissions and roles, and a predictive dialer.
Read also: eCommerce CRM: The Top Platforms for Streamlining Your Business
Conclusion
Less Annoying CRM is a suitable CRM solution for many businesses, but it's okay if it's not working for your startup anymore. You have so many alternatives to select from that you shouldn't stick with a service that makes you unhappy.
While you can't go wrong with any of the CRM alternatives we looked at today, EngageBay stands out by leaps and bounds. It's affordable, easy to onboard, designed for small businesses, and offers more of the CRM features any small company needs.
Try it free today.